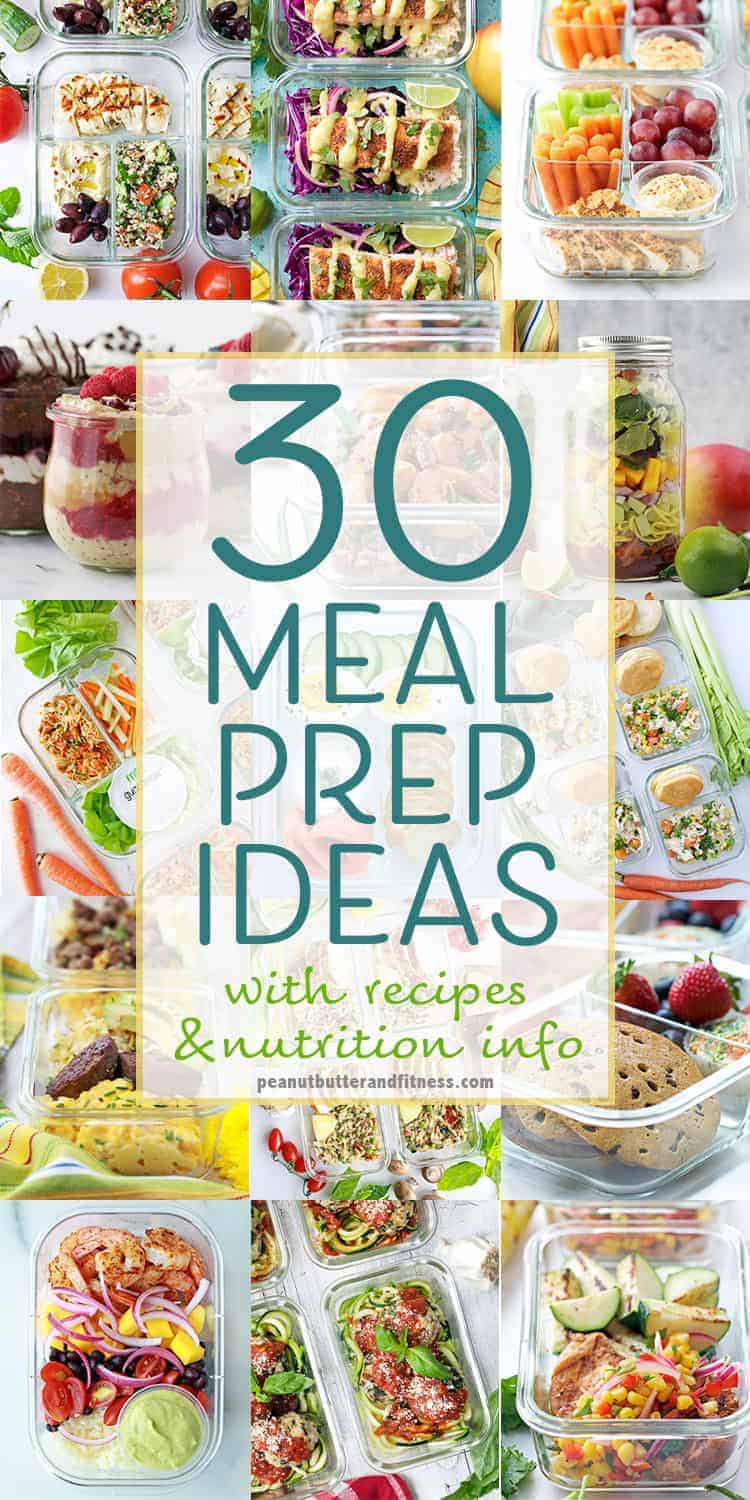 30 Meal Prep Ideas perfect for back to school, back to work, or maybe just back on track!
Here's a preview of all the meals you'll see in this post! Click the text in the previews to get directly to that recipe page, or keep scrolling down to see them all!
Happy Monday, meal preppers! This week I'm bringing you a special roundup of 30 meal prep ideas. Originally this post was meant as a "Back to School" type of thing, but…we all know how that's going. Some of you may be sending kids back to in-person school this fall, others may be trying to get kids to pay attention to online school, or maybe you just needs some fresh new meal prep ideas while you work from the office or home.
In any case, I truly do believe that meal prepping can save you time and money. I know it works for me…I think about my meal planning usually on a Thursday or a Friday for the upcoming week, then I go get groceries on Friday or Saturday and cook on Sunday. Then I don't have to think about meals the rest of the week. But even if you just want to prep lunches or only a few days at a time, it's totally worth the little bit of extra planning it takes!
Since I know I'll get asked, here are some of my favorite meal prep containers! (Note: These are Amazon Affiliate links.)
1.Chicken Tabouleh Bowls
This meal has a little bit of a Mediterranean feel, and it's A LOT a bit refreshing. The tabouleh is made with quinoa, cucumbers, tomatoes, fresh herbs, and plenty of lemon juice. Serve it alongside grilled chicken, hummus, and kalamata olives to make it a meal. I recommend a 3-compartment container for this meal.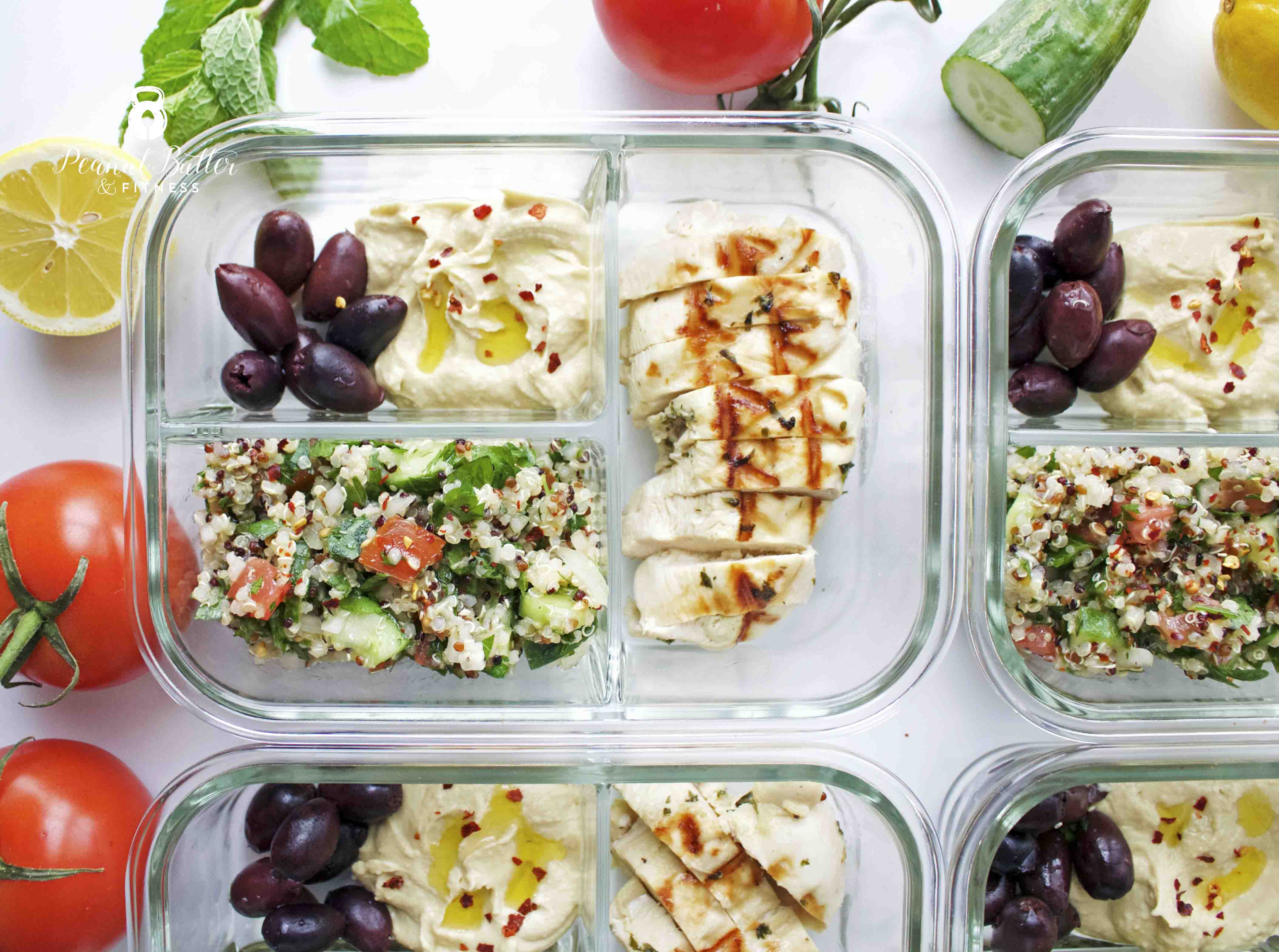 2. Protein Pancakes with Egg Cups
Yes, you can ABSOLUTELY meal prep pancakes! I use my classic base protein pancake recipe and add whatever fruit, nuts, or goodies I want (*cough* chocolate chips *cough*). Don't forget the extra fruit and egg white & veggie cups for even more protein and fiber. A 2-compartment container and silicone baking cups work great here.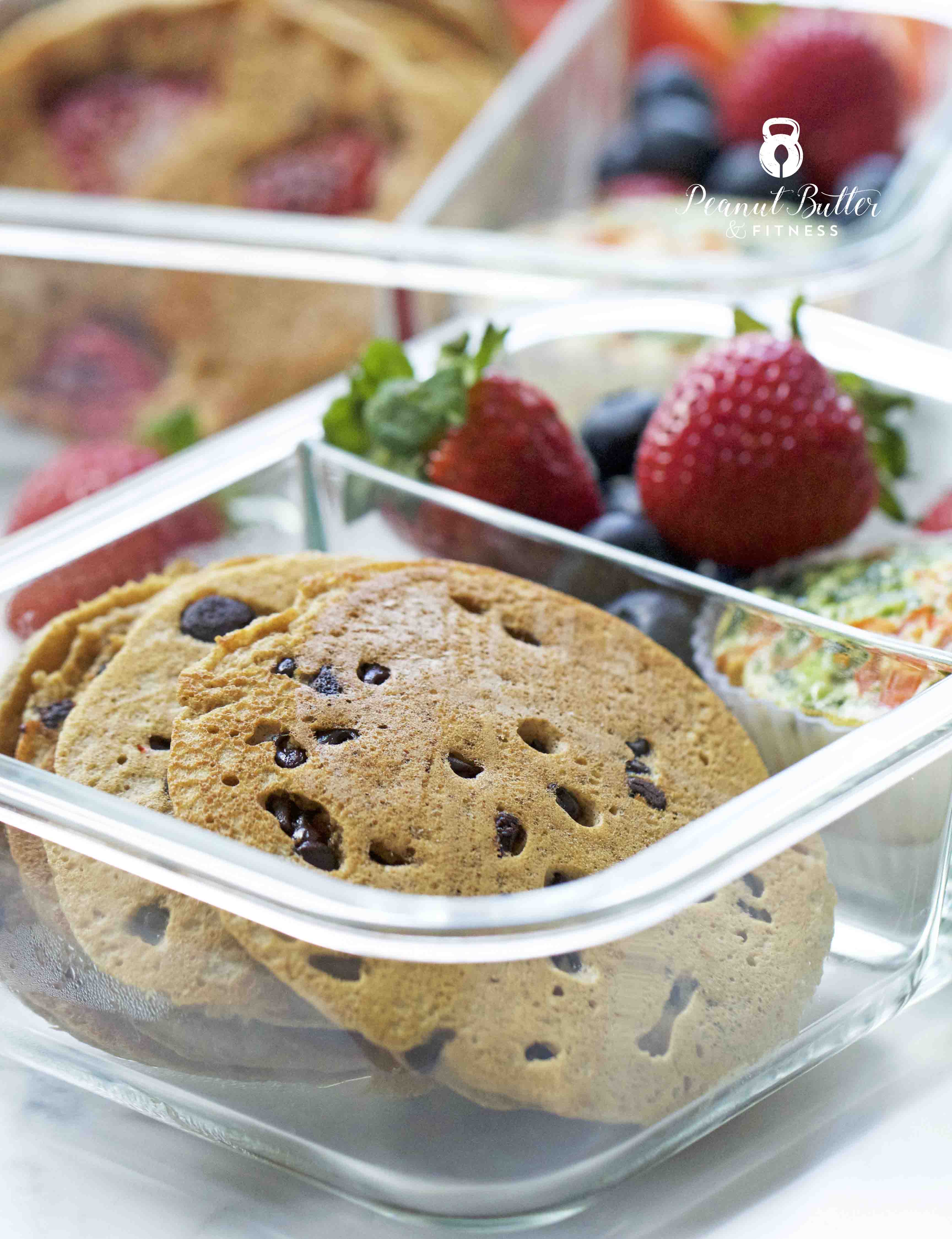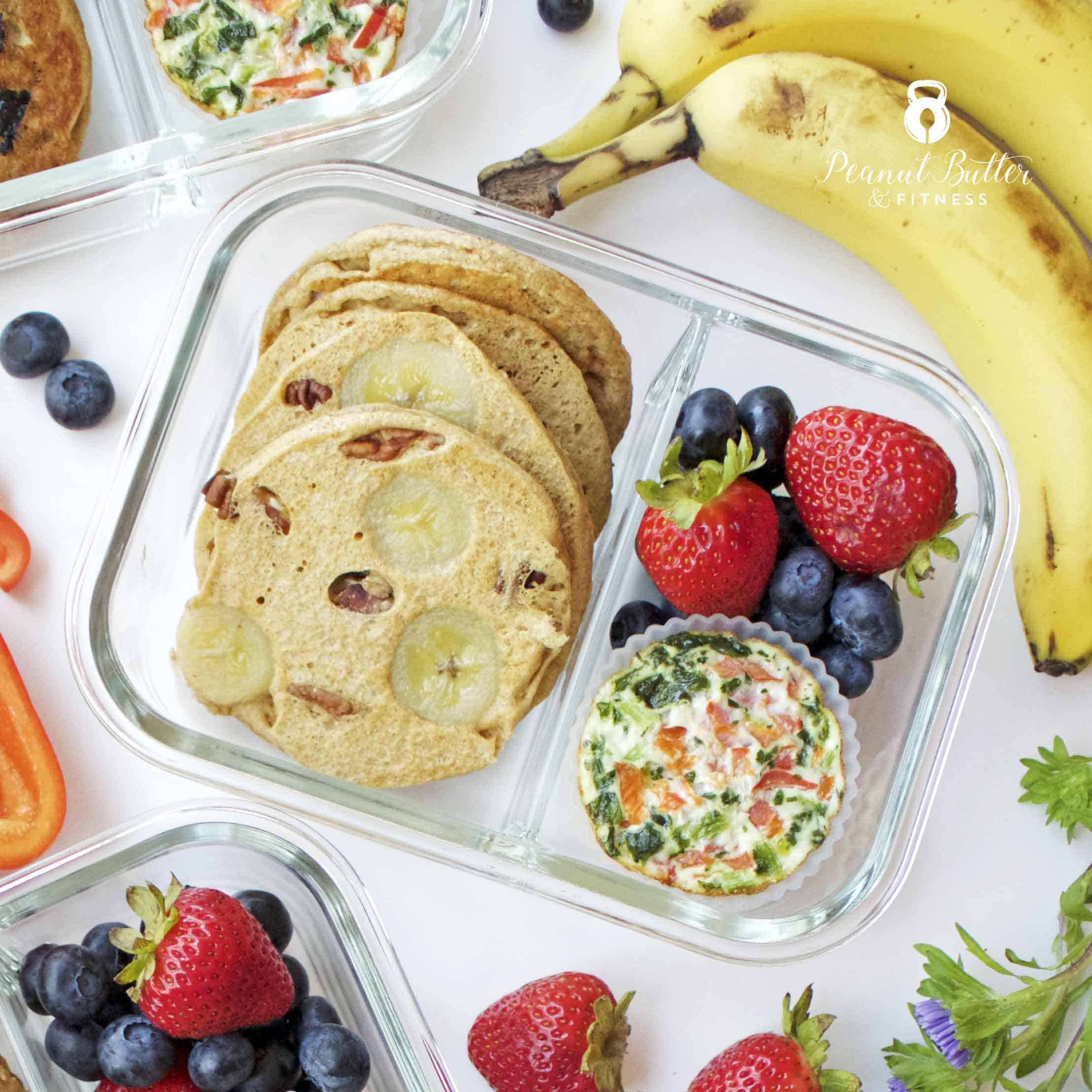 3. Tuna Salad
A childhood lunchbox classic gets a makeover with this updated tuna salad. Use a 3-compartment container to keep everything in its place.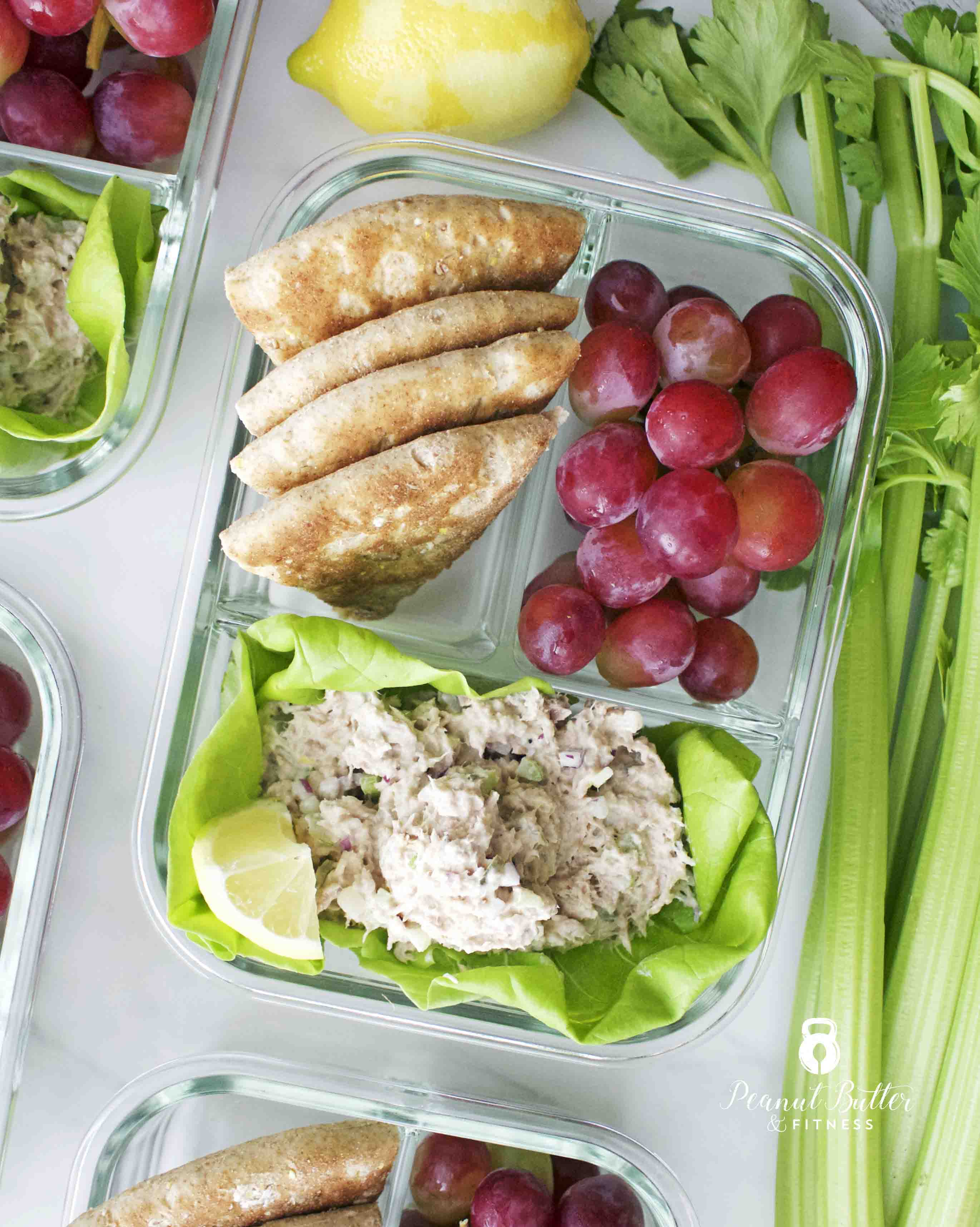 4. Egg Roll in a Bowl
This is the meal that took Pinterest by storm not too long ago. And for good reason! It's so easy and packs a ton of flavor while still being low carb. Which to me means there's more room for delicious toppings like sriracha mayo. Serve it all up in a 1-compartment glass container.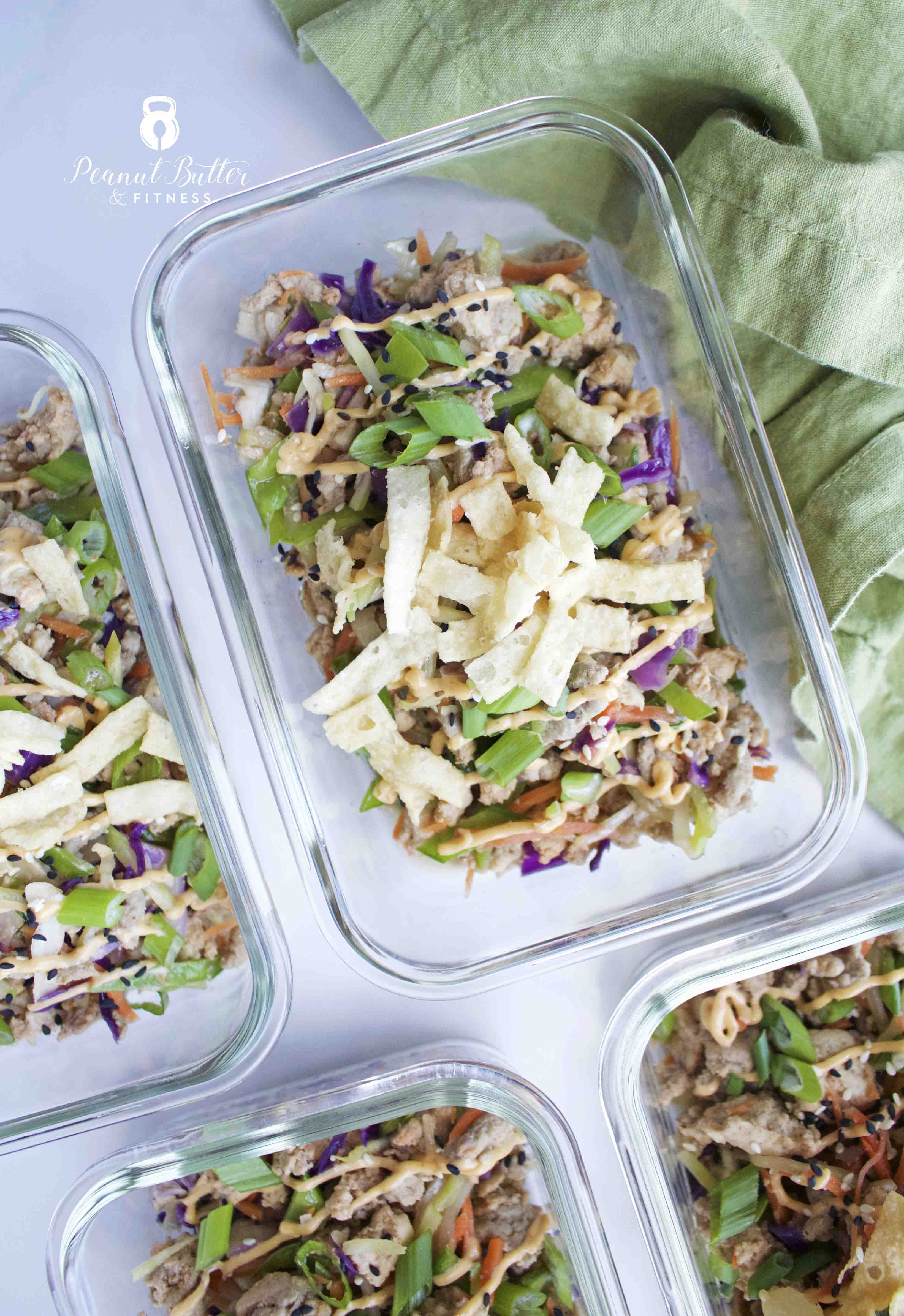 5. Bento Snack Boxes
I like to call these "adult lunchables." You can easily turn them into a meal or keep things small enough to be a snack. Either way, you won't be disappointed because they're so fun to eat. 3-compartment containers are best here.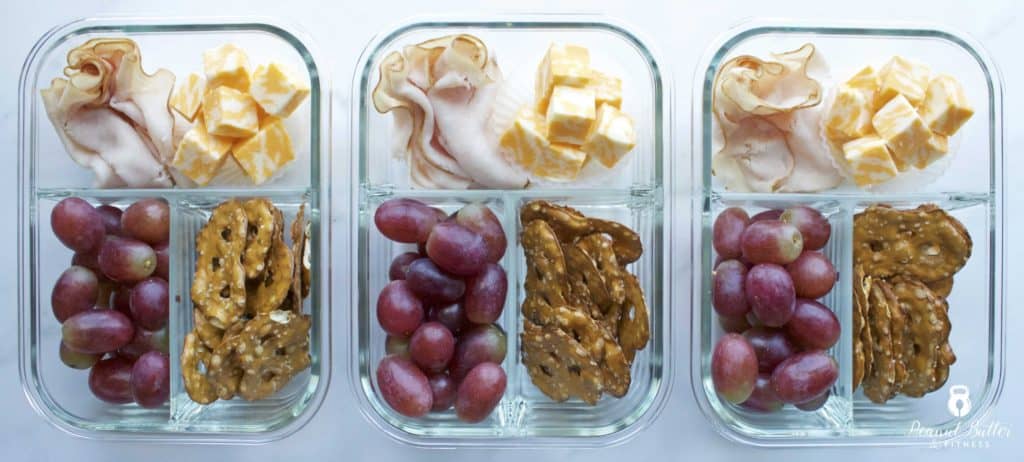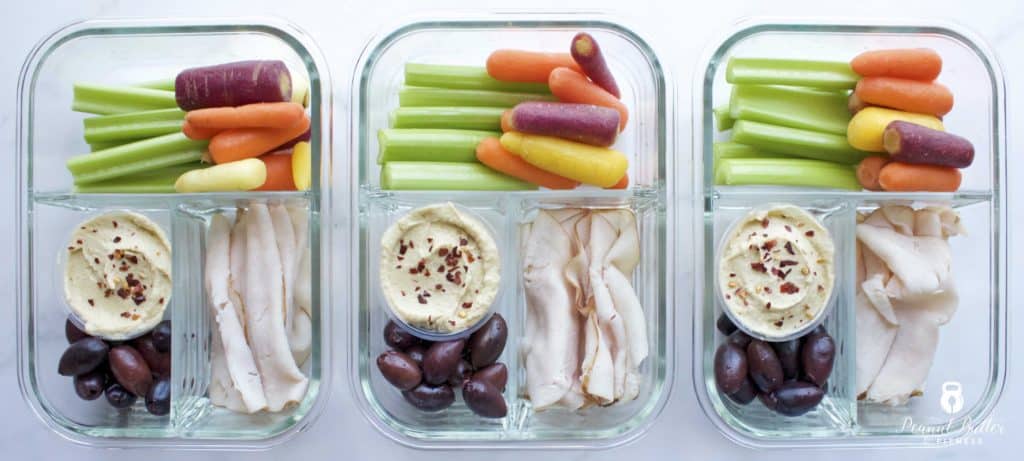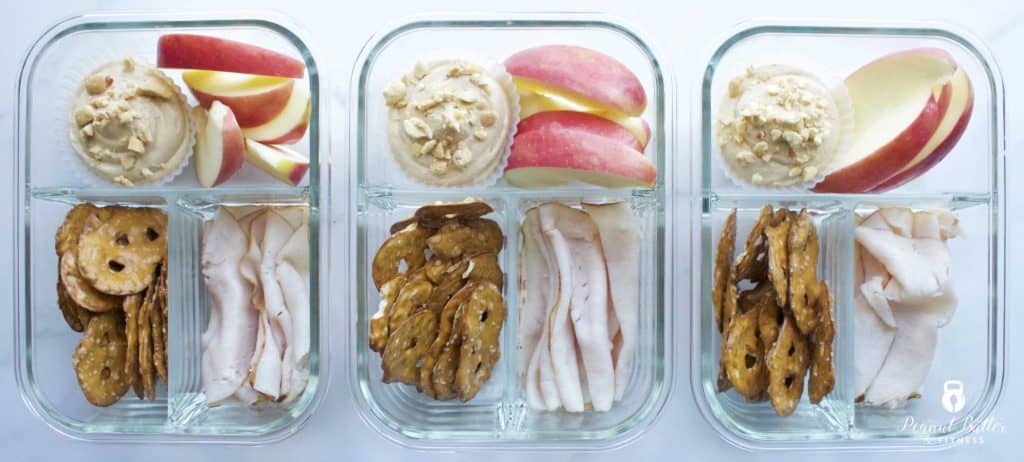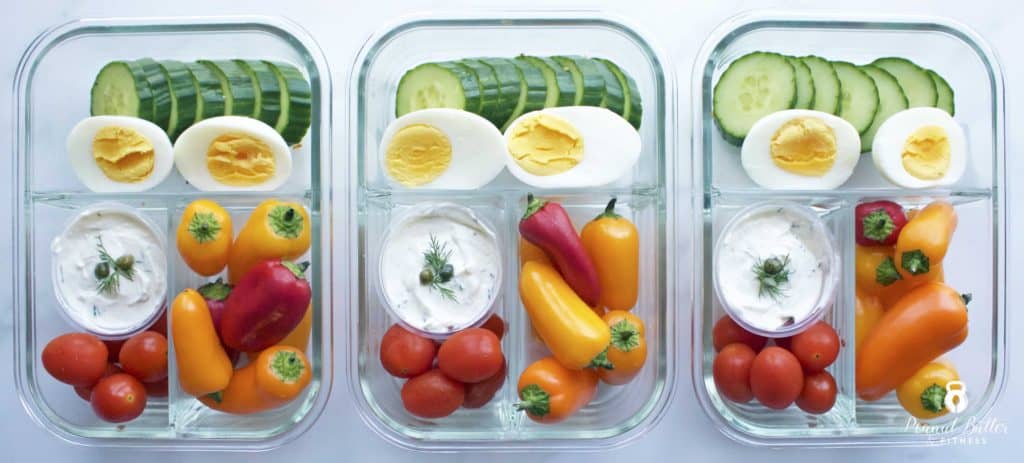 6. Mango Caribbean Salmon Bowl
You normally wouldn't see the words Caribbean and Salmon in the same sentence. Especially when it comes to meal prep. But when you serve them over a bed of red cabbage, black beans, and rice and THEN top it with an incredibly fresh mango sauce and pickled red onions? Perfection. All the ingredients can be friends in a 1-compartment container. If you'd prefer to keep the sauce separate, try these handy reusable sauce containers.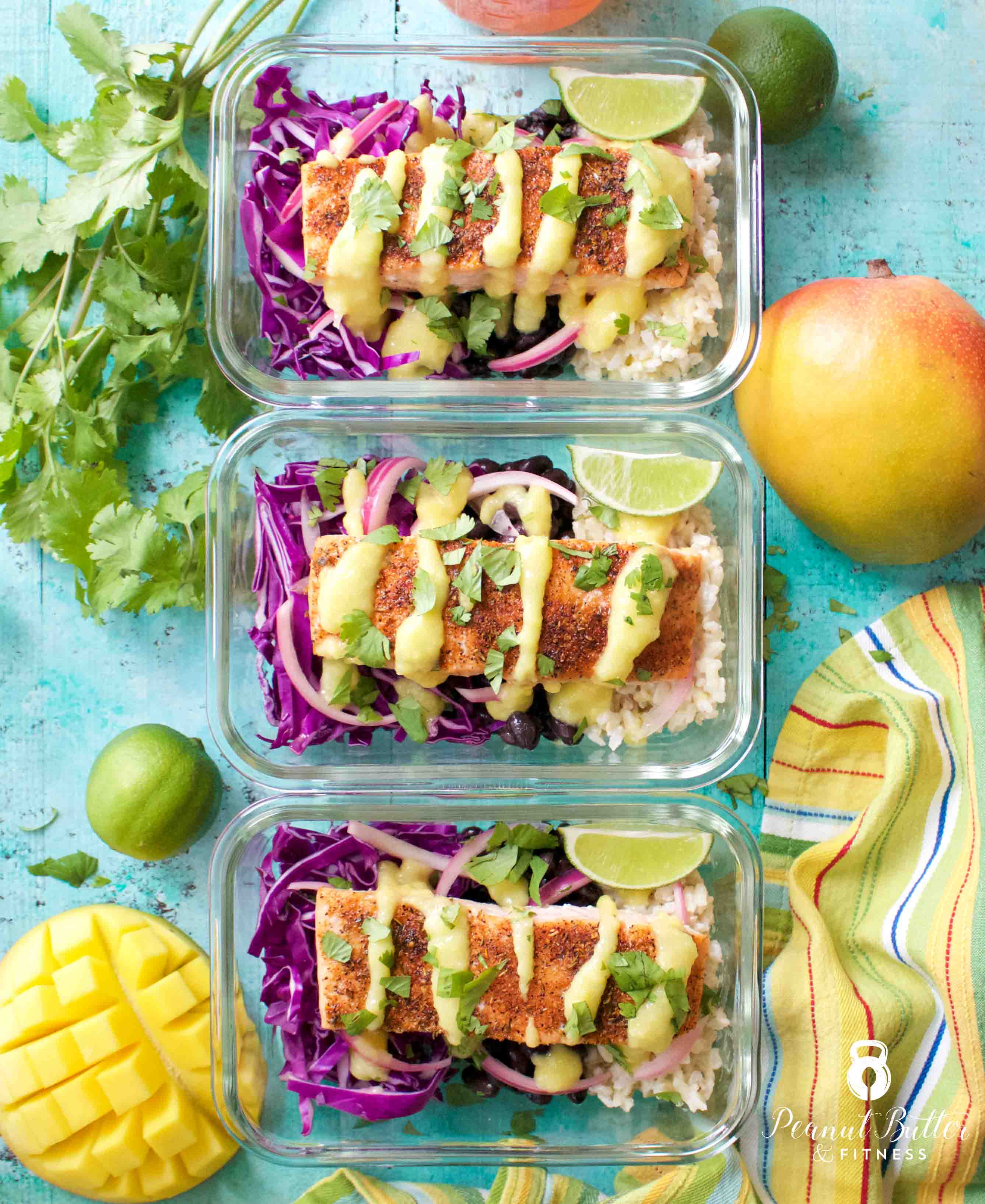 7. Slow Cooker Chicken Pot Pie
This is a comfort food to-go, perfected. By keeping the biscuits separate from the pot pie innards, you can keep it fresh in a meal prep container all week. Go for the 2-compartment containers here.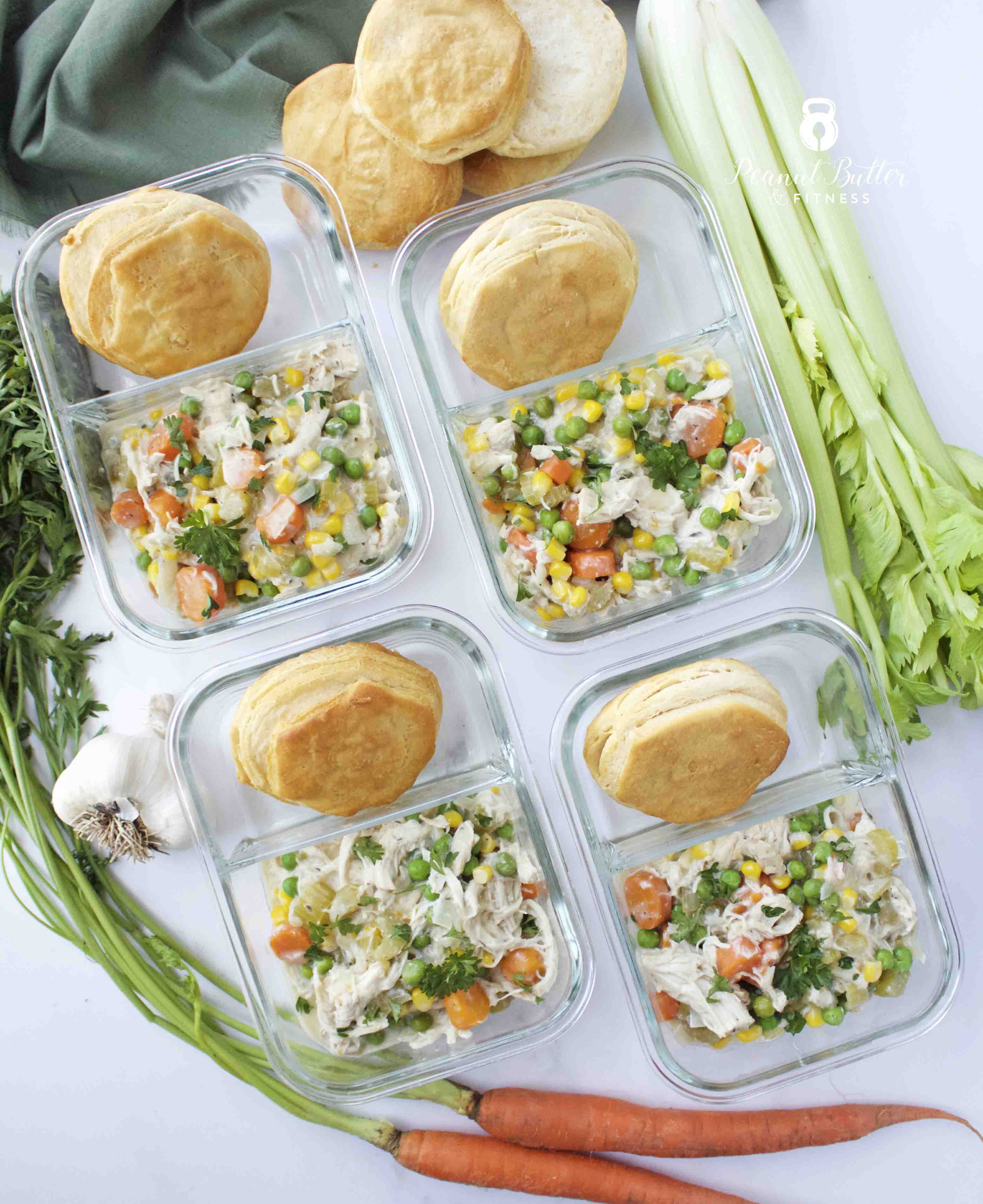 8. Spicy Garlic Shrimp and Asparagus
This is one of my ALL TIME FAVORITE meals to prep. You get so much flavor out of the the spicy garlic sauce. Be sure to eat the shrimp within 4 days of cooking (not that it'll be a problem…I have a hard time not shoveling it into my pie hole every time I make it!). A single compartment container works great here.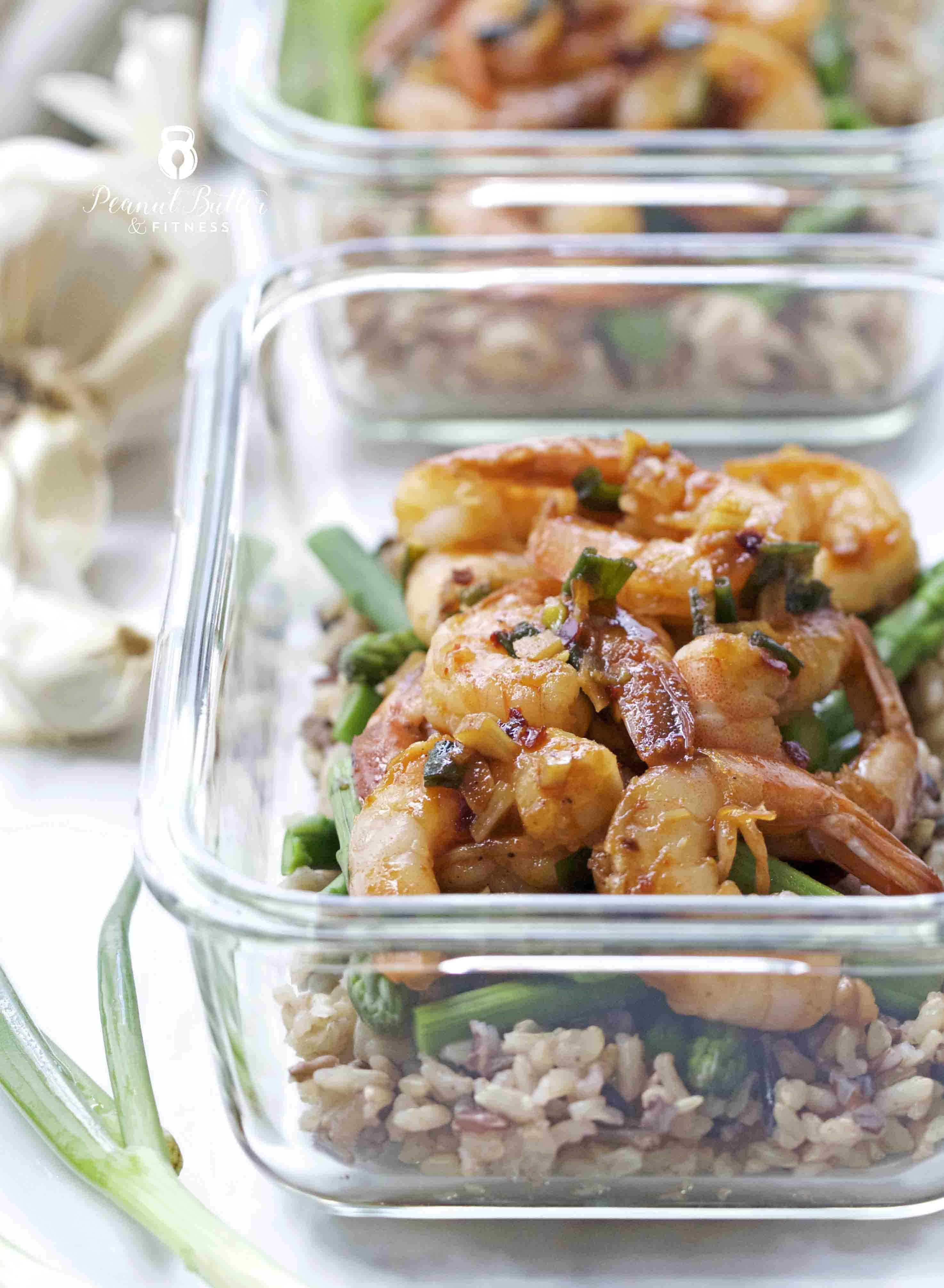 9. Buffalo Chicken Lettuce Wraps
Who else loves a good buffalo chicken dish?! The flavor reminds me of enjoying wings and watching football, but hey, we can't do it everyday, right? This healthier grown up lettuce wrap features plenty of guac and fresh veggies to cool down the spicy red hot sauce. I used a 3-compartment container with this meal.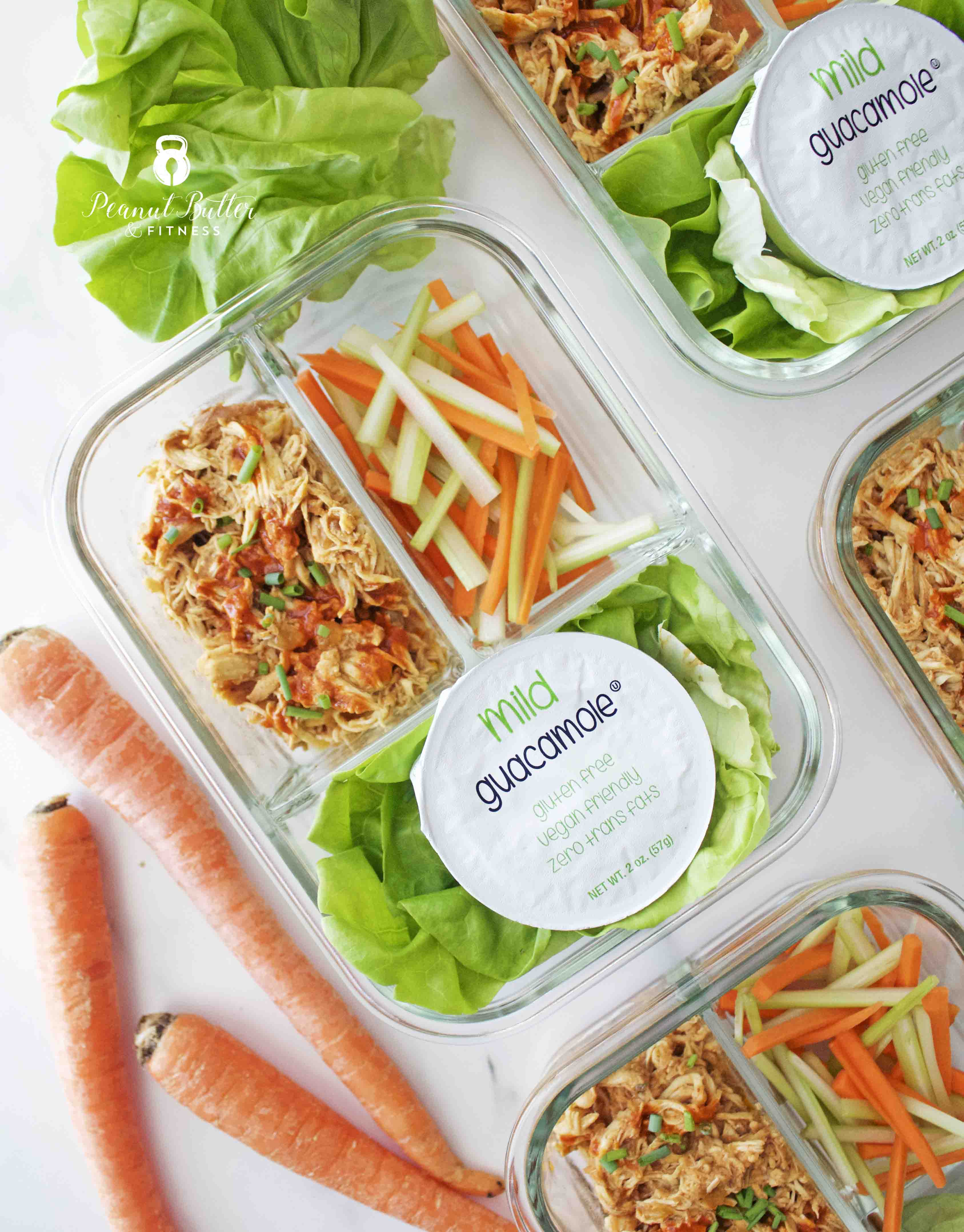 10. Thai Steak Salad
Mason jar salads have been having a moment for like 3 years now. And for good reason! They're easy, portable, and no-fuss to serve. I usually prefer a good salad prep container, but damn if I didn't love this steak salad in a jar.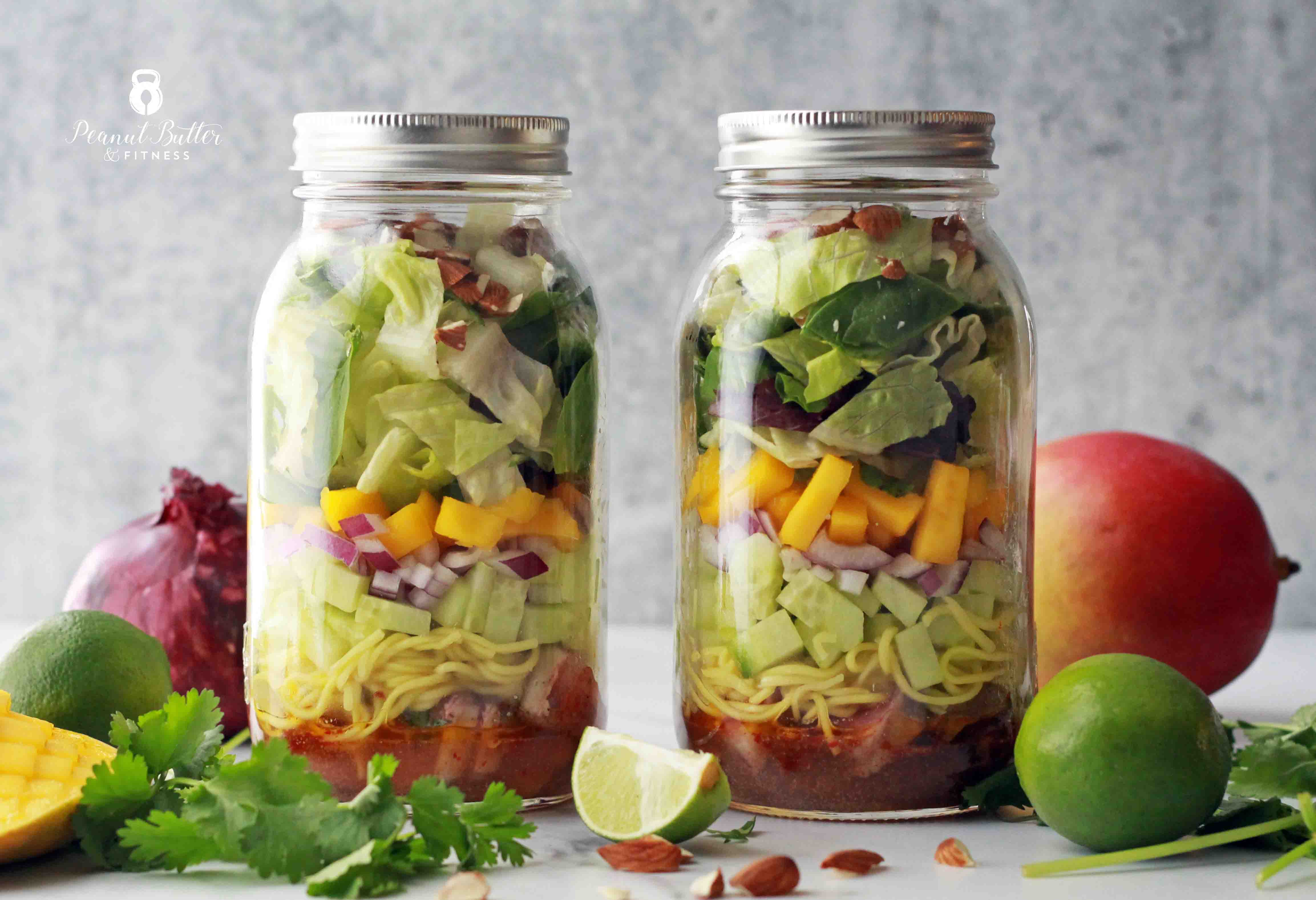 11. Turkey Spinach Meatballs with Zoodles
Another one of my most classic meal prep recipes…I've made it probably 50 times or more by now. It was one of my first recipes on the blog back in 2013. The photos have gotten an upgrade since then, but the recipe has remained largely the same. Stick all these goodies in a single compartment container.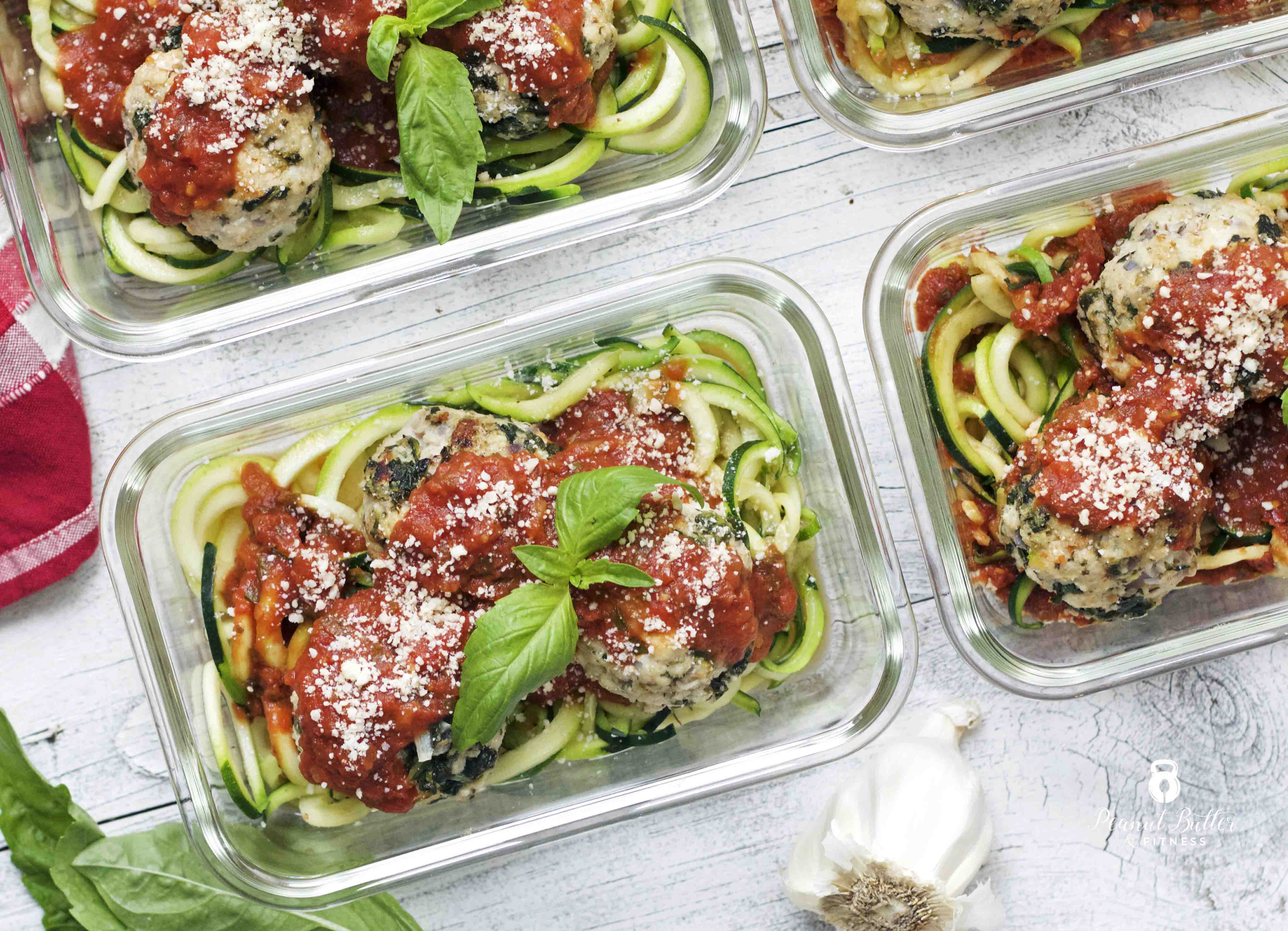 12. Shrimp Summer Rolls
When you just gotta have something fresh and out of the ordinary, try this no-heat lunch. It has plenty of veggies and a yummy hoisin peanut butter sauce for dipping. A 3-compartment container is best for this one.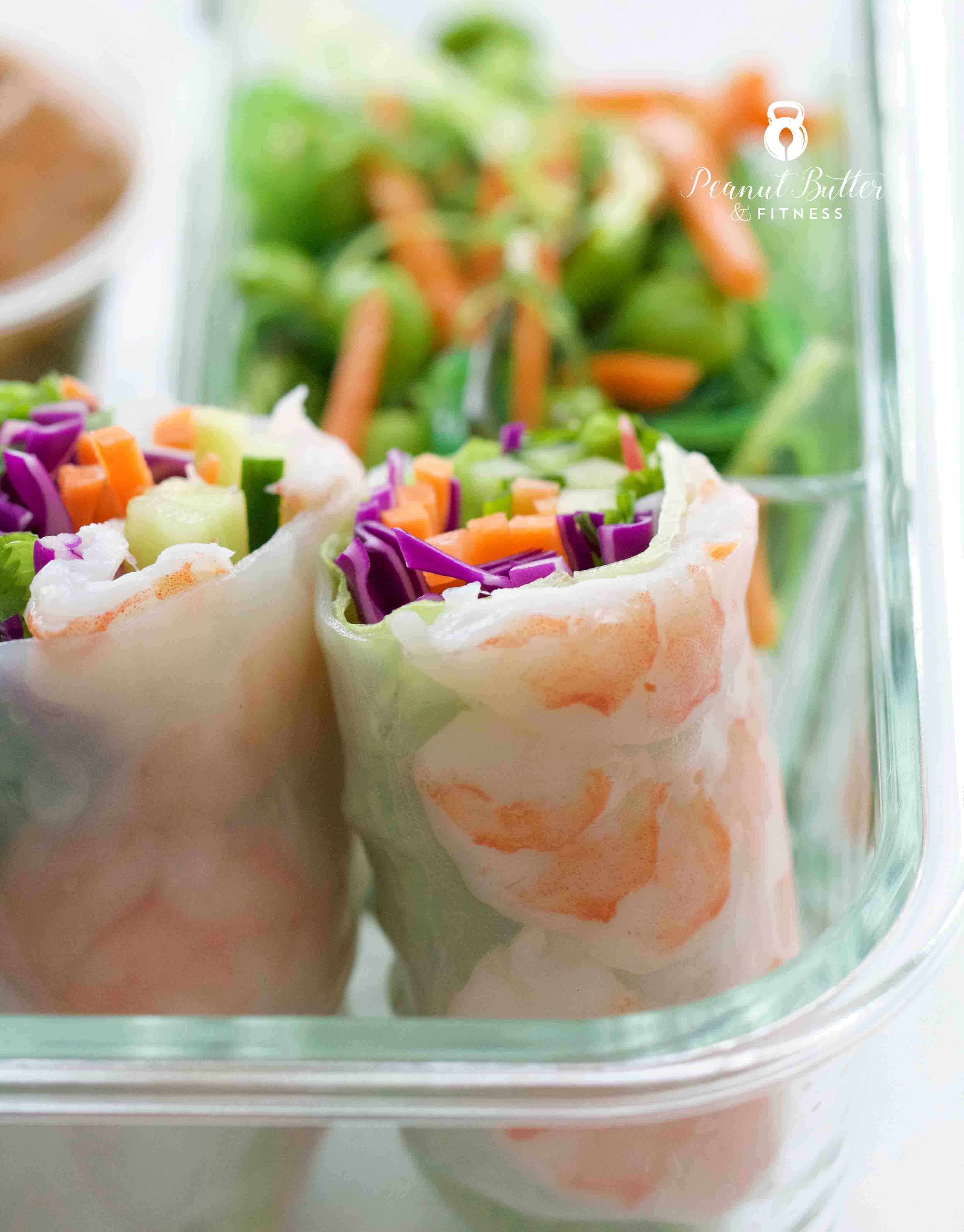 13. Beef Stir Fry
This Beef Stir Fry is another oldie but a goodie. I've made it probably a dozen times and every time I think to myself "I should really make this more often." Stir fries are a great meal to prep, especially because the sauce keeps things moist and flavorful. Use a single compartment container here.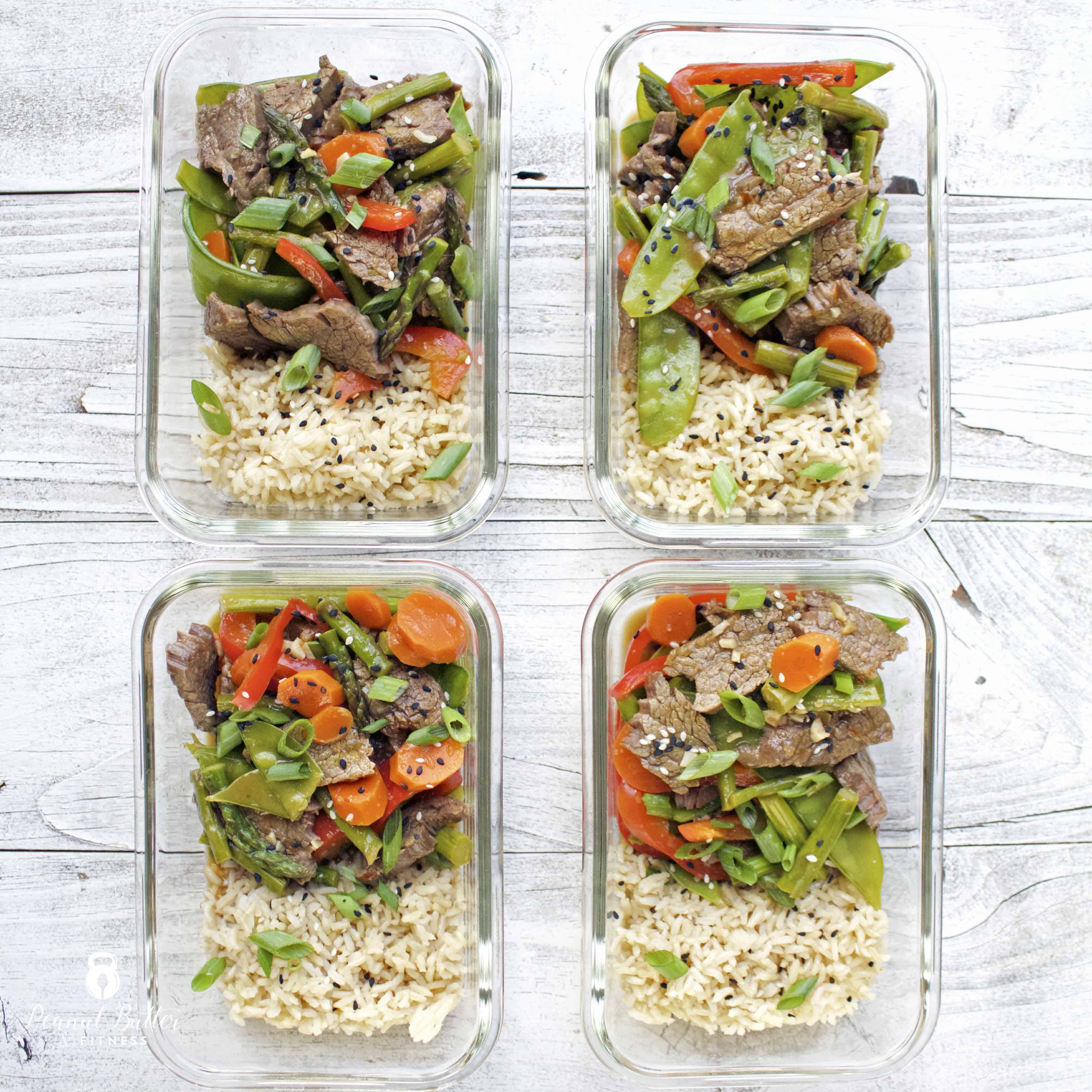 14. Grilled Adobo Chicken with Corn Relish
If you have access to a grill right now, you've GOT to give this one a try. Even if it's a countertop grill, you really need to give it a go. Corn relish might sound weird, but it brings so much freshness to this dish you'll be eating it right out of the jar in no time. It's basically a bunch of lightly pickled veggies all dumped over a deliciously spicy grilled chicken. Let everyone play together in the same pool (container) on this one.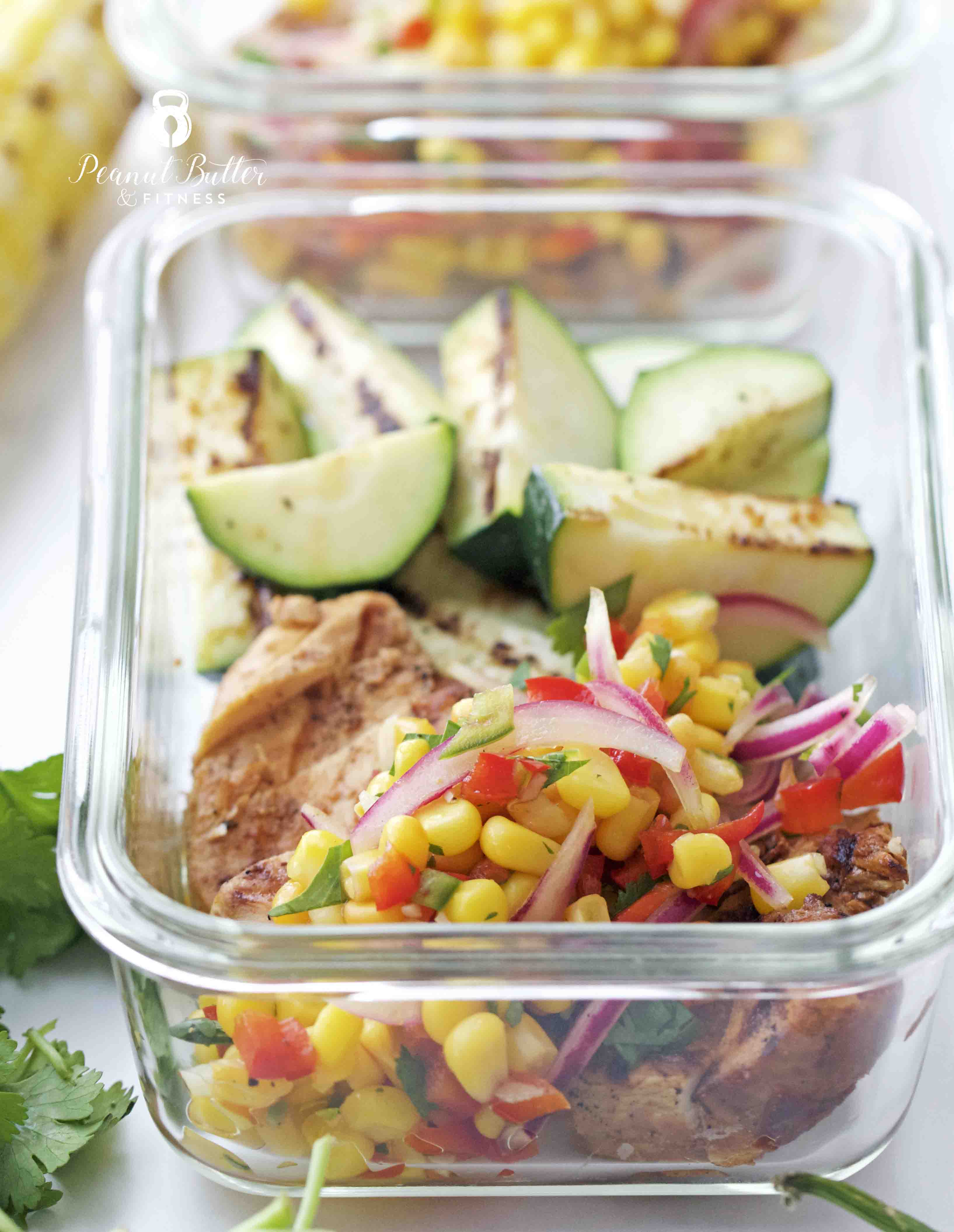 15. Spaghetti Squash Pad Thai
We all know and love Pad Thai. It's an incredible not-so-Thai comfort slash street food, but man…those noodles are super high carb! And since I'd rather save some carbs for other goodies, I gave this classic dish a spaghetti squash makeover. Again, everybody in the same pool (container).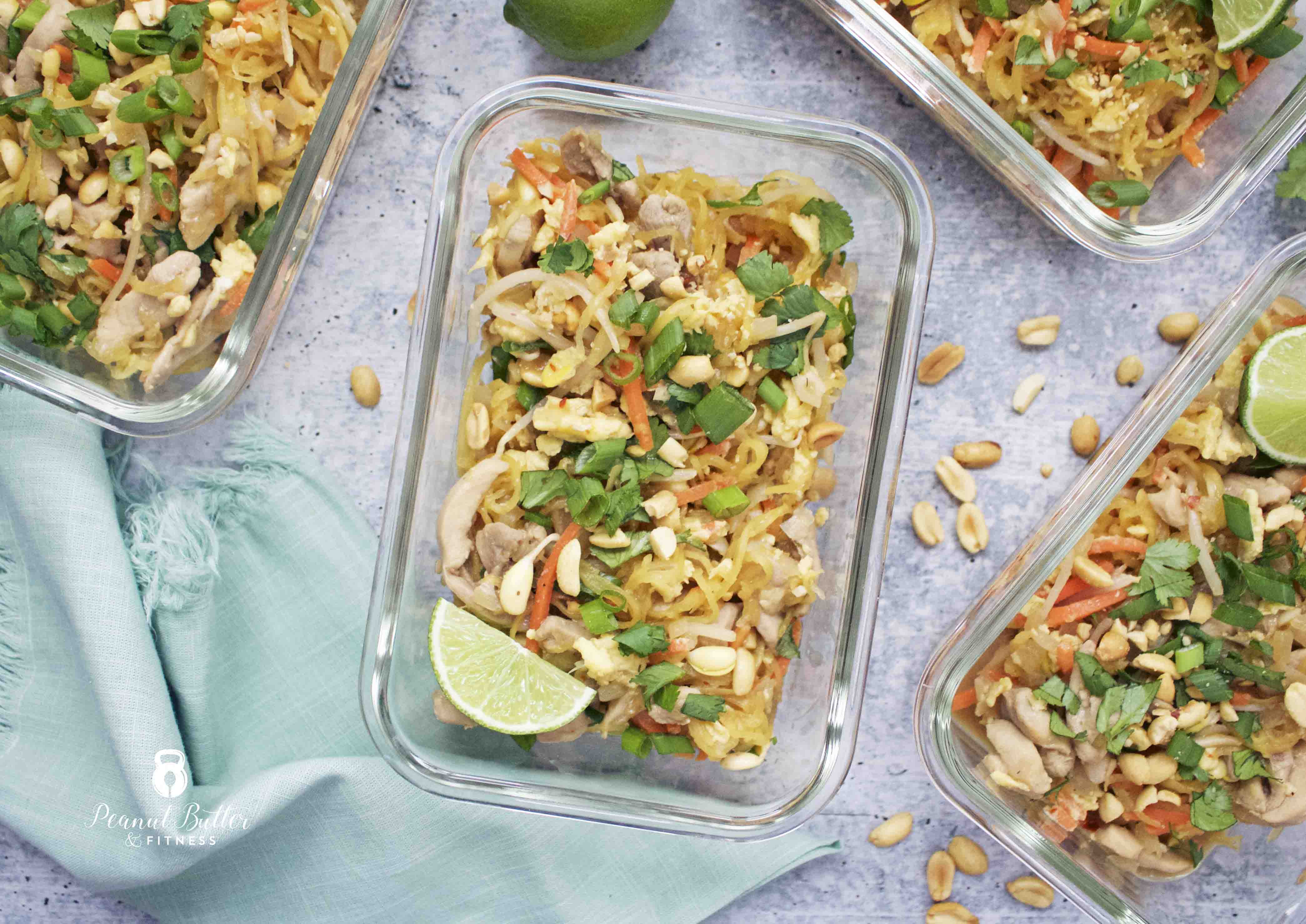 16. Protein Overnight Oats
So let's talk overnight oats…some people love them, some people hate them. I am an overnight oat lover (obvi). Especially when they look and taste like these overnight oats. I love a good jar for oats.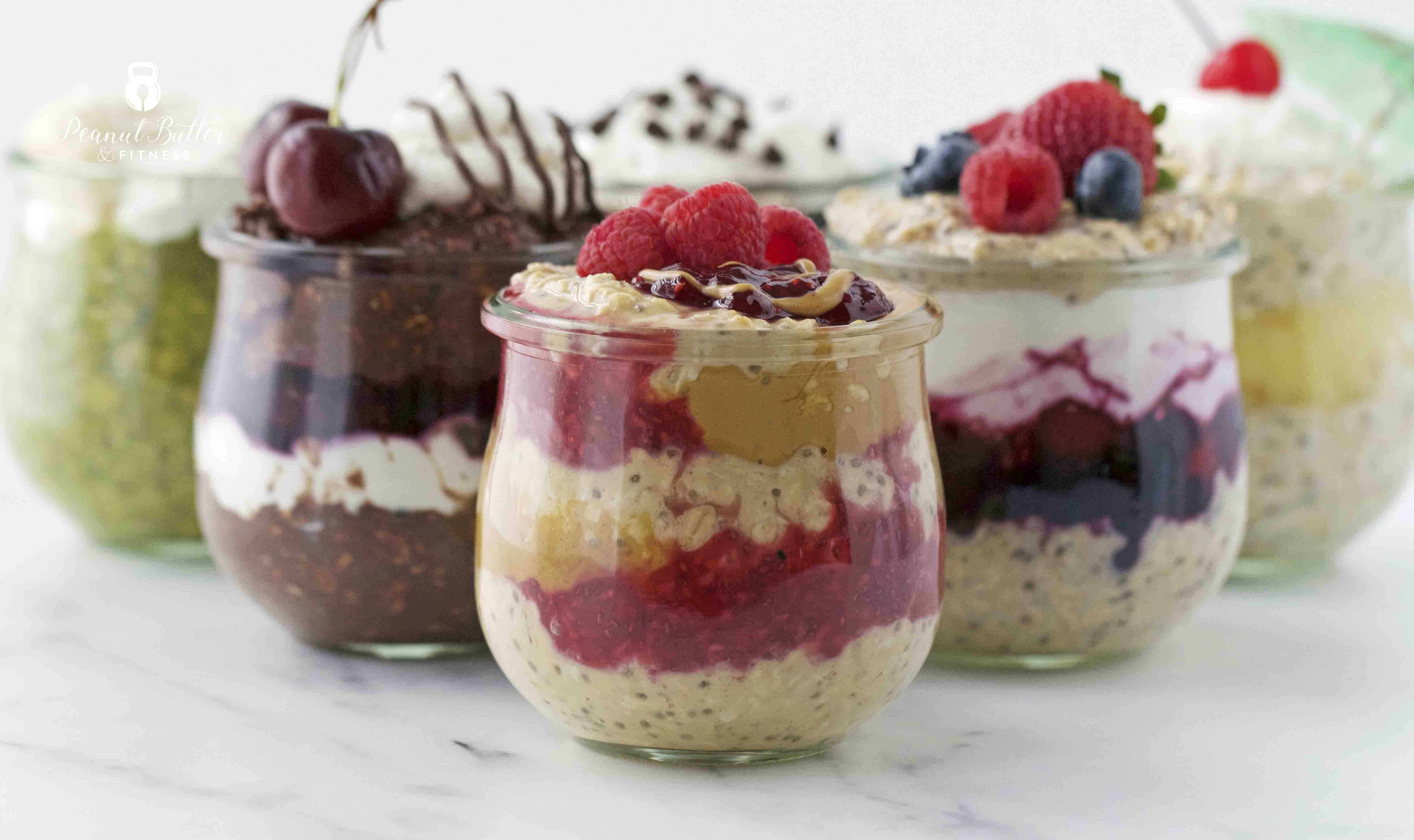 17. Shrimp Buddha Bowl
I haven't seen Buddha bowls making the rounds on social media for a hot minute, but they still deserve some of the spotlight. They usually have a protein, lots of veggies (like this kale, asparagus, and squash), a grain, and some kind of finger-licking good sauce. Keep it all stored in a single compartment container.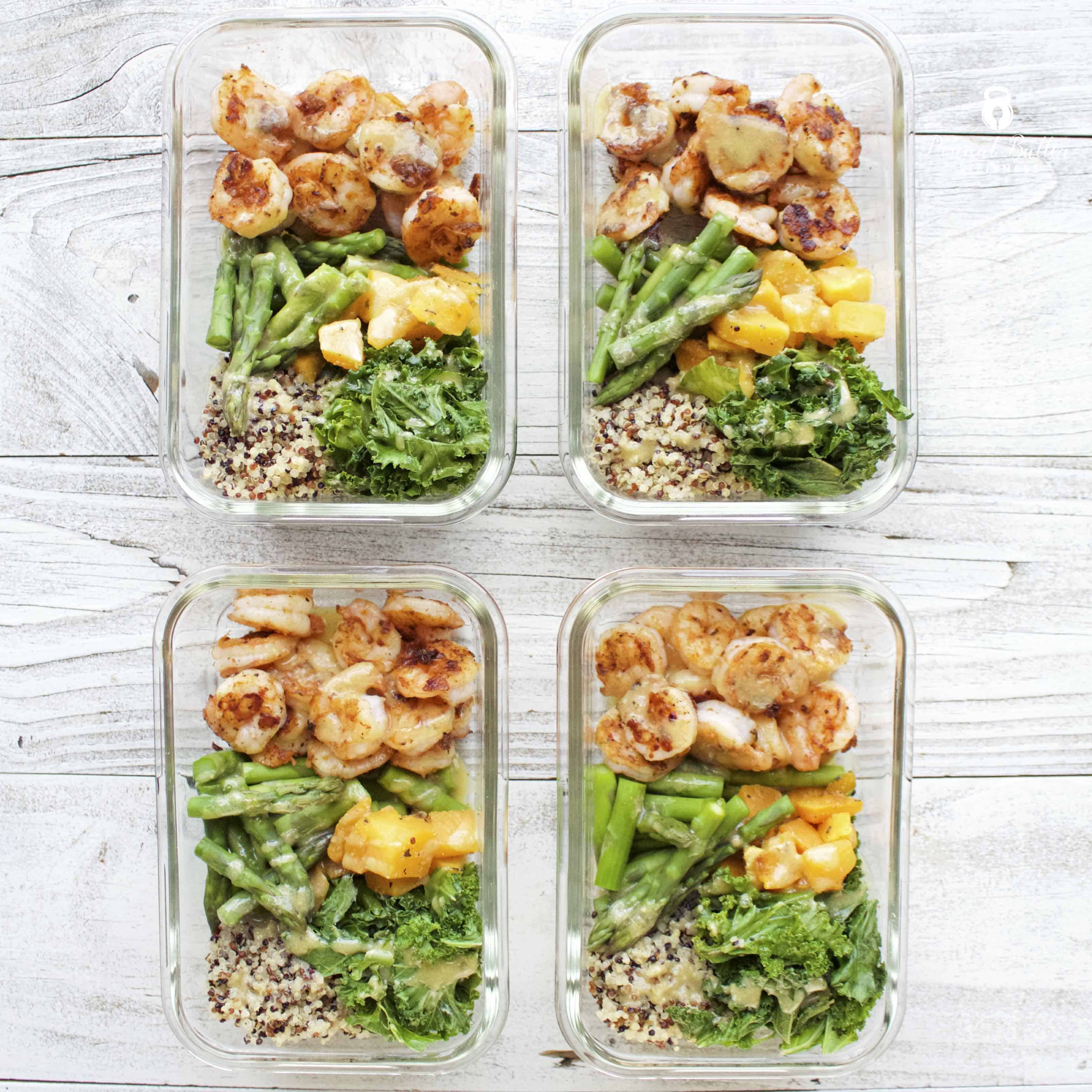 18. Miami Chicken Burrito Bowls
I got the inspiration for this recipe from a little ceviche restaurant when I lived in Miami. They would do these incredible burrito bowls for when you weren't feeling the fish and lemme tell you…they were incredible! Fresh, delicious, and nutritious. All in one bowl.
19. Hawaiian BBQ Chicken and Slaw
A little slow cooker chicken served up with fresh slaw? Sign me up. Just keep them in two compartments until you're ready to eat!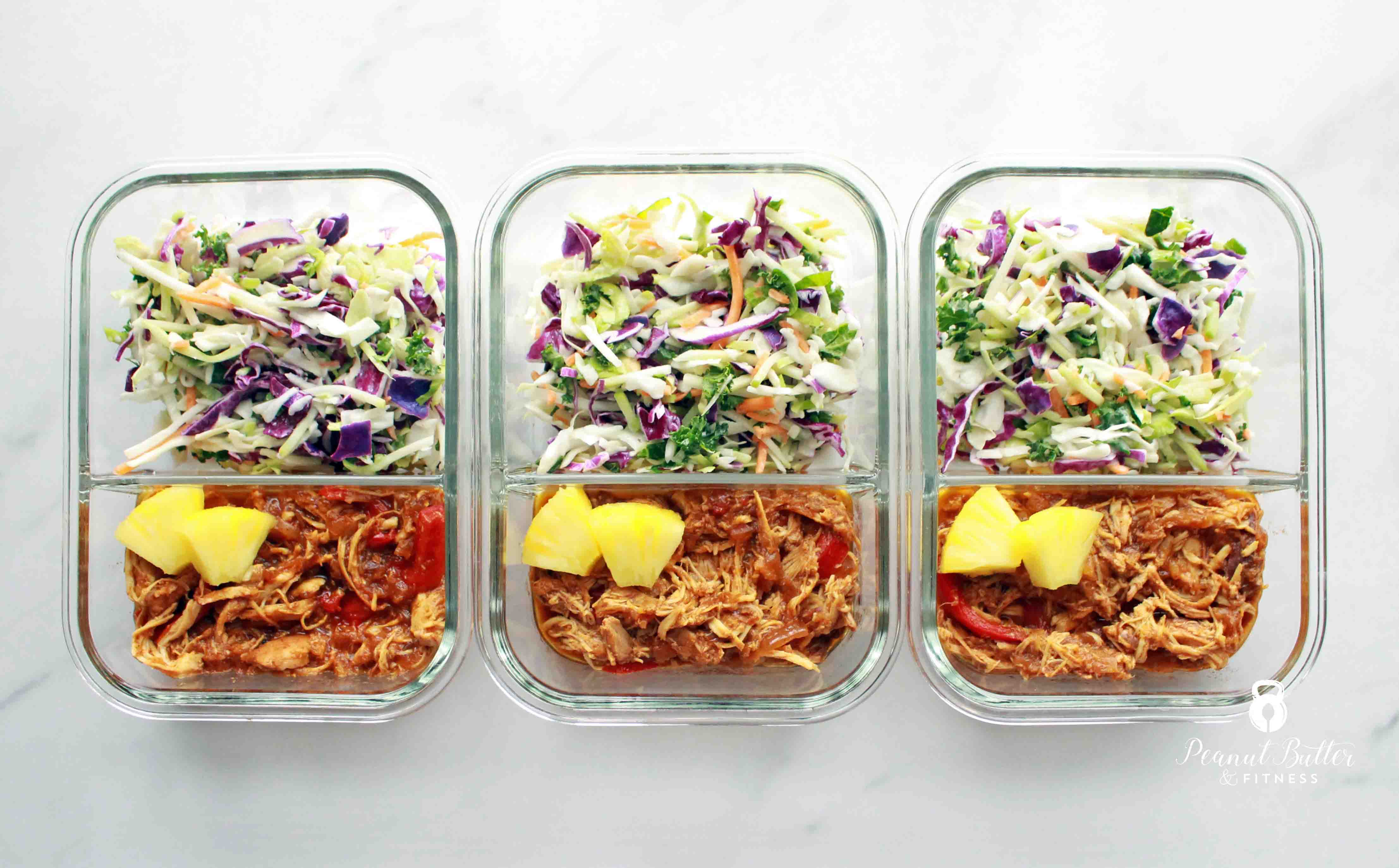 20. Tofu Stir Fry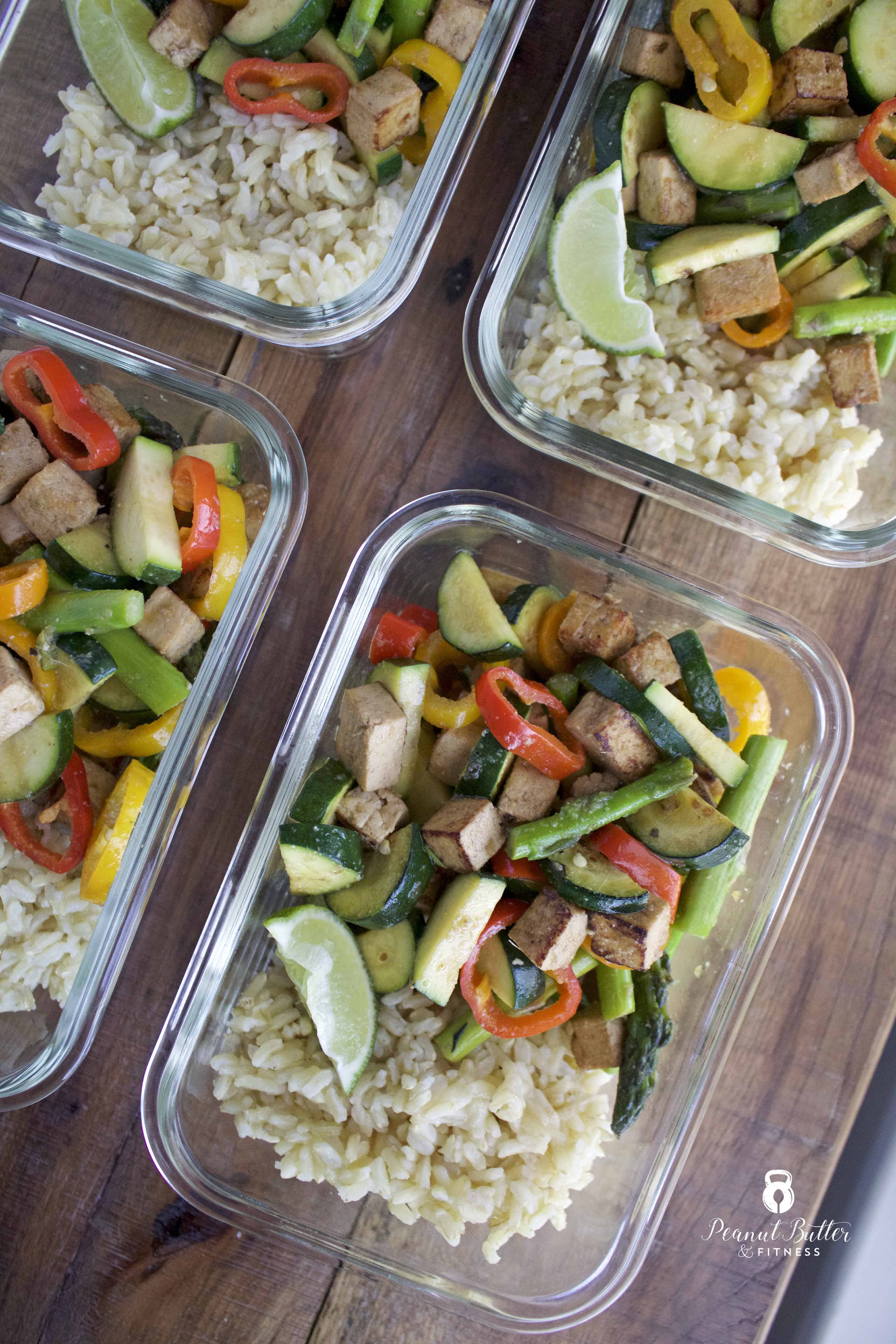 I don't eat tofu often, but when I do, THIS is how I eat it. You get a ton of flavor from the sauce, and it's honestly delicious. If I didn't love chicken so much, I'd eat this way more often. Eat it all in one container.
21. Air Fryer Chicken with Creamy Orzo
I first came up with the recipe for this yummy orzo a few years back, but I edited the recipe when I needed something to take to a friend's house in a pinch. I used what I had on hand and it turned out amazing! Serve it up alongside my perfectly juicy air fryer chicken in a single compartment container.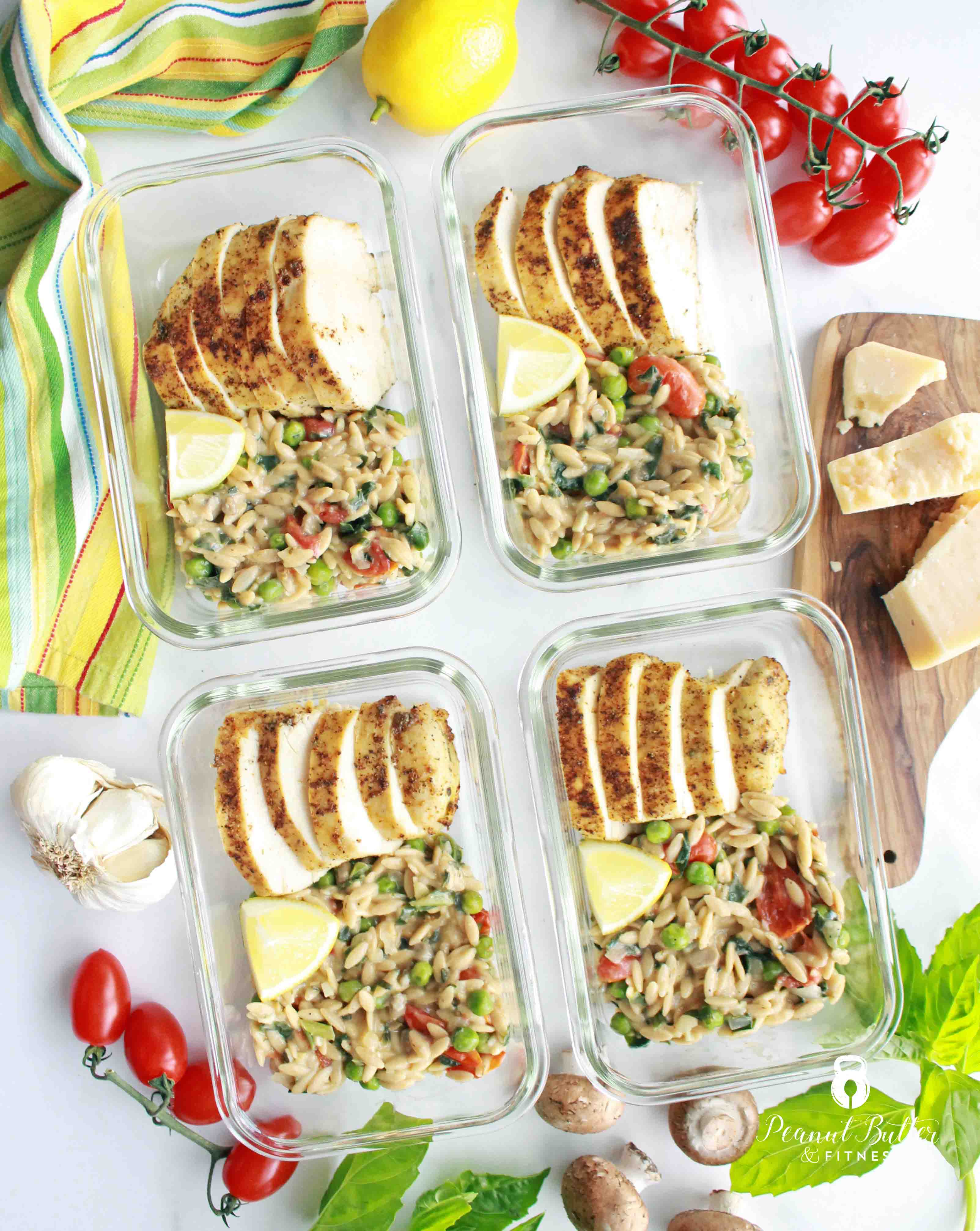 22. Red Thai Curry
When I go to Thai restaurants I almost always get curry. I just love it so much. But I know it's healthier when I make it at home, especially when I pack it with veggies and go for the light coconut milk. You gotta try this one.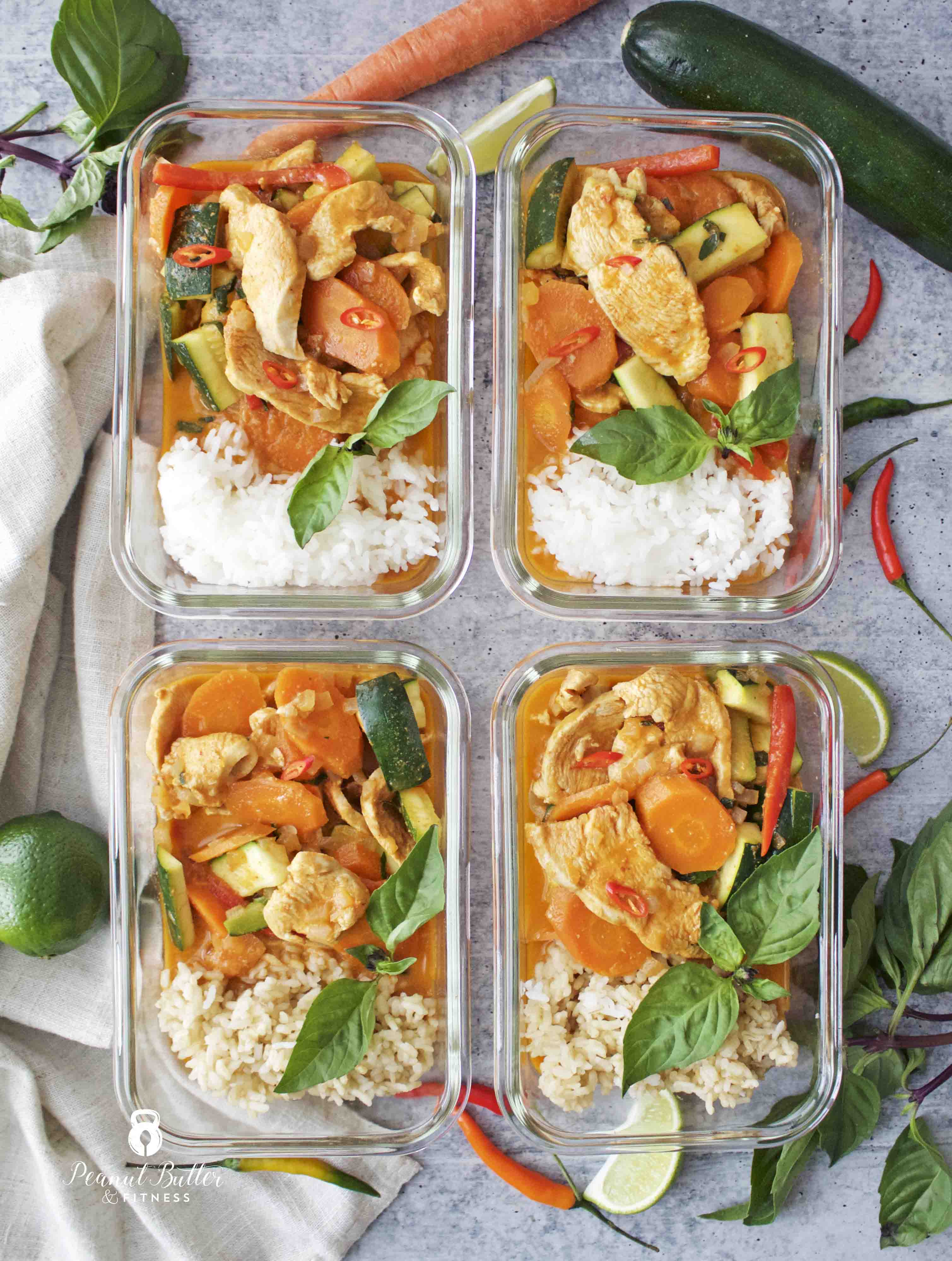 23. Skillet Honey Garlic Chicken
Another one of my "oldie but goodie" recipes that I've made a bunch of times. The whole skillet is slathered in a delicious honey, garlic, and mustard sauce. So delicious, and best served in one compartment.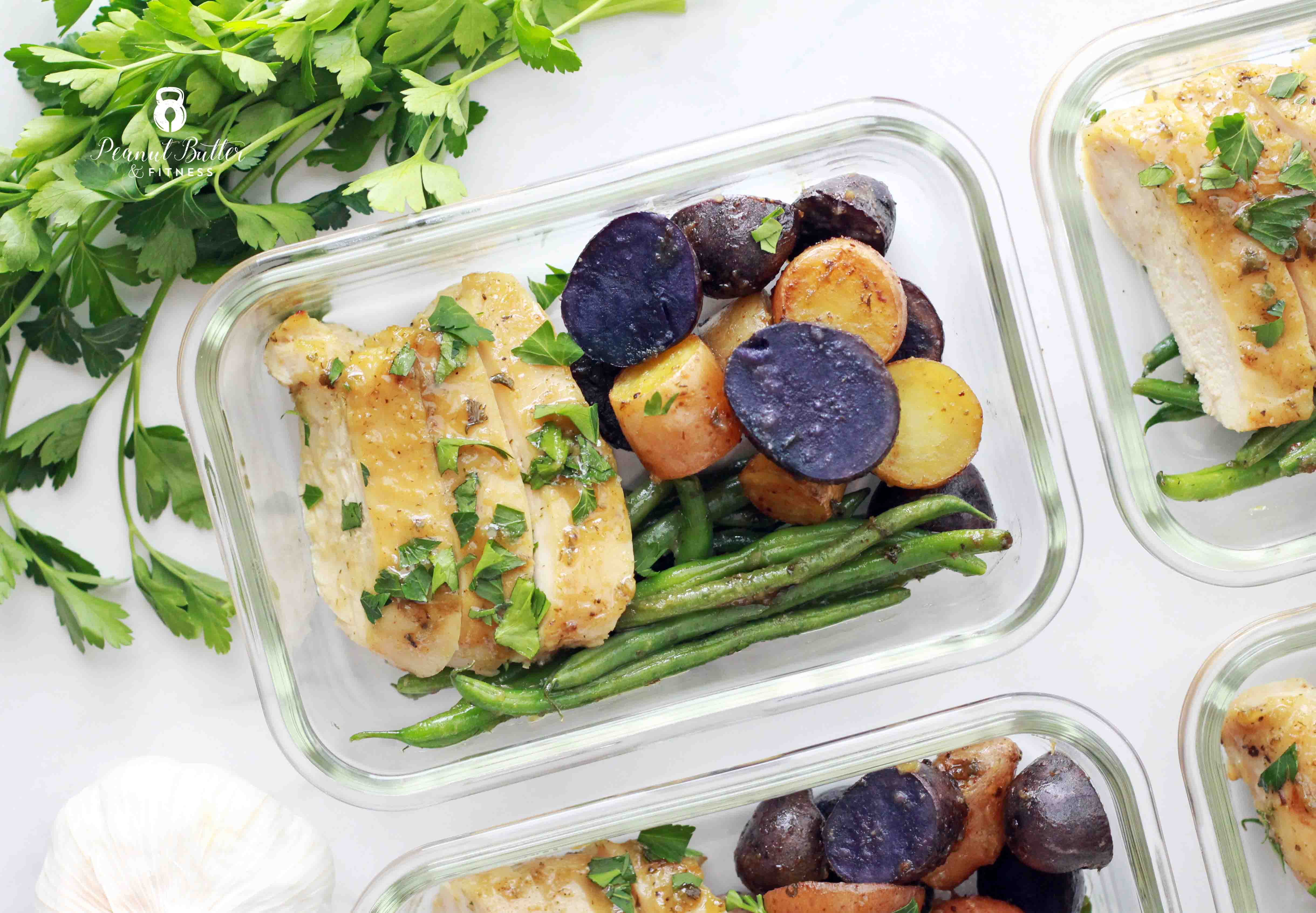 24. Sheet Pan Miso Glazed Salmon
A white miso glaze gives an incredible umami flavor to this salmon and veggie one-sheet meal. A little salty. A little sweet. And truly delicious. Use a two or three compartment container to serve this one up.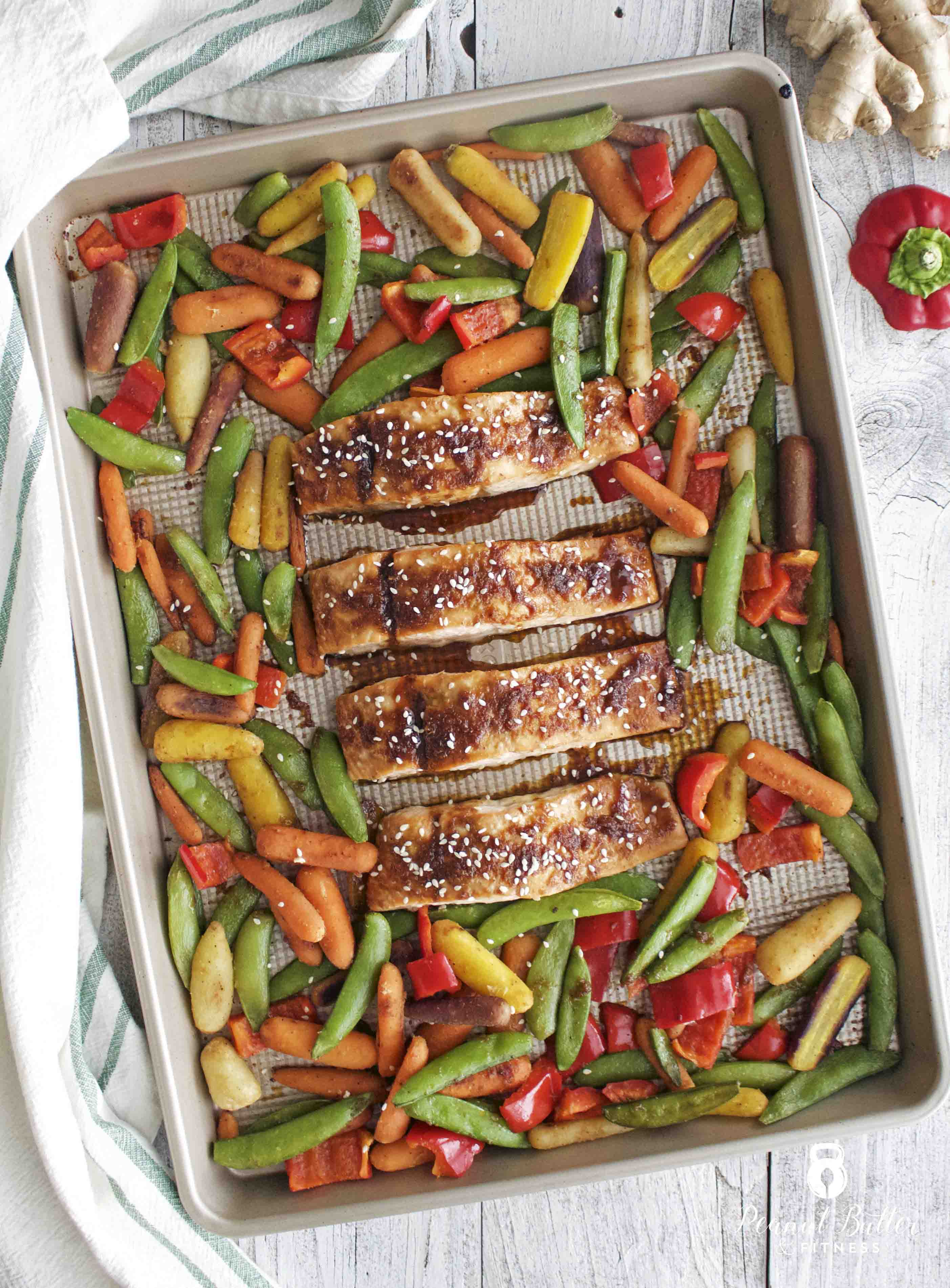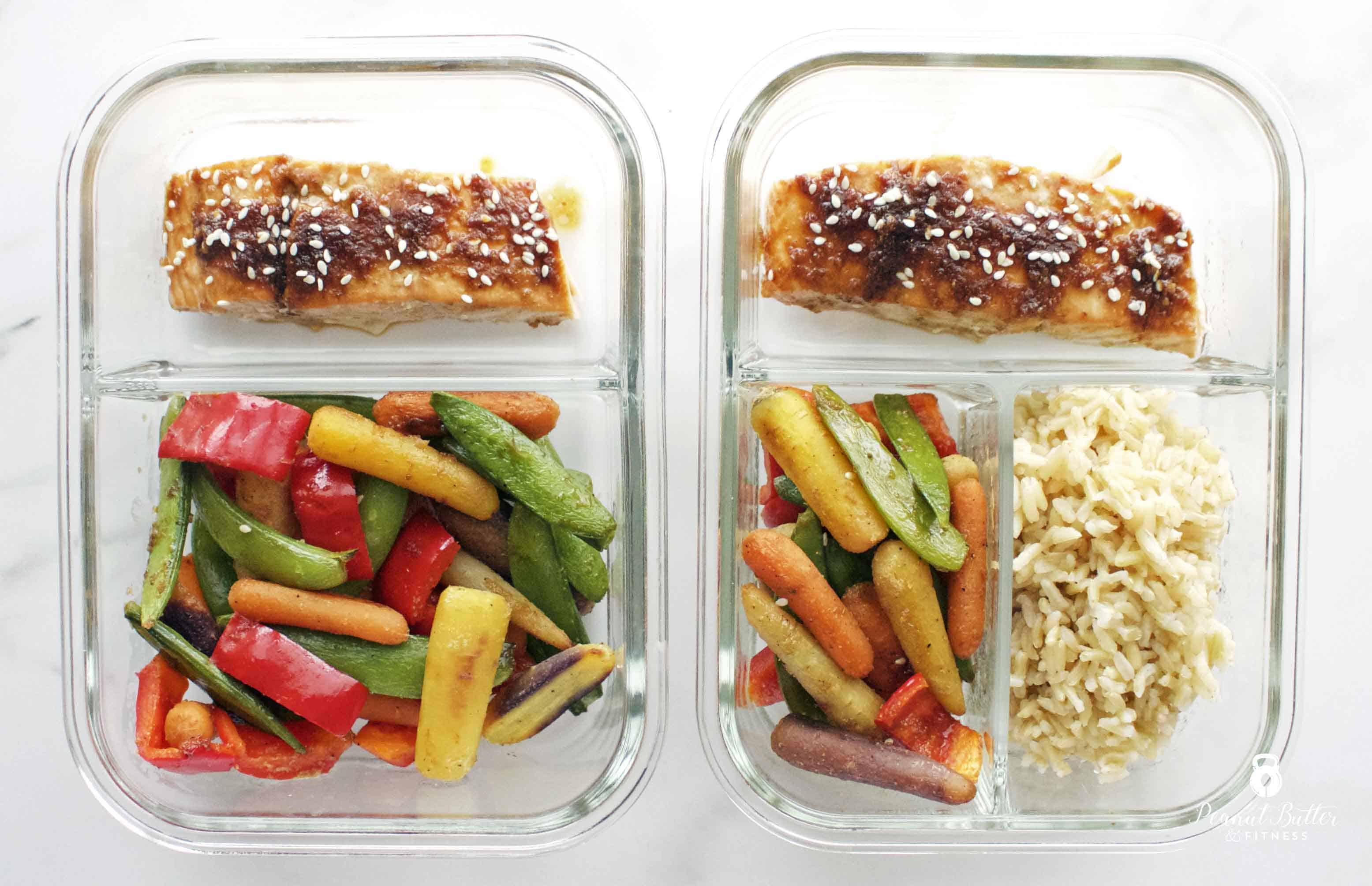 25. Teriyaki Chicken Bowls
26. Mediterranean Chicken Pitas
I love a simple sandwich type of lunch, but these pitas are all grown up compared to those pre-sliced lunch meat sandwiches. Give it a go in a 3 compartment container with hummus stored in a separate sauce container.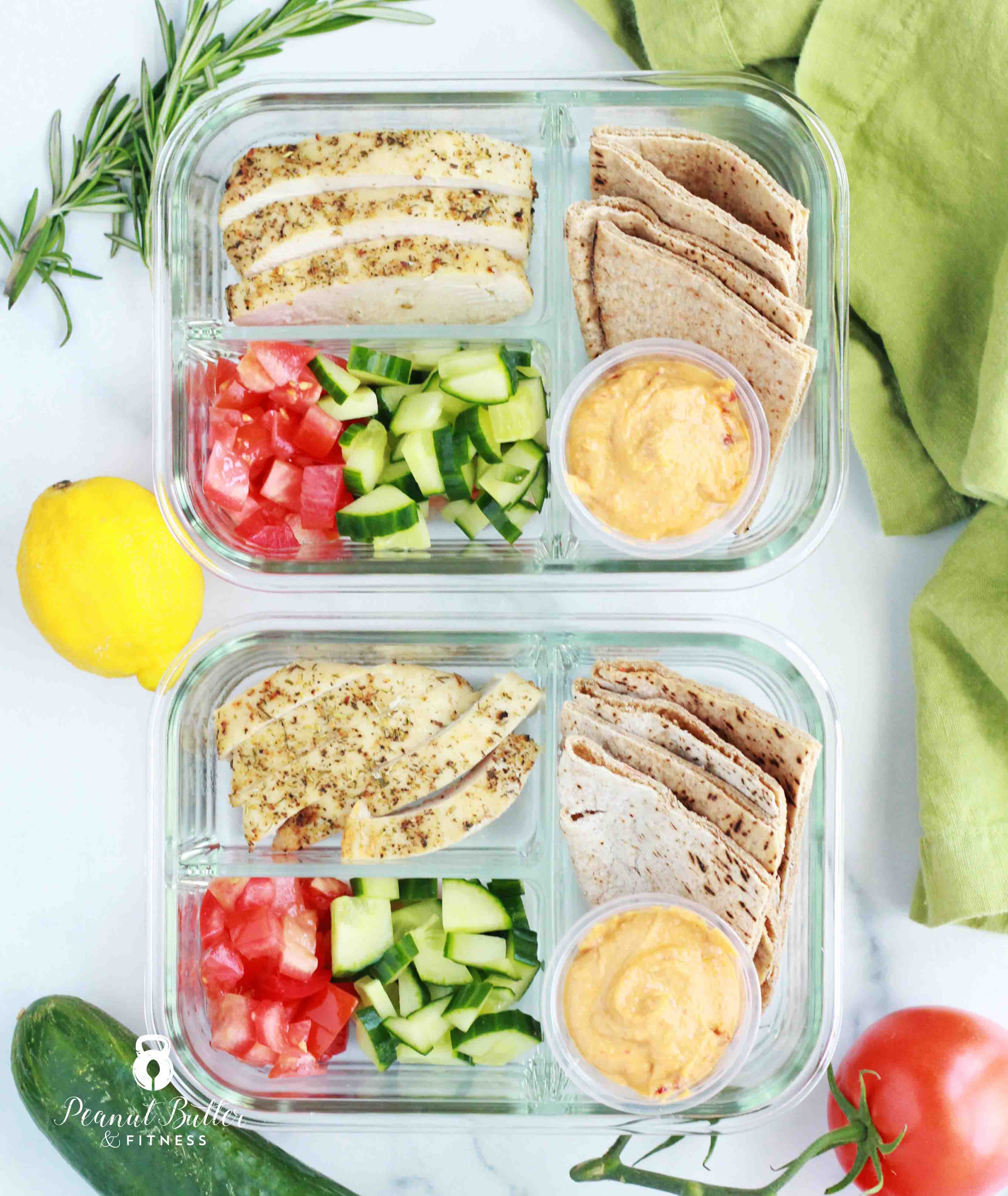 27. Quick Green Curry Chicken
Remember when I said I love Thai curry? This one was a super quick take on Thai green curry. Those store bought sauce mixes can really come through when you're pinched for time! I used a plastic container for this gem.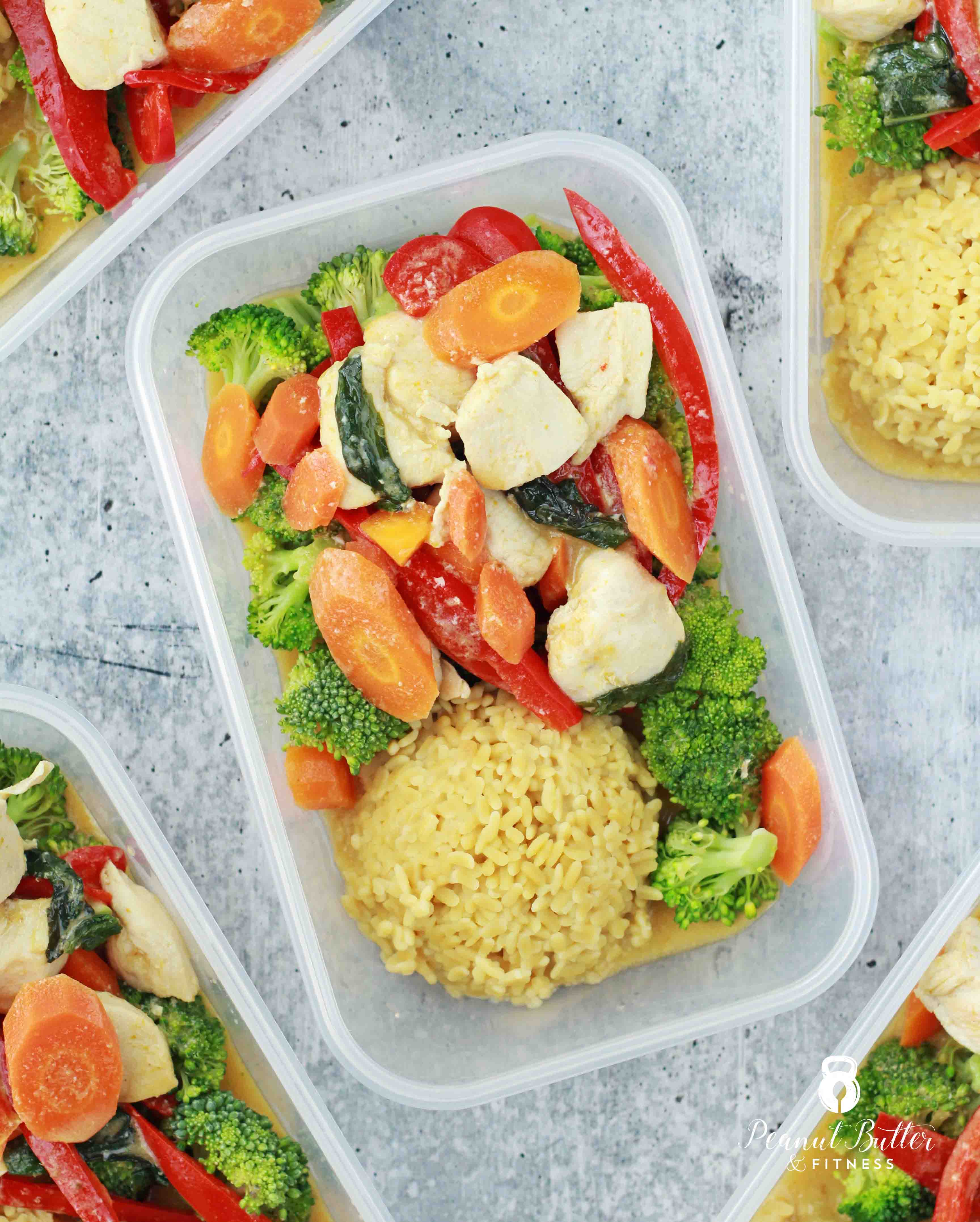 28. Breakfast Sausage Bowls
Creamy scrambled eggs are the ultimate breakfast winner. Pair it up with crispy hash browns and savory lean breakfast sausage and it just can't be beat. Keep them all together in the same compartment.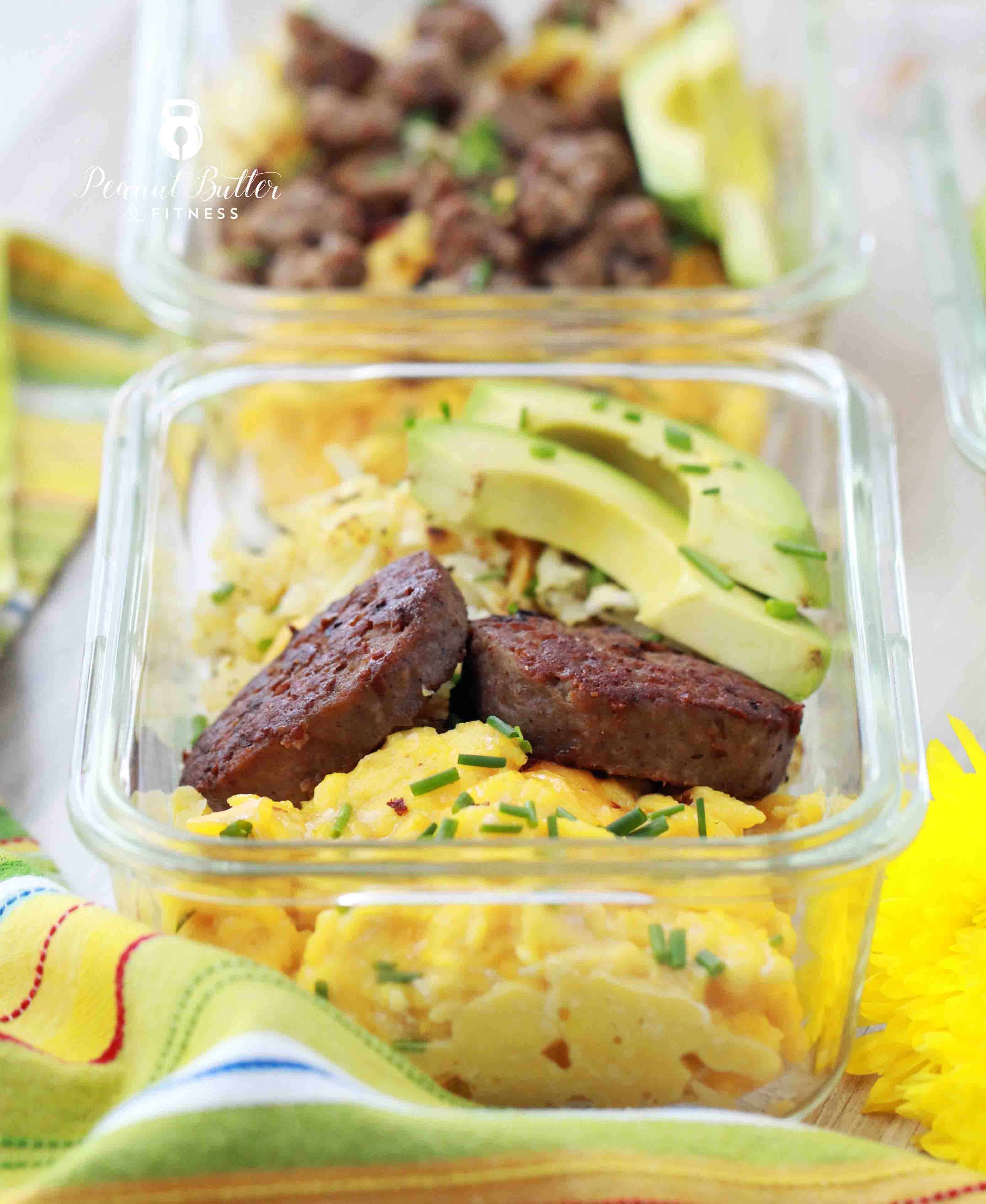 29. Air Fryer Chicken with Butternut Squash Mash & Asparagus
Here's another meal I eat ALL. THE. TIME. It's so easy, so delicious, and so healthy. Give it a shot in one of these containers.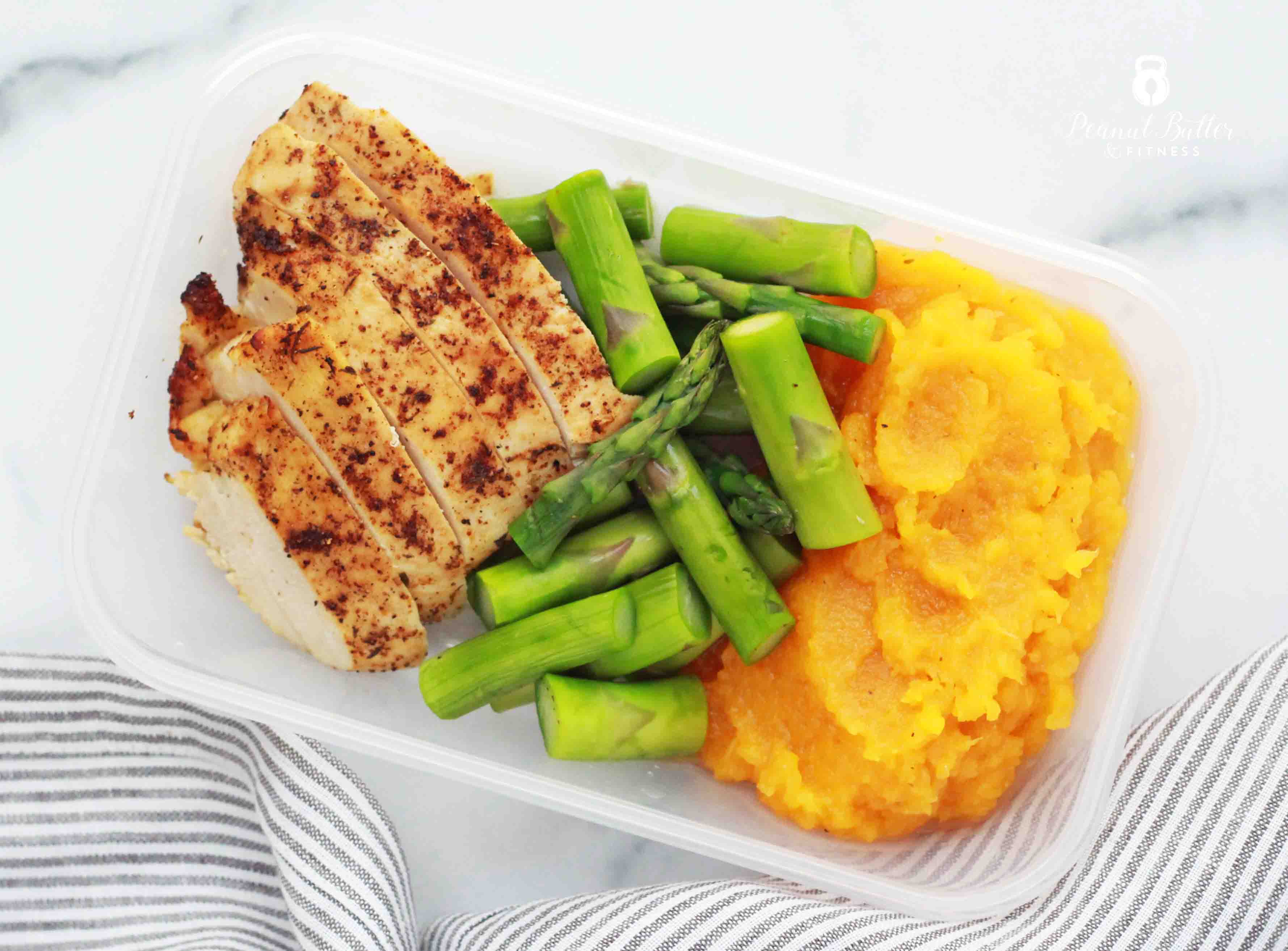 30. Chicken & Hummus Meal Prep Box
Adult lunchables FTW again, what can I say? Get these 3 compartment containers plus a little somethin' somethin' for the hummus!