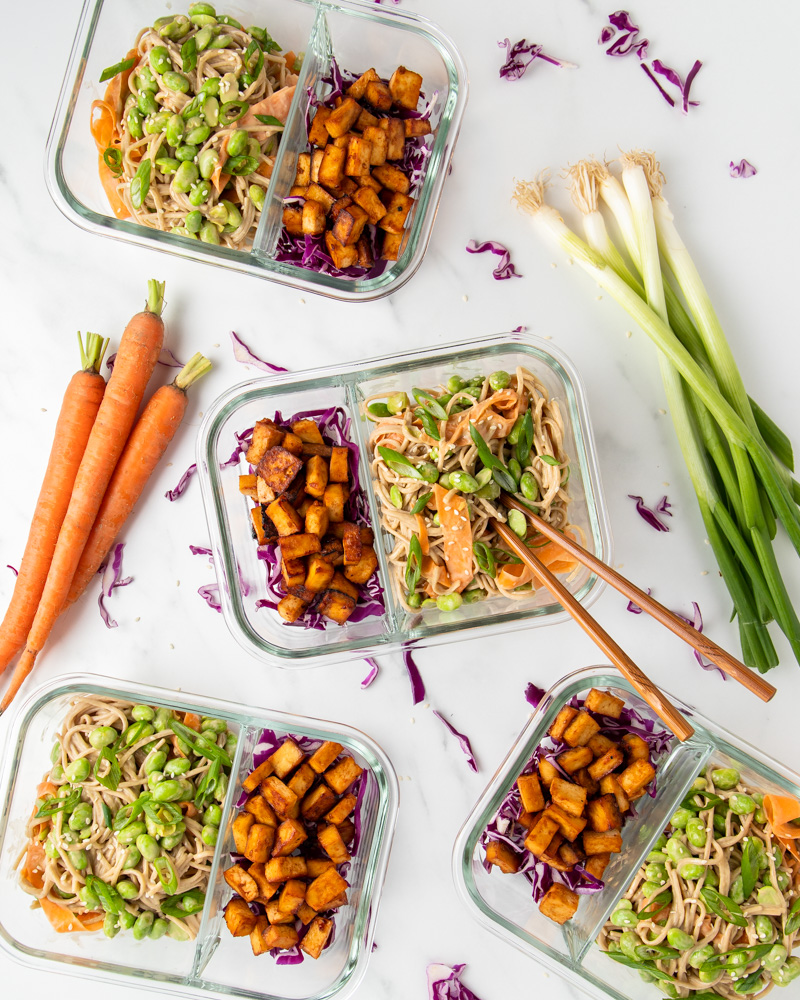 Happy Sunday, meal preppers! This week I'm sharing a brand new recipe – Sesame Soba Noodle Bowls. And plot twist, it's actually a vegetarian recipe! That's not normally my jam, but I'm working on a series of no-heat lunches, and tofu just works really well for a cold noodle bowl. If you've never tried tofu before, don't turn your nose up – if you cook it right, it can have plenty of flavor and texture! Plus a nice dose of plant-based protein.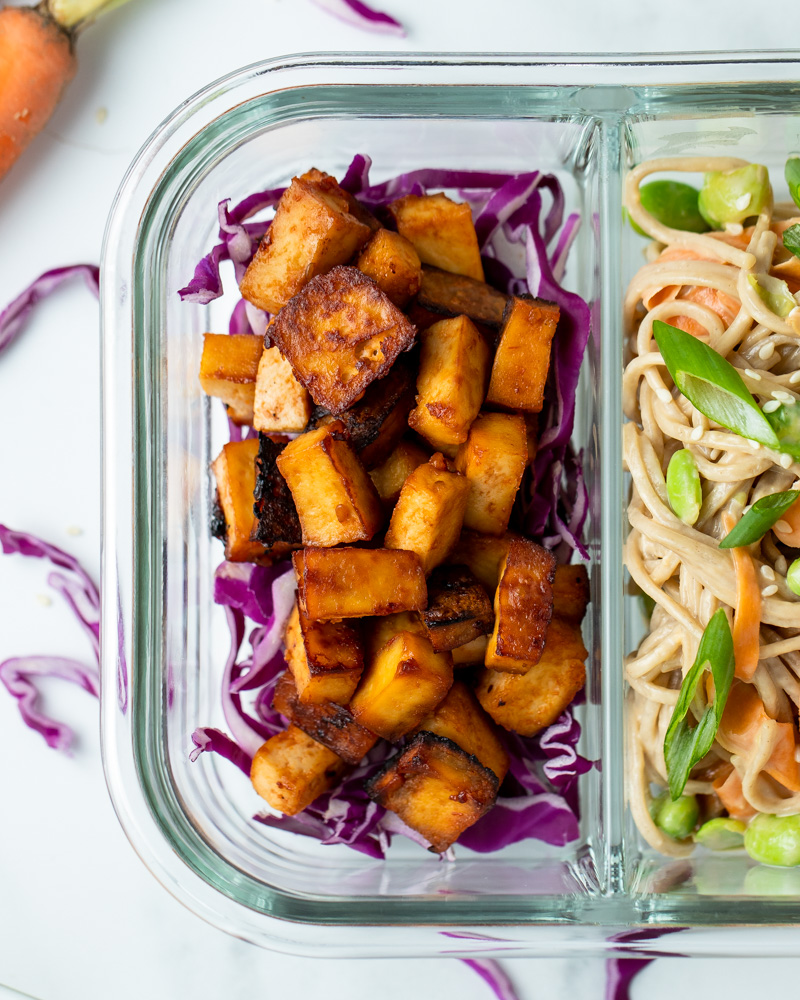 The trick to getting it crispy and flavorful is to 1) press any excess liquid out of it before baking and 2) toss it in sauce before baking to make sure the flavor bakes right in. I used a sesame garlic sauce from Wegman's to make things easy for myself, but you can always dream up your own marinades for tofu. If I haven't convinced you to try this noodle bowl with tofu, just use the same marinade for chicken instead! Cook it up on the grill or chop into bite size pieces and toss it in a skillet.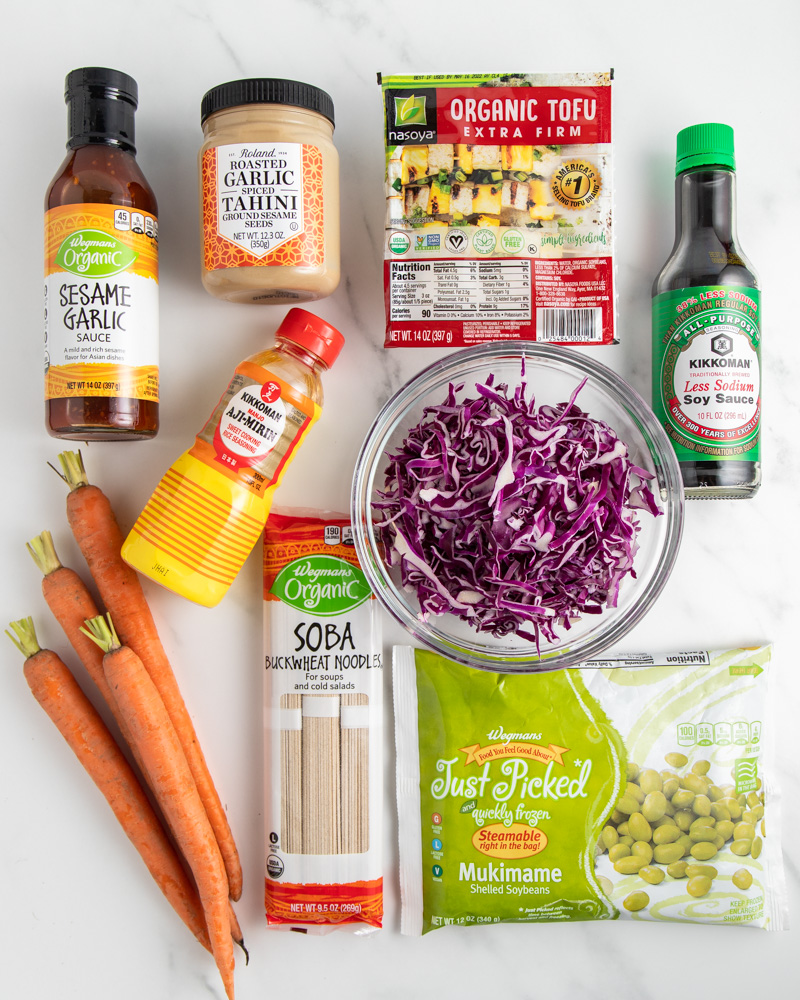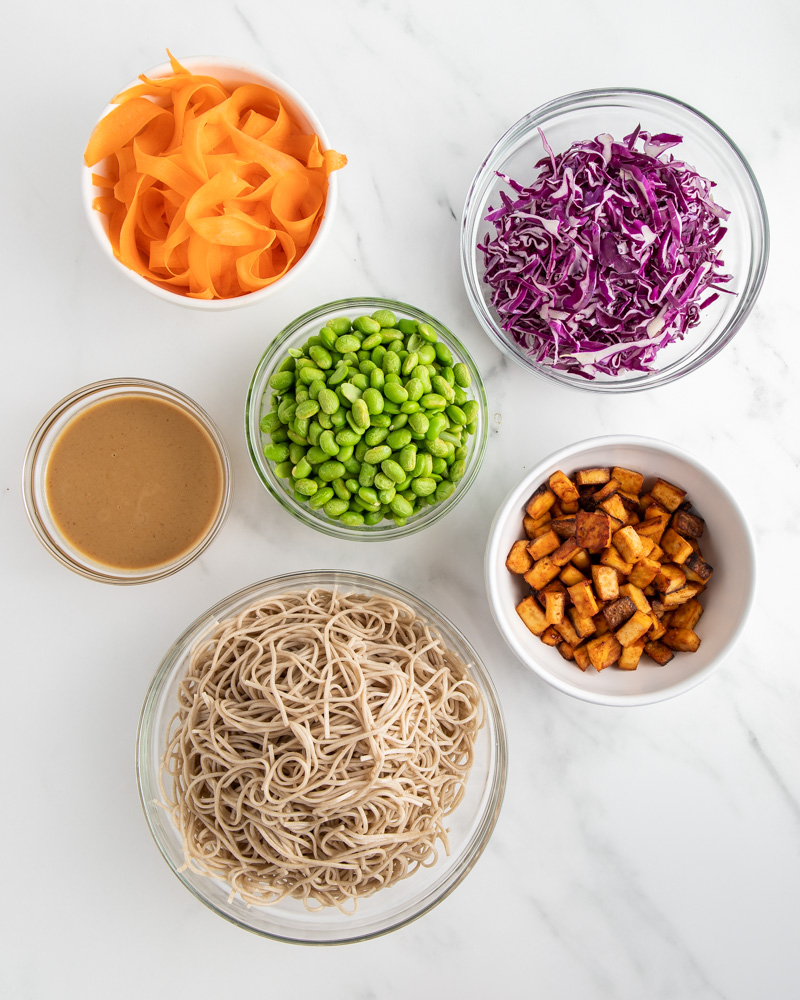 Just a quick note on the veggies here – the carrot ribbons and edamame can go right in with the noodles, but I kept the cabbage separate since I meal prepped this dish. The red cabbage would turn everything pink if you mixed it in ahead of time, plus it would start to wilt if mixed with the sauce.
Tips for Keeping the Noodles Creamy After Refrigeration
Okay, so the sauce for these noodles contains both sesame oil and tahini, which is basically ground up sesame seeds. Both have oil in them, and if you've ever refrigerated something coated with oil before, you know it tends to stiffen up once cold. These noodles are no different, but don't worry, it's quick and easy to fix when the lunch bell rings!
First, you can just add a small ice cube to the pasta when you pull it out of the fridge to take to work in the morning. The cube will slowly melt, then all you need to do is stir up the noodles before serving to bring them back to life. Be sure to discard any remaining ice before eating so you don't chomp down on it.
Second, you can just add some liquid when it's time to eat – a tablespoon of water will do the trick, but you could also prep the meal with a good sized lime wedge to squeeze over the noodles. Then just stir up the noodles to distribute the liquid evenly, and voilà!
Another option is to actually just stick the whole dish in the microwave for 30 seconds. I know this is a no-heat meal, but this is one easy way to get the sauce nice and liquid-y smooth again.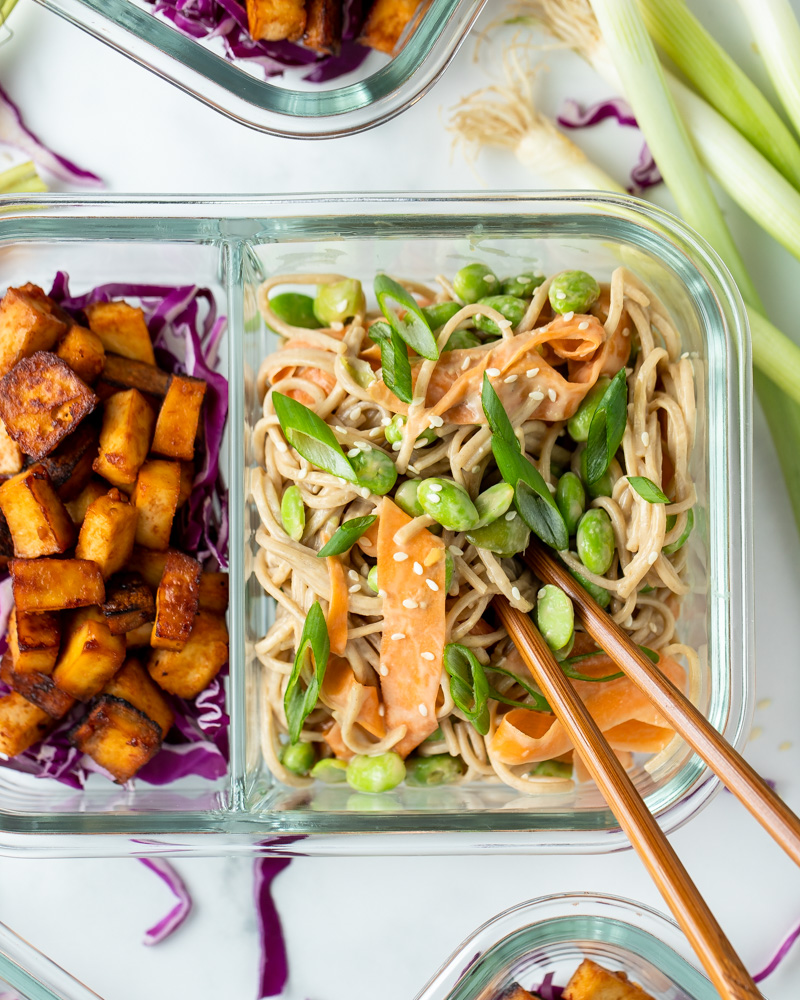 Here are some items I used to make this recipe a success. Note: these are Amazon Affiliate links.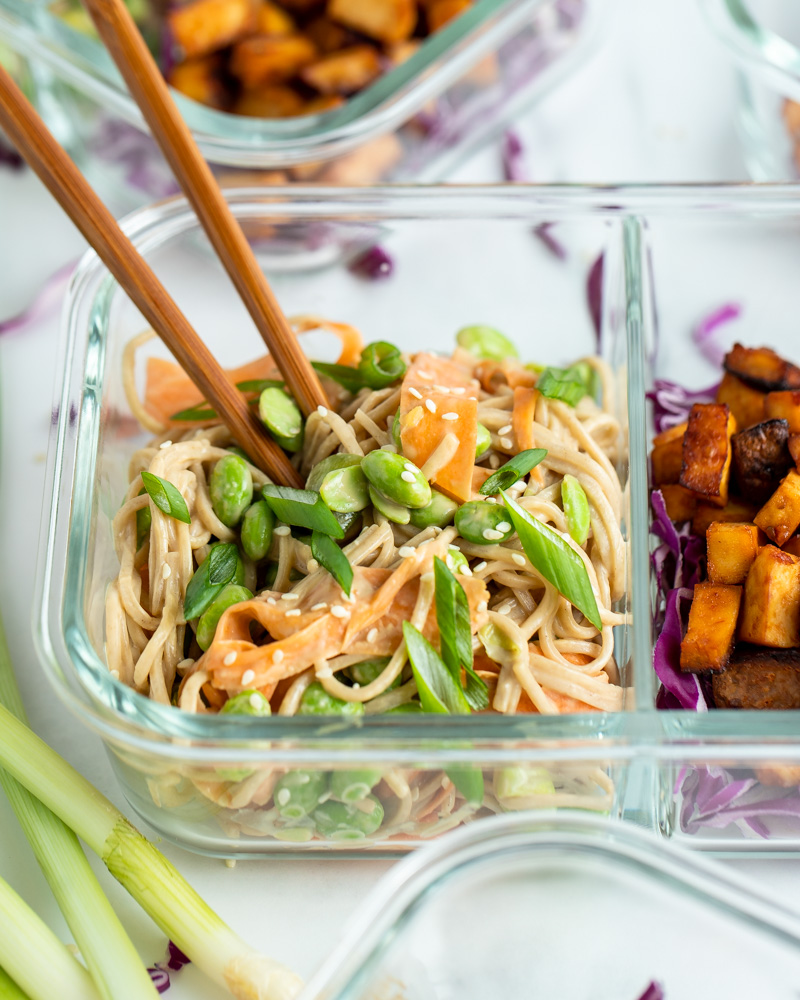 Recipe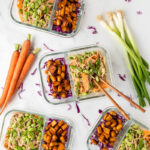 Sesame Soba Noodle Bowls
Prep Time 30 minutes
Cook Time 35 minutes
Total Time 1 hour 5 minutes
Servings 4 servings
Calories per serving 468 kcal
Ingredients
5 oz dry soba noodles (140 grams)
14 oz extra firm tofu, drained (397 grams)
1 1/2 cups frozen shelled edamame, thawed (225 grams)
2 cups shredded red cabbage (85 grams)
3 medium carrots, shaved into ribbons
1/4 cup Wegmans Organic Sesame Garlic Sauce (2 fl oz)
Optional: green onions and sesame seeds for garnish
Dressing
1/4 cup Roland Roasted Garlic Tahini
1/4 cup water
3 tbsp mirin
2 tbsp low sodium soy sauce
2 tbsp lime juice or rice vinegar
1/2 tbsp sesame oil
1/2 tbsp fresh grated ginger or ginger paste
1/2 tsp salt
Instructions
Press tofu. Place tofu on a paper towel lined plate, then cover with another paper towel, and place another plate on top to press the excess liquid out of the tofu. Set aside in the refrigerator for 20 mins.

Prepare dressing. Whisk together all dressing ingredients until smooth. Set aside.

Bake tofu. After the tofu has been pressed, remove from refrigerator and cut into bite size chunks (about 1/2" square). Pre-heat oven to 425° and line a baking sheet with SILPAT (if desired). Toss tofu chunks with sesame garlic sauce and bake for 20 minutes at 425°. Flip tofu, then reduce heat to 350° and bake another 10-15 minutes or until crisp and edges of tofu are browned.

Prepare noodles. Cook noodles according to package directions, ensuring you do not cook them beyond al dente. Drain immediately and rinse in cold water. Shake well to drain water, then toss with dressing to avoid sticking.

Add edamame and carrot ribbons to noodle mixture and mix to coat everything evenly in sauce. Add to serving dish or meal prep container.

Assemble. If meal prepping, lay down a layer of shredded red cabbage in 2nd compartment of meal prep container. Add baked tofu on top.
Recipe Notes
If meal prepping this dish, do not mix cabbage with noodles or everything will turn pink and the cabbage will get soggy.
Click here or scan the barcode below to log this food in My Fitness Pal.
Nutrition Facts
Sesame Soba Noodle Bowls
Amount Per Serving
Calories 468 Calories from Fat 171
% Daily Value*
Fat 19g29%
Sodium 430mg19%
Potassium 274mg8%
Carbohydrates 46g15%
Fiber 5g21%
Sugar 9g10%
Protein 27g54%
* Percent Daily Values are based on a 2000 calorie diet.