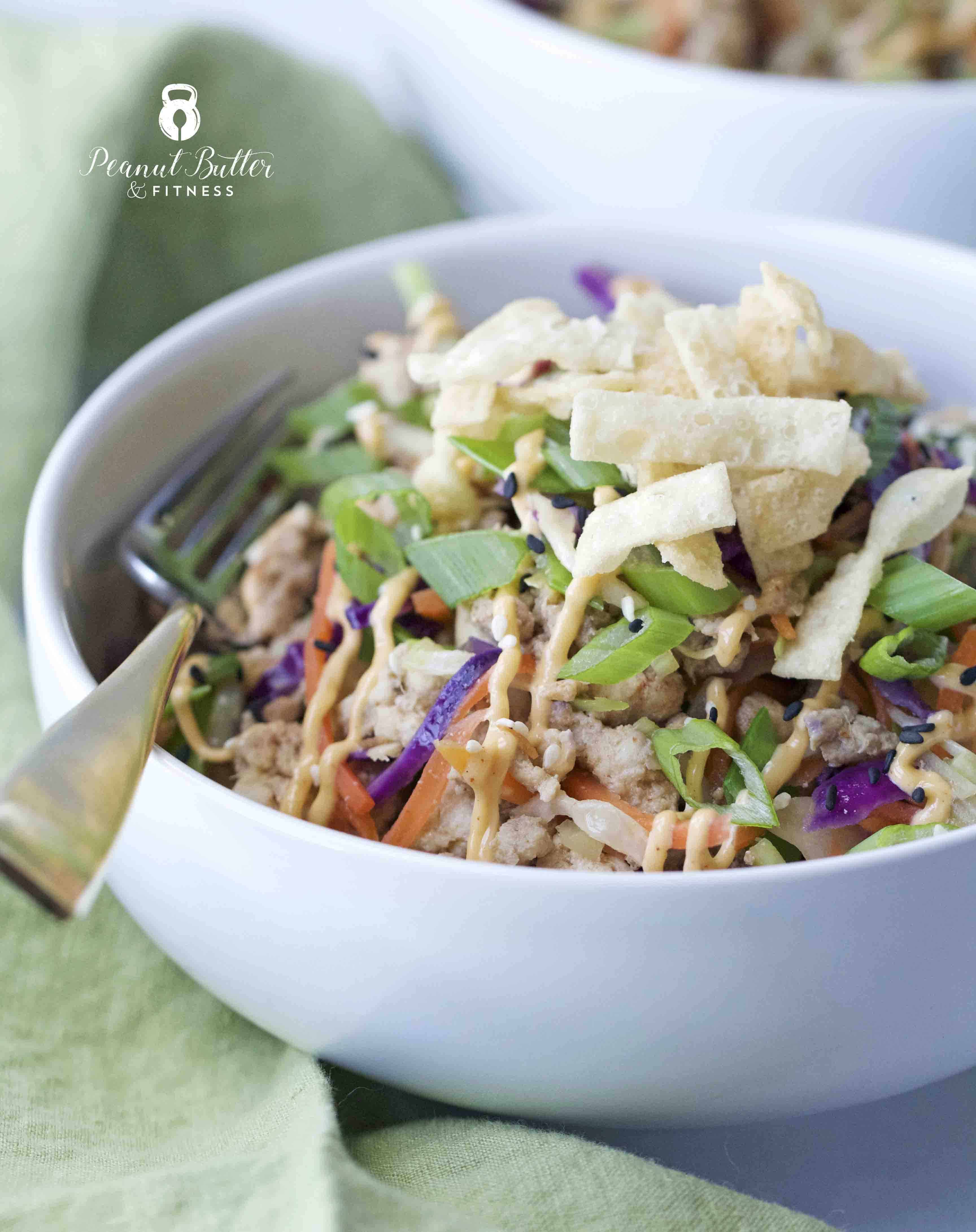 Jump to Recipe
We did it guys…we made it to Wednesday again! And that calls for some deliciousness. I finally decided that I need to give this Egg Roll in a Bowl thing a try, and I gotta say – I loved it! People call it "crack slaw" for good reason. The best part is that it's so simple and easy to make (not to mention low carb) that it comes together in no time.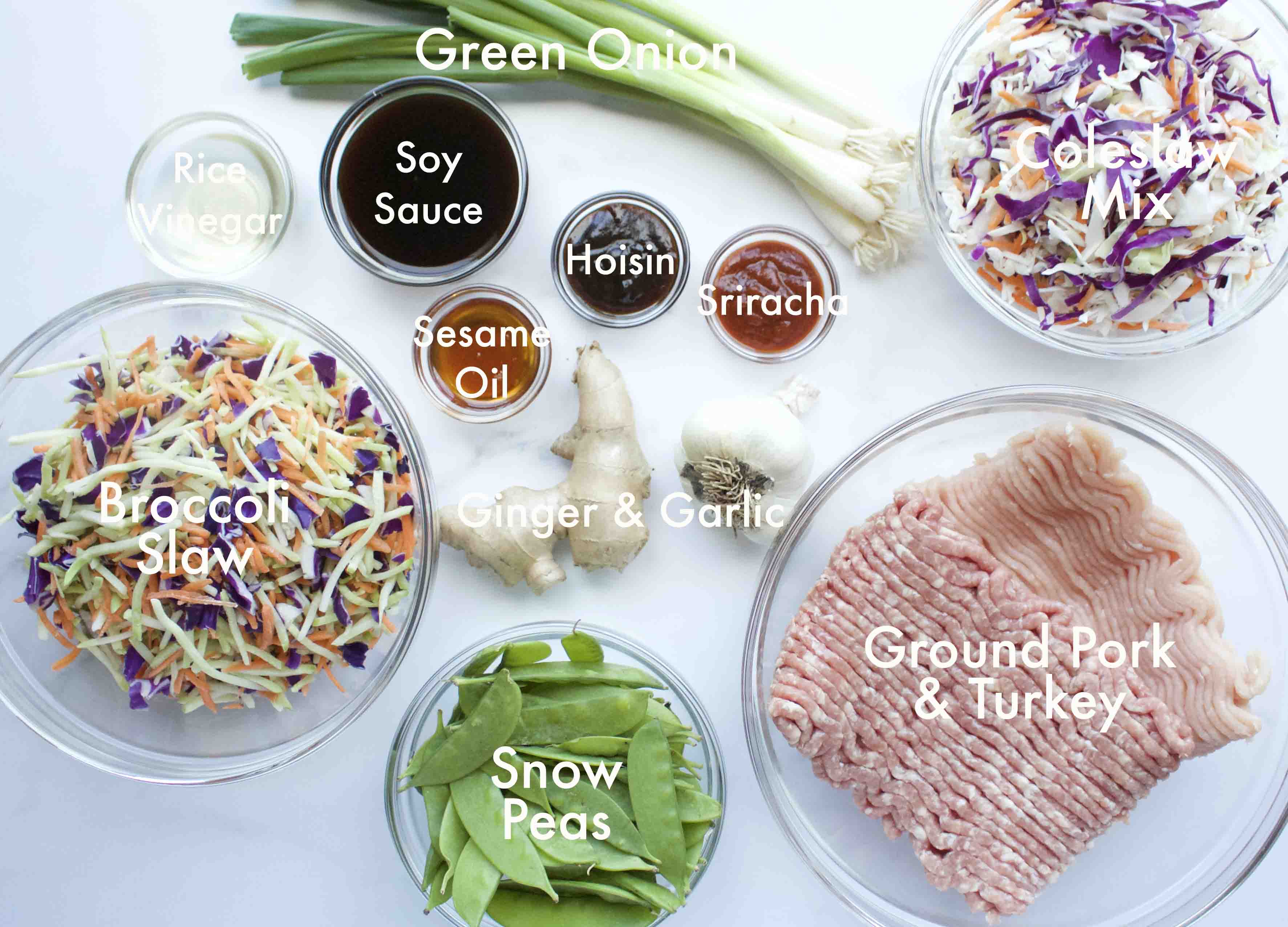 Most Egg Rolls in a Bowl use just turkey or just pork and no broccoli slaw or snow peas, but I wanted to up the flavor and the veggie count in my version. Of course you could take those things out in order to make a smaller batch, but I don't see any reason to do that. I sliced up the snow peas diagonally (on a bias) so that they wouldn't get in my way as I scarfed down my egg roll creation.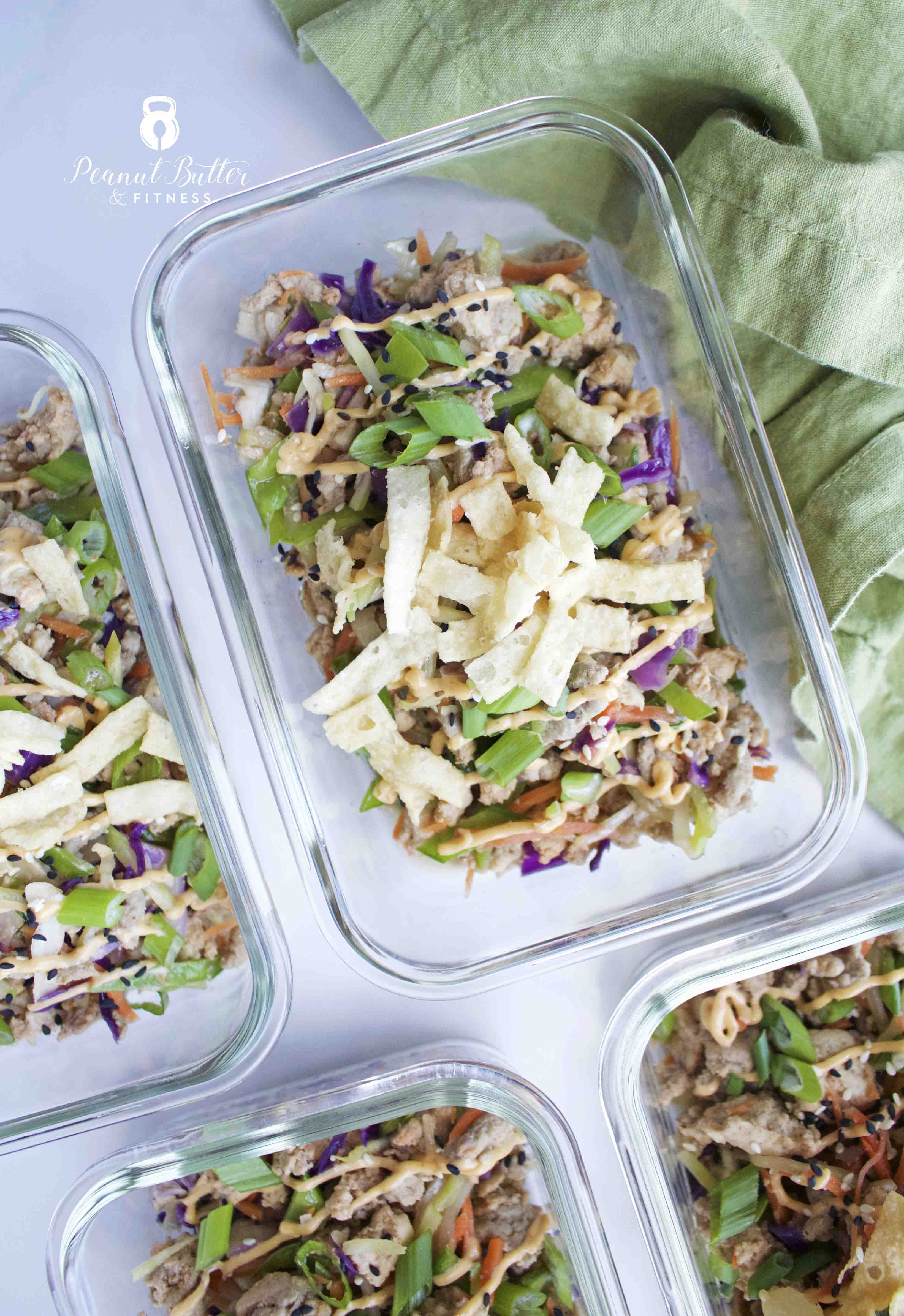 BTW, this recipe is perrrrrfect for meal prepping! I'd recommend leaving the wonton strips out until you're ready to eat so they stay nice and crunchy. Enjoy!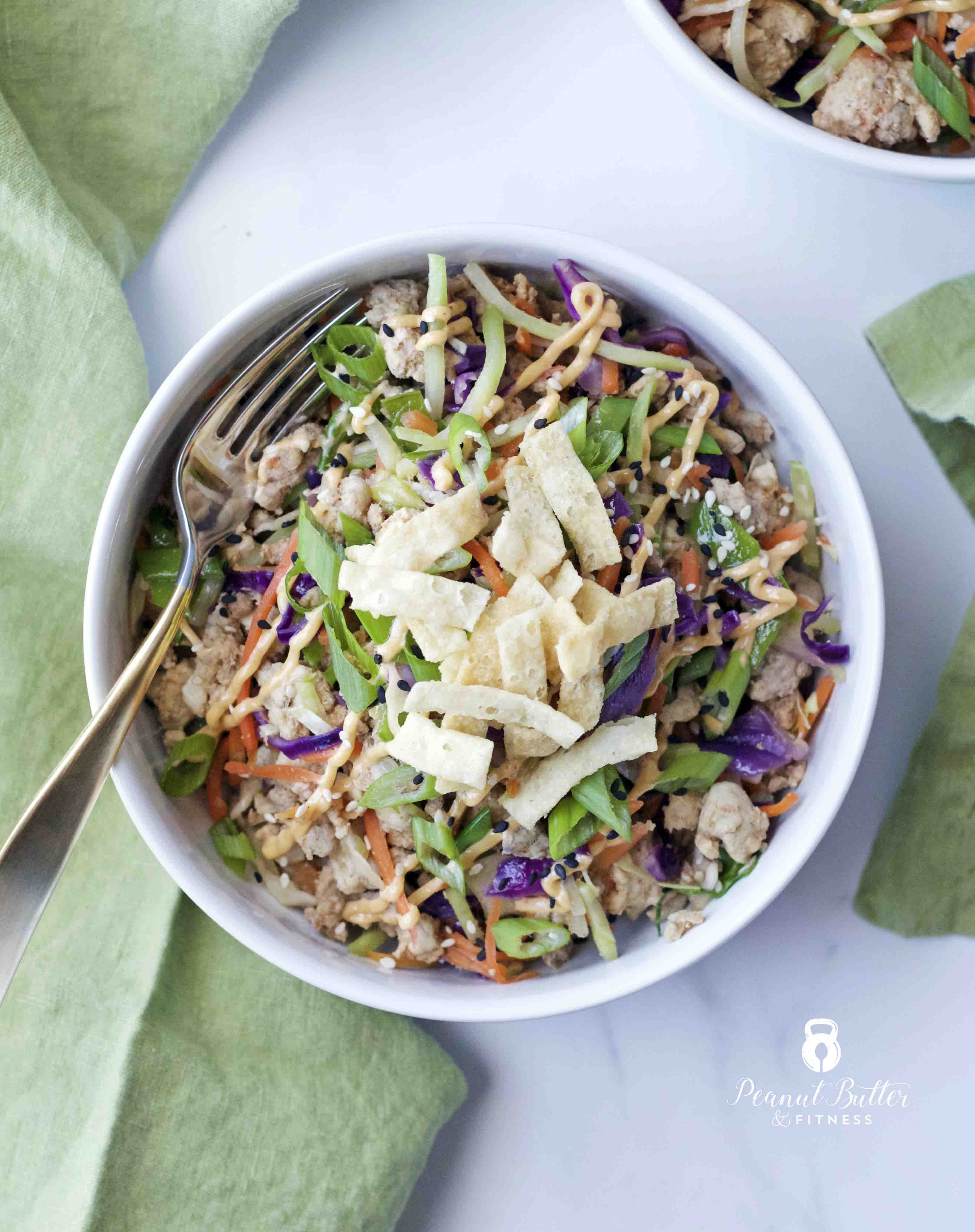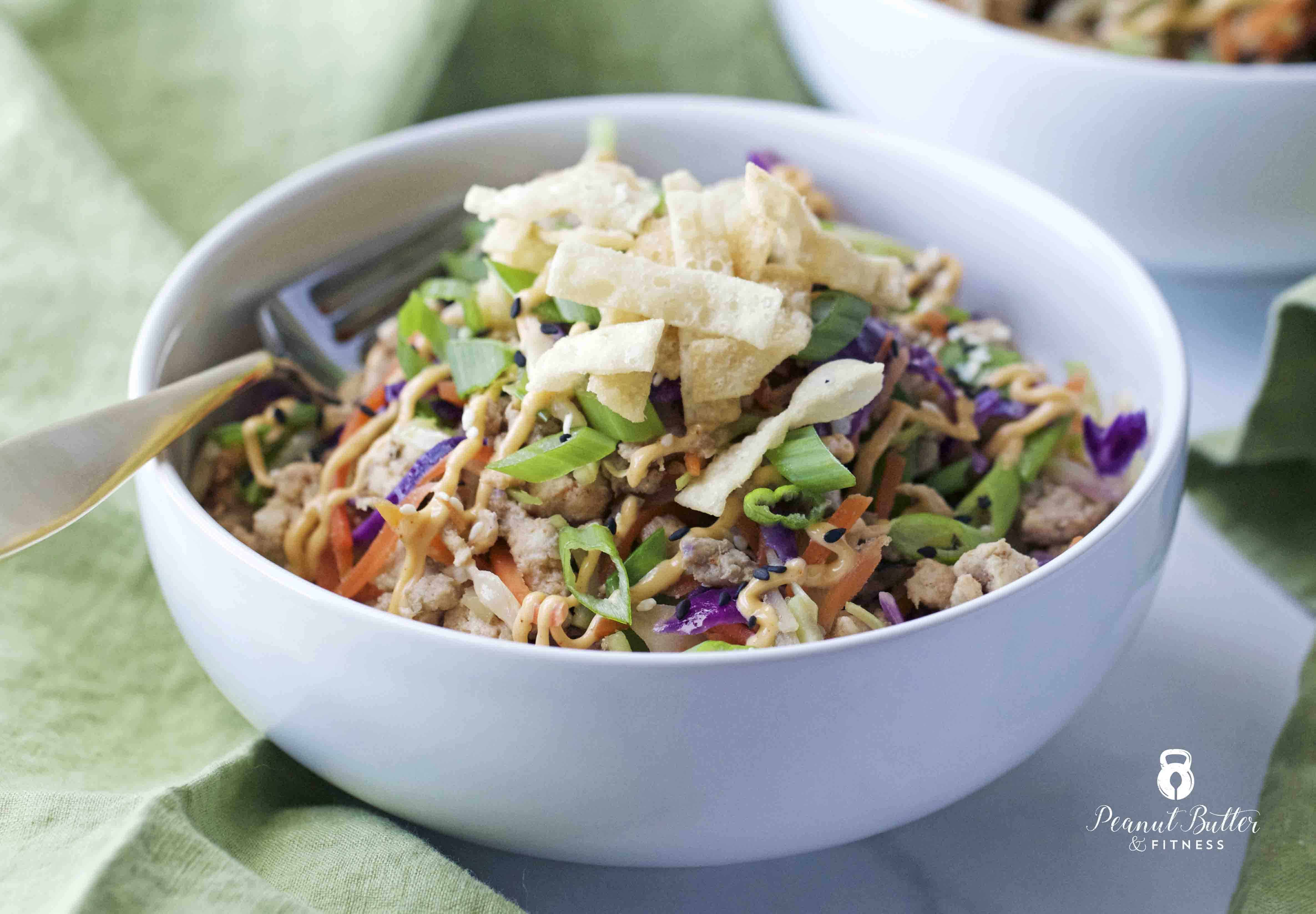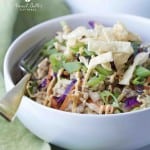 Egg Roll in a Bowl
Prep Time 20 minutes
Cook Time 15 minutes
Total Time 35 minutes
Servings 6 servings
Calories per serving 312 kcal
Ingredients
1 lb 99% extra lean ground turkey
1 lb ground pork
1 13.5 oz bag coleslaw mix (no dressing) (397 grams)
1 12 oz bag broccoli slaw (340 grams)
1 6 oz bag snow peas, sliced (170 grams)
5 cloves garlic, minced (20 grams)
1 1/2 tbsp fresh grated ginger
1 tbsp sesame oil, divided (1/2 oz)
Sauces
6 tbsp low sodium soy sauce (3 oz)
2 tbsp rice wine vinegar (1 oz)
1 tbsp sriracha sauce (1/2 oz)
1 tbsp hoisin sauce (1/2 oz)
Optional Toppings (Not Included in Nutrition Info)
sriracha mayo
wonton strips
green onion, chopped
sesame seeds
Instructions
Heat 1 tsp sesame oil in a large sauté pan over medium high heat. Add broccoli slaw and snow peas, tossing to distribute the oil. Cover and sauté for 3-5 minutes or until broccoli is tender crisp (add 1-2 tbsp of water to help it along if needed). Add to a large bowl and set aside to cool.

Heat remaining sesame oil in the same large sauté pan over medium high heat. Add garlic and sauté until it becomes fragrant, about 1 minute.

Add ground turkey, ground pork, sriracha, and ginger to the sauté pan. Break meat apart with wooden spatula as it cooks, ensuring sriracha and ginger are distributed throughout the meat chunks.

When meat is mostly cooked through but still has spots of pink, add soy sauce, rice wine vinegar, and hoisin sauce. Continue stirring and breaking apart meat until cooked through, about 7-10 minutes total.

Once meat is cooked, add coleslaw and mix until combined with meat. Add broccoli slaw and snow peas back into sauté pan and mix until combined.

Divide mixture evenly into 6 serving dishes or meal prep containers. Top with and desired optional toppings before serving.
Recipe Notes
If you don't have hoisin sauce on hand or can't find it, use 1/2 tbsp brown sugar instead. It doesn't have the same flavor, but will lend some of the same sweetness.
For a lower fat version, use only lean ground turkey.
Click here or scan the barcode below to log this food in My Fitness Pal.
Nutrition Facts
Egg Roll in a Bowl
Amount Per Serving
Calories 312 Calories from Fat 135
% Daily Value*
Fat 15g23%
Cholesterol 83mg28%
Sodium 719mg31%
Potassium 632mg18%
Carbohydrates 12g4%
Fiber 3g13%
Sugar 7g8%
Protein 33g66%
* Percent Daily Values are based on a 2000 calorie diet.