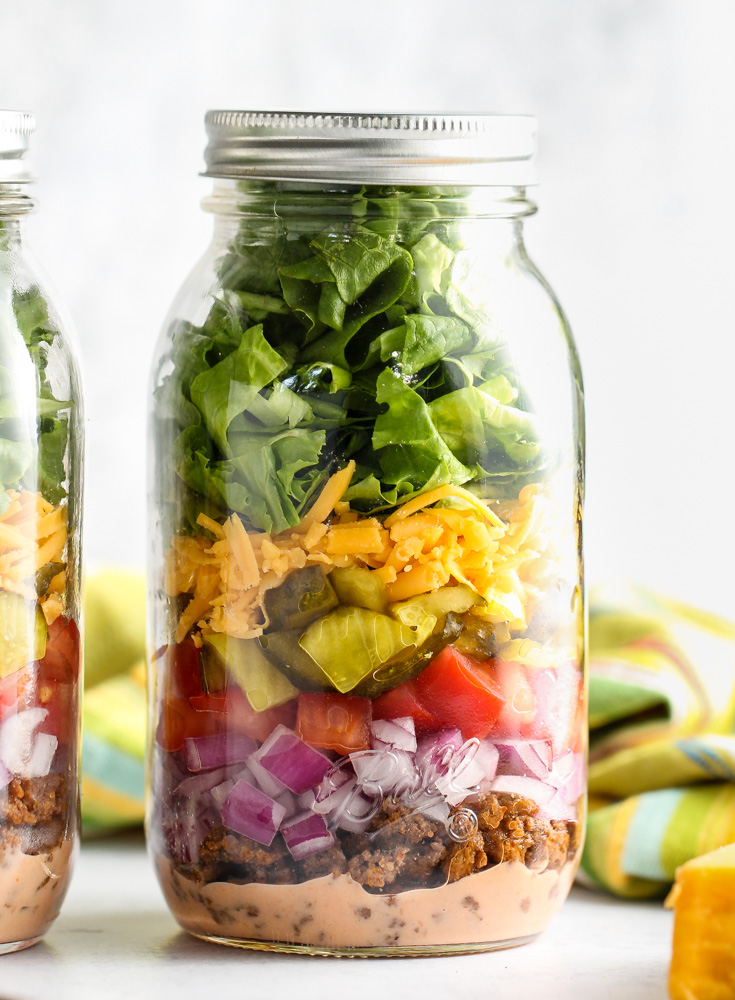 A new recipe on a Thursday?! That's right! I'm coming at you today with this yummy Big Mac Salad mason jar meal prep. Don't worry, I totally cheated with the Big Mac sauce and used fat free Thousand Island dressing instead. Save your time there and instead spend it on putting together the house burger seasoning! Trust me…it's worth a few minutes to gather and mix up the spices. The first time I tested this recipe I used just a couple basic spices for the ground beef and it made the whole bowl kind of blah. Turns out you need a heavy hand with spices here, and for the love of all things holy don't skip the smoked paprika 😉
Building a Mason Jar Salad
The trick to a successful mason jar salad is getting the layering right! You don't want to have wet pickles sitting on top of your lettuce or it will be soggy within a few hours. Instead, try this order:
Dressing
Ground beef
Red onions
Tomatoes
Pickles
Cheese
Lettuce
If you're still skeptical of jumping on the mason jar salad bandwagon, use a regular salad meal prep container instead. These are my favorite and keep all your ingredients separated until you're ready to mix them together.
Reheating Tips
There are some mason jar salads where you can just dump the whole jar and eat without worrying about any sort of reheating. Ground beef can go either way when it comes to reheating, but I prefer to eat it hot rather than cold. Lucky for us, when you turn this jar upside down (over a bowl, of course), the ground beef kind of just stays stuck in the bottom of the jar. That makes it way easy to reheat – just pop the whole jar in the microwave for 30 seconds and you're good to go. Yeah, you'll get some warmed up dressing in the process, but that's not a bad thing in my book. If you're feeling extra, pick some of the shredded cheddar out of your serving bowl and stick that in the jar with the ground beef when you reheat it. Melty cheese and warm dressing?! DELICIOUS.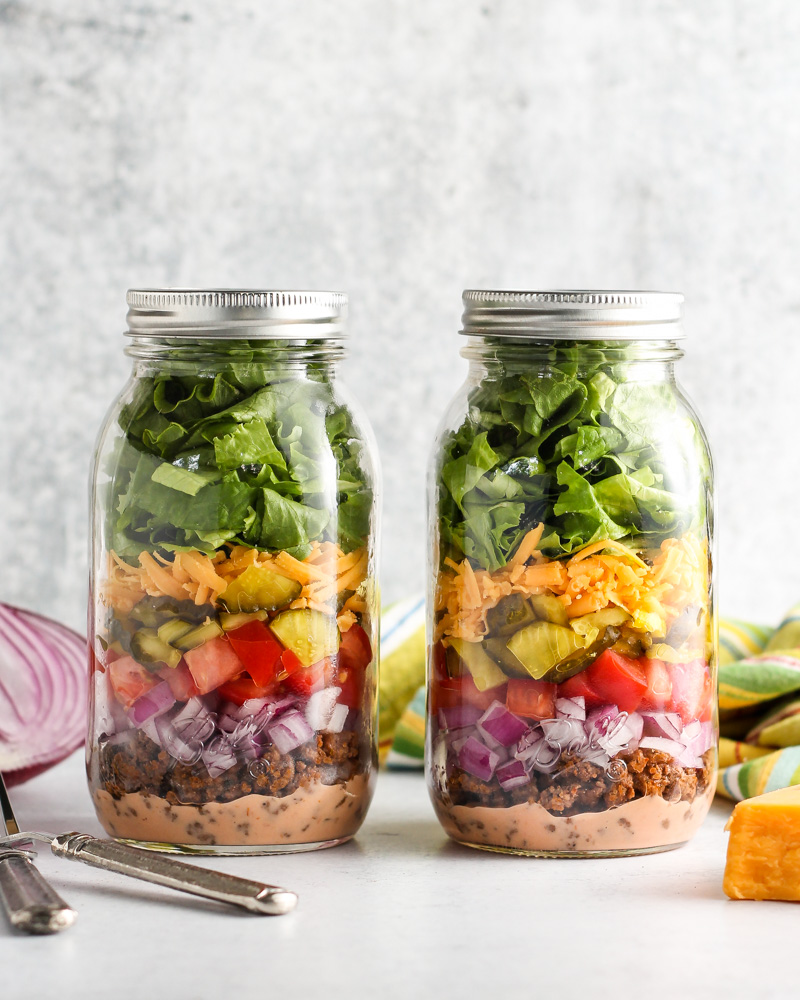 Recipe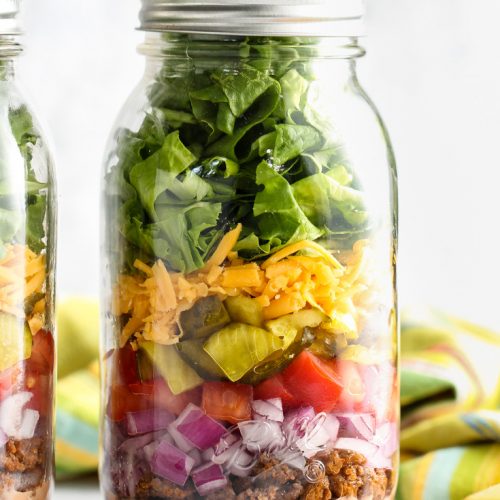 Big Mac Salad
Ingredients
Burger Mixture
1

lb

93/7 ground beef

2

tbsp

ketchup

,

(1 fl oz)

1

tbsp

low sodium soy sauce

,

(0.5 fl oz)

1

tbsp

house burger seasoning

,

(recipe in notes)

1/2

tbsp

olive oil

,

(0.25 fl oz)
Salad Ingredients
8

cups

green leaf lettuce, chopped

,

(300 grams)

2

large Roma tomatoes, chopped

,

(300 grams)

1

cup

pickles, chopped (I like Bread & Butter)

,

(170 grams)

1/2

cup

red onion, chopped

,

(80 grams)

1/2

cup

extra sharp cheddar cheese, shredded

,

(56 grams)

1/2

cup

low fat Thousand Island dressing

,

(4 fl oz)
Instructions
Heat olive oil in a large skillet over medium-high heat. Once oil is shimmery and hot, add ground beef and season with burger seasoning. Break ground beef apart with a wooden spatula as it cooks.

Once ground beef is almost completely cooked, drain excess fat from the skillet. Return to heat and add soy sauce and ketchup, mixing to coat the beef evenly. Continue cooking until beef is cooked through. Set aside.

Assemble salad to serve. If meal prepping in a mason jar, add salad dressing to the bottom of the jar first, then add: beef, onions, tomatoes, pickles, cheese, and lettuce.
Tips & Tricks
House Burger Seasoning
1 tbsp

Flavor God Garlic Lover's Seasoning

1/2 tbsp smoked paprika
1/2 tbsp chili powder
1/2 tbsp Mexican oregano
1/2 tbsp ground mustard
3/4 tsp salt
3/4 tsp black pepper
Click here or scan the barcode below to log this food in My Fitness Pal.
Nutrition Information
Calories:
398
kcal
(20%)
,
Carbohydrates:
24
g
(8%)
,
Protein:
30
g
(60%)
,
Fat:
21
g
(32%)
,
Cholesterol:
93
mg
(31%)
,
Sodium:
1059
mg
(46%)
,
Potassium:
521
mg
(15%)
,
Fiber:
3
g
(13%)
,
Sugar:
13
g
(14%)