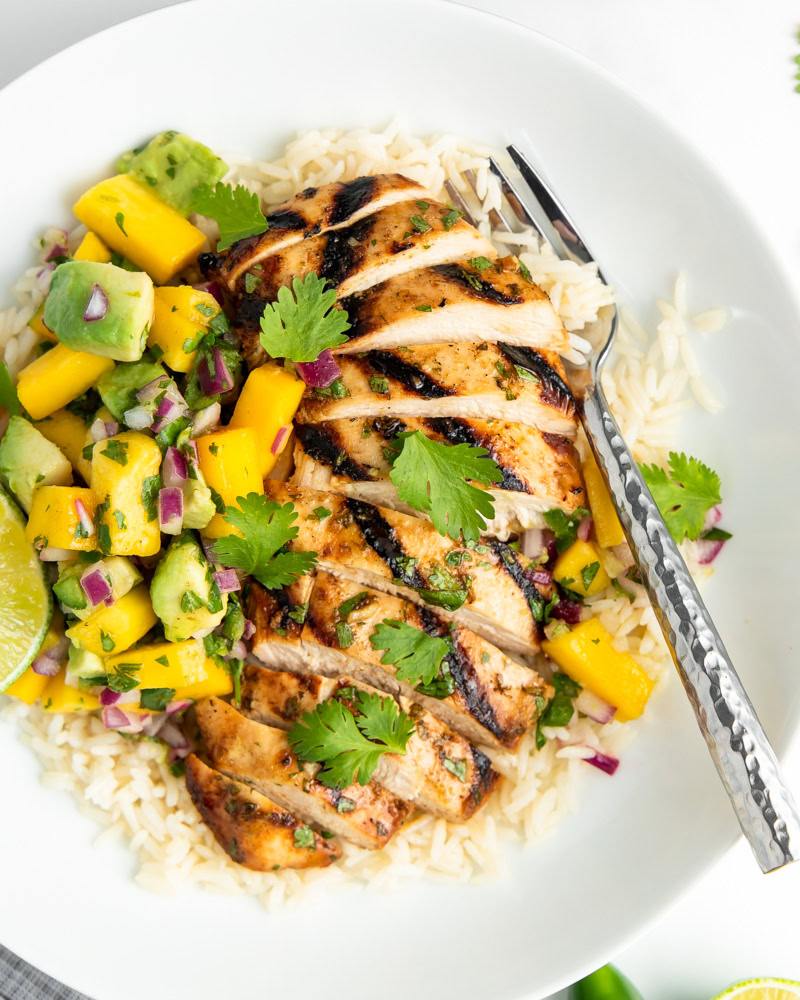 Happy unofficial start of the summer, my friends! It's officially grilling season, and this Cilantro Lime Chicken with Mango Avocado Salsa is the perfect weeknight dinner or meal prep lunch to get those tongs clicking and enjoy your grill. I'm a huge fan of the summer vibes that the mango and avocado combo bring, and you can find it in my Fish Taco Bowl recipe too!
One thing I love about this recipe is that the marinade for the chicken and the Mango Avocado Salsa use a lot of the same ingredients, which really helps cut down on prep time in the kitchen. Because when the weather is this nice, I just want to hang out on the patio – whether the grill is fired up or not!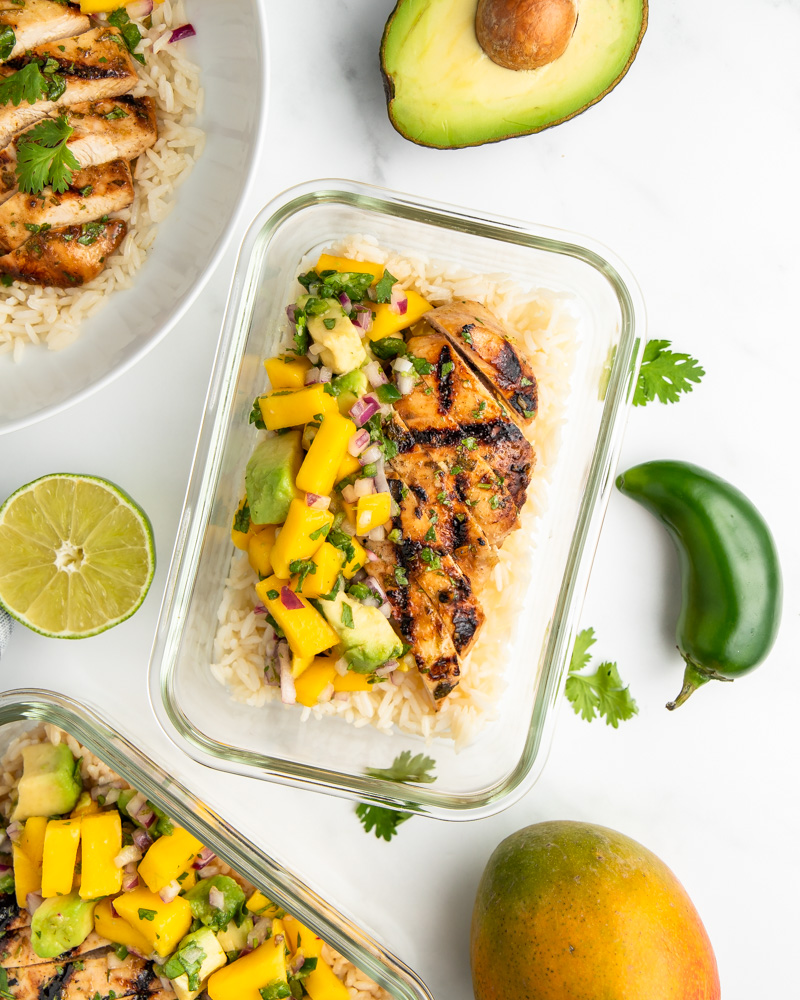 Meal Prep Tips
Storage – I prefer packing a meal like this in a glass meal prep container. You could pack the chicken, salsa, and rice all together like you see in the picture above, but for best results, I actually recommend keeping the salsa separate from the chicken and rice. There are a couple ways to achieve that – by using a 2 (or even 3) compartment container like this, or by using a separate container for the salsa to include right there in the larger meal prep container. Something like this would work great, OR you could use a silicone baking cup, which I'll talk a little bit more about in the Reheating section.
Reheating – If you decide to pack your chicken, salsa, and rice all together, you can certainly give it a quick 1-minute nuke in the microwave. Yes, your salsa will get a little warm. No, it doesn't bother me when I do this with similar meals. BUT if you want to reheat the chicken and rice but NOT the salsa, here's my tip: use either a separate container like this for the salsa, or put it in a silicone baking cup right inside your meal prep container so you can easily take the salsa out when it's time to reheat. I don't really have a preference between the 2 options, but if I know my meal prep container will be jostling around in my bag on the way to work, I'll opt for the separate container instead of the silicone cup.
Avocado – I always get questions about meal prepping with avocados. Stuff like: "Doesn't it get brown?" "Will it still taste good in a few days?" Etc. The trick to meal prepping with avocado is to use a ton of lime (or lemon) juice to help preserve it. When you do that – especially in a recipe like this where it sits in the juice – the avocado will typically be good for at least 3 days. I've tested this recipe a couple times in my meal preps and had no issue with the avocado all the way out to day 5. It's not going to look as perfectly green as the moment when you first cut into it, but it's also not going to be a mushy brown mess. If you're an avocado snob, just pack a whole/fresh avocado to take with you and mix it in each day.
Ingredients and Substitutions
Here's what you'll need to make Cilantro Lime Chicken with Mango Avocado Salsa:
Chicken breast – Chicken breast or chicken thighs would work equally well in this recipe, but I prefer chicken breast since it's leaner and requires less cleaning.
Rice (optional) – Lately I've been really into jasmine rice, but any rice you like will do. You could also use cauliflower rice or serve it over a bed of lettuce and top it off with a drizzle of avocado ranch dressing if you're into salads. I've including nutrition info for this recipe both with and without rice so you can easily customize and log what you actually eat.
For the Mango Avocado Salsa:
Mango – I'm a huge sucker for ripe, juicy mangoes! They're so perfectly sweet and the flavor just transports you to somewhere warm and beachy. If you can't find mango or just don't like it, you could opt for pineapple instead.
Avocado – If you're an avocado lover like me, there's really no substitute for it in this recipe! I love the creamy, rich flavor of it contrasted against the rest of the light and bright ingredients in this dish. Plus, avocados are a great source of healthy fat, fiber, and potassium.
Red onion – Add a pop of color and punch of bright flavor with red onion! It gets ever so slightly pickled as it sits in the mango and lime juice, and if you've every had pickled red onions, you know what a delight that is. Feel free to cut down on the amount used if you're not a huge fan of red onion or skip it altogether.
Jalapeño – A totally optional ingredient, I love the extra spice that jalapeño brings to the party.
Cilantro – I know there are cilantro haters out there, but the fresh, herby flavor of cilantro just screams "¡fiesta!" in this recipe. Don't skip it 😉
Lime – Lime juice is like the glue that brings all these individual ingredients together. It also serves the dual purpose of keeping the avocado from browning. I also like to use not just the lime juice, but the lime zest as well to really pack that flavor punch into the salsa.
Olive oil – Just a touch to add some richness in the salsa. You can skip it if you prefer, but definitely don't skip it in the marinade!
For the Marinade:
The marinade uses several of the same ingredients as you'll need for the mango avocado salsa, with a few additions to make sure the chicken gets as flavorful as possible:
Honey – I like to add just a touch of sweetness to the marinade not only for flavor, but also to help with a bit of caramelization when the chicken hits the sizzling hot grill grates. You could use brown sugar (light or dark) or maple syrup if you prefer.
Garlic – Freshly minced, squeezed from a tube, or even garlic powder will work to add a little more flavor. If you want to go the garlic powder route, cut the amount down to 1 tsp.
Soy sauce – I know it might seem like a weird ingredient for a southwest/Tex-Mex style recipe like this, but trust me – it adds just a bit of umami and a touch more salt to the marinade. You'd never guess it's there, but I like the added complexity of flavor it brings. Skip it if you must, but if you have soy sauce around the house, give it a try!
Cumin – Cumin is a heavily used spice in Mexican cuisine, and a little bit added to the marinade helps channel that flavor profile and complement the dish without overpowering the stars of the marinade – lime and cilantro.
Salt – Salt helps the marinade penetrate the chicken when mixed in with liquids, don't skip it if you want flavorful chicken!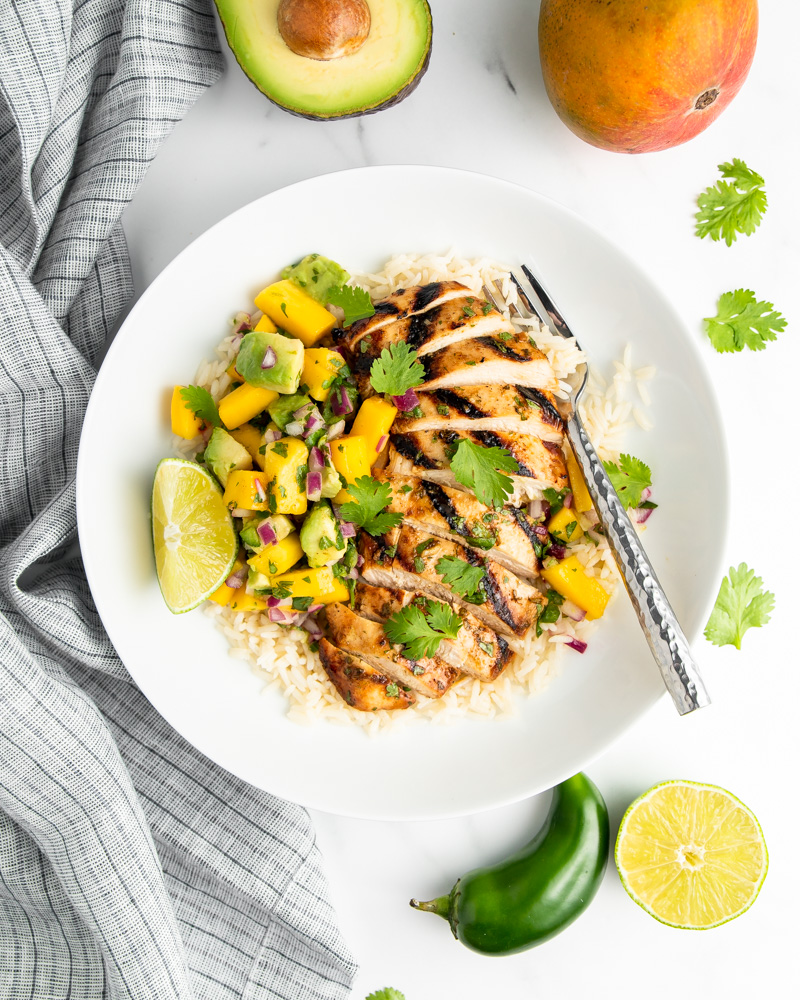 Shop for this Recipe
Here are some items I used to make this recipe a success. Note: these are Amazon Affiliate links.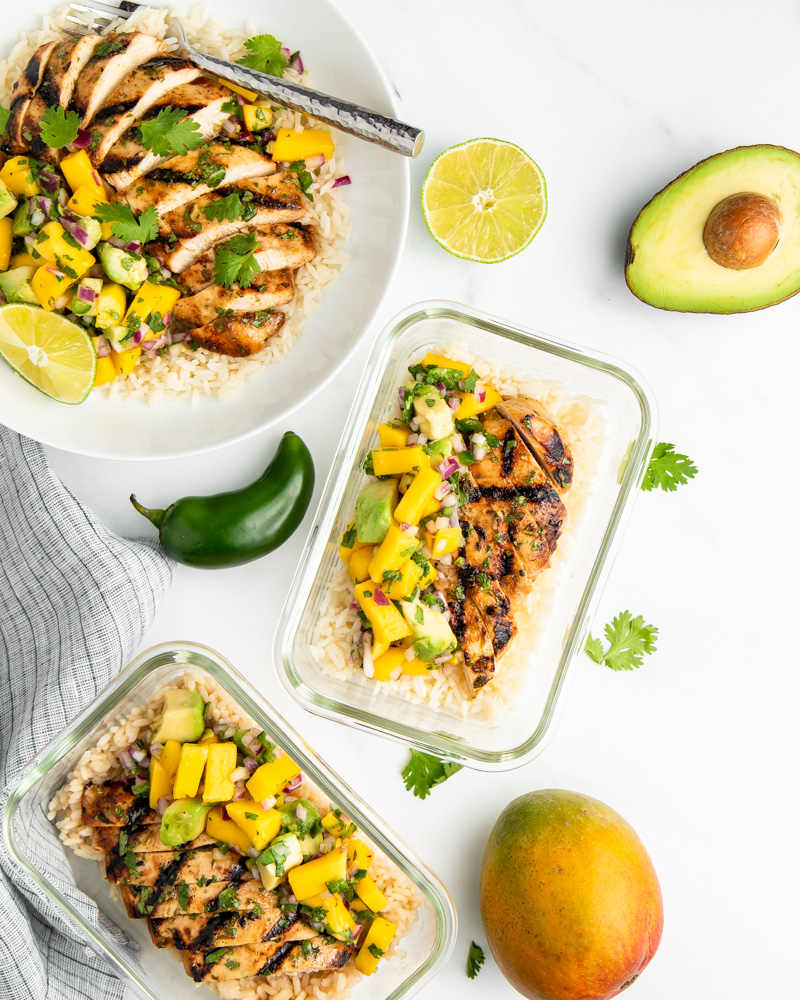 Recipe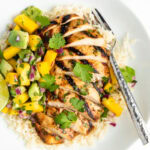 Cilantro Lime Chicken with Mango Avocado Salsa
Prep Time 20 minutes
Cook Time 12 minutes
Marinating Time 2 hours
Total Time 2 hours 32 minutes
Servings 4 servings
Calories per serving 368 kcal
Ingredients
1 1/4 lbs chicken breast, raw
Optional: 2/3 cup jasmine rice, cooked according to package directions (not included in nutrition info, see note)
Marinade
1/2 cup cilantro, chopped
2 limes, juiced and zested
1/4 cup olive oil (2 fl oz)
2 tbsp honey (1 fl oz)
2 cloves garlic, minced (8 grams)
1 tbsp low sodium soy sauce (1/2 fl oz)
1 tsp cumin
1 tsp salt
Mango Avocado Salsa
1 large mango, peeled and chopped (309 grams)
1 1/2 medium Haas avocados, peeled and chopped (225 grams)
1/2 cup cilantro, chopped
1/2 red onion, finely diced (55 grams)
1 medium jalapeño, seeds removed and diced (15 grams)
2 limes, juiced and zested
1 tbsp olive oil (1/2 fl oz)
Instructions
Whisk together marinade ingredients until well combined. Set aside about 2 tbsp of marinade to reserve for brushing the chicken during grilling.

Pound the chicken to ensure it is even thickness throughout. To do this, I just stick the chicken on a small baking sheet in a single layer sandwiched between 2 layers of paper towels and use my fist to make quick work of this task.

Add chicken breast to a resealable bag, then pour remaining marinade over top and massage around to ensure even distribution. Set aside in refrigerator to marinate for 2-6 hours.

Mix together all salsa ingredients and set aside, covered, in the refrigerator.

Pre-heat grill to 400°. Spray grill grates with non-stick grill spray or brush grates with vegetable oil. Allow excess marinade to drip from the chicken breast before adding to grill. Grill one side for 6 minutes, then flip, brush with marinade, and grill for an additional 4-6 minutes depending on the thickness of the chicken breasts. The internal temperature should just barely reach 165° as you remove the chicken from from the grill.

Allow the chicken to rest for 5 minutes before slicing and serving with salsa and rice (optional).
Recipe Notes
Note that the nutrition info listed does NOT include rice, but you can view the nutrition info with rice by clicking the corresponding link below.
Click here or scan the barcode below to log this meal WITHOUT RICE in My Fitness Pal. Click here or scan the barcode below to log it WITH RICE.
Nutrition Facts
Cilantro Lime Chicken with Mango Avocado Salsa
Amount Per Serving
Calories 368 Calories from Fat 162
% Daily Value*
Fat 18g28%
Cholesterol 96mg32%
Sodium 148mg6%
Potassium 1027mg29%
Carbohydrates 21g7%
Fiber 5g21%
Sugar 13g14%
Protein 34g68%
* Percent Daily Values are based on a 2000 calorie diet.
WITH RICE

WITHOUT RICE