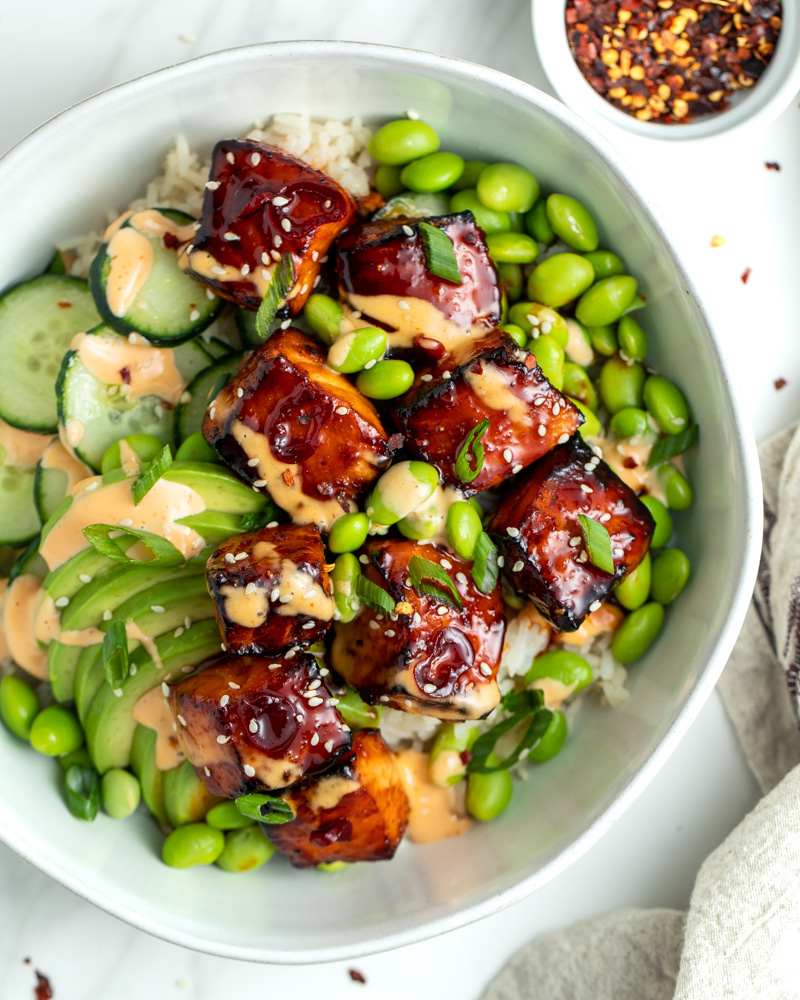 Happy Sunday, friends! I hope you're all surviving this spring weather whiplash. Today I'm bringing you a new meal prep friendly recipe that I'm obsessed with: Gochujang Glazed Air Fryer Salmon Bowls! I've made this recipe 3 times already and I absolutely love the combo of deep umami glazed salmon with bright and fresh cucumber, avocado, and edamame. Top it all off with a gochujang mayo and you won't be able to put your fork (or chopsticks) down! This recipe and the photo styling was inspired by Eat with Clarity's Honey Sriracha Salmon Bowls. Yum!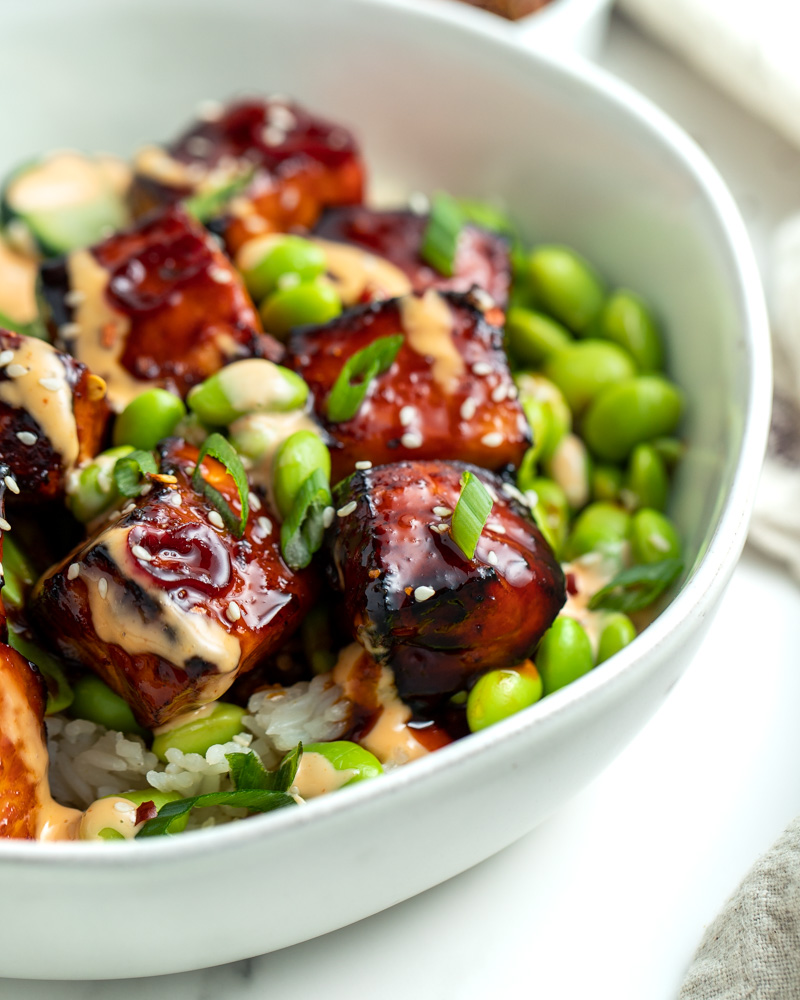 I'm on a bit of a gochujang (and air fryer!) kick lately if you haven't noticed…I've gone through 3 bottles in the last few months! It's just so good. If you missed my other gochujang recipes, here are the links:
Sweet and Spicy Air Fryer Meatballs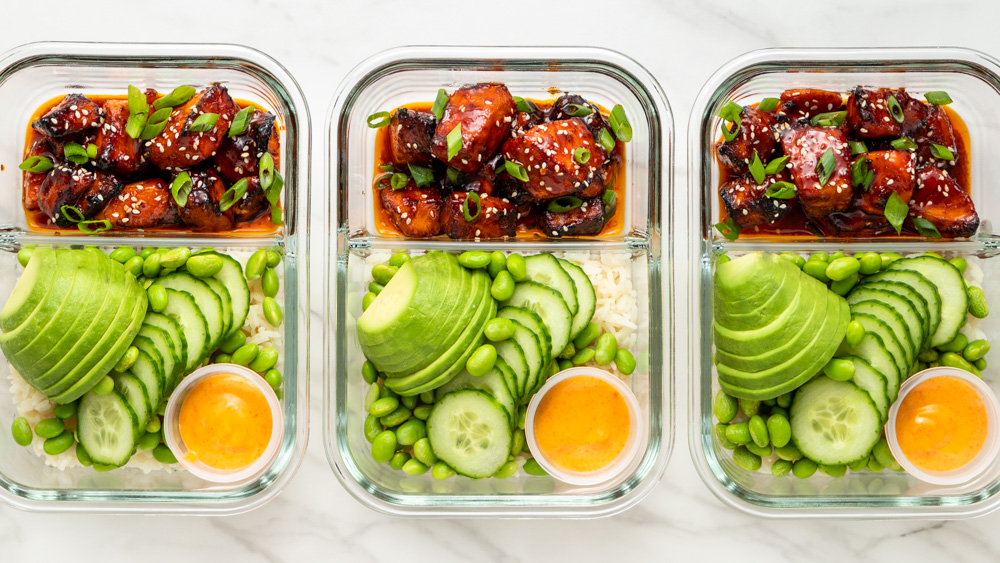 Tips for Meal Prepping this Recipe
I know that meal prepping with fish makes some people nervous, but this recipe works perfectly in meal prep! Here are my tips for making sure these bowls are just as yummy when lunch time at work rolls around:
Eat within 3 days of cooking the salmon. Whenever I'm meal prepping with fish, I always try to eat one of the prepped meals on prep day (usually Sunday for me). Then I'll eat the remaining servings within 3 days.
Store in an airtight container. I know those huge packs of cheap plastic containers you see at the store are tempting, but investing in quality meal prep containers will help keep your food fresh for longer and avoid the frustration of leaks! Check out more about my container recommendations here.
Keep the salmon separated from the veggies. I usually find it helpful to use a divided container like the one pictured here when meal prepping fish. I also like to use little sauce containers like this.
Give the avocado slices a citrus bath. I think we all know that avocado turns brown pretty quickly after slicing it up, but giving it a good rub down in lime juice will help slow that process down. Don't expect perfectly green avocado slices on day 3, but this is how I meal prep with avocado and haven't had issues.
Ingredients and Substitutions
Here are the key ingredients you'll need to make this recipe:
Salmon – I used a combination of Atlantic salmon belly and top loin in the bowl you see here, but the most important thing is that you find a nice thick piece of salmon and it's helpful if it's still in large filet form instead of divvied up into individual serving size pieces. You may also be able to find salmon "bites" in your grocery store that have already been chopped up into bite size cubes. I personally prefer to do the slicing myself, to include removing the skin. I think you get fresher salmon that way and you get exactly what you're looking for in terms of marbling and size. I do not recommend using other types of salmon like Coho or Sockeye because it's so lean that it's susceptible to drying out in the air fryer.
Edamame – Shelled edamame adds a nice kick of protein and fiber to this recipe, without distracting from the star of the dish. You can find it in the frozen veggies section of the grocery store. I don't recommend skipping or substituting it, but you could opt for another veggie like broccoli or asparagus if you must.
Avocado – The sweet and spicy flavor of the salmon needs the cool creaminess of fresh avocado
Cucumber – Another fresh, cooling element to help balance out the intense flavor of the salmon and sauce.
Now for the sauces, you'll need a few key things. First you have the marinade that gets reduced down into a yummy sticky sauce. Plus you have gochujang mayo to help balance things out.
Gochujang – If you've never had it before, gochujang is a spicy Korean paste made from fermented soy beans and peppers that adds an incredible umami flavor to any savory/spicy dish. Typically you'll see it in the store in 2 forms – one in a tub and one in a squeeze bottle. The one in the tub is a thicker, traditional paste and the one in the squeeze bottle is a sauce that's a little bit diluted and easier to work with for the average American cook who doesn't know their way around a Korean kitchen (myself included!).
Honey – The key to getting that sticky sauce that's so crave worthy is adding in some sugar! If you don't have enough honey, you could use brown sugar instead.
Soy sauce – helps to both deepen the flavor of the sauce and adds volume. Be sure to use a low sodium version so things don't get too salty!
Ginger – fresh grated ginger or the kind that comes in a tube works great! The bright spiciness cuts through the deep umami flavors of the gochujang and soy sauce. I don't recommend skipping it!
Fresno pepper – I added some thin slices of Fresno pepper to boost the spice level of the sauce, but you can totally skip this if you prefer. Depending on how spicy you like things, you can also add in some red pepper flakes to boost the heat. Both of these add-ins are totally optional and I've made the sauce before with just the Fresno pepper and another time with just the red pepper flakes – and loved them both!
Gochujang mayo – Kewpie mayonnaise is a Japanese brand of mayo that's pretty popular and easy to find in the states. It's tangier, richer, and more velvety than regular American mayo because it's made with egg yolks instead of whole eggs, and a blend of vinegars for added flavor that cuts through the richness of the egg yolks. If you can't find (or don't want to buy) Kewpie mayo, regular mayo will work just fine. Mix in a little bit of gochujang and lime juice, and you'll have an amazing little topper for this whole dish!
Shop for this Recipe
Here are some items I used to help make this recipe a success. Note: these are Amazon Affiliate links.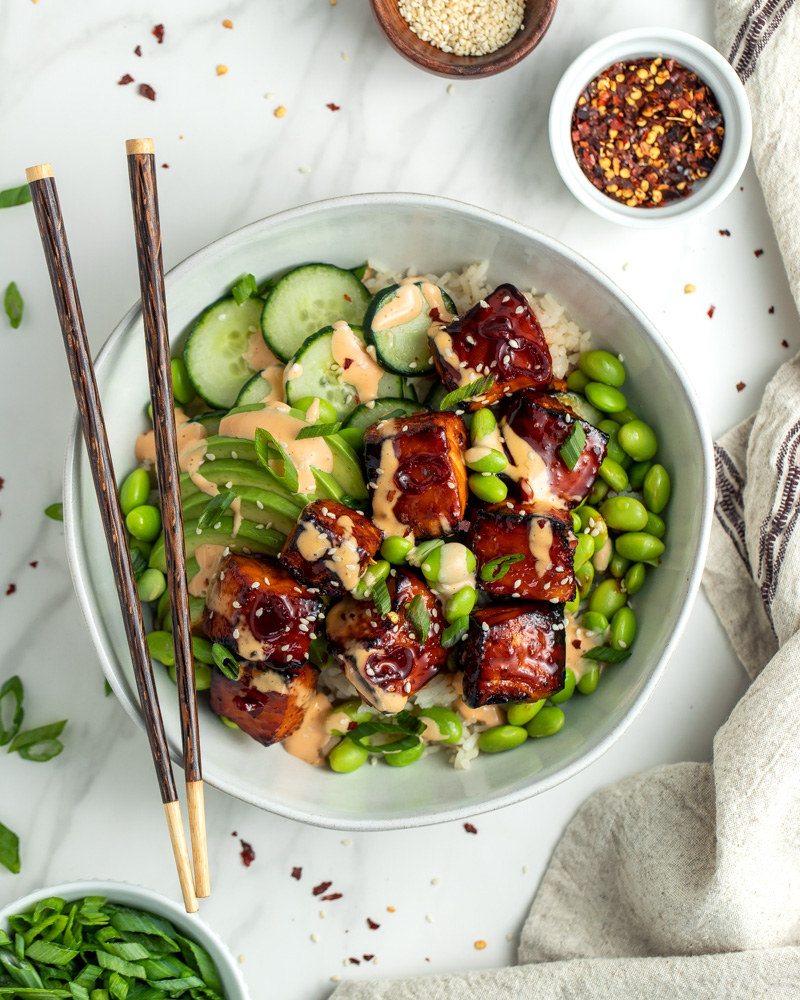 The Recipe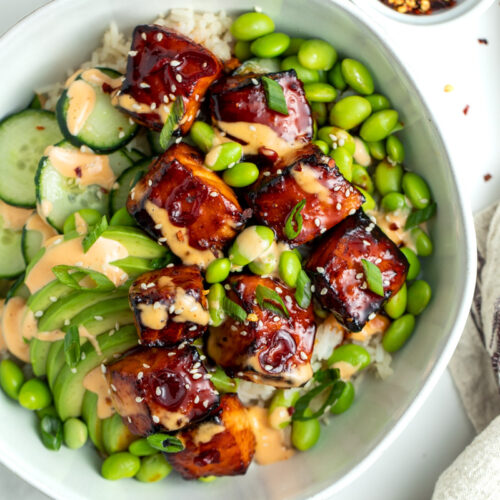 Gochujang Glazed Air Fryer Salmon Bowl
Ingredients
1

lb

Atlantic salmon, skin removed and cut into 1 1/2" chunks

10

oz

frozen edamame, thawed

,

(283 grams)

2

small Haas avocados, sliced

,

(200 grams)

1

cup

English cucumber, sliced thinly

,

(120 grams)

1

small Fresno pepper, sliced thinly

,

(14 grams)

2/3

cup

jasmine rice, prepared according to package directions

,

(121 grams)

1/3

cup

green onions, sliced

1

tbsp

sesame seeds

,

(8 grams)

1

tsp

sesame oil

,

(5 grams)
Marinade and Sauce
6

tbsp

low sodium soy sauce

,

(3 fl oz)

1/4

cup

O'Food Gochujang Korean Chili Sauce,

(72 grams)

1/4

cup

honey

,

(2 fl oz)

2

tbsp

fresh grated ginger

,

(12 grams)

2

tsp

sesame oil

,

(10 grams)

Optional: 1/4 tsp red pepper flakes for extra spice
Instructions
Make the marinade/sauce.
Whisk together all marinade ingredients until combined, then divide in half. Pour half of the marinade over the salmon chunks, tossing until the salmon is evenly coated. Cover and refrigerate for 1-2 hours.

Heat a small skillet or pan over medium-high heat. Add sesame oil and once hot, add sliced Fresno peppers. Sauté for 1-2 minutes, then add remaining marinade. Bring to a boil, then lower heat to a simmer. Simmer for 5-10 minutes or until sauce begins to thicken and has reduced by about half. Remove sauce to a bowl or jar and set aside to cool.
Air fry the salmon.
Pre-heat air fryer to 400°, then spray the bottom with non-stick cooking spray. Add salmon chunks to the air fryer in a single layer, ensuring the pieces are not touching one another. You may need to do this in batches depending on the size of your air fryer. Air fry at 400° for 6-7 minutes, watching to ensure the edges do not burn.

Carefully remove the salmon chunks from the air fryer to a shallow bowl. I like to use a spatula instead of tongs for this to keep the salmon from flaking apart. Drizzle the salmon with the reduced sauce and toss very gently to coat the salmon evenly.
Assemble the bowls.
Whisk together the gochujang mayo ingredients until well combined.

Add cooked rice to the bottom of your bowl, then layer with edamame, sliced cucumbers, sliced avocados, and salmon. Top with gochujang mayo, sesame seeds, and green onions before serving.
Tips & Tricks
Nutrition Information
Calories:
624
kcal
(31%)
,
Carbohydrates:
51
g
(17%)
,
Protein:
33
g
(66%)
,
Fat:
30
g
(46%)
,
Cholesterol:
75
mg
(25%)
,
Sodium:
834
mg
(36%)
,
Potassium:
299
mg
(9%)
,
Fiber:
9
g
(38%)
,
Sugar:
14
g
(16%)