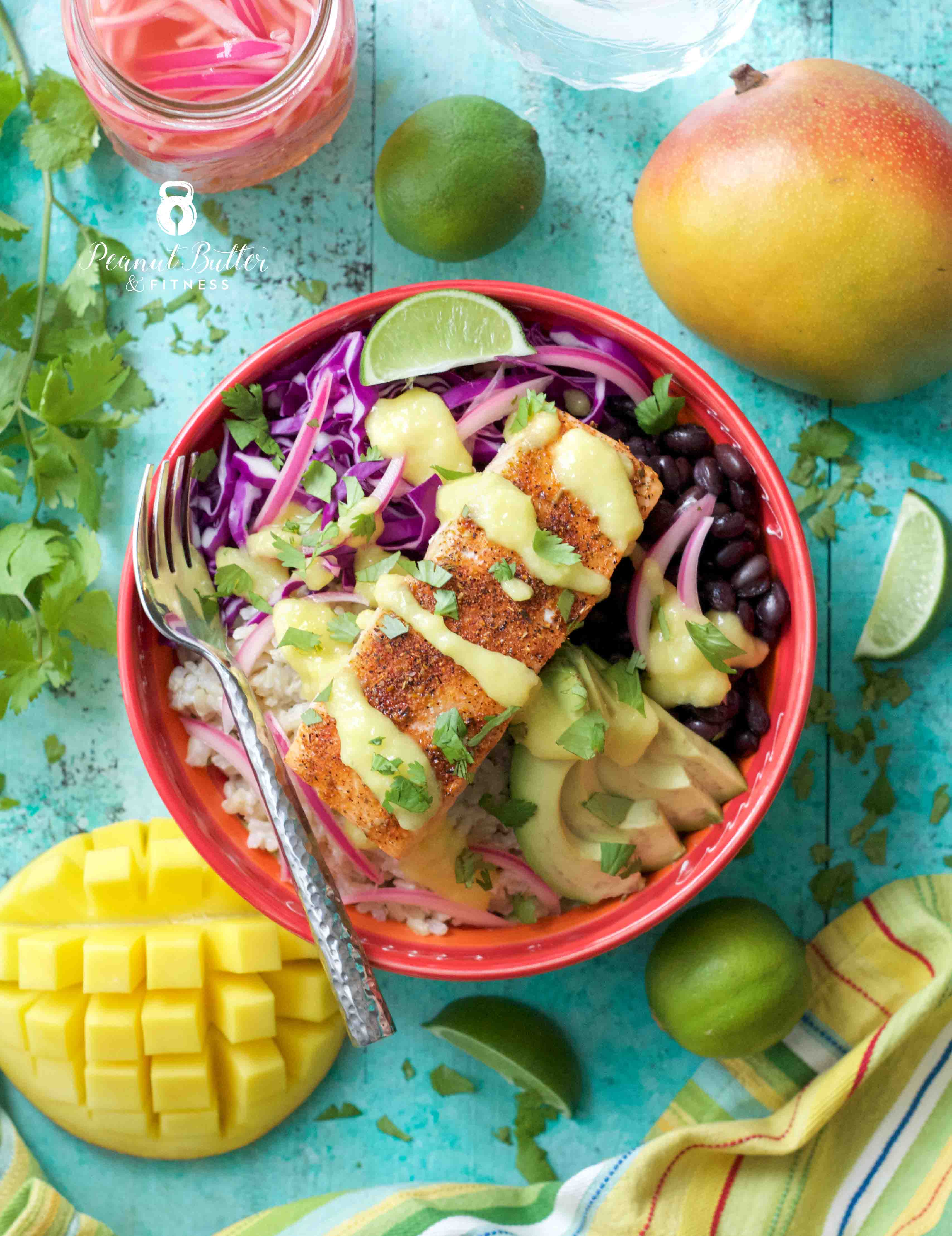 Jump to Recipe
It's Fiesta time in San Antonio, and I couldn't be more excited to share this colorful and fiesta-inspired dish with you – it's a Mango Caribbean Salmon Bowl with coconut rice. You're going to want to get all the goodies on your grocery list so you can make it this week, trust me! I'm normally a big fan of salmon, but I've been in a bit of a rut lately. This tropical take on it has me back on the bandwagon for sure though. It's so bright and fresh, and honestly, a perfectly cooked piece of salmon is hard to beat. Except when you top it off with an incredible mango-lime-coconut sauce 😉
I usually really like wild sockeye salmon, but I thought it's texture would be too dense and flavor too intense for this dish. Instead I opted for the lighter pink, more tender (and more fatty) Atlantic salmon.
When you're buying salmon, there are a few things to consider. First, double check to make sure that it's sustainable salmon. Next, figure out what you want in terms of flavor and nutrition. Wild caught salmon from the Pacific Northwest are usually less fatty, but are stronger in taste and less tender than Atlantic varieties. This site has a good breakdown of the fat content of the different types.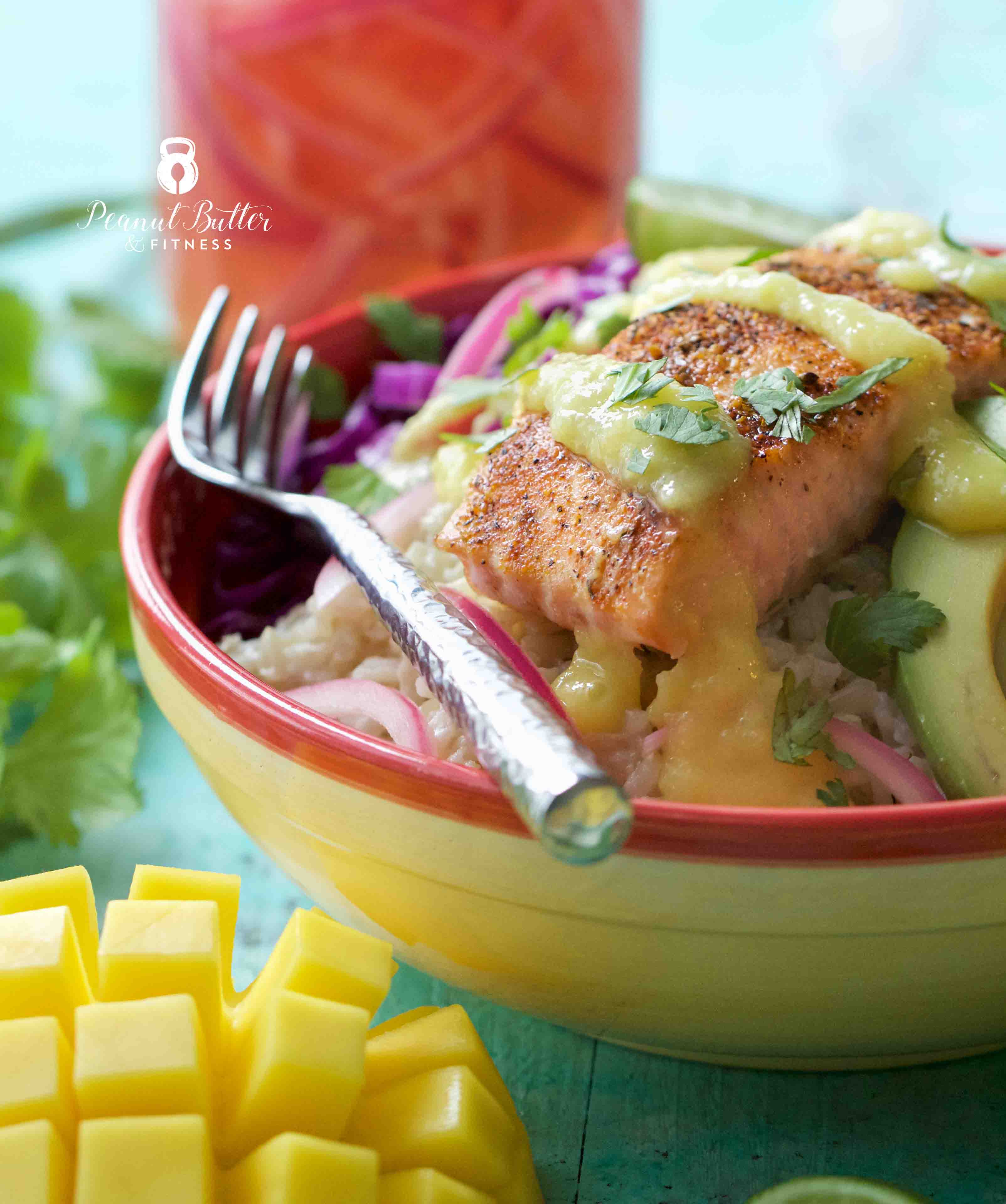 Let's talk meal prep for a minute – I get questions all the time, like "how long will my food last in the refrigerator?" and "can I freeze it?" and "how do I keep it fresh?" The answer is that it all depends on what you've prepped, how you've packed it/what kind of containers you used, and your personal comfort with eating prepped food. I will say that for salmon (and fish in general), I wouldn't eat it more than 4 days after cooking.
That said, this dish actually preps really well – the only thing you might want to leave off of it (or put it in a little resealable container) is the mango sauce so that you don't have to heat it up in the microwave. Everything else, including the cabbage, turn out perfectly after 1 minute of reheating – I really like how it softens up just a little to make it easier to eat. There's a link to the glass containers I used after the recipe if you're interested.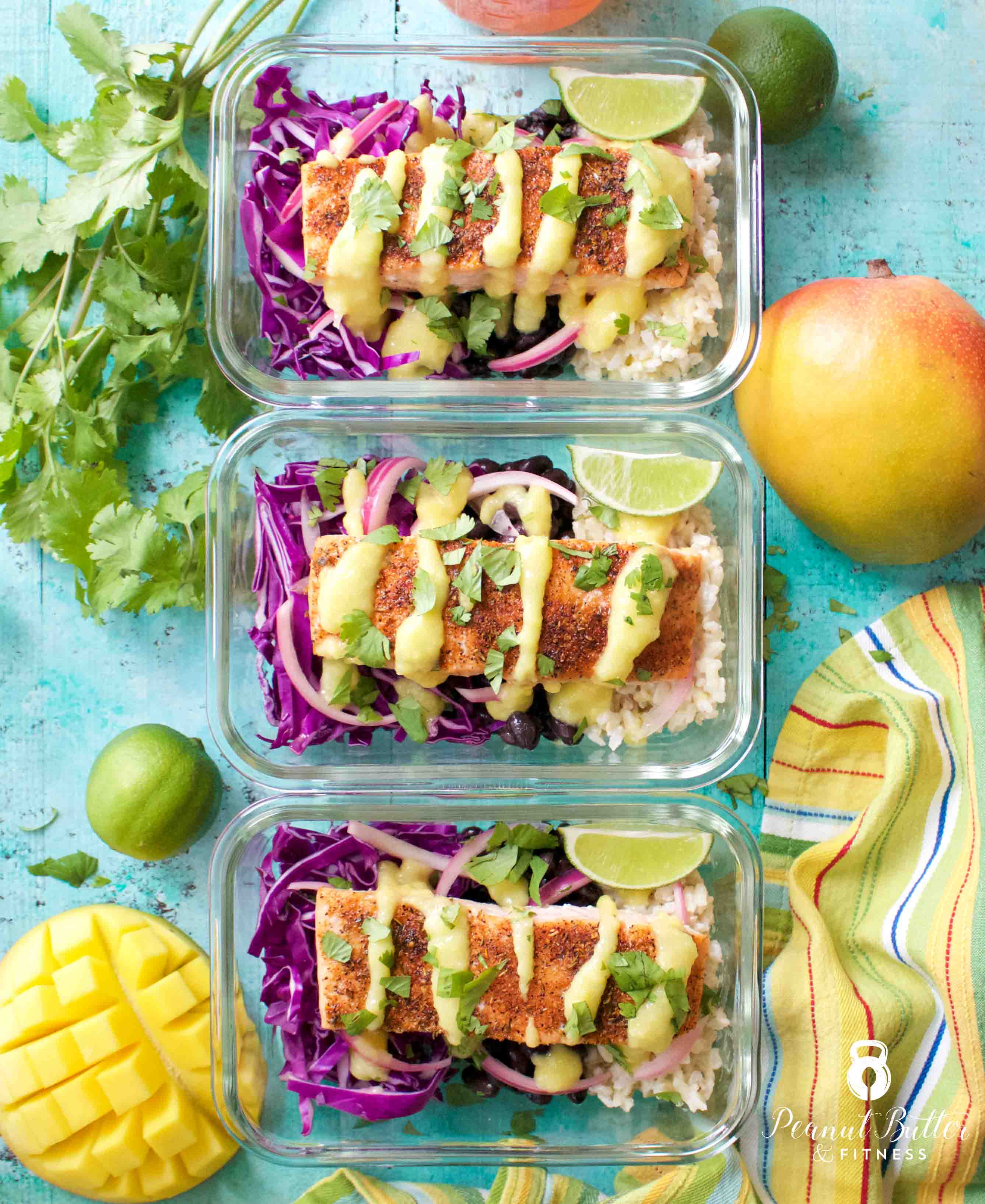 I hope you all have a great week!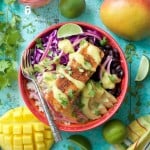 Mango Caribbean Salmon Bowl
Prep Time 25 minutes
Cook Time 12 minutes
Total Time 37 minutes
Servings 4 servings
Calories per serving 385 kcal
Ingredients
1.2 lb raw sustainable Atlantic salmon, skin on (1 lb flesh)
2 cups red cabbage, shredded (145 grams)
1 cup low sodium black beans, rinsed and drained (260 grams)
3/4 cup pickled red onion (recipe below) (90 grams)
2/3 cup Lundberg Organic Brown Jasmine Rice (120 grams)
1/4 cup cilantro, chopped
1/2 tsp Chef Paul Prudhomme's Seafood Magic Seasoning Blend
1 cup light coconut milk (8 oz)
1/3 cup water (2.67 oz)
Optional: avocado slices
Mango Sauce
3/4 cup mango, chopped (120 grams)
2 tbsp light coconut milk (1 oz)
1 tbsp lime juice (1/2 oz)
1/8 tsp salt
Instructions
Bring rice, 1 cup coconut milk, and 1/3 cup water to a boil over medium-high heat. Reduce heat to a simmer and cook for time listed on package directions (~40 minutes). Remove from heat and stir once the cooking time has ended and the coconut milk/water have been absorbed by the rice. Set aside.

Pre-heat oven to 425 degrees. Line a baking sheet with aluminum foil.

Slice salmon into 4 equal portions. Arrange on baking sheet and season with seafood seasoning. Bake at 425 degrees for 12 minutes or until it flakes easily with a fork. If baked with the skin on, gently remove the salmon flesh from the skin with a fork. Set aside.

Add mango sauce ingredients to a food processor and blend until smooth. Set aside.

Assemble bowls starting with rice, beans, and cabbage. Add a layer of pickled red onions, then add salmon, mango sauce, and cilantro on top. Add avocado, if desired.
Nutrition Facts
Mango Caribbean Salmon Bowl
Amount Per Serving
Calories 385 Calories from Fat 90
% Daily Value*
Fat 10g15%
Cholesterol 52mg17%
Sodium 237mg10%
Potassium 842mg24%
Carbohydrates 46g15%
Fiber 8g33%
Sugar 9g10%
Protein 30g60%
* Percent Daily Values are based on a 2000 calorie diet.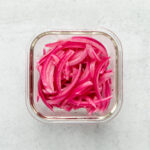 Pickled Red Onion
Prep Time 10 minutes
Total Time 10 minutes
Ingredients
1/2 medium red onion, sliced (100 grams)
1 cup water (8 oz)
1/2 cup apple cider vinegar (4 oz)
2 tbsp sugar (24 grams)
2 tsp salt (10 grams)
Instructions
Microwave water in a microwave safe dish until almost boiling, about 1-2 minutes.

Add sugar and salt to hot water and stir until completely dissolved. Add apple cider vinegar and stir.

Place onion slices in a resealable glass jar and pour pickling liquid over top until onions are covered in liquid.

Refrigerate at least 3 hours or overnight before serving.