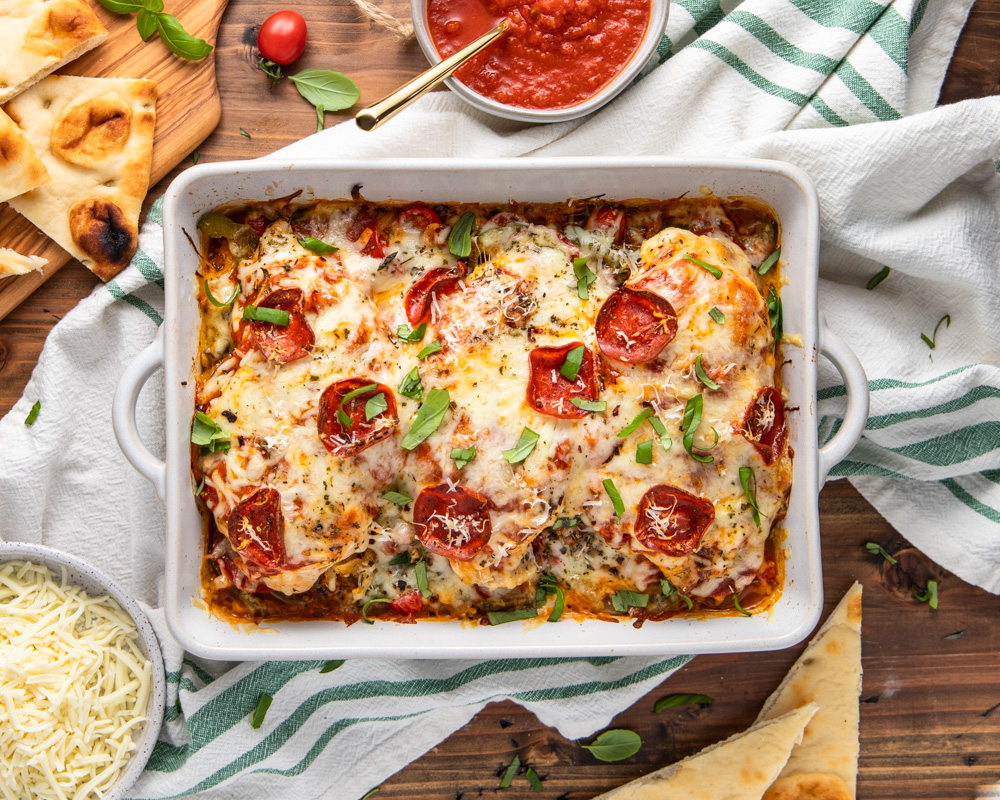 Time for another new recipe Tuesday! This 3 Cheese Pizza Chicken Bake is a fun, nostalgic way to mix up your chicken and veggies. I gotta say, the gooey cheese and crispy pepperoni are my favorite part (and if you're here for pizza chicken, I'm sure it'll be yours too). That's the cherry on top of spaghetti squash, peppers and onions, sauce, and of course – chicken. Weeknight family dinner is served!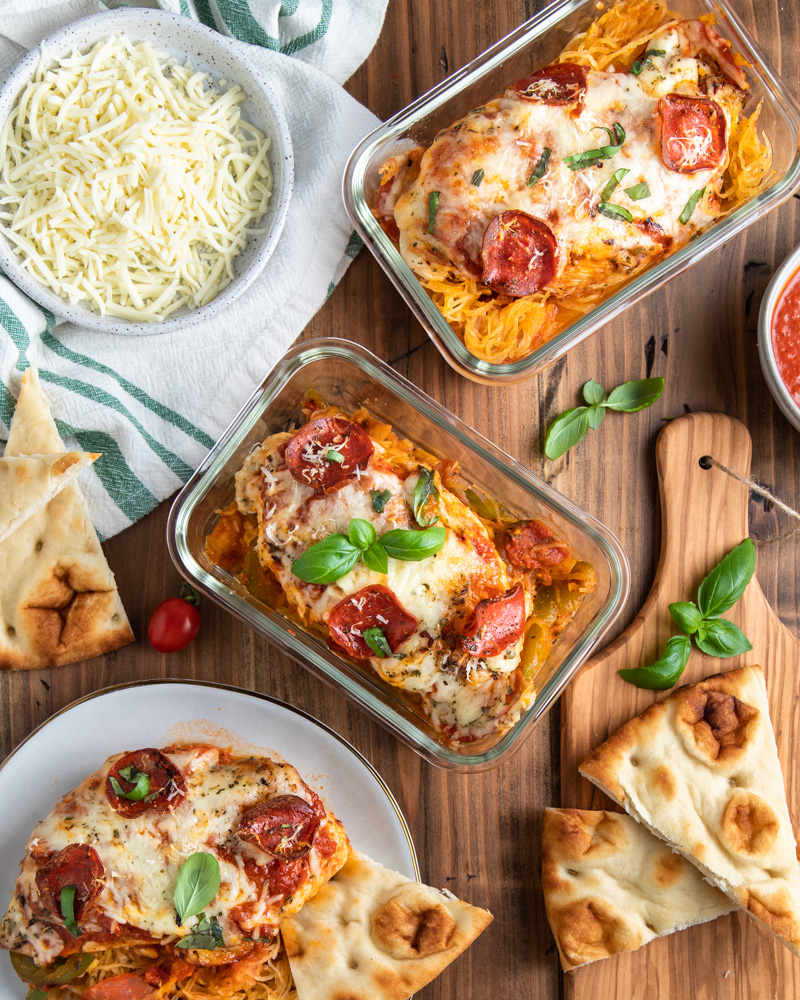 I chose peppers and onions to accompany the spaghetti squash as the veggies in this dish, but you could add any veggies you like on pizza (or not on pizza). Think zucchini, mushrooms, black olives, artichokes, etc. Maybe even pineapple!! Yes, I'm a pineapple on pizza fan and no, I don't expect you to agree. I also got a store-bought pizza crust to serve alongside and sop up some sauce. Delicious!
The casserole dish you see here is actually from Target and it looks like it's been discontinued. It's about 8.5″x11.5″x2.5″ (dimensions at the top). I linked a dish here that's close to the same size below, along with some other items I used to make this recipe a success. Note: these are Amazon Affiliate links.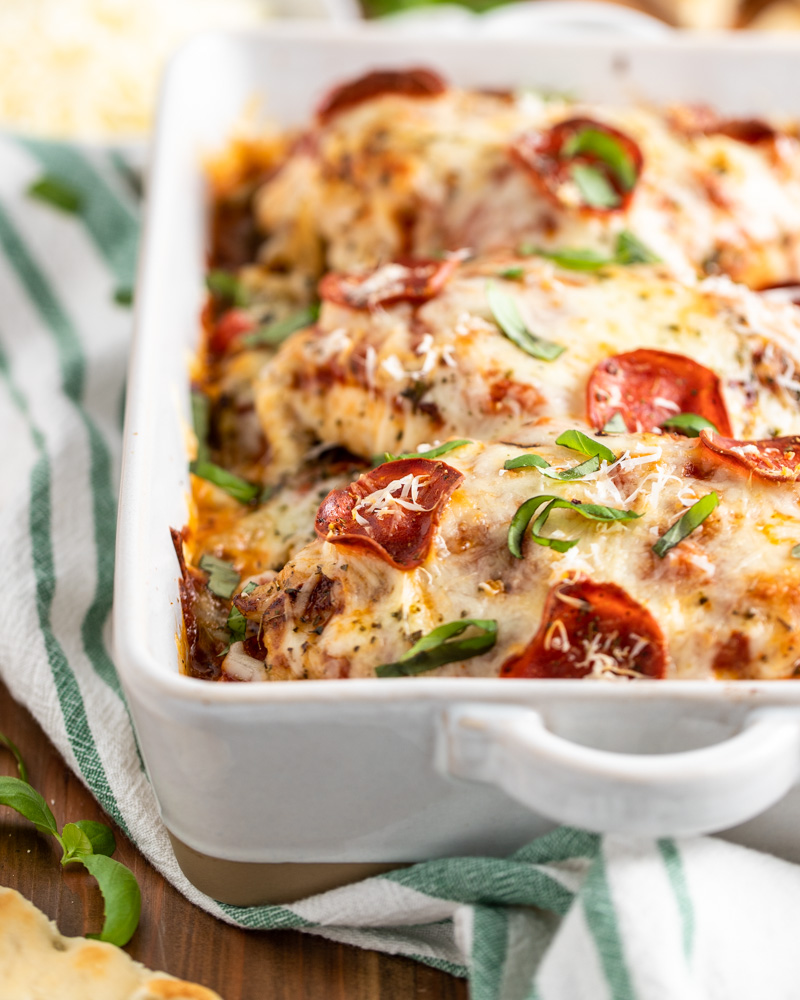 Recipe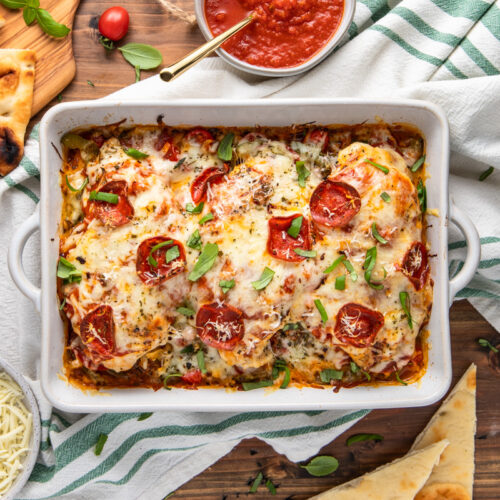 3 Cheese Pizza Chicken Bake
Ingredients
1

lb

raw chicken breast, sliced or pounded to ~ 1/2" thin

3 1/2

lb

spaghetti squash

,

(yields 675 grams flesh)

13

oz

Rao's Margherita Pizza Sauce

10

oz

arrabbiata pasta sauce

,

(or your favorite tomato based pasta sauce)

1

medium green bell pepper, sliced

,

(125 grams)

1/2

pint

cherry tomatoes, halved

,

(150 grams)

1/2

medium onion, sliced

,

(55 grams)

3

cloves

garlic, minced

,

(12 grams)

12

slices

turkey pepperoni

,

(21 grams)

3/4

cup

part skim mozzarela cheese, shredded

,

(84 grams)

1/2

cup

Parmesan cheese, grated

,

(0.5 oz)

1/3

cup

Fontina cheese, shredded

,

(0.85 oz)

1

tbsp

olive oil, divided
Spices
2

tsp

dried oregano

1/2

tsp

sea salt

1/4

tsp

black pepper

1/4

tsp

red pepper flakes
Instructions
Optional (but recommended): Brine chicken breasts for 5-12 hours to make them as juicy and flavorful as possible. Get recipe/instructions here.

Pre-heat oven to 400°. Cut spaghetti squash in half and scoop out seeds.  Rub cut sides with 1 tsp olive oil and season with 1/2 tsp Flavor God Garlic Lover's seasoning.  Bake for 35-40 minutes until flesh flakes away easily with a fork. Once cooled enough to handle, scrape spaghetti squash strands from shell with a fork. Set aside.

In a skillet, heat 1 tsp of olive oil over medium high heat. Add peppers and onions and sauté until tender and slightly browned, about 3-4 minutes. Set aside.

Mix pizza and pasta sauces until well combined. Add a thin layer of sauce to the bottom of a 9×13" baking dish. Top with spaghetti squash, halved tomatoes, garlic, and sautéed peppers and onions, then toss to gently combine. Top with another layer of sauce, reserving about half of what remains to go on top of the chicken. Sprinkle about 2/3 of the spices on top of the sauce at this point. Set aside.

In a large skillet, heat final 1 tsp of olive oil over high heat (8 out of 10). Once hot, add chicken breasts to the skillet, being careful not to crowd them. Sear for about 1 minute per side or until the chicken begins to brown nicely. Add chicken breasts on top of the spaghetti squash mixture in the baking dish.

Top chicken with remaining sauce, cheese, seasoning, and pepperoni. Bake at 400° for 25-35 minutes or until the internal temperature of the chicken breasts reaches 165°. If the cheese is not browning and pepperoni doesn't develop crisp edges toward the end of baking, turn your oven to a broil (but be careful not to burn it!).
Tips & Tricks
Click here or scan the barcode below to log this food in My Fitness Pal.
Nutrition Information
Calories:
443
kcal
(22%)
,
Carbohydrates:
25
g
(8%)
,
Protein:
40
g
(80%)
,
Fat:
21
g
(32%)
,
Cholesterol:
30
mg
(10%)
,
Sodium:
856
mg
(37%)
,
Potassium:
674
mg
(19%)
,
Fiber:
6
g
(25%)
,
Sugar:
12
g
(13%)