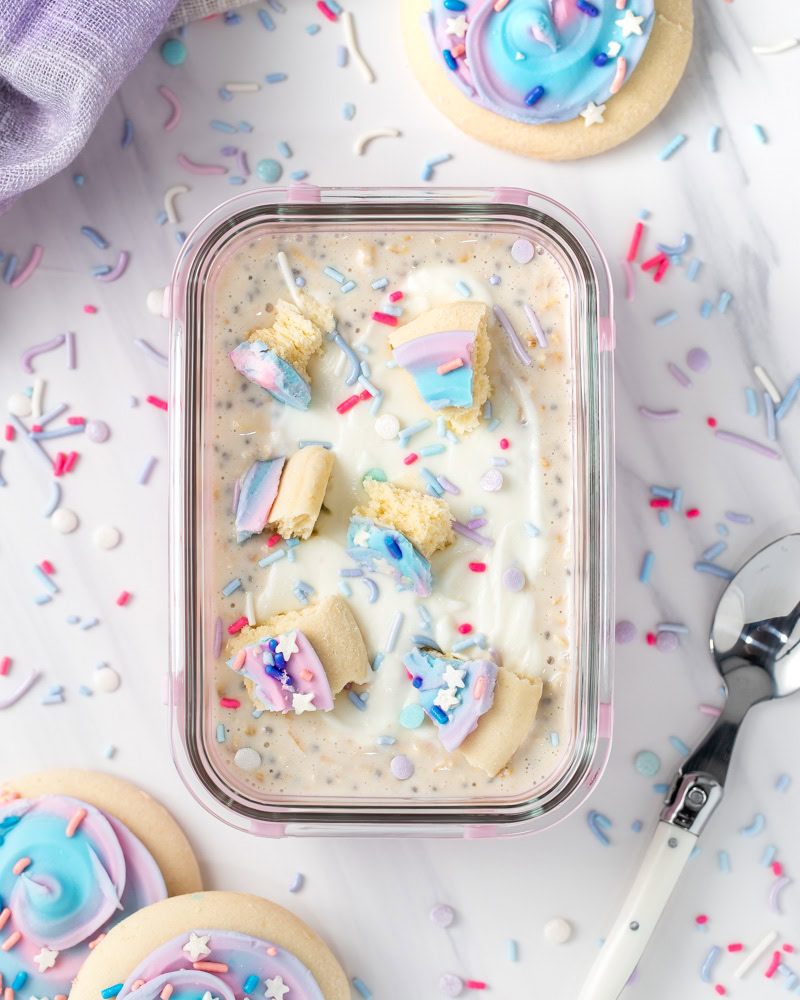 I hope you guys are ready for a really fun breakfast recipe! These Sugar Cookie Protein Overnight Oats aren't just gorgeous, they're also really yummy and actually evoke the flavors of a classic baked sugar cookie (check out the secrets to nailing those flavors below).
I know that the sugar cookie craze usually peaks in December, but hear me out…I found these UNICORN SUGAR COOKIES at the store! They were too gorgeous to resist and honestly sugar cookies are great year round. So just accept the fact that these oats look delicious (and are delicious) and go make them already! And if you're worried about the sugar, just skip the powdered sugar in the "icing" and the crumbled sugar cookie bits on top – everything underneath is healthy and protein packed and perfect for the new year.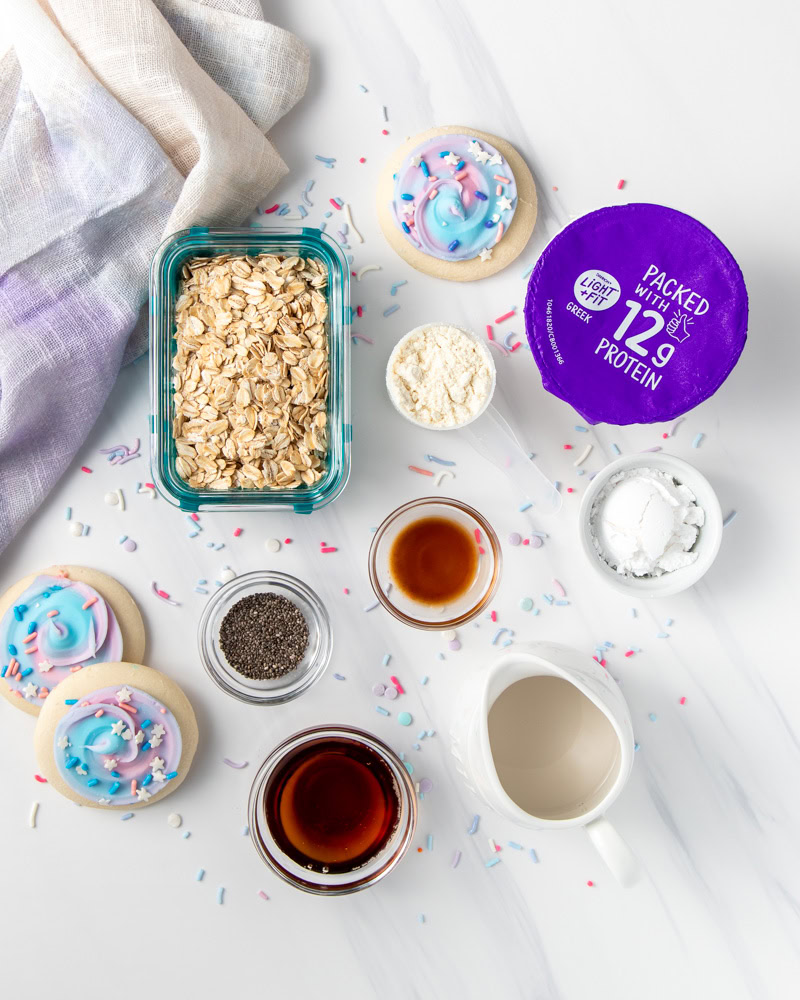 Ingredients and Substitutions
Here's what you'll need to make this recipe:
Rolled oats – I prefer to use rolled oats (also called old fashioned oats) in my overnight oats recipes because they maintain some chew even after a few nights in the fridge. Quick cooking oats turn to mush and steel cut oats have too much bite (even if you use the quick cooking kind).
Milk – Use whatever neutral tasting milk you prefer! I used almond milk, which doesn't have a strong flavor. Some non-dairy milks have a really strong flavor or are overly sweet – I'd stay away from those in this recipe.
Vanilla non-fat Greek yogurt – This helps make these oats extra creamy while adding a boost of protein. I also used some on top mixed with a couple other ingredients as a sort of "frosting." If you want to use a dairy free yogurt, check out my recommendations here.
Whey protein powder – I used a whey protein in this recipe. You can really use any kind you like, but I prefer whey in overnight oats since it dissolves easily into milk and tastes great. A casein or whey/casein mix will absorb more milk than just whey alone, so you may need to adjust the amount of almond milk if you decide to use one of those. Plant based proteins can sometimes leave a gritty texture and have an aftertaste.
Maple syrup – You need just a touch of sweetness to help round out the flavors here and give these oats a sugar cookie vibe. You could use honey or agave syrup instead, but I personally like the flavor of maple syrup best.
Chia seeds – If you're not familiar with them, they're the little black specks you can see in the overnight oats. As they sit in liquid, they soak up moisture and help your overnight oats thicken up and get really creamy. Plus they're a great source of fiber and antioxidants!
Vanilla extract – Like salt in a savory dish, vanilla tends to enhance the flavors of a sweet recipe.
Almond extract – Okay, so don't freak out that there are so many extracts in this recipe. These are what really help give these oats that fresh baked sugar cookie flavor. A little bit of almond extract goes a very long way, so be careful when adding this one to your oats – definitely don't add more than the recipe calls for!
Butter extract – A little less common when it comes to extracts, butter extract actually helps deliver a kiss of butter flavor to your oats without the calories! You may not recognize the flavor of butter when you bite into a sugar cookie, but I promise it's one of the essential flavors (and not just because you need it for cookies to bake right!). You can usually find this one among the other extracts in the spice aisle, but you can definitely find it online if not. Skip it if you must, but trust me when I say you're missing out!
I also added a "icing" topping to my oats to mimic the style of a real sugar cookie. Here's what else is in that:
Vanilla non-fat Greek yogurt – Serves as the foundation of your "icing."
Casein protein powder – Casein protein is key to help thicken up the Greek yogurt. It behaves totally differently than whey protein powder, so just know that if you opt to use whey instead, you'll end up with a pretty running "icing." A better substitute would actually be 1:1 sub with vanilla pudding mix to achieve that super creamy texture.
Powdered sugar – It's not a sugar cookie without powdered sugar in the icing is it?? Just a touch to help sweeten things up and evoke that sugar cookie flavor. You can skip this if you'd prefer to not add any more sugar.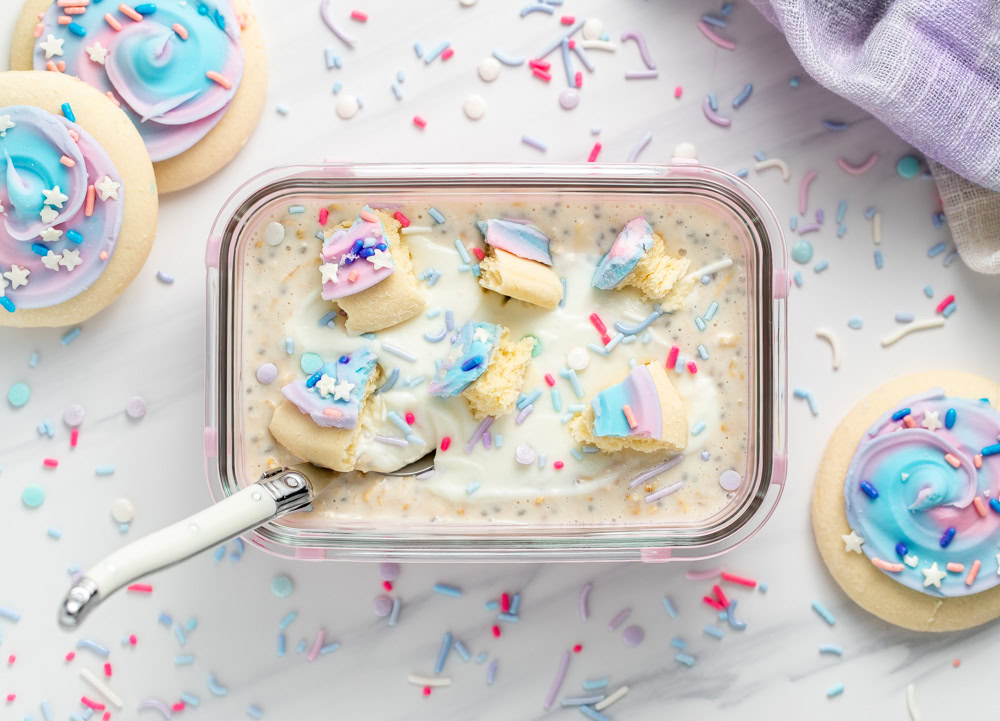 How Far in Advance Can I Make Overnight Oats?
The name would suggest that you need to make them the night before you eat them, but I've made them up to 6 days in advance and haven't had any issues. For most overnight oats recipes, the texture starts to change slightly after about 3 days in the refrigerator. People worry a lot about oats getting mushy if they don't eat them within a day or two, but I find they get more creamy than anything. You may also find that some of the liquid separates or that they seem to dry out – just give them a stir and add more of your milk of choice to revive them!
If you're worried about whether you'll still like them after a few days, I'd recommend 2 things: 1) make a test batch and give it a try on day 4 and 5 to see if you like it. Don't put all of your proverbial eggs in that breakfast basket on those days – have a backup ready to avoid any frustration or disappointment if you don't like them. And 2) if you find you don't like their texture on days 4, 5, 6, etc. – mix up the dry ingredients in a jar ahead of time and stash it on your counter. Then all you'll have to do is add the wet ingredients and stick it in the fridge overnight when you're ready for it!
Another pro tip: always be sure to use the regular or thick rolled oats/old fashioned oats. There are quick cooking rolled oats out there that will lose their chew way faster than the thicker ones. Bob's Red Mill actually makes these Extra Thick Rolled Oats that are perfect for overnight oats!
Shop for this Recipe
Here are some items I used to make this recipe a success. Note: these are Amazon Affiliate links.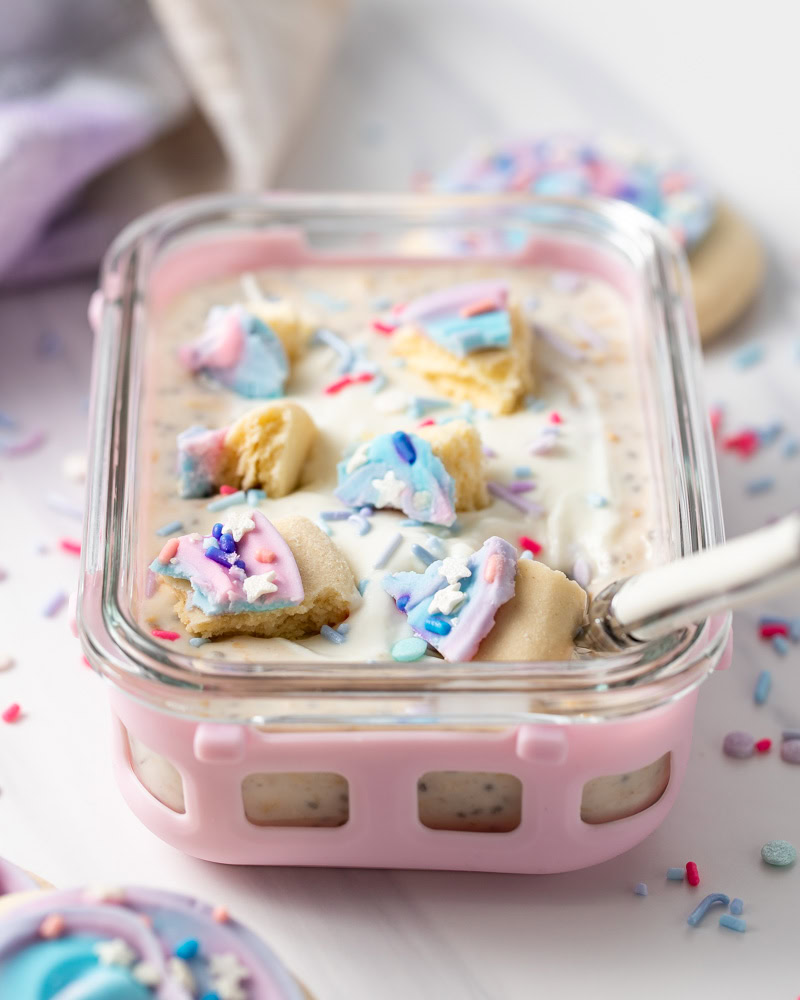 Recipe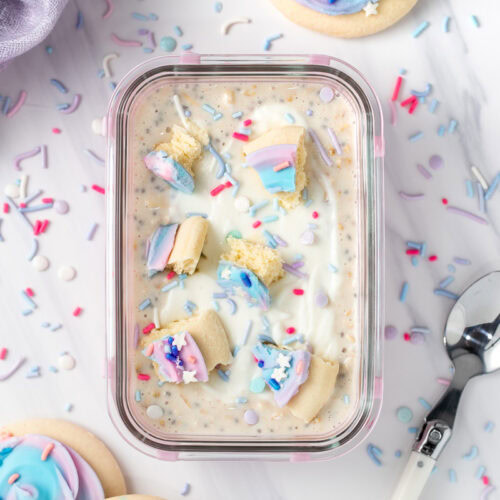 Sugar Cookie Overnight Oats
Ingredients
2/3

cup

rolled oats

,

(64 grams)

1/2

cup

unsweetened vanilla almond milk

,

(4 fl oz)

5.3

oz

Dannon Light & Fit Vanilla Greek yogurt

2

tbsp

vanilla whey protein,

(16 grams)

2

tbsp

maple syrup

,

(1 fl oz)

1/2

tbsp

chia seeds,

(6 grams)

1/2

tsp

vanilla extract

1/4

tsp

almond extract

1/4

tsp

butter extract

pinch

salt
Instructions
Add almond milk and whey protein to a bowl and and whisk together until smooth. Add yogurt, maple syrup, and extracts, and whisk again until smooth.

Add oats, chia seeds, and salt and mix until well combined. Set aside.

Whisk yogurt topping ingredients together until smooth, then spread on top of oat mixture. Cover and refrigerate overnight.

Before serving, top with sprinkles if desired. Optional: add a crumbled sugar cookie on top!
Tips & Tricks
Click here or scan the barcode below to log this food in My Fitness Pal.
Nutrition Information
Calories:
382
kcal
(19%)
,
Carbohydrates:
56
g
(19%)
,
Protein:
31
g
(62%)
,
Fat:
5
g
(8%)
,
Cholesterol:
31
mg
(10%)
,
Sodium:
153
mg
(7%)
,
Potassium:
409
mg
(12%)
,
Fiber:
4
g
(17%)
,
Sugar:
29
g
(32%)