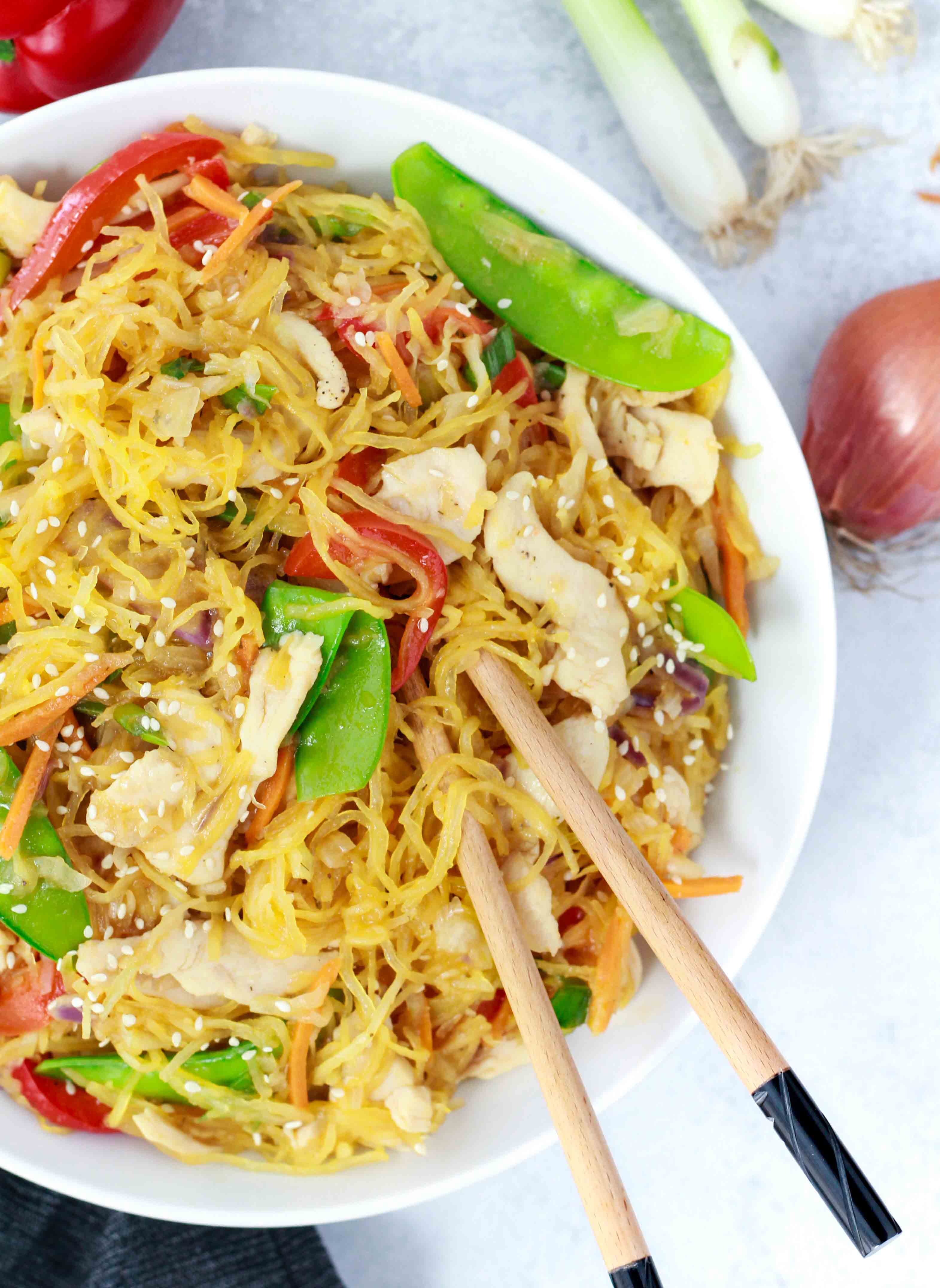 Jump to Recipe
Looking for a veggie-heavy meal that packs a ton of flavor? This Spaghetti Squash Chow Mein is your answer! Now, I realize that chow mein is supposed to be fried noodles…so maybe Lo Mein is a more appropriate title for this recipe. But let's be real, we're using spaghetti squash in place of the noodles, so does it really matter? I think not. What matters here is that a bunch of chicken, veggies, and faux noodles are tossed together in a finger-licking'-good Chinese-inspired sauce that makes for a really tasty meal!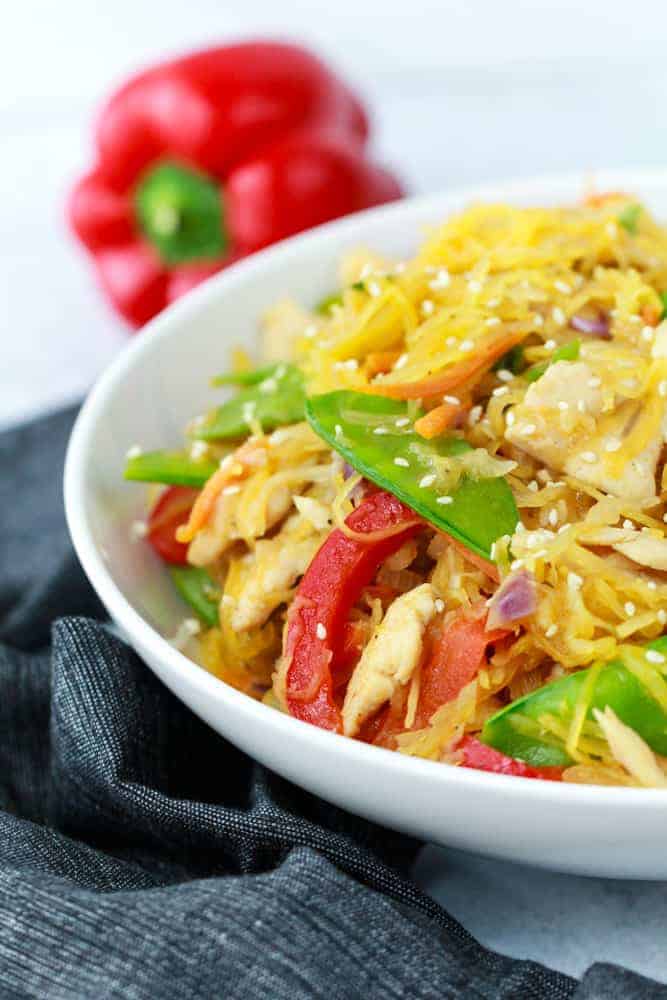 The good news about all these veggies in this meal is that there isn't a ton of chopping needed! The cabbage and carrots are easy to buy cut and prepared. The snow peas don't need any work other than a little trimming here and there. Then of course the bell pepper, shallot, and green onion are easy to slice and dice quickly. The whole thing honestly comes together really easily.
Now, if you want to put in a little extra effort for chicken that is a bit juicier, you can always brine the chicken breasts in advance like I did. Just make a simple salt solution – about 3 tbsp of kosher salt dissolved into 2 cups of hot water. Pour over ice into a resealable container, then add the chicken breasts. Let it brine for 5-12 hours and rinse it off before slicing. Brining is one of my favorite pro tips for keeping meal prepped chicken tasting fresh and juicy all week!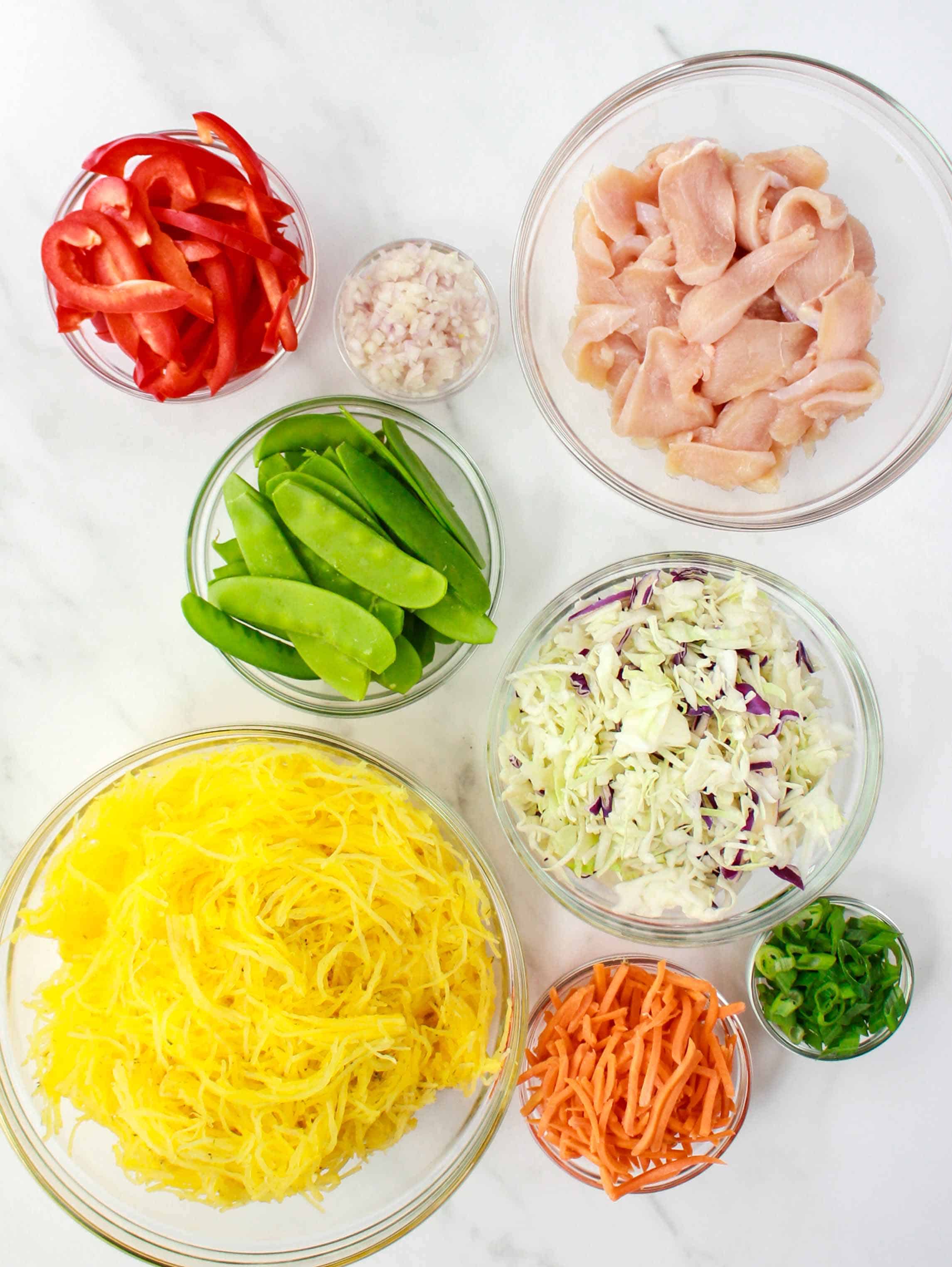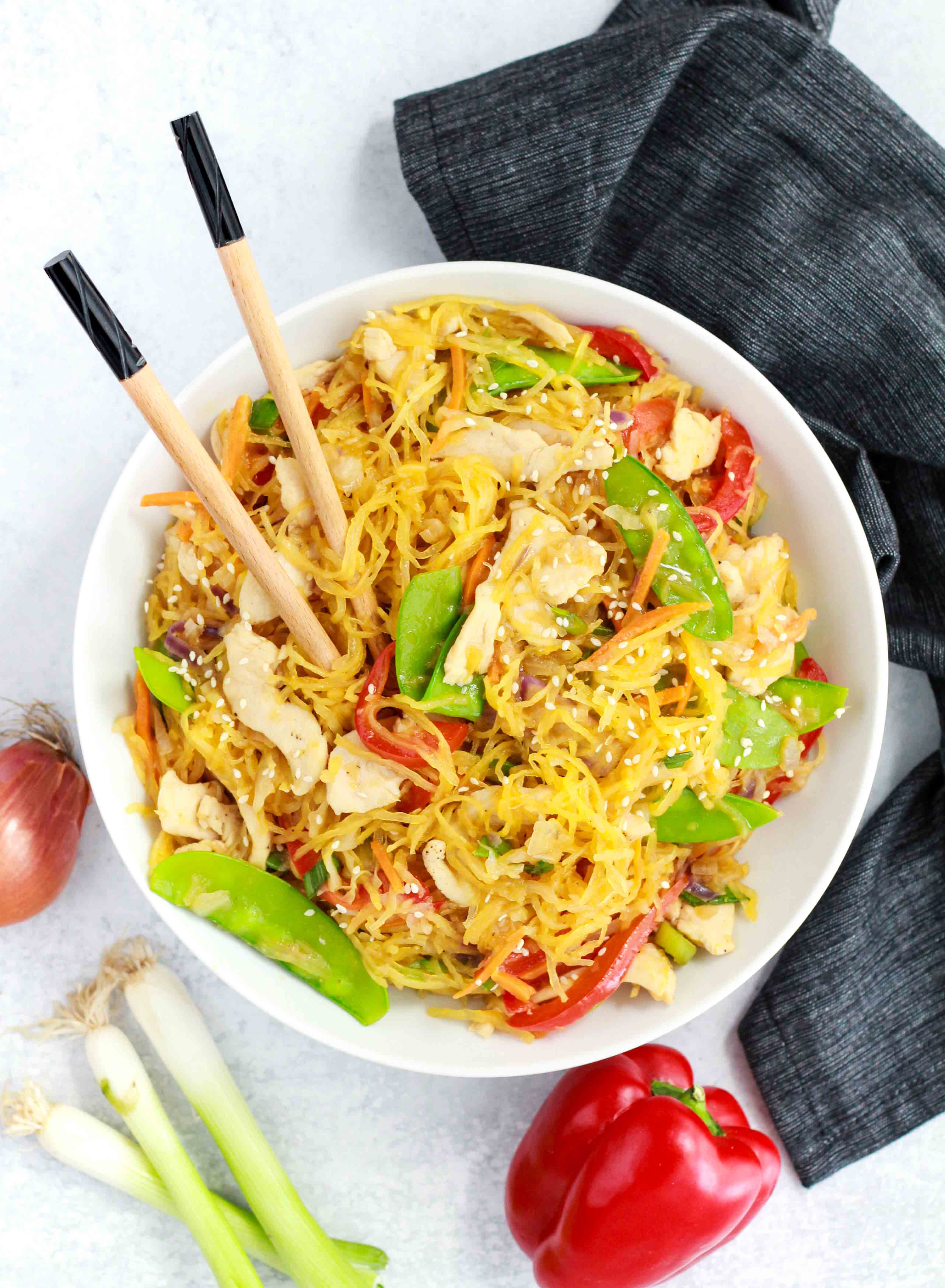 I should mention that what you see here in this bowl is like 3 or 4 servings worth…it's a serving bowl with big ass chop sticks. The tongs I used to dish it up weren't as cute in the photos as the chop sticks, so here we are. Just to clear up any confusion on that. The meal prep pictures below show an actual serving size. Enjoy!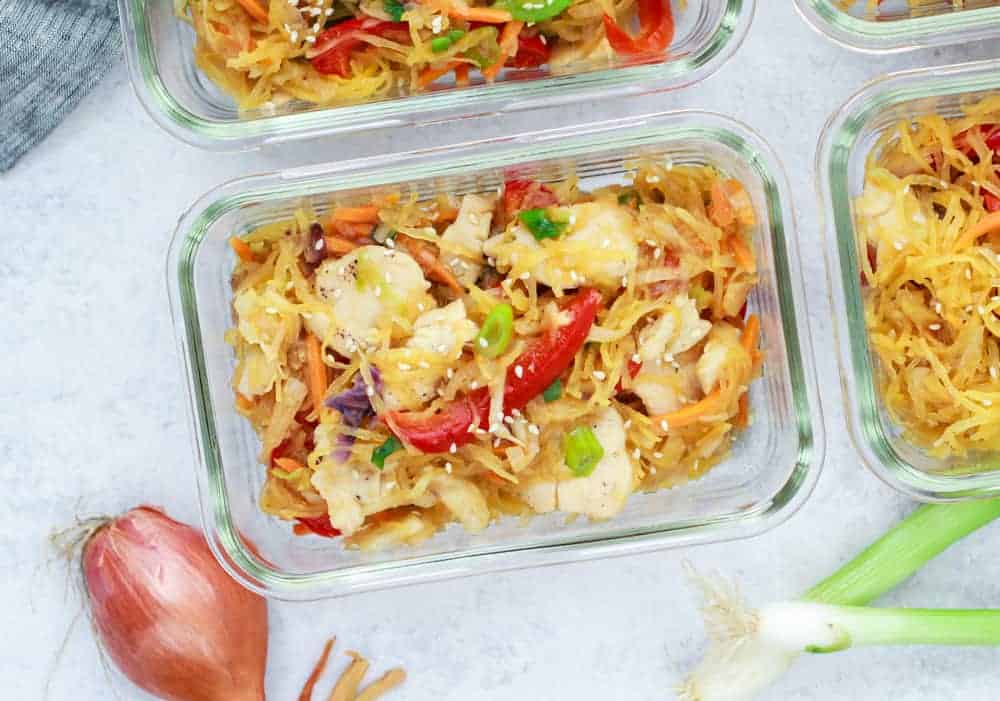 This is a perfectly prep-able meal! The sauce helps keep everything fresh and tasty, even after 4-5 days in the refrigerator. I know some people get freaked out about keeping food in the their refrigerator for more than a few days, but I've been meal prepping for 7+ years and have never had an issue. Do what you're comfortable with, but also don't worry too much about eating a recipe like this on day 5 after cooking (fish is another story though).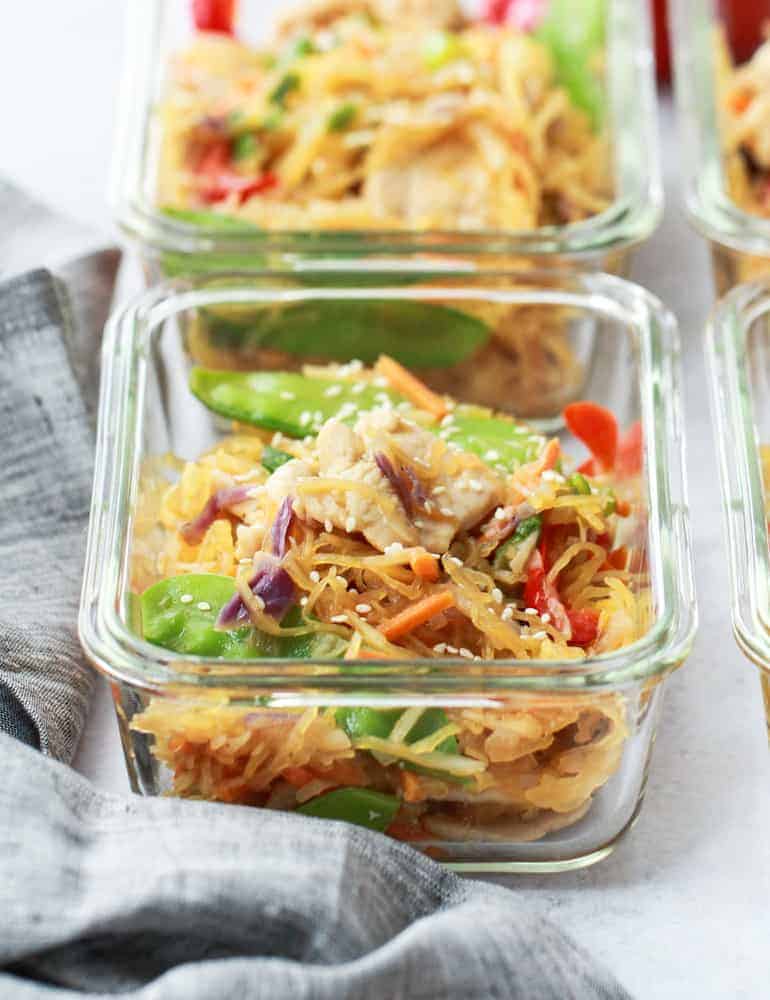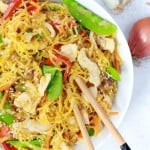 Spaghetti Squash Chow Mein
Prep Time 30 minutes
Cook Time 40 minutes
Total Time 1 hour 10 minutes
Servings 5 servings
Calories per serving 277 kcal
Ingredients
1.25 lb boneless skinless chicken breasts, sliced into very thin strips
1 large spaghetti squash (750 grams flesh)
2 tsp olive oil divided
1 medium red bell pepper, sliced (170 grams)
8 oz shredded cabbage (227 grams)
6 oz snow peas, trimmed (170 grams)
2/3 cup matchstick carrots (100 grams)
1/3 cup green onions (20 grams)
1 medium shallot, diced (45 grams)
1 tbsp ginger, grated
Sauce
1/3 cup no salt added chicken broth
1/4 cup oyster sauce
2 tbsp low sodium soy sauce
1 tbsp sesame oil
1/2 tbsp light brown sugar
1 tbsp corn starch
Instructions
Whisk sauce ingredients and set aside.

Pre-heat oven to 400 degrees. Cut spaghetti squash in half and scoop out seeds. Rub cut sides with 1 tsp olive oil and season with Flavor God seasoning. Bake for 35-40 minutes until flesh flakes away easily with a fork.

Heat remaining olive oil in a large pan over medium high heat. Sauté shallot and ginger until fragrant, then add chicken. Sauté until cooked through. Remove from pan and set aside.

Add bell pepper, snow peas, carrots, and green onions to pan and saute. After about 1 minute, add 1 tbsp of water and cover the pan. Continue sautéing covered for 2-3 more minutes until veggies are tender crisp. Add cabbage to the pan, cover, and sauté for 1 more minute.

Return chicken to the pan, then add noodles and sauce. Mix to combine and coat noodles evenly. After about 2 minutes, remove from heat and divide evenly into 5 serving dishes.
Recipe Notes
Click here or scan the barcode below to log this food in My Fitness Pal.
Nutrition Facts
Spaghetti Squash Chow Mein
Amount Per Serving
Calories 277 Calories from Fat 63
% Daily Value*
Fat 7g11%
Cholesterol 80mg27%
Sodium 807mg35%
Potassium 487mg14%
Carbohydrates 27g9%
Fiber 6g25%
Sugar 14g16%
Protein 29g58%
* Percent Daily Values are based on a 2000 calorie diet.