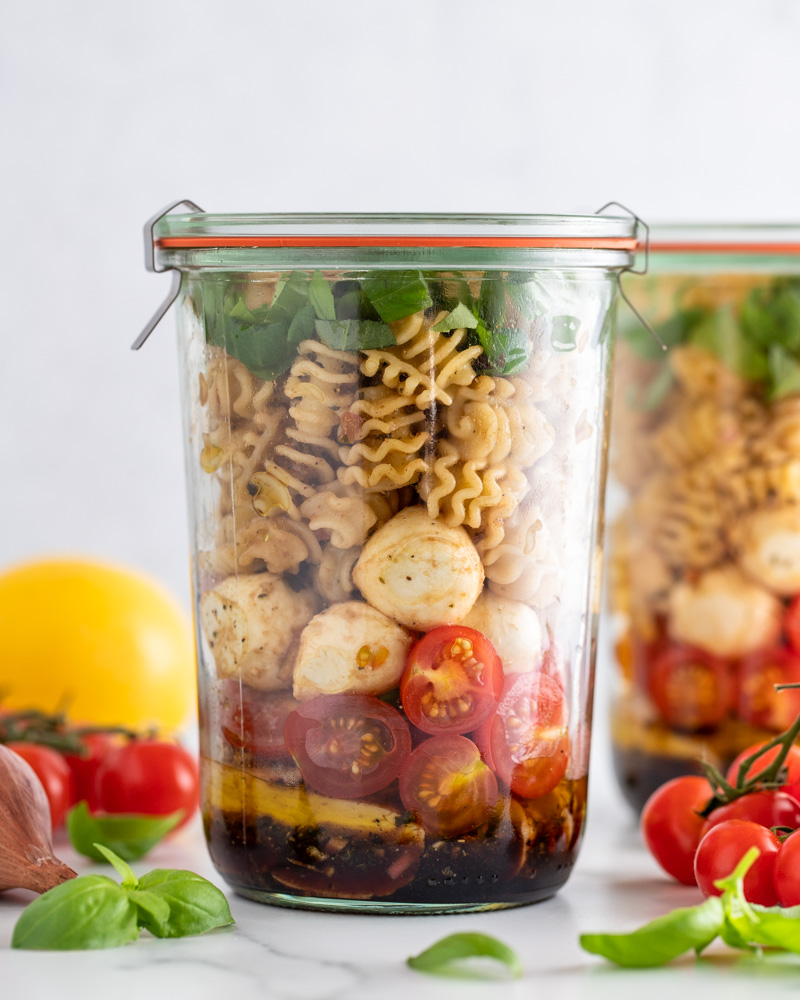 Time for another no-heat meal idea: Caprese Chicken Pasta Salad. I came up with the idea for this recipe when my basil plant was going crazy and needed to be trimmed back. I've had this particular basil plant since last fall – got it at the grocery store and it's been going strong ever since! I'm a huge fan of all interpretations of caprese salad, and adding pasta and chicken makes for a truly delicious lunch. It's all tossed together with an easy homemade balsamic based dressing.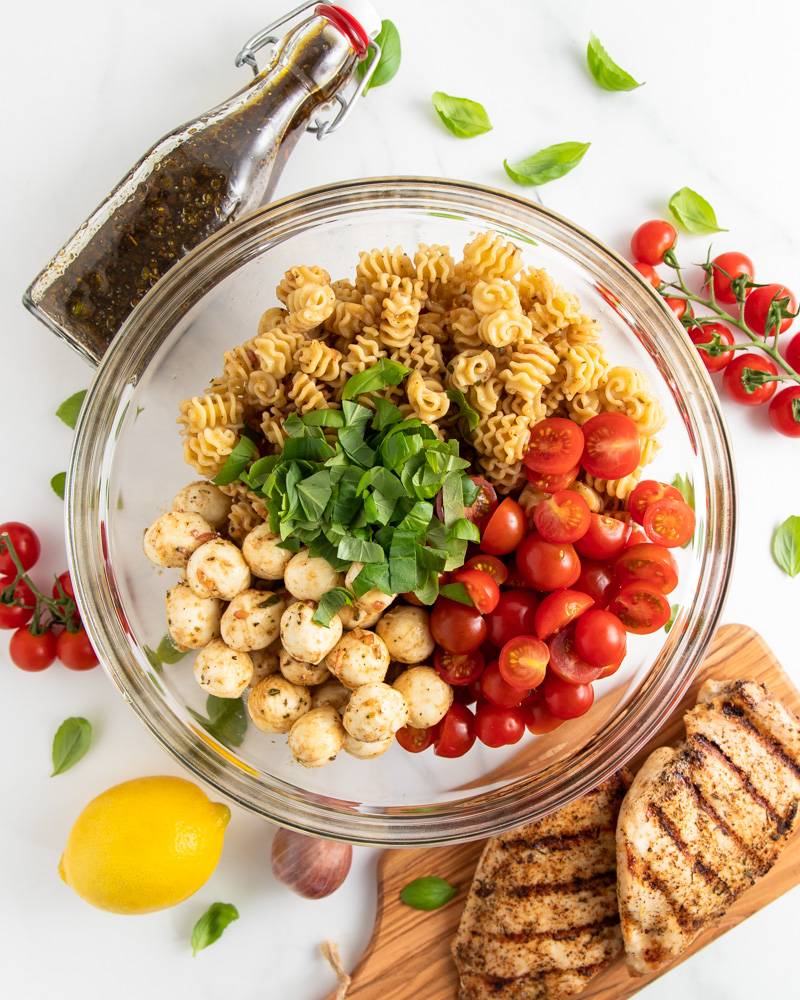 Here's what you need for this recipe:
Chicken – I added some of my favorite juicy grilled chicken to the pasta to round it out as a meal, but you can always skip it and serve the pasta salad as a side dish at a picnic or other gathering. I highly, highly recommend brining your chicken before grilling it for maximum juiciness and flavor that lasts especially well in prepped meals!
Dry pasta – A short cut of pasta works best in this recipe, and I personally love the radiatore shape I found at Wegmans because the little ridges hold onto the dressing so nicely. Fusili would work really well here too.
Mozzarela balls – I personally find that a lot of the little mozzarella balls don't have enough flavor, so a marinated ciliegine or mozzarella pearls are a great option to bump up the flavor.
Cherry tomatoes – grape tomatoes would work well too, but I think the cherry tomatoes are a bit more juicy, which is great in a pasta salad. I would skip the chopped tomatoes though, they're a bit too juicy to hang out with the pasta for several days.
Basil – there's nothing quite like fresh basil! It's deliciously fresh and peppery, and it always reminds me of summer.
Now for the dressing, you need a few ingredients to accompany the balsamic vinegar in the finger licking good "cherry on top" of this pasta salad. It's bright, tangy, and slightly sweet thanks to a touch of honey, plus I added diced shallots right in the dressing for maximum flavor distribution.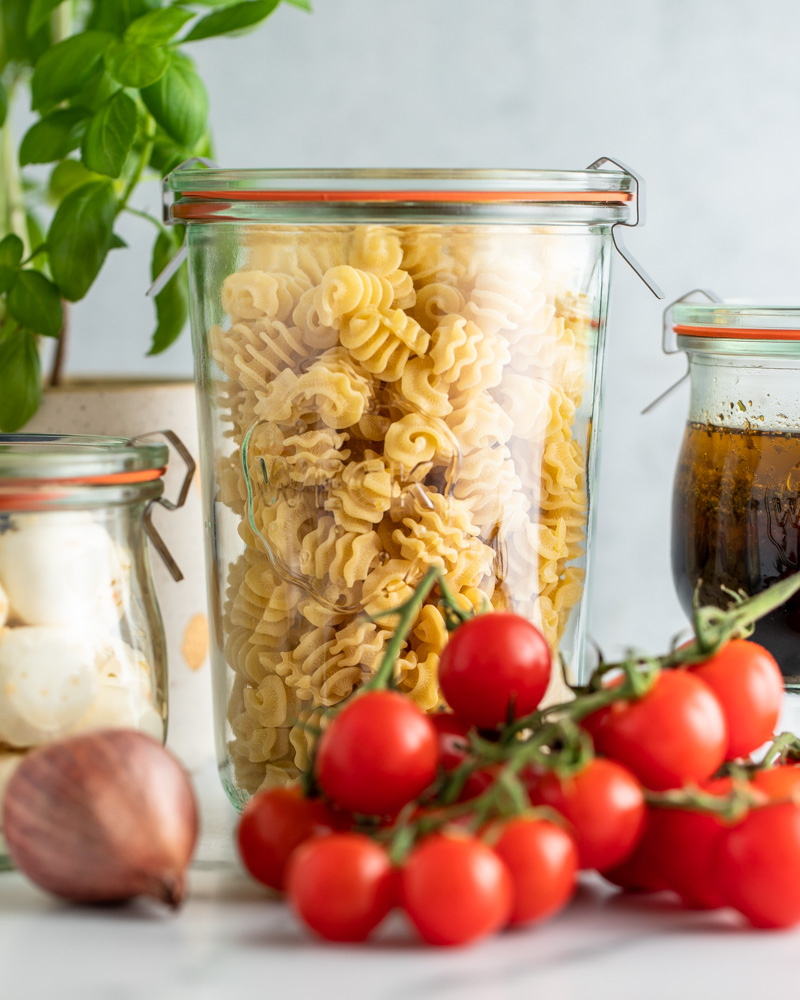 Here are some items I used to make this recipe a success. Note: these are Amazon Affiliate links.
Meal Prep Tips
Meal prepping pasta salad can be a bit tricky, especially when it's not meant to be heated up before serving.
For the Pasta/Dressing: The pasta doesn't get mushy, don't worry about that, but it can dry out a bit. There are a couple reasons for this – 1st) the dressing has oil in it, which can solidify a bit when it's in the refrigerator, making it less "liquid-y" and giving the pasta the feeling a bit dryer, and 2nd) the pasta will absorb a bit of the dressing as it sits in the fridge. Here are my tips for getting around these issues – just note that these tips primarily apply to building your pasta salad in a normal "flat" container as opposed to building it vertically in a mason jar.
Save a tablespoon or two of dressing and keep it separated in a little dressing container like this inside your meal prep container. Just mix it in when you're ready to eat. Note: if you build your pasta salad vertically like in the 1st photo of this post, this is really not necessary since the dressing is already separate from the pasta.
Regardless of how you build your pasta salad (vertical vs flat) and whether or not you plan to save some dressing in a container, be sure to toss the pasta in at least a bit of dressing before placing it in a meal prep container. This will keep the pasta from drying out and sticking together.
When you grab your pasta salad from the fridge in the morning, add an ice cube right in there with the pasta salad. Seriously. As the ice cube slowly melts throughout the morning, it helps revive the pasta salad into a deliciously creamy state. Be sure to remove any remnants of the ice cube before digging in!
Treat your pasta salad like a pint of ice cream and let it sit on the counter for 15-20 minutes before serving. This will give the oil a chance to get back to a liquid state and actually improves the flavor since it's easier to taste our food when it's not so cold. You can also speed this along by popping it in the microwave for 15-30 seconds if you have one handy.
For the Chicken: In the top picture of this post, you can see that I built the pasta salad vertically in a jar (similar to a mason jar salad) to avoid some of the dressing issues I mentioned above. However, because the dressing is vinegar based, you don't really want the chicken sitting in it for more than 2-3 days. So if you're prepping for a half week, go ahead and build your pasta salad in a jar. Otherwise, you may want to opt for building it like the photo below. And before you ask – yes, I ate the chicken cold and yes, it was delicious. You can even chop the chicken into bite size pieces to maximize dressing distribution before storing it in the fridge. If it freaks you out to eat cold chicken, then go ahead and microwave it. I won't judge.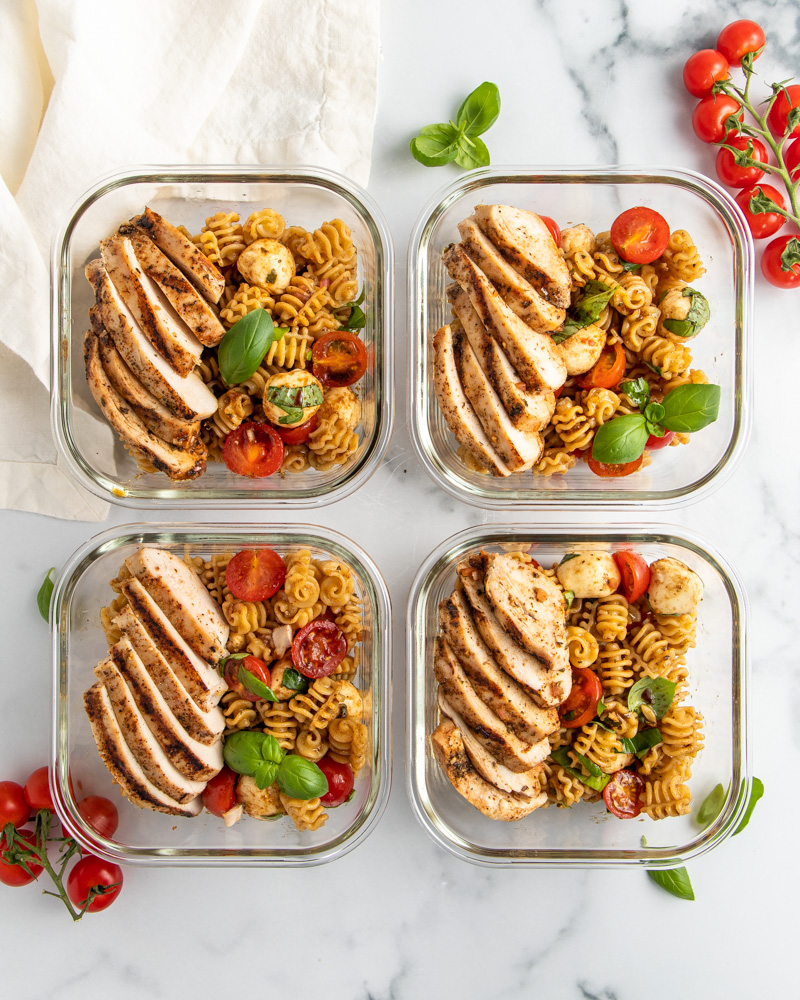 Recipe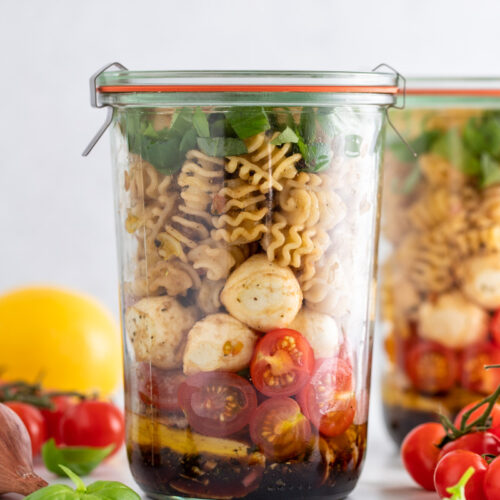 Caprese Chicken Pasta Salad
Ingredients
4 1/2

cups

dry short cut pasta (I used Radiatore but fusili would work well too)

,

(330 grams)

8

oz

Ciligiene mozzarella balls

,

(226 grams)

1 1/2

cups

halved cherry tomatoes

,

(230 grams)

1/4

cup

rough chopped or torn basil
Dressing
1/4

cup

olive oil

,

(2 fl oz)

1/4

cup

balsamic vinegar

,

(2 fl oz)

1/4

cup

chopped shallot

,

(40 grams)

2

tbsp

lemon juice

,

(1 fl oz)

1

tbsp

honey

,

(0.5 fl oz)

1

tsp

oregano

1

tsp

salt

,

(add more to taste)

1/2

tsp

pepper
Juicy Air Fryer Chicken
1 1/2

lbs

raw chicken breast

3

tbsp

homemade brine mix

1

tsp

olive oil

1/2

tsp

each: salt, pepper, chili powder
Instructions
Juicy Air Fryer Chicken
Bring 2 cups water to a boil. Add brine mix and stir until dissolved. Pour over ice in a flat bottomed resealable container. Add chicken, then add additional water until chicken is submerged. Brine for at least 5 hours or up to 12 hours.

Remove chicken from brine and rinse with cold water. Pat dry on a paper towel, then pound down the thicker end of the chicken breast until they are even thickness across.

Rub the chicken with 1 tsp olive oil until evenly coated. Season with salt, pepper, chili powder, and Flavor God seasoning.

Air fry the chicken at 380 degrees for 11 minutes, flipping halfway through until the internal temperature reaches 165°. Set aside to cool for about 5 mintes before slicing. (Note: you can also grill the chicken at 400° for 6 minutes, then flip and grill another 5-6 minutes depending on thickness).
Prepare Pasta Salad
Whisk all dressing ingredients together vigorously or shake them together in a dressing container like this.

Boil pasta in salted water to al dente texture (mine took 9 minutes). Drain and rinse with cold water, then toss in a bit of the dressing to avoid sticking.

Toss all ingredients together with dressing before serving.
Tips & Tricks
Click here or scan the barcode below to log this food in My Fitness Pal.
Nutrition Information
Serving:
315
grams
,
Calories:
497
kcal
(25%)
,
Carbohydrates:
41
g
(14%)
,
Protein:
39
g
(78%)
,
Fat:
19
g
(29%)
,
Cholesterol:
156
mg
(52%)
,
Sodium:
412
mg
(18%)
,
Potassium:
834
mg
(24%)
,
Fiber:
1
g
(4%)
,
Sugar:
3
g
(3%)