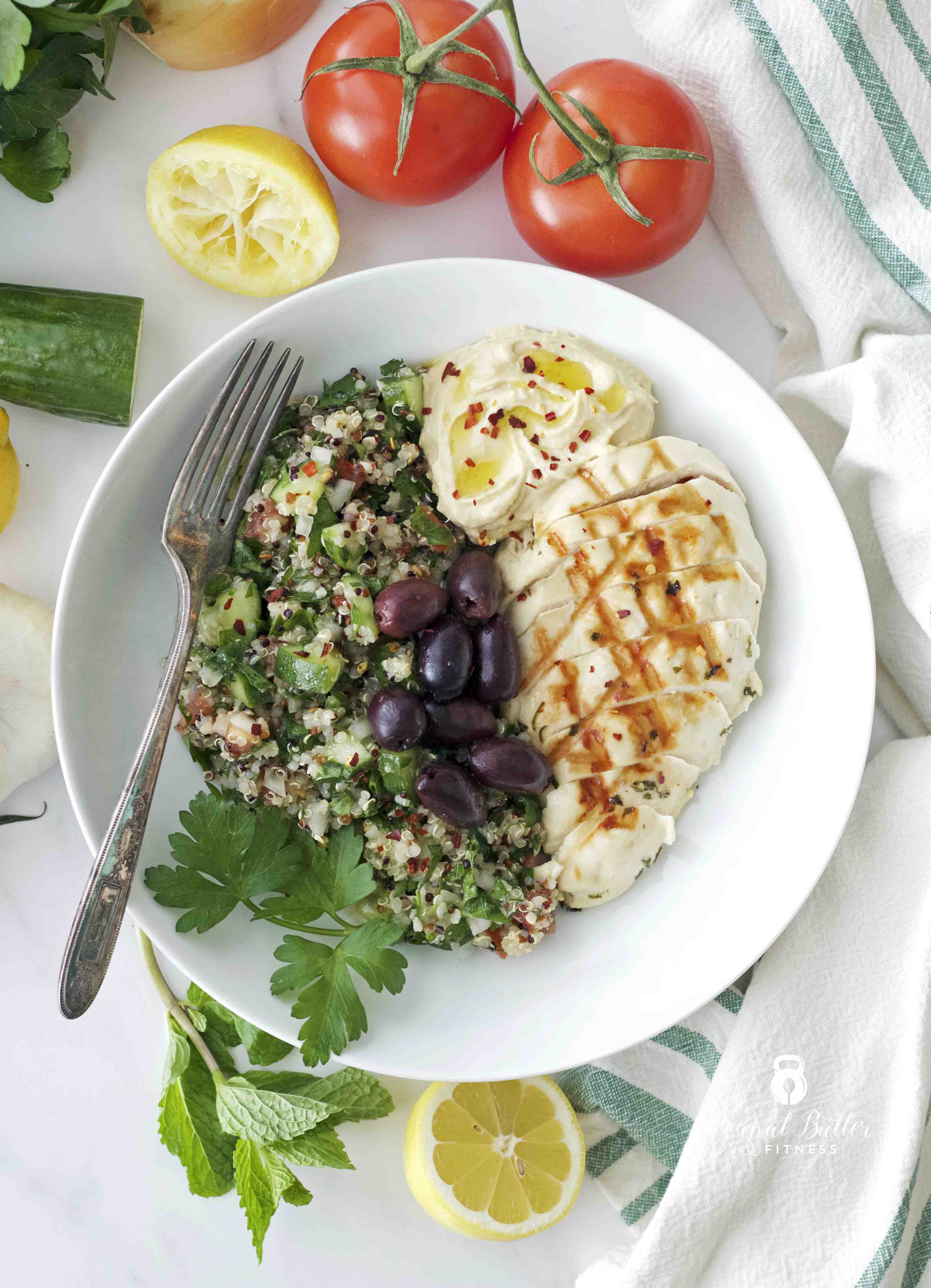 Happy Monday, PBF'ers! Instead of my usual meal prep Monday kind of post, today I'm bringing you this totally meal-preppable Chicken Tabouleh Bowl. I made my tabouleh with tri-color quinoa instead of the more traditional bulgar, but you could use either one or even couscous. I haven't worked with bulgar before and honestly, I'm just trying to avoid adding more stuff to my pantry at this point in the event that I actually move out of San Antonio come summer. All the stuff I'm still accumulating for product reviews isn't helping though 😉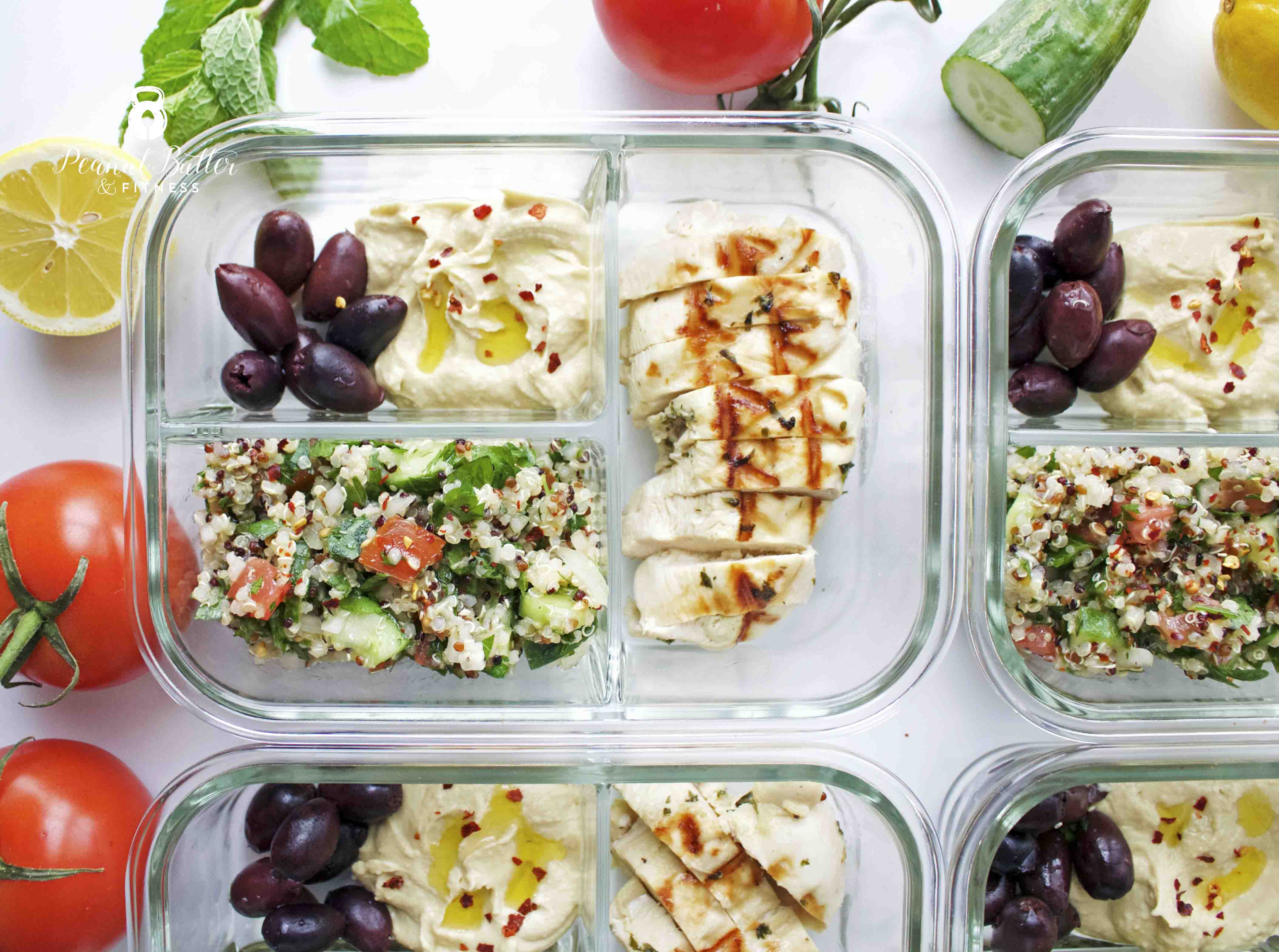 I liked using these 3 compartment glass meal prep containers for this dish. That way, you get to mix things up as much or as little as you want whenever snag it out of the refrigerator. It also makes it easier to pull the chicken out to re-heat if separately from the other components if you prefer. You could also use some rectangular silicone cups to help you out with that.
Cheers to another week!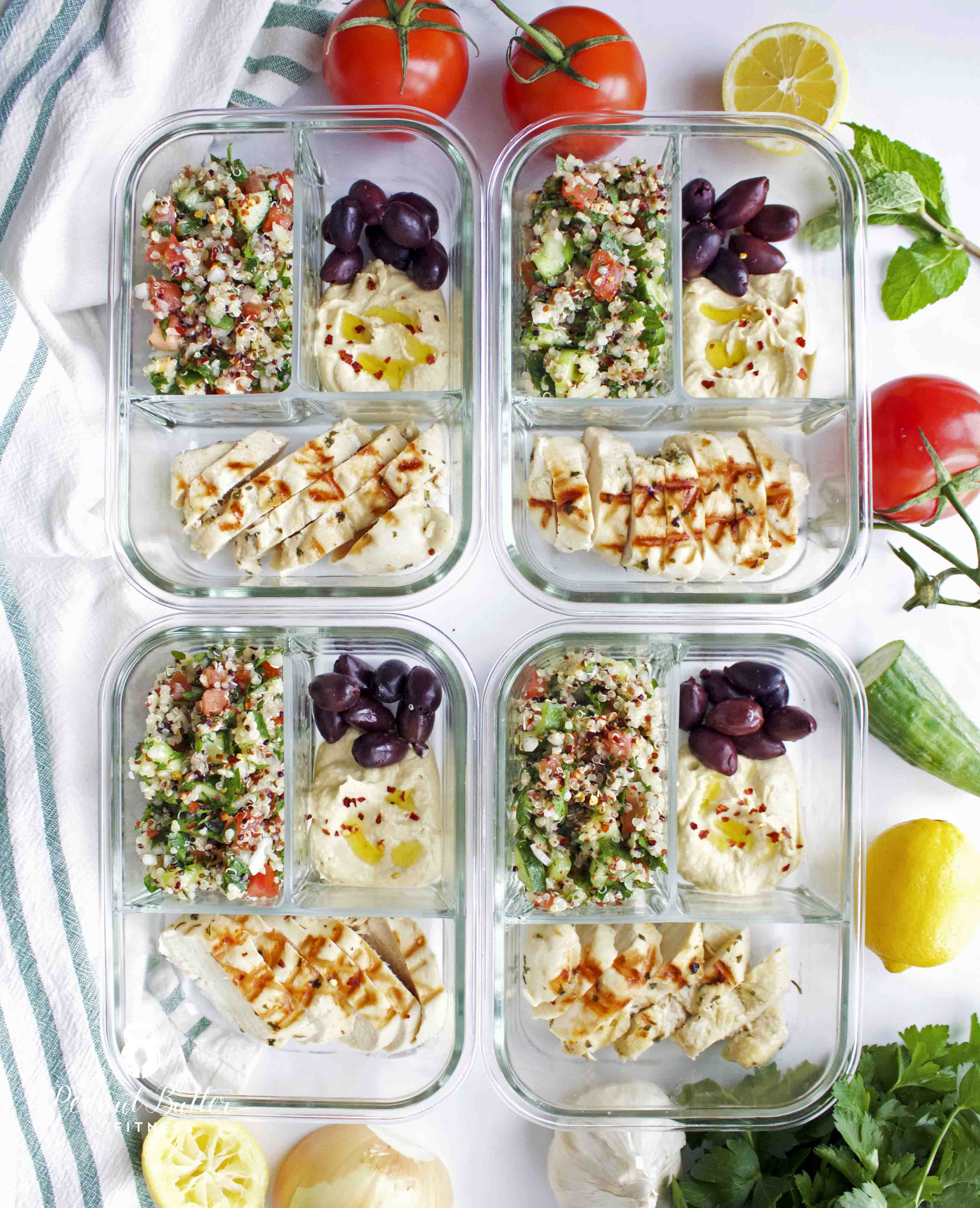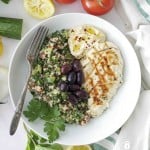 Chicken Tabouleh Bowl
Prep Time 30 minutes
Cook Time 15 minutes
Total Time 45 minutes
Servings 6 servings
Calories per serving 402 kcal
Ingredients
1 1/2 lb raw chicken breast
1 cup Sabra Original Hummus
25 pitted kalamata olives (63 grams)
2 tbsp lemon juice (1 oz)
1 tbsp olive oil (0.5 oz)
1/2 tsp dried parsley
Quinoa Tabouleh
1 cup cucumber, chopped (150 grams)
2/3 cup tri-color quinoa, cooked according to package directions (120 grams)
2 roma tomatoes, chopped (270 grams)
1/2 sweet onion, diced (55 grams)
1 cup parsley, chopped (25 grams)
2 tbsp mint, chopped
1/4 cup olive oil (2 oz)
1/3 cup lemon juice (2.66 oz)
2 cloves garlic, minced (8 grams)
1/4 tsp salt
Instructions
Whisk together lemon juice, olive oil, Oh My Spice! seasoning, and dried parsley. Pour over chicken in a resealable container and flip chicken until all surfaces are coated with the marinade. Refrigerate at least 1 hour, but preferably overnight.

Add all tabouleh ingredients to a bowl and mix until well combined. Set aside in the refrigerator.

Remove chicken from refrigerator and grill or pan sear over medium-high heat for 3-5 minutes per side until cooked through (cook time will vary based on thickness and grill/stove settings). Allow to rest for 5 minutes before slicing.

Divide chicken, tabouleh, hummus, and kalamata olives between 6 serving dishes.
Nutrition Facts
Chicken Tabouleh Bowl
Amount Per Serving
Calories 402 Calories from Fat 171
% Daily Value*
Fat 19g29%
Cholesterol 66mg22%
Sodium 352mg15%
Potassium 487mg14%
Carbohydrates 24g8%
Fiber 4g17%
Sugar 4g4%
Protein 31g62%
* Percent Daily Values are based on a 2000 calorie diet.