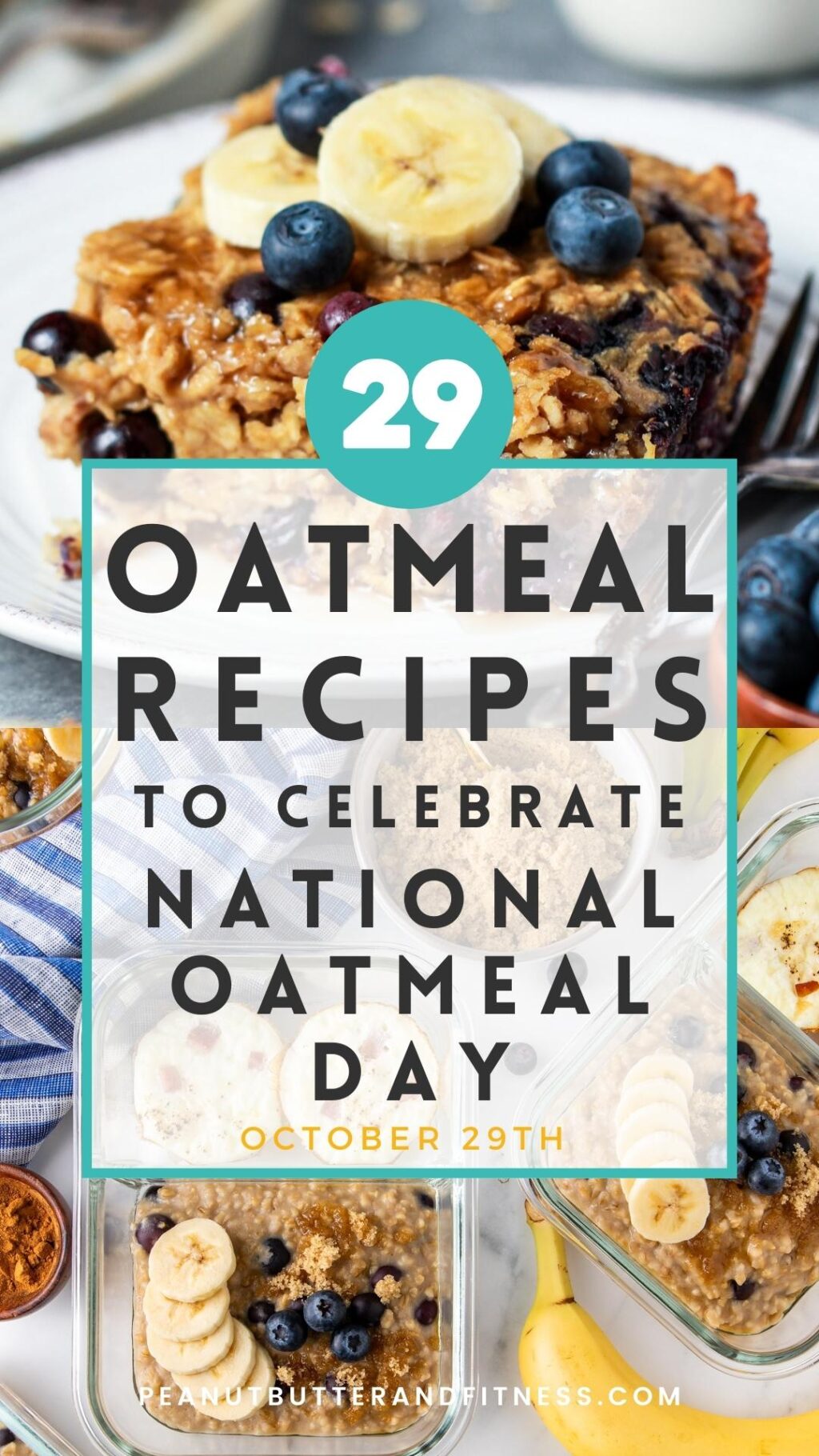 Happy National Oatmeal Day! I'm a huge fan of oats and oatmeal, so I've gathered up the best PBF oatmeal recipes all in one place. There are so many different ways to enjoy them – baked, overnight, regular oatmeal, steel cut…all the good stuff!
What's the difference between different types of oats?
There are 3 main types of oats that you'll usually find in the store:
Quick cooking oats – I don't usually use quick oats, but they are really great for mug cakes.
Rolled oats – Like the name suggests, these ones rolled flat and are quicker to cook than steel cut oats. They're also called old fashioned oats and are considered a whole grain. I like using them in my overnight oats recipes because they maintain some chew even after a few nights in the fridge. Quick cooking oats turn to mush and steel cut oats have too much bite (even if you use the quick cooking kind).
Steel cut oats – These ones are basically a less processed version of the rolled or quick oats you might be used to. Instead of being rolled flat, the grain is just cut up using a steel blade. This means they absorb less liquid and maintain more texture than the other types of oats. And because they're less processed, they take longer to cook. You generally can't sub out another type of oats for steel cut ones.
The name would suggest that you need to make them the night before you eat them, but I've made them up to 6 days in advance and haven't had any issues. For most overnight oats recipes, the texture starts to change slightly after about 3 days in the refrigerator. People worry a lot about oats getting mushy if they don't eat them within a day or two, but I find they get more creamy than anything. You may also find that some of the liquid separates or that they seem to dry out – just give them a stir and add more of your milk of choice to revive them!
If you're worried about whether you'll still like them after a few days, I'd recommend 2 things: 1) make a test batch and give it a try on day 4 and 5 to see if you like it. Don't put all of your proverbial eggs in that breakfast basket on those days – have a backup ready to avoid any frustration or disappointment if you don't like them. And 2) if you find you don't like their texture on days 4, 5, 6, etc. – mix up the dry ingredients in a jar ahead of time and stash it on your counter. Then all you'll have to do is add the wet ingredients and stick it in the fridge overnight when you're ready for it!
Another pro tip: always be sure to use the regular or thick rolled oats/old fashioned oats. There are quick cooking rolled oats out there that will lose their chew way faster than the thicker ones. Bob's Red Mill actually makes these Extra Thick Rolled Oats that are perfect for overnight oats!
If you've been around a while, you know I love baking oatmeal into muffins, but with a few little tweaks it can be turned into a delicious, slice-able baked oatmeal too. Perfect for a Sunday brunch crowd or meal prepped breakfasts all week! I love serving baked oatmeal with a little bit of syrup, some fresh fruit, and maybe even a dollop of whipped cream for some extra indulgence.
Baked oats are a bit different from baked oatmeal and you may have heard of them when they went viral on TikTok. Instead of baking up a batter made while whole oats, you instead either buzz those oats up in a blender or use store bought oat flour. The oat flour bakes up more like regular flour than whole oats and totally gives you a cake-for-breakfast texture. They're a lot of fun to play with different flavor combos and mix-ins, but are still really healthy (depending on what you add in of course)!
I am totally an oatmeal muffin fiend. They're so easy to meal prep for the week and are seriously yummy, which make them my favorite breakfast item to prep. That's also why you see so many different flavor combos on my site! Just be sure to use silicone baking cups or non-stick parchment muffin liners to avoid a headache…because most of these have lower fat content than your average muffins, they can be prone to sticking. I like using these jumbo silicone muffin cups or these jumbo parchment paper liners.
I saved the most classic of oatmeal varieties for last, but these recipes are anything but boring! Steel cut oats are great for meal prep, but regular oatmeal tends to be best if enjoyed right away.