Guys, you're gonna want to try these Banana Cream Pie Protein Overnight Oats!! This super easy recipe transforms banana cream pie dessert into a healthy, protein-packed breakfast treat! Gluten free oats are combined with protein powder, yogurt, banana, and milk, then layered with fresh banana slices and topped with sugar-free vanilla pudding. It'll definitely have you wondering where it's been all your life. And look, if you want to add chocolate chips too, I'm not going to judge…
How Far in Advance Can I Make Overnight Oats?
The name would suggest that you need to make them the night before you eat them, but I've made them up to 6 days in advance and haven't had any issues. For most overnight oats recipes, the texture starts to change slightly after about 3 days in the refrigerator. People worry a lot about oats getting mushy if they don't eat them within a day or two, but I find they get more creamy than anything. You may also find that some of the liquid separates or that they seem to dry out – just give them a stir and add more of your milk of choice to revive them!
If you're worried about whether you'll still like them after a few days, I'd recommend 2 things: 1) make a test batch and give it a try on day 4 and 5 to see if you like it. Don't put all of your proverbial eggs in that breakfast basket on those days – have a backup ready to avoid any frustration or disappointment if you don't like them. And 2) if you find you don't like their texture on days 4, 5, 6, etc. – mix up the dry ingredients in a jar ahead of time and stash it on your counter. Then all you'll have to do is add the wet ingredients and stick it in the fridge overnight when you're ready for it!
Another pro tip: always be sure to use the regular or thick rolled oats/old fashioned oats. There are quick cooking rolled oats out there that will lose their chew way faster than the thicker ones. Bob's Red Mill actually makes these Extra Thick Rolled Oats that are perfect for overnight oats!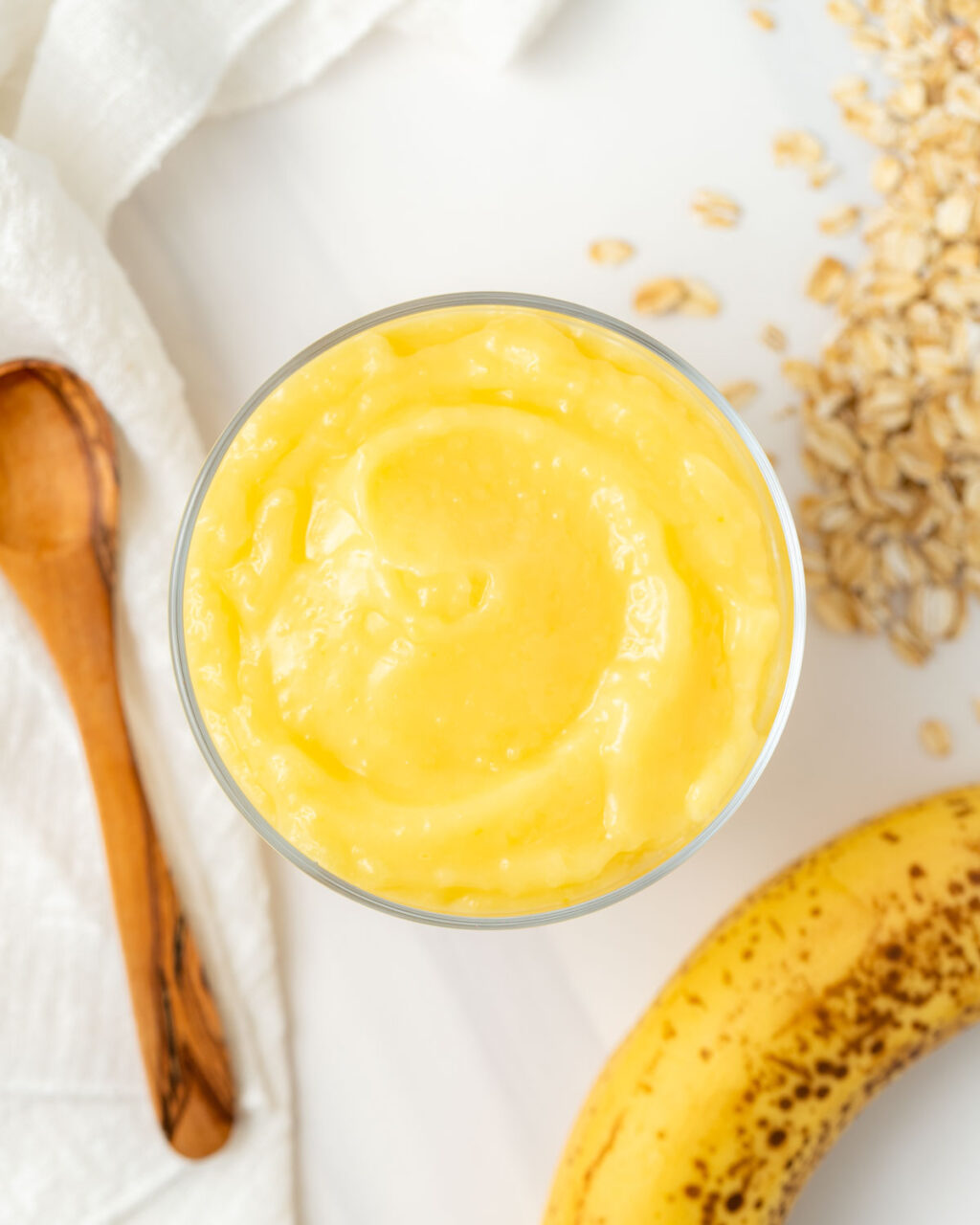 Ingredients and Substitutions
Here's what you'll need to make this Banana Cream Pie Protein Overnight Oats recipe:
Rolled oats – I prefer to use rolled oats (also called old fashioned oats) in my overnight oats recipes because they maintain some chew even after a few nights in the fridge. Quick cooking oats turn to mush and steel cut oats have too much bite (even if you use the quick cooking kind).
Milk – For the oats themselves, use whatever neutral tasting milk you prefer! I used almond milk, which doesn't have a strong flavor. Some non-dairy milks have a really strong flavor or are overly sweet – I'd stay away from those in this recipe. Just a note that for the pudding, you really do need the dairy milk so the pudding will set up – most plant based milks have emulsifiers or other additives that will prevent the pudding from setting, leaving you with a soupy liquid instead of the pudding we know and love. If you really want to make the pudding with non-dairy milk, check out this site for guidance – looks like you might have better luck with the cook and serve variety of pudding instead of instant.
Vanilla Pudding Mix – I used a sugar free, fat free instant pudding mix here, but the regular vanilla pudding mix is also delicious in this! I don't recommend using banana flavored pudding because the artificial flavor of it really doesn't mix well with real banana in my opinion.
Banana – You can't call it banana cream pie without the banana, right? Go for one that's quite ripe for maximum sweetness and flavor!
Vanilla non-fat Greek yogurt – This helps make these oats extra creamy while adding a boost of protein. I also used some on top mixed with a couple other ingredients as a sort of "frosting." If you want to use a dairy free yogurt, check out my recommendations here.
Whey protein powder – I used a whey protein in this recipe. You can really use any kind you like, but I prefer whey in overnight oats since it dissolves easily into milk and tastes great. A casein or whey/casein mix will absorb more milk than just whey alone, so you may need to adjust the amount of almond milk if you decide to use one of those. Plant based proteins can sometimes leave a gritty texture and have an aftertaste.
Chia seeds – If you're not familiar with them, they're the little black specks you can see in the overnight oats. As they sit in liquid, they soak up moisture and help your overnight oats thicken up and get really creamy. Plus they're a great source of fiber and antioxidants!
Vanilla extract – Like salt in a savory dish, vanilla tends to enhance the flavors of a sweet recipe.
Shop for this Recipe
Here are some items I used to help make this recipe a success. Note: these are Amazon Affiliate links.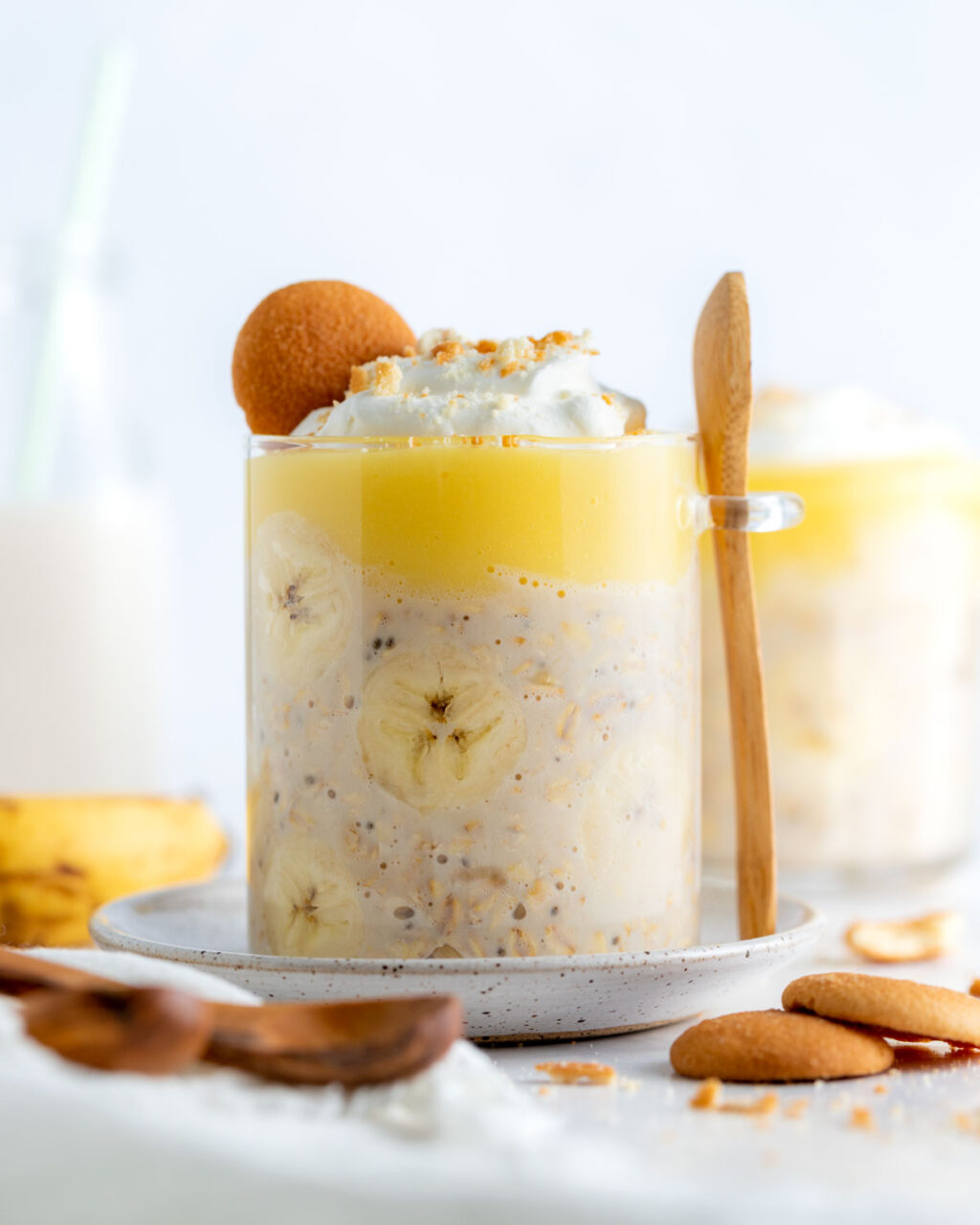 Banana Cream Pie Protein Overnight Oats Recipe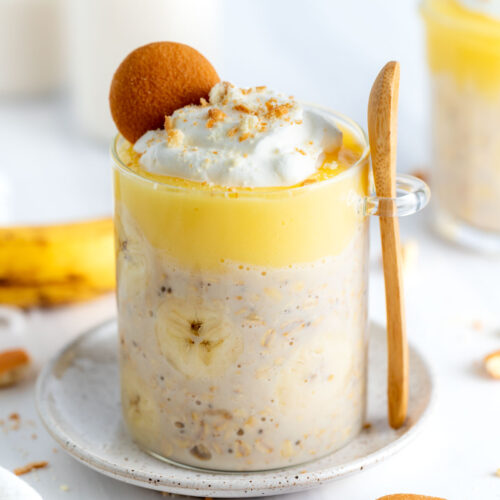 Banana Cream Pie Protein Overnight Oats
Ingredients
2/3

cup

rolled oats

,

(64 grams)

3/4

cup

unsweetened vanilla almond milk

,

(6 fl oz)

5.3

oz

Dannon Light & Fit Vanilla Greek yogurt

1

small banana, divided

,

(106 grams)

2

tbsp

vanilla whey protein,

(17 grams)

1/2

tbsp

chia seeds,

(6 grams)

1/2

tsp

vanilla extract

pinch

salt
Pudding Layer
1

cup

Fairlife Lactose Free Fat Free Ultra Filtered Milk

,

(8 fl oz)

1

tbsp

Jell-O Vanilla Sugar Free & Fat Free Instant Pudding Mix

,

(14 grams)
Instructions
Cut the peeled banana in half. Slice one half and mash the other half. Set aside.

Prepare the vanilla pudding according to package directions. Set aside.

Add almond milk and whey protein to a bowl and and whisk together until smooth. Add yogurt, mashed banana, and vanilla extract; whisk again until combined.

Add oats, chia seeds, and salt and mix until well combined. Divide into two resealable storage containers, then top with sliced bananas and prepared vanilla pudding. Refrigerate until ready to serve.
Tips & Tricks
Click here or scan the barcode below to log this food in My Fitness Pal.
Nutrition Information
Calories:
327
kcal
(16%)
,
Carbohydrates:
47
g
(16%)
,
Protein:
25
g
(50%)
,
Fat:
5
g
(8%)
,
Cholesterol:
24
mg
(8%)
,
Sodium:
328
mg
(14%)
,
Potassium:
745
mg
(21%)
,
Fiber:
6
g
(25%)
,
Sugar:
14
g
(16%)