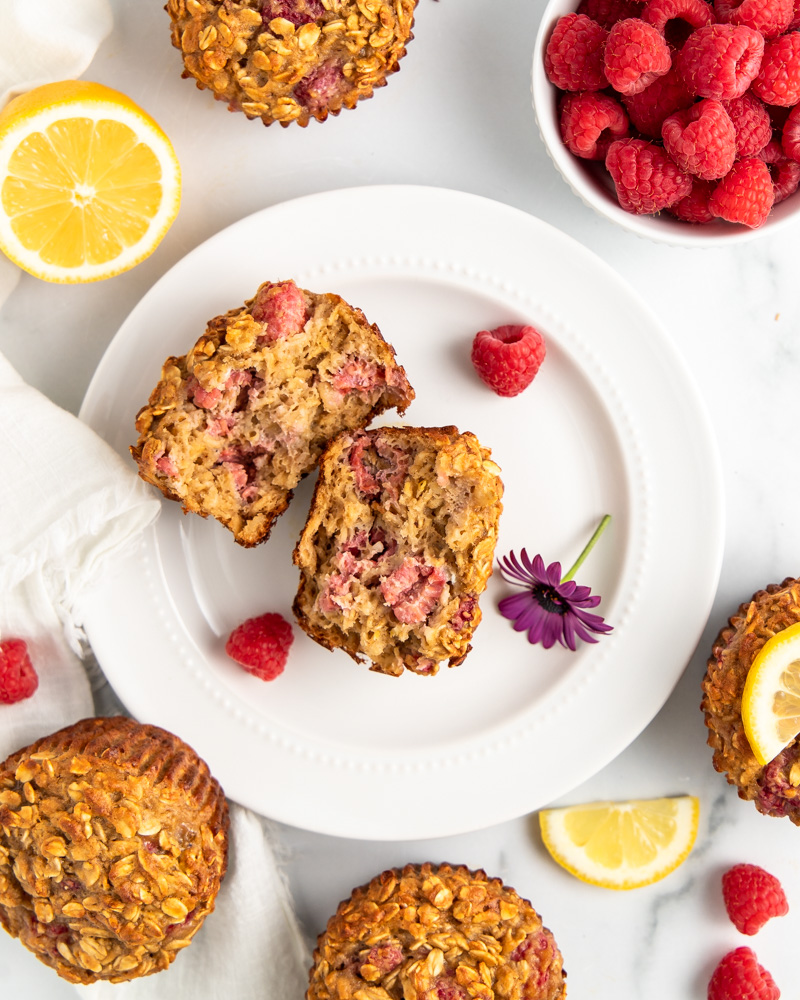 ***Recipe and photos updated June 2022***
Happy Sunday, PBF'ers! I'm on a lemon and berry kick right now, so I hope your taste buds are ready for these Raspberry Lemon Oatmeal Muffins! I think this flavor combo screams summer and it's just so refreshing. Perfect for the 100 degree heat we've been having in San Antonio.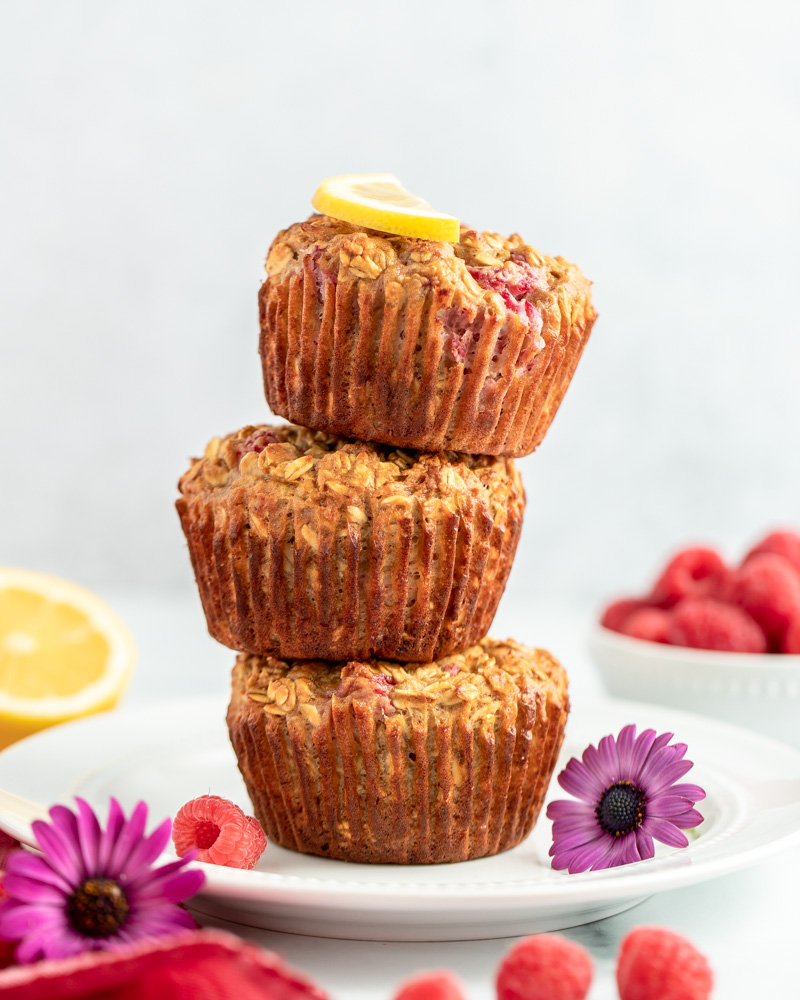 Anywho…if you've been here before, you know that I love to meal prep different flavors of these oatmeal muffins. I always add an extra protein boost, of course, because I can't pass up an opportunity to sneak in a little extra. Be sure to pick up some of these jumbo parchment muffin liners to nail this recipe – they're non-stick, which is really helpful when baking with protein powder!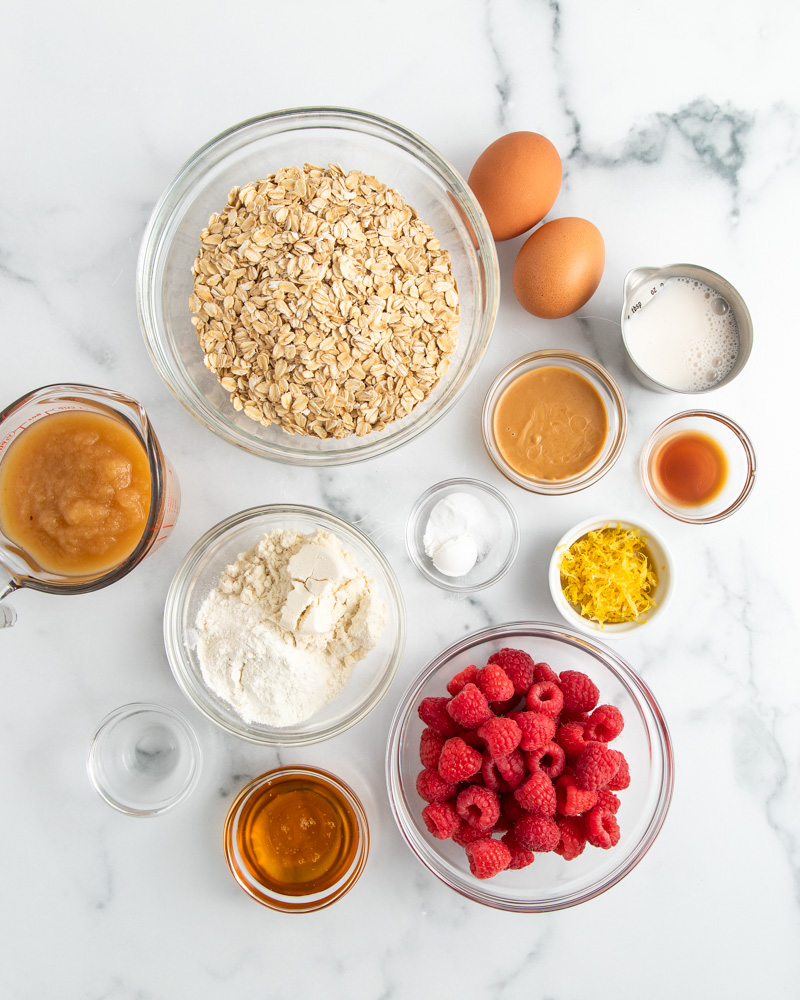 Here's what you'll need to make it:
Rolled oats – I love to see the whole oats in my oatmeal muffins, but don't worry – they're baked to perfect tenderness! Other types of oats like quick oats or steel cut oats will behave differently, so I don't recommend swapping this ingredient.
Milk – Use whatever neutral tasting milk you prefer! I used almond milk, which doesn't have a strong flavor. Some non-dairy milks have a really strong flavor or are overly sweet – I'd stay away from those in this recipe.
Applesauce – Adds volume, sweetness, and moisture without watering the muffin batter down. Runny muffin batter will lead to totally flat muffins, which no one wants.
Eggs – These are the glue that bring the dough together and add a bit of protein too.
Protein powder – I recommend using a whey/casein blend in this recipe. Whey alone tends to yield a chewy baked product that doesn't rise nearly as much, but it's okay to use in a pinch.
Baking powder – This gives the muffins a good rise as they cook, plus helps add air in the final muffins, meaning they're less dense.
Baking soda – This helps the muffins rise much like the baking powder, but it also helps them get that beautiful golden brown color.
Raspberries – You could totally opt for whatever berries you like, of course. Strawberries or blueberries would be delicious with the lemon. Fresh or frozen will work just fine!
Lemon zest – Much better than lemon juice or lemon extract, zest will give you allllll that lemon flavor without watering things down or making your tongue all tingly (yes, I tried with lemon extract and much prefer zest!).
Honey – You need a bit of sweetness to help balance out the acidity of the lemons and raspberries.
Peanut butter – Adds some much needed fat to the muffins, keeping them from being dry and crumbly. You could also just use the egg yolks or opt for another nut butter, but I like the bit of extra sweetness that comes from the peanut butter.
Vanilla extract – Like salt in a savory dish, vanilla tends to enhance the flavors of a sweet recipe.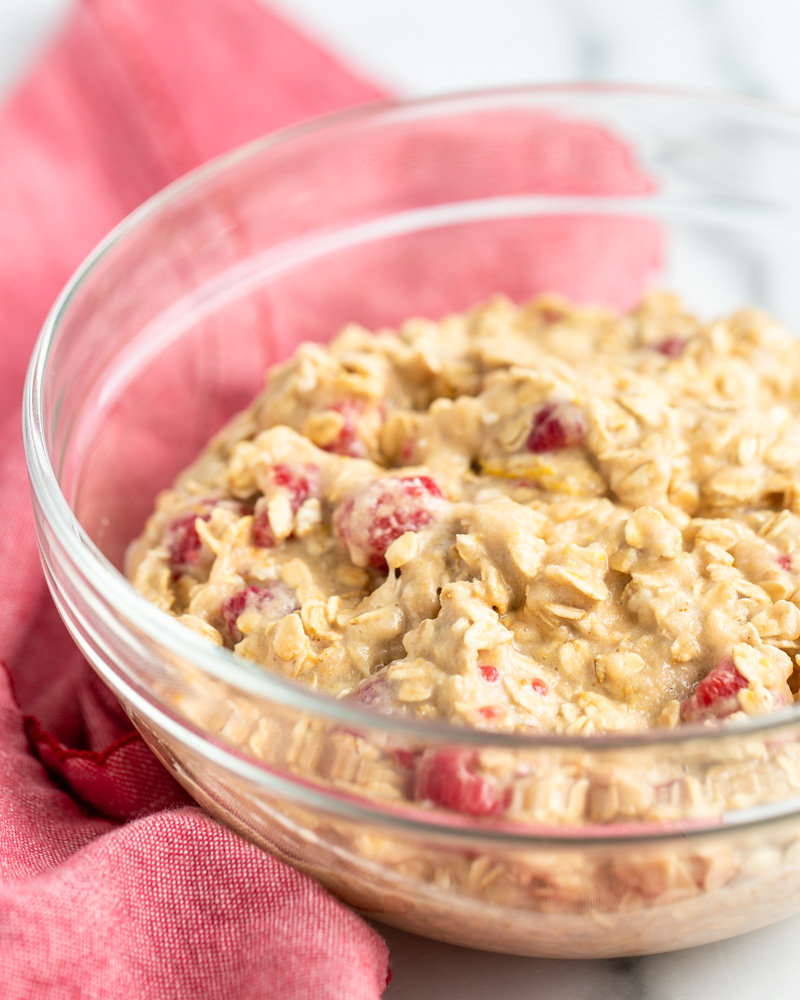 The muffin batter should be nice and thick to make sure they don't fall flat! Also be sure to get them in the oven pretty quickly after mixing the batter so that the carbon dioxide released from the baking soda when it mixes with the liquid ingredients doesn't die before hitting the heat. Baking it right away will help capture those carbon dioxide bubbles, giving the muffins more rise. Now, that said, these are still oatmeal muffins and they are intentionally more dense than your average bakery style muffins. So don't be mad at me when they turn out how they're supposed to be 😉
Here are some items I used to make this recipe a success. Note: these are Amazon Affiliate links.
Enjoy the rest of your weekend!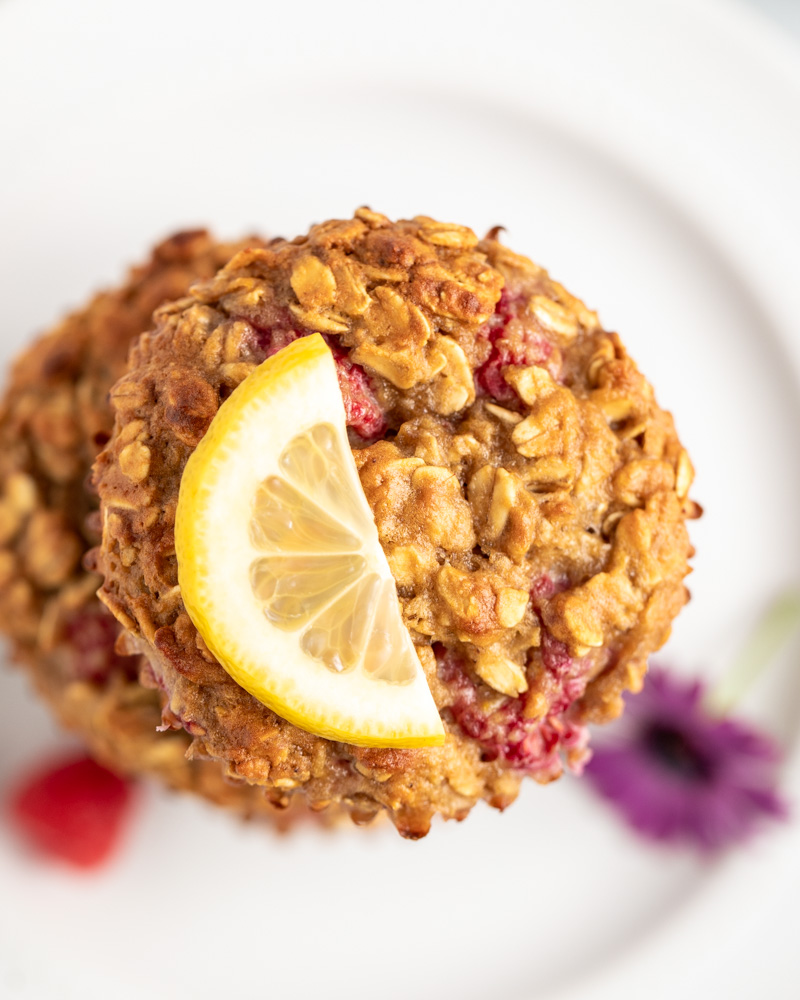 Recipe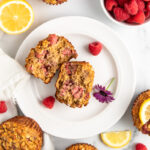 Lemon Raspberry Oatmeal Muffins
Prep Time 15 minutes
Cook Time 27 minutes
Total Time 42 minutes
Servings 6 jumbo muffins
Calories per serving 270 kcal
Ingredients
Wet Ingredients
1 cup unsweetened applesauce (244 grams)
1/4 cup unsweetened vanilla almond milk (2 fl oz)
3 tbsp honey (63 grams)
2 egg whites
2 tbsp Skippy Natural Creamy Peanut Butter, melted (32 grams)
1/2 tsp vanilla extract
Instructions
Pre-heat oven to 425°. Line a jumbo muffin tray with 6 parchment paper liners.  Set aside.

Mix dry ingredients in a large bowl, set aside. Whisk all wet ingredients together, then mix into dry ingredients until well combined. Divide batter evenly into 6 muffin cups.

Bake at 425° for 5 minutes, then lower heat to 350 degrees and continue baking for 22-25 minutes until muffin tops are golden brown and resist collapsing when pressed lightly on top with your finger.
Recipe Notes
Click here or scan the barcode below to log this food in My Fitness Pal.
Nutrition Facts
Lemon Raspberry Oatmeal Muffins
Amount Per Serving (129 g)
Calories 270 Calories from Fat 54
% Daily Value*
Fat 6g9%
Cholesterol 9mg3%
Sodium 249mg11%
Potassium 111mg3%
Carbohydrates 41g14%
Fiber 3g13%
Sugar 14g16%
Protein 15g30%
* Percent Daily Values are based on a 2000 calorie diet.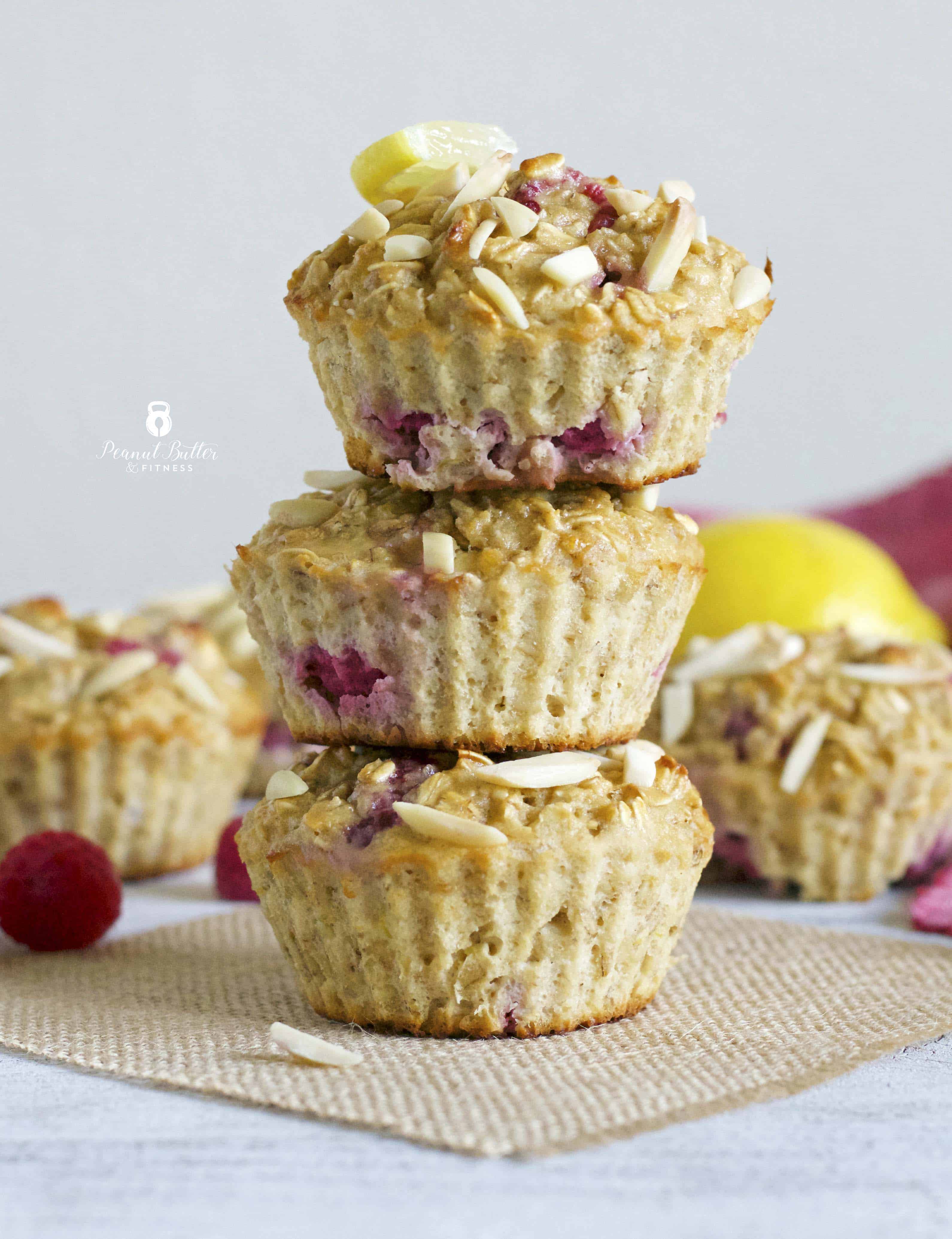 SaveSave