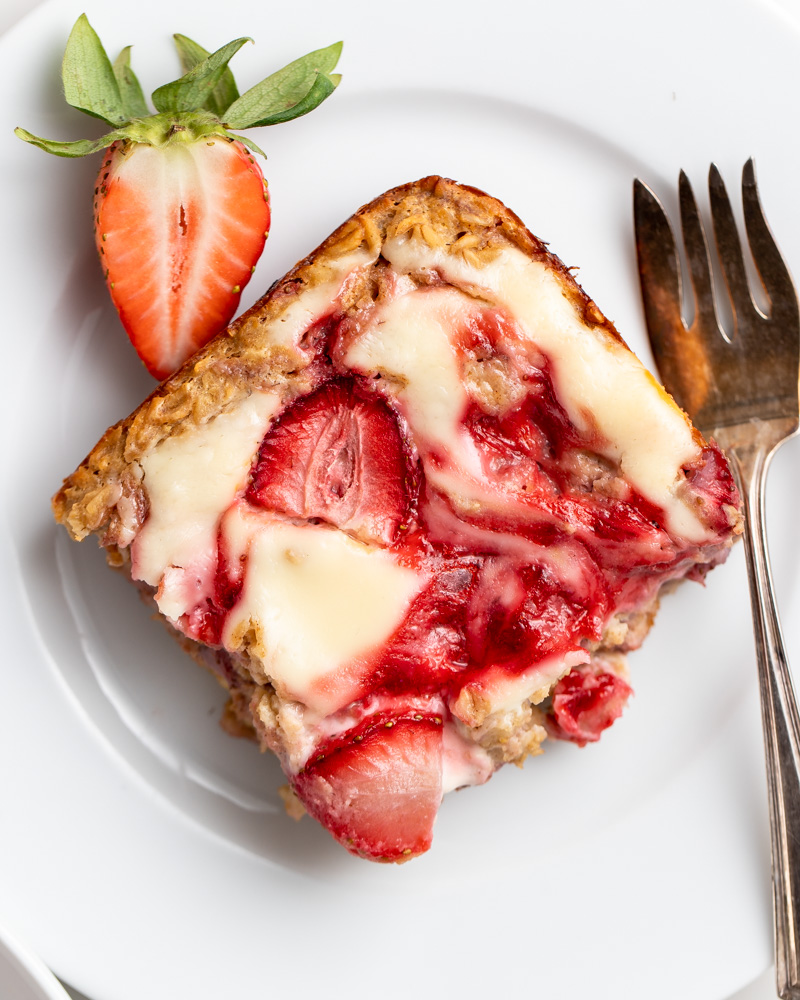 It's almost Mother's Day and that means you better start thinking up a special brunch menu for mom! This Strawberry Cheesecake Baked Oatmeal is a gorgeous and tasty – but still pretty healthy – option to add to the brunch spread next week. I've been on a big baked oatmeal kick lately and this one is definitely one of my favorite recipes so far! The cheesecake swirl makes it seem so decadent, but it's actually really easy.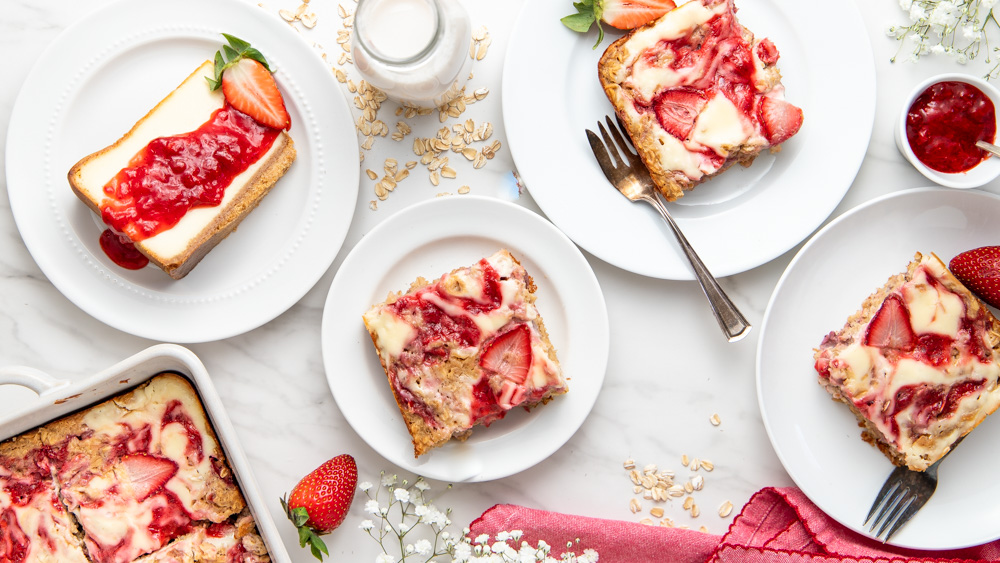 If your mom loves raspberries, blackberries, or blueberries more than strawberries – go ahead and use those instead! Blackberries and blueberries will give the final product a gorgeous purple or blue-ish color that she'll love too.
Now, if you end up with leftovers after brunch with mom, just cut the leftovers up into serving sizes and stick them in a meal prep dish! It works great as a meal prep recipe and will keep in the fridge in an airtight container for up to 6 days. I like to stick mine in the microwave with extra fresh strawberries and nuke it for about a minute before serving to take off the chill.
Ingredients and Substitutions
Here's what you'll need to make this baked oatmeal:
Rolled oats – I love to see the whole oats in my baked oatmeal, but don't worry – they're baked to perfect tenderness! Other types of oats like quick oats or steel cut oats will behave differently, so I don't recommend swapping this ingredient.
Milk – Use whatever neutral tasting milk you prefer! I used almond milk, which doesn't have a strong flavor. Some non-dairy milks have a really strong flavor or are overly sweet – I'd stay away from those in this recipe.
Greek yogurt – Adds protein, a touch of that cheesecake-like tanginess, and moisture without watering the batter down.
Eggs – These are the glue that bring the dough together and add a bit of protein too.
Strawberries – You could totally opt for whatever berries you like, of course. Blueberries, raspberries, and even blackberries would also be delicious. Fresh or frozen will work just fine!
Protein powder – I used a plant based protein powder for this recipe, but you could also use a whey/casein blend. I don't really recommend baking with whey protein alone – it can make your baked goods a bit rubbery. The whey/casein blend will help balance out the texture and keep it closer to a "normal" baked good. Just be sure to decrease the amount of almond milk by about 1/4 cup.
Baking powder – This gives the baked oatmeal a bit of lift as it cooks, making it less dense.
Maple syrup – For a touch of sweetness and added liquid.
Butter – Adds some much needed fat to the baked oatmeal, keeping it from being dry and crumbly. If you don't want to use butter, you could also use melted peanut butter (or nut butter of choice).
Vanilla extract – Like salt in a savory dish, vanilla tends to enhance the flavors of a sweet recipe.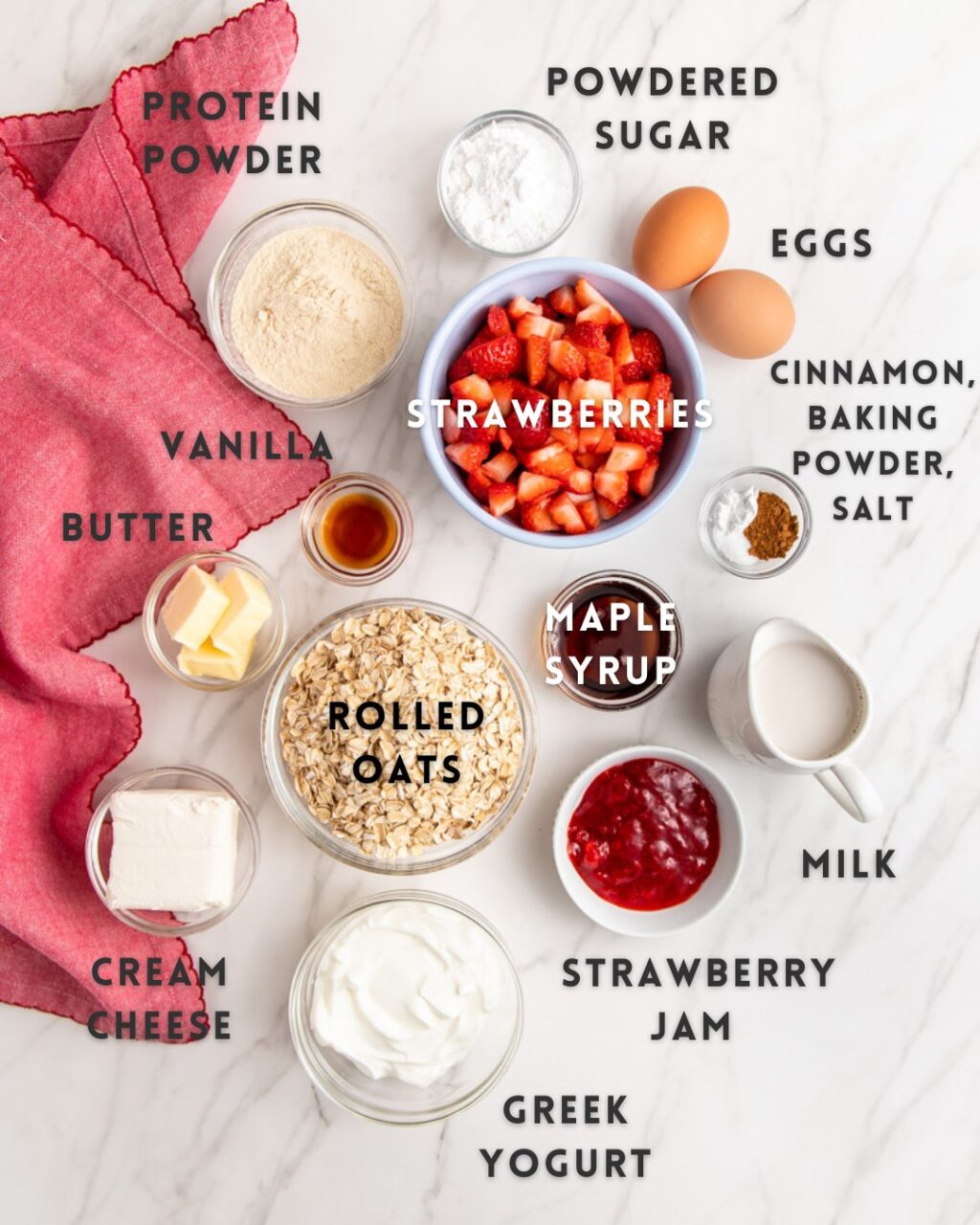 For the Cheesecake Swirl:
Strawberry jam – I used a homemade freezer strawberry jam that my parents sent me home with after Christmas (thanks guys!). It's really delicious and heavy on the strawberries, but not so much on the gelatin/pectin. If the jam or preserves you use has more of the gelatin texture, you'll need to stir it around (and maybe even add a bit of water) to make sure you can swirl it along with the cream cheese mixture.
Cream cheese – Here's where you really nail that cheesecake flavor! I used the 1/3 fat version of cream cheese to keep things lighter, but you could of course use full fat cream cheese for a richer flavor. Just be sure to soften it at room temperature to avoid big clumps!
Powdered sugar – You need to sweeten up the cream cheese mixture to really get that cheesecake flavor! Powdered sugar is where it's at to nail not just the flavor, but the texture too.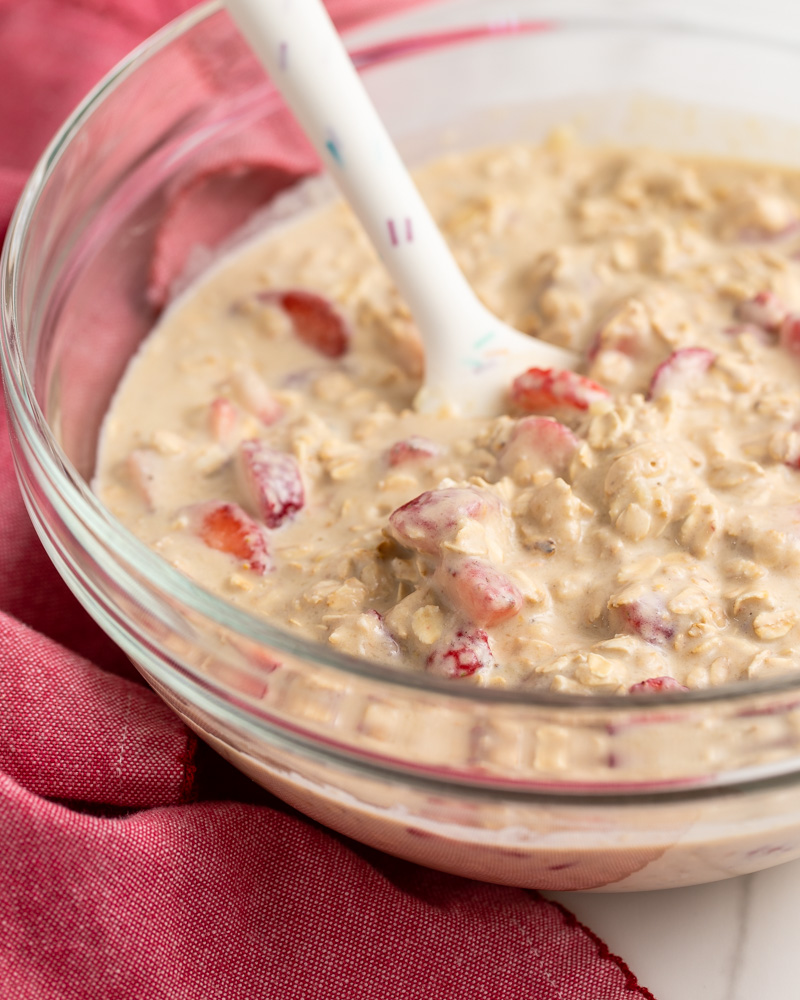 Shop for this Recipe
Here are some items I used to make this recipe a success. Note: these are Amazon Affiliate links.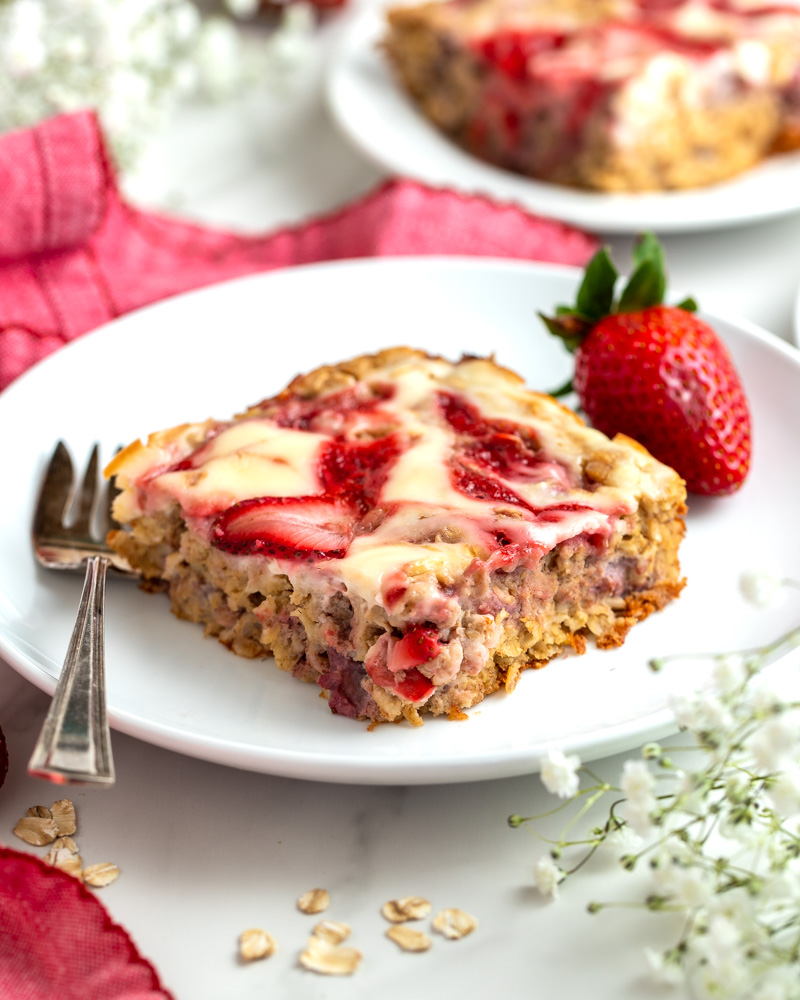 Recipe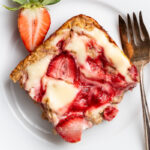 Strawberry Cheesecake Baked Oatmeal
Prep Time 15 minutes
Cook Time 45 minutes
Total Time 45 minutes
Servings 6 servings
Calories per serving 321 kcal
Ingredients
2 cups rolled oats (192 grams)
2 scoops PEScience Select Vegan Plant Based Protein Powder, Vanilla (60 grams)
1/2 tsp baking powder (2 grams)
1/2 tsp cinnamon
1/4 tsp salt
1 cup unsweetened vanilla almond milk (8 oz)
2/3 cup Dannon Light and Fit Vanilla Greek Yogurt (5.36 oz)
2 cups strawberries, chopped (290 grams)
3 tbsp pure maple syrup (1.5 oz)
3 tbsp unsalted butter, melted (42 grams)
1 large egg
1 large egg white
1 tsp vanilla extract
Cheesecake Swirl
1/4 cup Smuckers Low Sugar Strawberry Preserves (53 grams)
4 oz Philadelphia Reduced Fat Cream Cheese
3 tbsp powdered sugar (23 grams)
1 tbsp unsweetened vanilla almond milk
1/2 tsp vanilla extract
Instructions
Pre-heat oven to 350 degrees. Grease a baking dish with coconut oil and set aside.

In a small bowl, whisk all cheesecake swirl ingredients except strawberry preserves until smooth. Set aside.

In a large bowl, add all dry ingredients (including strawberries) and mix. In a separate bowl, add wet ingredients and whisk until smooth. Pour into prepared casserole dish and spread evenly.

Dollop cream cheese mixture on top of oatmeal mixture. Add dollops of strawberry preserves beside or on top of the cream cheese mixture, then swirl with a knife, being careful not to overmix.

Cover dish with foil and bake at 350 degrees for 20 minutes. Remove foil and continue baking for another 20-25 minutes or until the center of the oatmeal appears mostly firm with very little movement when the dish is jiggled.

Allow to cool for at least 15 minutes, then cut into 6 pieces for serving.
Recipe Notes
Click here or scan the barcode below to log this food in My Fitness Pal.
I used a casserole dish like this to make mine.
Nutrition Facts
Strawberry Cheesecake Baked Oatmeal
Amount Per Serving (234 g)
Calories 321 Calories from Fat 90
% Daily Value*
Fat 10g15%
Cholesterol 50mg17%
Sodium 226mg10%
Potassium 261mg7%
Carbohydrates 43g14%
Fiber 5g21%
Sugar 18g20%
Protein 15g30%
* Percent Daily Values are based on a 2000 calorie diet.