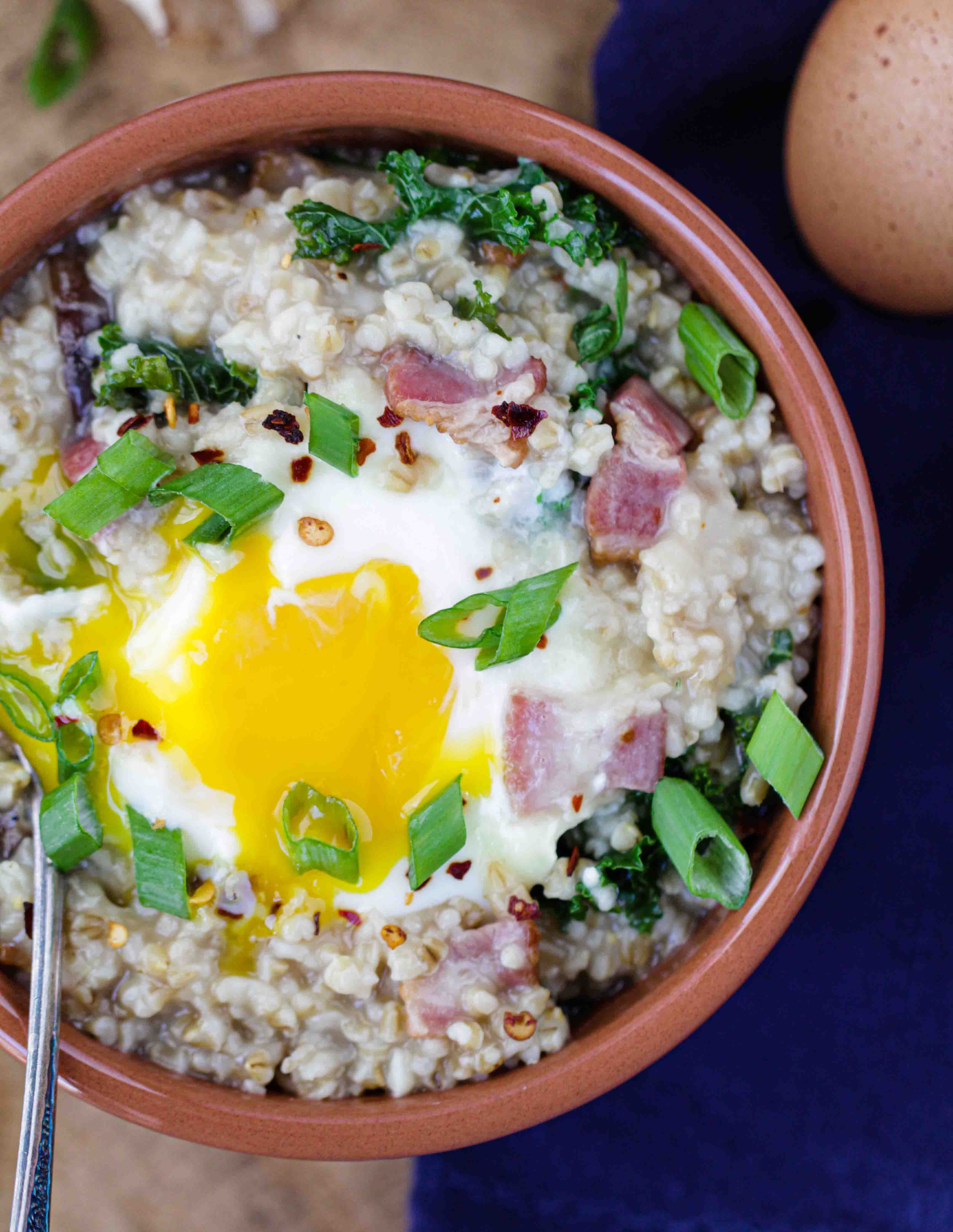 Jump to Recipe
Where are my savory breakfast lovers at?! These Savory Steel Cut Oats are made for you, friends and damn if I don't love them too. I'm on a bit of a steel cut oat kick lately – I love how they maintain some chew after cooking and they get suuuuuper creamy. I took these ones in a little bit of an Asian direction with a little bit of miso mixed into the cooking liquid, plus some sautéed shiitake mushrooms.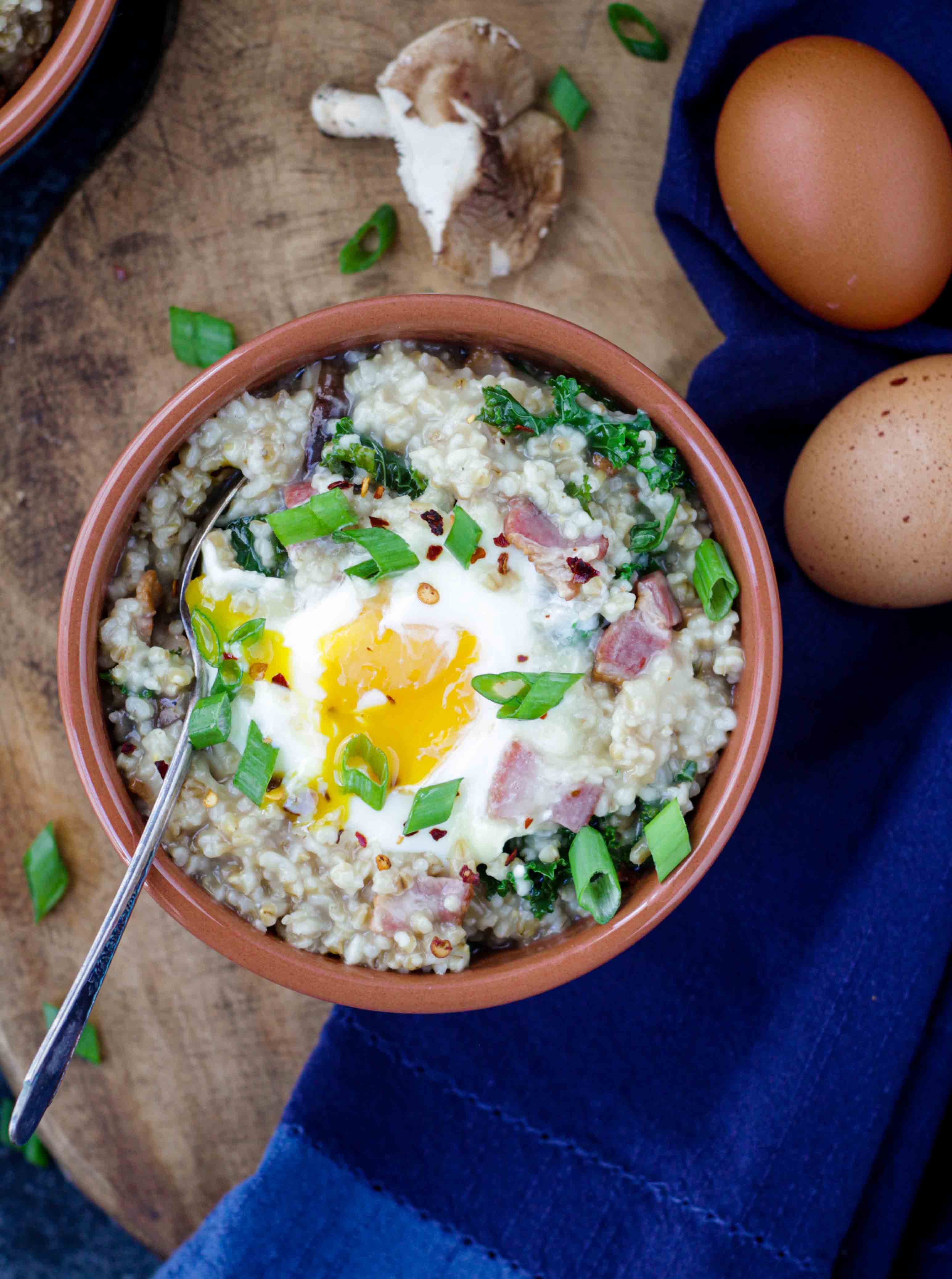 Of course you know I had to add some bacon in there as well. I chopped it up before cooking and then threw it in the skillet to get nice and crispy. Then I sautéed garlic, shiitakes, and kale in a little bit of the leftover bacon grease. YUM. Oh, and then the oats and eggs are cooked right in the same big ole sauté pan. Talk about an incredible one dish meal! I thought the chew of the crispy bacon was really important to the success of this dish. Something about having that extra little bite of texture in there just works!
MEAL PREP TIP: If you're going to use these oats as part of your meal prep, you can still cook the eggs right in the oats and have a runny egg yolk a couple days later. I've tested it and was a little weirded out by it at first, but to be honest, it was awesome. As long as once you're done cooking the oats the yolk is still ultra runny, it will survive a cool down in the refrigerator and a subsequent reheat. Other options if you'd rather not do it that way: you could always just cook an egg on the stovetop when you're ready to serve each portion OR you could stick a halved hard or soft boiled egg right in the meal prep container.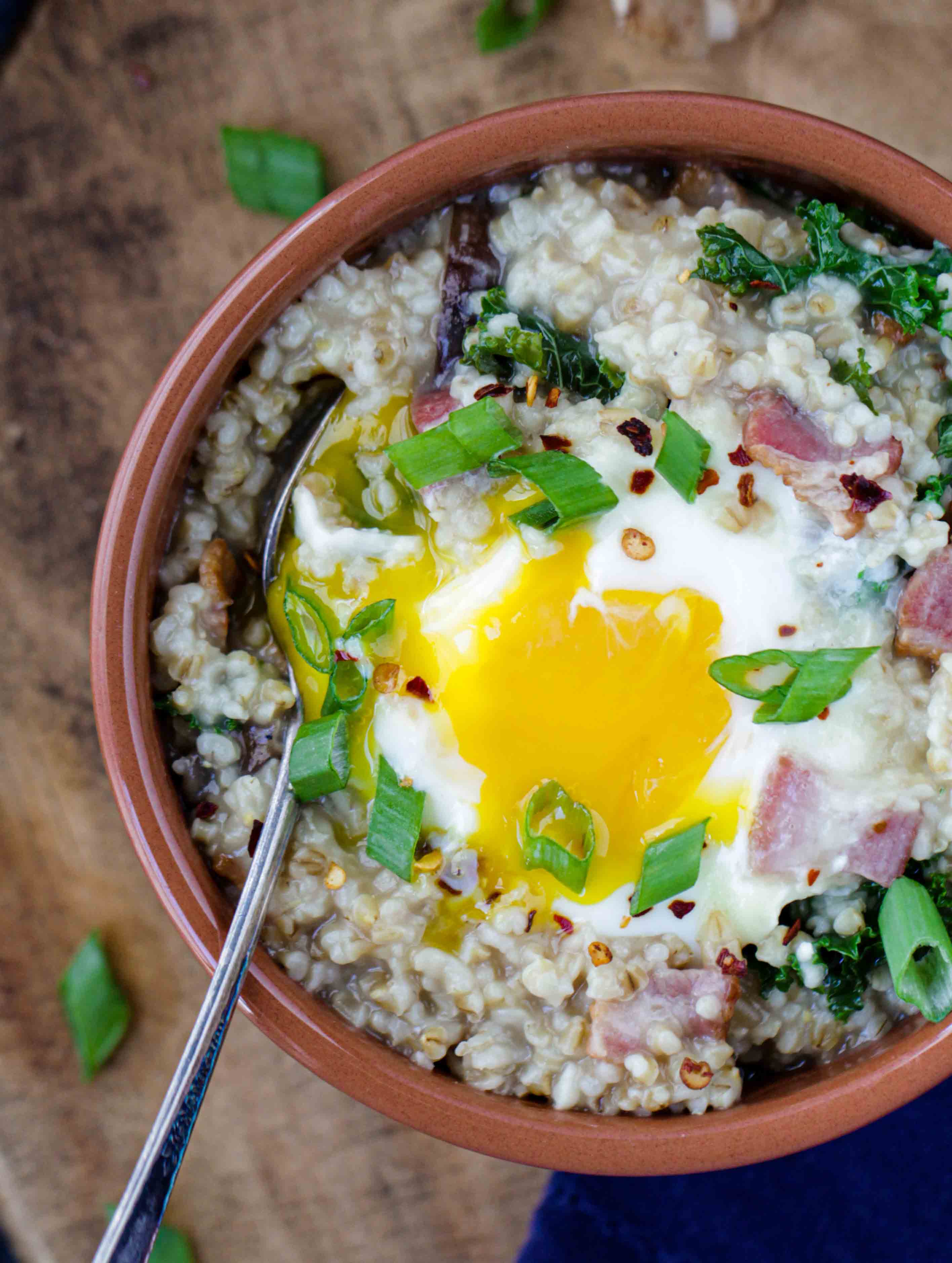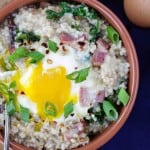 Savory Steel Cut Oats
Prep Time 15 minutes
Cook Time 23 minutes
Total Time 38 minutes
Servings 4 servings (scant 1 1/4 cups per serving)
Calories per serving 315 kcal
Ingredients
3 1/2 cups Swanson Chicken Cooking Stock* (28 fl oz)
2 cups kale, chopped (135 grams)
4 large eggs
2 slices Applegate Naturals Uncured Thick Cut Bacon (24 grams cooked)
2 1/2 oz raw shiitake mushrooms, sliced (70 grams)
2 cloves garlic, minced (8 grams)
1/2 tsp white miso paste (3 grams)
1 cup steel cut oats (176 grams)
Optional toppings: green onions, red pepper flakes, black pepper
Instructions
In a deep sauté pan (about 3 – 3 1/2 qt capacity), cook the bacon over medium-high heat until crispy, then set bacon aside on a paper towel lined plate.

Remove about 1/2 of the bacon grease from the pan, then add the garlic, mushrooms, and kale. Sauté for 1-2 minutes until kale is a bright green, then set aside with the bacon.

Add chicken stock and miso to the sauté pan and bring to a boil, then add steel cut oats. Bring the stock back to a boil, then lower heat to a simmer for about 15 minutes, stirring occasionally.

Turn the heat to medium-high, then stir the bacon and kale mixture into the oats. Heat for 2 minutes to ensure the temperature comes back up, then lower heat to a simmer again.

Mix the oats thoroughly, then using a large spoon, create a "well" in the oats as you drop the 4 eggs into the oats around the pan. Place the lid back on the pan and simmer for another 5-8 minutes. (To ensure you get a runny yolk, wait until the top of the eggs turn white, then cook for another 1-2 minutes.)
Recipe Notes
*Depending on how creamy vs runny you like your oats, you can use up to 4 1/2 cups of stock/liquid during cooking.
Scan the barcode below or click here to log this meal into My Fitness Pal.
Nutrition Facts
Savory Steel Cut Oats
Amount Per Serving (1.25 cups)
Calories 315 Calories from Fat 90
% Daily Value*
Fat 10g15%
Cholesterol 189mg63%
Sodium 732mg32%
Potassium 294mg8%
Carbohydrates 35g12%
Fiber 7g29%
Sugar 1g1%
Protein 21g42%
* Percent Daily Values are based on a 2000 calorie diet.