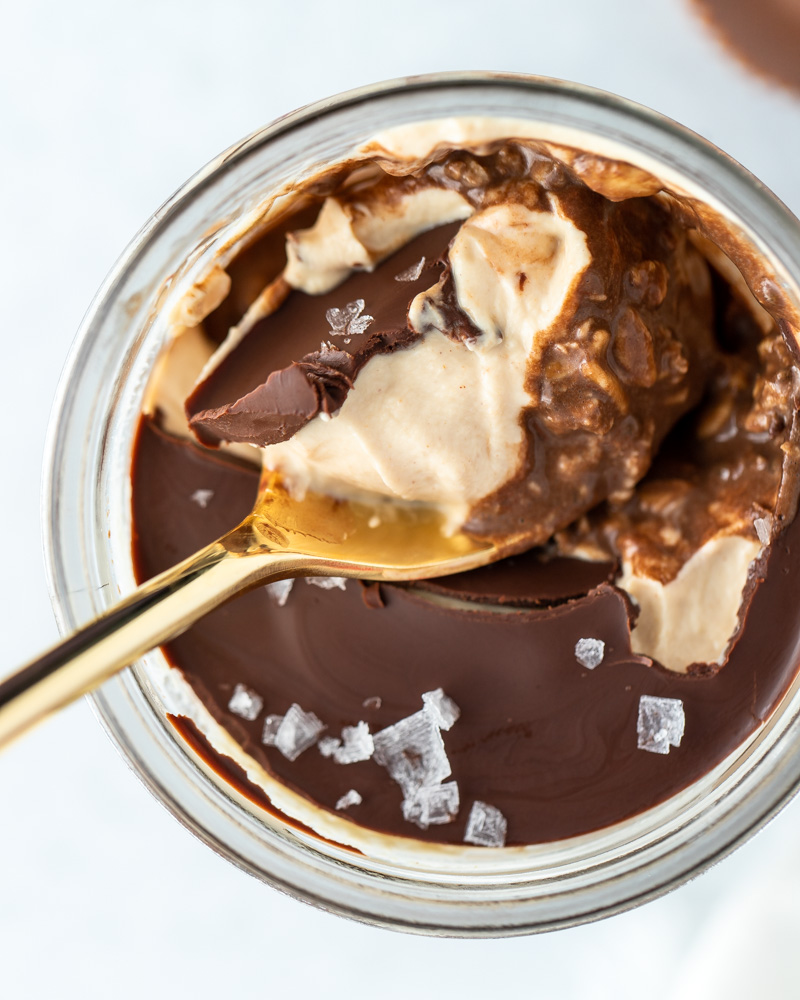 What's up everybody, it's time for new recipe Tuesday! These Peanut Butter Cup Protein Overnight Oats are the creamy, dreamy breakfast you've been dreaming of. They've got fudgy chocolate overnight oats layered with a thick and creamy peanut butter Greek yogurt and topped with a crunchy chocolate shell.
If you're skeptical about overnight oats, check out this post which has a ton of details about how to make them amazing! My personal preference for serving these ones up is to take them out of the fridge as soon as I wake up and let them shed their chill a bit while I get ready. By the time I'm ready to eat them, they're even tastier (the flavors come through easier when food isn't super cold). I like to add a bit of sea salt just before eating to really highlight that yummy dark chocolate shell.
Ingredients & Substitutions
Here's what you'll need to make this recipe:
Rolled oats – I prefer to use rolled oats (also called old fashioned oats) in my overnight oats recipes because they maintain some chew even after a few nights in the fridge. Quick cooking oats turn to mush and steel cut oats have too much bite (even if you use the quick cooking kind).
Milk – Use whatever neutral tasting milk you prefer! I used almond milk, which doesn't have a strong flavor. Some non-dairy milks have a really strong flavor or are overly sweet – I'd stay away from those in this recipe.
Protein powder – I used a whey protein in this recipe. You can really use any kind you like, but I prefer whey in overnight oats since it dissolves easily into milk and tastes great. Plant based proteins can sometimes leave a gritty texture and have an aftertaste.
Dutch cocoa powder – if you're still using regular cocoa powder in your baked goods, take this as a sign to switch to the good stuff! Dutch cocoa powder is less acidic than the original version, so I personally think the flavor is better.
Chia seeds – If you're not familiar with them, they're the little black specks you can see in the overnight oats. As they sit in liquid, they soak up moisture and help your overnight oats thicken up and get really creamy. Plus they're a great source of fiber and antioxidants!
Salt – Just a touch will really enhance the chocolate flavor of the oats! I also like to top the chocolate shell with big sea salt flakes.
Plain non-fat Greek yogurt – I love using Greek yogurt as a base for making the peanut butter layer in these oats because it's thick and creamy, and easy to add flavor to. You could also use vanilla flavored Greek yogurt or a higher fat version for even more richness.
Creamy peanut butter – You can't have peanut butter cup oats without peanut butter, right? You could opt for a different type of nut butter if you prefer, but I much prefer the flavor of peanut butter to other types. In case you couldn't tell by the name of the site 😉
PB2 powdered peanut butter – I personally prefer the PB2 brand for powdered peanut butter because I've found other brands to be kind of gritty after mixing it in to liquid or yogurt. Using a powdered peanut butter is a great way to cut back on the fat without missing out on flavor! In this recipe I use it in combination with regular peanut butter to help really thicken up the Greek yogurt while reinforcing the peanut butter flavor.
Stevia powder – This helps sweeten up the peanut butter layer since I used plain Greek yogurt. You can probably skip this if you use a sweetened Greek yogurt instead.
Dark chocolate chips – chopping up a bar of chocolate would work even better for melting, but use whatever kind of chocolate you like!
Coconut oil – You can skip this if you prefer, but adding it helps really melt the chocolate and turns the chocolate layer into more of an ice cream shell. Delicious!
Shop for this Recipe
Here are some items I used to make this recipe a success. Note: these are Amazon Affiliate links.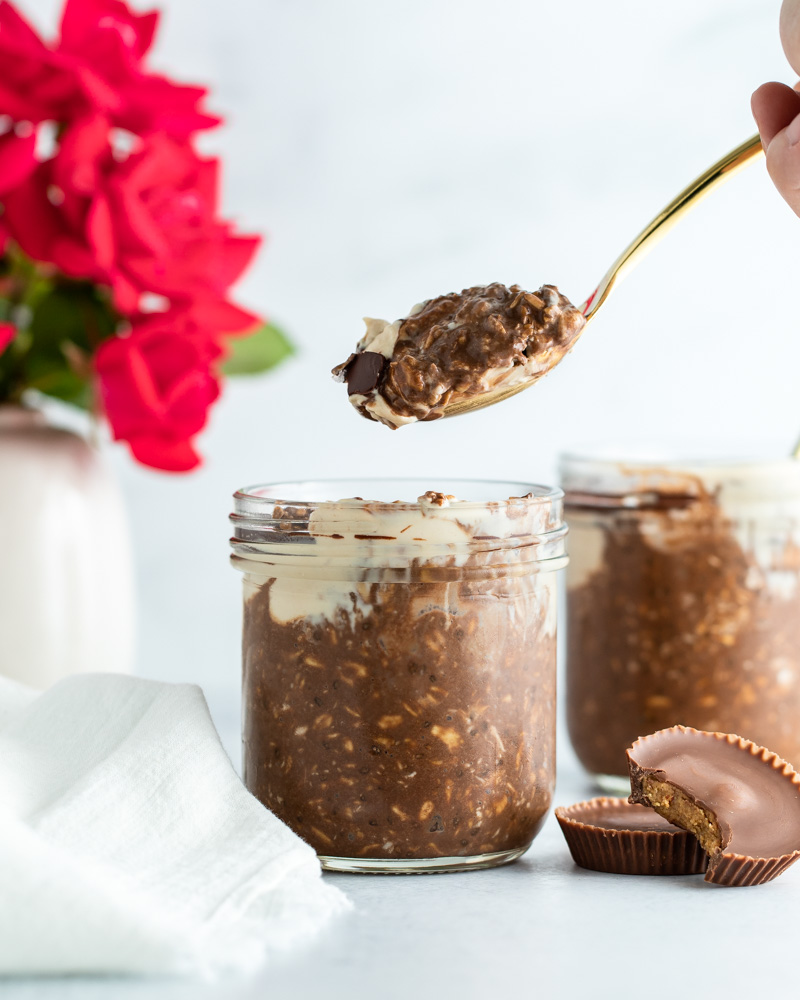 Recipe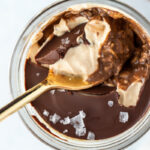 Peanut Butter Cup Protein Overnight Oats
Prep Time 10 minutes
Total Time 10 minutes
Servings 2 servings
Calories per serving 476 kcal
Ingredients
Chocolate Shell
3 tbsp Ghirardelli 60% Dark Chocolate Chips (45 grams)
1 tsp coconut oil (4.5 grams)
Instructions
Whisk protein powder and dutch cocoa into almond milk until smooth.  Mix in oats, chia seeds, and pinch of salt, then refrigerate overnight in a covered or resealable container.

Using a hand mixer or immersion blender with whisk attachment, whisk Greek yogurt, peanut butter, peanut butter powder, and Stevia until smooth. Spoon over oats (before or after letting them rest overnight) and set aside.

Melt chocolate chips with coconut oil by microwaving for 15-20 seconds at a time and stirring to melt evenly. Once melted smooth, pour over peanut butter layer and refrigerate to harden.
Recipe Notes
Click here or scan the barcode below to log this food in My Fitness Pal.
Nutrition Facts
Peanut Butter Cup Protein Overnight Oats
Amount Per Serving
Calories 476 Calories from Fat 216
% Daily Value*
Fat 24g37%
Cholesterol 16mg5%
Sodium 215mg9%
Potassium 162mg5%
Carbohydrates 45g15%
Fiber 10g42%
Sugar 14g16%
Protein 28g56%
* Percent Daily Values are based on a 2000 calorie diet.