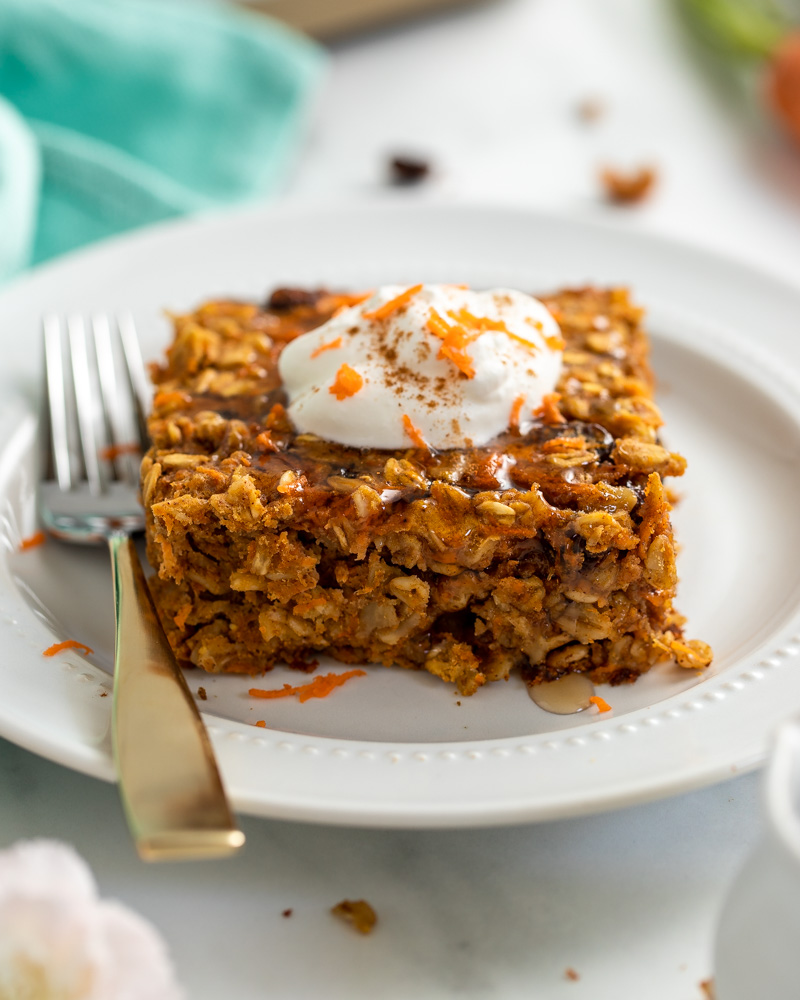 Spring is springing here in the DC area, and this Carrot Cake Baked Oatmeal is the perfect breakfast to fit my spring mood! I know carrot cake can be a bit controversial and a lot of people love to hate on it, but I'm definitely a carrot cake lover. Give me plenty of spices and raisins, but go easy on the nuts, please! I thought about throwing some chopped pecans in this baked oatmeal, but I'm not a big fan of them in baked goods. Feel free to press some into the top of the batter before you bake, or even mix them right in!
I topped my baked oatmeal off with a touch of maple syrup and whipped cream like you see here in the photo. Though during the week when I ate it as breakfast, I skipped the whipped cream. If you want to make it extra decadent, make a batch of cream cheese frosting to slather on top! I'm drooling a little just thinking about it.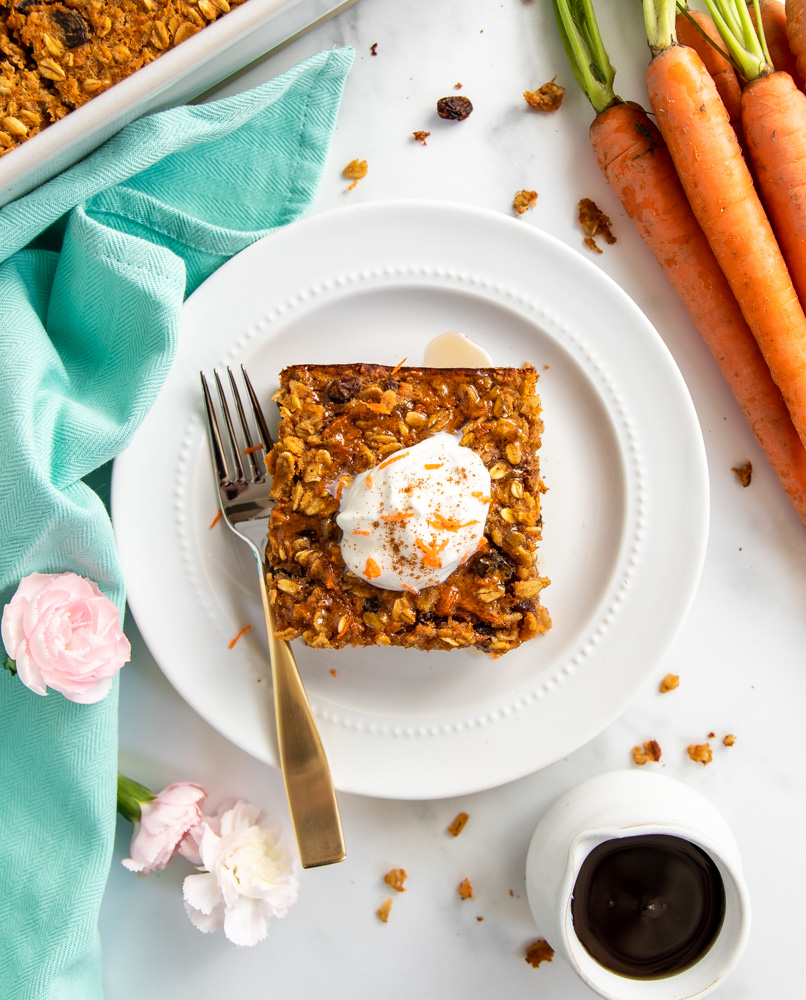 Ingredients and Substitutions
Here's a little run down of what you'll need to make this recipe.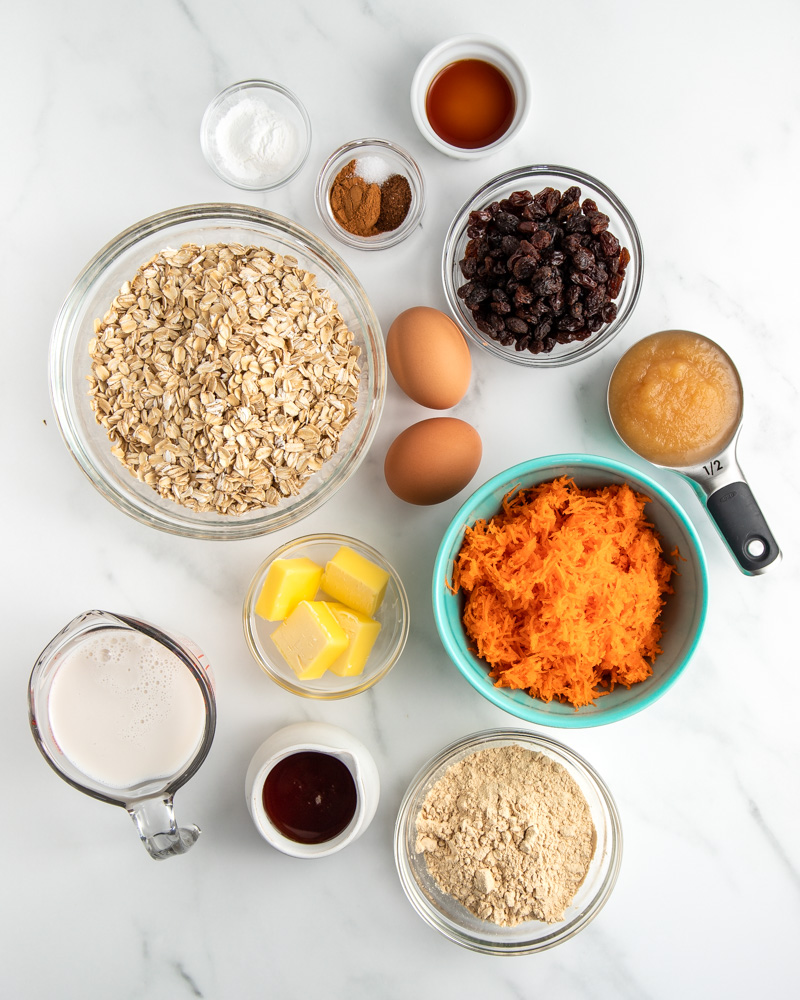 We'll start off with items from the pantry:
Rolled oats – also called old fashioned oats, these are thick enough to hold up in a baked item while retaining plenty of chew. Quick oats would easily disappear into the batter and steel cut oats are much too tough to use here.
Raisins – I love the pop of sweetness that raisins bring to carrot cake. Leave them whole or chop them up. If you're not a big fan of raisins, you can certainly skip them altogether, but consider adding in some chopped pecans in their place for texture.
Unsweetened applesauce – Key for sweetness and moisture without weighing down the baked oatmeal.
Plant-based protein powder – I haven't tried this recipe without the protein powder, but I will say that it's one of the keys to building volume in this recipe. I can't make any great recommendations for how to adjust the recipe if you leave it out completely, but you will definitely need less almond milk if you skip it. If you'd like to use a dairy based protein powder instead, I'd recommend a 50/50 whey/casein blend. Each brand will be slightly different in terms of how much liquid they absorb, so if you go for the whey/casein blend instead of plant-based protein, start with 1/2 cup of almond milk and adjust from there. You can see in the photo below how the batter should look once mixed up.
Spices – You'll need cinnamon, all spice, and salt. If you don't have all spice on hand, mix up a 50/50 blend of nutmeg and ground cloves instead. You can also add some ground ginger in there for zing!
Vanilla extract – Anything but plain, vanilla adds such a critical depth of flavor to many baked goods. Like salt in savory dishes, vanilla complements and enhances all the other flavors. Don't skip it or else you'll end up with a bland baked oatmeal!
Baking powder – helps give the oatmeal a bit of lift rather than baking completely flat and dense. A mix of baking powder plus baking soda (1/2 tsp each) would increase browning on top of the baked oatmeal.
Now, let's take a look at the refrigerated and fresh items:
Grated carrots – critical for the classic carrot cake flavor and texture, the grated carrots add plenty of moisture and a bit of sweetness. You can also swap out some of the grated carrots for crushed pineapple to add more depth of flavor and sweetness.
Eggs – I use whole eggs in this recipe not only to bind things together, but also to keep the baked oatmeal nice and tender inside.
Unsweetened vanilla almond milk – substitute with any milk of your choice. Just try to go for something with neutral flavor and not too sweet.
Butter – butter doesn't just add flavor, but it also adds fat which is essential for keeping baked goods nice and tender. If you want to cut down on the amount of butter, you could cut the amount in half and add a couple more tablespoons of applesauce. This will make for a more dense baked oatmeal.
Maple syrup – is this a pantry item or refrigerated item? I guess it depends if you've opened the bottle yet. Anyway…this is the only added sweetener in the baked oatmeal. You could use brown sugar instead, but may need to adjust by adding a bit more milk.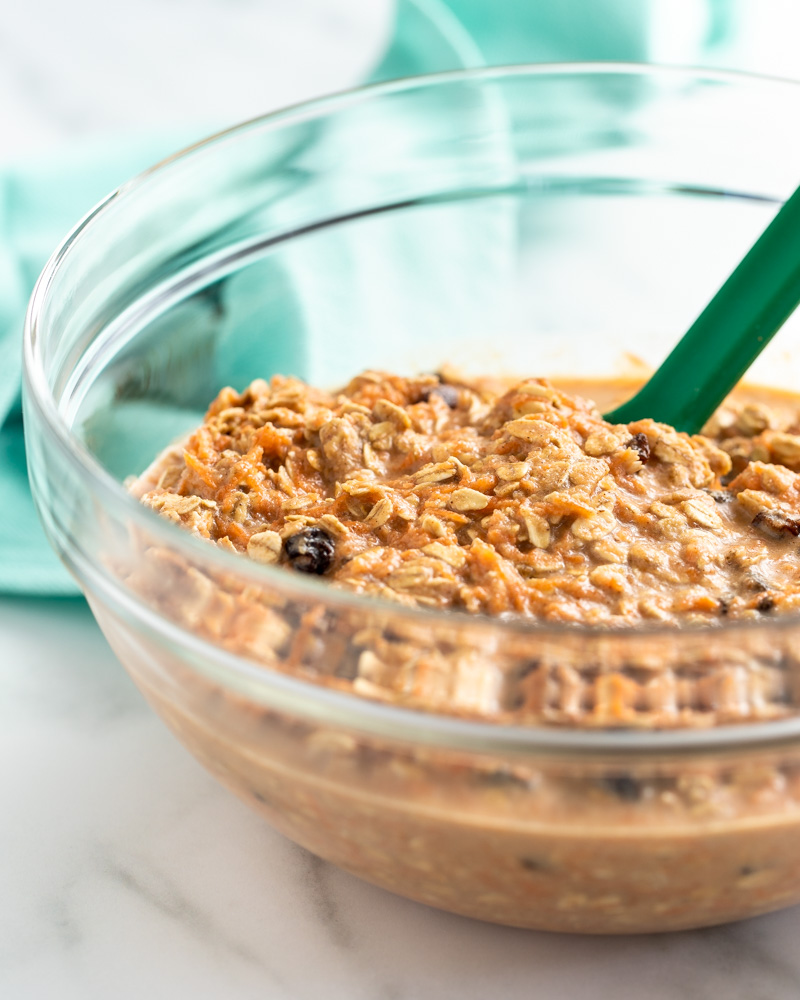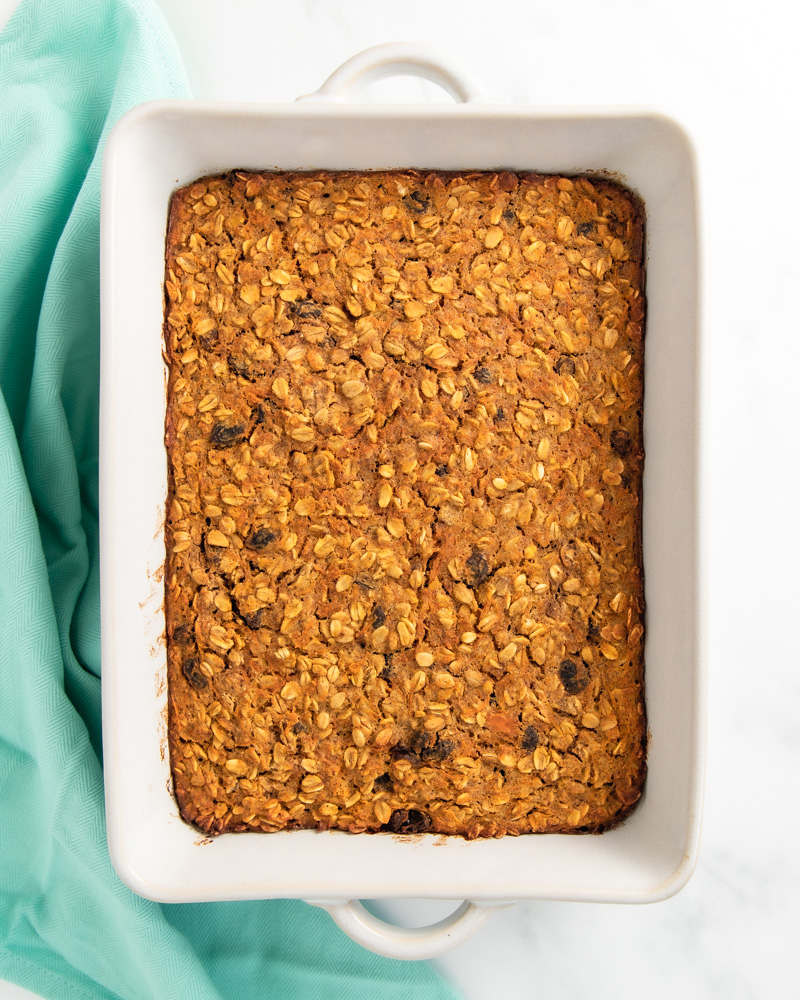 The casserole dish you see here is actually from Target and it looks like it's been discontinued. It's about 8.5″x11.5″x2.5″ (dimensions at the top). I linked a dish here that's close to the same size below, along with some other items I used to make this recipe a success. Note: these are Amazon Affiliate links.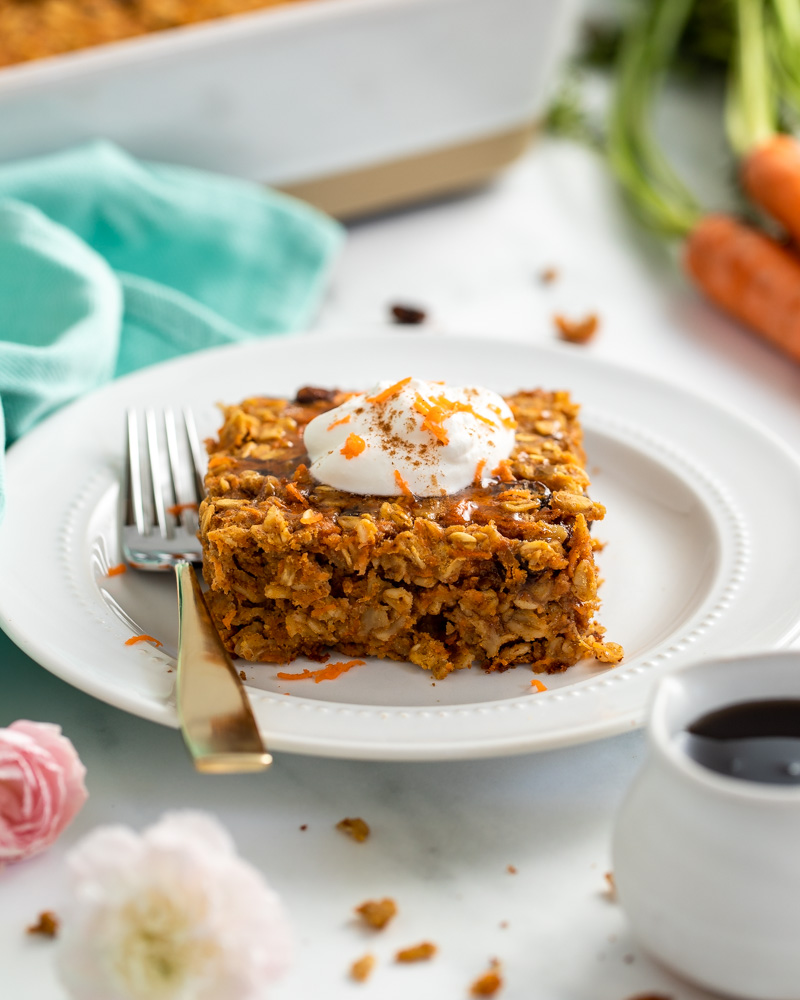 Recipe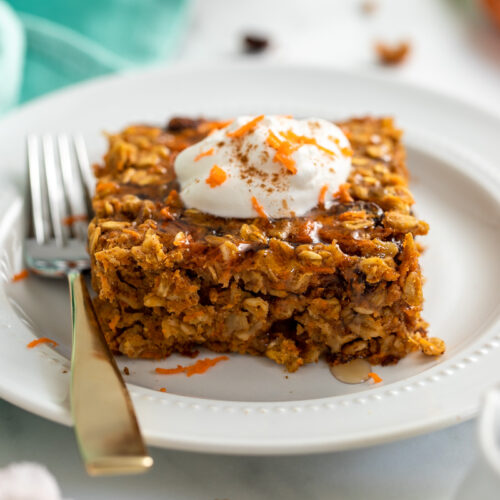 Carrot Cake Baked Oatmeal
Ingredients
2

cups

rolled oats

,

(160 grams)

2

scoops

PE Science Select Vanilla Plant Based Protein Powder

,

(56 grams)

1/2

cup

raisins

,

(80 grams)

1

tsp

baking powder

,

(2 grams)

1

tsp

cinnamon

1/2

tsp

all spice

1/4

tsp

salt

1

cup

unsweetened vanilla almond milk

,

(8 fl oz)

1

cup

grated carrots

,

(150 grams)

1/2

cup

unsweetened applesauce

,

(122 grams)

1/4

cup

unsalted butter, melted

,

(2 oz)

1/4

cup

pure maple syrup

,

(2 oz)

2

eggs

,

(100 grams)

1

tsp

vanilla extract
Instructions
Pre-heat oven to 350°.  Grease a baking dish with coconut oil and set aside.

Combine all dry ingredients, then add wet ingredients and mix until just combined. (Note: just be careful not to pour hot butter over raw eggs.) Pour into prepared casserole dish and spread evenly.

Bake at 350 degrees for 40-45 minutes or until the middle is set and the top begins to brown (you can test for doneness by pressing your finger into it gently).  If desired, press pecan pieces into the top of the mixture about halfway through the baking time.

Allow to cool, then cut into 6 pieces for serving.
Tips & Tricks
Click here or scan the barcode below to log this food in My Fitness Pal.
I used a casserole dish like this to make mine.
Baking time will vary if you use a different type of protein powder. One brand required almost a full 60 minutes in the oven to set. Keep an eye on it and pull it out when it's set in the middle and begins to brown on top.
Nutrition Information
Calories:
311
kcal
(16%)
,
Carbohydrates:
43
g
(14%)
,
Protein:
13
g
(26%)
,
Fat:
11
g
(17%)
,
Cholesterol:
82
mg
(27%)
,
Sodium:
266
mg
(12%)
,
Potassium:
261
mg
(7%)
,
Fiber:
5
g
(21%)
,
Sugar:
20
g
(22%)