Jump to Recipe
***Recipe, photos, and comments updated Dec 29th, 2020***
This overnight oats recipe has become one of my all time favorites, earning it a spot in my 3rd book, The Art of Meal Prep 3: Essential Meal Prep. That book is all about my meal prep favorites that I have relied on for years and still make all the time. It also includes 5 weekly meal plans that thoughtfully incorporate those recipes, plus prep day guides and unique meal prep "mind maps" to help you brainstorm your own meal plans.
Since originally publishing this recipe in 2014, I've only made minor adjustments to the recipe itself, but the photos have gotten quite the overhaul! There's just something about those classic PB&J flavors that never get old.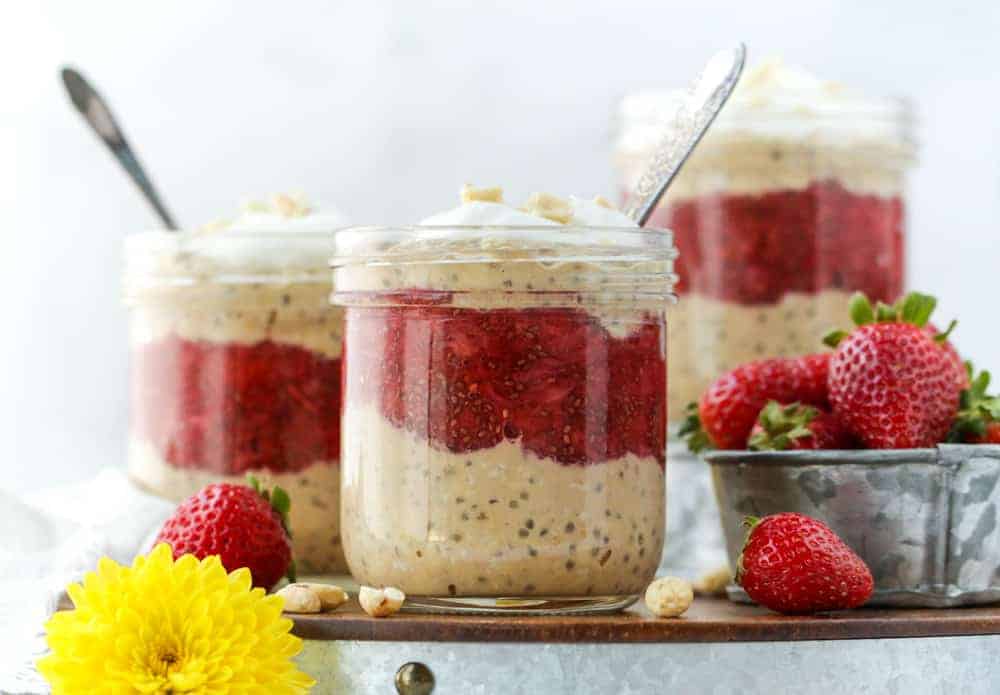 More about Overnight Oats: The name would suggest that you need to make these oats the night before you eat them, but I make them up to 6 days in advance. For most overnight oats recipes, the texture starts to change slightly after about 3 days in the refrigerator. People worry a lot about oats getting mushy if they don't eat them within a day or two, but I find they get more creamy than anything. You may also find that some of the liquid separates or that they seem to dry out – just give them a stir and add more of your milk of choice to revive them! Pro Tip: You don't have to eat overnight oats cold! I like to heat mine in the microwave for 30 seconds to 1 minute before serving.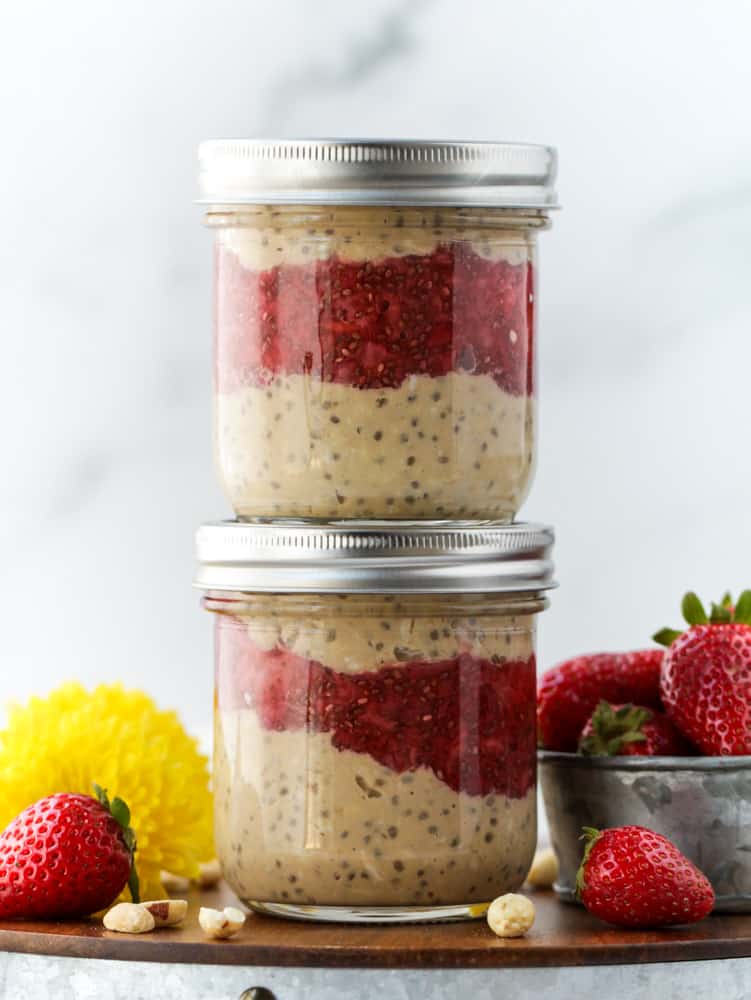 Here is some helpful gear for this recipe! Note: these are Amazon Affiliate links.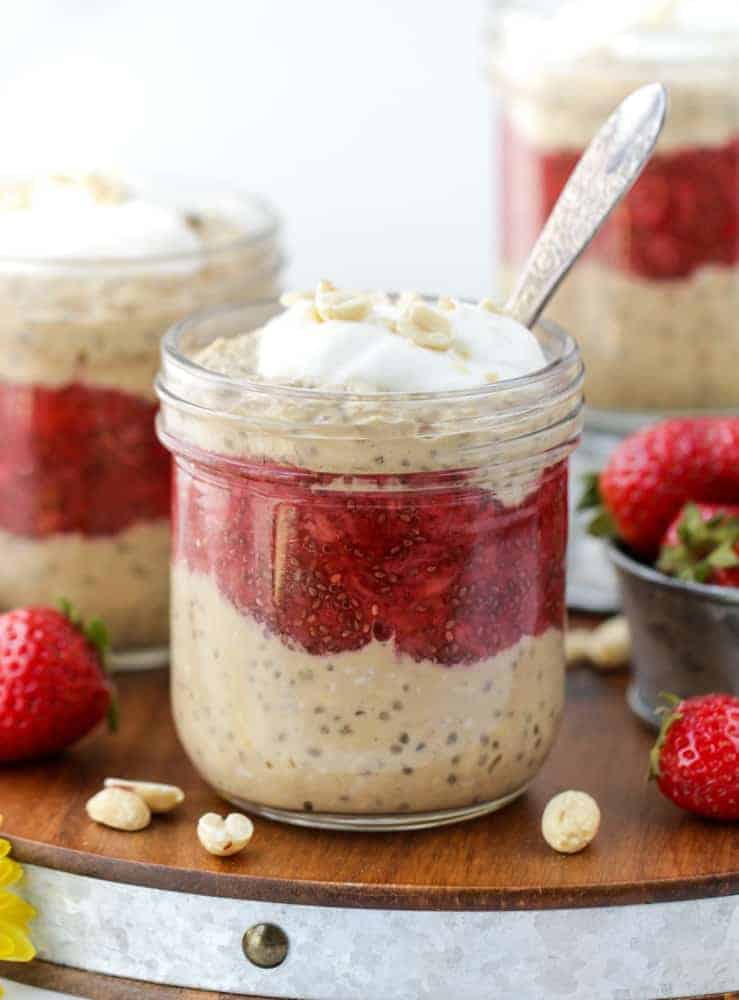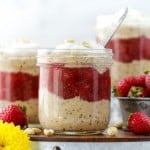 PB&J Overnight Oats
Prep Time 10 minutes
Cook Time 1 minute
Total Time 11 minutes
Servings 2 servings
Calories per serving 281 kcal
Ingredients
1 cup strawberries, chopped (167 grams)
1 cup unsweetened vanilla almond milk (8 fl oz)
2/3 cup rolled oats (60 grams)
1/4 cup PB2 powdered peanut butter (24 grams)
1 tbsp Skippy Natural Creamy Peanut Butter, melted (16 grams)
1 tbsp chia seeds, divided (14 grams)
Recommended Greek Yogurt Topping (not included in nutrition info)
Instructions
In a small bowl, whisk PB2 and almond milk until smooth. Add peanut butter and mix until smooth. Stir in rolled oats and 1/2 tbsp chia seeds. Set aside. 

In a small microwave safe dish, microwave strawberries for 30 seconds to 1 minute. Mash the strawberries and mix in chia seeds. 

Divide and layer oats mixture and strawberries evenly between 2 re-sealable containers. Refrigerate overnight. 

Greek yogurt topping: if desired, whisk Greek yogurt and whey protein until smooth. Serve on top of overnight oats. 
Recipe Notes
Click here or scan the barcode below to log this food into My Fitness Pal.
Nutrition Facts
PB&J Overnight Oats
Amount Per Serving (259 grams)
Calories 281 Calories from Fat 99
% Daily Value*
Fat 11g17%
Sodium 209mg9%
Potassium 347mg10%
Carbohydrates 36g12%
Fiber 10g42%
Sugar 7g8%
Protein 13g26%
* Percent Daily Values are based on a 2000 calorie diet.


Here's one of the old photos for fun 😉 I think my photography skills have improved a bit!