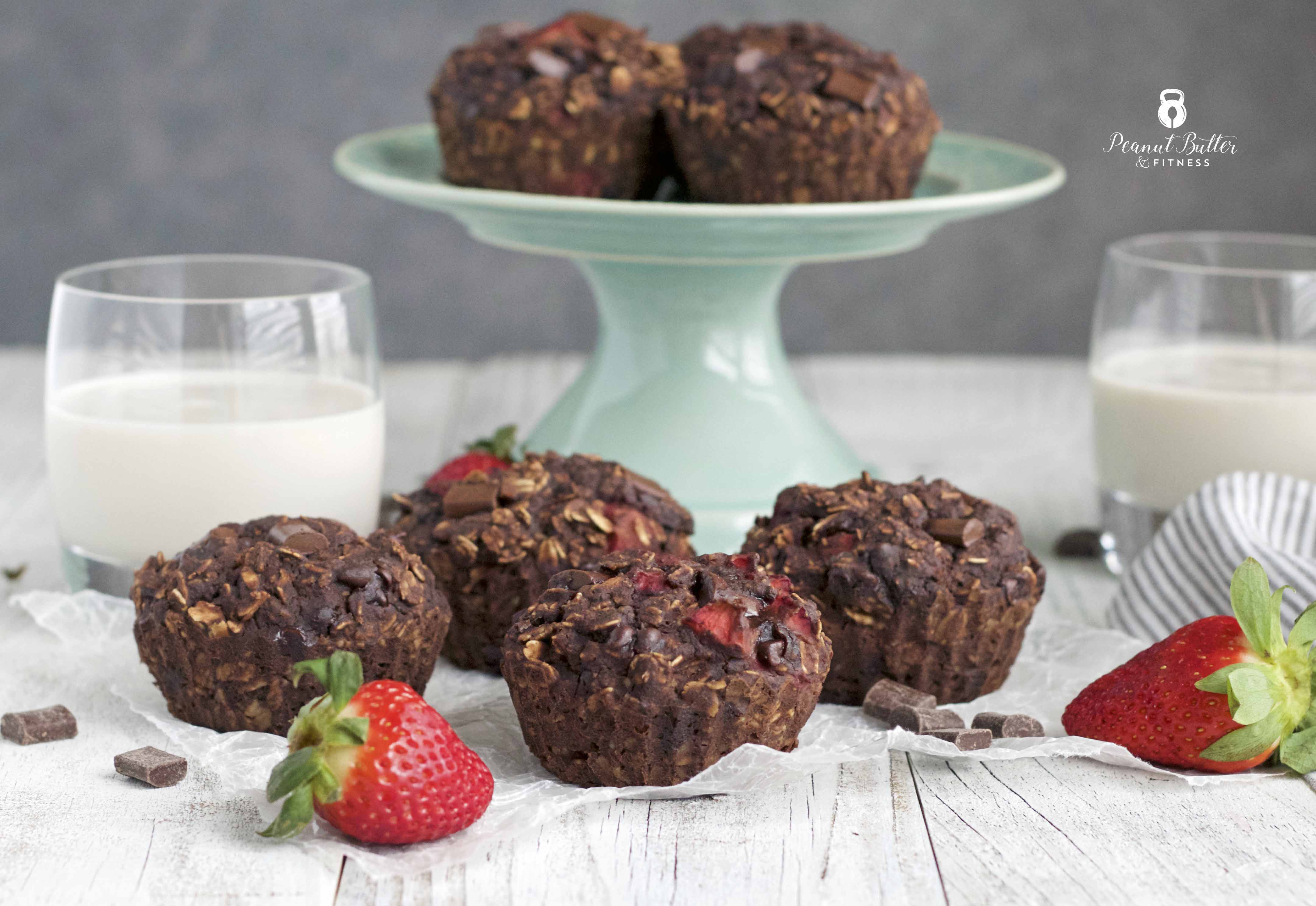 Happy Sunday everyone!  Berry season is right around the corner and the selection at the grocery store is already perking up 🙂  If you know me, you know I love me some berries.  And you know, sometimes you just want to eat chocolate for breakfast…so I combined them.  Because why not? Chocolate covered strawberries are totally thing outside of Valentine's Day.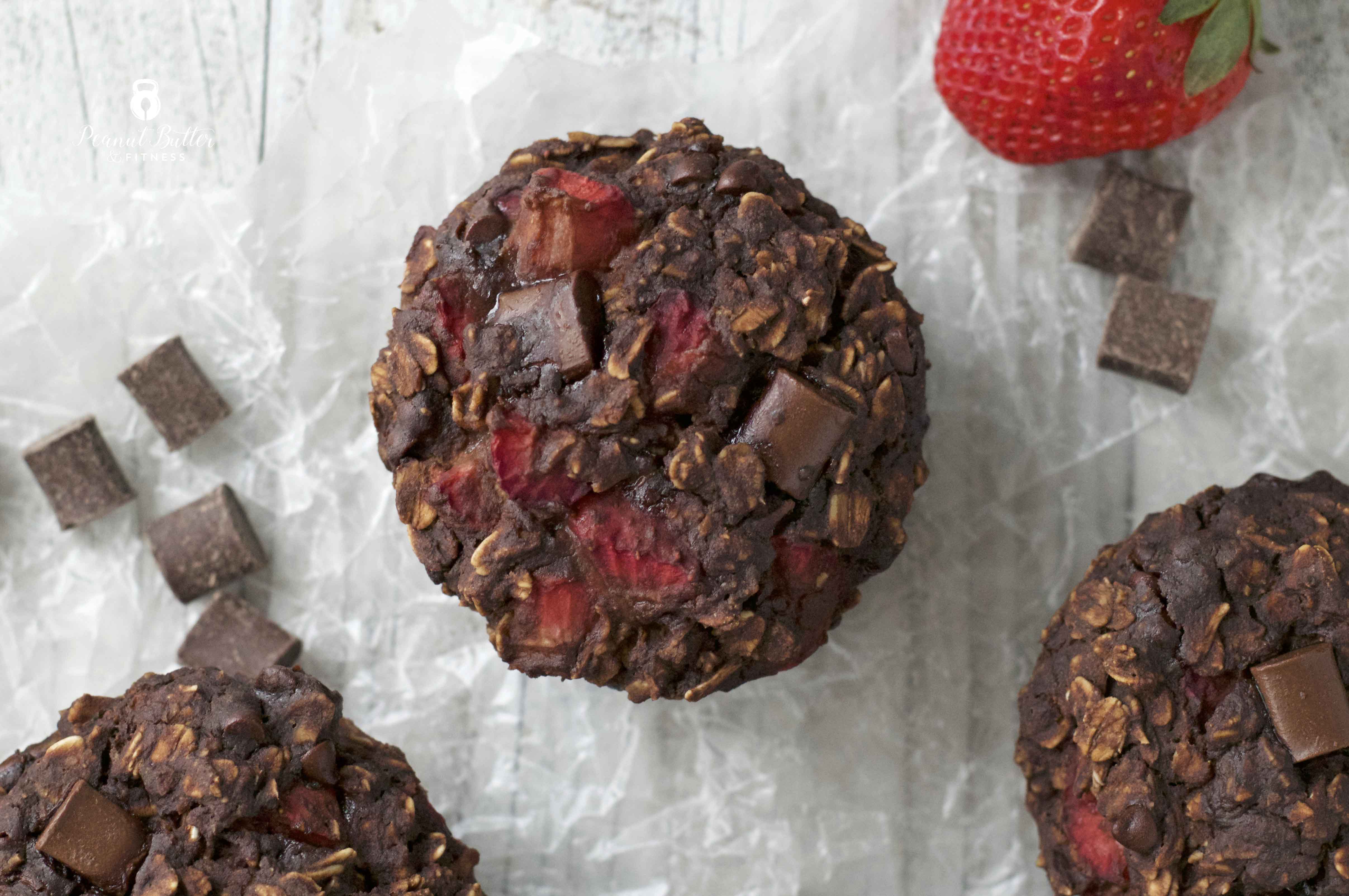 If you've been following along with the recipes here at PBF, you know that I am totally an oatmeal muffin fiend.  They're so easy to meal prep for the week and are seriously yummy.  Since I cut out dairy at the beginning of the year though, I've been mostly making overnight oats…which are delicious BUT I always find myself wanting oatmeal muffins!  I finally decided to give them a whirl with a plant-based protein.
What I found is that plant-based protein tends to dry things out more than whey protein, so I had to add a bit more almond milk to keep these the right consistency.  If you're using whey protein, you'll probably need to cut the almond milk back down to about 1/2 cup.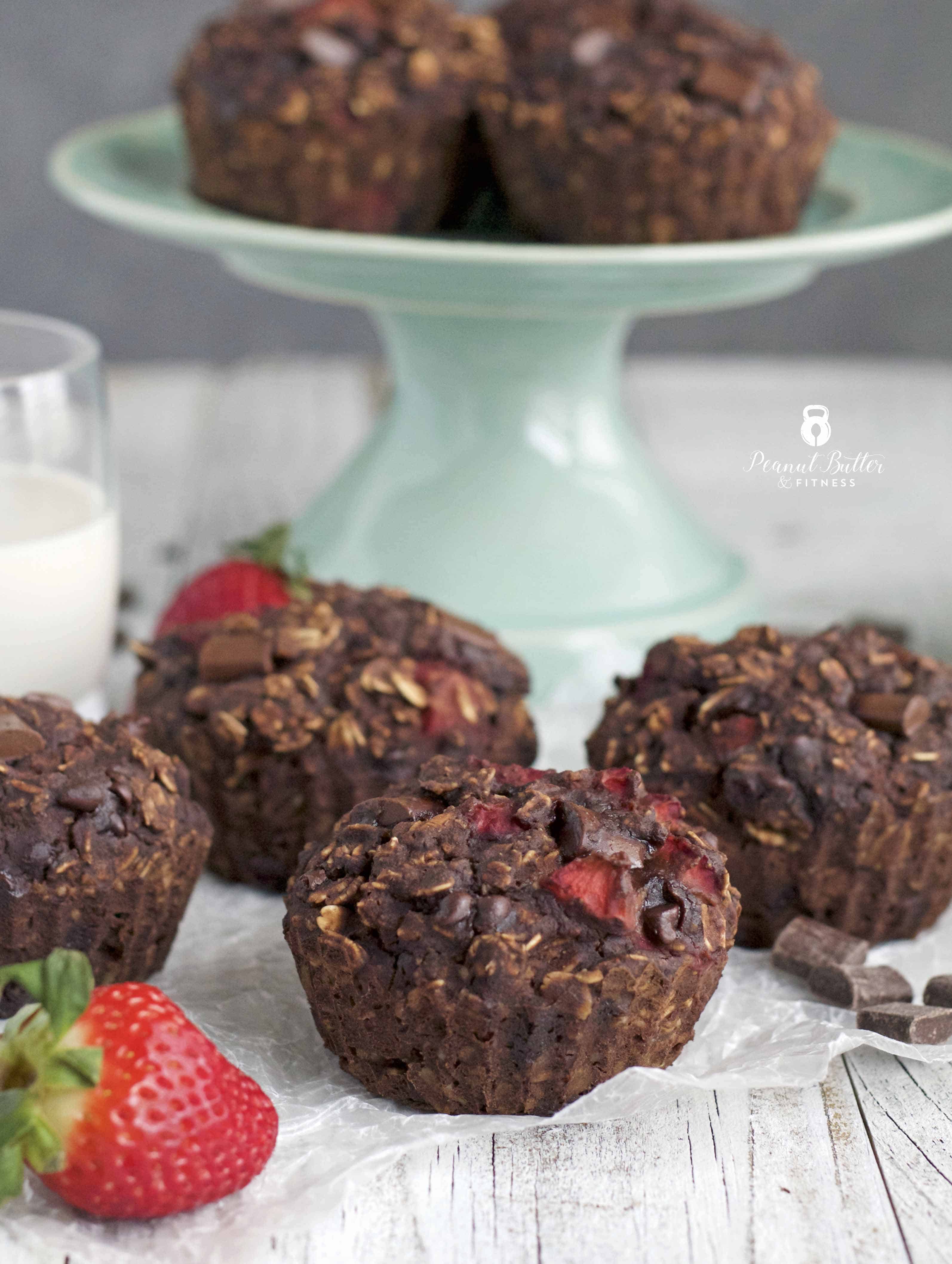 Enjoy!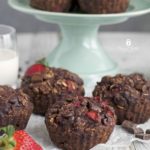 Chocolate Covered Strawberry Oatmeal Muffins
Prep Time 15 minutes
Cook Time 30 minutes
Total Time 45 minutes
Servings 7 jumbo muffins
Calories per serving 265 kcal
Ingredients
2 cups rolled oats
1/3 cup Enjoy Life mini chocolate chips
3 tbsp dutch cocoa powder
1/2 tsp baking powder
1/2 tsp baking soda
1 cup strawberries chopped
1 cup unsweetened applesauce
2/3 cup unsweetened vanilla almond milk
2 egg whites
2 tbsp maple syrup
1 tbsp natural peanut butter
1 tsp vanilla extract
Instructions
Pre-heat oven to 350 degrees. Arrange 7 jumbo silicone baking cups on a baking sheet. Set aside.

Mix all dry ingredients, then add wet ingredients and mix until combined. Scoop batter evenly into baking cups.

Bake for 30-35 minutes or until a toothpick inserted into the center of a muffin comes out mostly clean.
Recipe Notes
If using whey protein instead of plant-based protein, you may need to decrease the almond milk to about 1/2 cup.
Nutrition Facts
Chocolate Covered Strawberry Oatmeal Muffins
Amount Per Serving
Calories 265 Calories from Fat 72
% Daily Value*
Fat 8g12%
Sodium 145mg6%
Potassium 201mg6%
Carbohydrates 37g12%
Fiber 6g25%
Sugar 13g14%
Protein 13g26%
* Percent Daily Values are based on a 2000 calorie diet.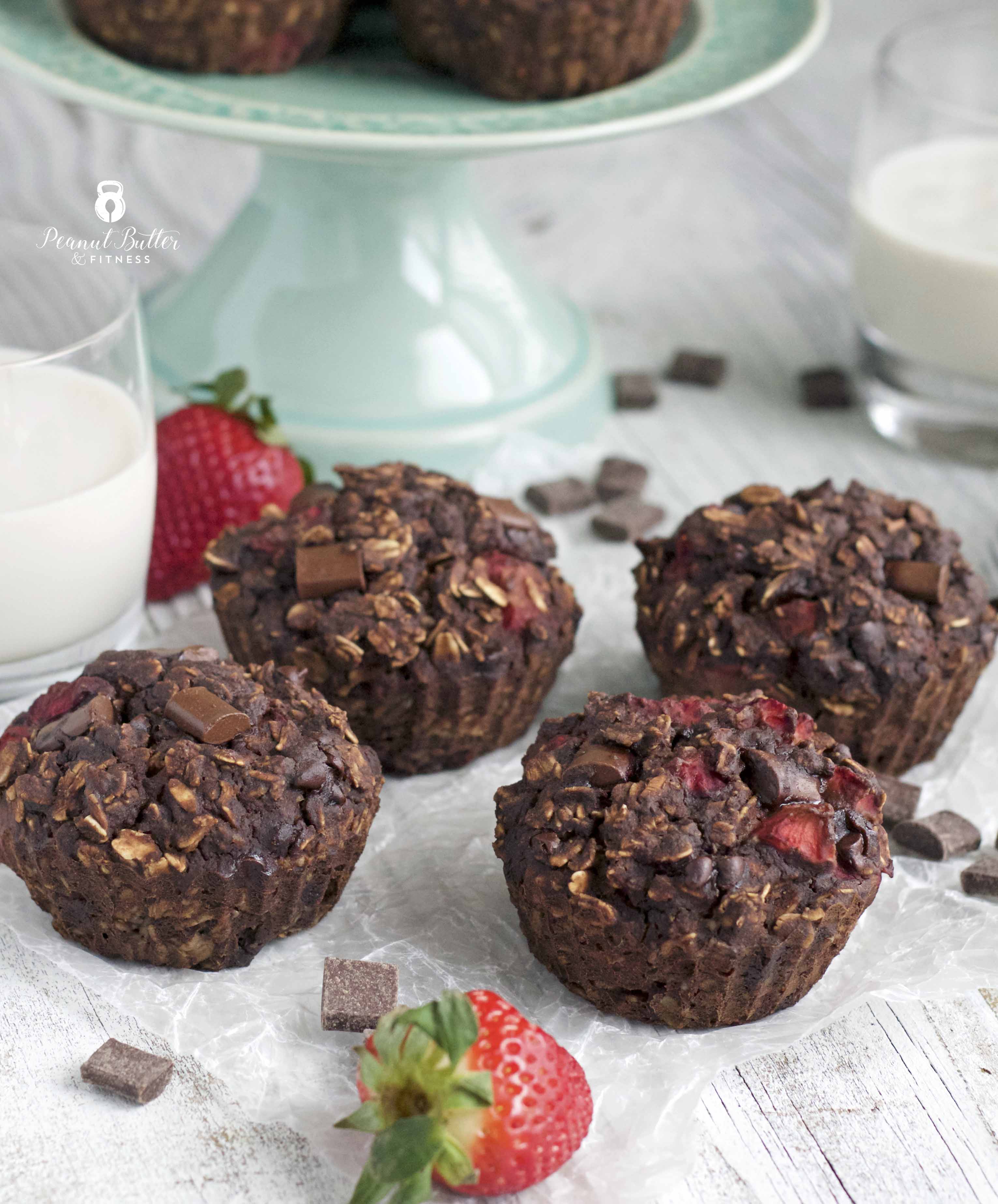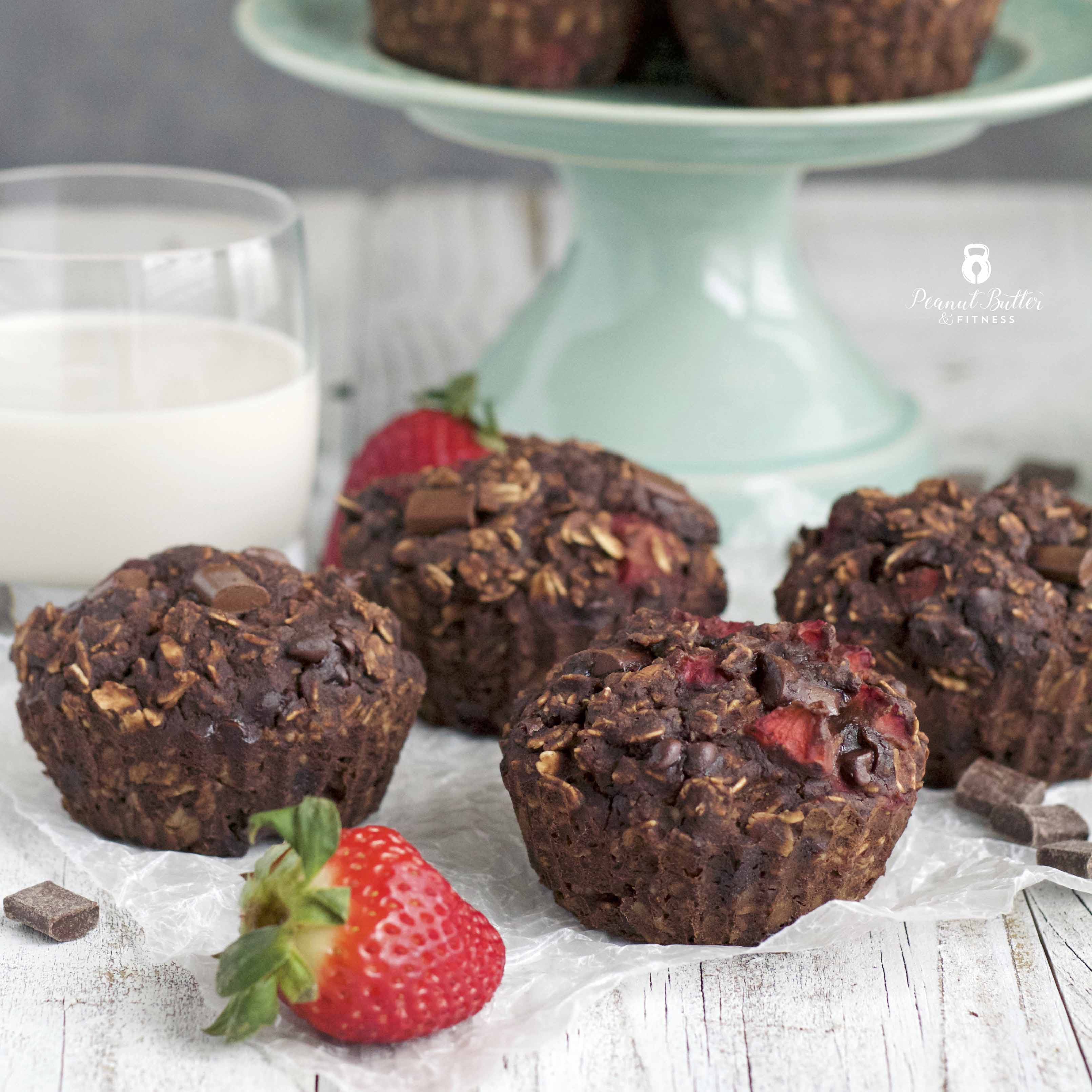 SaveSave
SaveSave
SaveSave