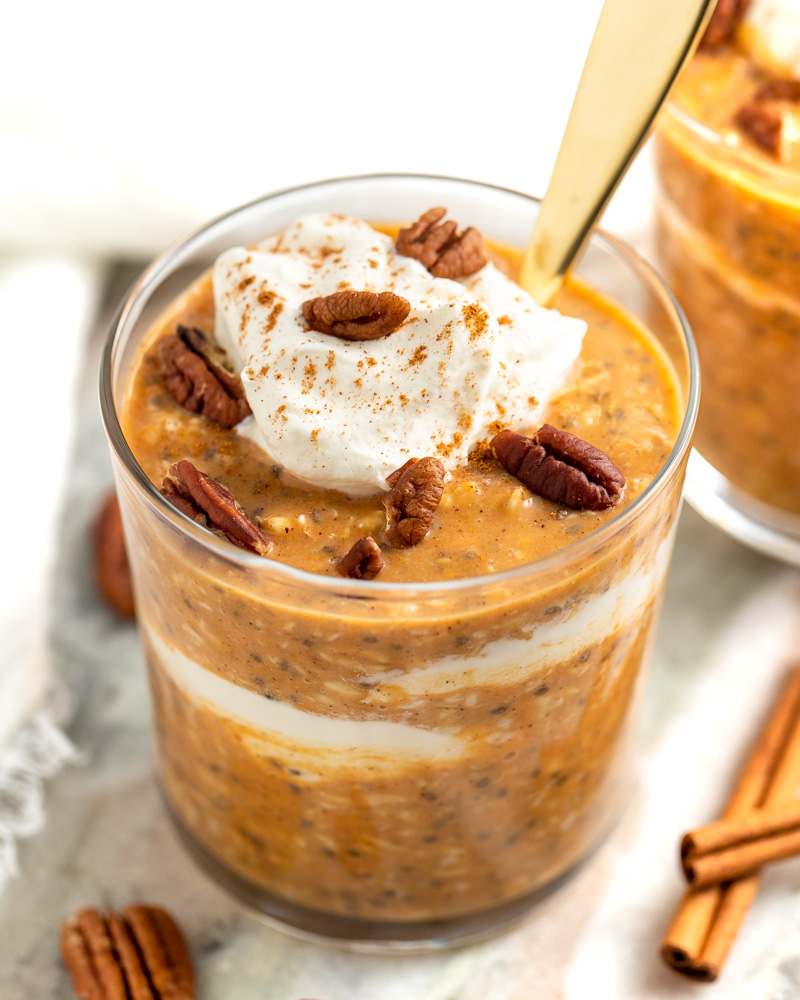 ***Photos and recipe updated October 2022***
I know that people are already playing Christmas music, but I'm just over here like "what about Thanksgiving, people?!?" I mean for real, pumpkin (and fall in general) still has a solid 21-or-so days of fame to go. And on that note, it's time to get your hands on this Pumpkin Pie Protein Overnight Oats. Honestly, I could eat this for breakfast everyday until Thanksgiving. You need to try it.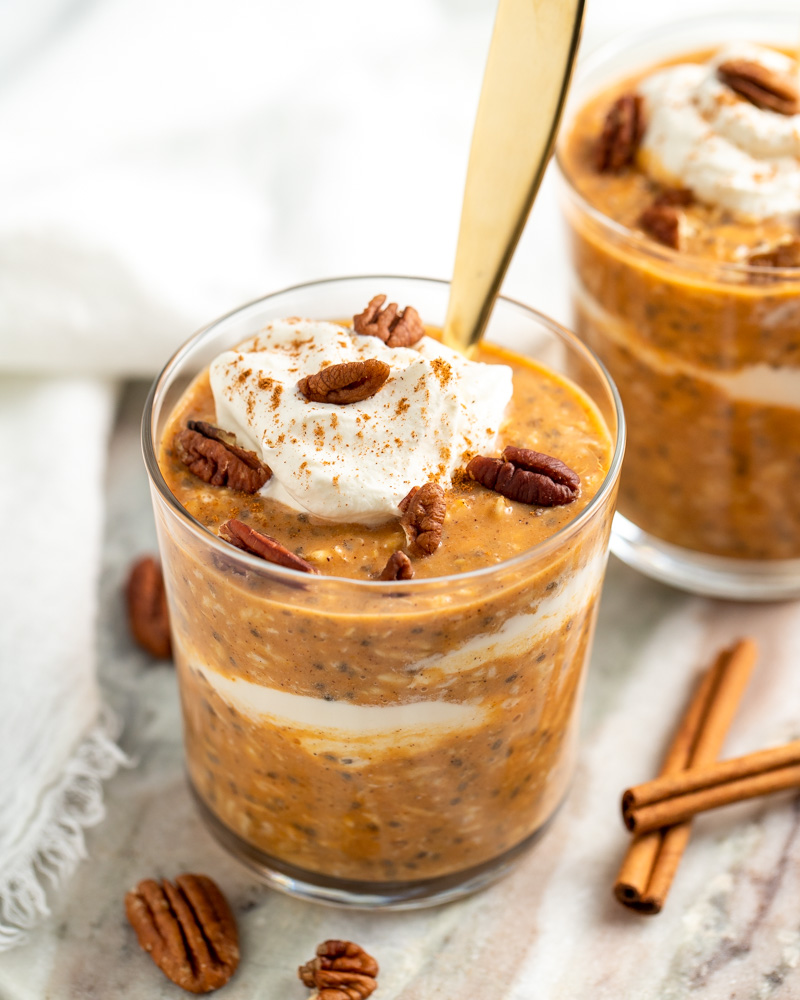 Of course I added a bit of whipped cream on top to really make it feel like pumpkin pie. I've always been the person who adds a mound of whipped cream on top of pie that is taller than the piece of pie itself. How do you take your pie?? Hopefully in a jar 😉
Ingredients and Substitutions
Here's what you'll need to make this recipe:
Rolled oats – I prefer to use rolled oats (also called old fashioned oats) in my overnight oats recipes because they maintain some chew even after a few nights in the fridge. Quick cooking oats turn to mush and steel cut oats have too much bite (even if you use the quick cooking kind).
Milk – Use whatever neutral tasting milk you prefer! I used almond milk, which doesn't have a strong flavor. Some non-dairy milks have a really strong flavor or are overly sweet – I'd stay away from those in this recipe.
Pumpkin puree – Obviously this is where you get the pumpkin flavor and orange color from! Be sure to use pumpkin puree, not pumpkin pie filling.
Maple Syrup – You need a bit of sweetness to really get that pumpkin pie flavor.
Maple Extract – I love maple extract to really help bring out the maple syrup flavor in this recipe, but you could use vanilla extract instead if you don't have (or don't want to buy) maple extract. It's a personal favorite of mine for fall baking and sweet recipes.
Protein powder – I used a whey protein in this recipe. You can really use any kind you like, but I prefer whey in overnight oats since it dissolves easily into milk and tastes great. Plant based proteins can sometimes leave a gritty texture and have an aftertaste.
Chia seeds – If you're not familiar with them, they're the little black specks you can see in the overnight oats. As they sit in liquid, they soak up moisture and help your overnight oats thicken up and get really creamy. Plus they're a great source of fiber and antioxidants!
Pumpkin pie spice – this blend of warming spices helps bring out that classic fall flavor in these muffins.
Shop for this Recipe
Here are some items I used to help make this recipe a success. Note: these are Amazon Affiliate links.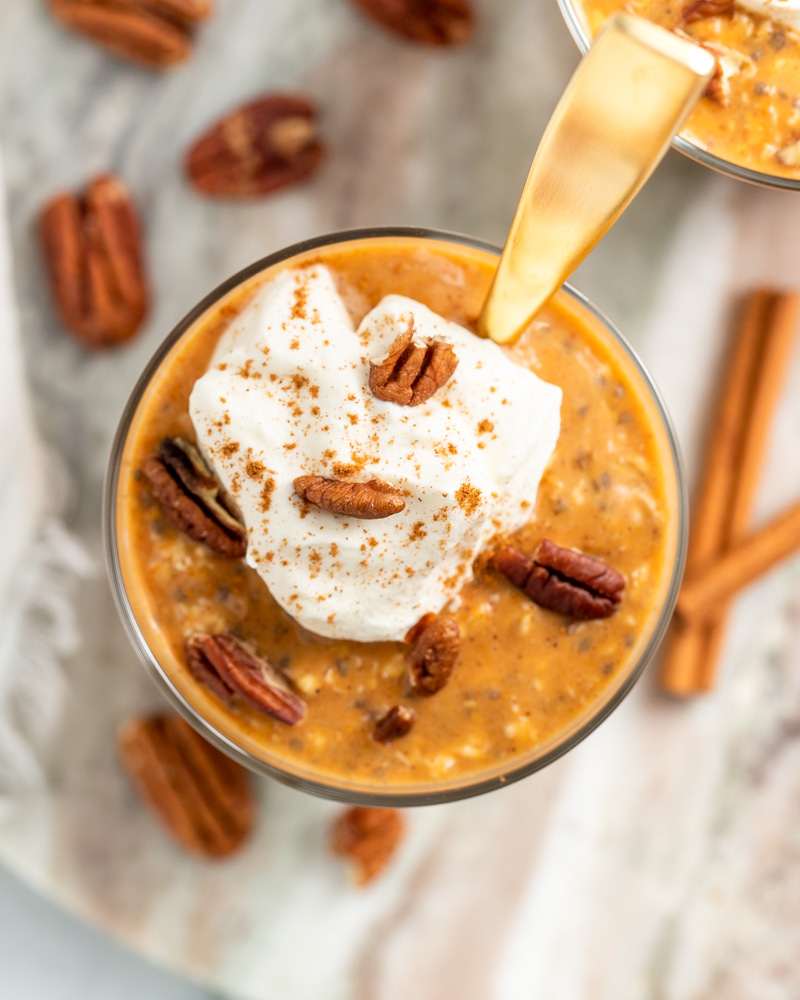 Recipe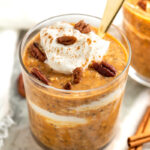 Pumpkin Pie Protein Overnight Oats
Servings 2 servings
Calories per serving 273 kcal
Instructions
Whisk almond milk and whey protein until smooth. Add maple syrup, pumpkin puree, rolled oats, chia seeds, maple extract, and pumpkin pie spice and mix until combined. Refrigerate overnight.

Serve chilled or microwave for 1 to 1 1/2 minutes before serving. Layer and/or top with whipped cream before serving, if desired.
Recipe Notes
Click here or scan the barcode below to log this food in My Fitness Pal.
Nutrition Facts
Pumpkin Pie Protein Overnight Oats
Amount Per Serving
Calories 273 Calories from Fat 45
% Daily Value*
Fat 5g8%
Cholesterol 18mg6%
Sodium 122mg5%
Potassium 182mg5%
Carbohydrates 41g14%
Fiber 6g25%
Sugar 14g16%
Protein 17g34%
* Percent Daily Values are based on a 2000 calorie diet.