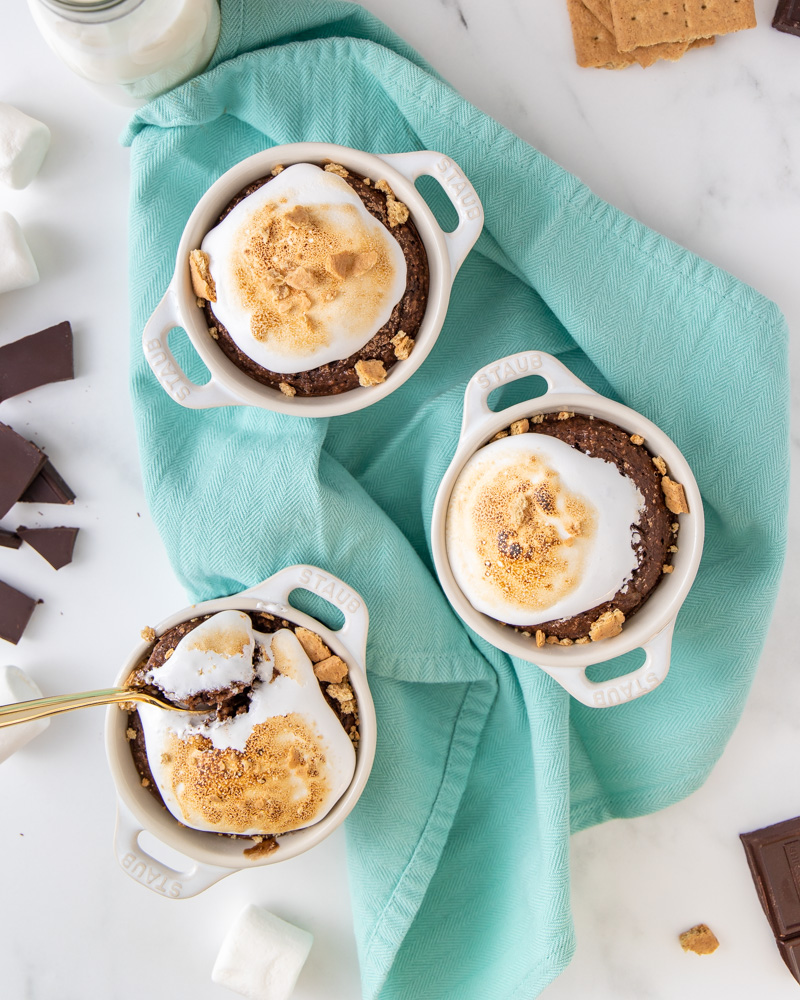 Let's get this week started with a new breakfast recipe – S'mores Protein Baked Oats! These viral Tik Tok baked oats are so easy to whip up and I like to underbake mine just a bit so there's a little bit of a chocolate lava cake effect going on inside. Yum! I added a bit of protein powder to be sure they hold me over until lunch, and each serving has 20 grams of protein. They're also surprisingly tender because I used casein protein powder instead of whey, though you could use a whey/casein blend instead if that's what you have on hand.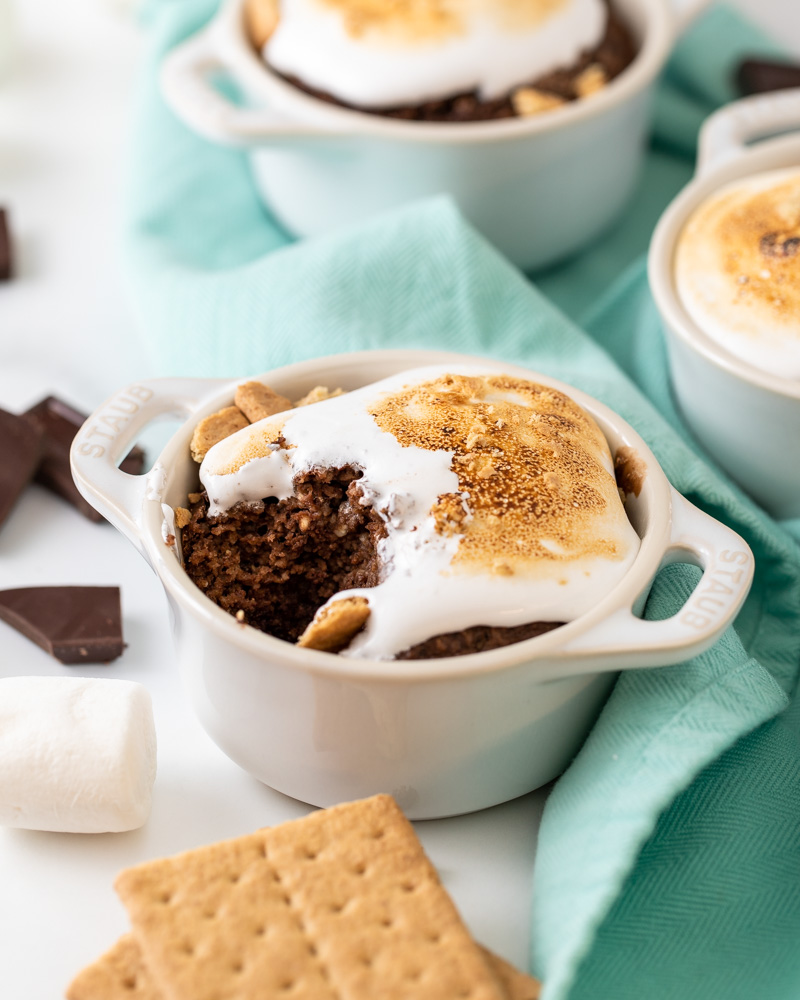 Here's what you'll need to make this recipe. Just a note, the photo of the ingredients you see below is for a double batch.
Oat flour – You can buy oat flour ready made – it's just rolled oats milled into a fine powder. Or you can make your own by sticking rolled oats in a high quality food processor or blender. Just let it rip until you end up with a fine powder!
Milk – Use whatever neutral tasting milk you prefer! I used almond milk, which doesn't have a strong flavor. Some non-dairy milks have a really strong flavor or are overly sweet – I'd stay away from those in this recipe.
Eggs – These are the glue that bring the dough together and add a bit of protein too.
Dutch cocoa powder – if you're still using regular cocoa powder in your baked goods, take this as a sign to switch to the good stuff! Dutch cocoa powder is less acidic than the original version, so I personally think the flavor is better. That said, it will give you less rise and more fudginess in a baked good compared to regular cocoa powder due to the difference in acidity levels.
Chocolate chunks – For maximum meltiness, I highly recommend buying a dark chocolate bar (find them in the baking section) and chopping it up yourself. Sure, you could buy pre-made chocolate chunks, but they are usually coated with something to keep them from sticking. That interferes with melting and nobody wants that!
Protein powder – I recommend using casein protein or a whey/casein blend in this recipe. Whey alone tends to yield a chewy baked product that doesn't rise nearly as much, but it's okay to use in a pinch. I didn't have any chocolate flavored casein protein powder on hand, so I used half chocolate whey and half vanilla casein in mine.
Baking powder – This gives the baked oats a good rise as they cook. They also help make sure the baked oats aren't too dense.
Maple syrup – You need just a touch of sweetness to help balance things out here. You could use honey or agave syrup instead, but I personally like the flavor of maple syrup best.
Vanilla extract – Like salt in a savory dish, vanilla tends to enhance the flavors of a sweet recipe.
Marshmallow Fluff – you could totally add some mini marshmallows on top of your baked oats during the last few minutes of baking, but I like marshmallow fluff instead. It's easy(ish) to spread on top of the baked oats and gets so ooey gooey…perfect for a s'mores experience!
Crushed graham crackers – these are an optional finishing touch to really channel the classic s'mores energy.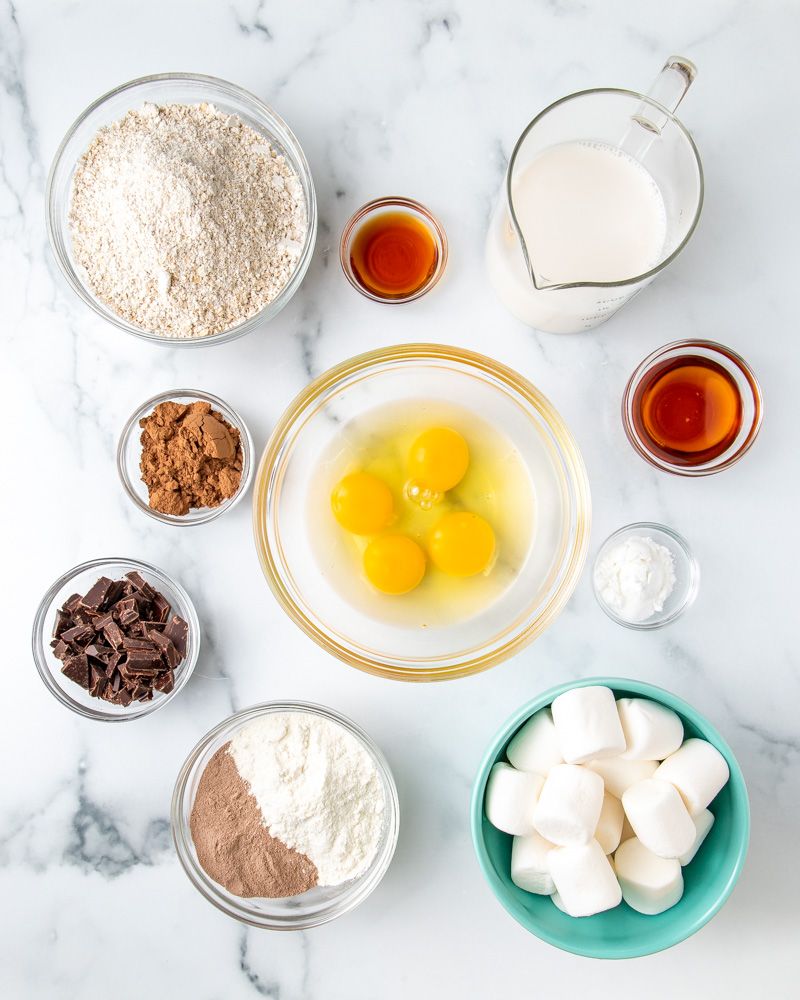 Here are some items I used to make this recipe a success. Note: these are Amazon Affiliate links.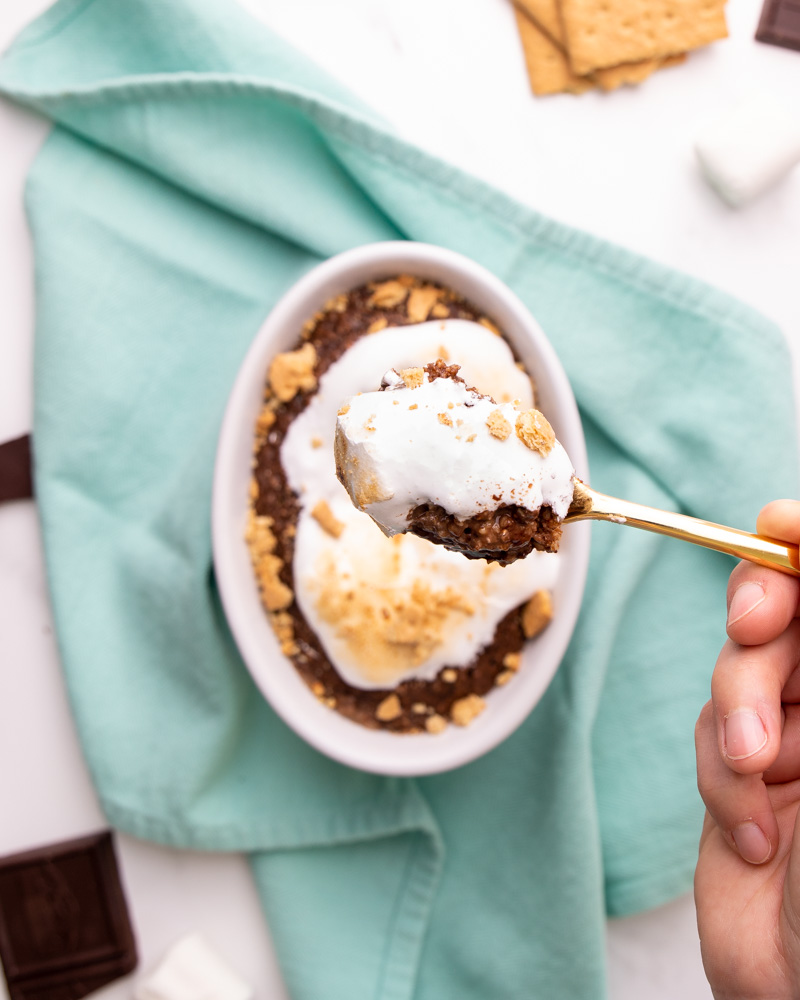 Recipe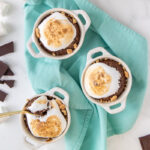 S'mores Protein Baked Oats
Prep Time 15 minutes
Cook Time 20 minutes
Total Time 35 minutes
Servings 3 servings
Calories per serving 379 kcal
Instructions
Pre-heat oven to 350°. Spray the inside of 3 half quart (about 8 fl oz capacity) baking dishes with non-stick cooking spray. Set aside.

In a medium bowl, whisk together oat flour, protein powder, baking powder, cocoa powder, and salt until well combined. Set aside.

In another bowl, whisk together milk, eggs, maple syrup, and vanilla extract. Pour into bowl with dry ingredients and mix until completely incorporated and not dry flour remains visible. The batter should be thick and sticky. Fold in chocolate chunks.

Add the batter to the prepared baking dish and spread out with a spatula to make an even layer that reaches the edges.

Bake for 18-20 minutes. They should puff up and begin to brown lightly on top, and touching it should not leave a mark. Set aside on a cooling rack.

Top slightly cooled oats with a dollop of marshmallow creme and crushed graham crackers (if desired) before serving.
Recipe Notes
Nutrition Facts
S'mores Protein Baked Oats
Amount Per Serving
Calories 379 Calories from Fat 117
% Daily Value*
Fat 13g20%
Cholesterol 132mg44%
Sodium 300mg13%
Potassium 230mg7%
Carbohydrates 48g16%
Fiber 4g17%
Sugar 13g14%
Protein 20g40%
* Percent Daily Values are based on a 2000 calorie diet.
WITH MARSHMALLOW TOPPING

WITHOUT MARSHMALLOW TOPPING