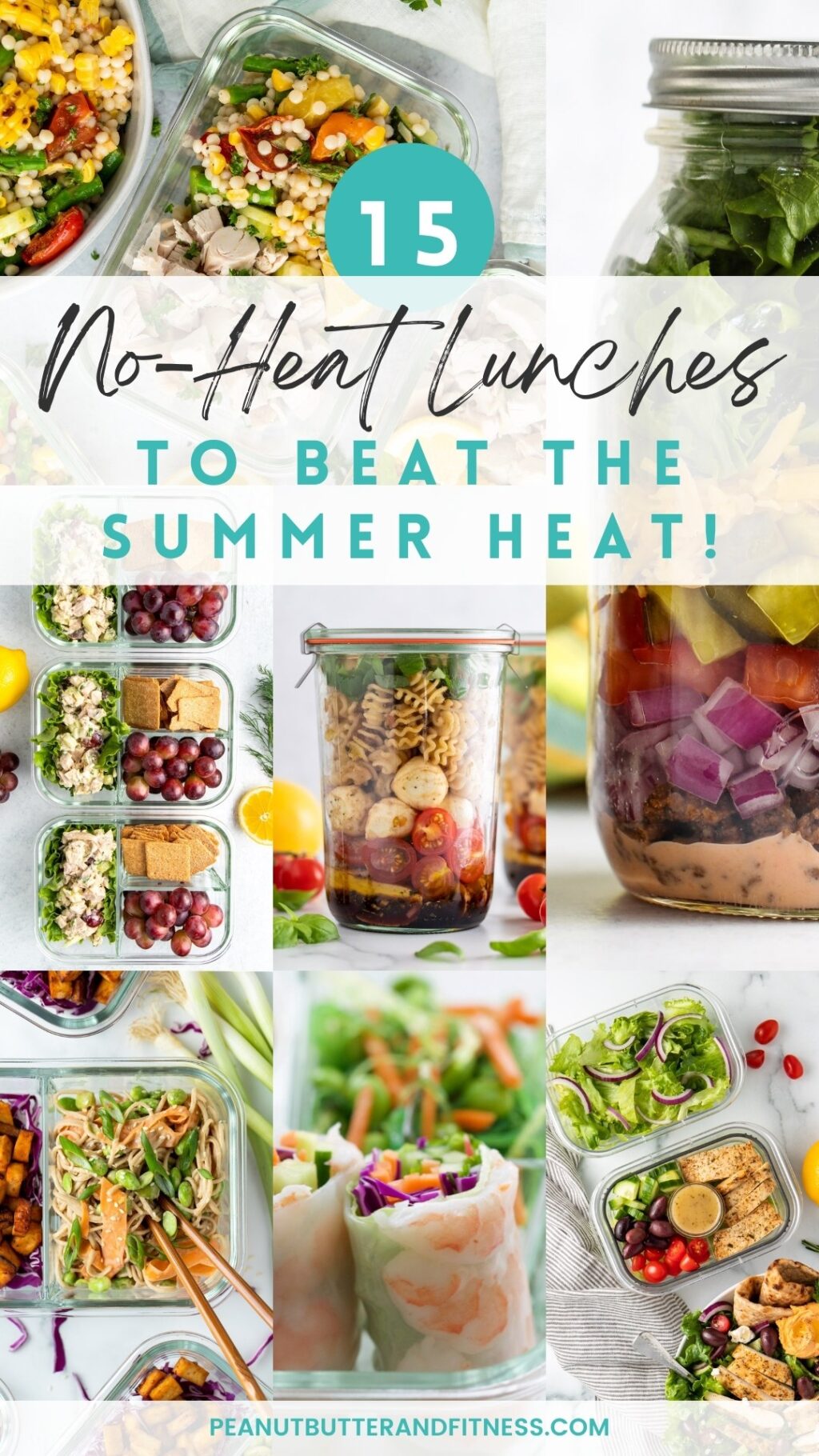 Happy first day of summer!! Get ready to battle the warmer weather with these No Heat Meal Prep Lunch Recipes. Whether you're on the road every day at lunch with no access to a microwave, or you just can't stand the thought of eating hot food when it's sweltering outside, I've got you covered with recipes and tips for making crave-worthy cold foods.
No Heat Meal Prep Tips
Pasta Salads
Most cold pasta salads have oil in the dressing or sauce. If you've ever refrigerated something coated with oil before, you know it tends to stiffen up once cold. Meal prepped pasta salads are no different, but don't worry, it's quick and easy to fix when the lunch bell rings!
Save a tablespoon or two of dressing and keep it separated in a little dressing container like this inside your meal prep container. Just mix it in when you're ready to eat. Note: if you build your pasta salad vertically in a jar, this is really not necessary since the dressing is already separate from the pasta.
Regardless of how you build your pasta salad (vertical vs flat) and whether or not you plan to save some dressing in a container, be sure to toss the pasta in at least a bit of dressing before placing it in a meal prep container. This will keep the pasta from drying out and sticking together.
When you grab your pasta salad from the fridge in the morning, add an ice cube right in there with the pasta salad. Seriously. As the ice cube slowly melts throughout the morning, it helps revive the pasta salad into a deliciously creamy state. Be sure to remove any remnants of the ice cube before digging in!
Treat your pasta salad like a pint of ice cream and let it sit on the counter for 15-20 minutes before serving. This will give the oil a chance to get back to a liquid state and actually improves the flavor since it's easier to taste our food when it's not so cold. You can also speed this along by popping it in the microwave for 15-30 seconds if you have one handy.
Lunchable Style Bento Boxes
We all remember Lunchables from back in the day, right? It was always exciting to open up your lunch bag and find one because they were FUN to eat. And tasty too, of course. I like to recreate them in an adult version with higher quality meats and cheeses, better crackers, and a bigger focus on protein. Might as well throw in some fruit or veggies too for good measure 😉 One critical factor for success with these bento boxes is actually keeping some of the ingredients from touching…you never want your meat and cheese to be rubbing up on one another in their container all week. Instead, use something like these silicone cups to keep them separated!
Salads
Pretty much any salad you find here on PBF can be eaten cold, but it really all comes down to personal preference. I'll talk more about this in the next section, but eating cooked proteins like grilled chicken or ground beef cold is all about HOW you do it to make sure it's tasty and not dried out. Because salads are served with dressing, you're covered on both fronts of flavor and moisture. For all my tips on meal prepping salads that stay fresh all week (including links to the containers you see above), click here!
Grilled Chicken
I know, I know…a lot of you are probably turning your nose up at the prospect of eating cold grilled chicken, but at least let me make my case. It can be a really delicious experience, if you follow a couple of guidelines:
First, and most importantly, if your chicken gets dried out when you first cook it, it will be dry and gross later in the week (especially when serving cold). I cannot stress enough how much better your chicken will be if you BRINE it before cooking! Brining is the process of submerging the raw protein in a solution of water, salt, sugar, and spices for several hours. This seasons the meat from the inside out, making for an incredibly flavorful chicken breast. It also changes the chicken on a cellular level, allowing it to retain more moisture. And that means JUICY chicken breast!! Be sure to check out my recipe for homemade chicken brine mix and all my brining tips here.
Sauces and dips are your friends when it comes to serving cold chicken. Something like hummus, tzatziki sauce, ranch dressing, etc. will go a long way in bringing some excitement to cold chicken.
Cold grilled chicken works well in pasta salads and regular salads too!
Other Cold or No Cook Proteins
I wasn't really sure what to call this last miscellaneous category, but don't be fooled because it contains one really important genre of no heat lunches…the "protein salads." I'm talking about tuna salad, chicken salad, and egg salad. There are a million recipes out there for these American sandwich staples, but I'm partial to my tuna and chicken salad recipes. What can I say, I like my own food! Anywho, I don't have a recipe for egg salad on the blog (yet), so feel free to venture off into internet land to find your fave version. All of these are great because they're really versatile in lunches – serve them between 2 slices of bread, with crackers, in a wrap, or just eat them plain with a fork. I'm partial to crackers or pitas with a side of red seedless grapes. Just be sure to keep the salad and the vessel separated so you don't end up with a soggy wrap/bread/pita/whatever.
Container Recommendations
Here are some of my favorite containers that you see in the photos. Note: these are Amazon Affiliate links.
No Heat Lunch Ideas
Click on any of the photos below to get to the recipe page!