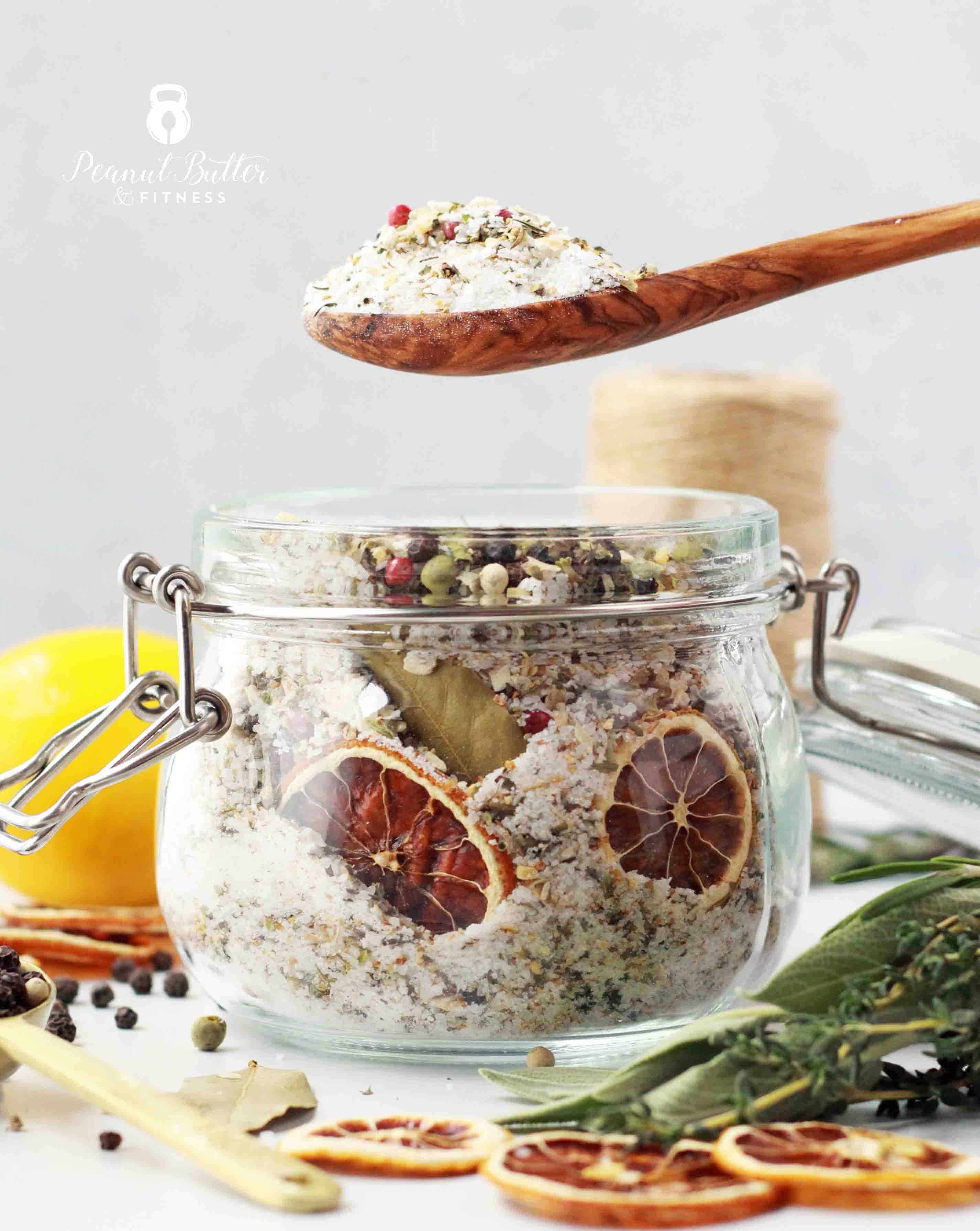 Here's the thing about chicken breast – it's so easy to overcook and lose any semblance of the juicy chicken you crave. And for my meal preppers out there, you know what that means…the chicken that's passable on day 1 becomes horrible and dry by day 4. Chicken thighs are easier to work with but they have a higher fat content that make them a tough sell for a lot of people who would prefer less fat. But guess what? You can have the low fat chicken breast but still get juicy, perfect chicken breast EVERY TIME. (I feel like I'm cueing up an infomercial right now, btw.) The not-so-secret secret? BRINE!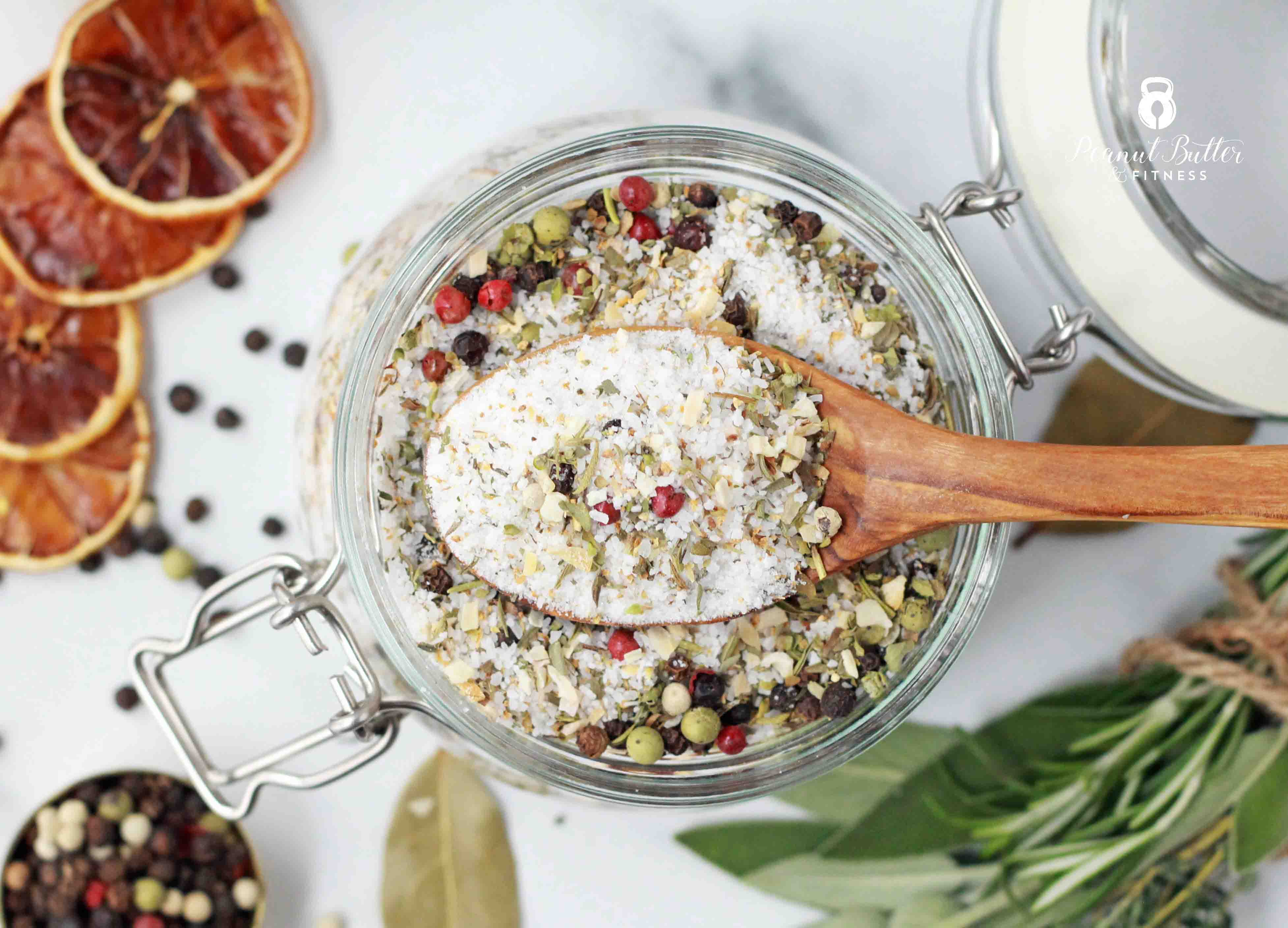 If you've ever watched one of those cooking shows on the Food Network like DDD, you've heard of the concept. The crazy thing is that brining chicken breast is incredibly easy but not a lot of people do it (or even think to do it) at home. Today I want to change your mind, so I'm bringing you a recipe for an easy Homemade Brine Mix. Of course you can go buy a brine mix in the store or on Amazon, but the more brining I've done, the more I realize that I want my own blend of spices in there. A lot of the brines you'll find in store are made for Thanksgiving turkeys (this one is my fave), but I wanted my own anytime-of-the-year kind of brine. Side note – I've also tried this brine from Amazon and wasn't a big fan.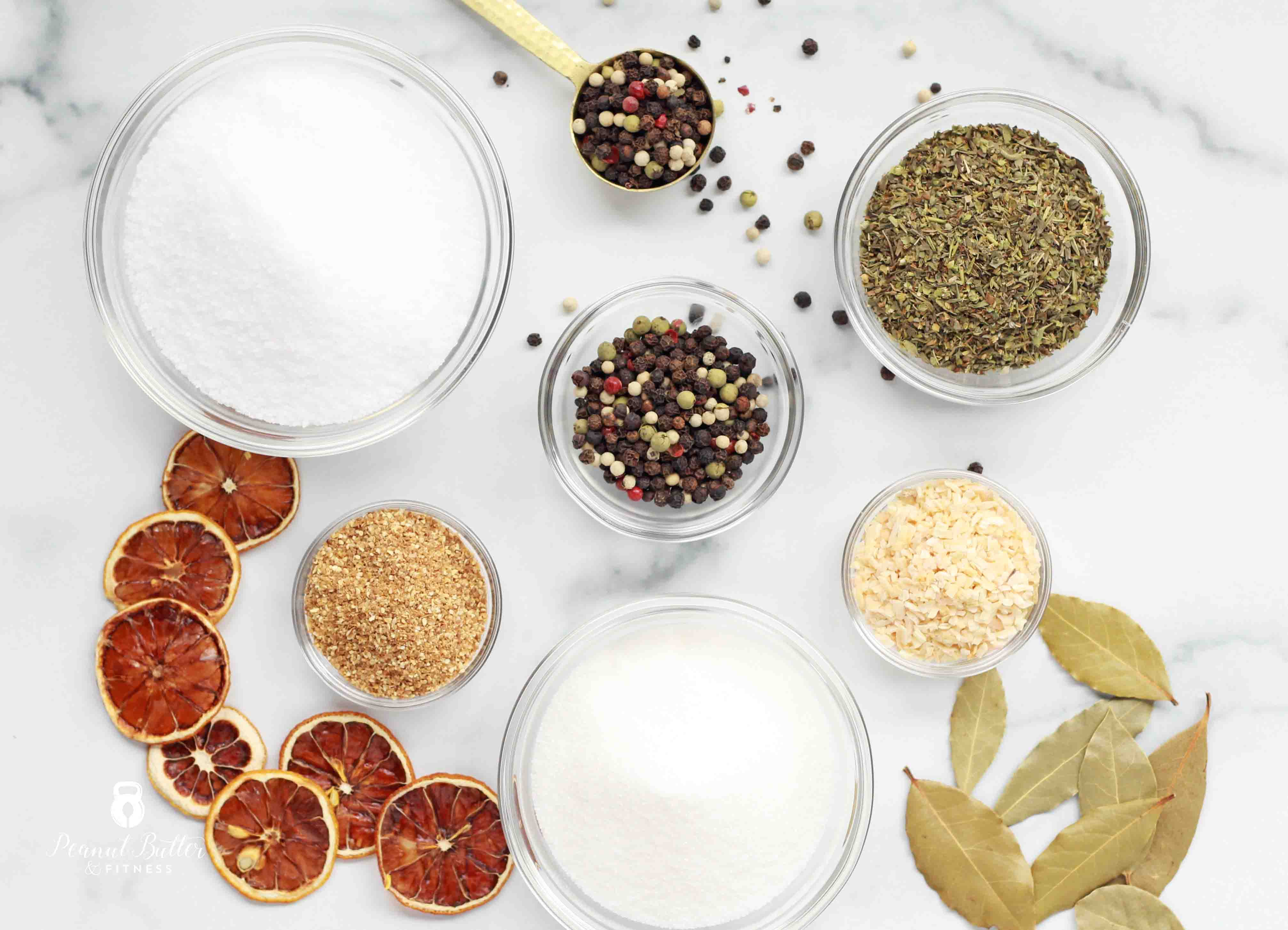 So please, use my recipe as a starting point and customize it based on the flavors you like. Want less pepper? Use less peppercorns. Want more garlic? Use more garlic. Easy. You can even go spiceless and just use a simple salt solution, but I prefer the extra flavors you get with spice.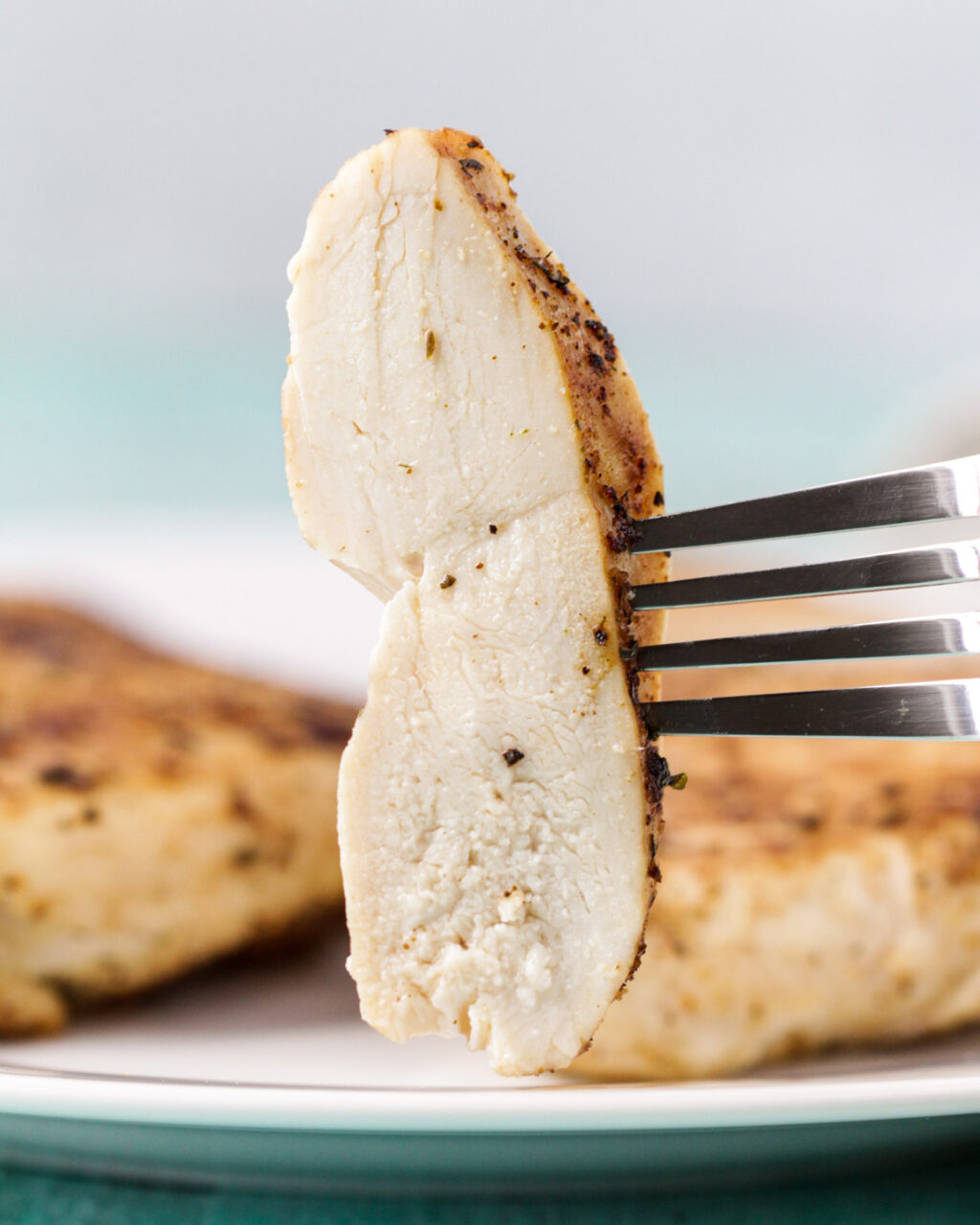 Can I brine AND marinate chicken?
Yes! If the spices in your brine and your marinade don't match (think: Italian spices in the brine but Asian flavors in the marinade), you'll want to go for a simple salt and water (and maybe a little sugar) brine solution instead. Once the chicken is done brining, rinse it off and throw it in the marinade. Brining is what gets the inside of your chicken juicy and flavorful…that's because the salt solution changes the chicken on a cellular level, leaving you with tenderized meat that holds its moisture. Marinades mostly just flavor the surface of the meat.
Is brining really worth the trouble?
YES, YES, and YES. Please do yourself a favor and just try it. On Sunday mornings whenever I wake up, I usually get my chicken in to brine first thing, then by the time I meal prep later that day, it's good to go. It's takes maybe 10 extra minutes. Tops. And it's worth every second.
How do you cook the chicken after brining?
However you want! I personally love to air fry or grill mine. Keep scrolling past the brine recipe to get my Juicy Air Fryer Chicken recipe with step-by-step photos.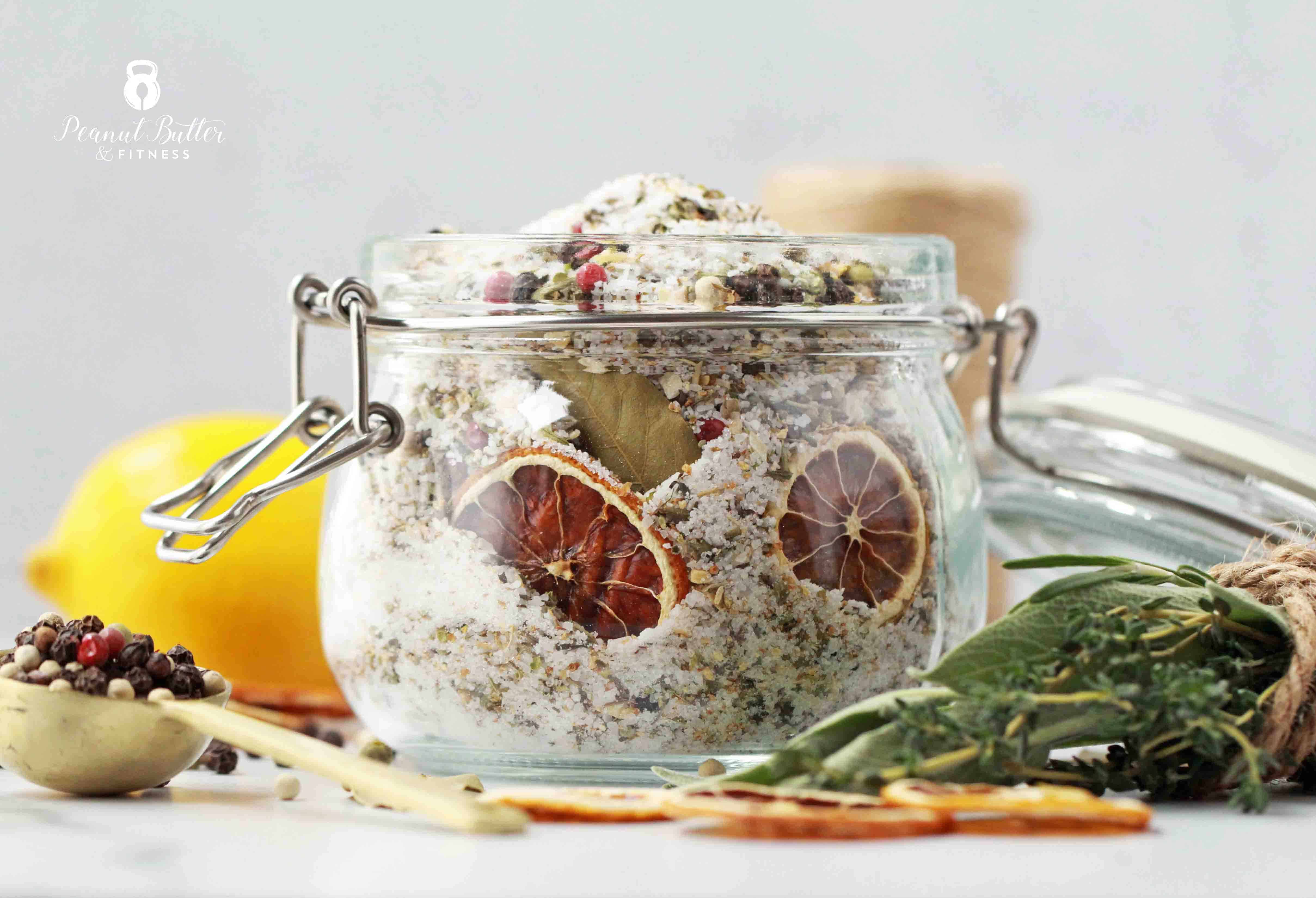 Recipe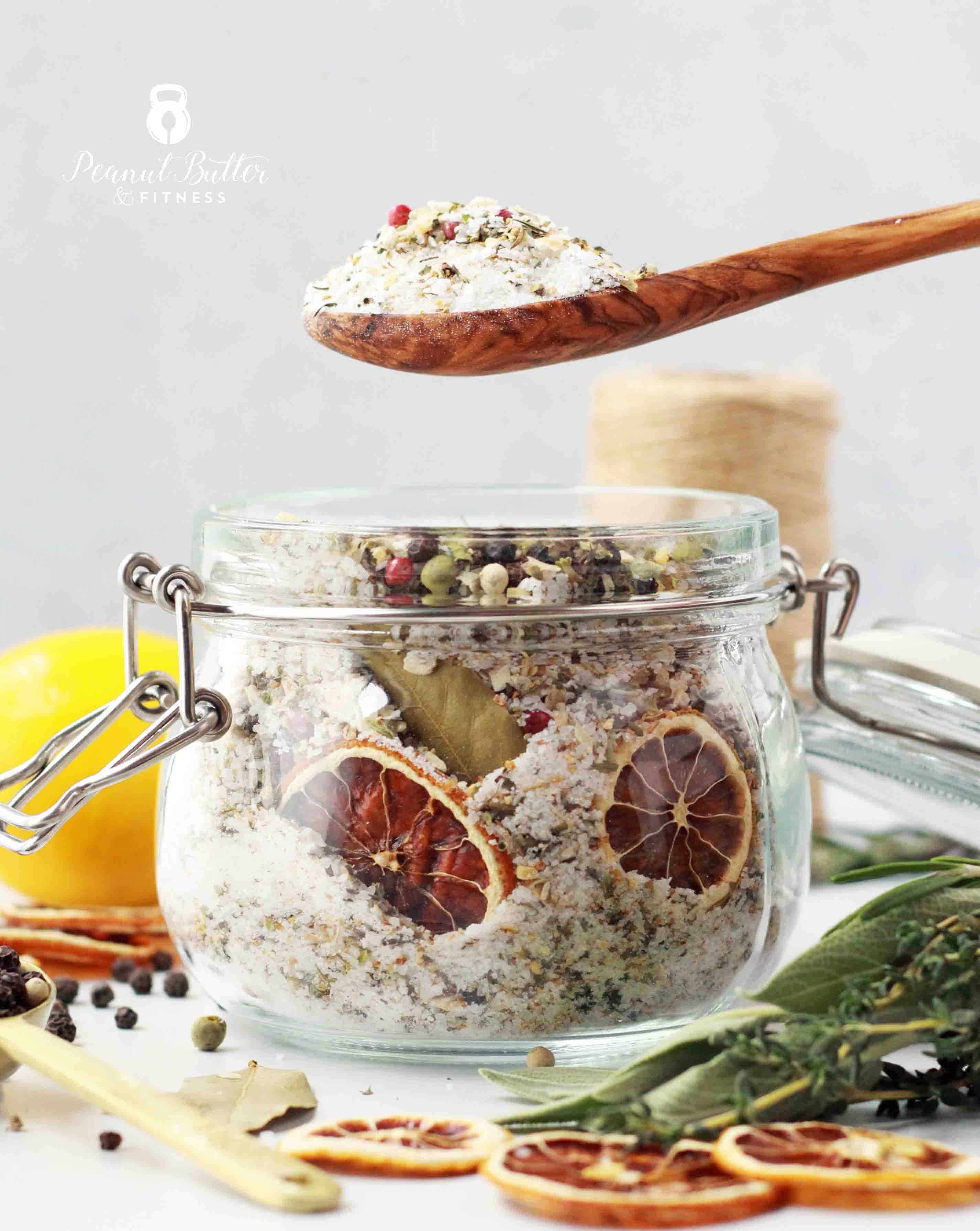 Homemade Brine Mix
Ingredients
1

cup

kosher salt

,

(be sure to use kosher salt, not table salt)

1/2

cup

granulated sugar

2

tbsp

rosemary

2

tbsp

thyme

2

tbsp

peppercorns

2

tbsp

minced garlic (dried, from the spice aisle)

2

tbsp

dried lemon peel (or dried lemon slices – see notes)

1

tbsp

sage

6

bay leaves
Tips & Tricks
If you'd prefer to avoid buying all the spices individually, you can also use pre-mixed spices.  I used an Italian seasoning blend containing rosemary, thyme, and sage instead of buying them all separately.
To make your own dried lemon slices:

Line a baking sheet with parchment paper or SILPAT.
Slice a lemon thinly (about 1/8″) and arrange in a single layer on the prepared baking sheet.
Bake at lowest temperature setting your oven will accommodate (usually between 170 degrees to 200 degrees) for 5-8 hours or until lemons are dry and no longer tacky to the touch.  Flip once about 3 hrs through baking.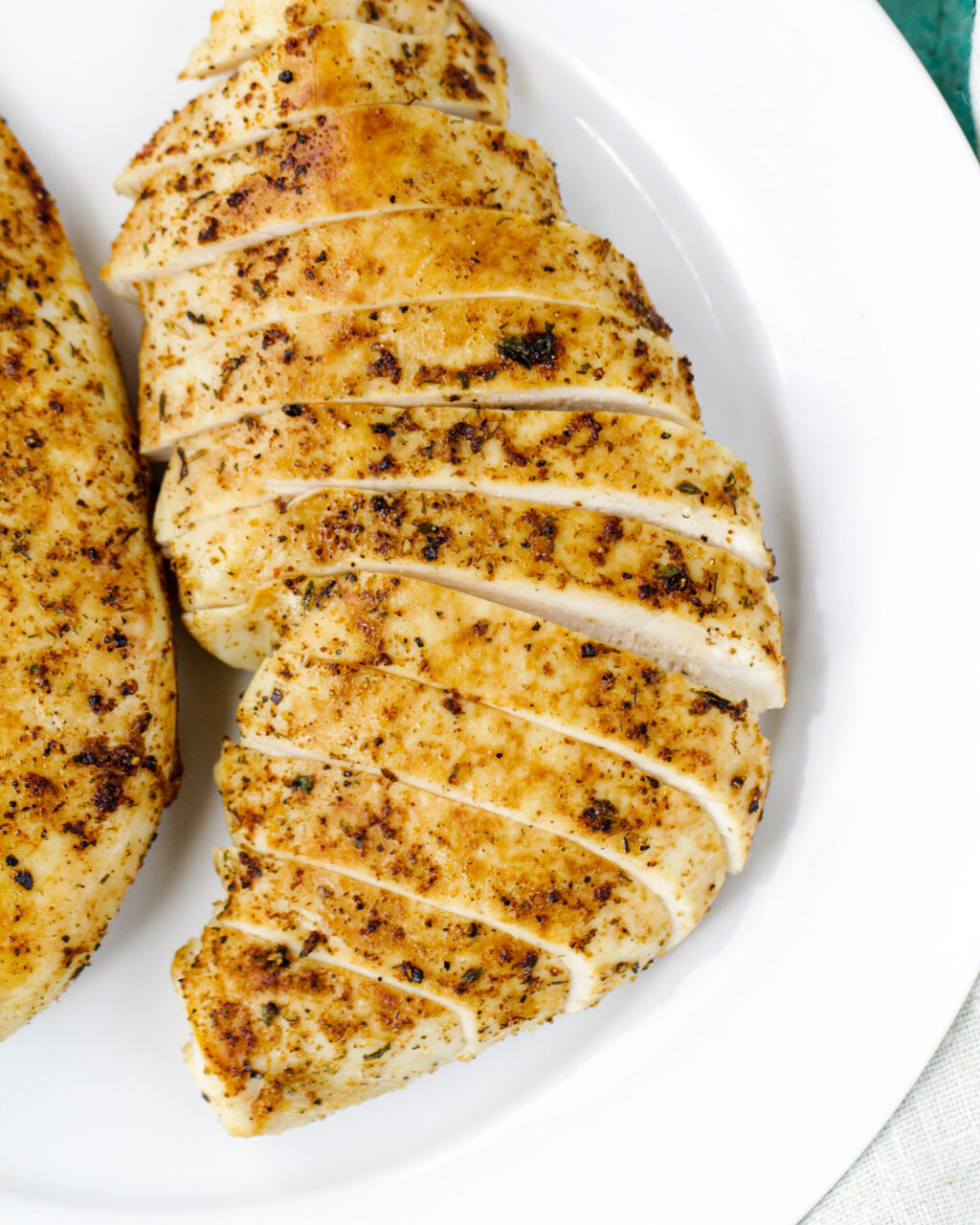 Here's how I brine my chicken to make Juicy Air Fryer (or Grilled) Chicken! Perfect, reliable results EVERY TIME.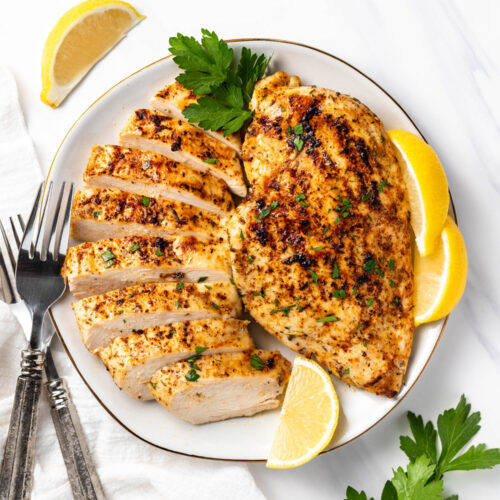 Juicy Air Fryer (or Grilled) Chicken
Ingredients
1

lb

chicken breast, raw

3

tbsp

homemade brine mix

1

tsp

olive oil

1/4

tsp

chili powder

salt and pepper to taste

water
Instructions
Bring 2 cups water to a boil. Add brine mix and stir until dissolved. Pour over ice in a flat bottomed resealable container. Add chicken, then add additional water until chicken is submerged. Brine for at least 5 hours or up to 12 hours.

Remove chicken from brine and rinse with cold water. Pat dry on a paper towel, then pound down the thicker end of the chicken breast until they are even thickness across.

Rub the chicken with 1 tsp olive oil until evenly coated. Season with salt, pepper, chili powder, and Oh My Spice! seasoning.

Air fry the chicken at 380 degrees for 11 minutes, flipping halfway through (sometimes I up the temp to 390 degrees after flipping the chicken for crispier edges). Set aside to cool for about 5 mintes before slicing.
Tips & Tricks
Grill instructions: Follow the same instructions above through Step 3. Pre-heat grill to 400°. Grill chicken 6 minutes on first side, then flip and grill 4-5 minutes on other side until chicken barely reaches 165° in the thickest part of the chicken. Allow chicken to rest for 5 minutes before slicing.
Click here or scan the barcode below to log this food in My Fitness Pal.
Nutrition Information
Calories:
120
kcal
(6%)
,
Protein:
25
g
(50%)
,
Fat:
2
g
(3%)
,
Cholesterol:
80
mg
(27%)
,
Sodium:
153
mg
(7%)