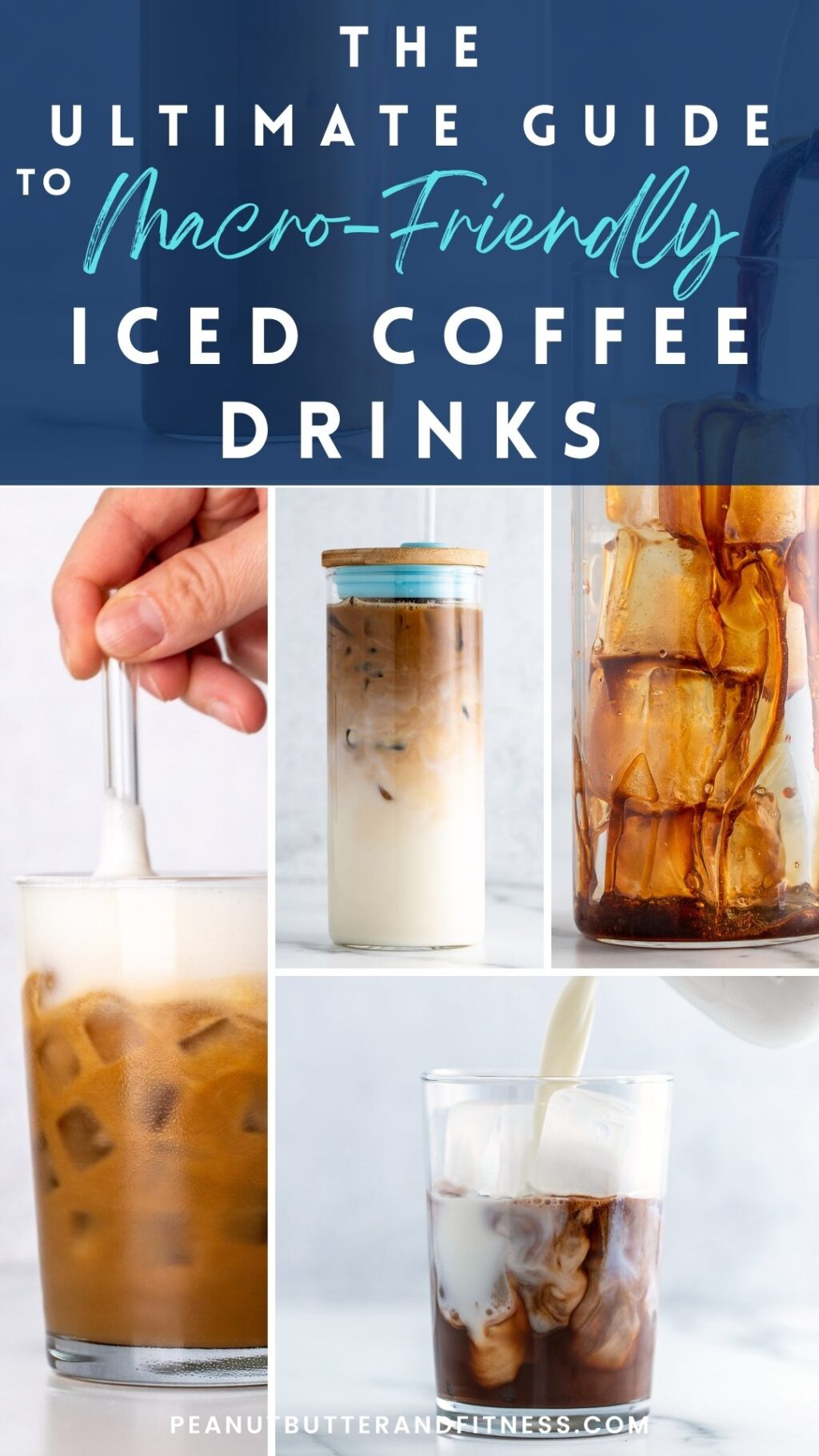 That's right y'all, it's finally time for me to share The Ultimate Guide to Homemade Macro-Friendly Coffee Drinks! This guide will help you make high protein, low carb coffee drinks and Starbucks dupes at home! If you follow me on Instagram, you probably know that I've been working on this one for months. It's taken me a while to put the whole thing together because honestly…it was a lot of work! I taste tested a bunch of different milks and milk alternatives, played with them in recipes, and tried to get them to froth up into cold foam. You probably know this already, but not all of them are created equal! Some were tasty, some were not…and if you're going for a macro friendly iced coffee drink, I'll help you pick out the right milk to fit your taste and needs.
Click any of the buttons below to jump to a specific section, otherwise just keep scrolling 🙂
---
Coffee, Espresso, and Cold Brew at Home
The building block of any coffee drink is of course, the coffee! Or espresso. Or cold brew. Whichever one you're building a drink around, you want it to be delicious and good quality. I don't actually have any iced coffee recipes in my repertoire yet – probably because they're just so simple to make – but when I do make iced coffee, I just brew regular hot coffee and chill it until cold before throwing in ice cubes. Don't hate on me for using a Keurig for my regular coffee!
If you're looking for a stronger flavor (and more caffeine) than a regular coffee/iced coffee, cold brew is where it's at! My favorite thing about cold brew is how well it works in more complex coffee drinks because its stronger taste can stand up next to to the added flavors, cold foams, creams, etc. It's also easy to make at home if you'd prefer not to buy it in the store – here's my recipe.
To make the ultimate coffee drinks at home though, I really recommend investing in an espresso machine. Don't be intimidated by the complicated looking setup – it's surprisingly easy to make your own kick ass espresso at home (even without an automatic espresso machine like a Nespresso). You'll thank me once you've made a few of your own lattes or macchiatos. Truly a game changer in the home coffee game!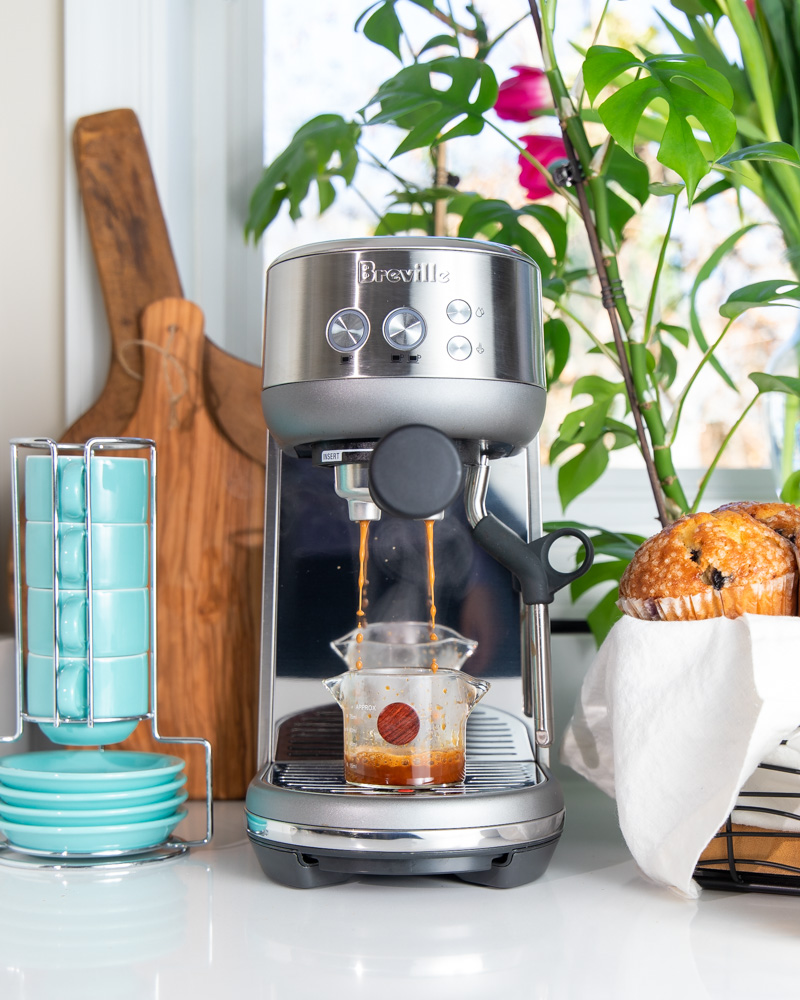 ---
Milk and Non-Dairy Milk Substitutes
I'm going to spend a lot of time on the subject of milk and milk substitutes, because if you're making something like a latte, the milk ends up being the highest volume ingredient in the recipe. When you're aiming for a macro-friendly drink, the milk is critical because it can make or break the macro balance of your drink. Not to mention the flavor! You want something that complements the other ingredients in your coffee drink, not something that overpowers the flavors you worked to create. For that reason, I really don't recommend making your coffee drinks with pre-made protein shakes. I tried both espresso and cold brew based drinks with them and the protein shake completely overpowered all the flavors in the drink, leaving me with a mildly coffee flavored protein shake instead of a latte or whatever I was actually trying to make. If you're adamant about combining a pre-made protein shake with coffee or espresso, here are my thoughts on the best tasting protein shakes.
For those of you who really want to dig into comparisons between different milks/milk alternatives and see nutrition info and taste tests all in one spot, here's the file to do that:
If you're a visual person like me, here's a look at how many popular brands and types of milks compare to one another when it comes to overall calories and protein content.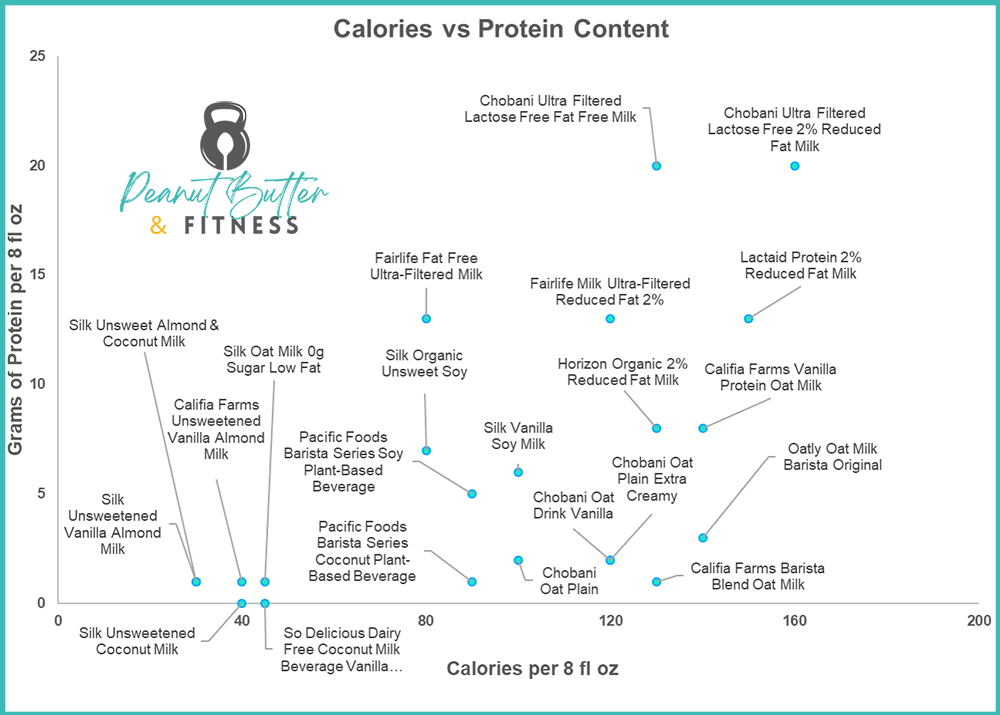 Ultra-Filtered Dairy Milk
These ultra filtered dairy milks are your best bet when it comes to maximizing protein content without much else. I personally prefer the 2% versions, which of course have a bit of fat in them. I think the extra richness is great in iced coffee drinks. These milks are also great because they froth like champions, making it really easy to use them for cold foam! The ones I tested certainly aren't the only brands and there seems to be a good bit of movement with companies getting into (or out of) the ultra filtered milk game.

Oat Milk
My advice when it comes to oat milk in iced coffee – exercise caution! Most of the ones I tested had an overwhelming flavor that totally ruined my coffee. Not all of them are duds, but the ones that are taste like a cross between bland oatmeal and cardboard. Not my cup of…coffee 😉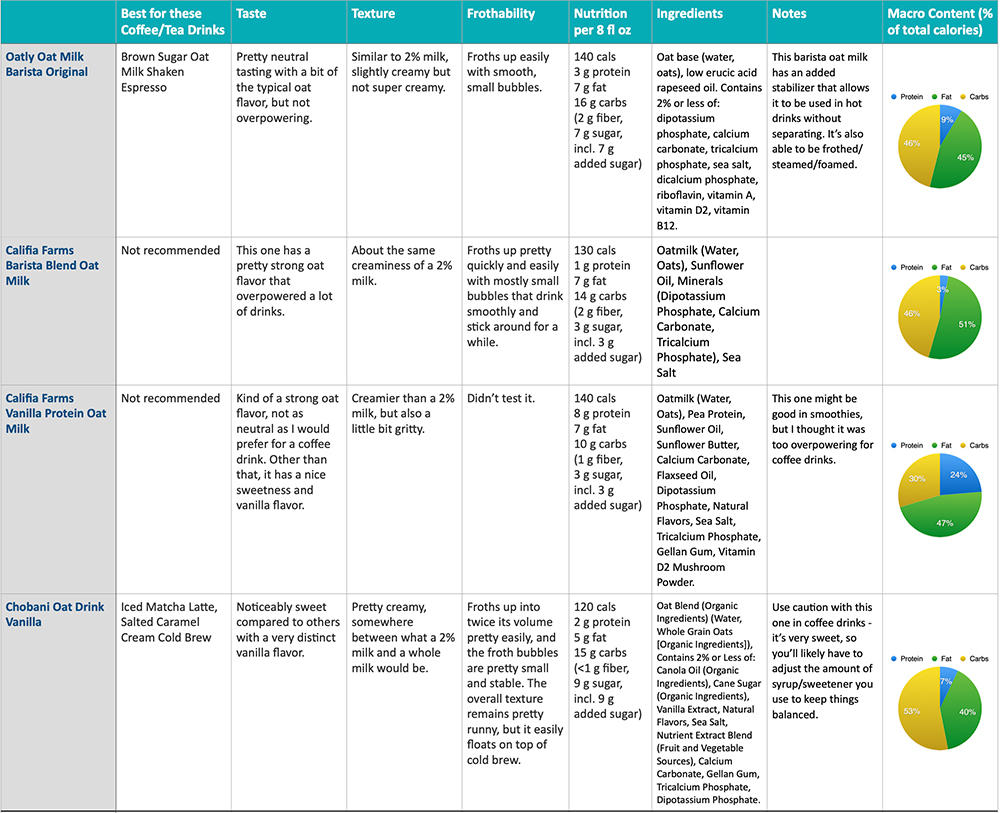 Almond Milk
Almond milk is my go-to for everyday use because it's pretty neutral tasting and not overly sweet. There is of course some variation in flavor between brands, but overall I think almond milk is a reliable option with relatively few calories. Most brands clock in at just 30-45 calories per 8 fl oz.

Coconut Milk
Coconut milk kind of runs the gamut of flavor and texture. There are brands that have a strong coconut flavor and others that are pretty neutral. Likewise, there are some brands that are quite gritty compared to others, though coconut milk in general does tend to have a little bit of "grit" from coconut pulp (unlike almond milk for example).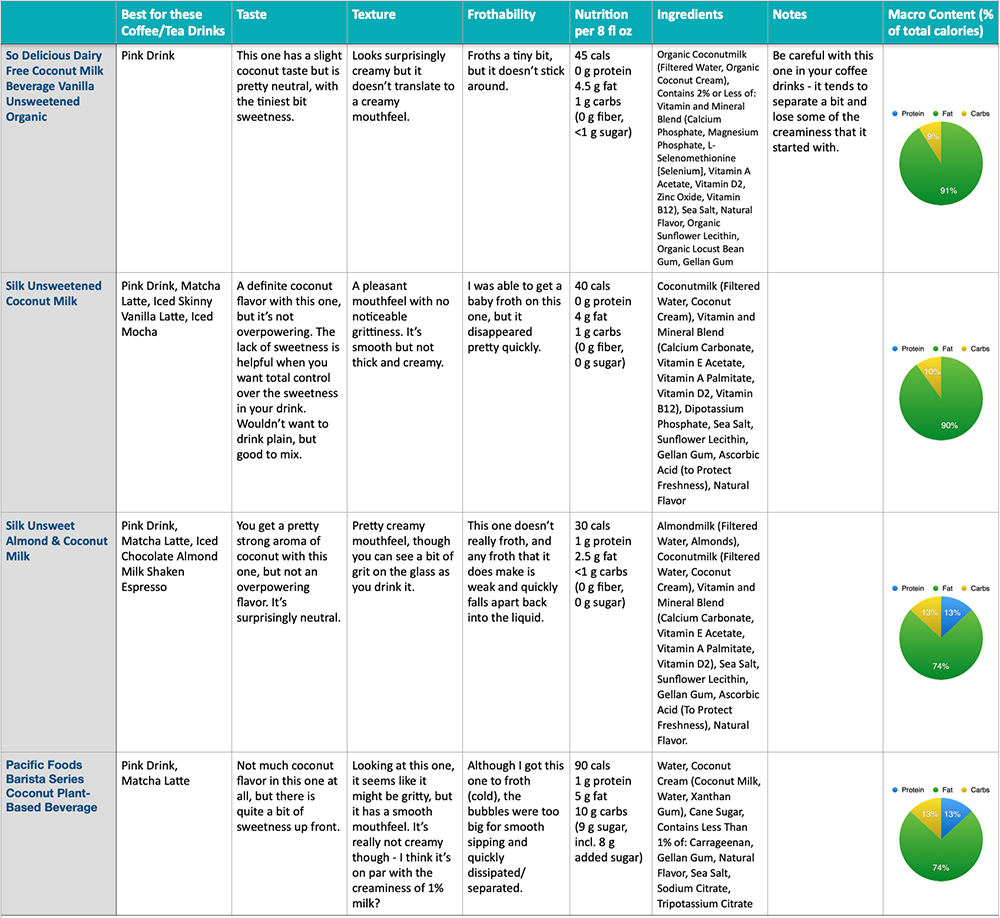 Soy Milk
When it comes to refrigerated soy milk, Silk seems to dominate the market. I had a hard time finding other brands in the refrigerated section, but there are some other options in the room temp aisles. If you've never tried it before, soy milk does have a distinct flavor, but it's one that I enjoy. It also has a bit more protein than the other non-dairy milks. The trick is making sure you can balance out the sweetness!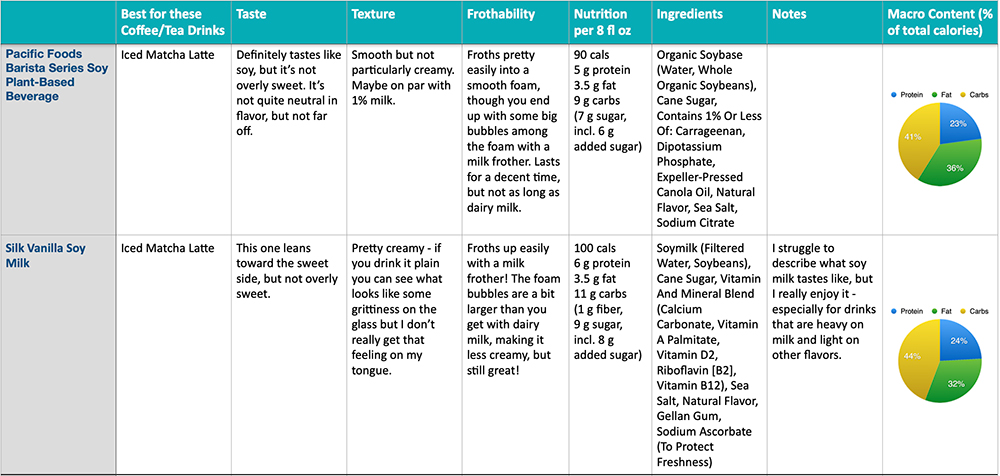 Here's the link to that file again!
---
Syrups and Sweeteners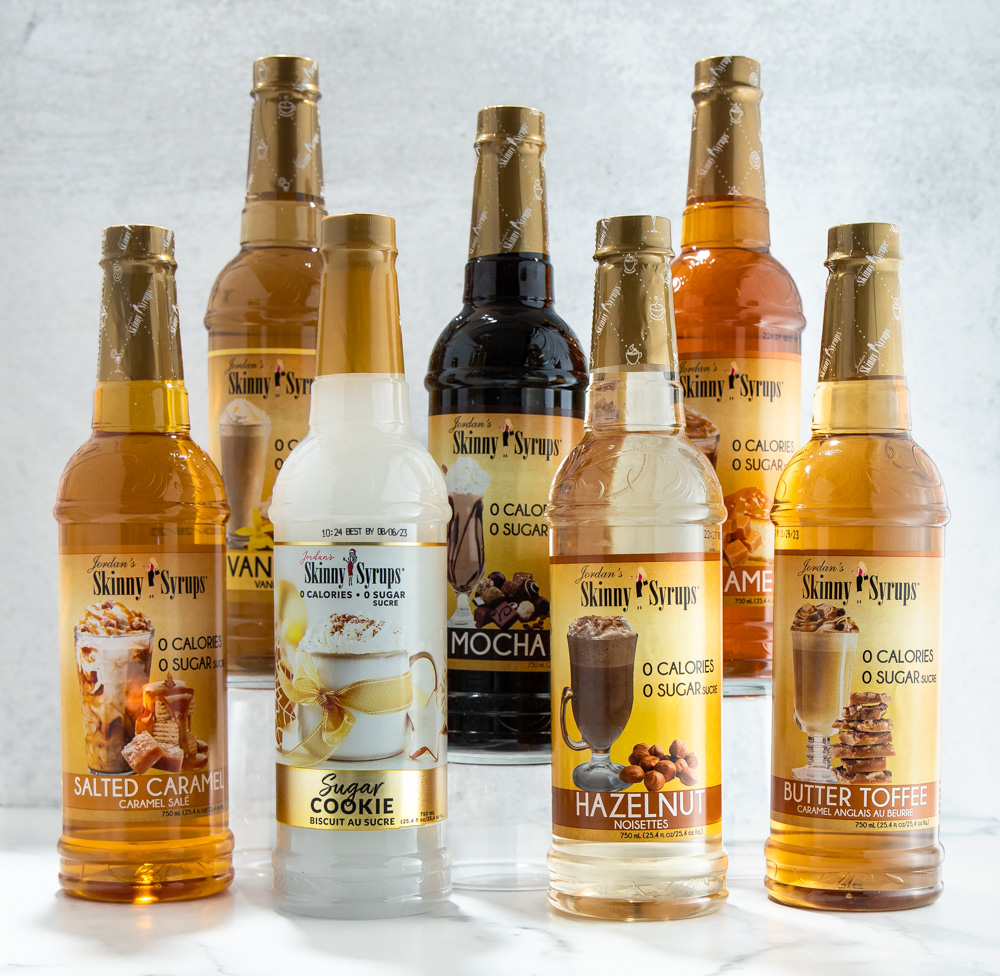 There are any number of brands of coffee syrups on the market, but I've enjoyed this brand. And the best part? Zero sugar and zero calories! Not all the flavors are perfect, but all the basic ones I've tried are great!
---
Essential Products
Here are some items I use to make these drinks a success. Note: these are Amazon Affiliate links!
Flavor It
Build It
Serve It
Take It to the Next Level
If you're a true coffee or espresso fanatic, splurging on one or more of these items is probably going to be well worth the investment! To get the freshest beans for your coffee or espresso, you really do need to grind them yourself. For espresso, you should look at buying a high quality burr grinder to ensure the beans get ground fine enough. Next up – an automatic frother! This bad boy will froth just about anything and can do it hot or cold, unlike the trusty handheld milk frother you saw earlier.
---
Recipes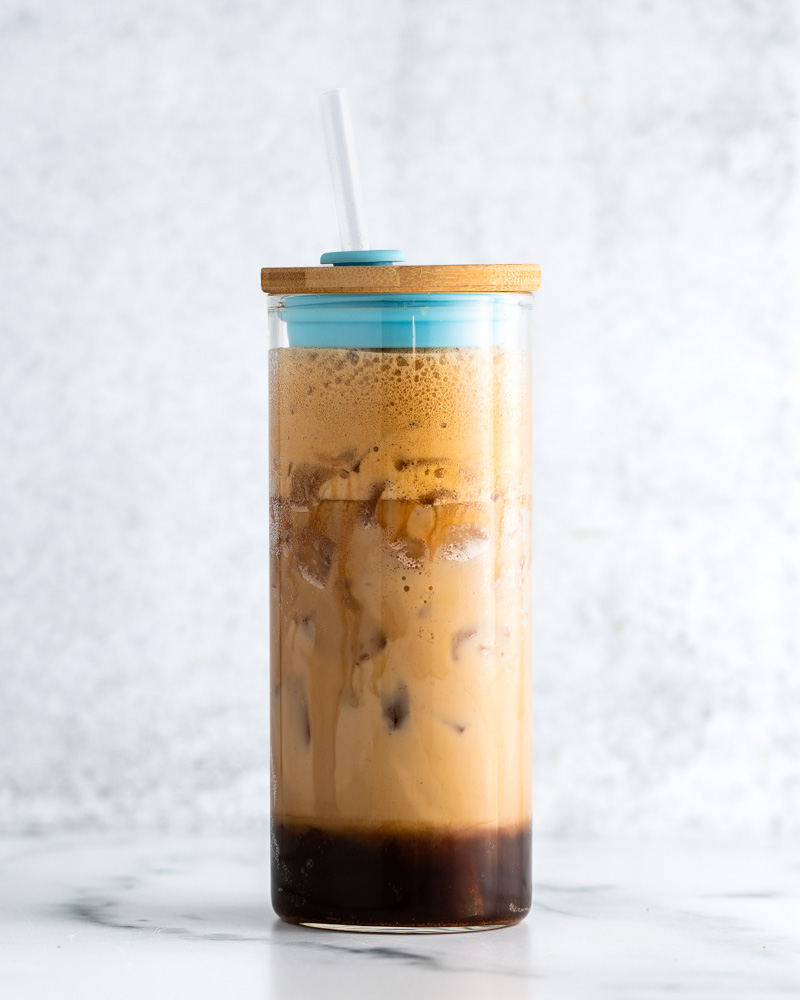 Iced Brown Sugar Oat Milk Shaken Espresso
This one is obviously a play on the Starbucks Iced Brown Sugar Oatmilk Shaken Espresso, but it's got less than half the calories, half the sugar, and three times the protein.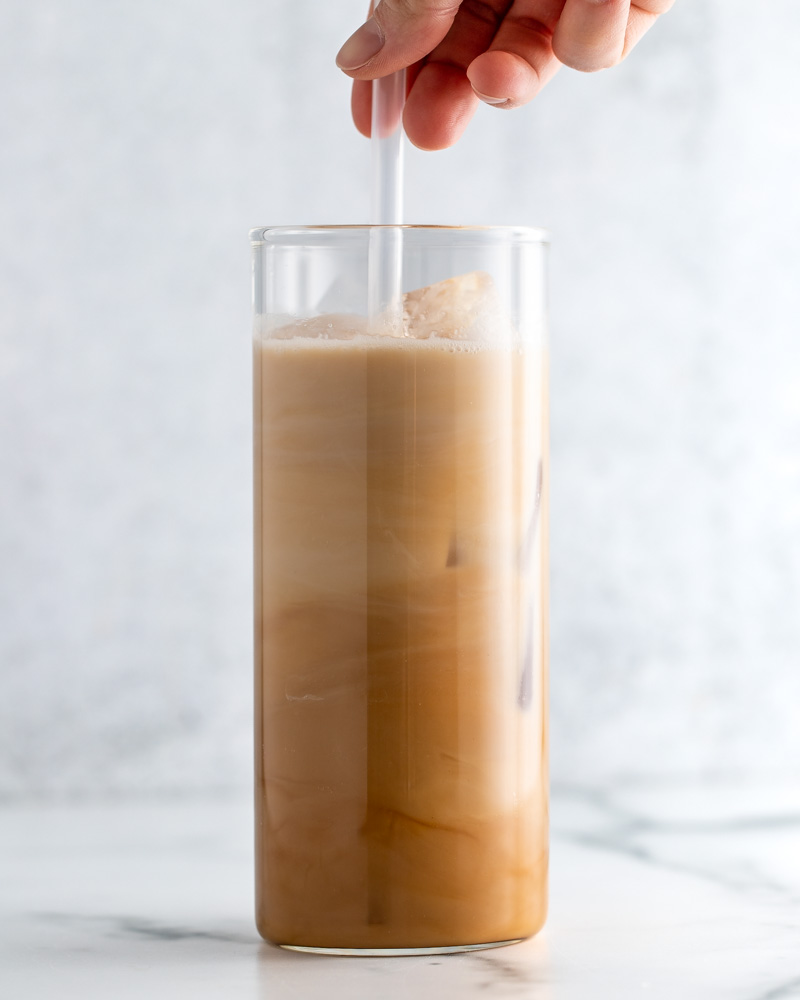 Iced Skinny Vanilla Latte
This recipe is probably the simplest of all, with just 4 ingredients (including ice). The simplicity means I can easily incorporate it into my weekday morning rush to get out the door and beat traffic!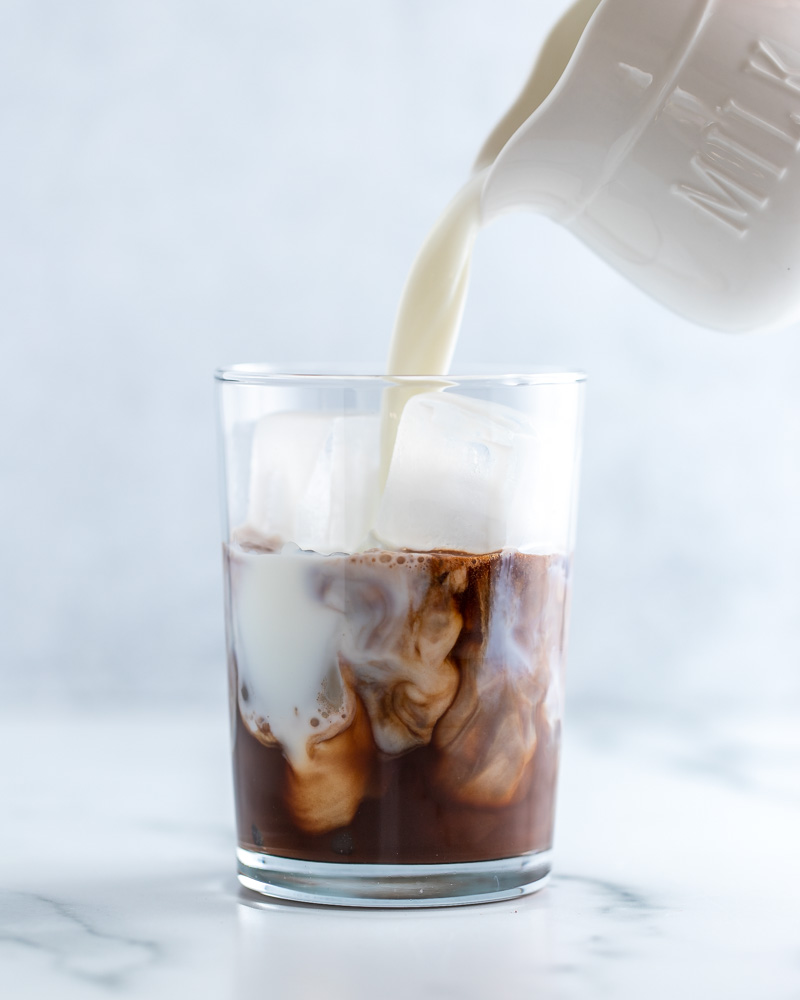 Iced Mocha
I love this iced mocha because the chocolate flavor is smooth but not too sweet or overpowering, and of course the espresso is just…*chef's kiss*!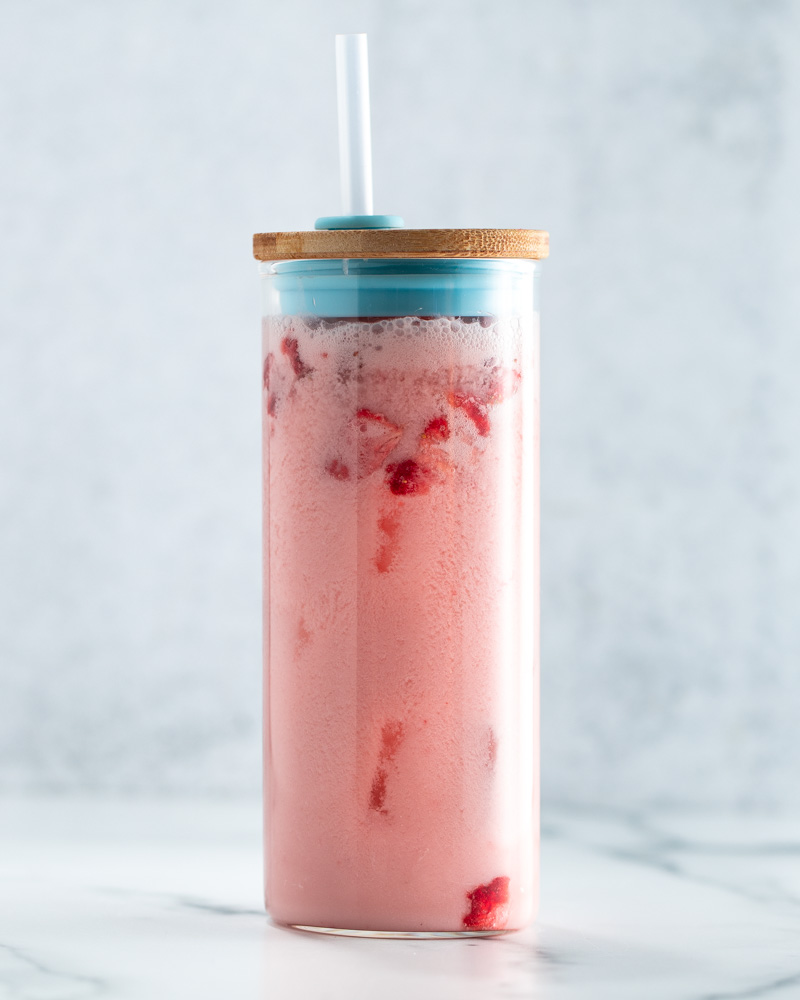 Pink Drink
This isn't really a coffee drink, but it is a cult favorite at Starbucks. For the caffeine in this drink, they use green coffee bean powder. You can easily get it online, but for the sake of simplicity when making this drink at home, I opted for a caffeinated strawberry drink mix, which only costs a couple bucks at the grocery store. Depending on the brand, you do have to be careful with how much you use or else you'll end up with an overly sweet or overly strawberry flavored dink.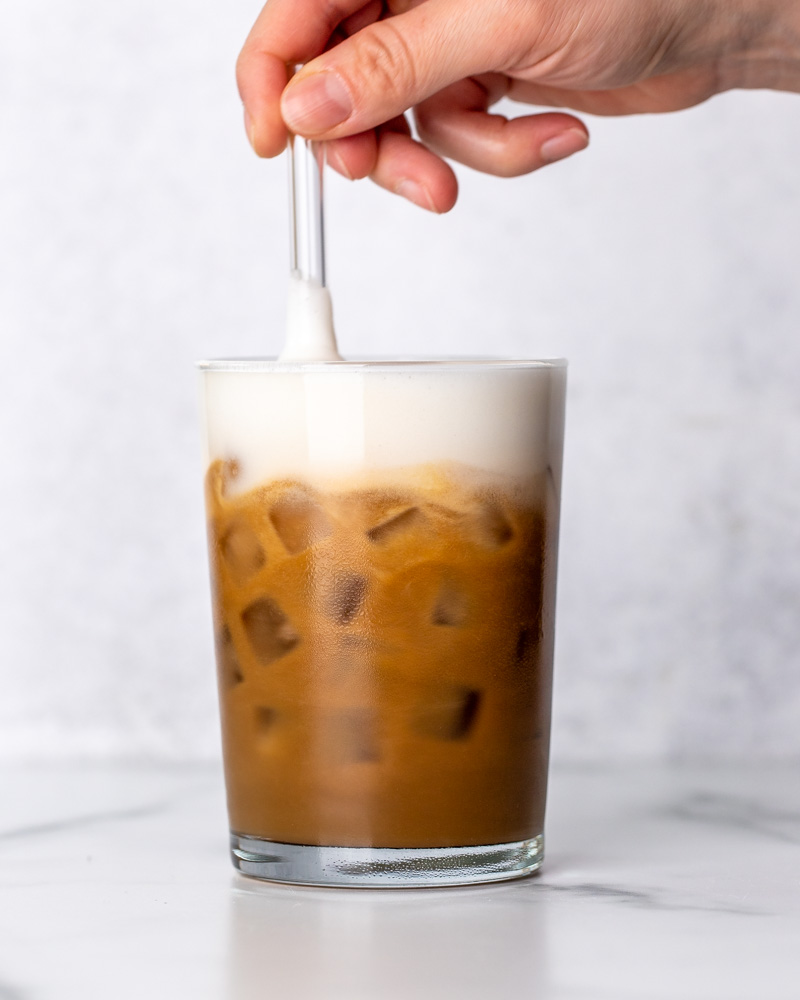 Salted Caramel Cream Cold Brew
This is an incredibly simple cold brew drink that's made impressive with the easiest salted caramel cold foam. I added a bit of collagen to boost the protein content a bit, but it does also help the cold foam really froth up into a smooth, stable foam.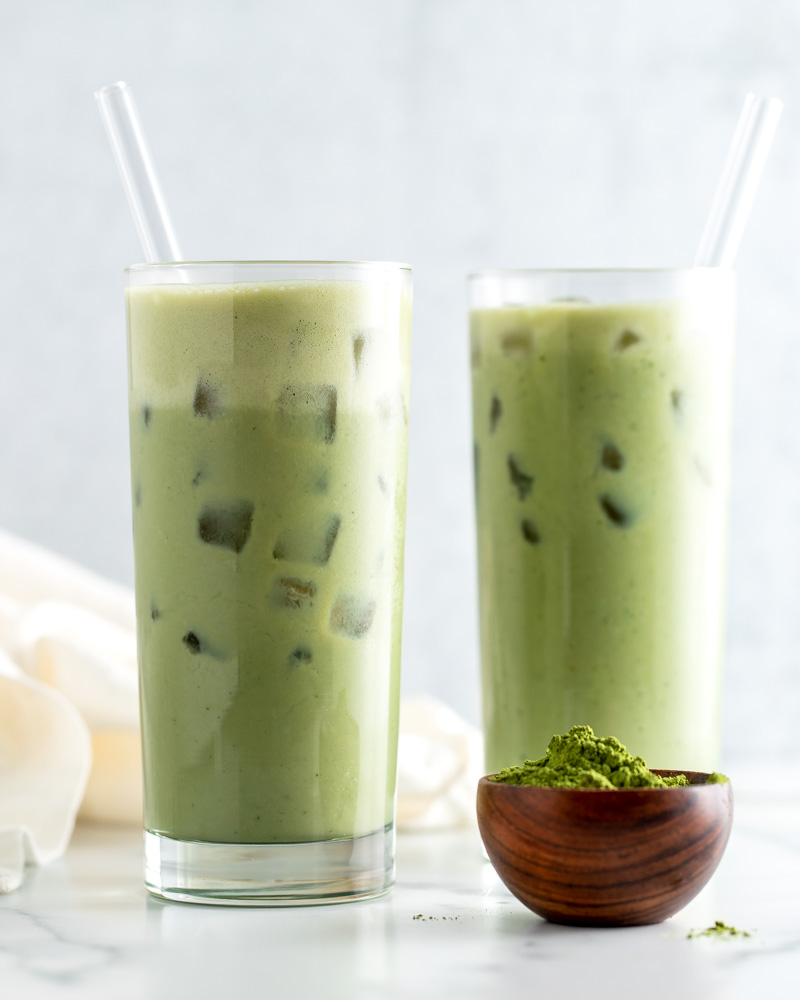 Iced Matcha Collagen Latte
Matcha powder has a nuttier/earthier flavor than your run of the mill green tea, but it's still a very dainty flavor that goes well with lightly sweetened things like the soy milk I used for this latte. Adding a scoop of collagen doesn't mess with the delicate matcha flavor, but it does add 10 grams of protein per serving!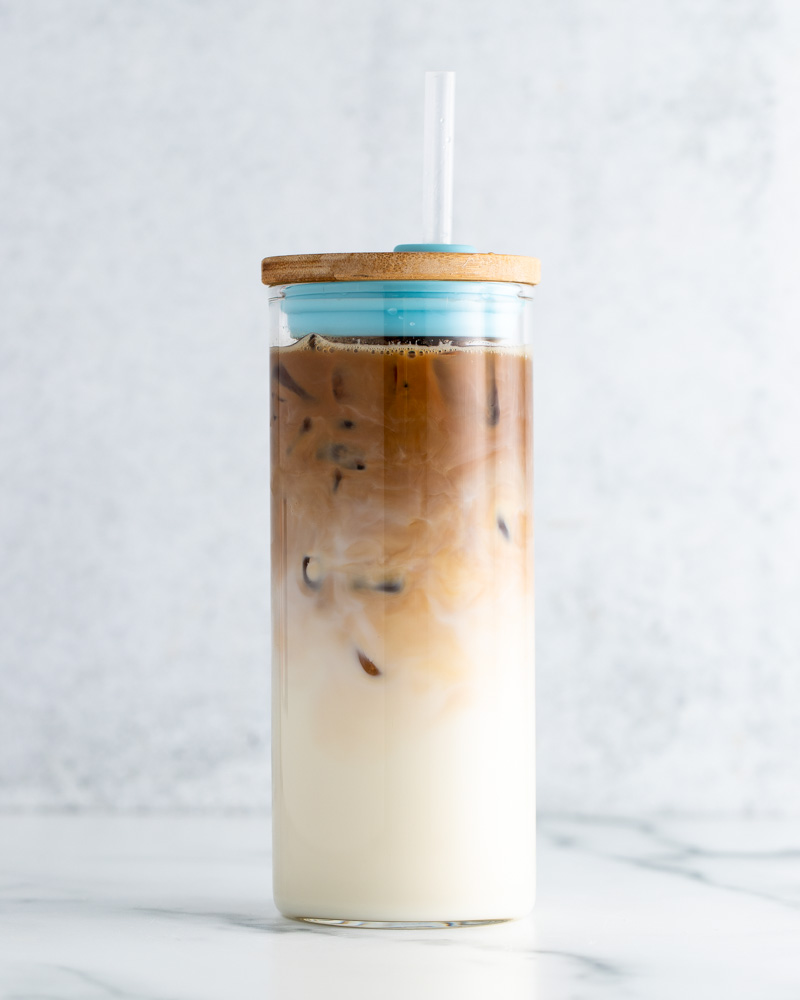 Iced Caramel Macchiato
My macro friendly version of this Starbucks classic has just 85 calories per 16 oz serving, compared to the Starbucks version which has 250 calories for the same size! Is it as rich and caramel-y as the original? Of course not, but it's a pretty good dupe that's easy to make at home.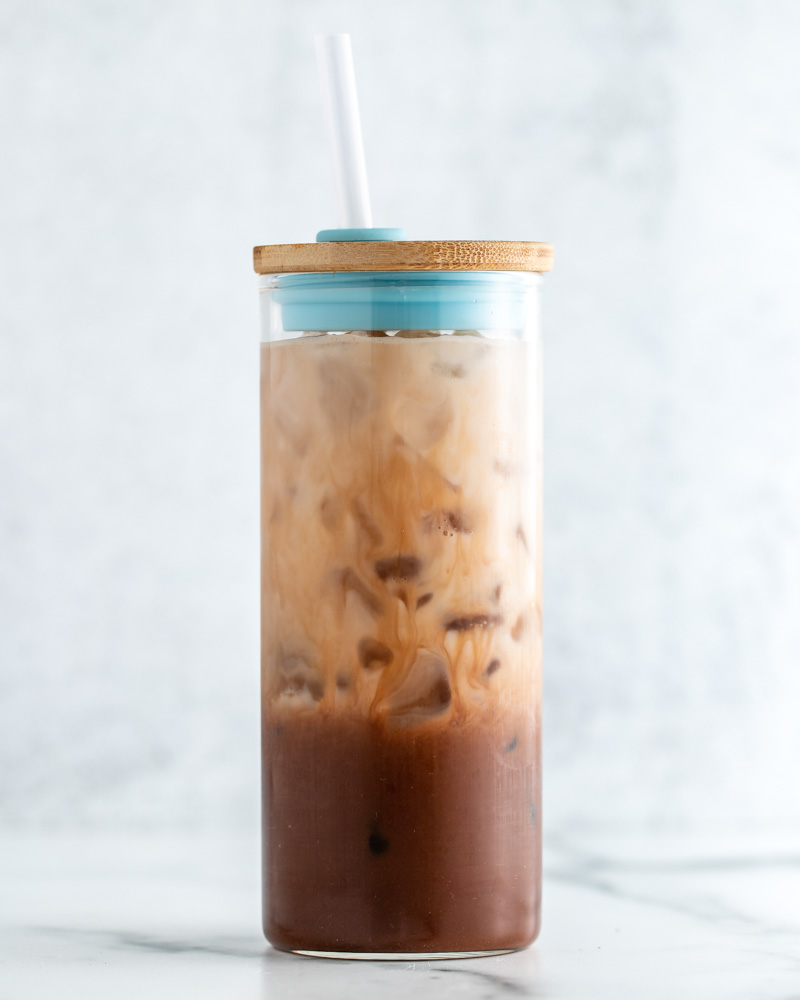 Iced Chocolate Almond Milk Shaken Espresso
Recipe coming soon!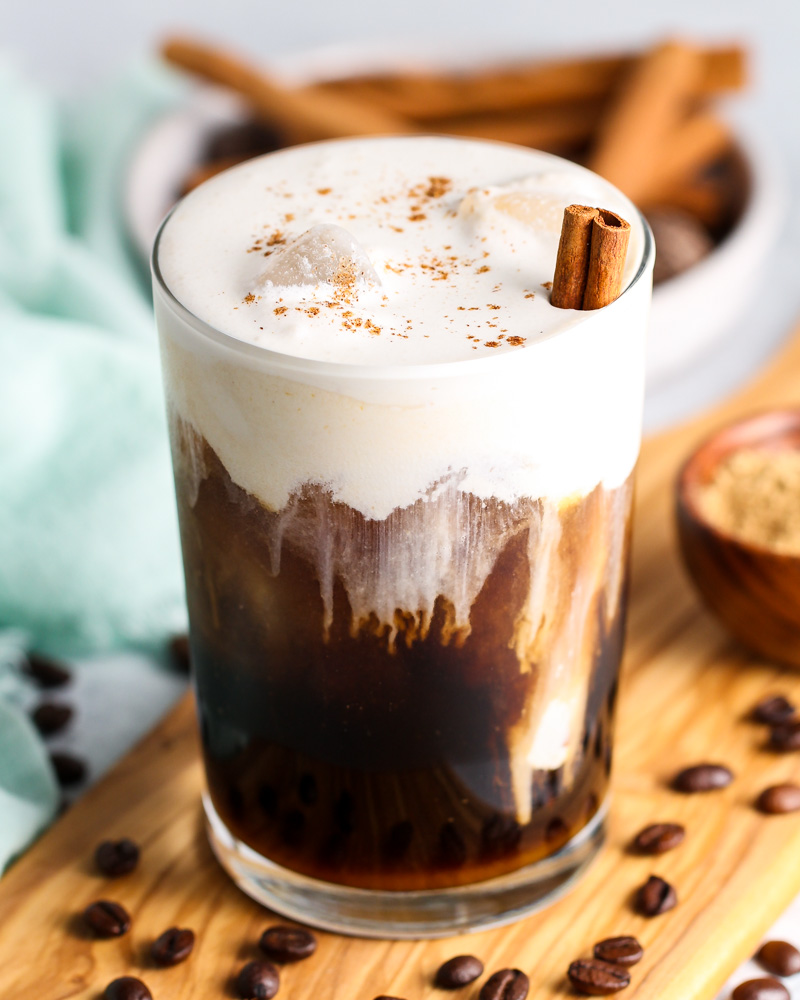 Pumpkin Cream Cold Brew
I'm here to tell you, you can make an amazing version of this famous drink at home, with a whole variety of milk (dairy and non-dairy) options for a delicious pumpkin spice cold foam.