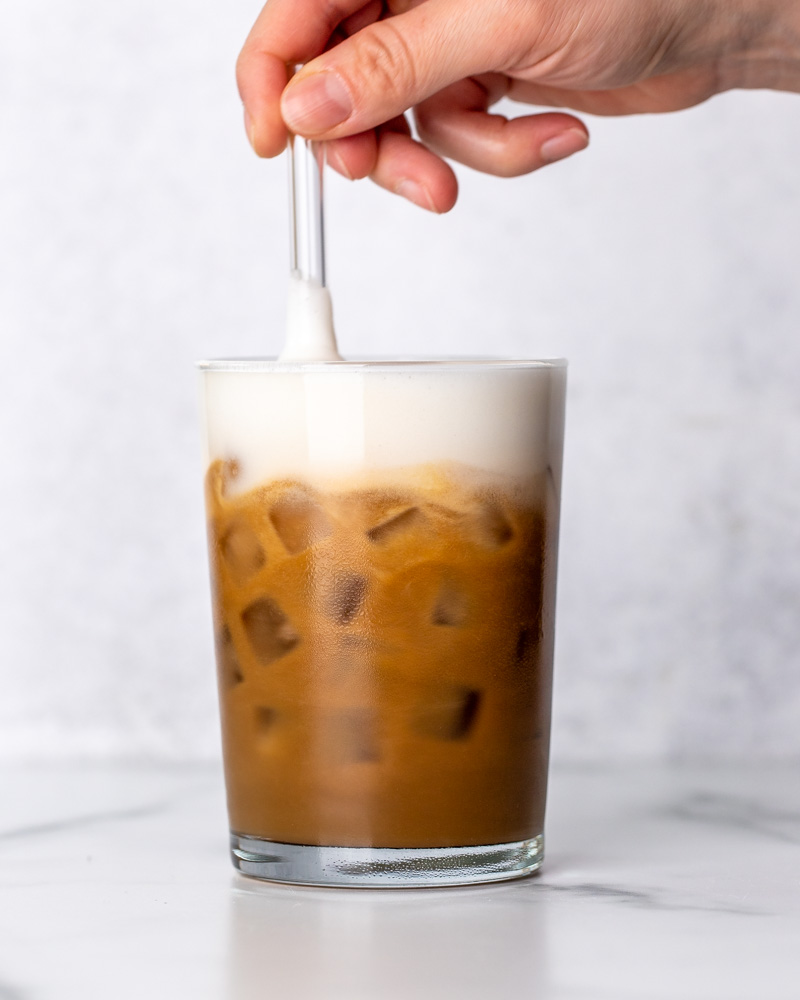 Next up in my Macro-Friendly Coffee Drink Series is this delicious Salted Caramel Cream Cold Brew with Collagen!! This is an incredibly simple cold brew drink that's made impressive with the easiest salted caramel cold foam. I added a bit of collagen to boost the protein content a bit, but it does also help the cold foam really froth up into a smooth, stable foam.
If you don't have a milk frother at home, I highly encourage you to invest in one for all your coffee drink needs! Even if I can't convince you, a protein shaker, blender, or mixer/immersion blender with whisk attachment will work in a pinch. The milk frother truly is the easiest and most convenient though!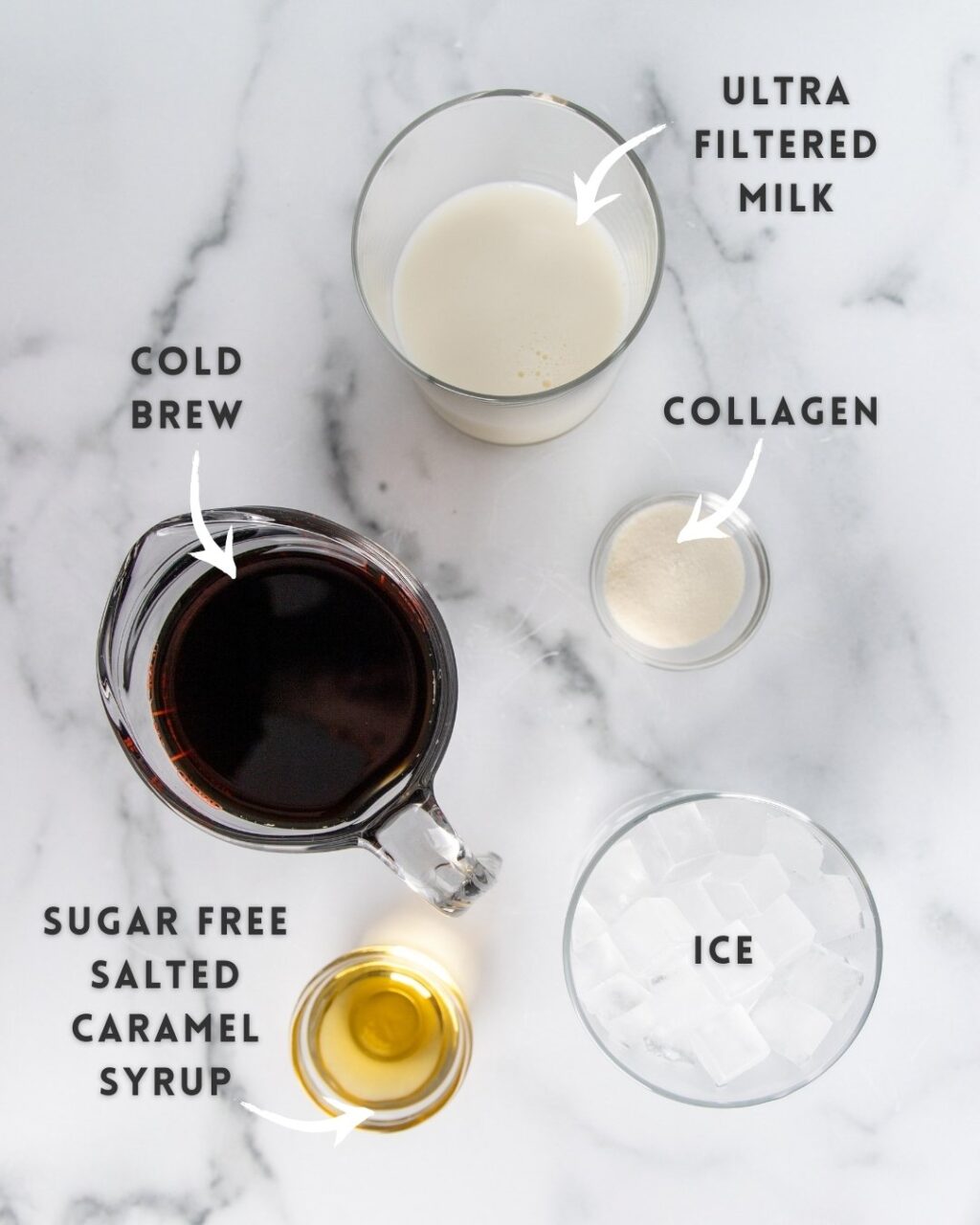 Here's what you'll need for ingredients:
Cold brew coffee – you can buy cold brew coffee just about anywhere these days, and although it's super convenient, it's also really easy to make your own! My recipe is here. Whichever route is your jam, just be sure to use/make unsweetened cold brew to make sure you can get all the salted caramel flavor from the syrup.
Ultra filtered milk – if you check out the reel I made on Instagram, you'll see that I used Chobani Ultra Filtered 2% Milk, which has since been discontinued. It was only on the shelves for about 3 months which is wild…any ultra filtered milk will do though! I like the little bit of richness you get with a 2% version, but skim will work great to create a cold foam too.
Sugar free salted caramel syrup – This is where all the salted caramel flavor comes from, so be sure to get a yummy syrup! I like the sugar free syrups made by Skinny Mixes. They have a huge variety of flavors and I've really enjoyed the ones I've tried so far.
Collagen peptides powder – Be sure to use a high quality collagen that dissolves well in cold liquid. I really like the one made by Naked Nutrition. Collagen adds a little bit of extra protein without interfering with the flavor of the coffee, which I love!
Ice – Most cold brews that you find in the grocery store are actually cold brew concentrate, so ice is critical to help dilute it. I really like the small ice cubes created by these trays.
Here are some items I used to make this recipe a success. Note: these are Amazon Affiliate links.
Recipe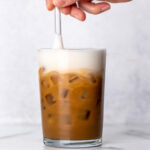 Salted Caramel Cream Cold Brew with Collagen
Prep Time 10 minutes
Total Time 10 minutes
Servings 2 servings
Calories per serving 48 kcal
Ingredients
2 cups ice
2 cups cold brew (16 fl oz)
4 pumps Jordan's Skinny Syrups Sugar Free Salted Caramel (about 1 fl oz)
Salted Caramel Cream Collagen Cold Foam
Instructions
Using a milk frother, froth milk, collagen, and caramel syrup until doubled or tripled in size and smooth. Set aside.

In 2 tall serving glasses, add ice, then divide cold brew and caramel syrup between the glasses. Top with cold foam and stir before serving.
Recipe Notes
Click here or scan the barcode below to log this food in My Fitness Pal.
Nutrition Facts
Salted Caramel Cream Cold Brew with Collagen
Amount Per Serving
Calories 48 Calories from Fat 9
% Daily Value*
Fat 1g2%
Sodium 115mg5%
Potassium 254mg7%
Carbohydrates 3g1%
Sugar 1g1%
Protein 7g14%
* Percent Daily Values are based on a 2000 calorie diet.