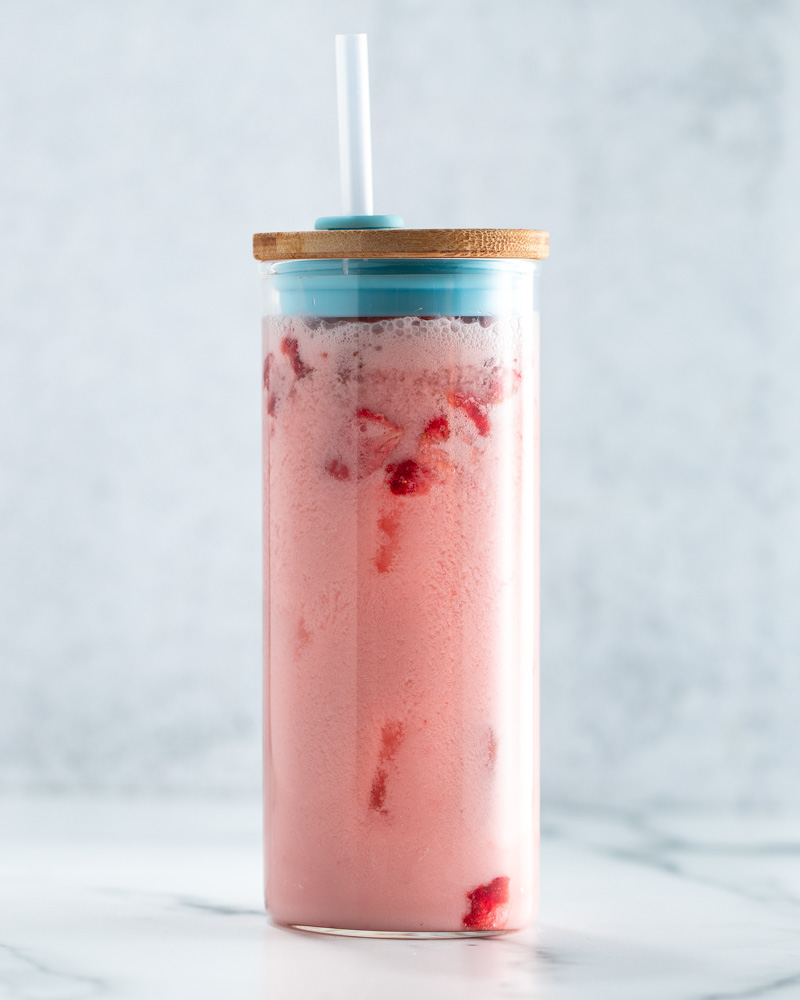 Next up on my iced coffee/tea drinks tour: Starbucks Pink Drink Dupe. I know, I know, this isn't really a coffee drink, but it is a cult favorite at Starbucks and still has a bit of caffeine. Plus it's just so damn refreshing and perfect for the warmer weather as we start dipping our toes into late spring / early summer.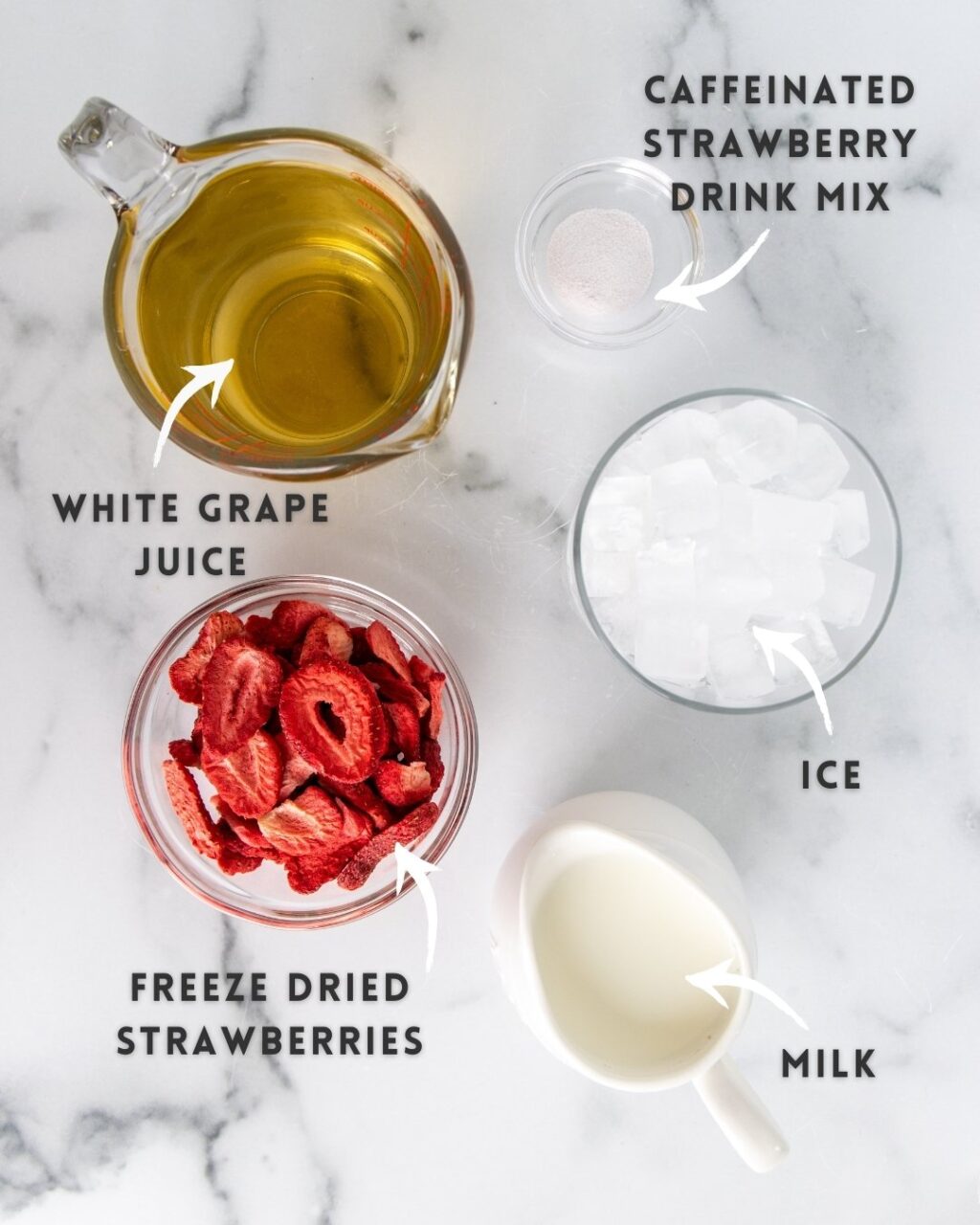 I kept things pretty simple for this homemade version of the Pink Drink, and you only need a few ingredients to make a really delicious dupe. Here's what I used:
Milk – The classic recipe uses coconut milk, but after doing some taste tests on different coconut milks, I went with a coconut and almond milk blend made by Silk. This one had a great coconut aroma and a surprisingly neutral flavor with minimal sweetness, which works great in this drink. Stay tuned to find out more about the taste tests!
White grape juice – This is the heavy hitter in terms of flavor and calories/sugar in this drink. I don't know why the flavor works with coconut milk, but it does! You may notice that the coconut milk starts to separate or clump a bit when you add the white grape juice and that's totally normal. The acidity in the juice causes this and although it's not the prettiest thing, it doesn't affect the flavor. If the appearance bothers you though, you can always opt for one of the "barista blend" coconut milks which have added stabilizers to prevent it.
Caffeinated strawberry drink mix – Starbucks uses a green coffee bean powder in their Pink Drink. You can easily get it online, but for the sake of simplicity when making this drink at home, I opted for a caffeinated strawberry drink mix that you can pick up at your local grocery store or Target. Depending on the brand, you do have to be careful with how much you use or else you'll end up with an overly sweet or overly strawberry flavored dink.
Freeze dried strawberries – Not just fun to look at, they're also fun to eat! They also help add some pink color and strawberry flavor to the drink.
Ice – Be sure to use plenty of it to help dilute the drink down a bit and keep things nice and cool.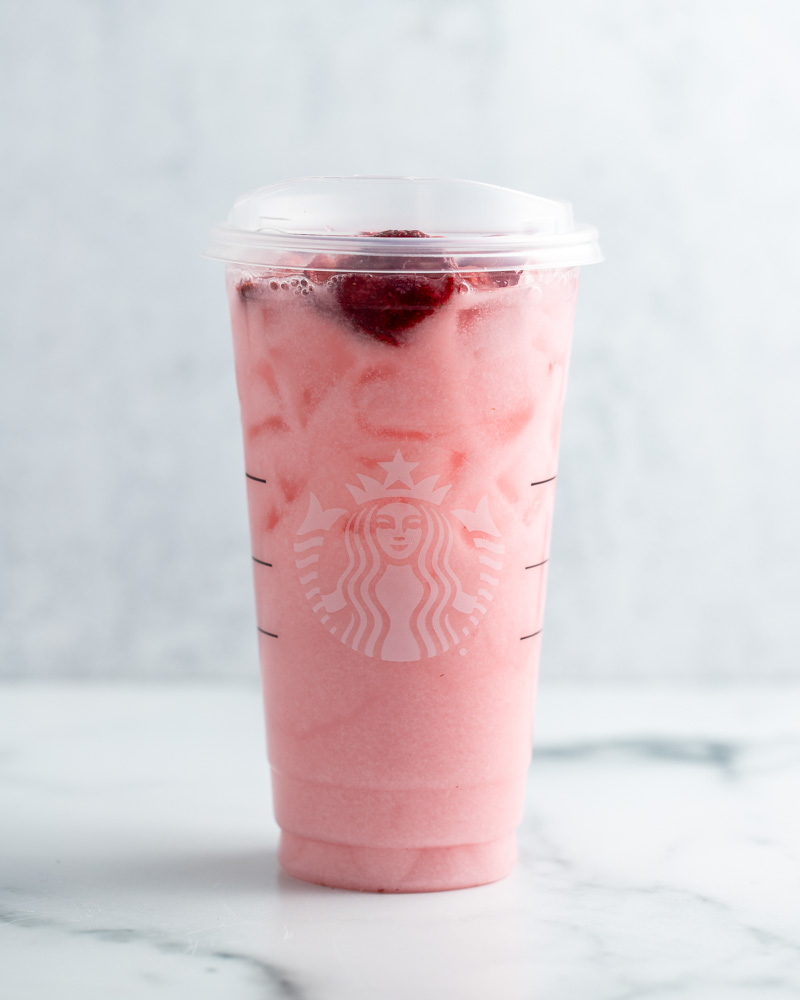 Macros for Starbucks Version (Grande)
140 calories / 1 g protein / 3 g fat / 27 g carbs (including 24 g sugar)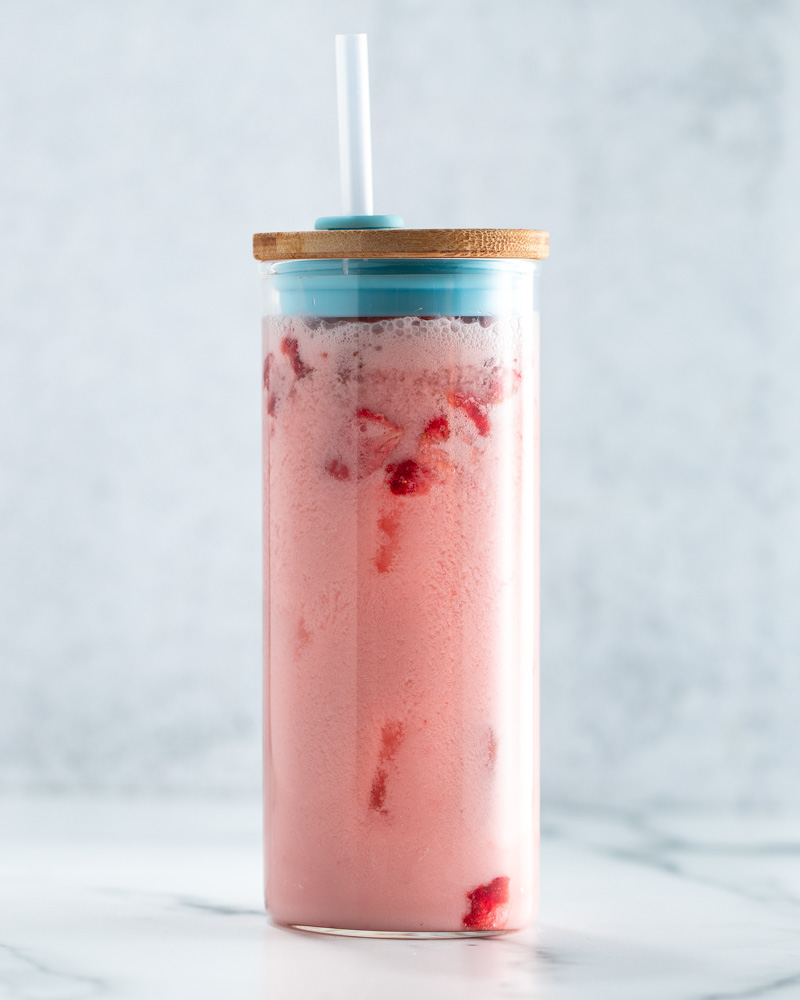 Macros for PBF Version
107 calories / 2 g protein / 3 g fat / 18 g carbs (including 16 g sugar)
Here are some items I used to help make this recipe a success. Note: these are Amazon Affiliate links.
Recipe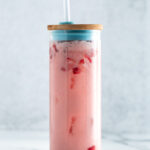 Starbucks Pink Drink Dupe
Servings 1 serving
Calories per serving 107 kcal
Ingredients
1 cup Silk Unsweet Almond & Coconut Milk (8 fl oz)
1/3 cup white grape juice (2.67 fl oz)
2 tbsp freeze dried strawberry slices (4 grams)
1/2 tsp Crystal Light On the Go Wild Strawberry with Caffeine
1 cup ice
Instructions
Add all ingredients to a shaker or jar with a tight-fitting lid. Shake until the shaker or jar is cold, then pour into a serving glass.
Recipe Notes
Click here or scan the barcode below to log this food in My Fitness Pal.
Nutrition Facts
Starbucks Pink Drink Dupe
Amount Per Serving (16 oz)
Calories 107 Calories from Fat 27
% Daily Value*
Fat 3g5%
Sodium 142mg6%
Potassium 51mg1%
Carbohydrates 18g6%
Fiber 1g4%
Sugar 16g18%
Protein 2g4%
* Percent Daily Values are based on a 2000 calorie diet.