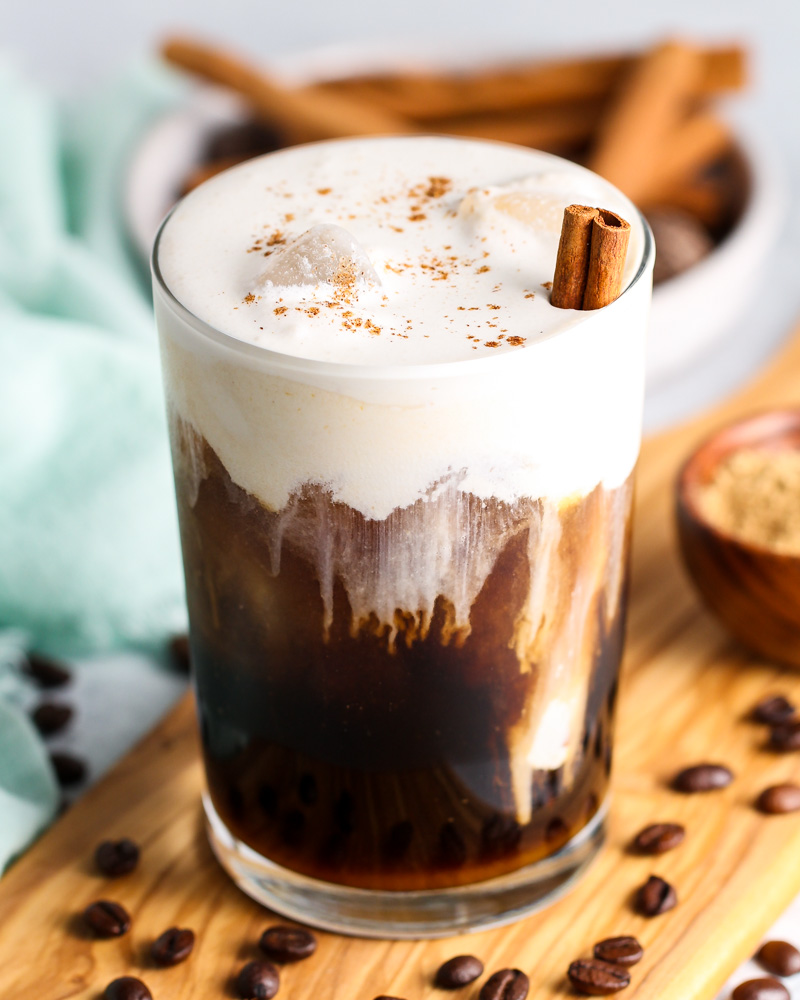 Happy first day of fall, y'all! I thought I'd kick off the season with an oh-so-fitting recipe – Pumpkin Cream Cold Brew! I'm here to tell you, you can make an amazing version of this famous drink at home, with a whole variety of milk (dairy and non-dairy) options for a delicious pumpkin spice cold foam. Check out my testing notes and photos below of 7 different milk options and how they turned out!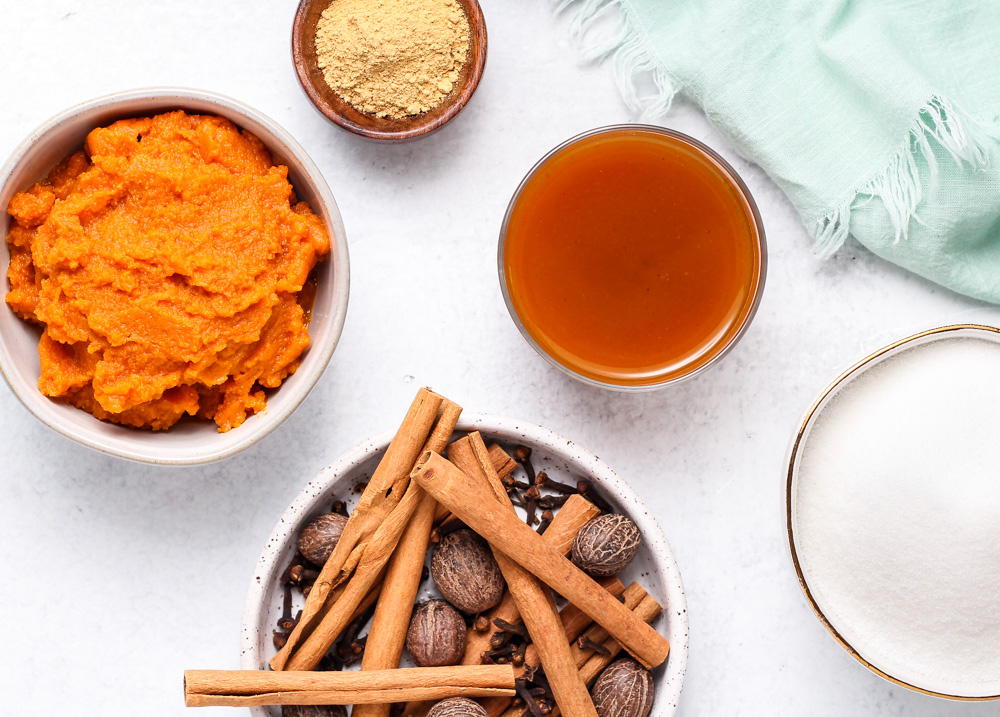 The key to getting that classic pumpkin spice flavor concentrated into this drink is to create pumpkin spice syrup. It's basically simple syrup that's amped up with spices and pumpkin. By letting it simmer together for longer than your average syrup, you really concentrate those flavors and ensure they come through even when put up against the delicious cold brew coffee.

I personally think the flavors you get from real, whole spices is unbeatable, but of course you could use ground spices if you have to. I used ground ginger since it's not as easy to find in big dried chunks as the cinnamon, nutmeg, and cloves. Check out the notes at the end of the Pumpkin Spice Syrup recipe for how to recreate it using ground spices, but just know that using all ground spices will leave you with a bit of grittiness at the end of your drink. #teamwholespice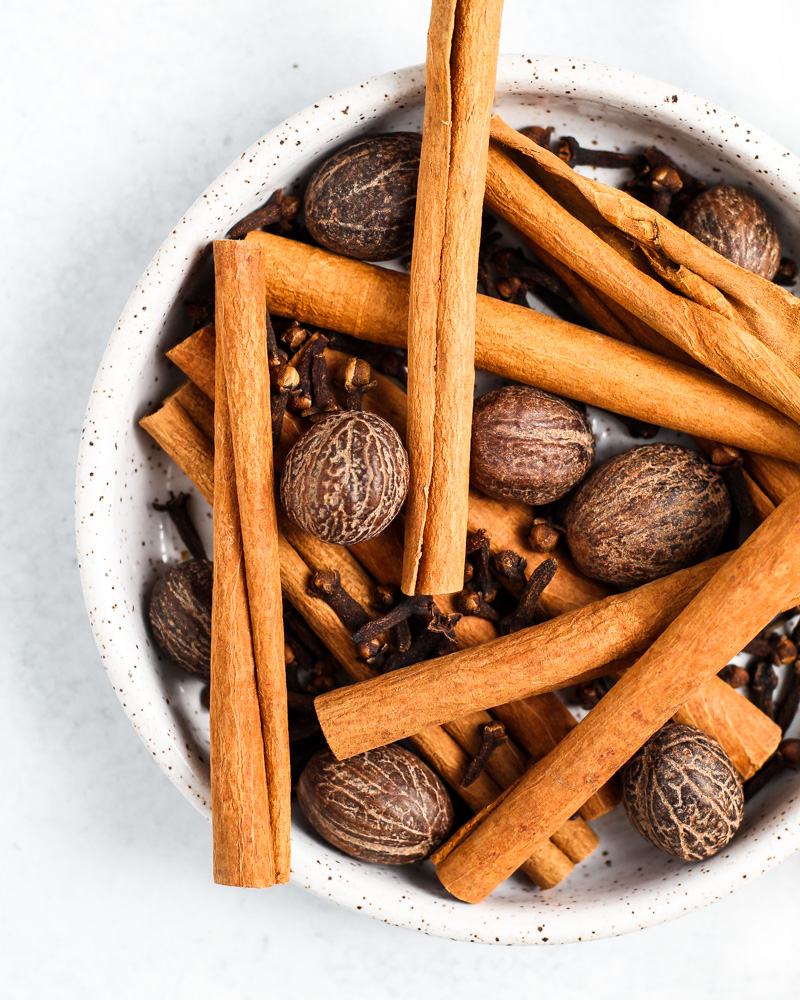 For the cold brew, you can either make your own with this recipe, or you can buy from the store.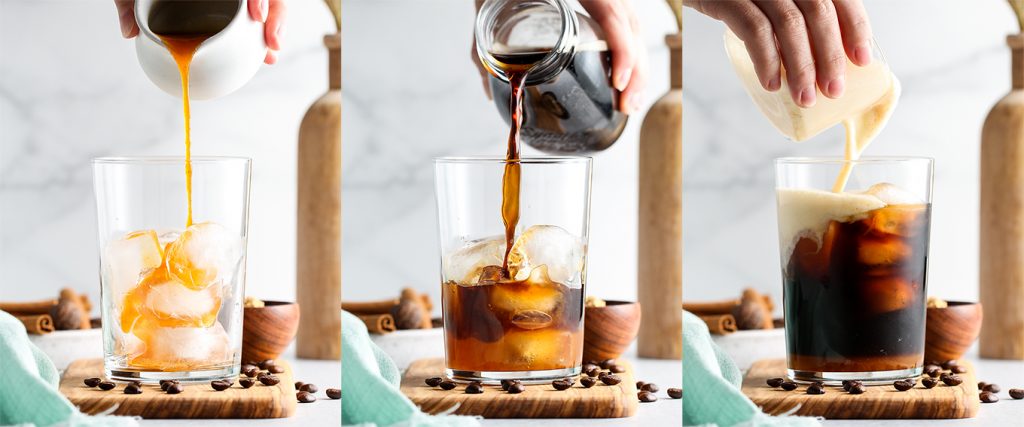 The hero shots you see here are made with the combo of Silk Dairy Free Whipping Cream and Chobani Extra Creamy Oat Milk. It was one of my favorites, plus a perfect candidate for these photos since the creamy head stays on top until you're ready to stir it all in.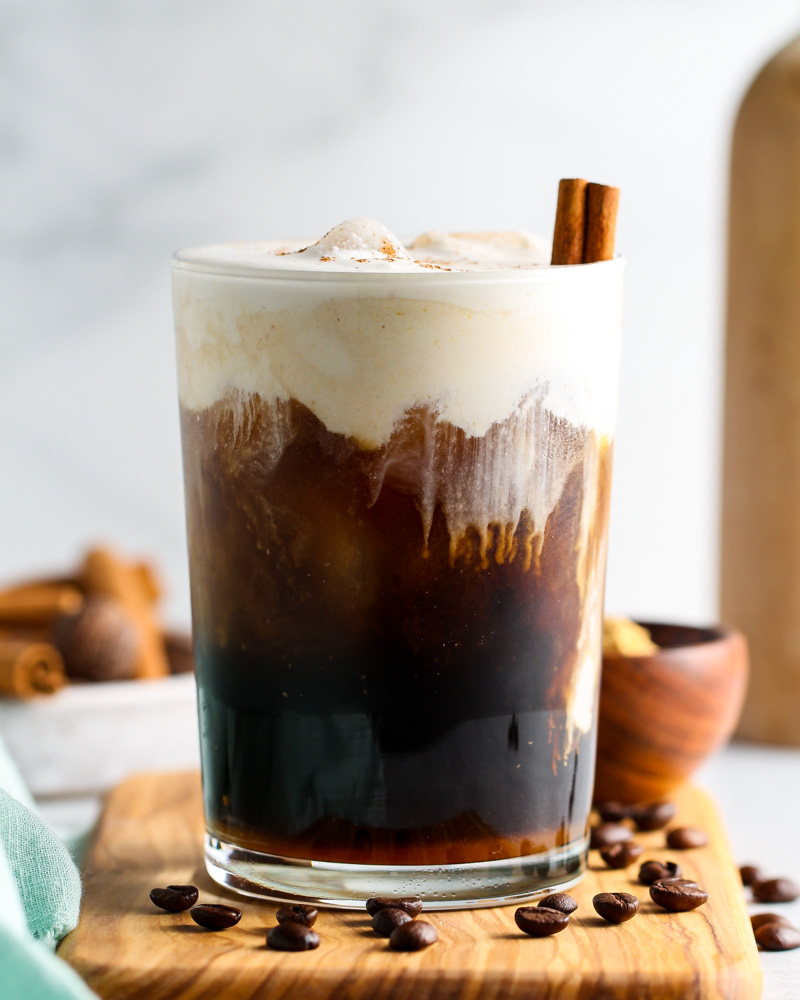 Testing Out Dairy and Non-Dairy Milks
Adding the pumpkin spice syrup to the milk changes the way that the milk (or cream, or non-dairy milk) froths and foams. So, unlike your average cold foam or whipped cream, this stuff behaves a bit differently. That's why I was so curious what milk or combo would build the perfect body, yet ease into the cold brew smoothly for that perfect, creamy sip. Note: this section is best viewed on your tablet or desktop 😉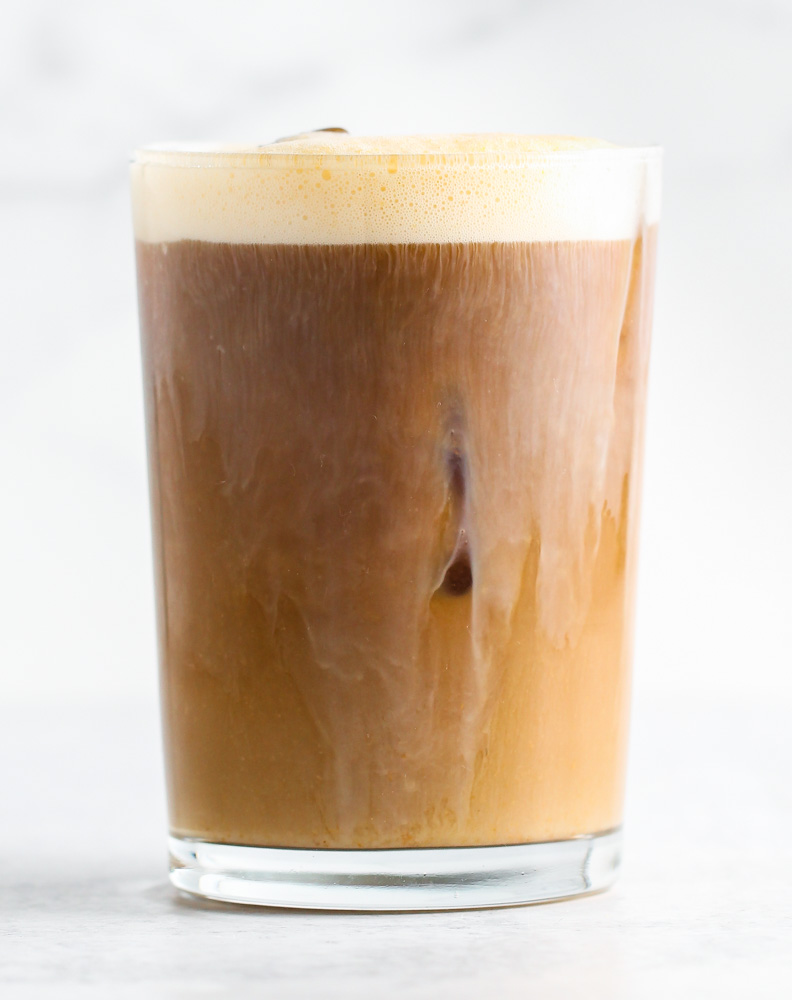 2% Milk
The lower fat content in 2% milk allows the proteins in the milk to build up strong and fluffy. I didn't love the lack of richness when sipping this one, but if you're looking for a low calorie/low fat option, it's totally passable.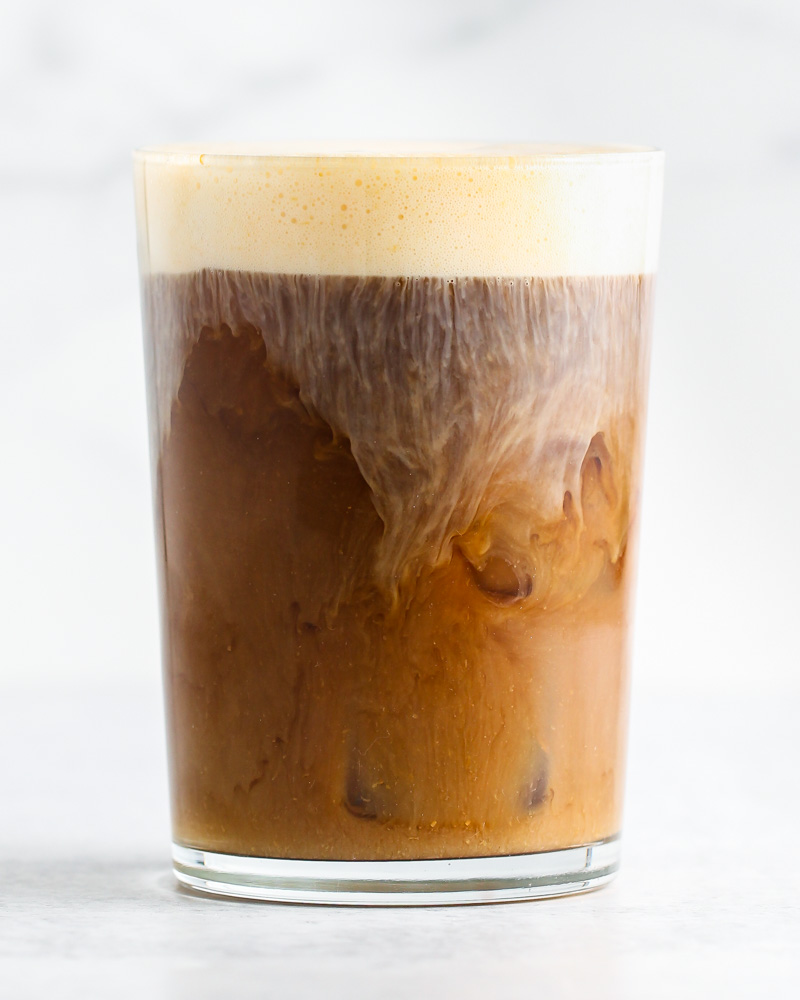 Whole Milk
This the top performer in my book! I love that the bit of extra fat content in whole milk gives a really nice richness to the drink without being overly thick or rich. The cold foam holds up nicely even with the pumpkin spice syrup weighing things down.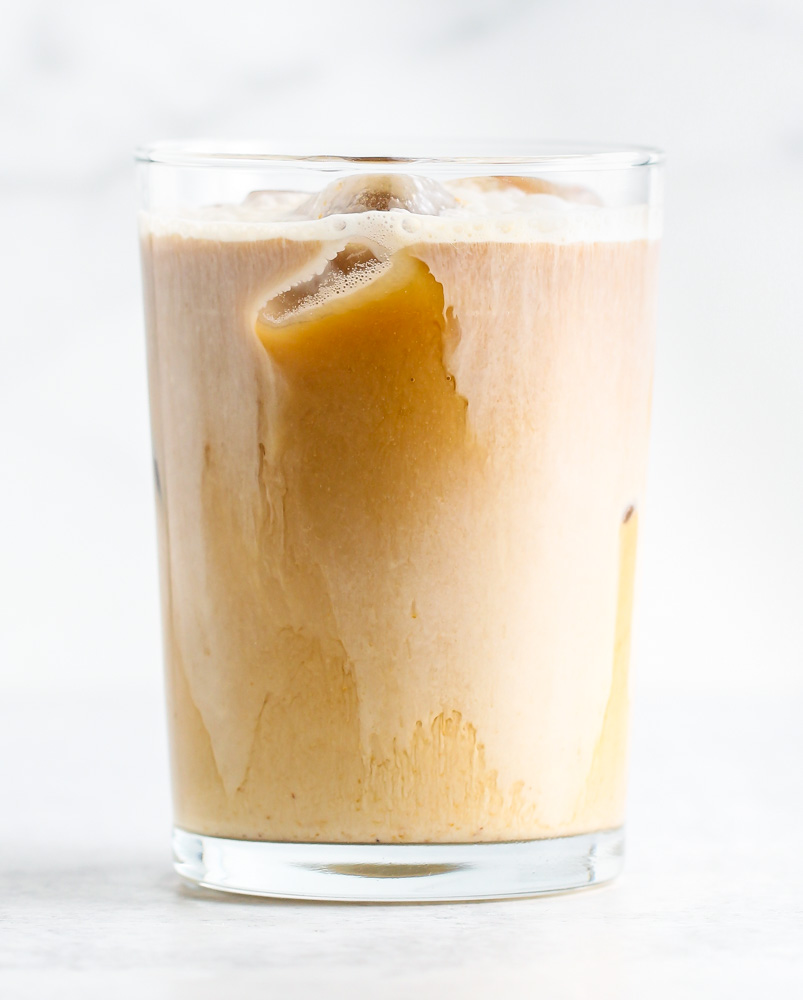 Half and Half
I fully expected the half and half to take the win here, but it fell completely flat! Almost no volume or cold foam developed no matter how long I frothed it. It certainly tasted good, but for whatever reason, the texture just didn't pan out.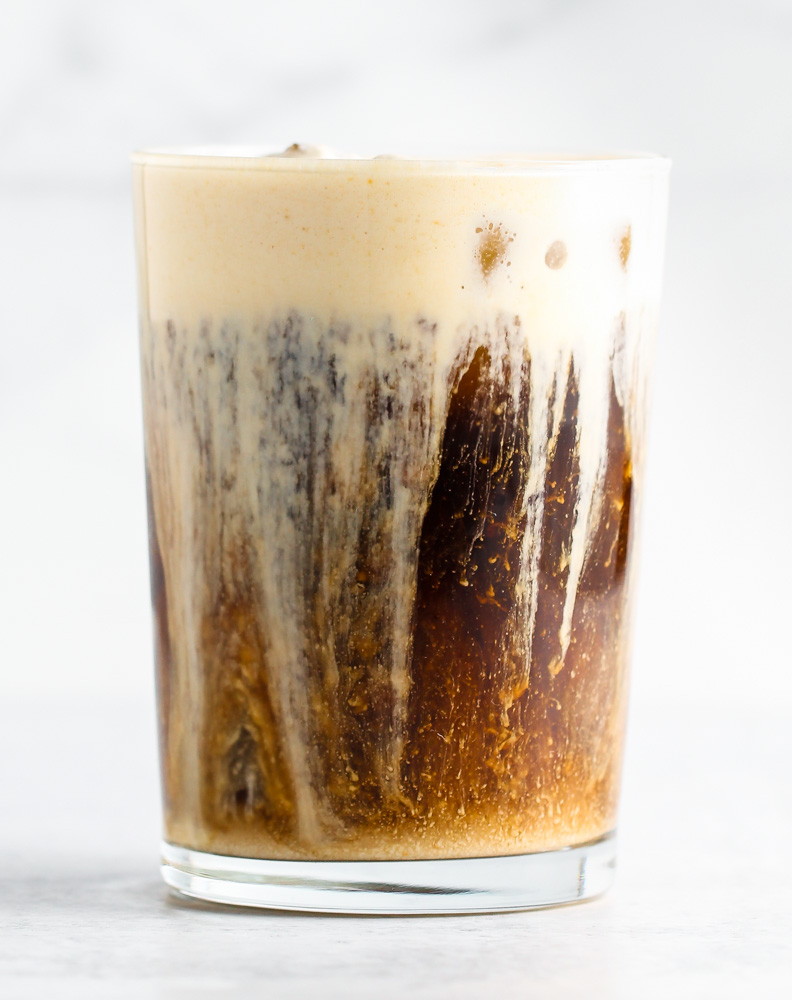 Heavy Cream and 2% Milk
This was an interesting combo that's worthy of high notes. I wouldn't rate it as my ultimate favorite because I actually found the heavy cream to be too rich, even when mixed with 2% milk. Certainly worth a try though!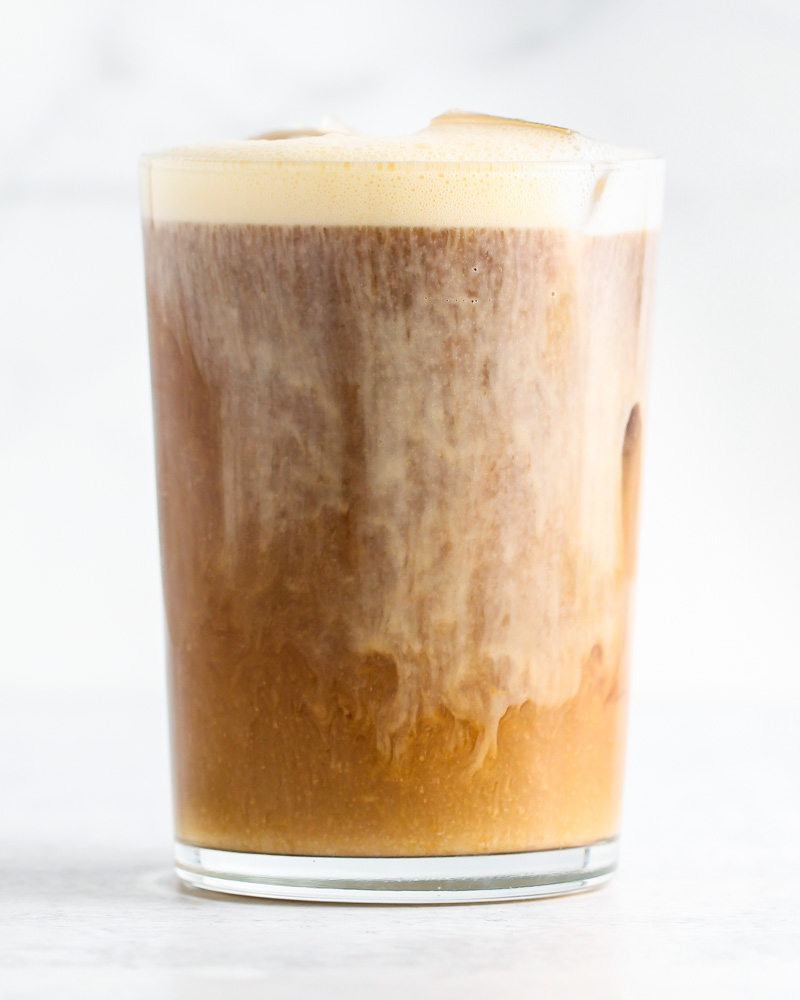 Oat Milk
I used Chobani Extra Creamy Oat Milk in this experiment and it worked surprisingly well for a dairy free option! It built up body pretty easily and blended nicely into the cold brew while maintaining a creamy head.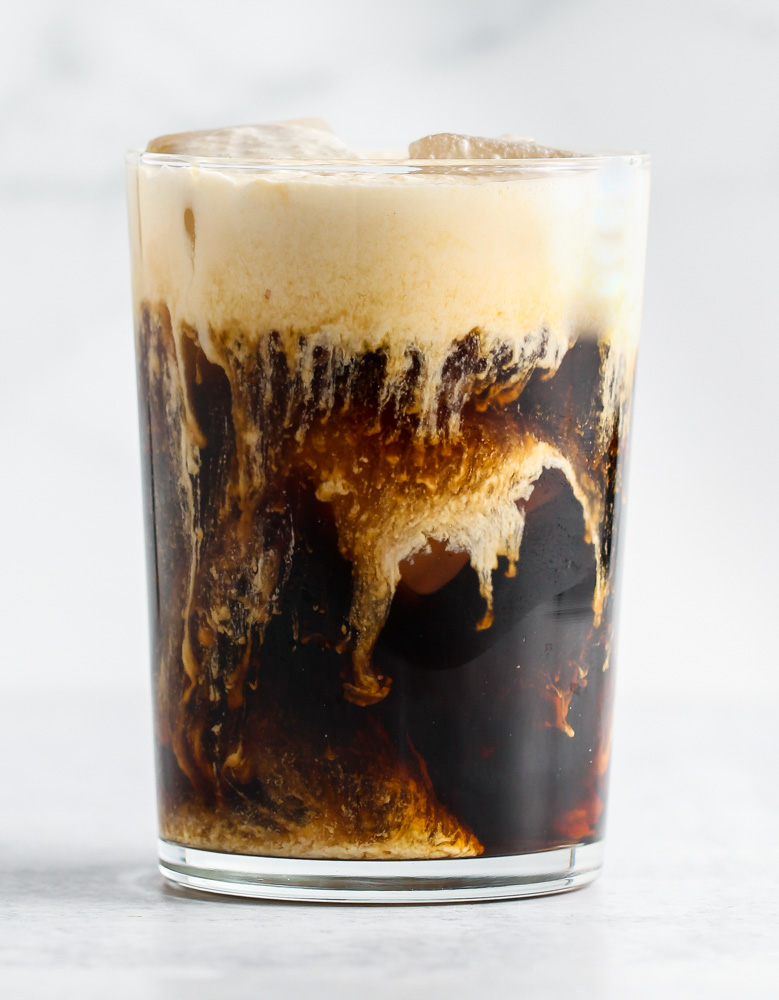 DF Whipping Cream and Oat Milk
This one was surprisingly awesome too! It doesn't look amazing here, but it's super creamy and blends easily into the cold brew without losing a creamy head.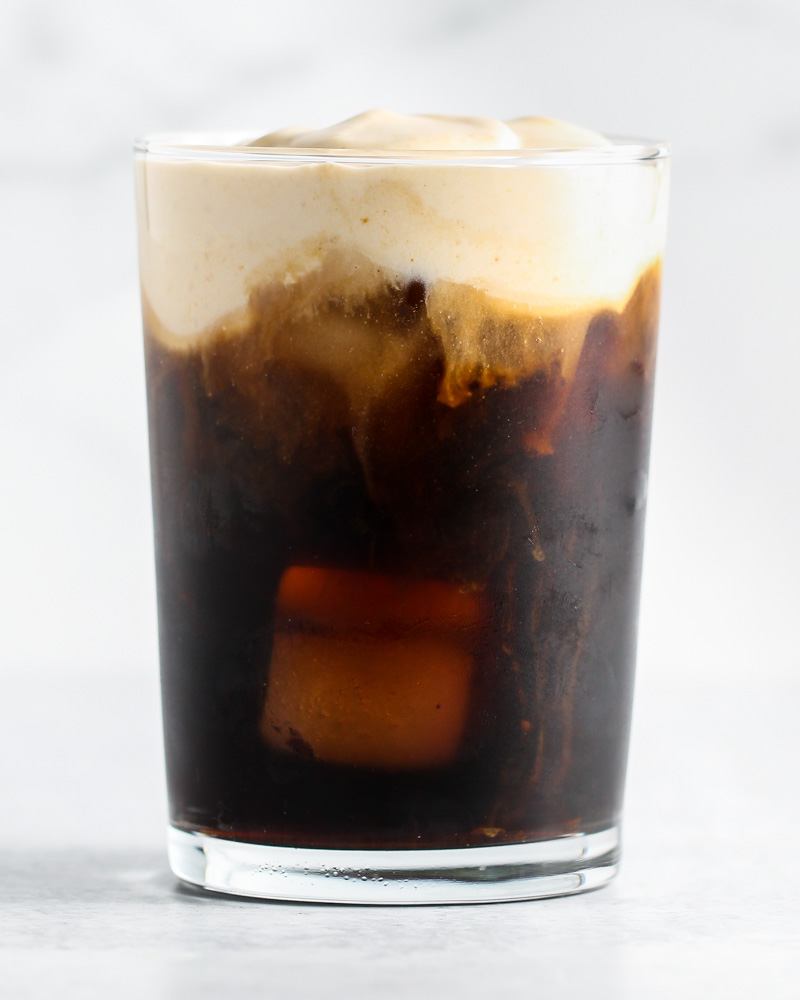 DF Whipping Cream
The pumpkin spice syrup didn't hinder the Silk Dairy-Free Whipping Cream from whipping up into something super creamy! Although delicious and awesomely creamy, it didn't do a great job at mixing into the cold brew when I was ready.
Recipes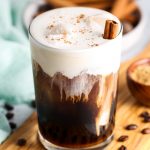 Pumpkin Cream Cold Brew
Ingredients
8-10 oz cold brew coffee
1/2 tbsp pumpkin spice syrup (see recipe below)
Pumpkin Spice Cold Foam
1 tbsp pumpkin spice syrup (see recipe below)
1/4 cup milk of choice
Instructions
Add plenty of ice to a large drinking glass (about the size of a pint glass). Pour 1/2 tbsp pumpkin spice syrup over the ice, then pour cold brew over ice. Set aside.

Add milk of choice and 1 tbsp of pumpkin spice syrup to a small cup. Using a milk frother, whisk until the milk foams up and approximately doubles in size.

Pour cold foam over the cold brew. To keep the layers separated as much as possible, pour the cold foam over a spoon directly over the cold brew. (This will minimize the amount of immediate mixing of the cold foam and cold brew.) Top with pumpkin pie spice and serve.
Recipe Notes
I didn't include nutrition info here since it will depend heavily on the milk that you use. See below for the nutrition info and scannable My Fitness Pal barcode for the Pumpkin Spice Syrup.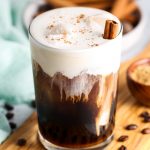 Pumpkin Spice Syrup
Cook Time 15 minutes
Total Time 15 minutes
Servings 28 tbsp (~1.75 cups total)
Calories per serving 29 kcal
Ingredients
1 cup granulated sugar (201 grams)
1 cup water (8 fl oz)
1/2 cup pumpkin puree (120 grams)
5 cinnamon sticks
6 whole cloves
2 whole nutmeg pods, cracked in half
1/2 tsp ground ginger
Instructions
Add all ingredients to a sauce pan and bring to a boil over medium heat. Lower heat to low and simmer for 10-15 minutes, stirring frequently. Set aside to cool. Strain before storing in the refrigerator.
Recipe Notes
To make with ground spices instead of whole spices: Use 1/2 tsp each of cinnamon, nutmeg, ground cloves, and ground ginger.
Click here or scan the barcode below to log this food in My Fitness Pal.
Nutrition Facts
Pumpkin Spice Syrup
Amount Per Serving (1 tbsp)
Calories 29
% Daily Value*
Potassium 9mg0%
Carbohydrates 7g2%
Sugar 7g8%
* Percent Daily Values are based on a 2000 calorie diet.