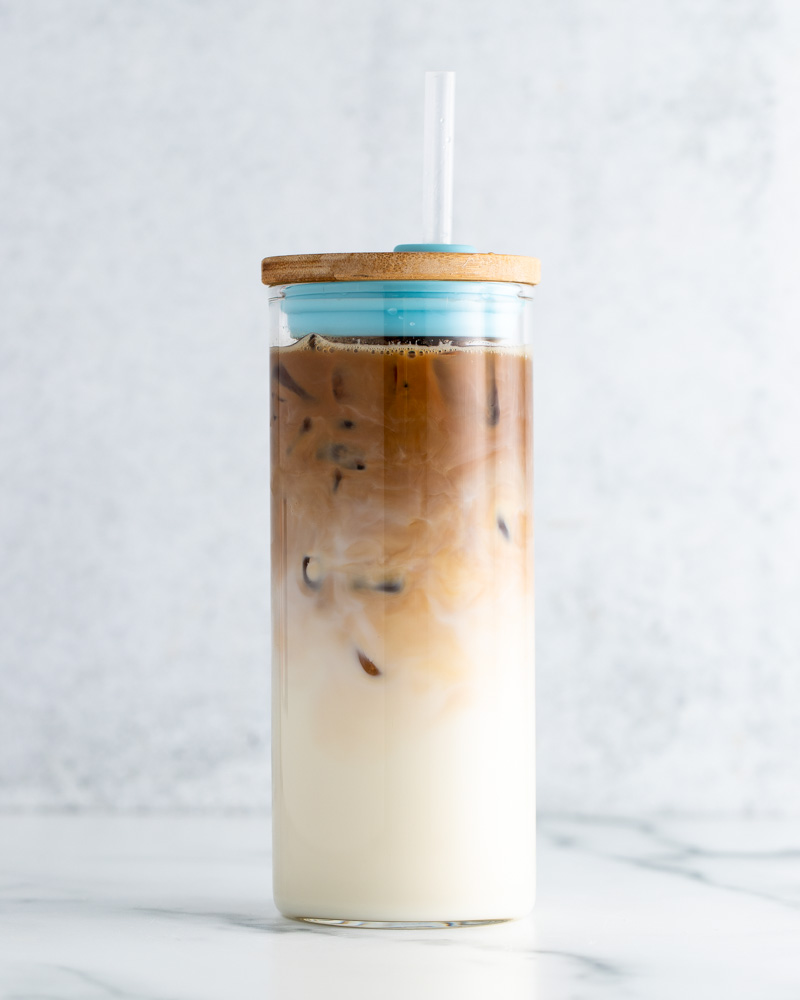 Happy weekend, everyone! I'm kicking off this soon-to-be steamy 95° DC day with a cool and refreshing Macro-Friendly Iced Caramel Macchiato. My macro friendly version of this Starbucks classic has just 85 calories per 16 oz serving, compared to the Starbucks version which has 250 calories for the same size! Is it as rich and caramel-y as the original? Of course not, but it's a pretty good dupe that's easy to make at home. If you want to make it more like the real thing, skip the caramel syrup mixed in the drink and instead drizzle a bit of caramel sauce on top before serving.
What's the difference between an iced macchiato and an iced latte, you may ask? Well…not much. The only real difference is how they're built – for a latte the espresso is at the bottom of the cup, but for a macchiato, the espresso is poured over top of the milk. If you're sipping sans straw and have not mixed your drink, you'll definitely notice a difference. Otherwise it all mixes together and tastes the same!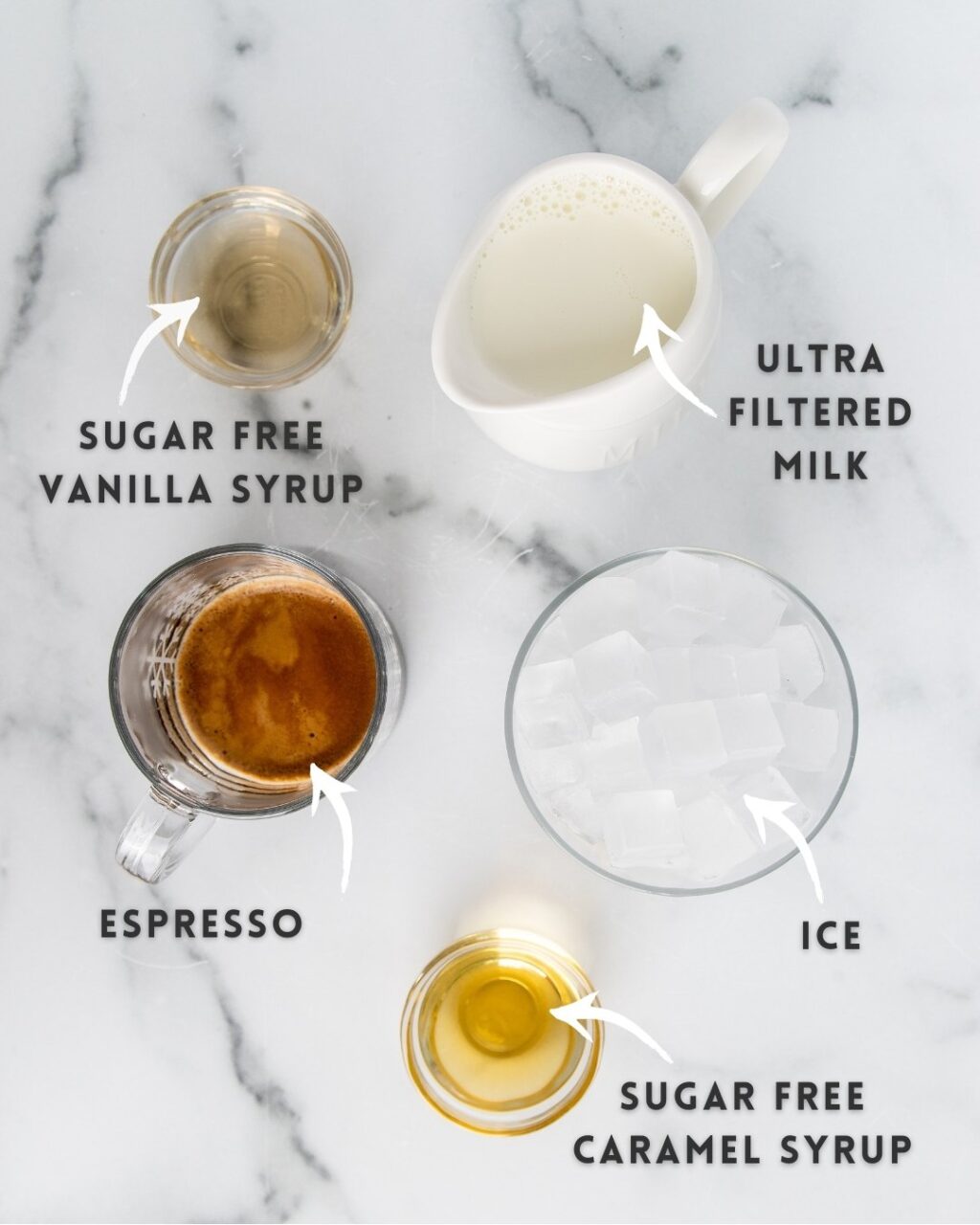 I kept things pretty simple for this homemade version of the Pink Drink, and you only need a few ingredients to make a really delicious dupe. Here's what I used:
Milk – Starbucks' standard milk used in their recipes (unless you specify otherwise) is 2% reduced fat milk. I opted for ultra-filtered fat free milk for the extra protein and less fat.
Sugar free caramel syrup – This is the biggest difference between my version and the Starbucks version. Instead of using a caramel sauce drizzle on top of the drink, I opted for a sugar free syrup that mixes the caramel flavor right in. You can always top yours off with caramel sauce if you've gotta have those sweet wisps of caramel.
Sugar free vanilla syrup – Sweetness and a bit of balancing flavor are necessary when you're playing with caramel in my opinion. If you're a caramel fanatic you could probably use all caramel syrup instead of using any vanilla…but you'd have to be a serious caramel lover!
Espresso – a full-bodied, fresh brewed espresso is perfect for this recipe.
Ice – I like to use really small ice cubes or even crushed ice for drinks like this. Check out these ice cube trays that I like!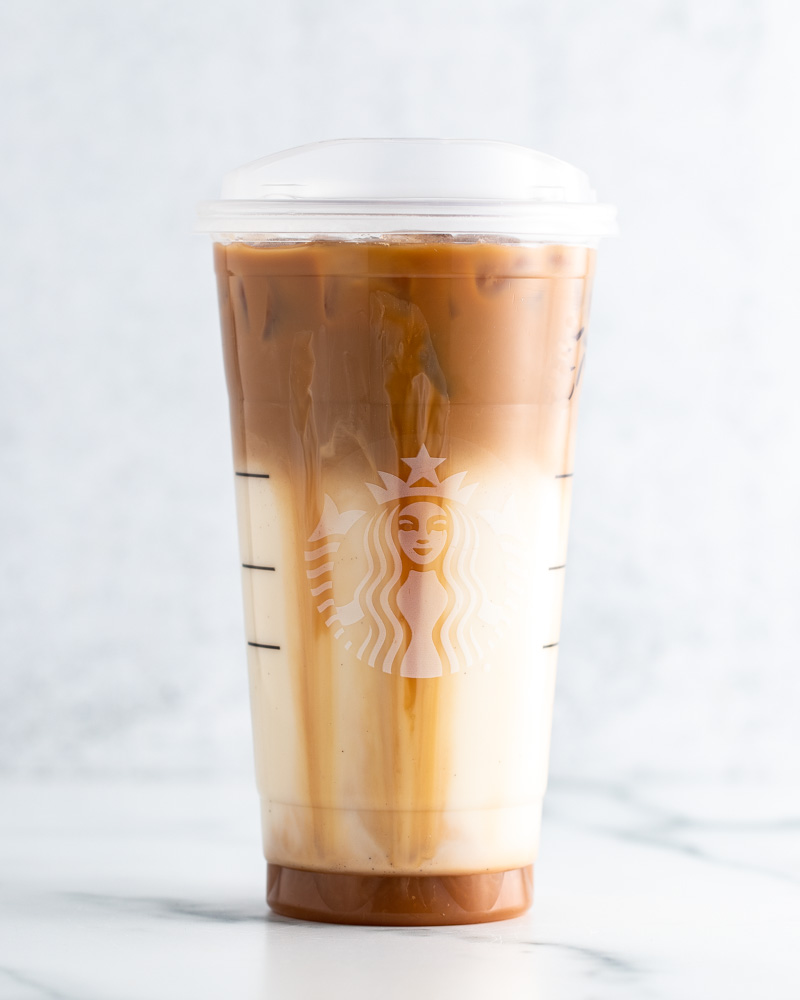 Macros for Starbucks Version (Grande)
250 calories / 10 g protein / 7 g fat / 37 g carbs (including 34 g sugar)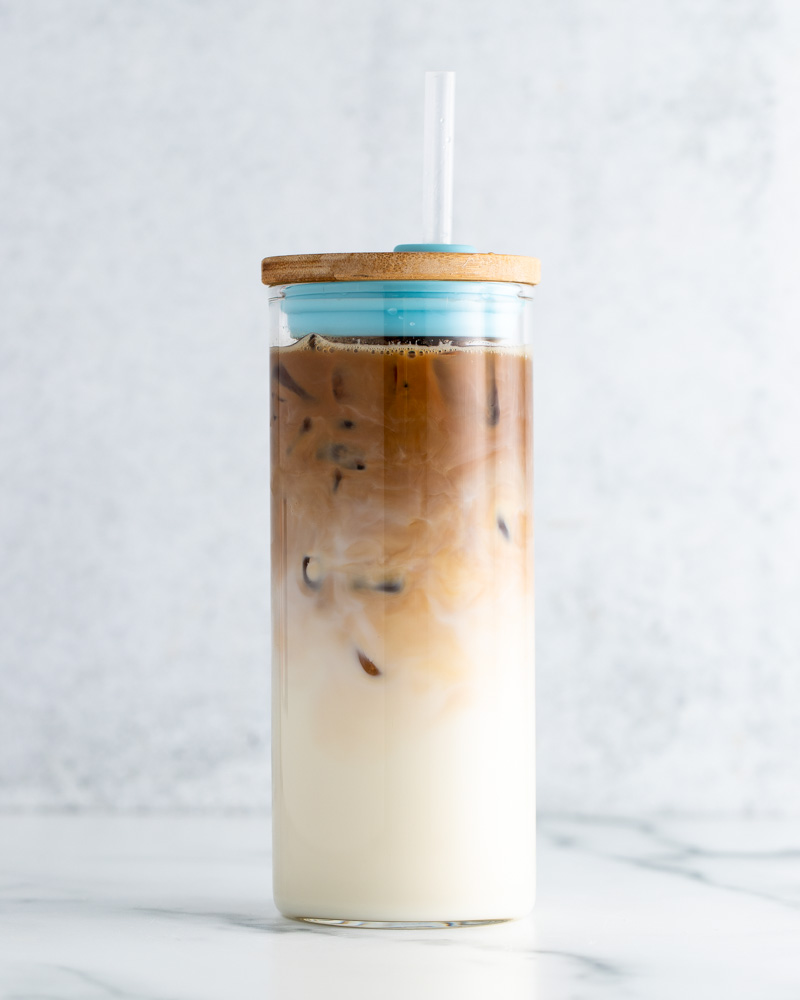 Macros for PBF Version
85 calories / 13 g protein / 0 g fat / 7 g carbs (including 6 g sugar)
Here are some items I used to make this recipe a success. Note: these are Amazon Affiliate links.
Recipe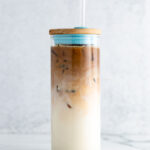 Macro-Friendly Iced Caramel Macchiato
Servings 1 serving
Calories per serving 85 kcal
Ingredients
1 cup Lactaid Protein 2% Reduced Fat Milk (12 fl oz)
2 shots espresso (2 fl oz)
2 pumps Jordan's Skinny Syrups Vanilla (generous 1 tbsp)
2 pumps Jordan's Skinny Syrups Caramel (generous 1 tbsp)
1 cup ice
Instructions
Add vanilla and caramel syrups and milk to a tall serving cup. Add ice, then top with espresso and serve.
Recipe Notes
Click here or scan the barcode below to log this food in My Fitness Pal.
Nutrition Facts
Macro-Friendly Iced Caramel Macchiato
Amount Per Serving (16 oz)
Calories 85
% Daily Value*
Cholesterol 5mg2%
Sodium 140mg6%
Potassium 472mg13%
Carbohydrates 7g2%
Sugar 6g7%
Protein 13g26%
* Percent Daily Values are based on a 2000 calorie diet.