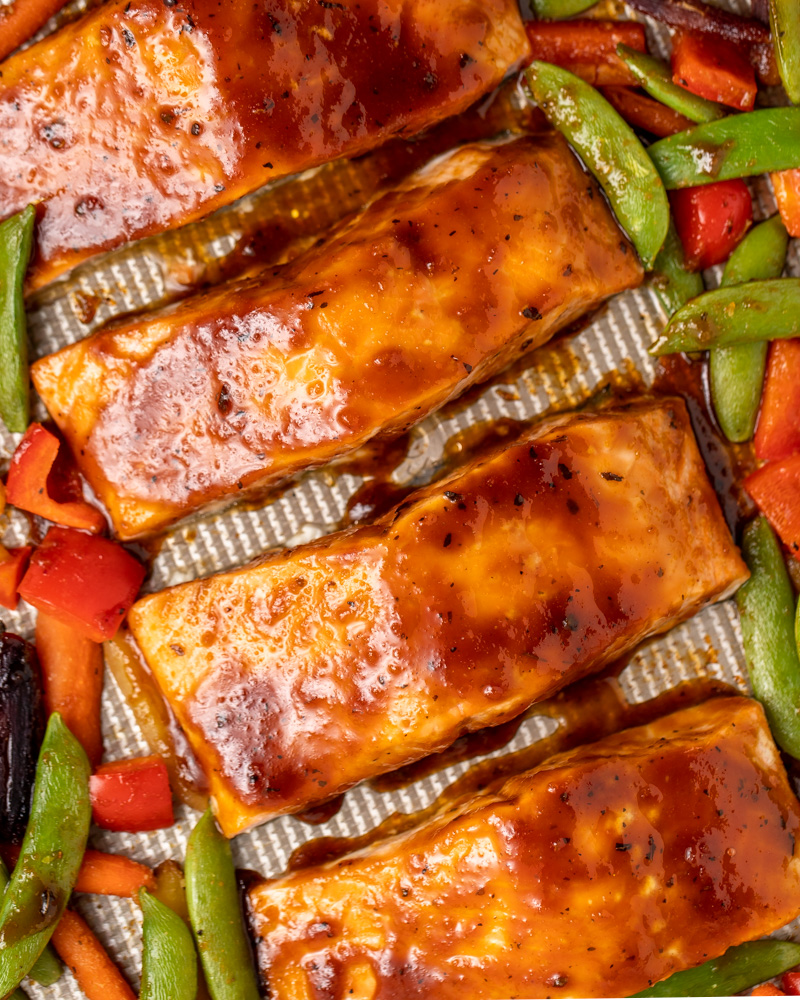 Jump to Recipe
Looking for an easy meal prep or dinner recipe? Look no further than this Sheet Pan Miso Glazed Salmon and veggies…it takes all of 15 minutes to get it into the oven! Don't be scared off by the miso here – I promise it's delicious!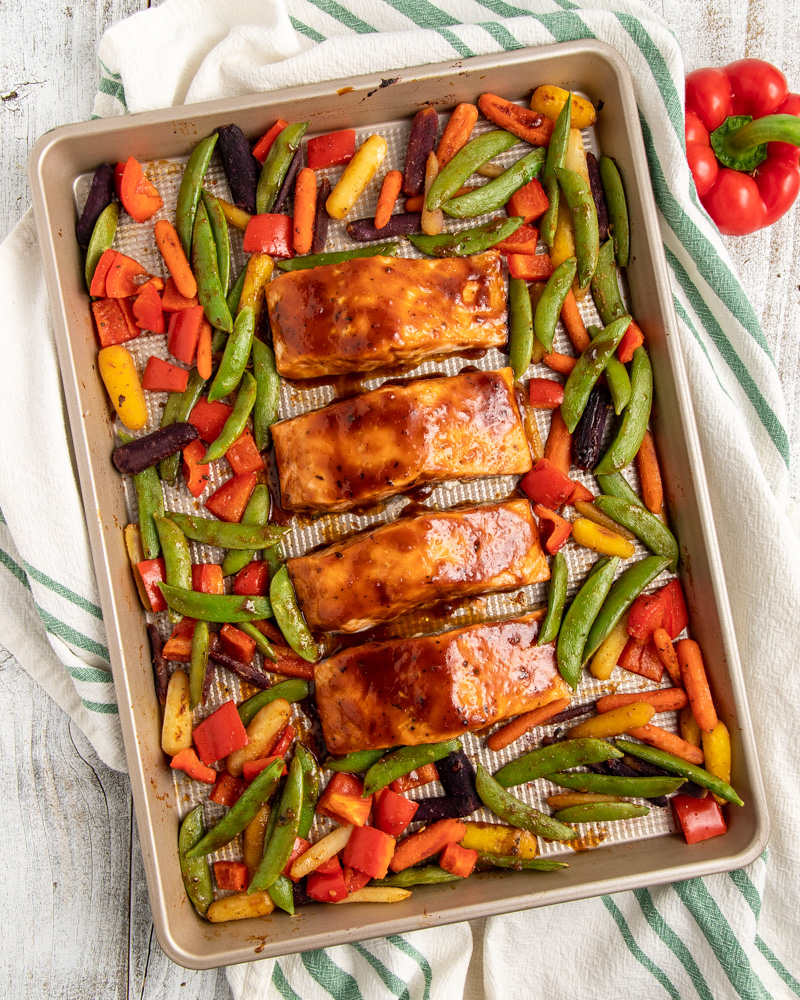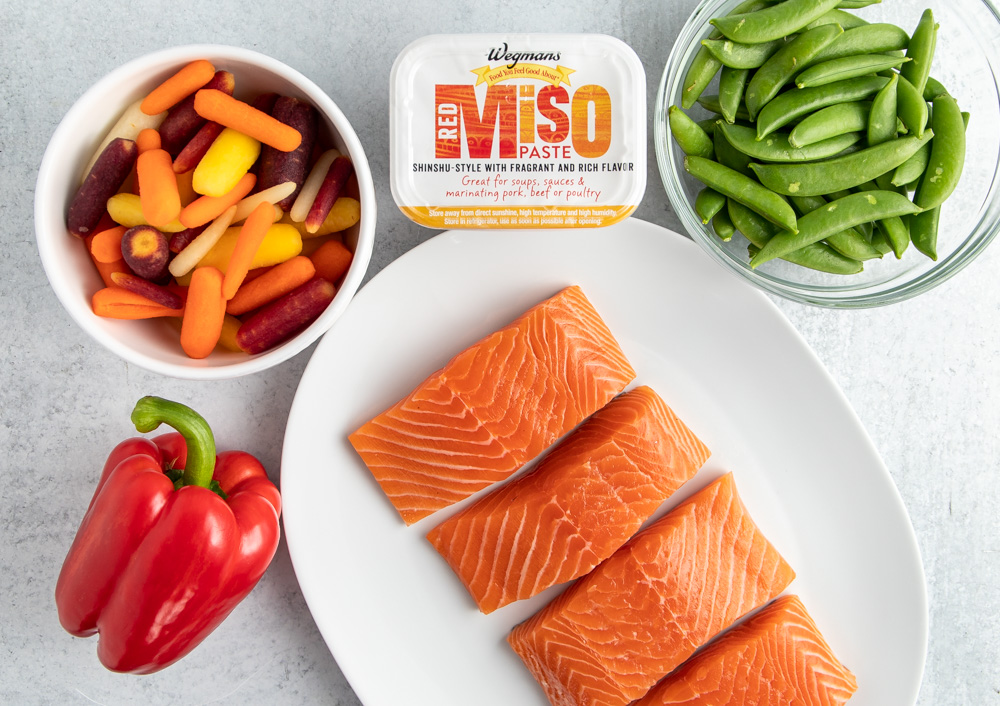 You know when you hear chefs on TV talking about umami and how it's a fifth type of taste? (The first 4 types being sweet, sour, bitter, and salt.) Miso is one of those ingredients that brings that umami to a dish – it's basically just fermented soybeans mixed with another primary ingredient (depending on what color of miso you're using). Here's a guide to the different types of miso. I had this brown rice miso on hand, so it's what I used but if you're new to miso and can find the white version, I'd recommend that. When using the brown rice miso, you just have to be a little more careful not to over do it (use just how much the recipe calls for!).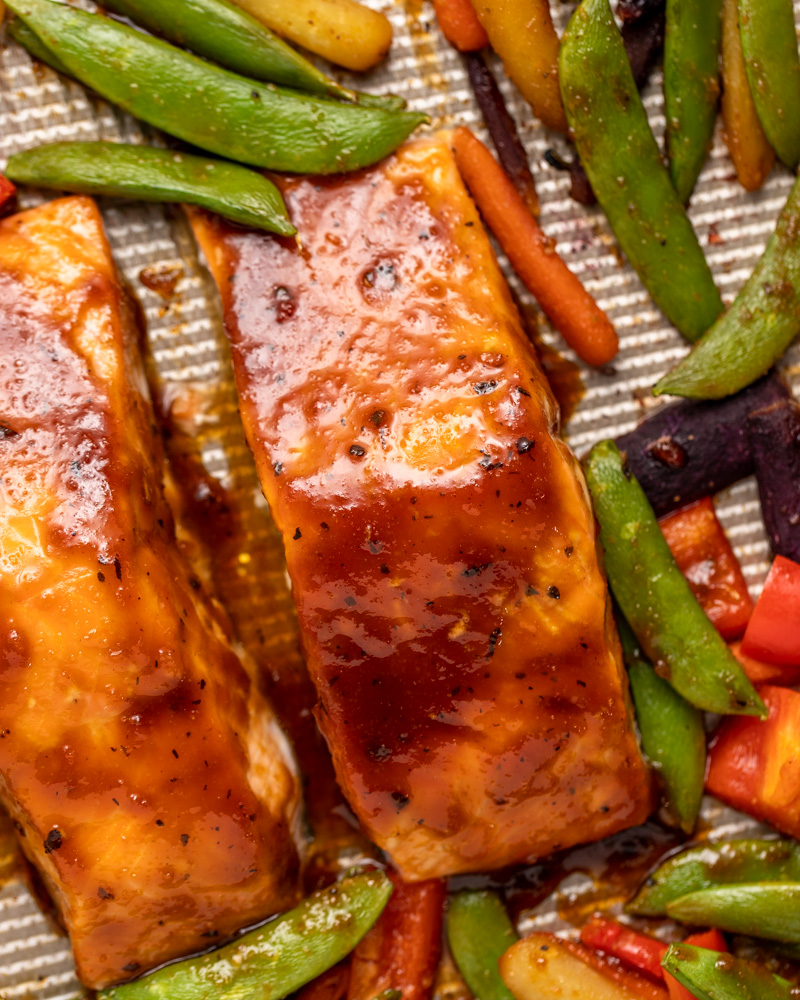 I recommend using these 3 compartment containers (if you want to add rice) or these 2 compartment containers to save your meal prepped portions!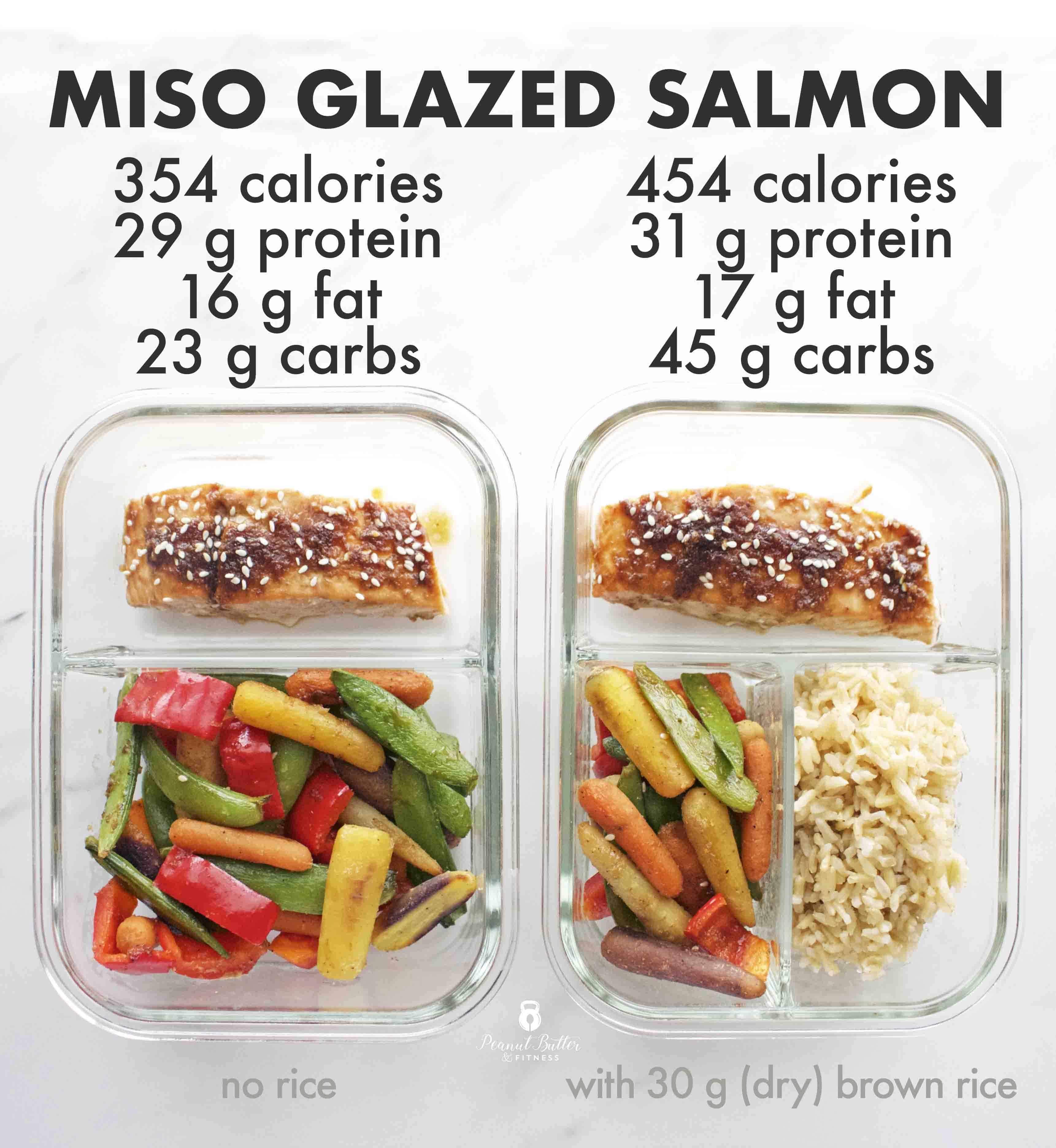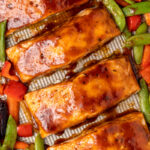 Sheet Pan Miso Glazed Salmon
Prep Time 15 minutes
Cook Time 30 minutes
Servings 4 servings
Calories per serving 354 kcal
Ingredients
1.1 lb salmon (only 1 lb if using skinless)
18 oz rainbow baby carrots (510 grams)
1 1/2 cups sugar snap peas (255 grams)
1 large red bell pepper, chopped (135 grams)
1/2 tbsp olive oil
1/2 tsp garlic powder
Salt and pepper to taste
Instructions
Pre-heat oven to 400 degrees. Line a baking sheet with foil and set aside.

Toss baby carrots with half of the olive oil and half of the garlic powder, then arrange in a single layer on the baking sheet. Bake for 18 minutes.

While the carrots bake, add the glaze ingredients to a small pan and bring to a boil over medium-high heat. Lower heat to a simmer and stir until brown sugar is melted. Set aside to cool in the refrigerator.

After the carrots have baked for 18 minutes, add sugar snap peas and red bell peppers and toss. Add the sliced salmon onto baking sheet and brush with half of the glaze, reserving the rest for after baking.

Bake the salmon and veggies for an additional 12-14 minutes or until salmon is cooked through.

Divide evenly into 4 servings and drizzle salmon and veggies with remaining glaze before serving.
Nutrition Facts
Sheet Pan Miso Glazed Salmon
Amount Per Serving
Calories 354 Calories from Fat 144
% Daily Value*
Fat 16g25%
Cholesterol 72mg24%
Sodium 401mg17%
Potassium 932mg27%
Carbohydrates 23g8%
Fiber 6g25%
Sugar 15g17%
Protein 29g58%
* Percent Daily Values are based on a 2000 calorie diet.