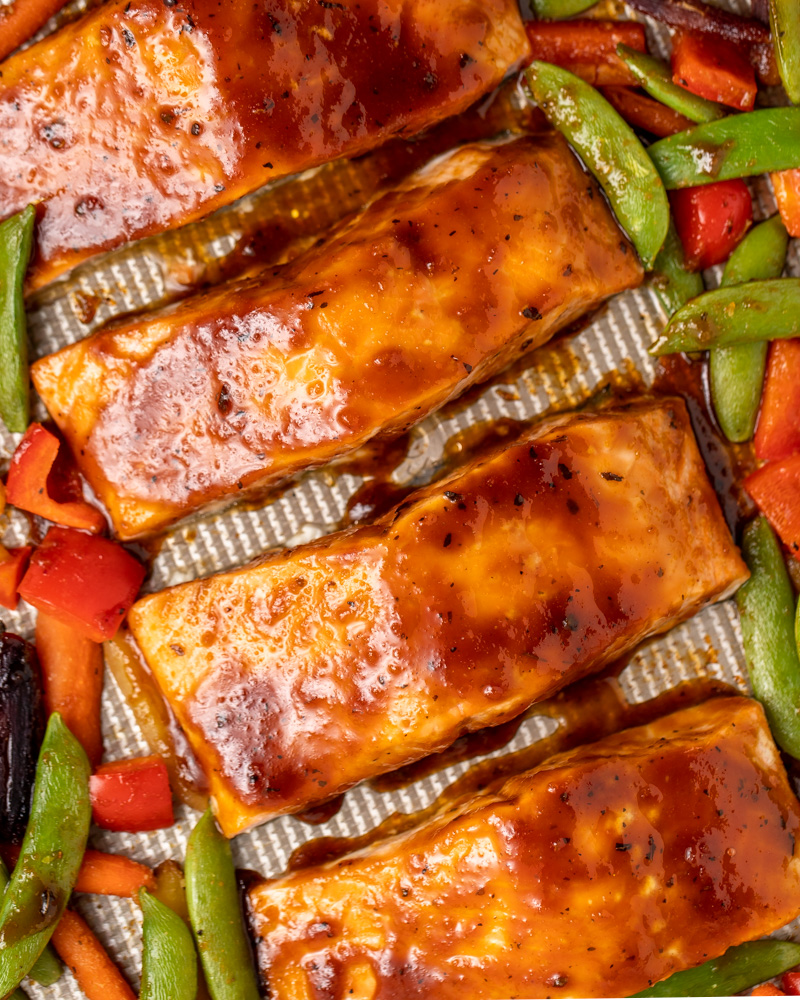 Looking for an easy meal prep or dinner recipe? Look no further than this Sheet Pan Miso Glazed Salmon and veggies…it takes all of 15 minutes to get it into the oven! Don't be scared off by the miso here – I promise it's delicious!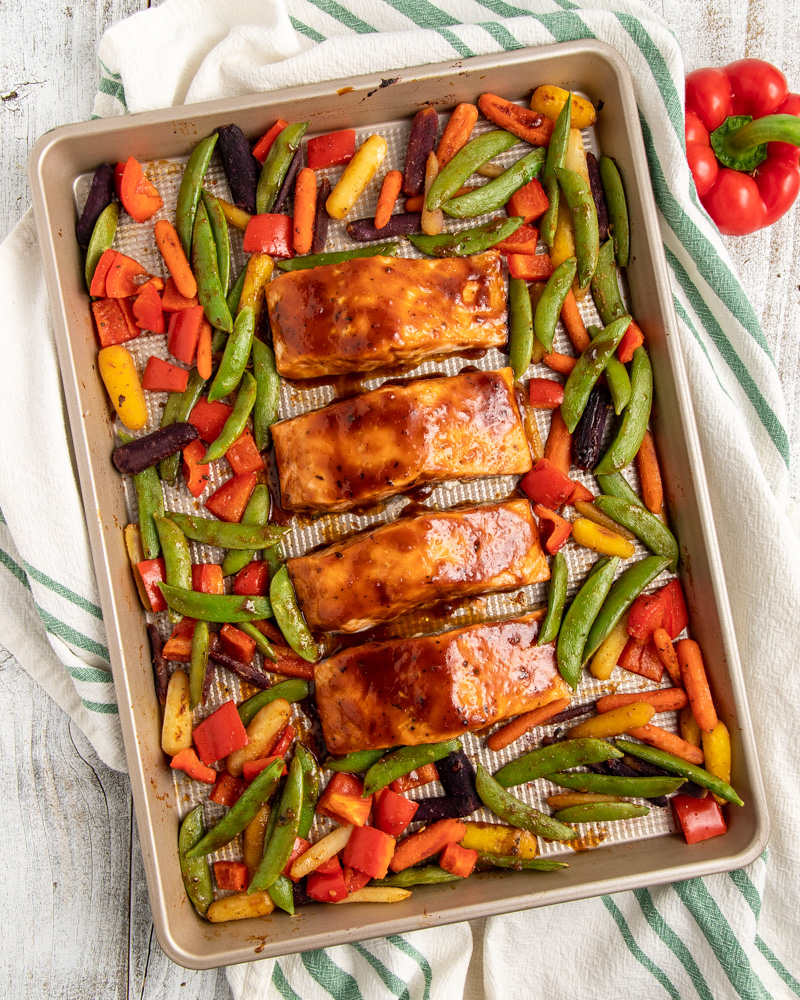 You know when you hear chefs on TV talking about umami and how it's a fifth type of taste? (The first 4 types being sweet, sour, bitter, and salt.) Miso is one of those ingredients that brings that umami to a dish – it's basically just fermented soybeans mixed with another primary ingredient (depending on what color of miso you're using). Here's a guide to the different types of miso.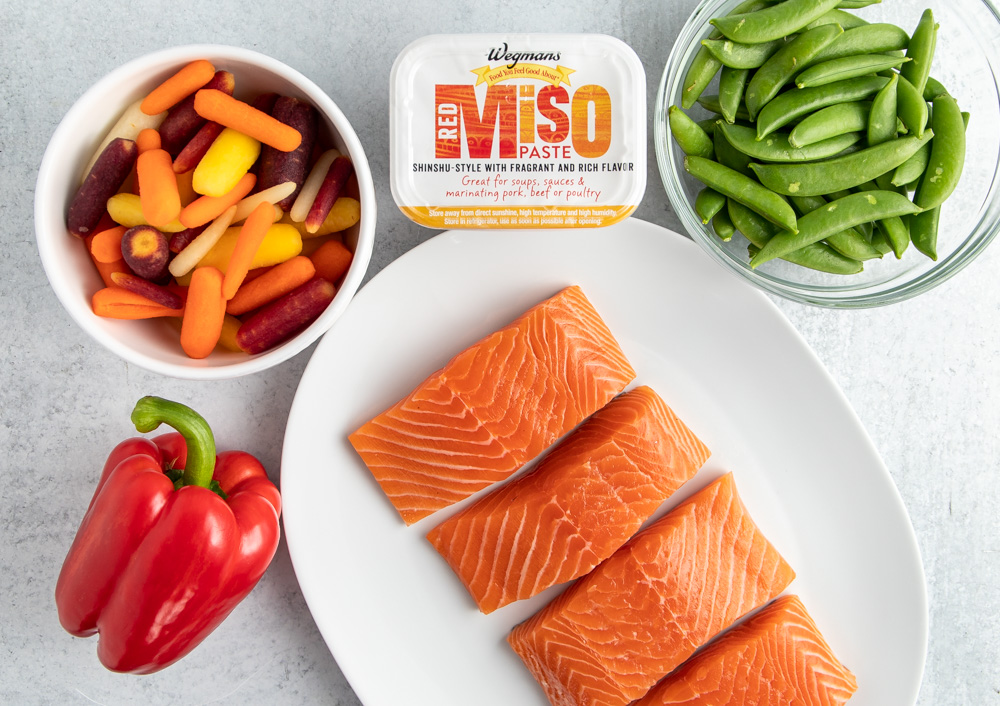 Ingredients and Substitutions
Salmon – I prefer Atlantic salmon for this recipe because it has a higher fat content and is therefore more tender than wild salmon like sockeye. The flavor is also more mild, so it plays nicely with the miso glaze. I know there are a lot of opinions out there on whether or not to buy farmed Atlantic salmon, but I'd recommend doing your own research on brands and countries of origin on websites like Seafood Watch or the Aquaculture Stewardship Council.
Rainbow baby carrots – I like the rainbow ones to add color contrast, but regular carrots would work as well. If you want to use whole carrots instead of baby carrots, chop them down into 1/4-1/2″ x 2″ planks.
Red bell pepper – Any color of bell pepper will work, but again I wanted to maximize the color contrast in this recipe. I also really like the flavor of red bell peppers compared to the others – they're sweeter because they're actually ripened for longer than green bell peppers, which can have a bitter flavor.
Sugar snap peas – Not to be confused with snow peas, sugar snap peas are actually a cross between a snow pea and a garden pea. The resulting baby veggie is sweet, crisp, and has little peas inside. I like them in this recipe for some green and extra flavor, but you could also use green beans or snow peas in a pinch.
Miso paste – I talked about miso paste in the paragraph above, but miso is basically fermented soy beans. Any of the miso varieties will work, but I recommend red or yellow miso paste in this dish since the flavor is strong enough to come through in the glaze, but not so strong that it will overpower the delicious salmon. It also brings plenty of salt to the glaze, so there's no need to add additional salt.
Brown sugar – Sugar is what makes the glaze melty and sticky, so I don't recommend skipping it! I suppose you could also make this with regular granulated sugar, but I like the flavor of brown sugar.
Fresh grated ginger – A pop of brightness in the glaze, ginger is a classic addition to many Asian dishes. You can also find tubes of grated ginger in the produce section of the grocery store if you don't want to grate your own.
Garlic powder – A little extra flavor for both the glaze and the roasted veggies. You can use a garlic mixed spice if you'd like, but just be careful with mixed spices to make sure they won't confuse the flavors of the dish. Something like Flavor God Garlic Lover's Seasoning would be great, but I'd stay away from something like Oh My Spice's Garlic Lovers since it includes turmeric.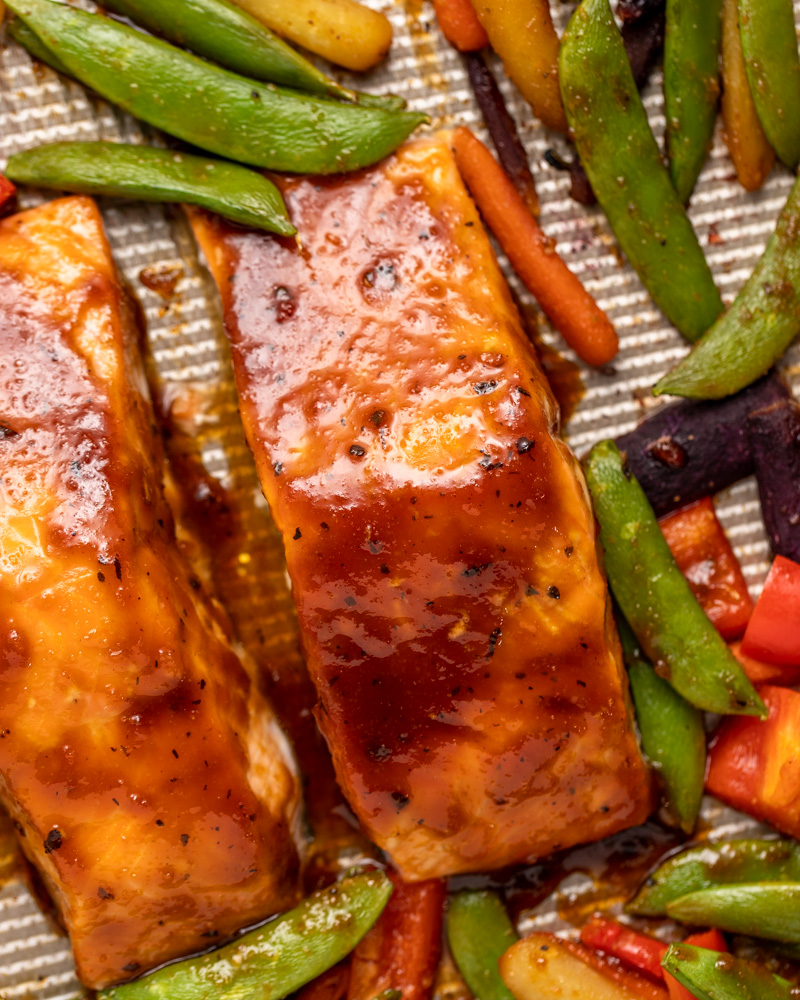 I recommend using these 3 compartment containers (if you want to add rice) or these 2 compartment containers to save your meal prepped portions!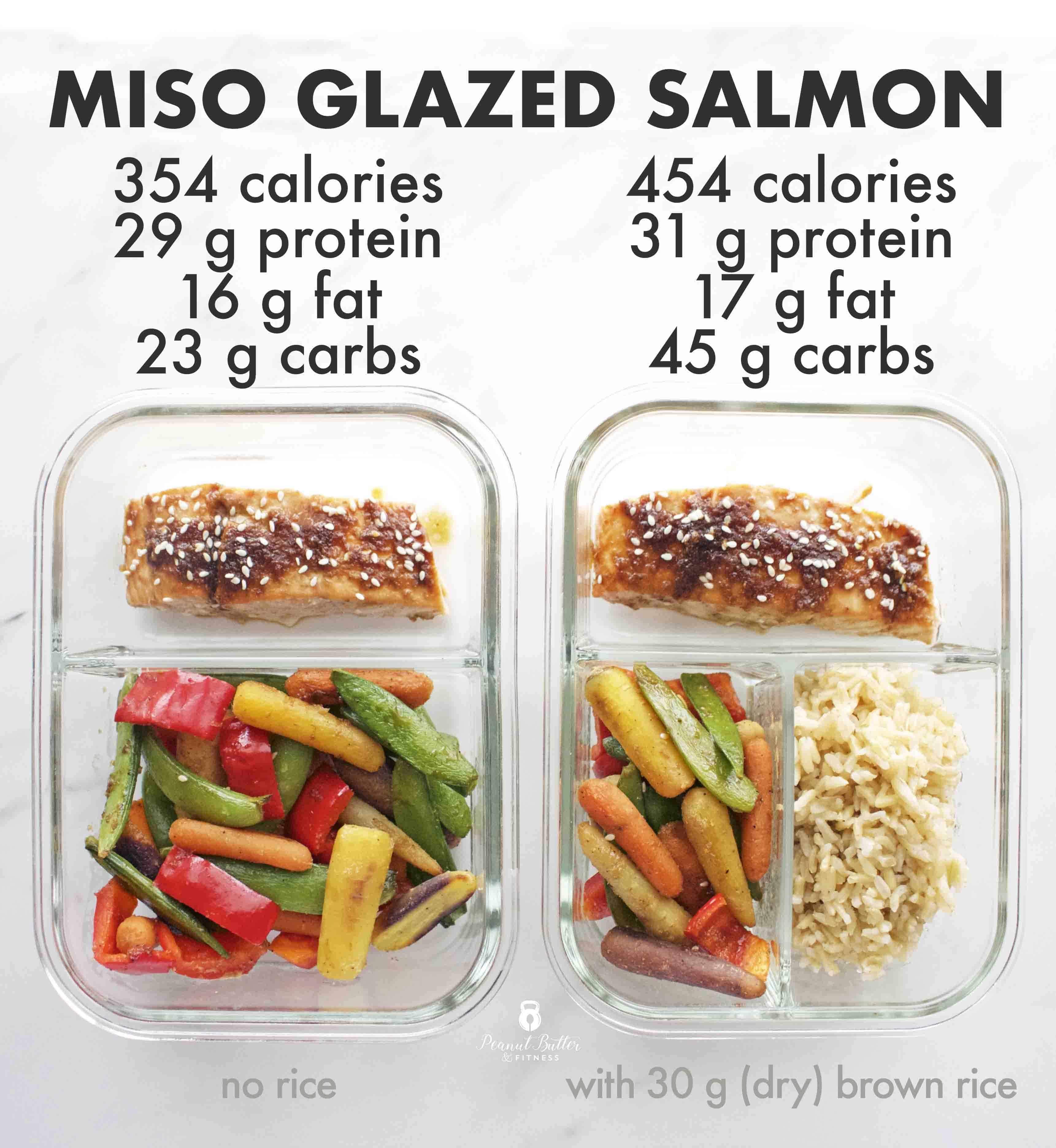 Shop for this Recipe
Here are some items I used to make this recipe a success. Note: these are Amazon Affiliate links.
The Recipe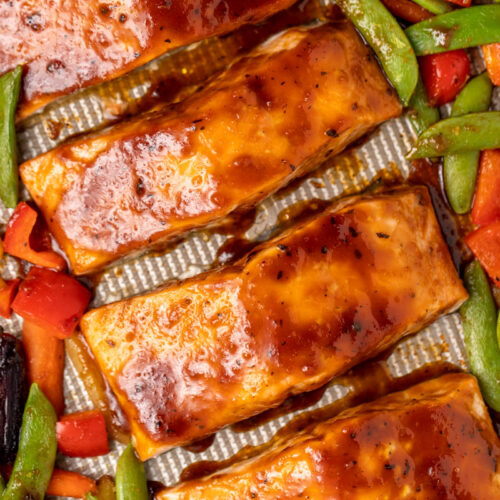 Sheet Pan Miso Glazed Salmon
Ingredients
1.1

lb

salmon,

(only 1 lb if using skinless)

18

oz

rainbow baby carrots

,

(510 grams)

1 1/2

cups

sugar snap peas

,

(255 grams)

1

large red bell pepper, chopped

,

(135 grams)

1/2

tbsp

olive oil

1/2

tsp

garlic powder

Salt and pepper to taste
Miso Glaze
1

tbsp

light brown sugar

,

(12 grams)

1

tbsp

low sodium soy sauce

,

(1/2 oz)

1

tbsp

mirin (or rice vinegar),

(1/2 oz)

1/2

tbsp

yellow or red miso paste

,

(7.5 grams)

1/2

tbsp

fresh grated ginger

1/2

tsp

garlic powder
Instructions
Pre-heat oven to 400 degrees. Line a baking sheet with foil and set aside.

Toss baby carrots with half of the olive oil and half of the garlic powder, then arrange in a single layer on the baking sheet. Bake for 18 minutes.

While the carrots bake, add the glaze ingredients to a small pan and bring to a boil over medium-high heat. Lower heat to a simmer and stir until brown sugar is melted. Set aside to cool in the refrigerator.

After the carrots have baked for 18 minutes, add sugar snap peas and red bell peppers and toss. Add the sliced salmon onto baking sheet and brush with half of the glaze, reserving the rest for after baking.

Bake the salmon and veggies for an additional 12-14 minutes or until salmon is cooked through.

Divide evenly into 4 servings and drizzle salmon and veggies with remaining glaze before serving.
Nutrition Information
Calories:
354
kcal
(18%)
,
Carbohydrates:
23
g
(8%)
,
Protein:
29
g
(58%)
,
Fat:
16
g
(25%)
,
Cholesterol:
72
mg
(24%)
,
Sodium:
401
mg
(17%)
,
Potassium:
932
mg
(27%)
,
Fiber:
6
g
(25%)
,
Sugar:
15
g
(17%)