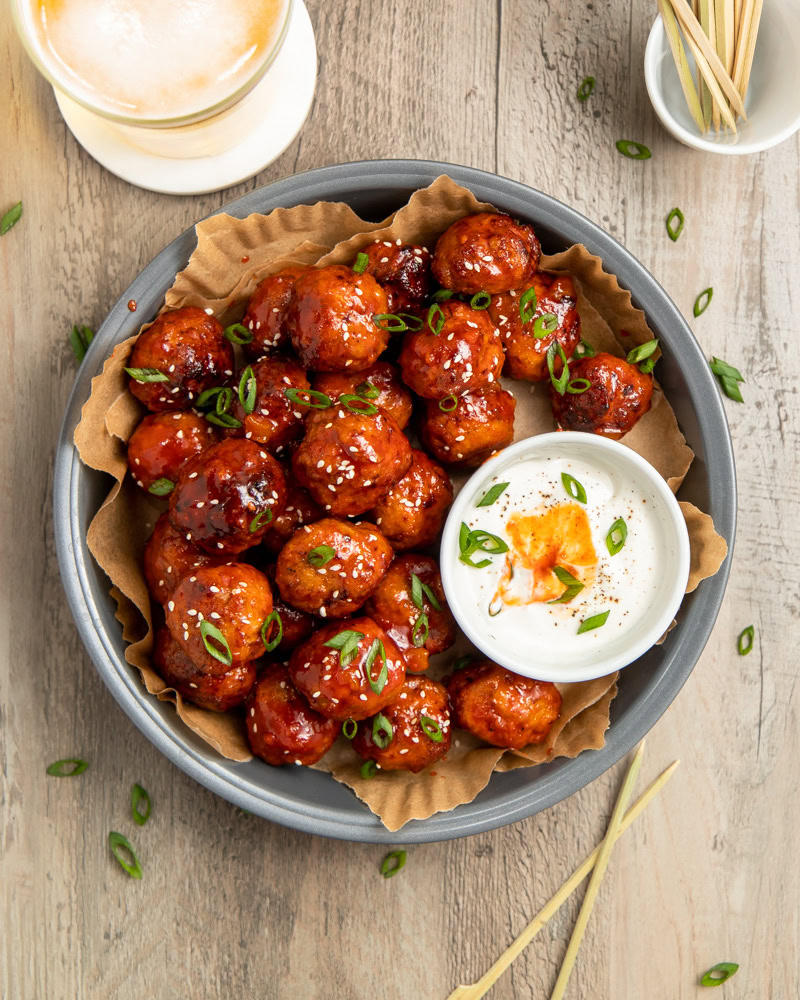 If you're looking for a quick and easy game day app that you can easily scale up to serve a crowd, look no further than these Sweet & Spicy Air Fryer Meatballs! The pork meatballs incorporate both gochujang and gochugaru (Korean red pepper flakes) to really hammer home those delicious spices, then they're air fried to golden brown perfection. Finally, they get tossed in a sweet and spicy sauce made from gochujang and peach and apricot preserves. Grape jelly would even work in this recipe too! I served mine with a side of rank for dipping and to help cool off some of that heat. Deeeelicious!!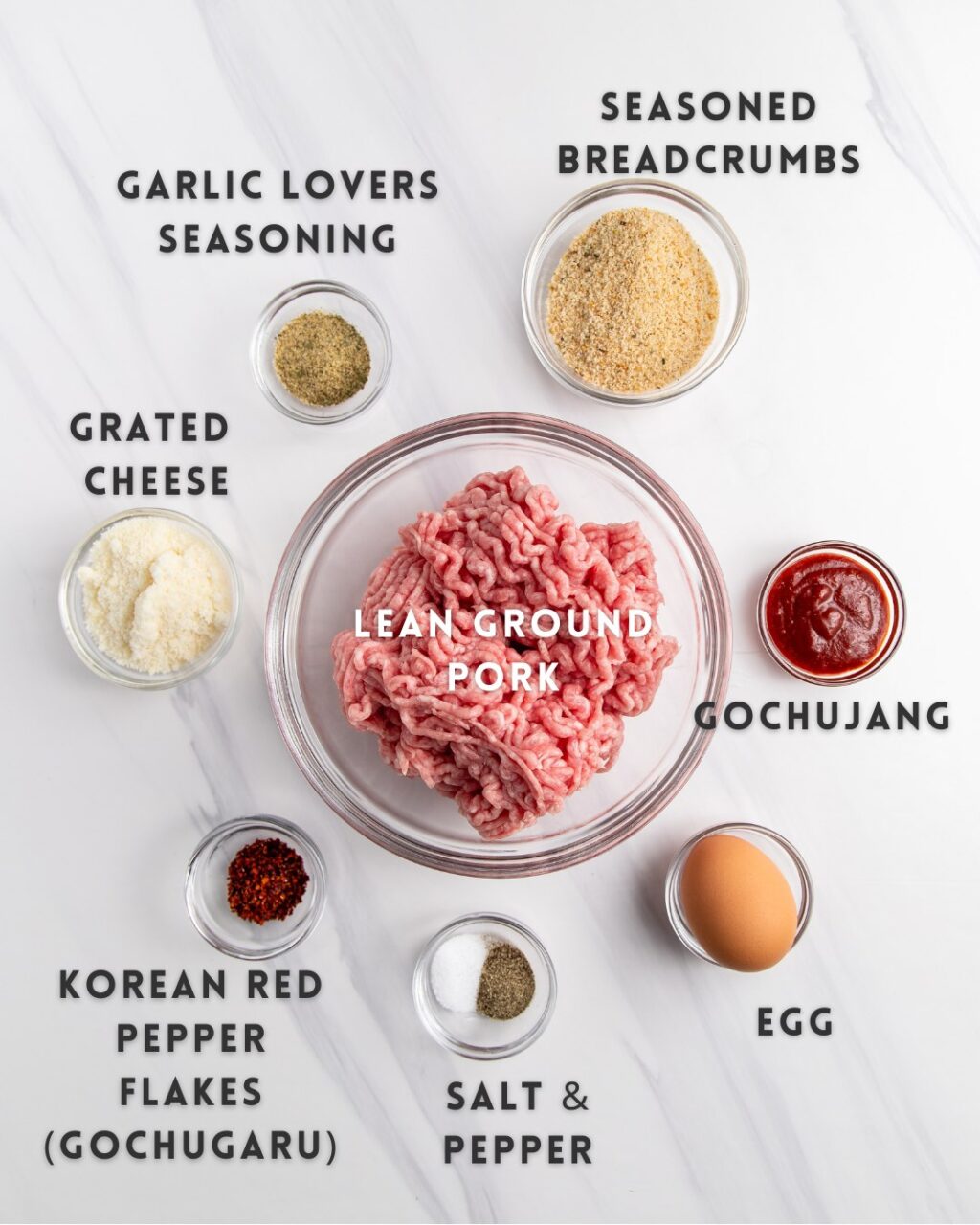 Ingredients and Substitutions
Here's what you'll need to make this recipe:
Lean ground pork – I used ground pork, but ground turkey or chicken would work fine in this recipe too. Try to find something around 90/10 or 93/7 – you want some fat to keep the meatballs tender and juicy, but not so much fat that there are huge puddles of melted fat in your air fryer.
Seasoned breadcrumbs – I just used the standard store-bought Italian seasoned breadcrumbs, but you could use panko or fresh breadcrumbs instead if you prefer.
Grated Italian cheese blend – I used a grated cheese blend that I got from Wegmans – it's Pecorino Romano and Parmigiano Regiano, which is a salty, delicious blend of pretty strong hard cheeses. You can always use parmesan if that's what you have available!
Egg – The glue that helps hold together the meatballs, don't skip this one.
Apricot and peach preserves – There is an apricot peach preserve from World Market that I really love (especially with fontina cheese and crackers), but there are plenty of other options! You could also use grape jelly, apricot preserves, or even pineapple preserves. You just really want something sweet with a hint of acidity.
Gochujang – If you've never had it before, gochujang is a spicy Korean paste made from fermented soy beans and peppers that adds an incredible umami flavor to any savory/spicy dish. Typically you'll see it in the store in 2 forms – one in a tub and one in a squeeze bottle. The one in the tub is a thicker, traditional paste and the one in the squeeze bottle is a sauce that's a little bit diluted and easier to work with for the average American cook who doesn't know their way around a Korean kitchen (myself included!).
Korean red pepper flakes (gochugaru) – If you can get your hands on gochugaru, I highly recommend picking up a container of it! You might be able to find it in the Asian section at your regular grocery store, but if not, then it's pretty easy to find in any Asian grocery store. These Korean red pepper flakes are nothing like the spicy ones you see Americans sprinkling on pizza – they're much more flavorful and even a little bit sweet. If you really can't find gochugaru, you can use regular chili powder, but just know that you're missing out 😉
Salt and pepper – To help all those flavors pop!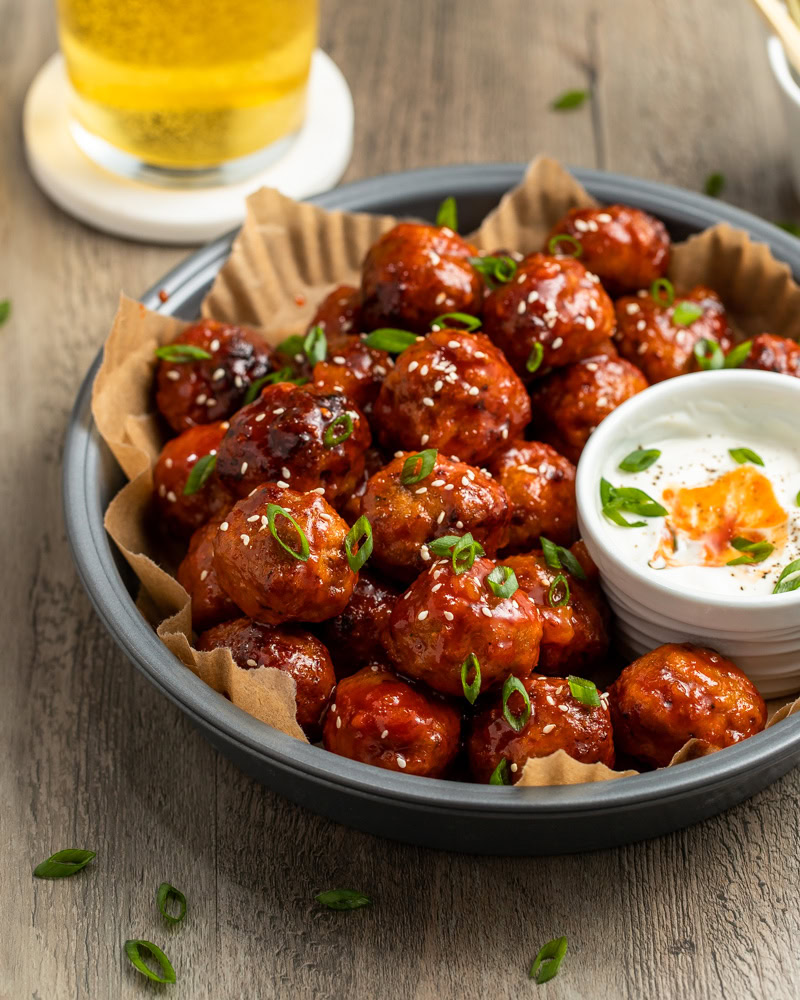 Shop for this Recipe
Here are some items I used to help make this recipe a success. Note: these are Amazon Affiliate links.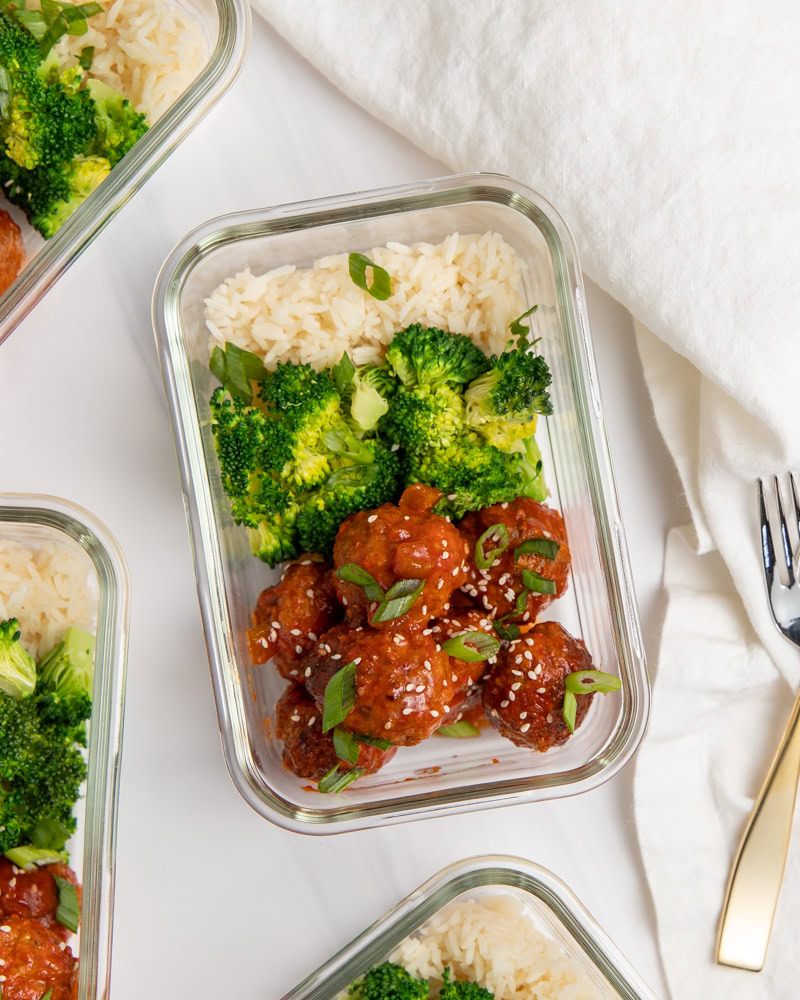 These meatballs work great in meal prep too! I served mine with steamed broccoli and jasmine rice.
Recipe
Sweet & Spicy Air Fryer Meatballs
Prep Time 15 minutes
Cook Time 20 minutes
Total Time 35 minutes
Servings 6 servings
Calories per serving 240 kcal
Ingredients
Meatballs
1 lb 90/10 lean ground pork
1 large egg
1/4 cup Italian seasoned breadcrumbs (28 grams)
1/4 cup Wegmans Italian cheese blend, grated (Pecorino Romano and Parmigiano Reggiano) (20 grams)
1 tbsp O'Food Gochujang Korean Chili Sauce (18 grams)
1 tsp Korean red pepper flakes or chili powder
1/2 tsp salt
1/2 tsp black pepper
Optional Toppings
green onions, chopped
sesame seeds
Instructions
Add all meatball ingredients to a large bowl and combine with your hands until the ingredients are well distributed in the ground pork. Use a cookie scoop to help form meatballs, rolling them in your hands to create smooth, round balls about 1 to 1.5" in diameter. Set the raw meatballs aside on a baking sheet.

Pre-heat air fryer to 400°F. After pre-heating, I like to add a parchment paper liner to my air fryer tray to make cleanup easy. Add meatballs to your air fryer tray in a single layer, being careful not to overcrowd. (Depending on the size of your air fryer, you may need to cook these in 2 batches.)

Air fry meatballs for 8-10 minutes or until cooked through. Once cooked, remove meatballs from air fryer tray with tongs, allowing excess juices to drip off for a moment before moving the meatballs to a bowl.

Whisk apricot preserves and gochujang until well blended, then pour over meatballs and toss until evenly coated. Top meatballs with sesame seeds and green onions before serving, if desired.
Recipe Notes
Click here or scan the barcode below to log this food in My Fitness Pal.
Nutrition Facts
Sweet & Spicy Air Fryer Meatballs
Amount Per Serving (3 meatballs)
Calories 240 Calories from Fat 81
% Daily Value*
Fat 9g14%
Cholesterol 84mg28%
Sodium 404mg18%
Potassium 48mg1%
Carbohydrates 20g7%
Sugar 15g17%
Protein 17g34%
* Percent Daily Values are based on a 2000 calorie diet.