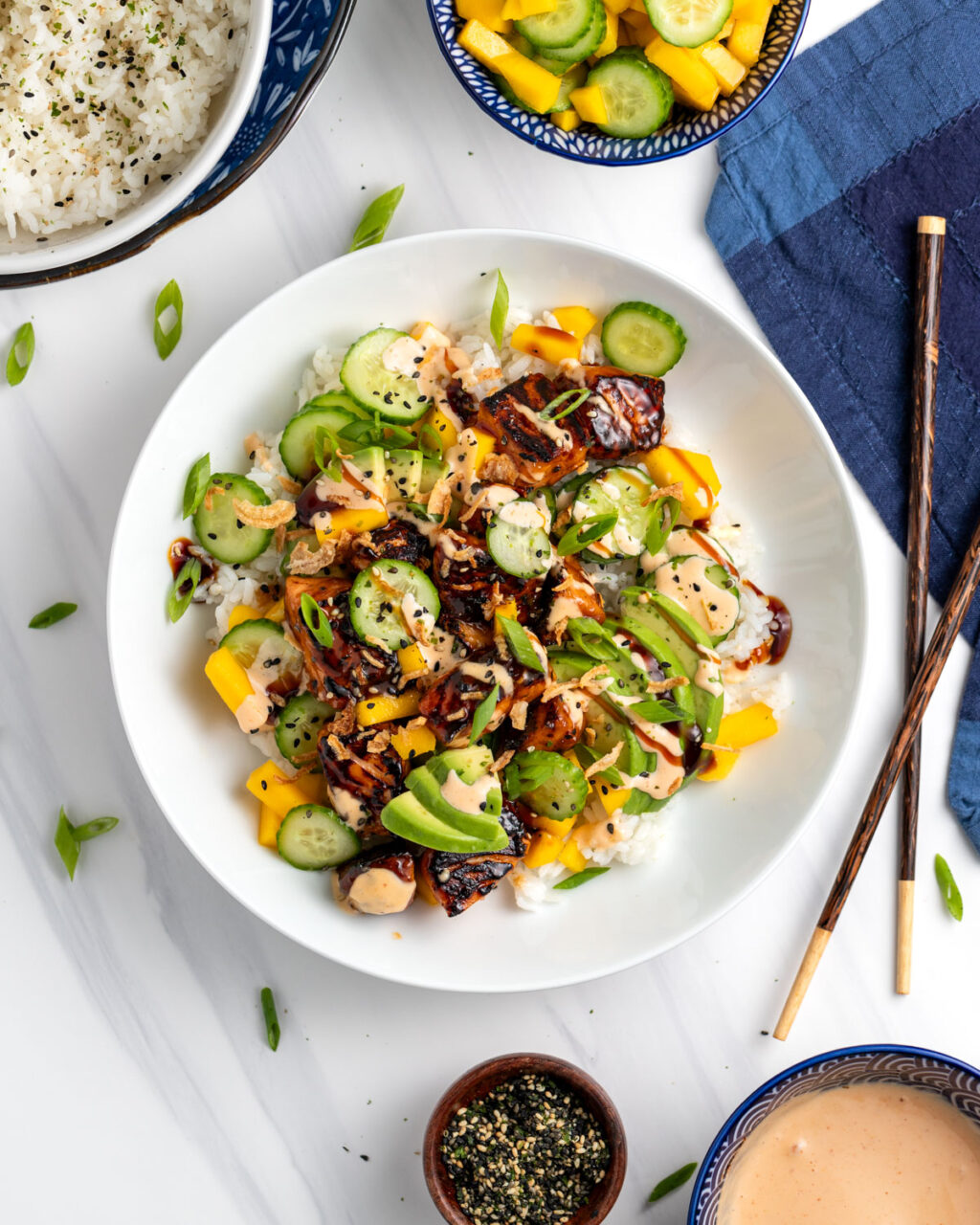 Time for a new recipe, y'all! Today we're diving into these Salmon Sushi Bowls – a mouthwatering fusion of flavors and textures that will transport you straight to sushi heaven. Whether you're a sushi aficionado or just dipping your toes into the world of Japanese cuisine, these bowls are a must-try! They feature pan seared salmon that's marinated in a yummy sauce that cooks down into a deliciously sticky mess, mango and cucumber "salad," avocado, and rice. It's all topped with familiar sushi toppings that will have you coming back to this recipe again and again.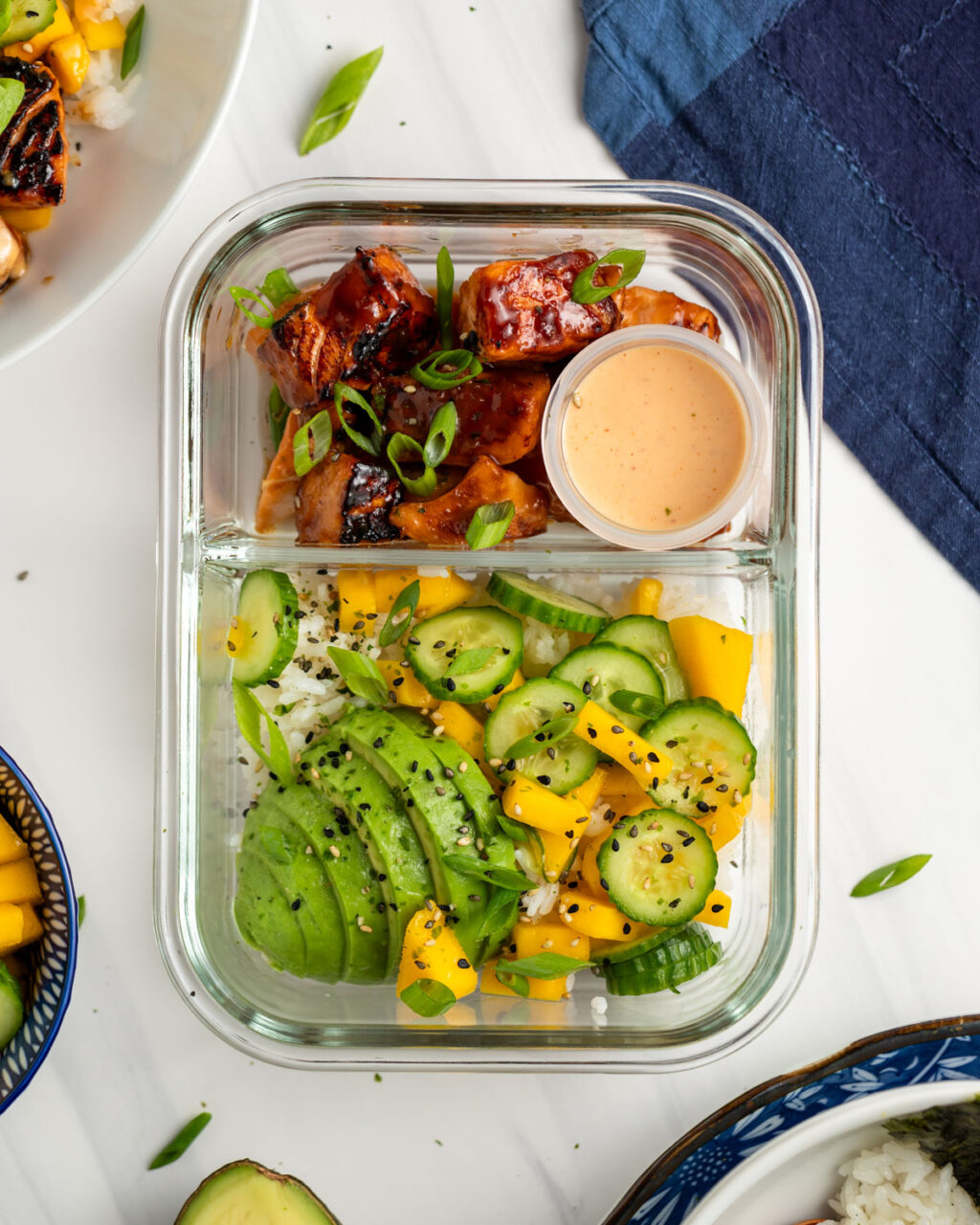 Tips for Meal Prepping this Recipe
I know that meal prepping with fish makes some people nervous, but this recipe works perfectly in meal prep! Here are my tips for making sure these bowls are just as yummy when lunch time at work rolls around:
Eat within 3 days of cooking the salmon. Whenever I'm meal prepping with fish, I always try to eat one of the prepped meals on prep day (usually Sunday for me). Then I'll eat the remaining servings within 3 days.
Store in an airtight container. I know those huge packs of cheap plastic containers you see at the store are tempting, but investing in quality meal prep containers will help keep your food fresh for longer and avoid the frustration of leaks! Check out more about my container recommendations here.
Keep the salmon separated from the veggies. I find it helpful to use a divided container like the one pictured here when meal prepping fish. I also like to use little sauce containers like this. If you don't want to invest in divided containers, you can always just get creative with silicone baking cups – the bonus is that they also double as an easy way to remove the veggies before microwaving the salmon and rice!
Give the avocado slices a citrus bath. I think we all know that avocado turns brown pretty quickly after slicing it up, but giving it a good rub down in lime juice will help slow that process down. Don't expect perfectly green avocado slices on day 3, but this is how I meal prep with avocado and haven't had issues
Ingredients and Substitutions
Here are the key ingredients you'll need to make this recipe:
Salmon – I used a combination of Atlantic salmon belly and regular salmon fillet in the bowl you see here, but the most important thing is that you find a nice thick piece of salmon and it's helpful if it's still in large fillet form instead of divvied up into individual serving size pieces. You may also be able to find salmon "bites" in your grocery store that have already been chopped up into bite size cubes. I personally prefer to do the slicing myself, to include removing the skin. I think you get fresher salmon that way and you get exactly what you're looking for in terms of marbling and size. I do not recommend using other types of salmon like Coho or Sockeye because it's so lean that it's susceptible to drying out or burning quickly.
Salmon marinade – I know this isn't a single ingredient, but this post would get super long if I give every single ingredient its own paragraph. So here we go, this marinade has: soy sauce, mirin, brown sugar, fresh grated ginger, sesame oil, and wasabi paste. If you haven't tried it before, mirin is a lightly sweet Japanese rice wine that is a perfect complement to soy sauce. If you can't find it or don't want to buy it, try using rice vinegar and 1/2 tsp of sugar per tablespoon of rice vinegar used.
Sushi rice – Look, I'm no expert when it comes to making rice and I can't bring myself to buy a rice maker (or figure it out on my Instant Pot). I know some of you are going to get super judgy about it, but the little store-bought bowls of microwave sushi rice work perfectly and the texture is on point every time. You may also see sushi rice in this format labeled as sticky rice – it's the same thing. You want that stickiness to really get the sushi vibe – plus it's much easier to eat with chopsticks if that's your jam. If you can't find sushi rice, regular rice like Jasmine rice will work just fine.
Avocado – Cool, creamy, and refreshing, avocado pairs well with the deep flavors of the salmon and bright tangy mango cucumber salad.
Mango and cucumber salad – Again, I'm not going to give you an in-depth run down of every ingredient, because let's face it – no one cares! But ya know, I gotta write all this nonsense because #SEO. That said, I gave the mango and little mini cucumbers you see here a bath in lime juice, a touch of mirin, and salt to dress them. It might seem like a waste of time, but trust me when I say this extra acidity makes this quick little salad totally crave-worthy! It also kinda-sorta pickles the cucumbers which makes them even more fun to eat. If you don't like mango or can't find it, first of all, I'm so sorry. And second, you could get a little frisky and try peeled peach chunks or even cantaloupe as a substitute.
Now, let's talk about the ever important toppings for the sushi bowl! These can be a total game changer for bringing the bowl together not only in terms of flavor, but also texture.
Eel sauce – Sounds weird, tastes delicious!
Sriracha mayo – Any kind of spicy mayo will do the trick here, but I really love making my own at home with Kewpie mayonnaise and sriracha.
Crunchy topping – This is totally vague, but there are several options for achieving that crunchy topping that I love so much on sushi rolls. Everyone loves that, right? What you see pictured on top of mine is actually fried red onion, which I found in the Asian grocery store chain near me (H-Mart). I like them because they add crunch and flavor. Other options include: crunchy tempura bits, toasted panko breadcrumbs, and fried shallots. If you don't have an Asian market nearby, check the salad toppings aisle and I bet you'll find some crispy onions or shallots.
Furikake – Get your mind out of the gutter, this is not that other thing you're thinking of. Furikake is a Japanese rice seasoning made with little bits of dried seaweed, sesame seeds, dried fish, salt, sugar, and maybe a little bit of MSG (depending on the brand). The one pictured here that I keep on hand does not have MSG and I can always find it at Wegmans. If you've never added it to your rice or sushi before, you're missing out! It's like a confetti of umami that elevates the overall experience of the sushi bowl.
Green onions – Totally optional, but I love the extra punch of fresh flavor that they bring to the bowl.
Shop for this Recipe
Here are some items I used to help make this recipe a success. Note: these are Amazon Affiliate links.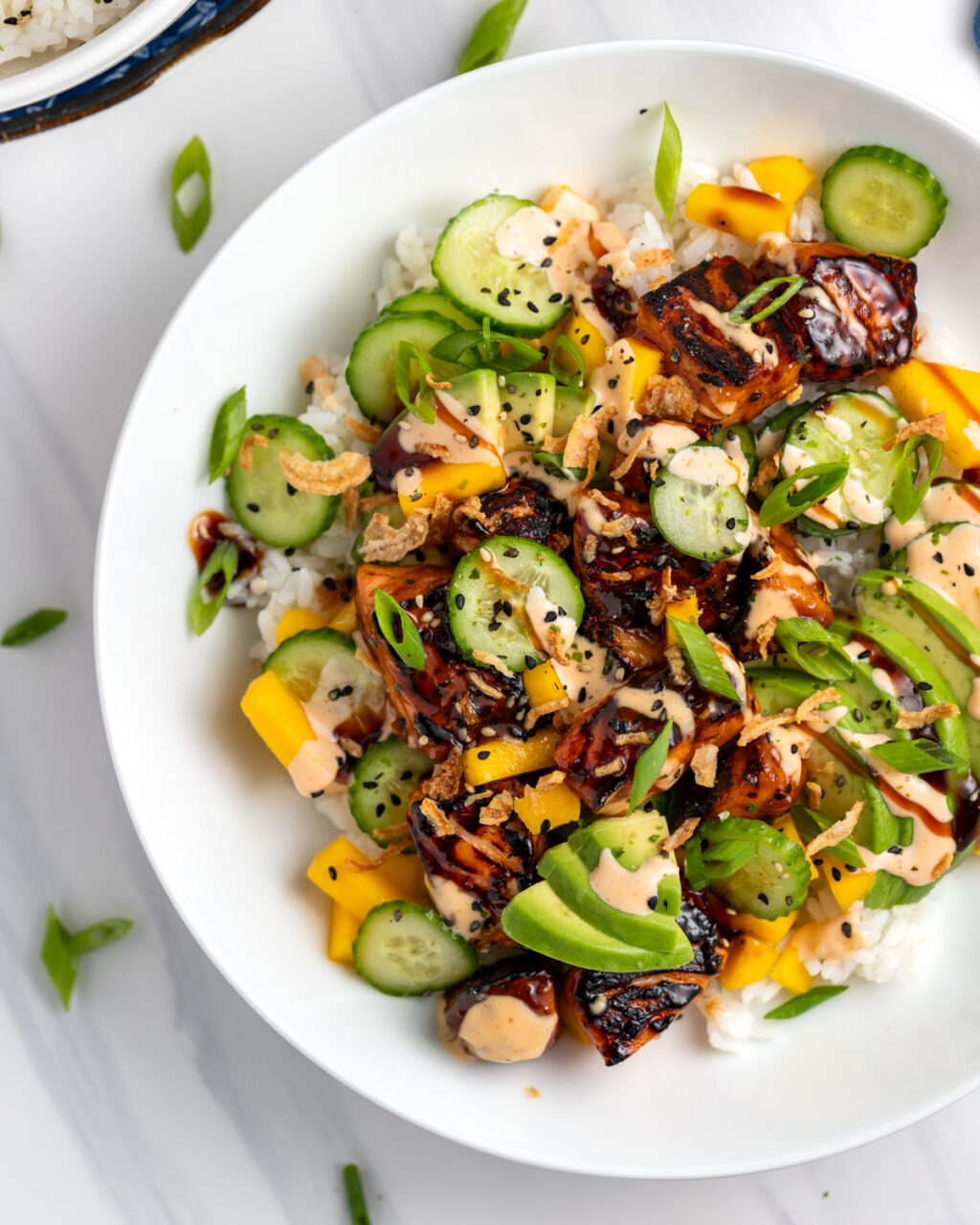 Salmon Sushi Bowl Recipe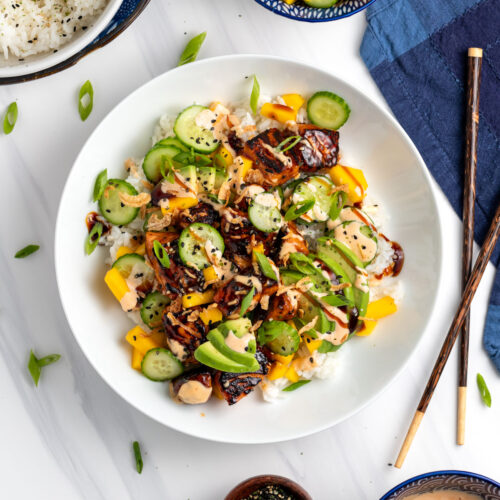 Salmon Sushi Bowl
Ingredients
1

lb

salmon, cut into 3/4" chunks

1

7.4 oz cup

Nishiki Medium Grain Rice, heated according to package directions

1

medium avocado, sliced

,

(150 grams)

2

tbsp

sriracha mayo

,

(1 fl oz)

1 1/2

tbsp

eel sauce / unagi sushi sauce,

(0.75 fl oz)
Salmon Marinade
1/4

cup

low sodium soy sauce

,

(2 fl oz)

3

tbsp

mirin

,

(1.5 fl oz)

1

tbsp

light brown sugar

,

(12 grams)

1

tbsp

fresh grated ginger

,

(15 grams)

2

tsp

sesame oil

,

(9 grams)

1/2

tsp

wasabi paste
Quick Mango and Cucumber Salad
1

medium mango, peeled and diced

,

(260 grams)

2

mini cucumbers, thinly sliced

,

(130 grams)

1

lime, juiced

1

tbsp

mirin

,

(0.5 fl oz)

1/2

tsp

salt
Instructions
Marinate salmon. In a medium bowl, whisk salmon marinade ingredients until well combined. Add salmon chunks and gently toss to coat and cover salmon in marinade. Cover and refrigerate for 30 minutes to 2 hours.

Make mango and cucumber salad. In a small to medium bowl, toss diced mango and sliced cucumbers in lime juice, mirin, and salt. Cover and set aside in the refrigerator.

Cook salmon. Heat a shallow but large skillet over medium-high heat. Once the pan is hot, add salmon chunks in a single layer (you may need to do this in more than one batch to avoid overcrowding), allowing any excess marinade to drip in the bowl before adding to the skillet. Cook on one side for about 2 minutes, then carefully flip and cook the other side for 2-3 minutes or until you can no longer see a strip of raw salmon at the center. Remove salmon to a plate.

Once salmon is removed from the skillet, add any remaining marinade to the hot skillet and bring to a boil. Lower heat to a medium and stir continuously until the marinade has reduced by about half. Pour over the salmon and set aside.

Assemble the bowls. In 4 serving bowls, layer the rice, salmon, mango cucumber salad, and avocado. Top with sriracha mayo, eel sauce, furikake seasoning, and any additional desired toppings like fried onions or green onions.
Tips & Tricks
Nutrition Information
Calories:
565
kcal
(28%)
,
Carbohydrates:
51
g
(17%)
,
Protein:
27
g
(54%)
,
Fat:
27
g
(42%)
,
Cholesterol:
65
mg
(22%)
,
Sodium:
977
mg
(42%)
,
Potassium:
762
mg
(22%)
,
Fiber:
4
g
(17%)
,
Sugar:
23
g
(26%)