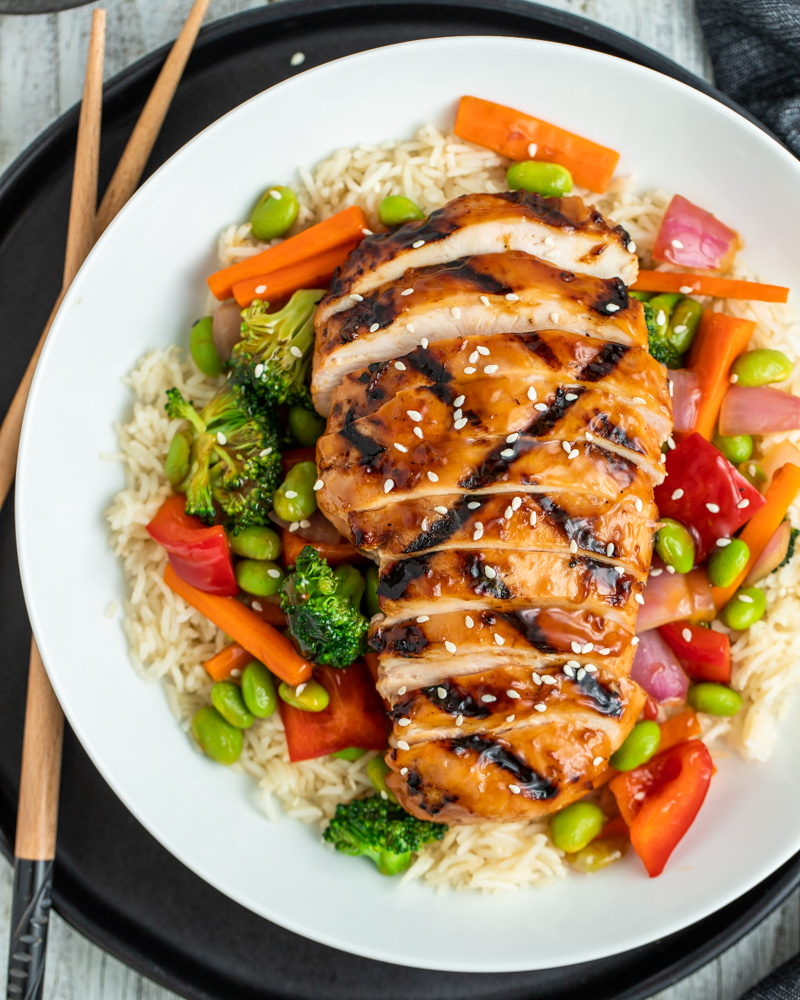 Get your grill tongs ready, you're going to want to add these Teriyaki Chicken Power Bowls to your meal prep menu for next week! This is probably the easiest teriyaki chicken bowl recipe you can find around, especially since I used a shortcut with store-bought teriyaki sauce. Not that it's hard (or time consuming) to make your own…it's just that sometimes I don't want to pull all the ingredients out. Here, I'd rather focus my efforts on making delicious chicken and perfectly tender crisp veggies.
I've made this recipe a few times already and I love the sticky sweet umami of teriyaki sauce, slathered all over the chicken and veggies. You can see what veggies I chose to use below, but honestly you can use whatever you'd like. Just be sure to marinate the chicken and grill it to get those gorgeous (and flavorful) grill marks. Don't forget to spray or oil your grill grates though! The sugar in the teriyaki sauce will cause it to stick and burn if you don't.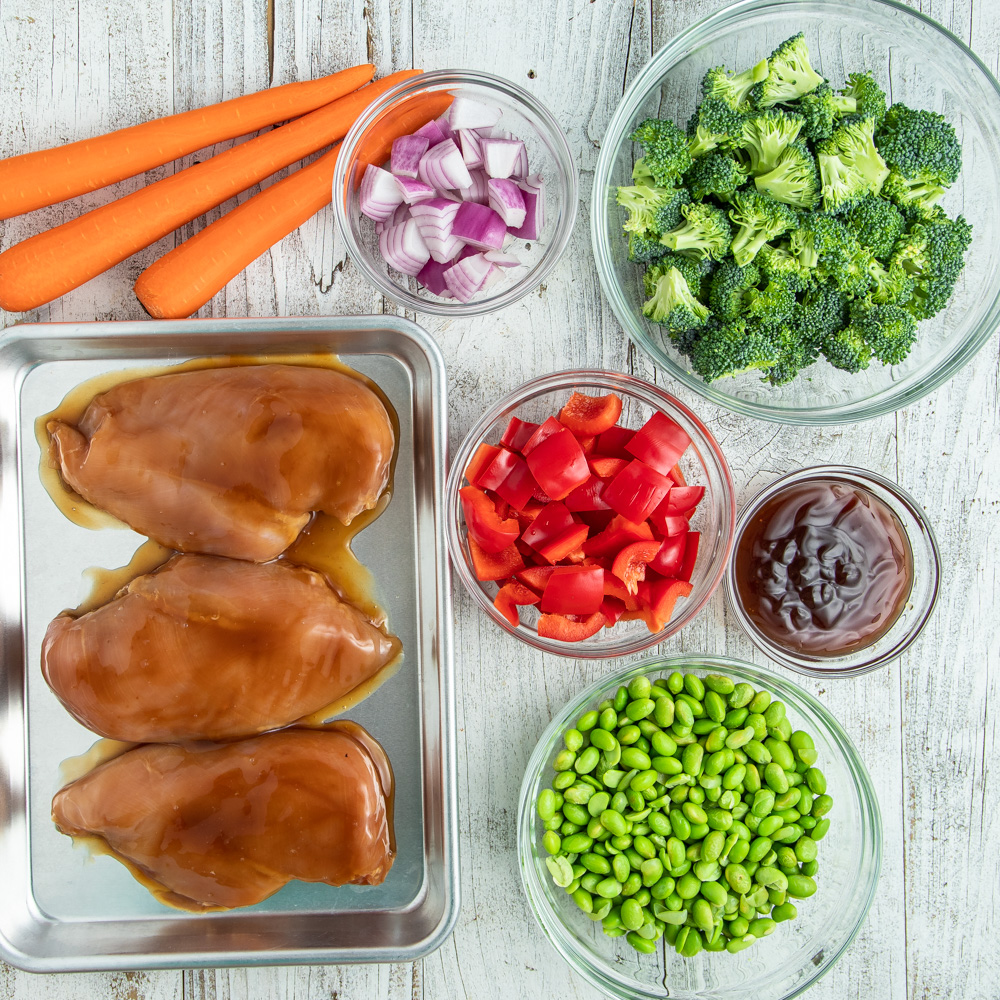 Ingredients & Substitutions
Here's what you'll need to make this recipe:
Chicken – I use chicken breasts for this recipe. If they are really thick on one end, be sure to pound them down (before marinating) to make sure they will cook evenly. It will also help the teriyaki flavor seep in while marinating.
Edamame – Shelled edamame adds a nice kick of protein and fiber to this recipe, plus I love the texture mixed in with the other veggies.
Broccoli – You could probably skip the broccoli if you really don't like it, but as long as you cut the florets up into small enough pieces, I think it's a great addition to the veggie mix here.
Carrots – Another great texture veggie in this recipe, I like to cook it just to the point of still being tender crisp so it still has a bite to it. Plus the slight sweetness is great with the teriyaki sauce.
Red Bell Pepper – adds a big pop of color and flavor to the veggie mix.
Red Onion – no need to finely dice the onion. Leave it in big chunks (just a touch smaller than what you would use for skewers) so you can see and bite into it when you dig in.
Teriyaki Sauce – I used a nice thick teriyaki sauce that I found at Wegmans. Many of the ones you'll find in the store are more runny, but I went with the thickest one I could find so it would really stick to the meat and veggies instead of pooling at the bottom of my bowl. If you'd prefer, you can always make your own teriyaki sauce to slather over the chicken and veggies instead (it's actually really easy to do, just search Google or Pinterest).
Soy Sauce and Rice Vinegar – I used these to thin out my store-bought teriyaki sauce to help it absorb better into the chicken during quick marination. If you plan to marinate overnight, skip the vinegar since the extra acidity can start to "cook" the meat if it sits too long. If your teriyaki sauce is already pretty runny/liquid, you can skip these completely.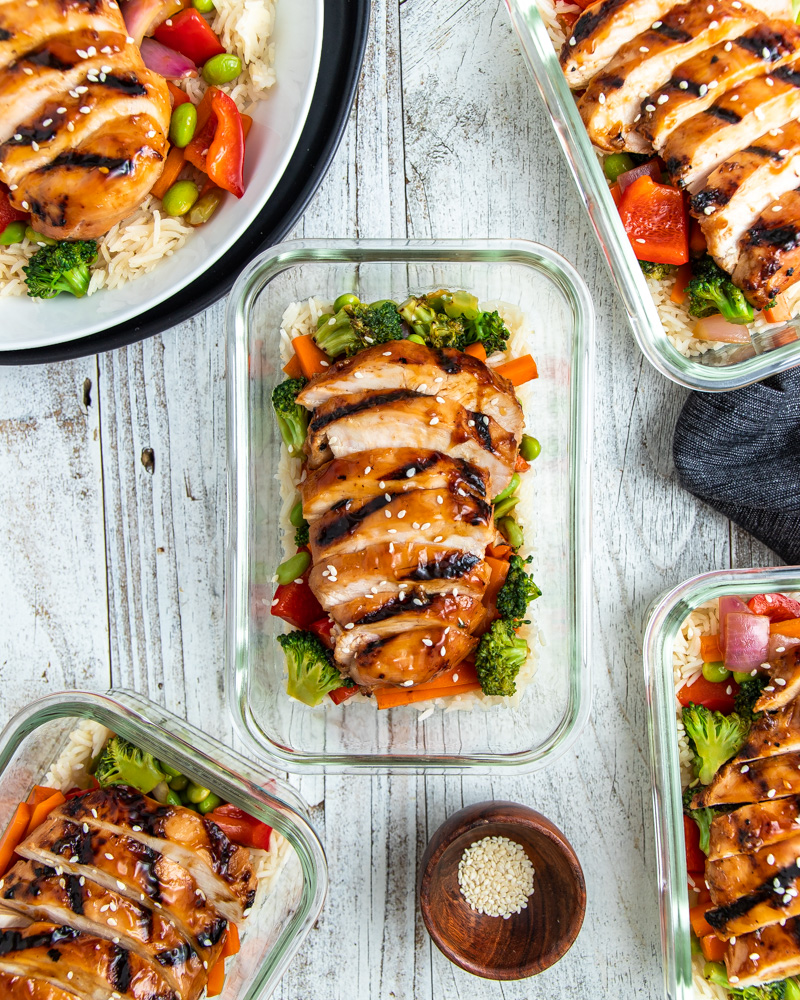 Shop for this Recipe
Here are some items I used to help make this recipe a success. Note: these are Amazon Affiliate links.
Recipe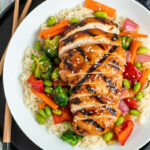 Teriyaki Chicken Power Bowls
Servings 6 servings
Calories per serving 347 kcal
Ingredients
2 lb chicken breast, raw
2 cups shelled edamame (340 grams)
1 large red bell pepper, chopped (165 grams)
3 cups broccoli florets (234 grams)
3 medium carrots, julienned (250 grams)
1 small red onion, roughly chopped (100 grams)
1 1/4 cup Wegmans Organic Teriyaki Sauce, divided (10 fl oz)
3 tbsp low sodium soy sauce
2 tbsp rice vinegar
2 tsp sesame oil
Optional: rice for serving
Instructions
Marinate chicken. Add chicken to a resealable container or zip top bag. Pour 1/2 cup of the teriyaki sauce, soy sauce, and rice vinegar over the chicken and mix around with your hands until well incorporated and evenly coated. Set aside to marinate in the refrigerator for at least 2 hours or up to 6 hours.

Set aside 2-3 tbsp teriyaki sauce in a small bowl with a brush for grilling.

Grill chicken. After chicken has marinated, pre-heat grill to 400°. Spray grill grates with grill-safe non-stick spray. Allow excess marinade to drip off of chicken, then place on sprayed or oiled grill grates. Close grill and cook for 6 minutes, then flip chicken, brush with additional teriyaki sauce, and continue cooking for 5-6 more minutes or until internal temperature barely reaches 165°. Set aside to rest for at least 5 minutes before slicing.

Prepare veggies. As the chicken cools, heat a large skillet over medium high (7-8 out of 10) heat. Add 1 tsp sesame oil. Once hot, add julienned carrots and cook, flipping and stirring frequently for 2-3 minutes or until carrots begin to soften. Add pepper and onion and continue cooking for another 1-2 minutes. Remove to a large bowl and set aside.

In the same hot skillet, add remaining sesame oil. Once hot, add broccoli florets and toss to coat evenly. Cover with a lid to trap the steam and continue cooking and flipping broccoli until it's tender crisp, about 3 minutes. Add a tablespoon or 2 of water if needed to help it steam and cook. Remove to the bowl with the cooked carrots, pepper, and onion.

Add shelled edamame to bowl with veggies and pour remaining teriyaki sauce over top. Mix to coat evenly.

Assemble. Serve over rice and add sliced chicken on top. Garnish with sesame seeds, if desired.
Recipe Notes
Note: The nutrition info listed for this recipe does NOT include rice so you can add as much or little as you like (or serve over something else), but I included barcodes for both with and without rice.
Click here to log this food WITHOUT rice in My Fitness Pal.
Click here or scan the barcode below to log this food WITH 1 cup (180 grams) uncooked Lundberg Organic Brown Jasmine Rice – cooked and divided among 6 servings – in My Fitness Pal.
Nutrition Facts
Teriyaki Chicken Power Bowls
Amount Per Serving
Calories 347 Calories from Fat 63
% Daily Value*
Fat 7g11%
Cholesterol 209mg70%
Sodium 795mg35%
Potassium 1577mg45%
Carbohydrates 28g9%
Fiber 5g21%
Sugar 16g18%
Protein 42g84%
* Percent Daily Values are based on a 2000 calorie diet.
WITH RICE

WITHOUT RICE