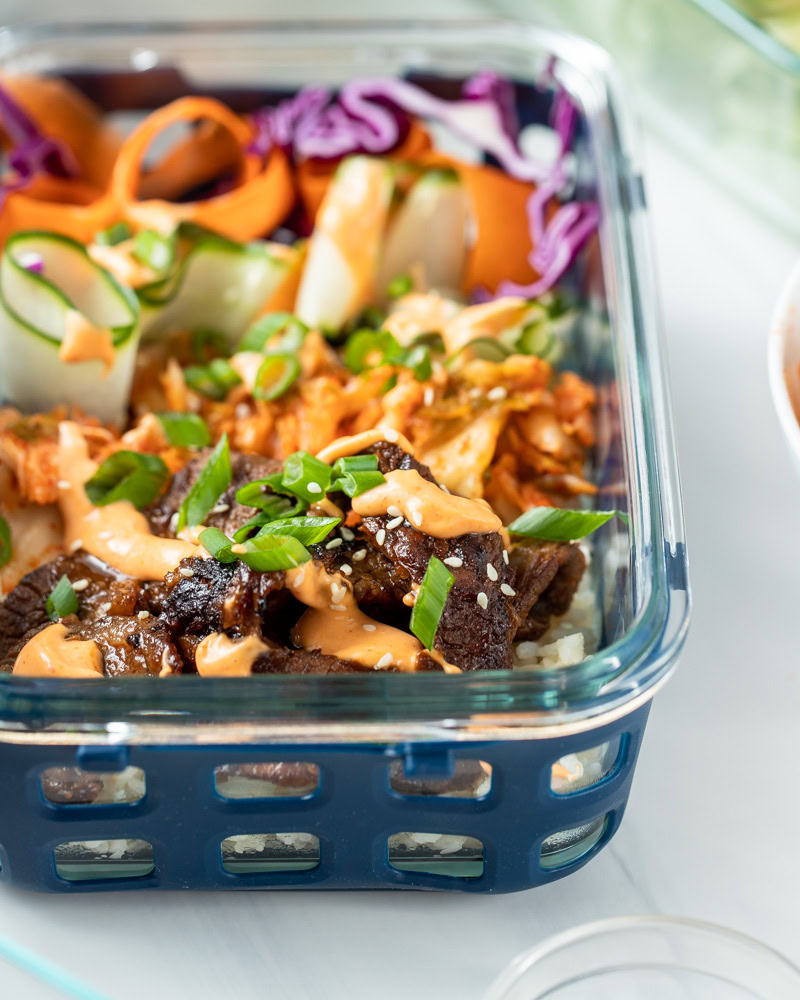 Time for the first new recipe Wednesday of the year – and we're coming out the gates strong with this incredible Bulgogi Beef Bowl! Bulgogi literally means "fire meat" and is a really popular Korean dish, especially at Korean barbecue. It's made with tender, thin sliced meat that's been marinated in a sweet and savory combination of soy sauce, ginger, garlic, gochujang, sesame, and a grated pear. The pear is what helps tenderize the meat and makes it oh-so-delectable.
I do want to put the disclaimer out there that if you're looking for authentic Korean recipes like bulgogi, I'm not your girl. Check out blogs like Kimchimari, My Korean Kitchen, or Damn Delicious instead. If you've been to my blog before, you know that I take inspiration from foods I love and make them my own at home – usually in a meal-prep friendly way. This recipe is exactly that!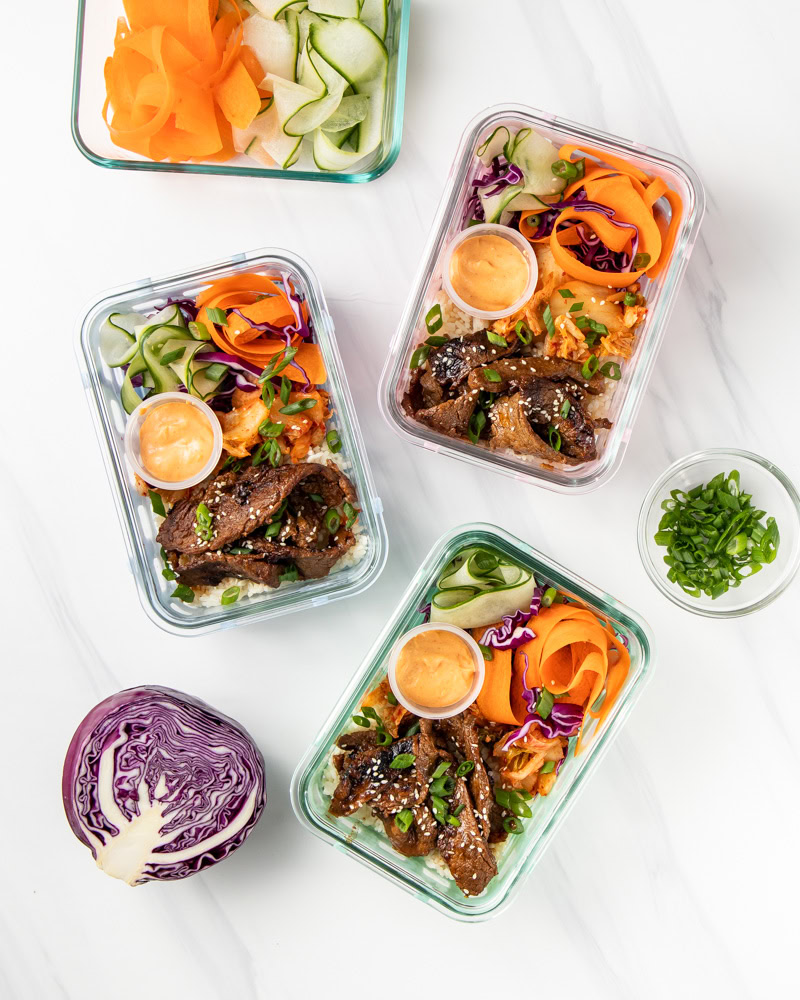 The first time I tried making this recipe, I made the mistake of crowding the skillet in hopes of hurrying things along, which – although still tasty – totally ruined the lovely caramelized bits of sugar that you find in traditional bulgogi. So unless you're cooking this over a fire or traditional Korean BBQ, the key to getting that amazing flavor and texture is to resist the temptation to add too much beef to the skillet at once. Make sure you keep it in a single layer in a nice hot pan and only flip it once. It might take you 2-3 batches depending on the size of your skillet, but I promise it's worth the extra effort!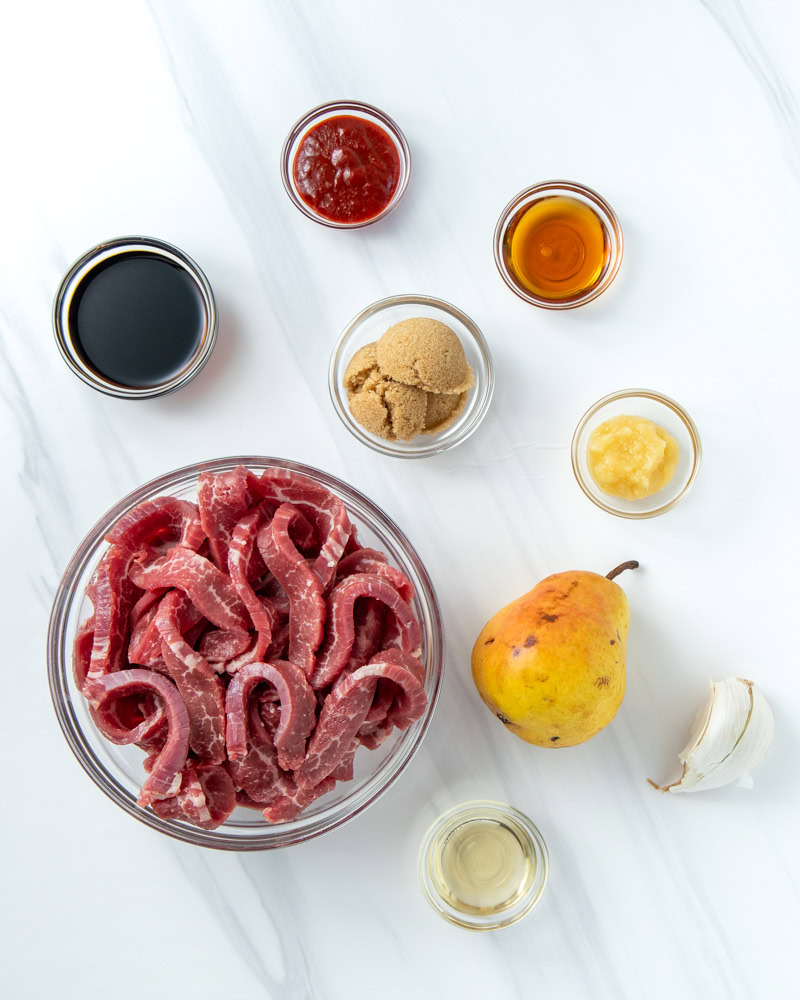 Ingredients and Substitutions
Here are the key ingredients you'll need to make this recipe:
Flank steak – I like flank steak for this recipe because it's relatively lean and inexpensive, but most bulgogi recipes call for ribeye or top sirloin. Before marinating the meat, slice it thinly against the grain – you can even throw it in the freezer for 30 minutes before slicing to make it easier to get those thin slices. Because flank steak is a bit tougher than ribeye or sirloin, it does need longer to marinate and tenderize in the bulgogi marinade. I recommend marinating 8-12 hours for flank steak, but you can definitely get away with a shorter marinating time – you'll just miss out on some of that tenderness. Ribeye only needs 2-3 hours in comparison.
Bulgogi marinade – I'm not going to list all these ingredients out individually here, but I do want to call attention to 2 critical ingredients. First, the pear! Yes, you really do need to grate a pear into this marinade. It contains enzymes that help tenderize the beef. I used a Bosc pear, but if you can find an Asian pear at the store and want to pay extra for it, that'll work perfectly. You could also use kiwi to get the same tenderizing effect, but I like the sweetness of the pear in this marinade. Second, the brown sugar! You have to have the sugar in there to get the traditional caramelized edges on the strips of beef. The rest of the marinade ingredients are listed in the recipe below.
Gochujang mayo – You can buy this pre-made in the store, but I prefer mixing up my own at home. You get to control exactly how much gochujang goes in, plus you'll need more gochujang for the marinade anyways. If you've never had it before, gochujang is a spicy Korean paste made from fermented soy beans and peppers that adds an incredible umami flavor to any savory/spicy dish. Typically you'll see it in the store in 2 forms – one in a tub and one in a squeeze bottle. The one in the tub is a thicker, traditional paste and the one in the squeeze bottle is a sauce that's a little bit diluted and easier to work with for the average American cook who doesn't know their way around a Korean kitchen (myself included!).
Kimchi – Kimchi is a fermented side dish with a variety of ingredients, the main one usually being Napa cabbage. Because it's fermented, it can hit all the flavor notes of spicy, sweet, and sour. If you're not sure that you'll like kimchi, you can totally just skip it. I really like that added hit of flavor and spice in my bowl though!
Red Cabbage – This ingredient doesn't lend a ton of flavor, but damn it's pretty and has lots of good-for-you vitamins and minerals. You could use shredded lettuce in it's place, but it won't hold up as well in meal prep.
Carrot and cucumber ribbons – Add a pop of cool, refreshing veggies that not only help round out the spiciness of the beef and kimchi, but those green and orange ribbons also help round out the color palette of this gorgeous bowl.
Rice – I like serving this with jasmine rice, which is a nutty, long-grain rice that is originally from Thailand. I personally prefer it to basmati rice, which is a bit less tender and hails from India. Use whatever rice you like here though!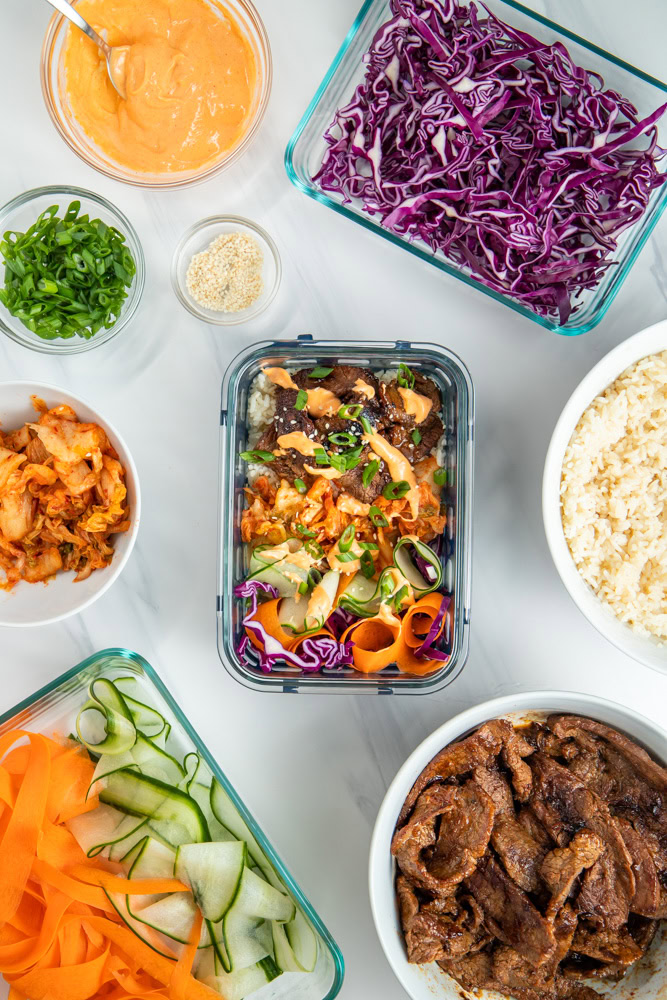 Shop for this Recipe
Here are some items that helped make this recipe a success. Note: these are Amazon Affiliate links.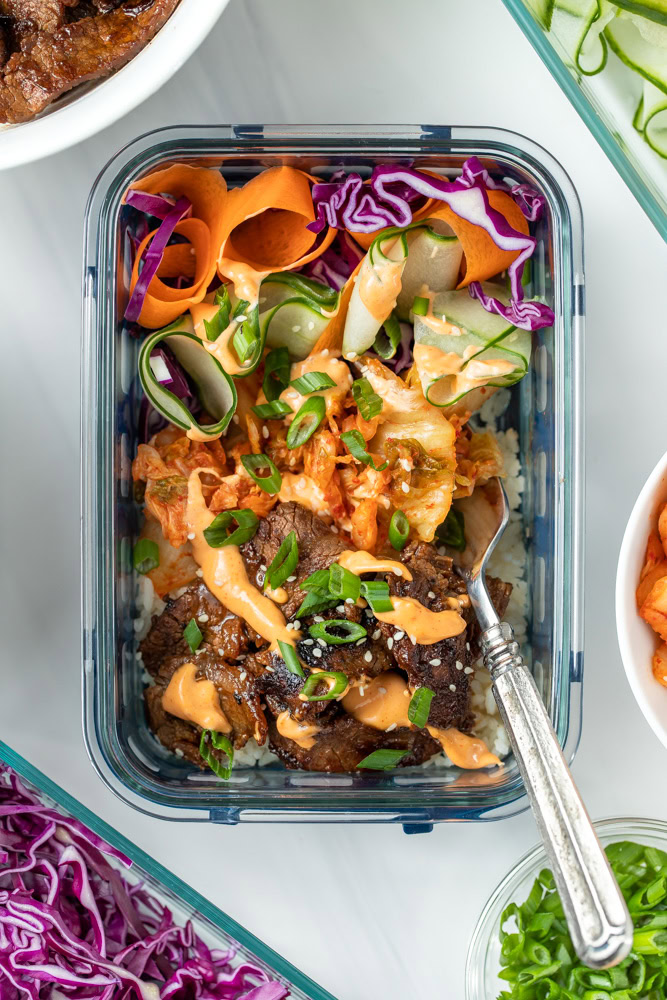 Recipe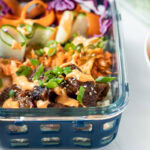 Bulgogi Beef Bowl
Prep Time 30 minutes
Cook Time 15 minutes
Total Time 45 minutes
Servings 6 servings
Calories per serving 442 kcal
Ingredients
1 1/2 lbs flank steak, sliced thinly against the grain
3 cups red cabbage, shredded (210 grams)
1 medium cucumber, shaved into ribbons (avoiding the seeds in the middle) (135 grams)
2 medium carrots, shaved into ribbons (77 grams)
6 oz kimchi (168 grams)
1 cup jasmine rice, cooked according to package directions (180 grams)
1/2 cup green onions, chopped (52 grams)
1/2 cup Duke's light mayonnaise with olive oil (120 grams)
1 tbsp O'Food Gochujang Korean Chili Sauce (18 grams)
1 tbsp vegetable oil (14 grams)
1 tsp sesame seeds
Marinade
1/2 pear, grated (86 grams)
3 tbsp light brown sugar (36 grams)
3 tbsp low sodium soy sauce (45 mL)
3 cloves garlic, grated (12 grams)
1 tbsp fresh grated ginger (6 grams)
1 tbsp O'Food Gochujang Korean Chili Sauce (18 grams)
1 tbsp sesame oil (15 mL)
1 tbsp rice vinegar (15 mL)
Instructions
Whisk all marinade ingredients together and pour over thinly sliced flank steak. Gently toss with your hands to evenly coat the steak. Refrigerate for at least 2 hours or up to overnight.

Whisk light mayonnaise with 1 tbsp gochujang until well combined. Set aside in refrigerator.

Heat a large skillet over medium-high heat (7 of 10). Add half of the vegetable oil and swirl to coat the skillet. Once the oil is shimmering and hot, add marinated steak in a single layer, being careful not to overcrowd the skillet. Cook on one side for about 2 minutes or until sugar has begun to caramelize and brown. Flip and cook 1-2 minutes on other side, or until cooked through. Wipe out pan and repeat process (you may need to do this a 3rd time depending on the size of your skillet).

Add rice, red cabbage, kimchi, carrots, and cucumber in a serving bowl or meal prep container. Add cooked bulgogi steak, then top with gochujang mayo, sesame seeds, and green onions before serving.
Recipe Notes
Click here or scan the barcode below to log this WITH RICE in My Fitness Pal.
Click here or scan the barcode below to log this WITHOUT RICE in My Fitness Pal.
Nutrition Facts
Bulgogi Beef Bowl
Amount Per Serving
Calories 442 Calories from Fat 153
% Daily Value*
Fat 17g26%
Cholesterol 58mg19%
Sodium 605mg26%
Potassium 172mg5%
Carbohydrates 40g13%
Fiber 3g13%
Sugar 10g11%
Protein 28g56%
* Percent Daily Values are based on a 2000 calorie diet.