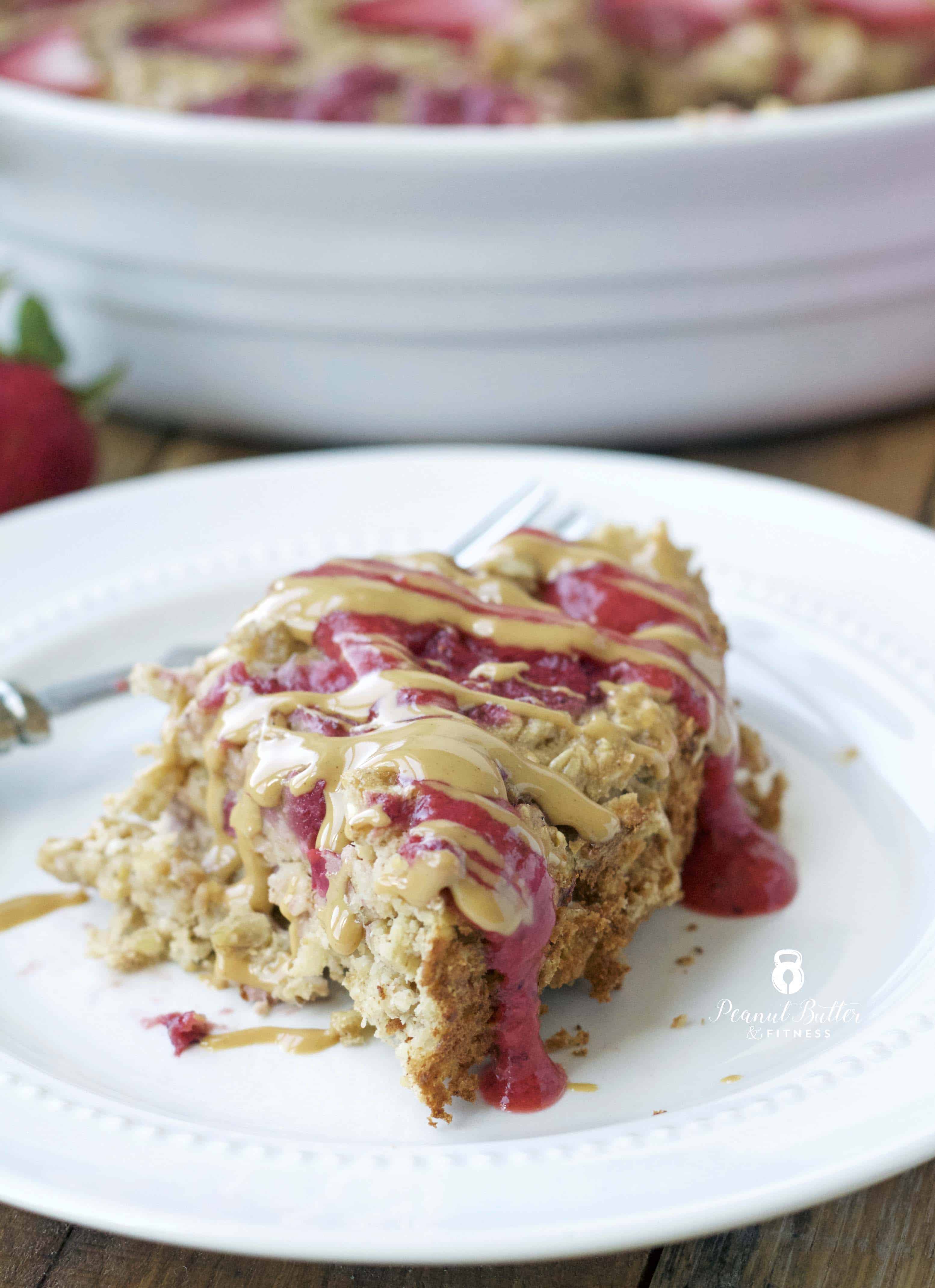 Happy Father's Day! Your dad's inner kid will love the PB&J flavors of the oatmeal bake and it's so easy to make. Just don't forget the eggs and bacon on the side!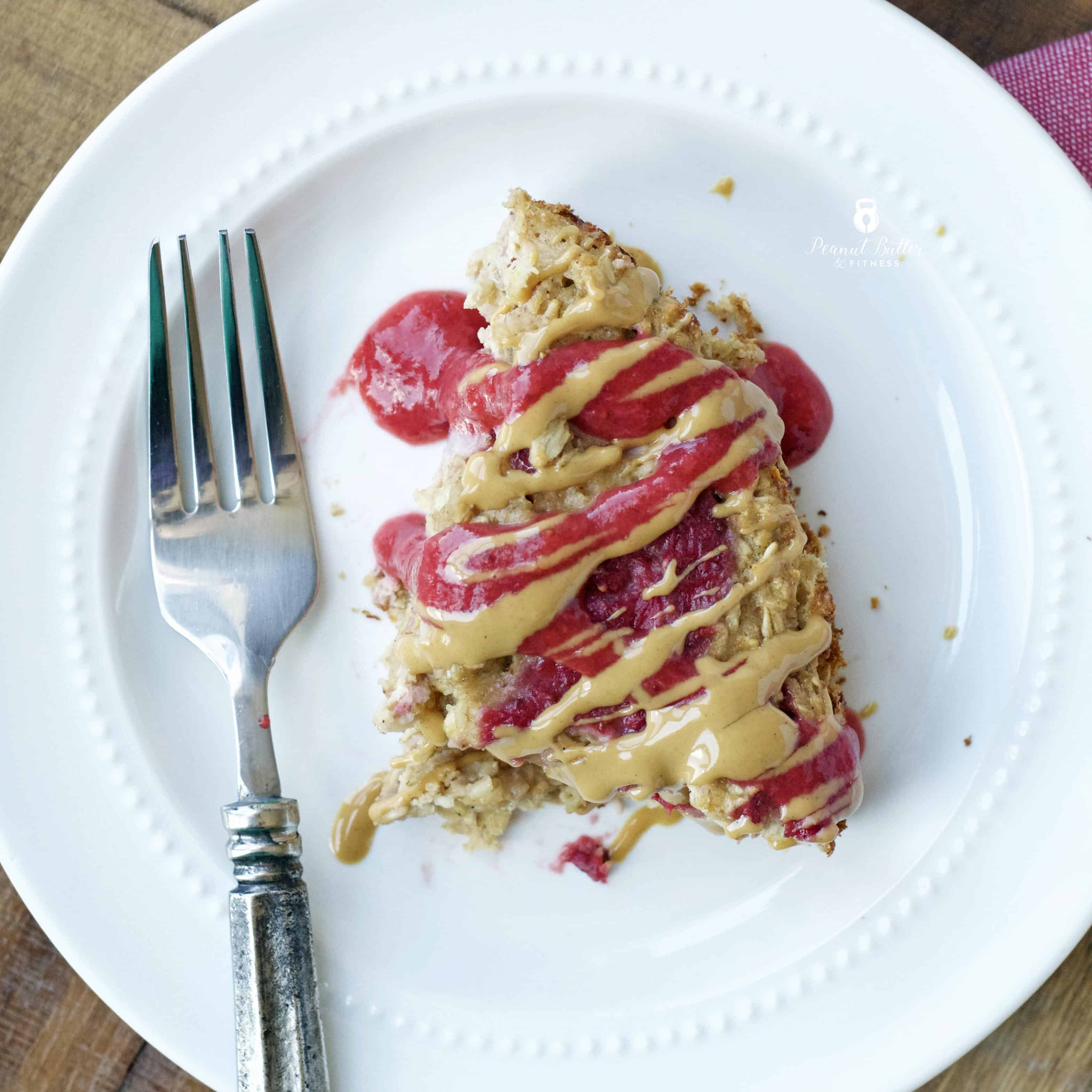 I adapted this recipe from one of my oatmeal muffin recipes (which I'm also obsessed with, btw). Hopefully I'll get to make a few spins on this recipe in the near future too! Can you hear the wheels turning already?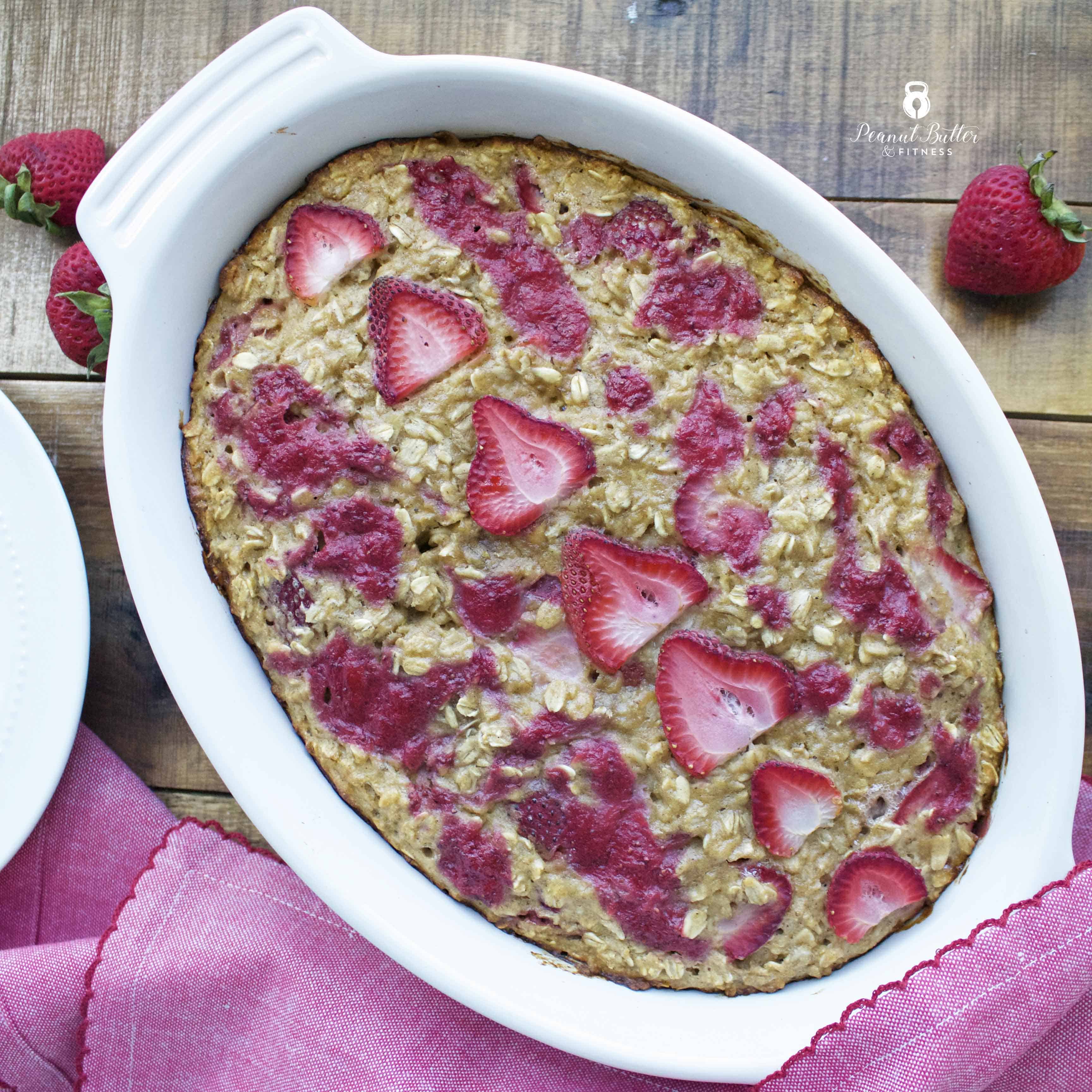 If you frequent Peanut Butter and Fitness, you may have noticed some changes to the advertising on the site recently. I'm bummed to have had to add more ads than what used to be on the site, but honestly, I spend a lot of money testing, making and photographing all the recipes you see on here.
So…I decided to join an ad network (Mediavine) that will pay me more than what I was making with Google AdSense. I hope you guys don't think I'm a sellout 😉 And I sincerely hope everyone enjoys their experience here!
Okay, enough about boring financial stuff – it's time for me to do some homework and for you to go make this for the father-figure in your life!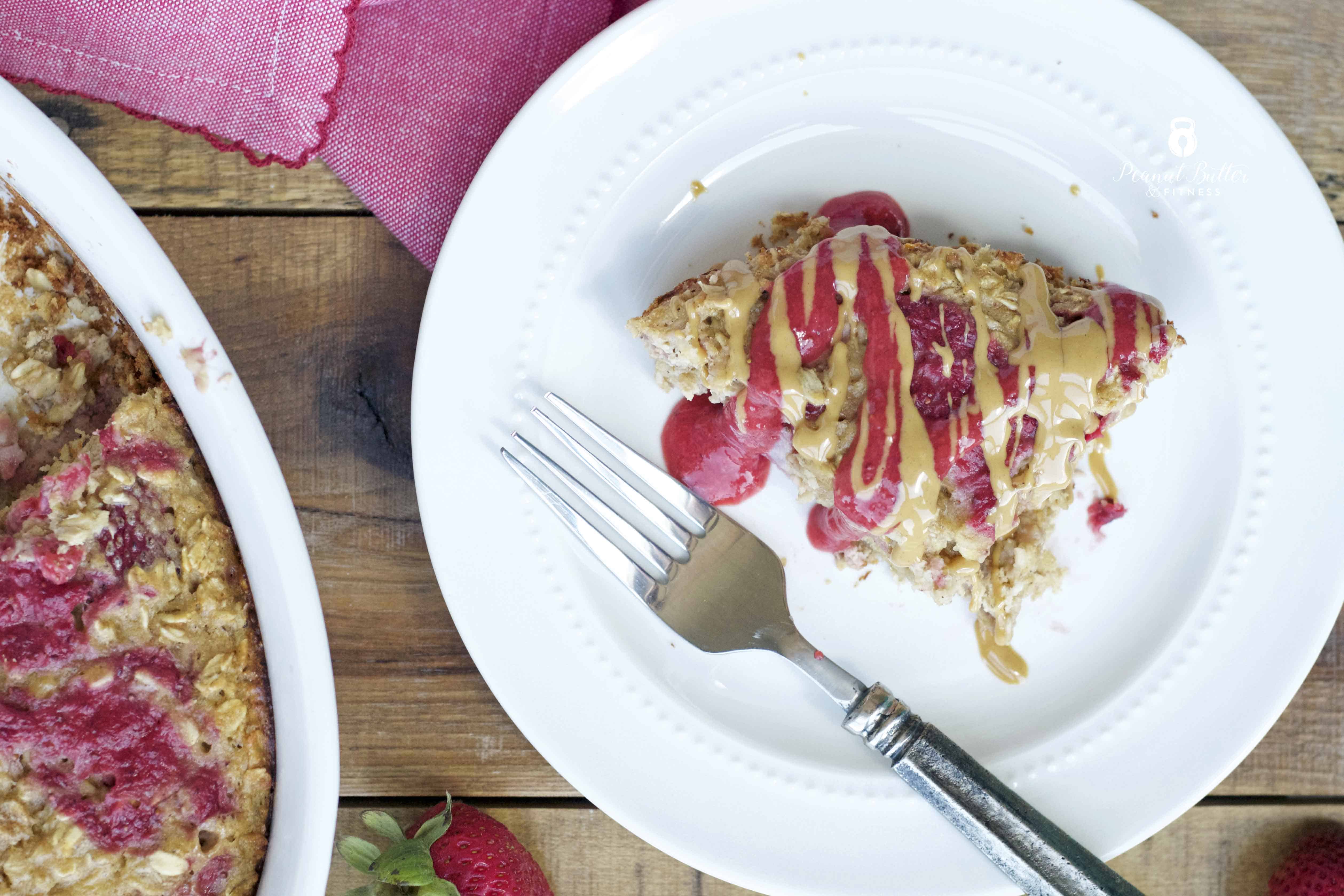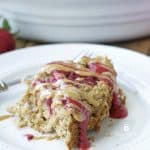 PB&J Oatmeal Bake
Prep Time 15 minutes
Cook Time 30 minutes
Total Time 45 minutes
Servings 6 servings
Calories per serving 280 kcal
Ingredients
2 cups rolled oats
2 scoops Jay Robb vanilla whey protein
2 tbsp PB2 powdered peanut butter
1/2 tsp baking powder
1/4 tsp cinnamon
1 cup sliced strawberries
1 cup unsweetened applesauce
1/4 cup low sodium, low sugar peanut butter melted
1/4 cup unsweetened vanilla almond milk
3 tbsp pure maple syrup
2 egg whites
1 tsp vanilla extract
Optional Strawberry "Jelly" Drizzle
1/2 cup strawberries chopped
1/2 tbsp maple syrup
Instructions
Make strawberry jelly drizzle if desired. Add strawberries and maple syrup to a small pan and bring to a boil over medium heat, then lower heat to a simmer for 10-15 minutes. Allow to cool slightly, then puree in a food processor or blender. Set aside.

Pre-heat oven to 350 degrees. Grease a baking dish with coconut oil and set aside.

Combine all dry ingredients, then add wet ingredients and mix until just combined. Pour into prepared casserole dish and spread evenly.

Top with additional strawberries and/or some of the optional strawberry jelly if desired.

Bake at 350 degrees for 30-35 minutes or until a toothpick inserted into the center comes out clean.

Cut into 6 pieces and drizzle with remaining strawberry jelly and additional melted peanut butter if desired.
Recipe Notes
I used a casserole dish like this to make mine.
Nutrition Facts
PB&J Oatmeal Bake
Amount Per Serving
Calories 280 Calories from Fat 72
% Daily Value*
Fat 8g12%
Sodium 147mg6%
Potassium 351mg10%
Carbohydrates 36g12%
Fiber 6g25%
Sugar 12g13%
Protein 17g34%
* Percent Daily Values are based on a 2000 calorie diet.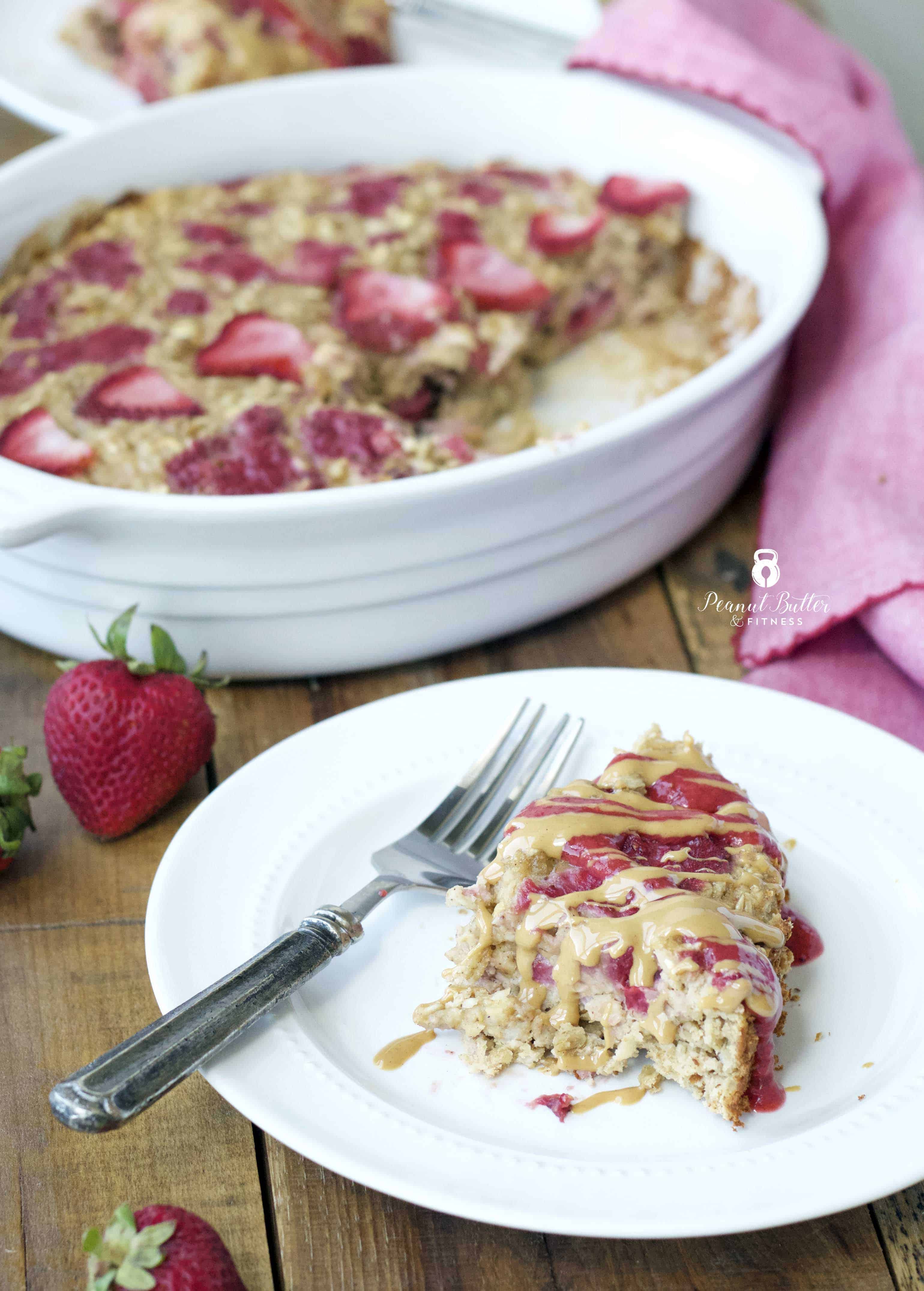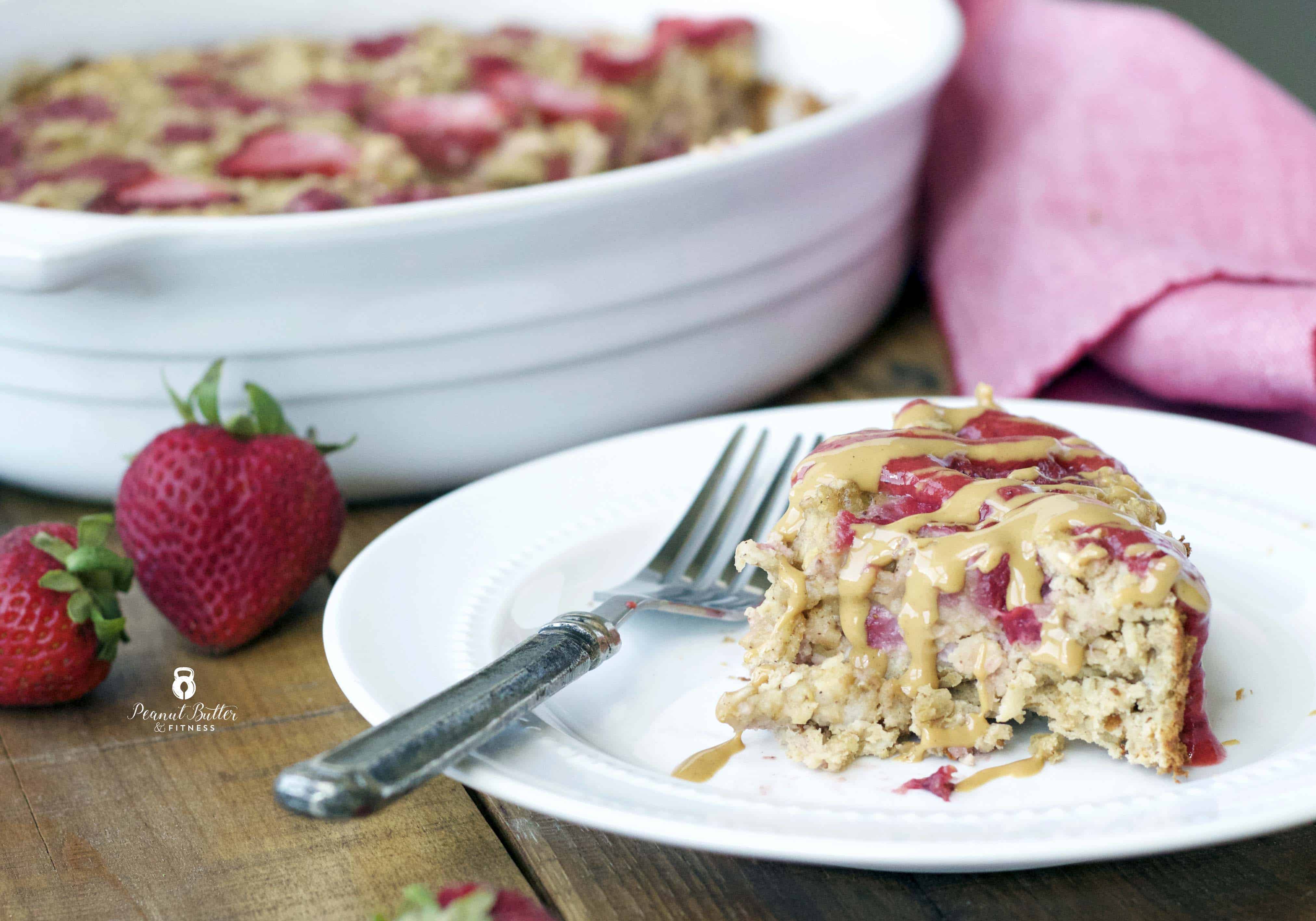 SaveSave
SaveSave