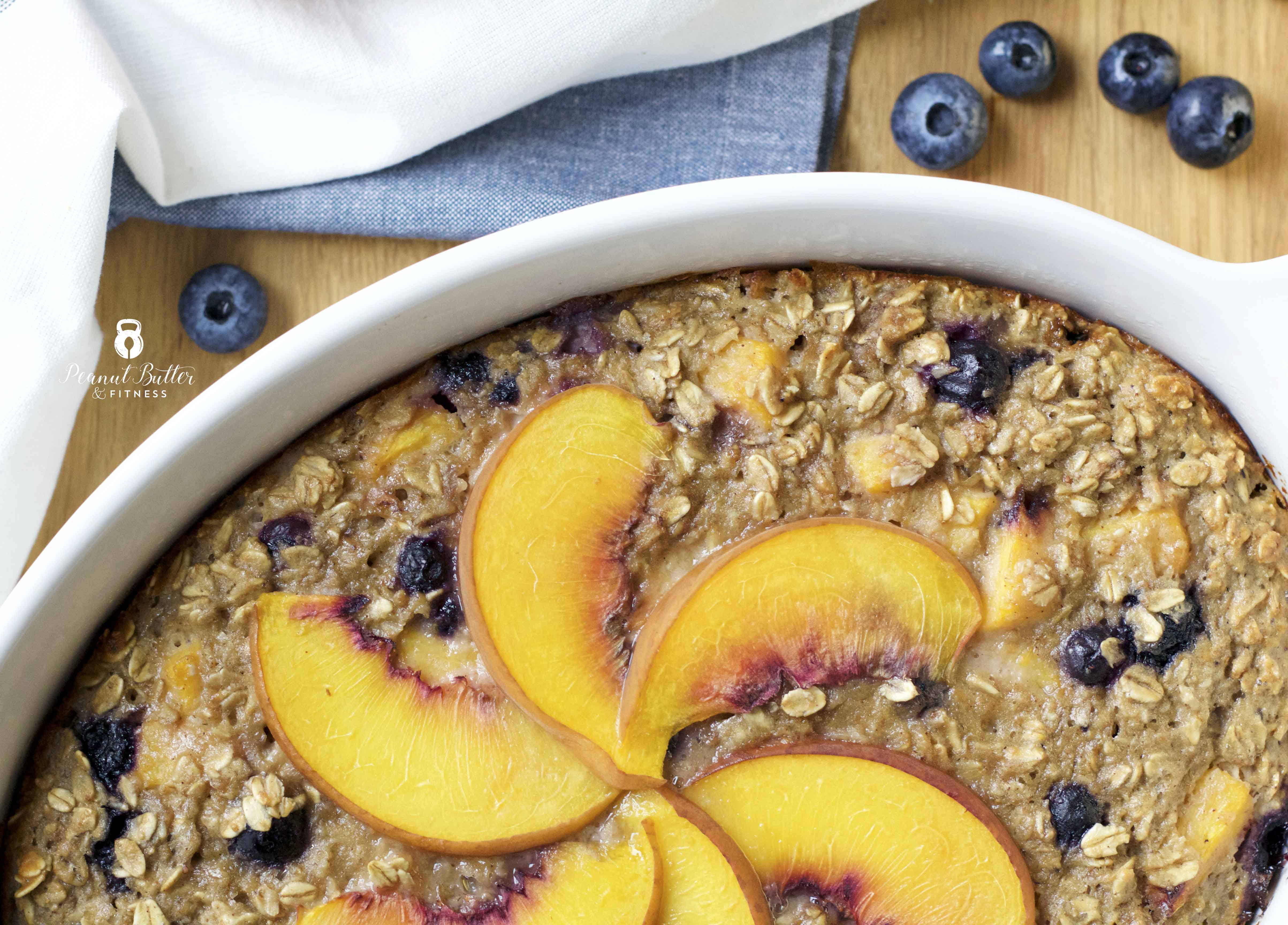 It will officially be fall on Tuesday! You know what that means? Pumpkin everything (and gourd) season is here for the long haul. But if you've been to a grocery store or farmer's market lately, you'll notice that it's not just the end of summer and the beginning of pumpkin season, it's also still peach season 🙂 Put all those big juicy peaches to use with this yummy oatmeal bake!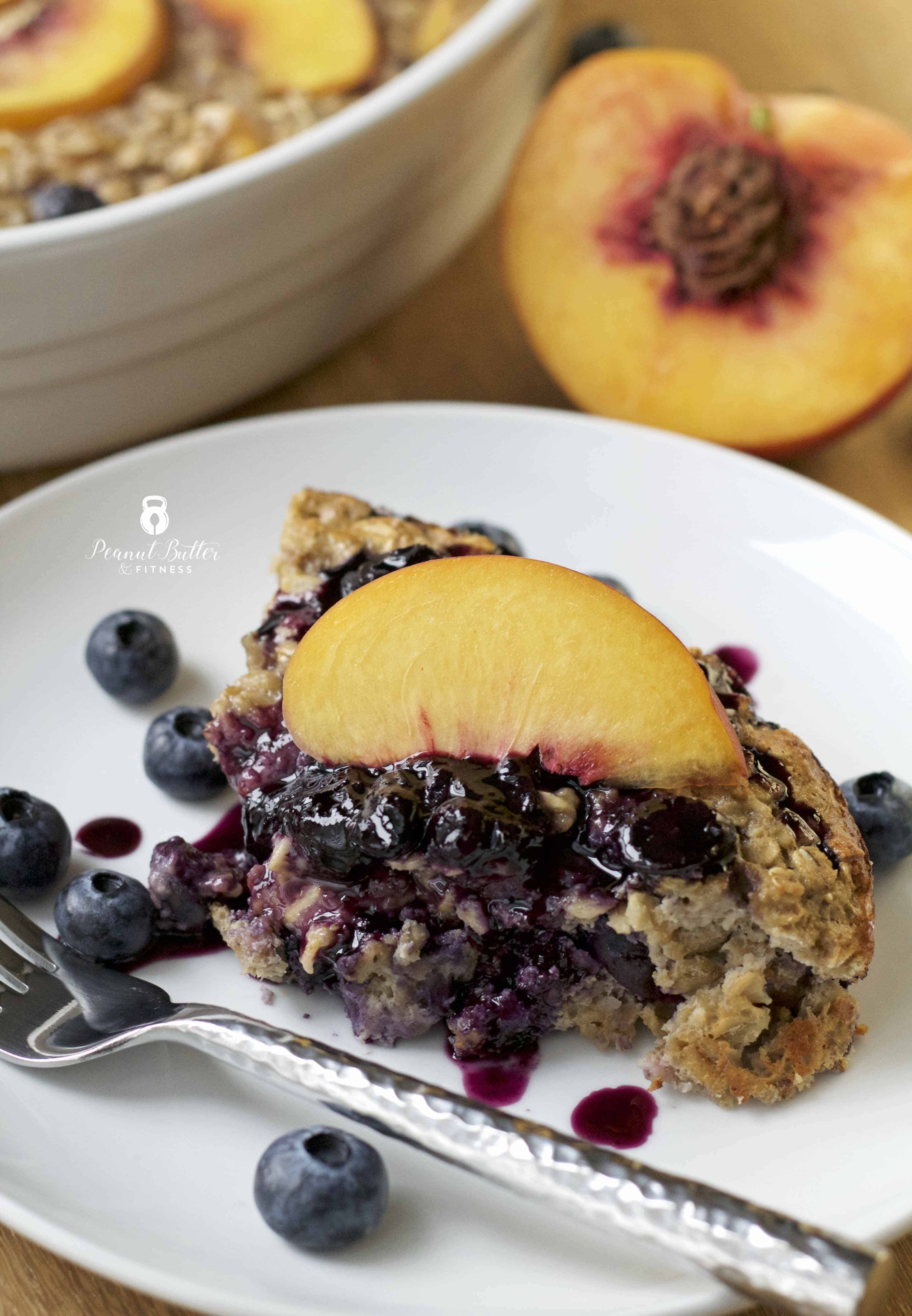 I made a little bit of blueberry syrup to throw this thing over the top with deliciousness. Because in my mind, Peach + Blueberry = Love.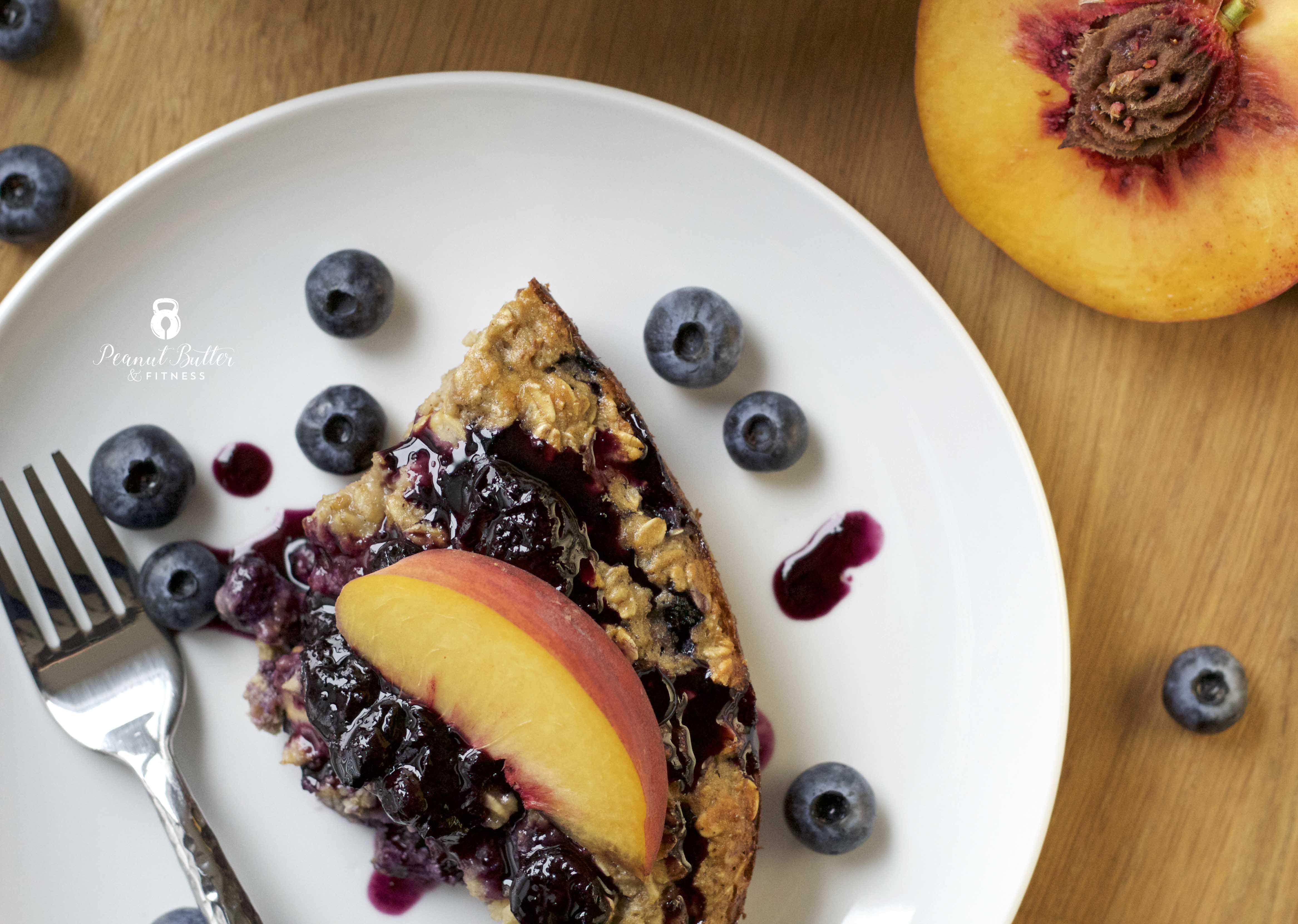 I hope everyone is enjoying their weekend! If you're in Florida, Texas, Puerto Rico, or the USVI, we haven't forgotten about you. Check out this link to donate to the Red Cross if you're able to help those affected by the recent hurricanes – you can choose to donate to a specific hurricane relief effort or make a general disaster relief donation.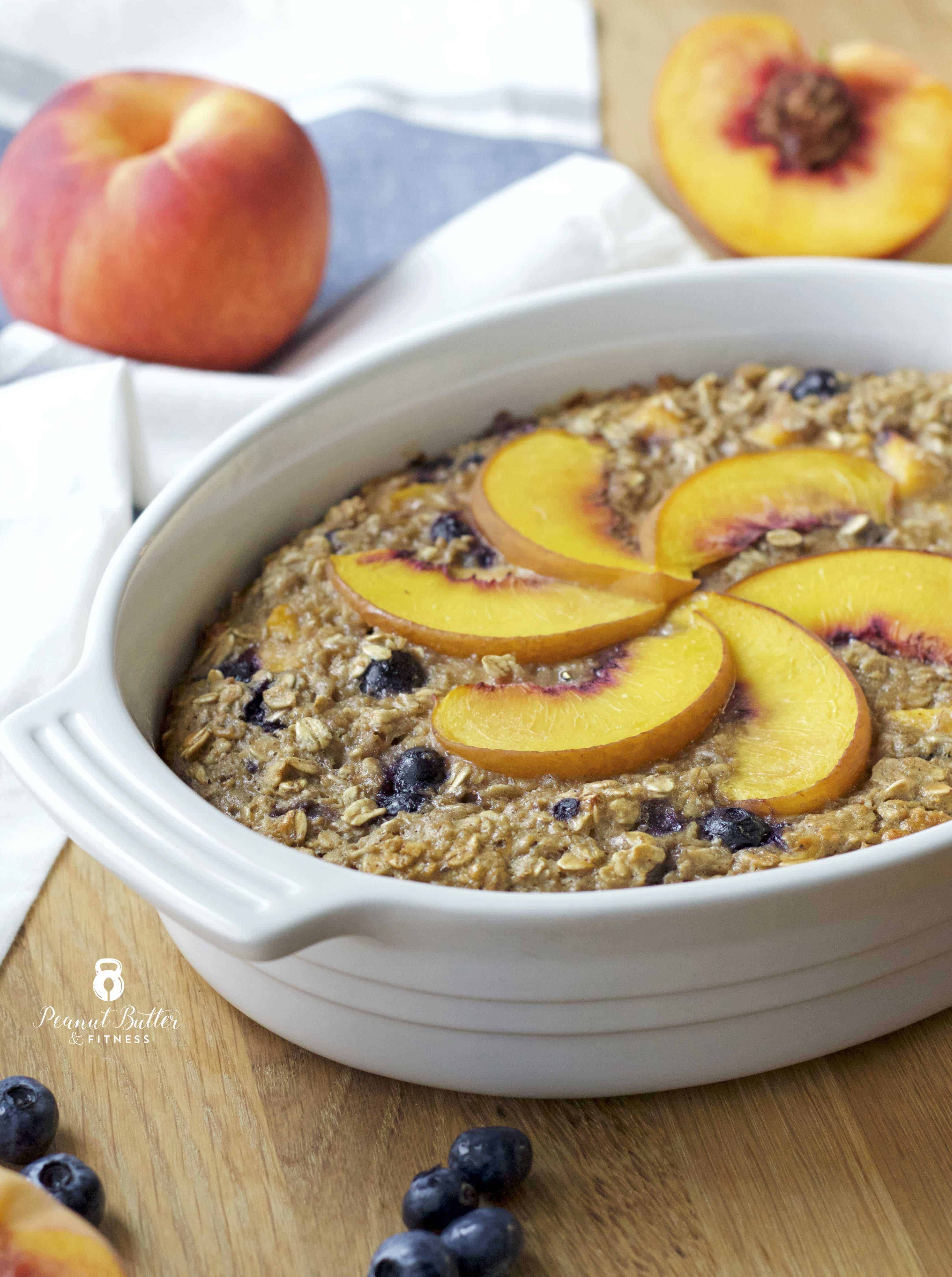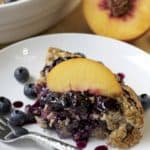 Peach Blueberry Protein Oatmeal Bake
Prep Time 15 minutes
Cook Time 30 minutes
Total Time 45 minutes
Servings 6 servings
Calories per serving 262 kcal
Ingredients
2 cups rolled oats
2 scoops Cellucor Cinnamon Swirl Whey Protein
1/2 tsp baking powder
1/4 tsp cinnamon
2/3 cup unsweetened applesauce
2/3 cup blueberries
2/3 cup chopped peaches skin removed
1/2 cup unsweetened vanilla almond milk
2 tbsp Barney almond butter melted
2 tbsp maple syrup
1 egg
1 egg white
1 tsp vanilla extract
Optional Blueberry Syrup
1/2 cup blueberries
1 tbsp maple syrup
Instructions
Pre-heat oven to 350 degrees. Grease a baking dish with coconut oil and set aside.

Combine all dry ingredients, then add wet ingredients and mix until just combined. Pour into prepared casserole dish and spread evenly.


Top with additional peach slices if desired.


Bake at 350 degrees for 30-35 minutes.


As oatmeal bakes, make blueberry syrup if desired. Add blueberries and syrup to a small pan and bring to a boil over medium heat, then lower heat to a simmer for about 10 minutes until blueberries can be mashed easily with the back of a spoon. Set aside to cool.

Once oatmeal bake is cooked, cut into 6 pieces and drizzle with blueberry syrup if desired.

Recipe Notes
I used a casserole dish like this to make mine.
Nutrition Facts
Peach Blueberry Protein Oatmeal Bake
Amount Per Serving
Calories 262 Calories from Fat 54
% Daily Value*
Fat 6g9%
Cholesterol 43mg14%
Sodium 98mg4%
Potassium 215mg6%
Carbohydrates 35g12%
Fiber 5g21%
Sugar 11g12%
Protein 16g32%
* Percent Daily Values are based on a 2000 calorie diet.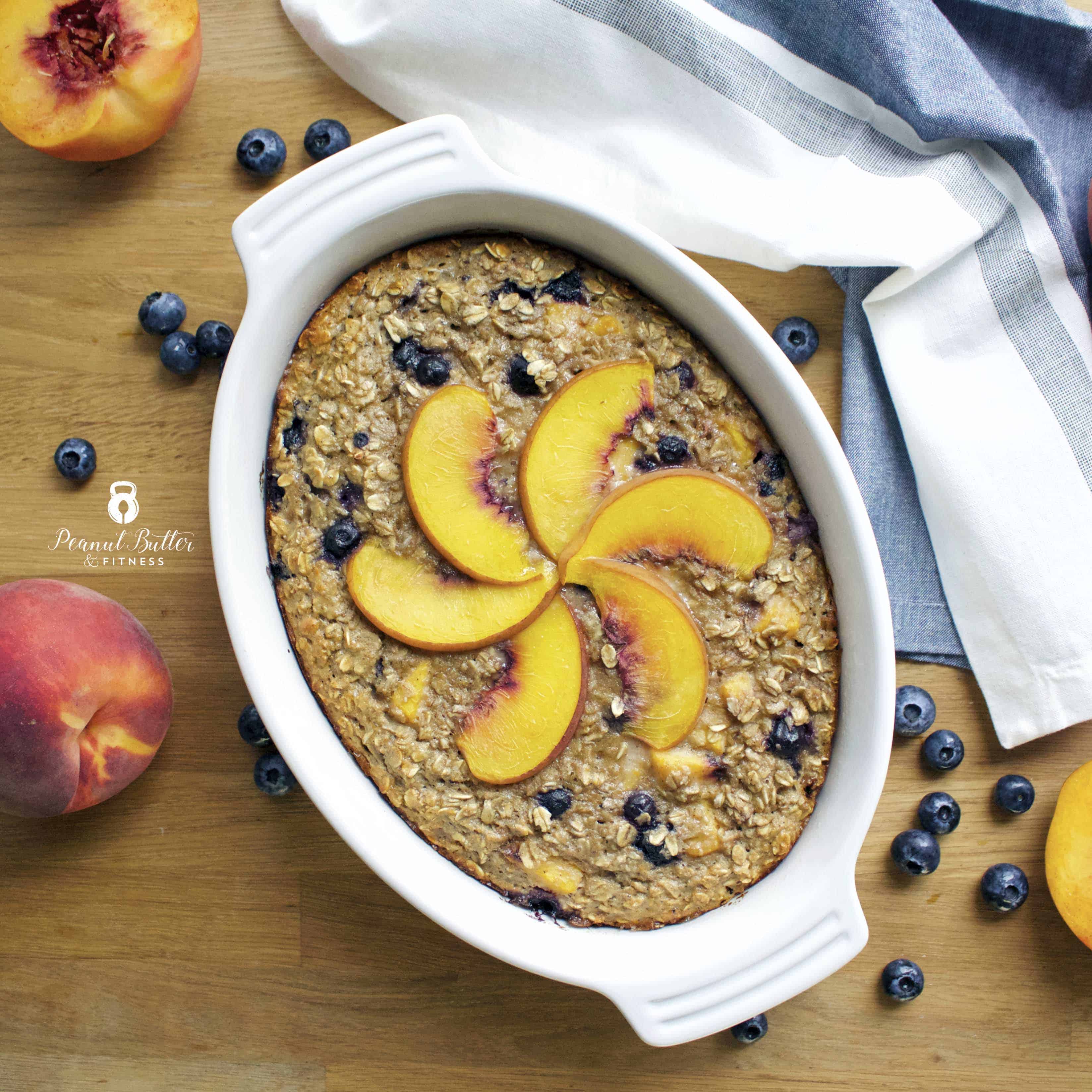 SaveSave