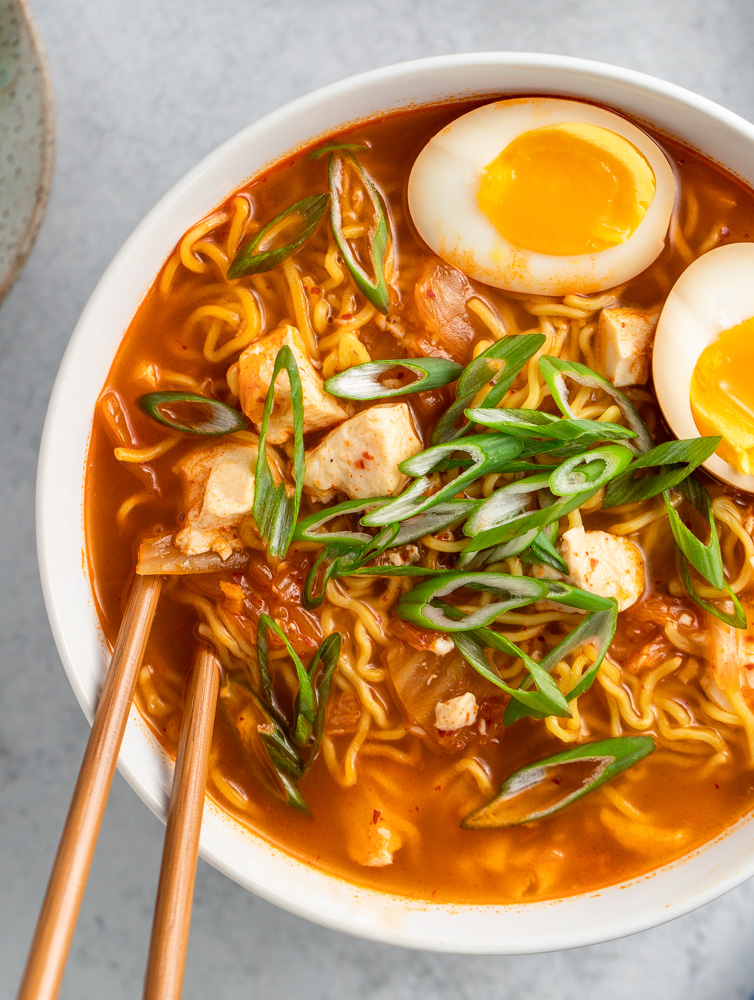 It's almost Friday and I had to share this Quick Kimchi & Tofu Ramen recipe with you today! There was snow on the ground where I live for the first time this season, and the weather has me craving exactly this. It's an awesome recipe for when it's cold AF outside and you just want to eat something warm and comforting. Is it also awesome for after you've had a few adult beverages? 100%. (Just don't burn yourself!) I always keep some ramen on hand for when a craving strikes, and this recipe is a really easy way to zhuzh up your basic dry ramen noodle packet.
Now before someone decides to leave me a nasty comment for making some unholy fusion of Korean and Japanese cuisine, let me start off by saying – this combo is effing delicious and I don't really care that it's not a traditional representation of either! I took inspiration from sundubu jjigae (Korean spicy soft tofu stew), kimchi jjigae (Korean kimchi stew), and my favorite – Japanese ramen. Click the links if you want to find out more about the traditional Korean and Japanese recipes I decided to combine into one bowl! Otherwise, stick with me and we can hold hands on this unholy recipe adventure…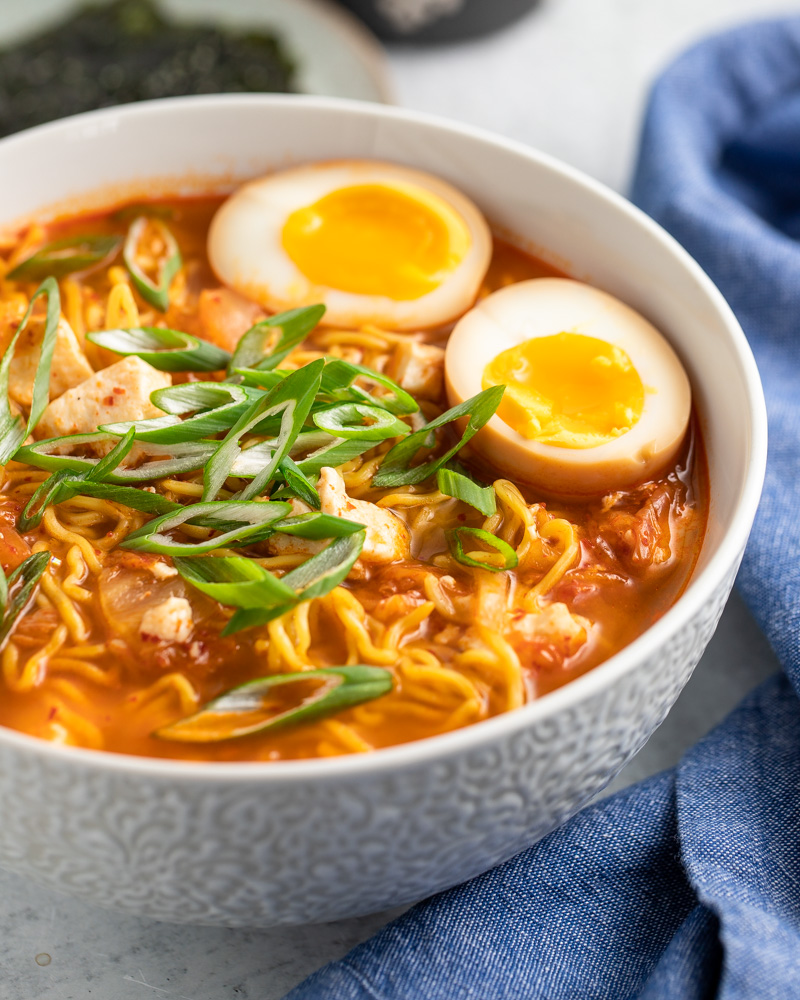 Okay so this picture below might be a little misleading – you don't need all of these items for the recipe, I'm just showing two different options for how to make this recipe easily at home depending on what you can find in the store. You can use the dry ramen noodles with the seasoning packet, silken tofu, and kimchi OR you can use the frozen ramen noodles without the seasoning packet, plus a soon tofu soup kit (includes tofu and sauce packet), and kimchi. The dry ramen noodle combo is probably the easiest to find, but it totally depends where you live and shop. I found the Soon Tofu Soup Kit right next to the kimchi in my local grocery store. The frozen ramen was located in a freezer in the Asian section.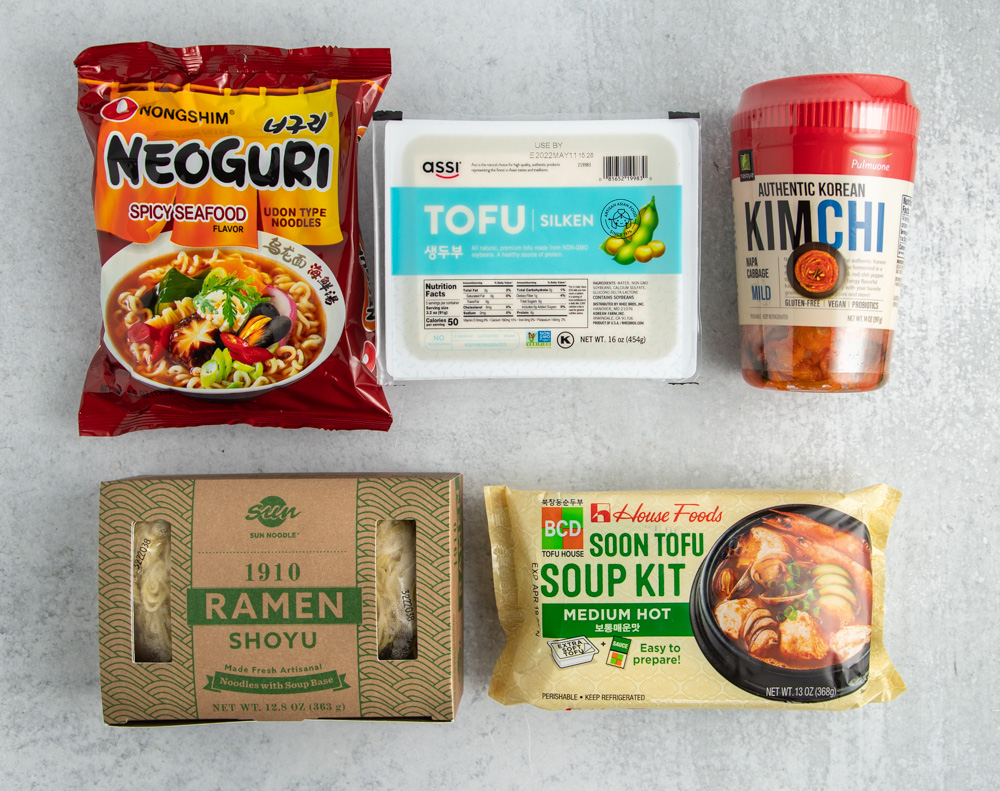 Ingredients and Substitutions
Here's what you'll need to make this recipe at home:
Ramen noodles – You've got a ton of options for ramen noodles, but I recommend either the dry ramen noodles with spicy seafood flavor packet OR fresh frozen noodles. Most frozen ramen comes with a traditional Japanese flavored broth packet – I skipped that flavor and opted for the one that comes in the Soon Tofu Soup Kit.
Silken tofu – Silken tofu breaks apart easily into bite sized chunks and has a similar texture to a scrambled egg in this soup. You'll also see this called soon tofu like the package in the bottom right corner in the photo above. Soon means silken tofu in Korean. In the store, you might see more than one type of silken tofu – opt for the regular silken tofu if you can, but if forced to choose between firm or soft silken tofu, go for the firm one (not to be confused with regular firm tofu). Don't get the soft silken tofu – it will fall apart too much to be enjoyable in this soup.
Kimchi – Kimchi is a fermented Korean side dish with a variety of ingredients, the main one usually being Napa cabbage. Because it's fermented, it can hit all the flavor notes of spicy, sweet, and sour. If you're not sure that you'll like kimchi, you can totally just skip it. That said, because you sauté it before serving, it helps cook out some of the fermented flavors that some people might not like…so if you're feeling adventurous, hop onboard and give it a go.
Soy marinated eggs – This isn't a single ingredient, of course, but you'll be using both the marinated eggs and some of the sauce the eggs are marinated in for this recipe. The marinade is simple – just some soy sauce, beef broth, and mirin, but it turns the soft boiled eggs from ordinary yummy to freakin' amazing!
Water – You'll need water to help build the broth. If you're a broth fiend like me, add a bit of extra water for a total of 4-5 cups instead of the 3.5 cups called for in the recipe. Some people might find that to be too much broth, so I toned it down for the standard serving.
Green onions – As you can see from the photos, the bright green of the scallions is a much needed color contrast, but it's also a great pop of bright flavor that really helps balance the deeper flavors in the ramen.
Korean red pepper flakes (gochugaru) – If you can get your hands on gochugaru, I highly recommend picking up a container of it! You might be able to find it in the Asian section at your regular grocery store, but if not, then it's pretty easy to find in any Asian grocery store. These Korean red pepper flakes are nothing like the spicy ones you see Americans sprinkling on pizza – they're much more flavorful and even a little bit sweet and fruity. Once you try it, I bet you'll find yourself using it all the time. If you really can't find gochugaru, you can use regular chili powder, but just know that you're missing out!
Sesame oil – You'll use this flavorful oil to sauté the kimchi before adding any liquid. If you don't have sesame oil, a neutral tasting vegetable oil or olive oil will work fine.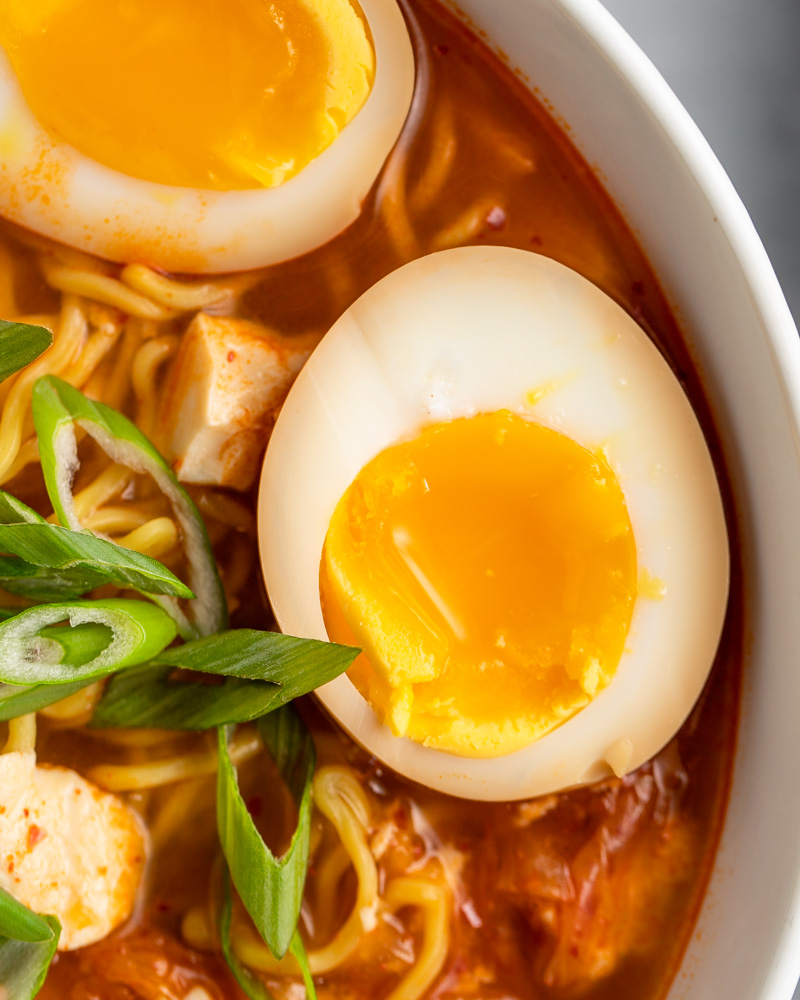 Shop for this Recipe
Here are some items I used to make this recipe a success. Note: these are Amazon Affiliate links.
Recipe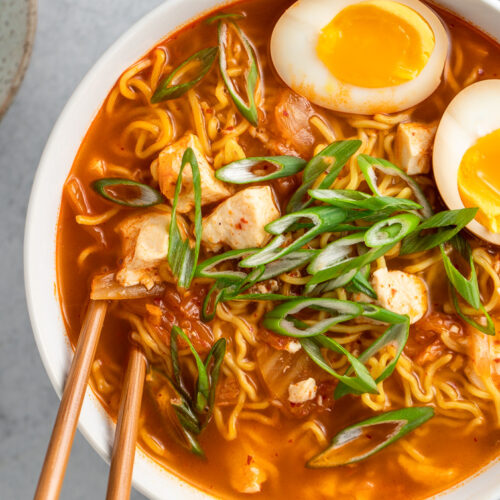 Quick Kimchi & Tofu Ramen
Ingredients
1

package

Neoguri Spicy Seafood Flavor Udon Style Ramen Noodles

,

(112 grams)

3 1/2

cups

water

,

(32 fl oz)

12

oz

silken tofu (or extra soft)

1/2

cup

kimchi, chopped into bite size pieces

2

tsp

gochugaru (Korean red pepper flakes)

2

soy marinated eggs

,

(recipe below)

1/4

cup

soy egg marinade

,

(recipe below)

1

tsp

sesame oil

green onions
Soy Marinated Eggs
6

large eggs

1

cup

low sodium beef broth

3

tbsp

low sodium soy sauce

3

tbsp

mirin
Instructions
Make the soy marinated eggs.
Make soft boiled eggs by adding 6 large eggs to an Instant Pot trivet with at least 1 cup of water in the bottom of the Instant Pot bowl. Cook on low pressure for 3 minutes, followed by quick release, then immediately move eggs to an ice bath and peel while still warm to the touch.

Add soy marinade ingredients to a sealable container, then add peeled, soft boiled eggs to the marinade. Ensure the container is small enough that the eggs are covered with the marinade. Refrigerate overnight.
Prep the ramen.
Heat sesame oil over medium-high heat in a small pot. Once hot, add kimchi and gochugaru, sautéing for 1-2 minutes until fragrant.

Add water, ramen seasoning packet, and soy egg marinade to the pot. Bring to a boil for 3-4 minutes, then skim any "scum" off the top.

Add soft tofu to the pot in chunks and continue boiling for 2-3 minutes. Add the ramen noodles and following the package instructions, cook until al dente. For dry noodles, this should take about 4-5 minutes.
Serve and enjoy!
Remove the pot from heat and divide ramen into 2 serving bowls. Top with green onions and a halved soy marinated egg.
Tips & Tricks
Click here or scan the barcode below to log this food in My Fitness Pal.
Nutrition Information
Calories:
455
kcal
(23%)
,
Carbohydrates:
48
g
(16%)
,
Protein:
20
g
(40%)
,
Fat:
20
g
(31%)
,
Cholesterol:
186
mg
(62%)
,
Sodium:
1489
mg
(65%)
,
Potassium:
126
mg
(4%)
,
Fiber:
2
g
(8%)
,
Sugar:
3
g
(3%)