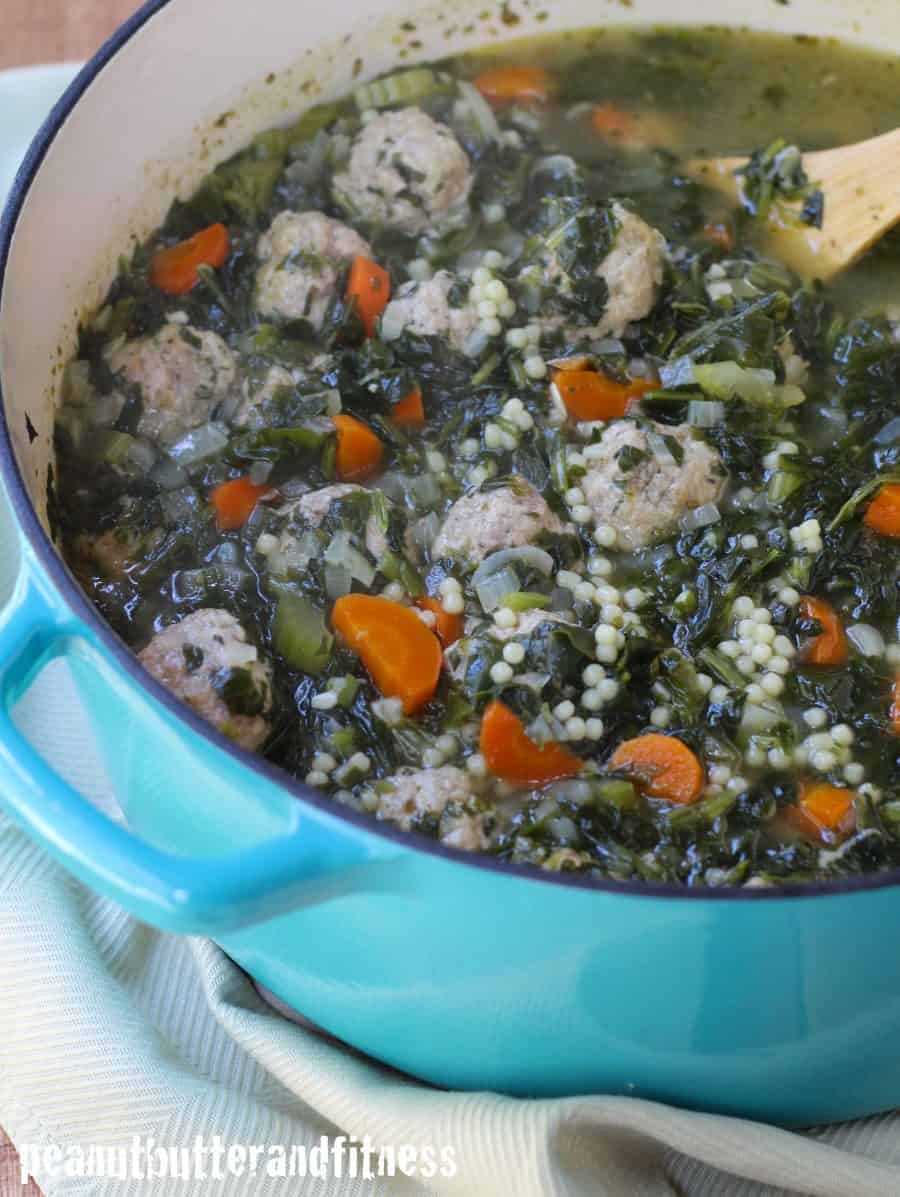 How in the world is this the first time I've ever attempted to make Italian wedding soup?  It's been my favorite for a long time and it can be hearty enough to eat as a meal…so you better believe I beefed it up to make sure it's a full meal and used it as part of my meal prep this week.  There's about 40 little meatballs to go around 7 servings, plus lots of veggies and just enough pasta.  Boom.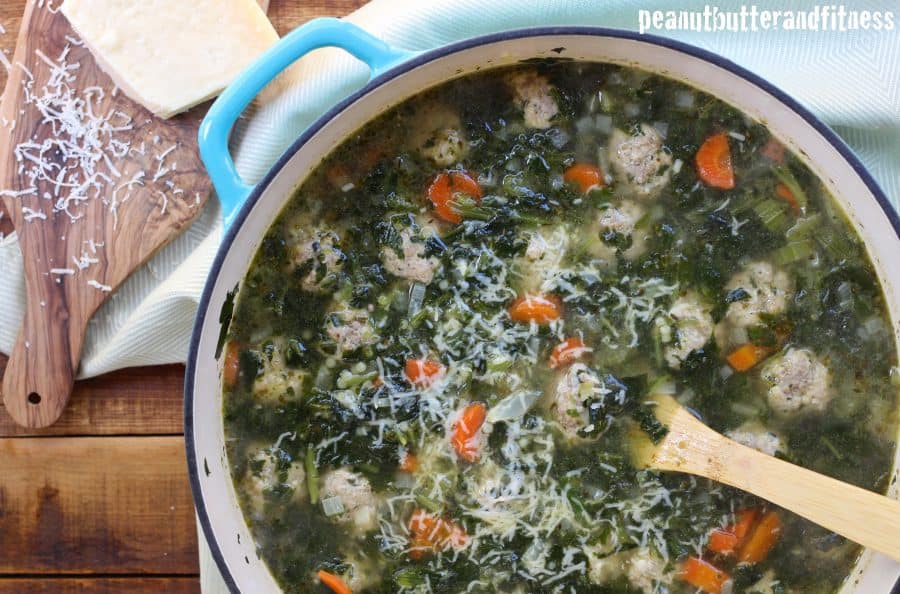 I used a mix of beef and pork for the meatballs here and they taste pretty damn good.  Turkey could be an option if you don't want to eat the other options but really…just go for the double meat here.  It's so good.
As for the acini de pepe, if you can find the whole wheat version in your store, go for it.  Any small pasta will do, but acini de pepe gives you the true Italian wedding soup feel.  You can also try pearl/Israeli couscous if you want to avoid refined pasta.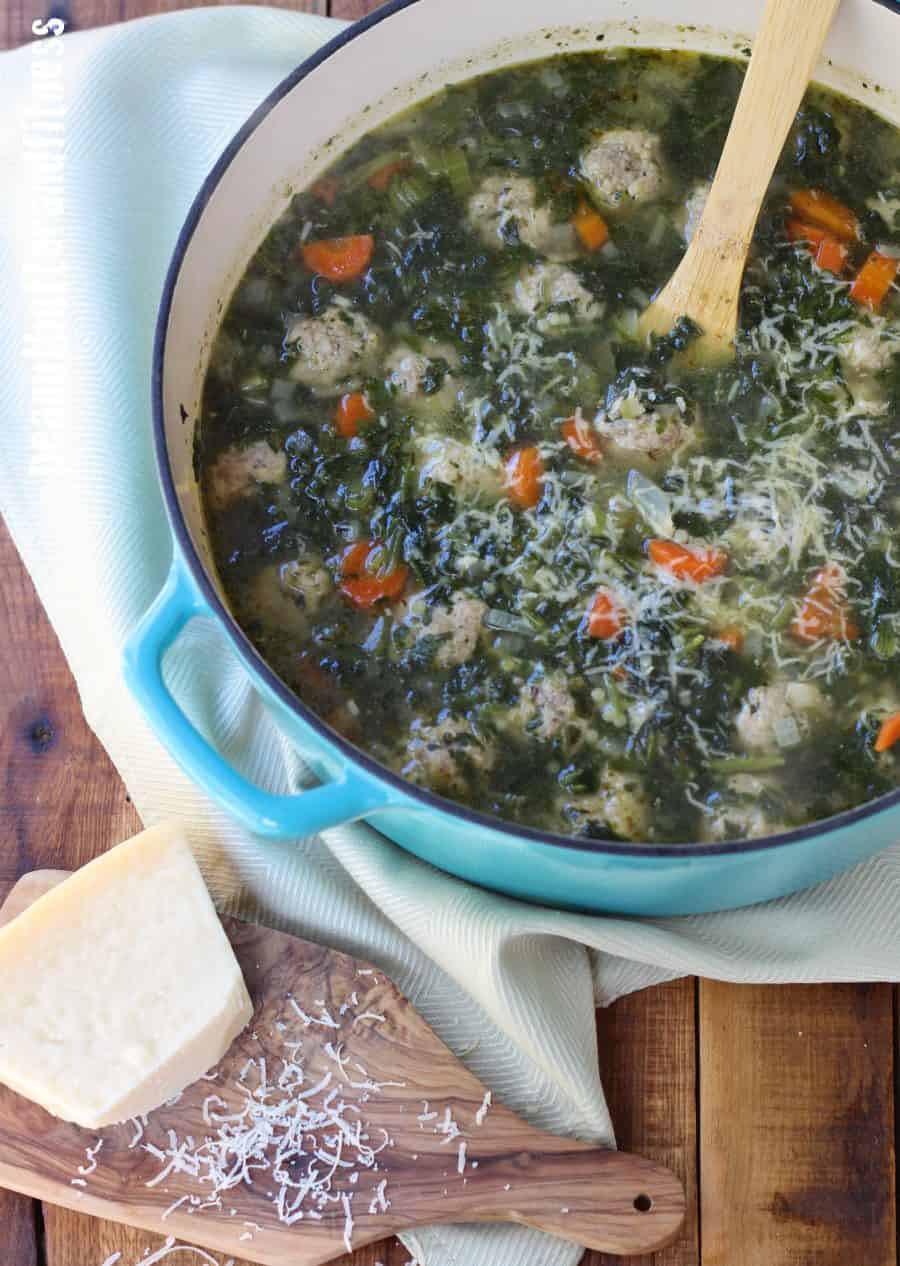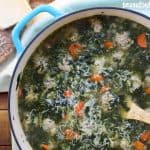 Italian Wedding Soup
Prep Time 30 minutes
Cook Time 18 minutes
Total Time 48 minutes
Servings 7 servings (about 2 cups per serving)
Calories per serving 293 kcal
Ingredients
Meatball Ingredients:
1 lb 95/5 lean ground pork
1/2 lb 93/7 grass fed ground beef
1/3 cup chopped fresh parsley
1/3 cup Italian panko bread crumbs
1/3 cup shredded parmesan cheese
2 garlic cloves minced
1 egg
Salt/pepper to taste
Soup Ingredients:
1/2 cup acini de pepe (preferably whole wheat if you can find it)
1 quart low sodium chicken broth (I used O Organics brand)
1 quart unsalted chicken stock (I used Kitchen Basics Unsalted Chicken Stock)
1 medium yellow onion chopped
1 1/2 cups carrots diced
1 cup celery diced
12 oz frozen spinach
2 cloves garlic minced
1/2 tbsp olive oil
1 tsp oregano
Salt/pepper to taste
Instructions
Combine all meatball ingredients, then roll into 3/4-inch meatballs. Set aside.

In a deep pot, heat olive oil over medium high heat. Add carrots, onion, celery, and garlic and sauté until carrots begin to soften, about 5 minutes. Add chicken stock, chicken broth, and oregano and bring to a boil.

Once stock has reached a boil, drop the meatballs into the liquid and cook for about 4 minutes before adding acini de pepe and frozen spinach. Continue cooking an additional 6-8 minutes until the pasta is cooked al dente and the meatballs are cooked through.

Remove from heat and top with parmesan cheese before serving if desired.
Nutrition Facts
Italian Wedding Soup
Amount Per Serving
Calories 293 Calories from Fat 81
% Daily Value*
Fat 9g14%
Cholesterol 89mg30%
Sodium 426mg19%
Carbohydrates 24g8%
Fiber 3g13%
Sugar 4g4%
Protein 29g58%
* Percent Daily Values are based on a 2000 calorie diet.