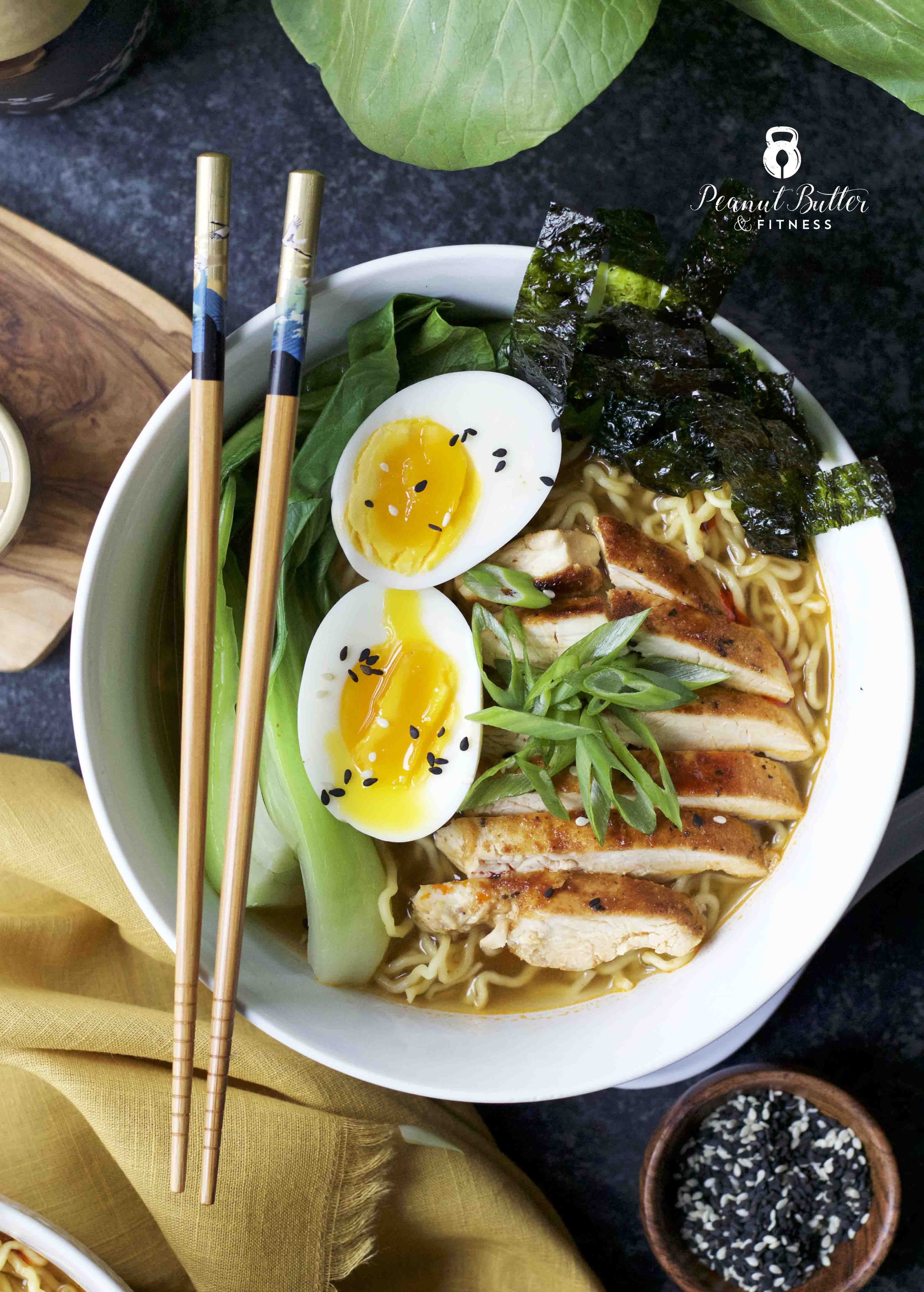 Since a lot of you guys are bracing for yet another winter storm, I thought I'd bring you the perfect warm and comforting snow day meal – ramen! This one is a Quick Spicy Shoyu Ramen. Shoyu just means soy sauce, but don't freak out…there's no overpowering soy sauce flavor or anything. It just helps flavor the broth, but it has plenty of help from other important ingredients.
Ramen was one of my favorite meals when I visited Tokyo. I think it tied for first place with some pretty amazing sushi, but it's definitely harder to get in the mood for cold sushi in the dark days of winter. Not that it's particularly dark or cold in San Antonio at this point…it's supposed to be 80 degrees today ;). Anywho, I have no illusions that my ramen could ever measure up to the little noodle houses you find in Japan, but this one is a quick version of what you might find in a restaurant. And definitely healthier than a lot of those microwaveable packages of dried ramen.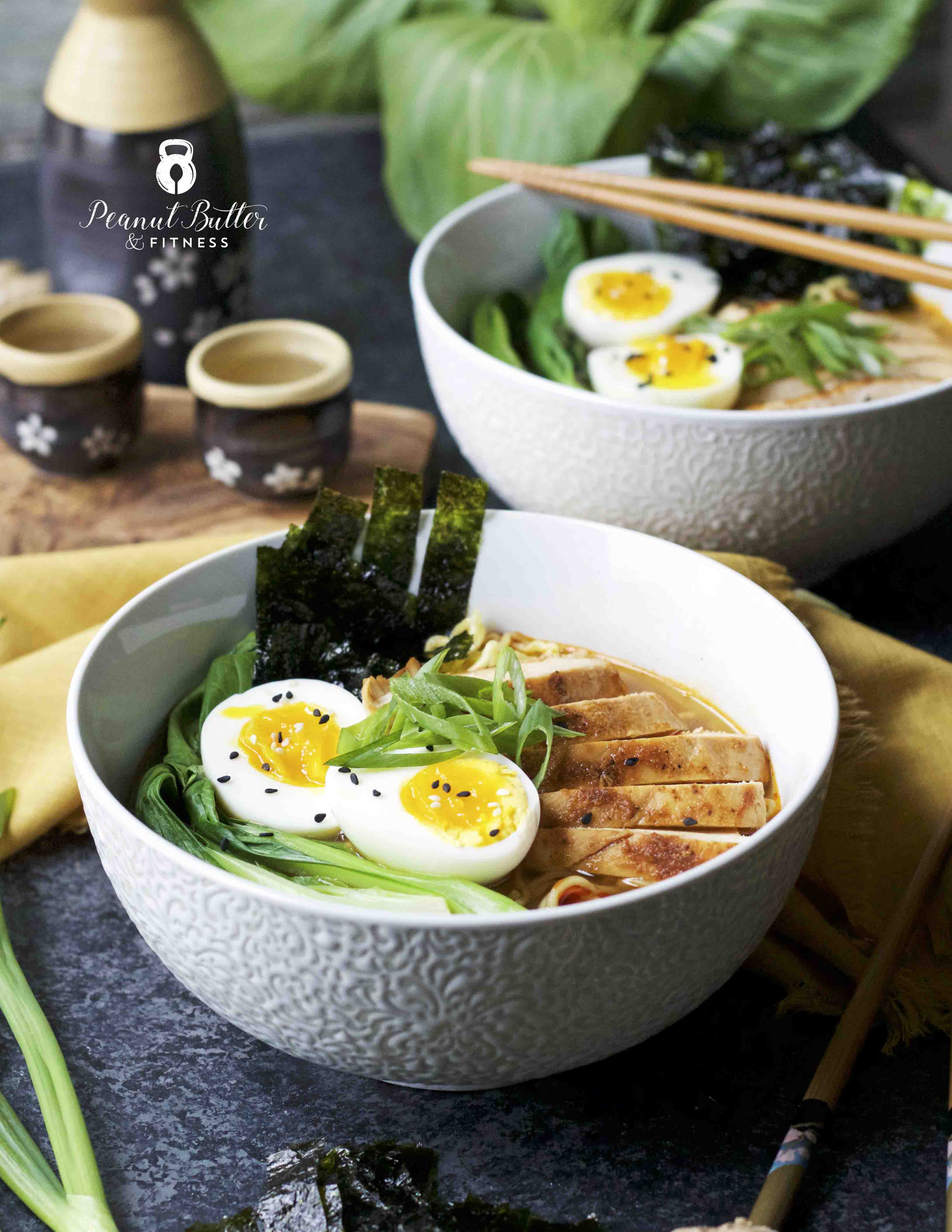 As for the noodles, I went to my local Asian market (a Korean one to be specific) and picked up a package of these fresh/frozen Sun Noodles. It comes with a packet of broth concentrate, but that has about 3,000 mg of sodium per serving. You could always use the broth packet (or part of a broth packet) if you're in a pinch, but that's a crazy amount of sodium for one meal. I also found that even though the package says it contains 2 servings worth of noodles, it made for really, really large servings – hence the 1 package making 5 servings of ramen in my recipe.
Just a note on the cholesterol in this recipe – almost all of it comes from the egg yolks. If you're watching your cholesterol, you can just leave out the yolks to almost completely eliminate it in this recipe.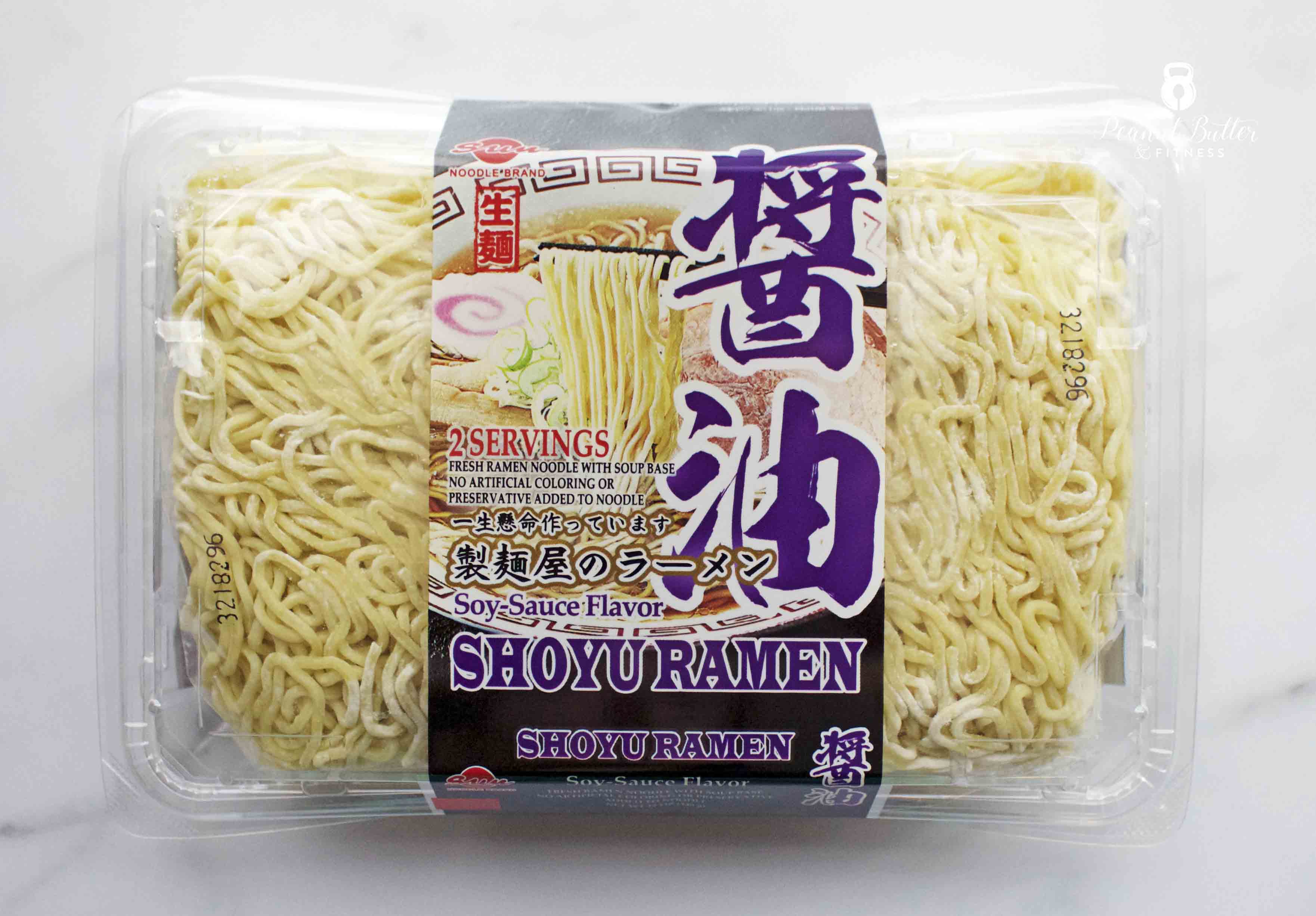 Happy hump day!!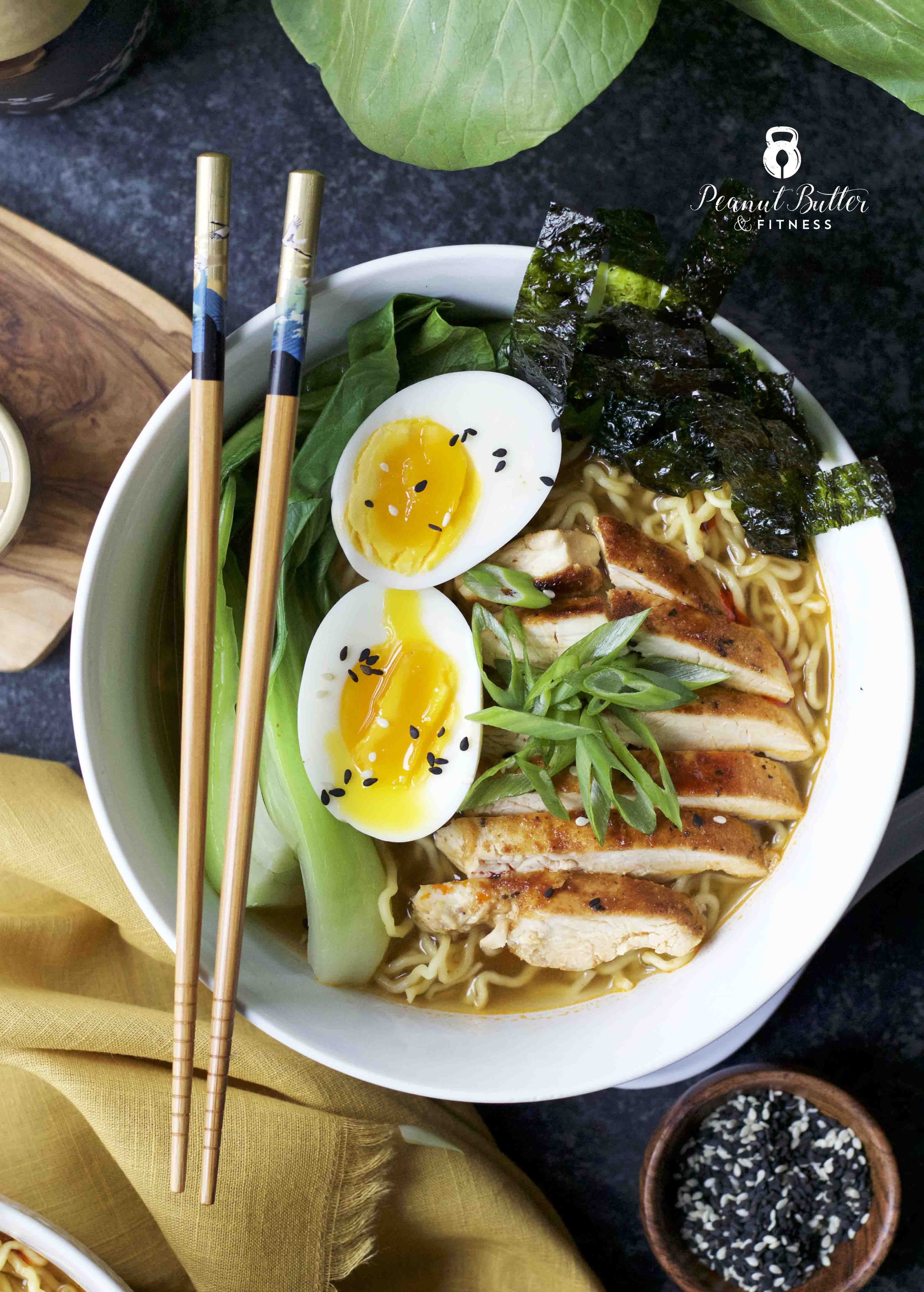 Quick Spicy Shoyu Ramen
Ingredients
Broth
1

package

Sun Noodles fresh frozen ramen kit, noodles only

4

cups

no salt added chicken stock

,

(32 oz)

4

cups

water

,

(32 oz)

3

stocks

white ends of green onions

2

tbsp

low sodium soy sauce

,

(1 oz)

1

tbsp

la doubanjiang (spicy chili bean paste – see notes),

(0.5 oz)

1/2

tbsp

sesame oil

,

(0.25 oz)

3

cloves

garlic, minced

,

(12 grams)

1

inch

knob of ginger, peeled and minced

,

(12 grams)

2

tsp

sugar

,

(8 grams)

1 1/2

tsp

dashi bonito soup stock granules
Toppings
1

lb

raw chicken breast

5

soft boiled eggs, halved

3

heads

baby bok choy, quartered

,

(1.125 lb)

1/3

cup

sliced green onion

6

sheets

sea salt nori

Optional: spicy chili oil, black and white sesame seeds
Instructions
Heat sesame oil over medium-high heat in a large pot. Add garlic and ginger and sauté until fragrant, then add chili bean paste and stir until garlic and ginger are coated. Lower the heat to medium-low.

Add remaining broth ingredients except noodles and bring to a simmer for 5-10 minutes. Strain out the garlic, ginger, and green onion ends and return broth to pot over low heat to keep warm until ready to serve.

Cook chicken breast as desired – I pan seared mine with some olive oil and seasoning, then poured 2 tbsp soy sauce mixed with 1/2 tbsp brown sugar over it during the last 2-3 minutes of cooking. Set aside.

In a separate pot, bring about 2 quarts of water to a boil. Add baby bok choy quarters to the water and cook for about 2 minutes until tender. Remove bok choy to a paper-towel lined plate and season as desired. Set aside.

When all of the toppings are prepared, add noodles to the boiling water for 1-2 minutes, stirring frequently, until the noodles are tender. Strain and divide among the serving bowls. Add broth and toppings, then serve immediately.
Tips & Tricks
If you can't find the spicy chili bean paste (la doubanjiang/toban djan/douban), you could use 1 1/2 tbsp white miso paste and about 1/2 tbsp spicy chili paste like gochuchang or sriracha. Adjust amounts to your own personal taste preferences.  The fermented beans in the doubanjiang or miso will give the broth an umami flavor that you won't achieve otherwise.  
Nutrition Information
Calories:
402
kcal
(20%)
,
Carbohydrates:
38
g
(13%)
,
Protein:
40
g
(80%)
,
Fat:
9
g
(14%)
,
Cholesterol:
243
mg
(81%)
,
Sodium:
716
mg
(31%)
,
Potassium:
727
mg
(21%)
,
Fiber:
2
g
(8%)
,
Sugar:
3
g
(3%)