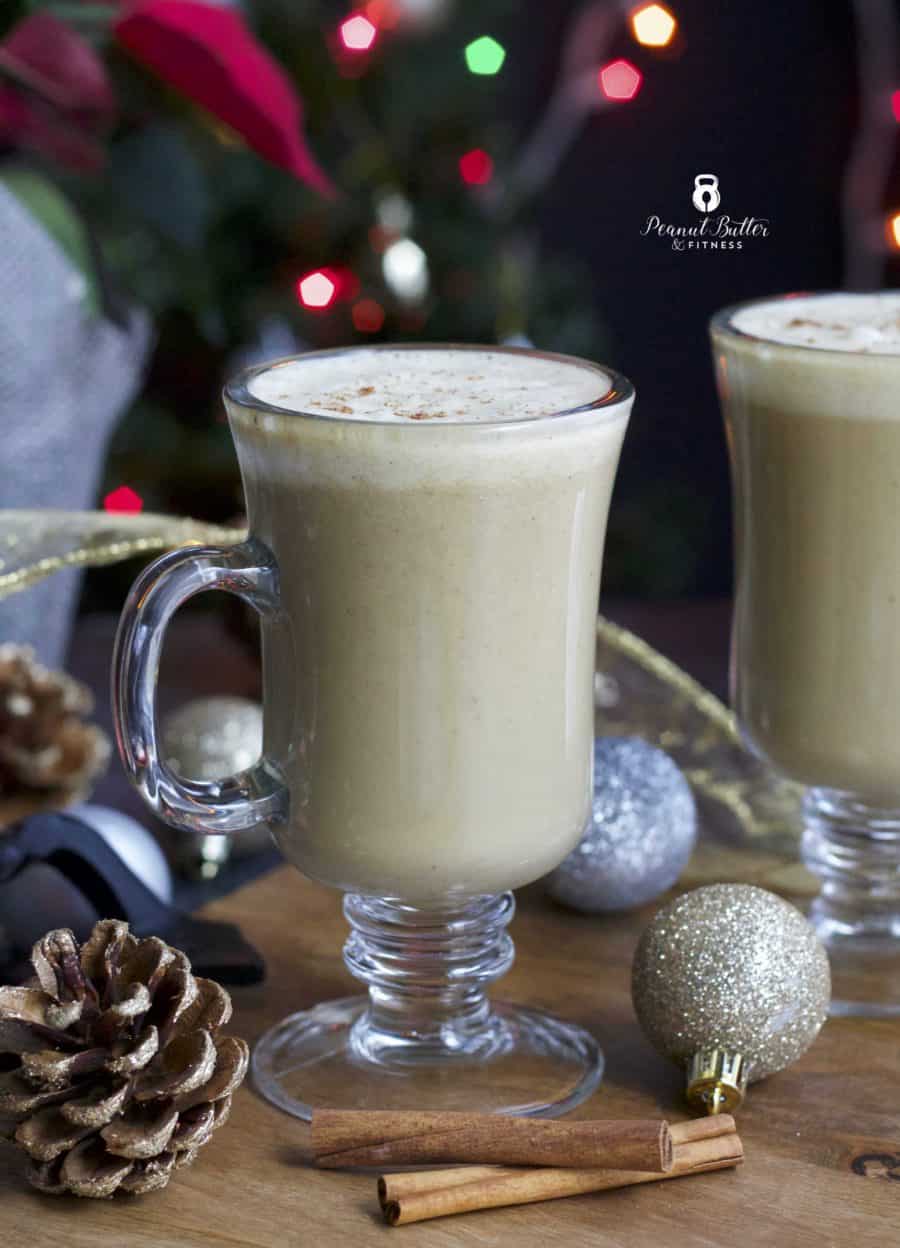 I'm digging all the lattes this year, can you tell? Adding protein makes them so nice and creamy – it's a match made in heaven! Just be sure to use a protein powder that doesn't react weirdly to hot liquid! The brand I used in the recipe is PBF-tested and approved. Now, usually I'm not a huge fan of sipping eggnog by itself because it's just soooo thick, but transforming it into a latte is right up my alley. Espresso and eggnog? Oh, heck yeah. And yes, I drank both of them 🙂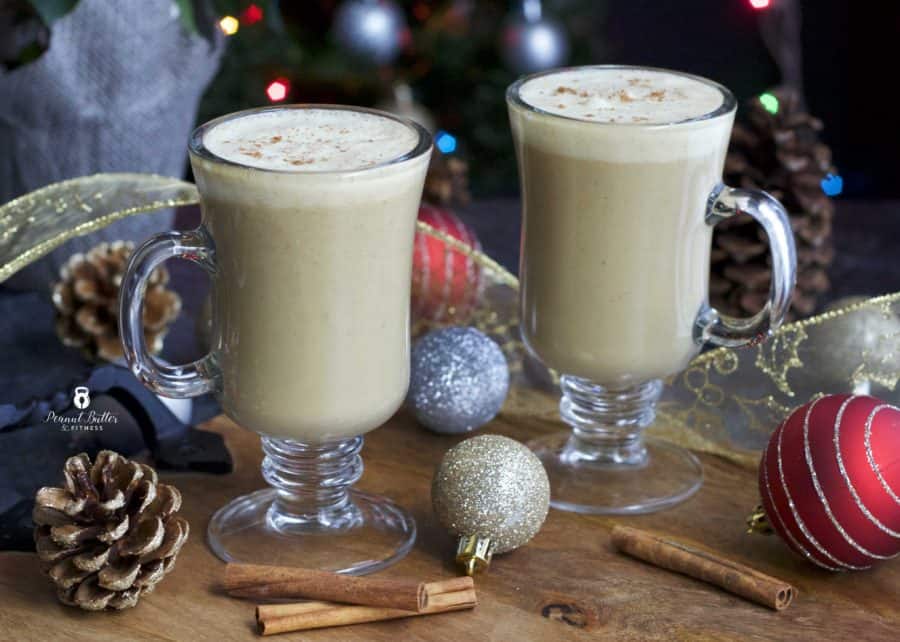 Look at this coconut milk froth down below! If you have a milk steamer/frother contraption you can obviously use that to make a nice milk froth on top instead. But I'm not fancy like that and honestly I really like the creaminess of the coconut milk anyways. I recommend the full fat kind out of the can because the fat content helps keep the froth on top of the latte, though the lower fat kind will work too.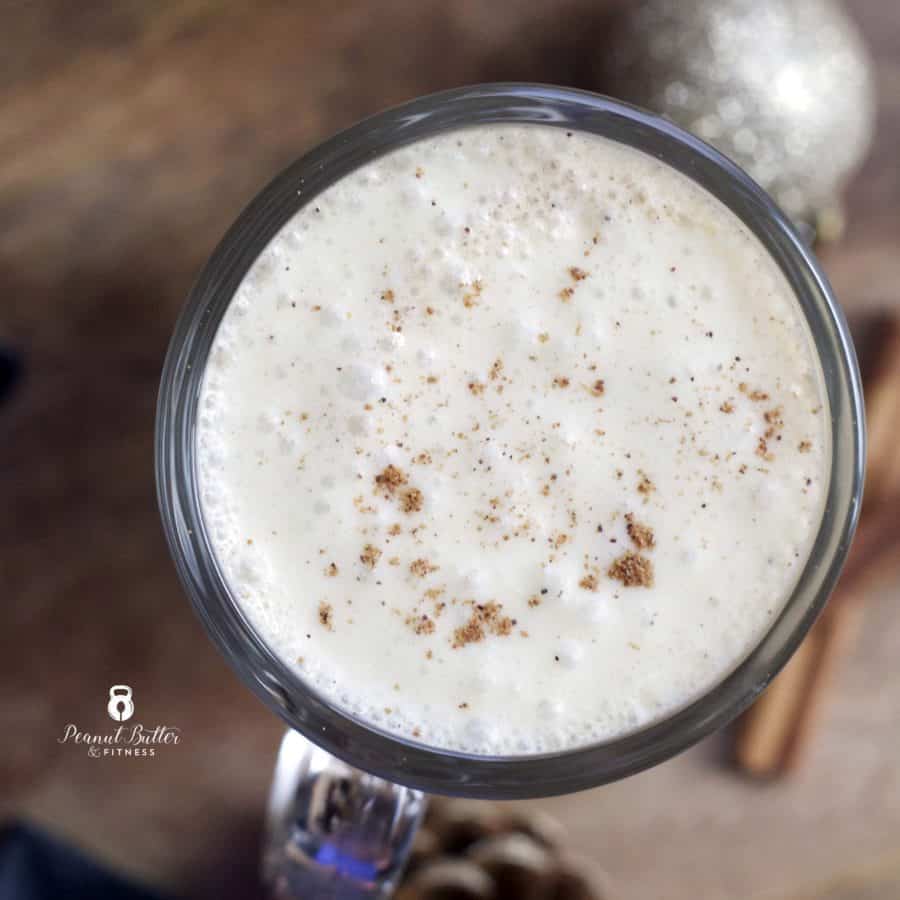 Remember when I said I don't really like traditional eggnog because it's too thick for me? Well, this is the brand that I found that I like. (It also happens to be the brand I used in my recent Eggnog Protein Cheesecake recipe :)) Anywho, you can use whatever kind of eggnog you like…Califia Farms is a great option!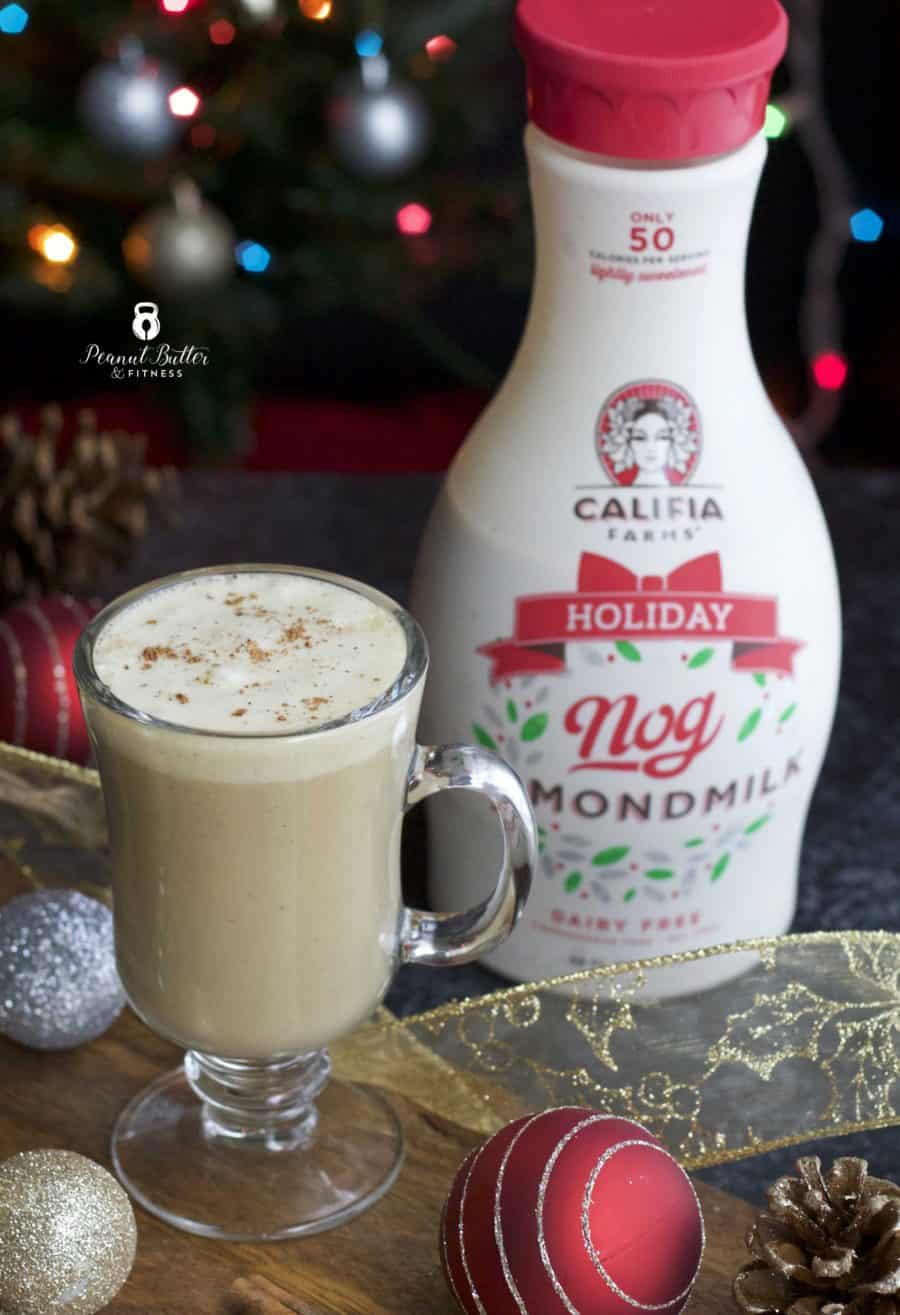 Scan this barcode into My Fitness Pal to log a latte!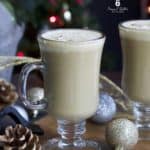 Eggnog Protein Latte
Prep Time 15 minutes
Cook Time 5 minutes
Total Time 20 minutes
Servings 2 servings (approx. 10 oz per serving)
Calories per serving 165 kcal
Ingredients
1 1/4 cups Califia Farms Almond Milk Holiday Nog
1/2 cup strong brewed coffee or espresso
3 tbsp full fat coconut milk
1 scoops Cellucor Cinnamon Swirl Whey Protein
1/4 tsp vanilla extract
Pinch cinnamon
Pinch nutmeg
Instructions
Add coffee, vanilla, and spices to a medium saucepan. Heat over medium heat, not allowing to boil.

In a large protein shaker, mix eggnog and whey protein until smooth. Slowly add all but about 3 tbsp to coffee mixture, stirring constantly. Continue to heat over medium heat until hot, but not boiling.

Add coconut milk to remaining protein mixture and shake vigorously or froth with a milk frother.

Divide latte evenly into 2 serving cups. Gently pour coconut milk froth onto a spoon over top of the lattes (pouring it onto a spoon just over the latte will help it float on top).

Garnish with fresh ground nutmeg before serving, if desired.
Recipe Notes
I use this milk frother.
Nutrition Facts
Eggnog Protein Latte
Amount Per Serving
Calories 165 Calories from Fat 54
% Daily Value*
Fat 6g9%
Cholesterol 18mg6%
Sodium 179mg8%
Carbohydrates 14g5%
Sugar 11g12%
Protein 14g28%
* Percent Daily Values are based on a 2000 calorie diet.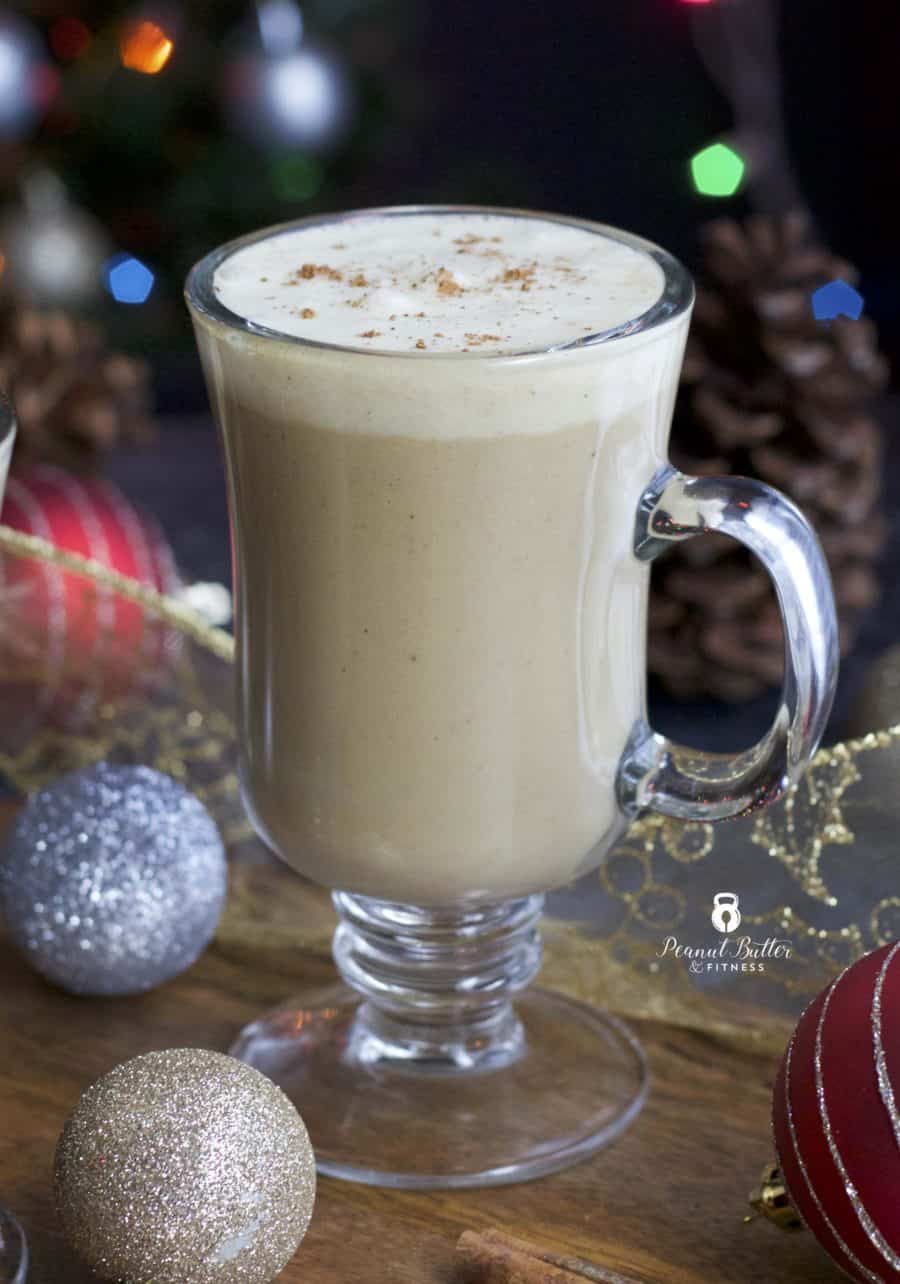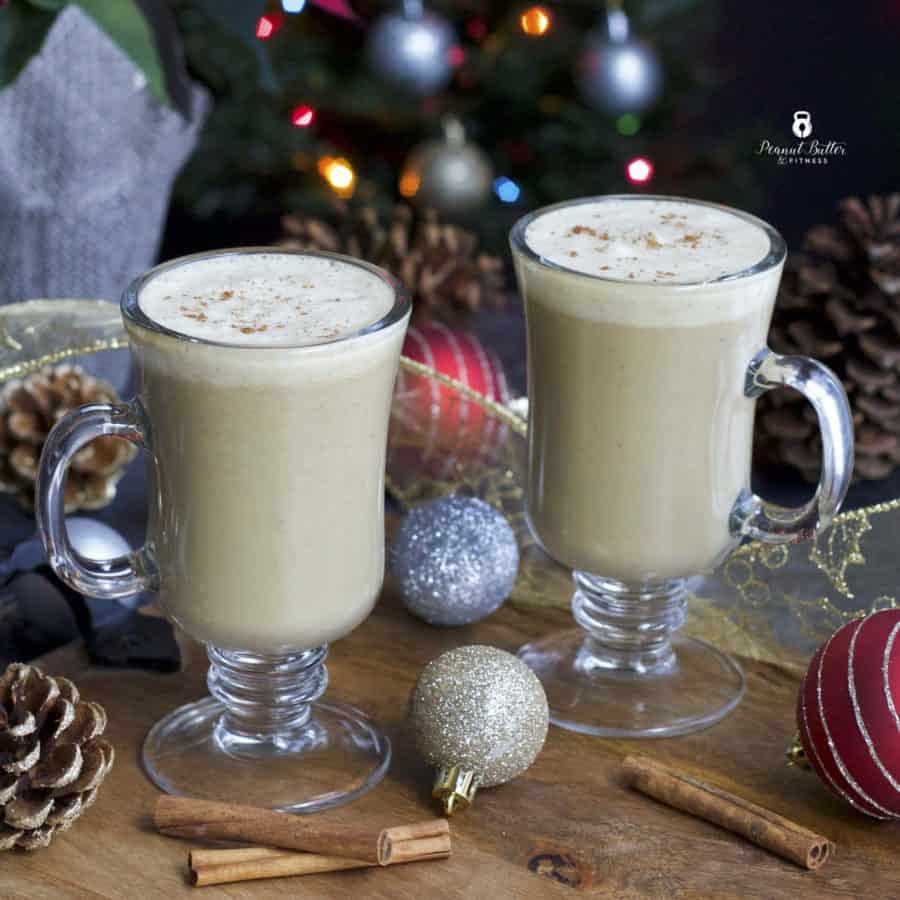 SaveSave
SaveSave
SaveSave
SaveSave