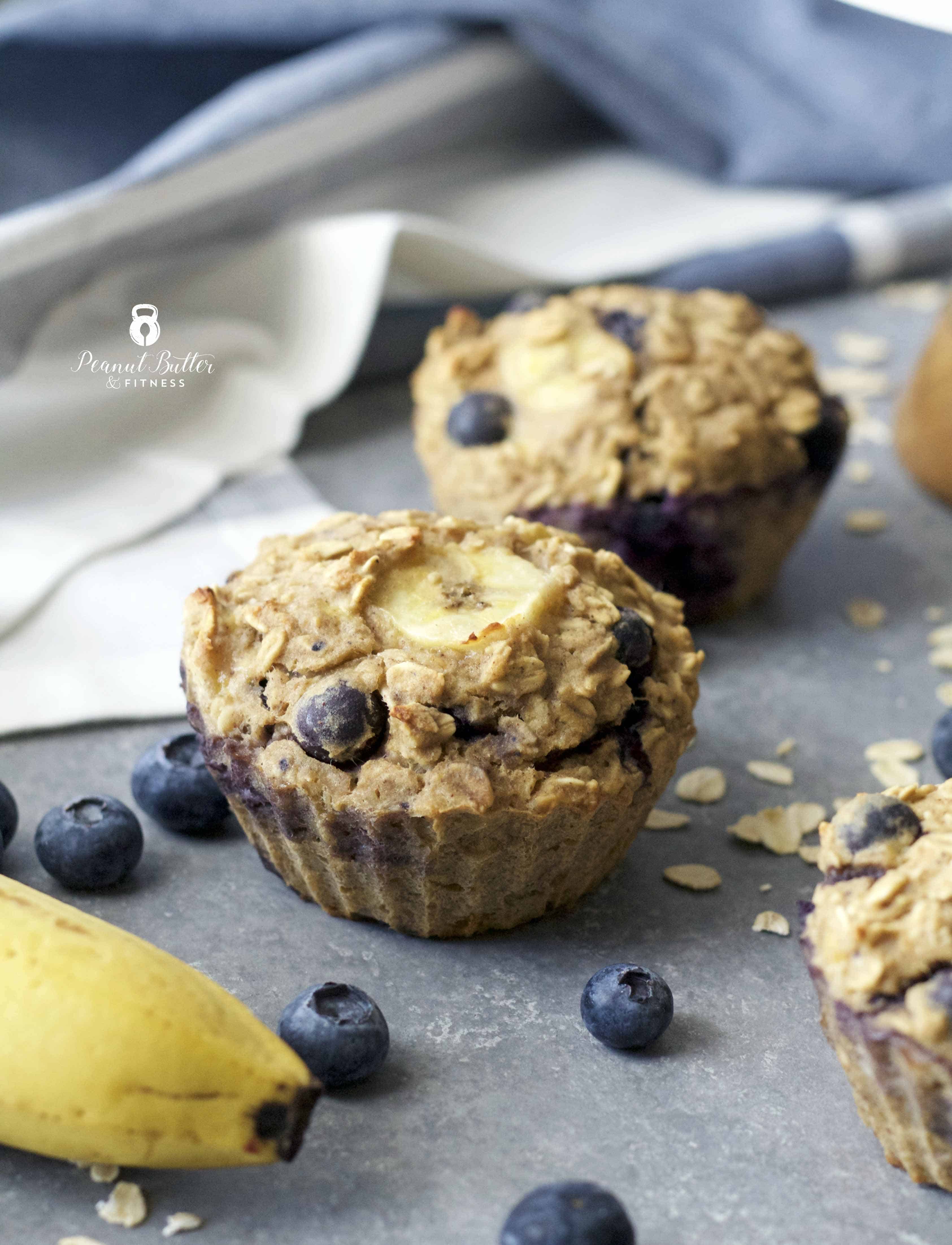 Closing out the weekend here at PBF with these protein-ified, dairy-free, gluten-free Banana Blueberry Oatmeal Muffins. I recently cut most dairy out of my diet because I discovered that it causes me some digestion issues and bloating. Sad times. BUT…I've been on the hunt for the best dairy-free protein powder and I think I'm there. Stay tuned for the Quest for the Best post on that. I've been playing around with it in some recipes (including this one!) and it works pretty well. Don't feel like you've got to switch if you use whey – I included deets in the recipe on how to accommodate whey protein too.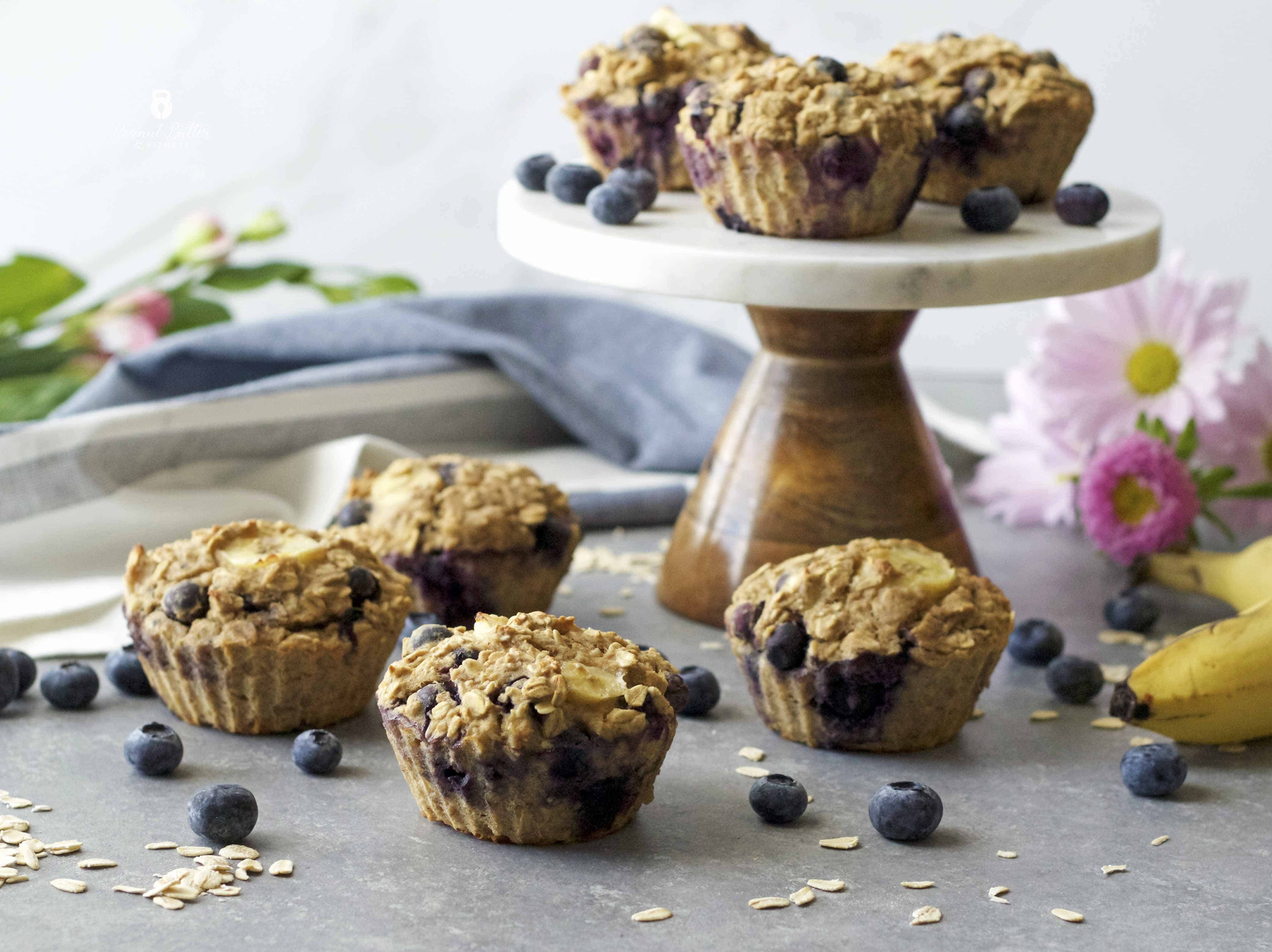 I don't know about you guys, but I think that blueberries inside baked goods is a sight to behold. They're just so pretty. And delicious, of course.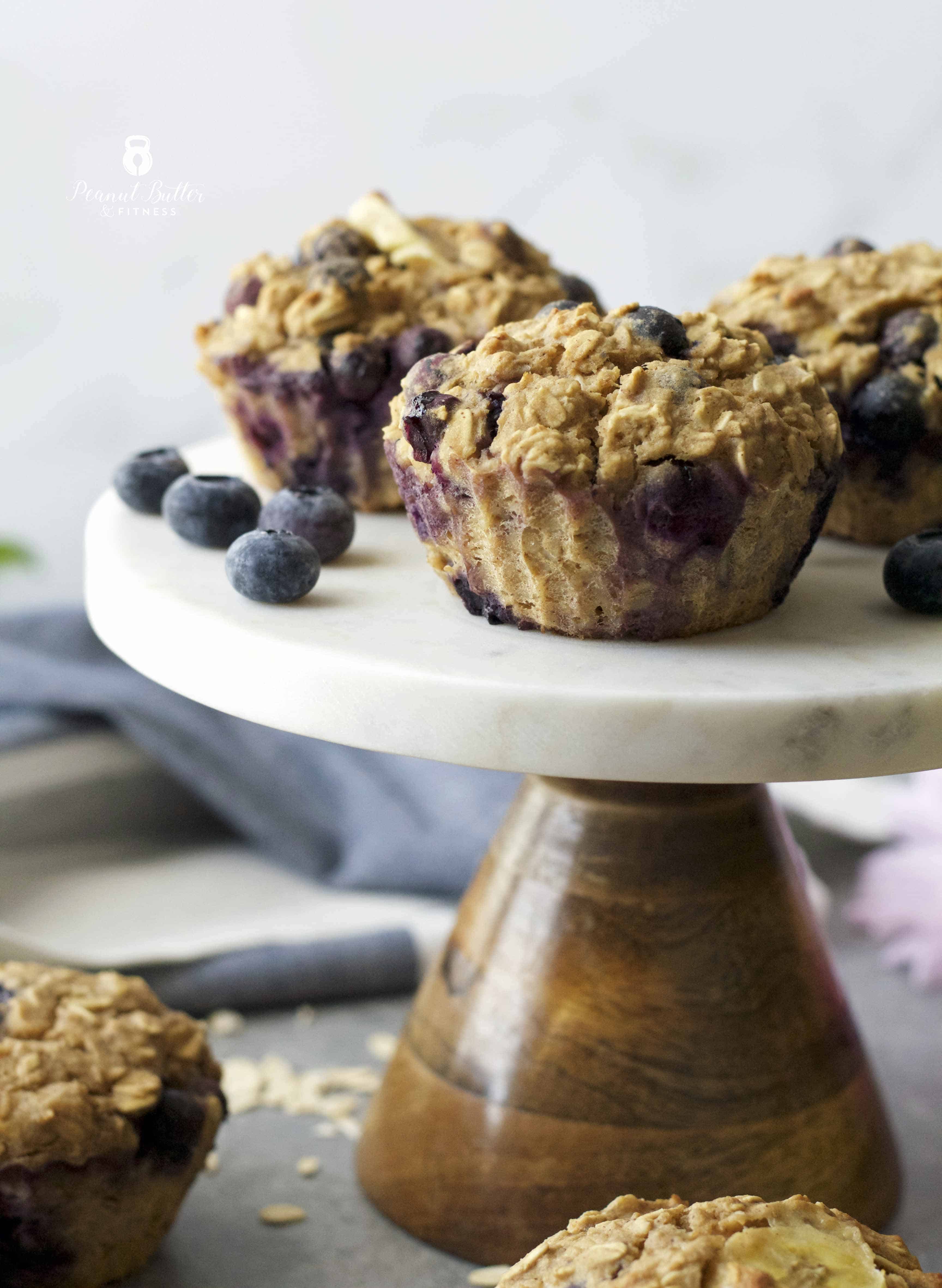 I should mention that I relied primarily on the mashed banana in the recipe to sweeten these oatmeal muffins. They don't have the typical level of sweetness you'd expect in a breakfast muffin, so don't be afraid to add a couple tablespoons of maple syrup or a bit of Stevia to the batter if you've got a sweet tooth. You won't need quite as much if you're using sweetened whey protein.
Happy Sunday!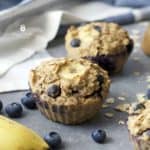 Blueberry Banana Oatmeal Muffins
Prep Time 15 minutes
Cook Time 35 minutes
Total Time 50 minutes
Servings 7 jumbo muffins
Calories per serving 199 kcal
Ingredients
2 cups rolled oats
1 cup blueberries (150 grams)
3/4 cup unsweetened vanilla almond milk
1/2 cup mashed bananas (135 grams)
1/2 cup unsweetened applesauce (122 grams)
2 egg whites
1 1/2 tbsp Legendary Foods Blueberry Cinnamon Bun Almond Butter (24 grams)
1 tsp vanilla extract
1/2 tsp baking powder
1/2 tsp baking soda
1/2 tsp cinnamon
1/4 tsp salt
Squeeze of lemon juice
Instructions
Pre-heat oven to 350 degrees. Arrange 7 jumbo silicone baking cups on a baking sheet.

Mix all dry ingredients, then add wet ingredients and stir until combined. Scoop into baking cups.

Bake for 35 minutes and cool before serving.
Recipe Notes
If using whey protein instead of plant based protein, decrease amount of almond milk to 1/2 cup.
I recommend these jumbo silicone baking cups!
Nutrition Facts
Blueberry Banana Oatmeal Muffins
Amount Per Serving
Calories 199 Calories from Fat 36
% Daily Value*
Fat 4g6%
Sodium 106mg5%
Potassium 242mg7%
Carbohydrates 30g10%
Fiber 5g21%
Sugar 6g7%
Protein 12g24%
* Percent Daily Values are based on a 2000 calorie diet.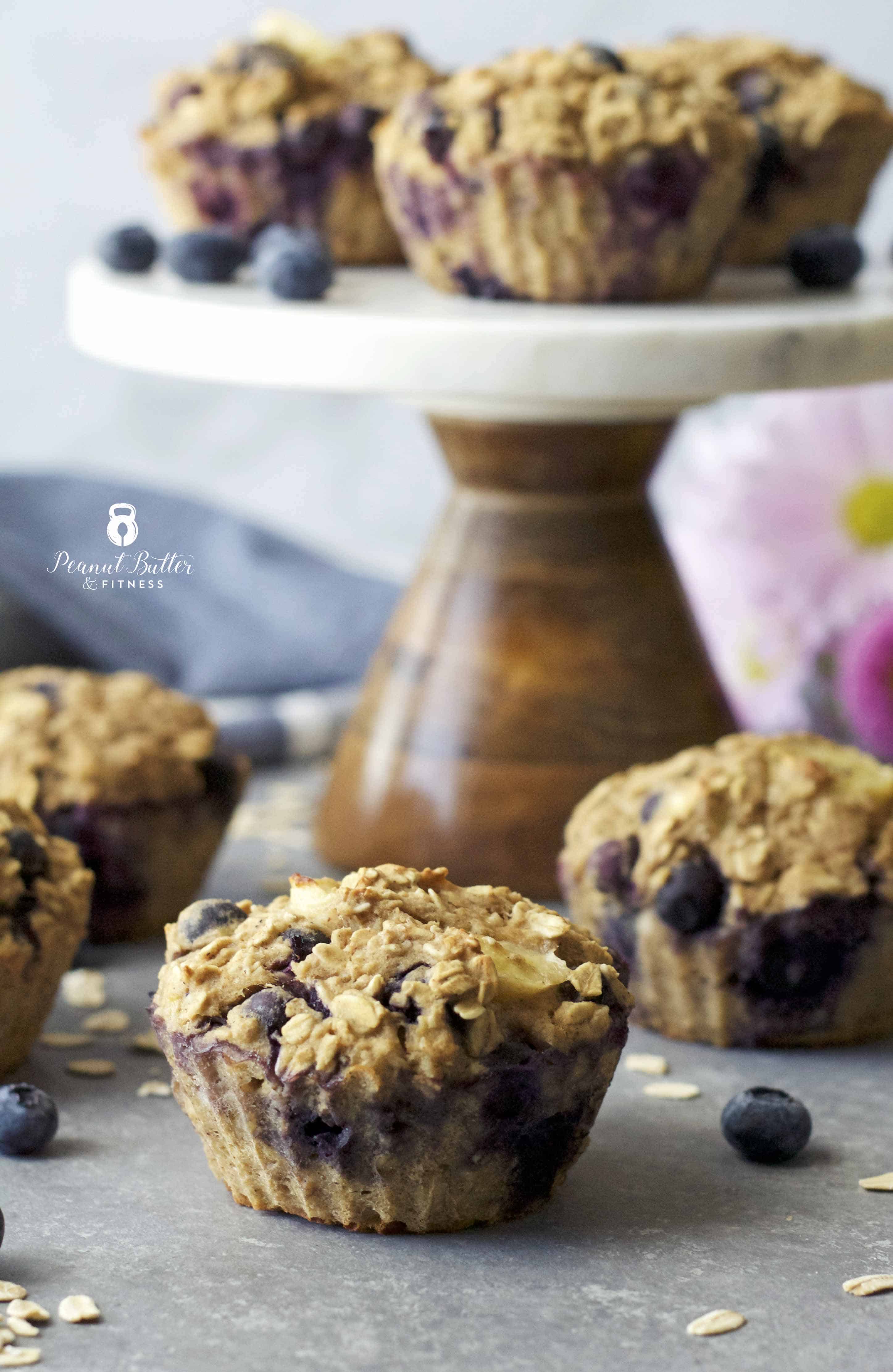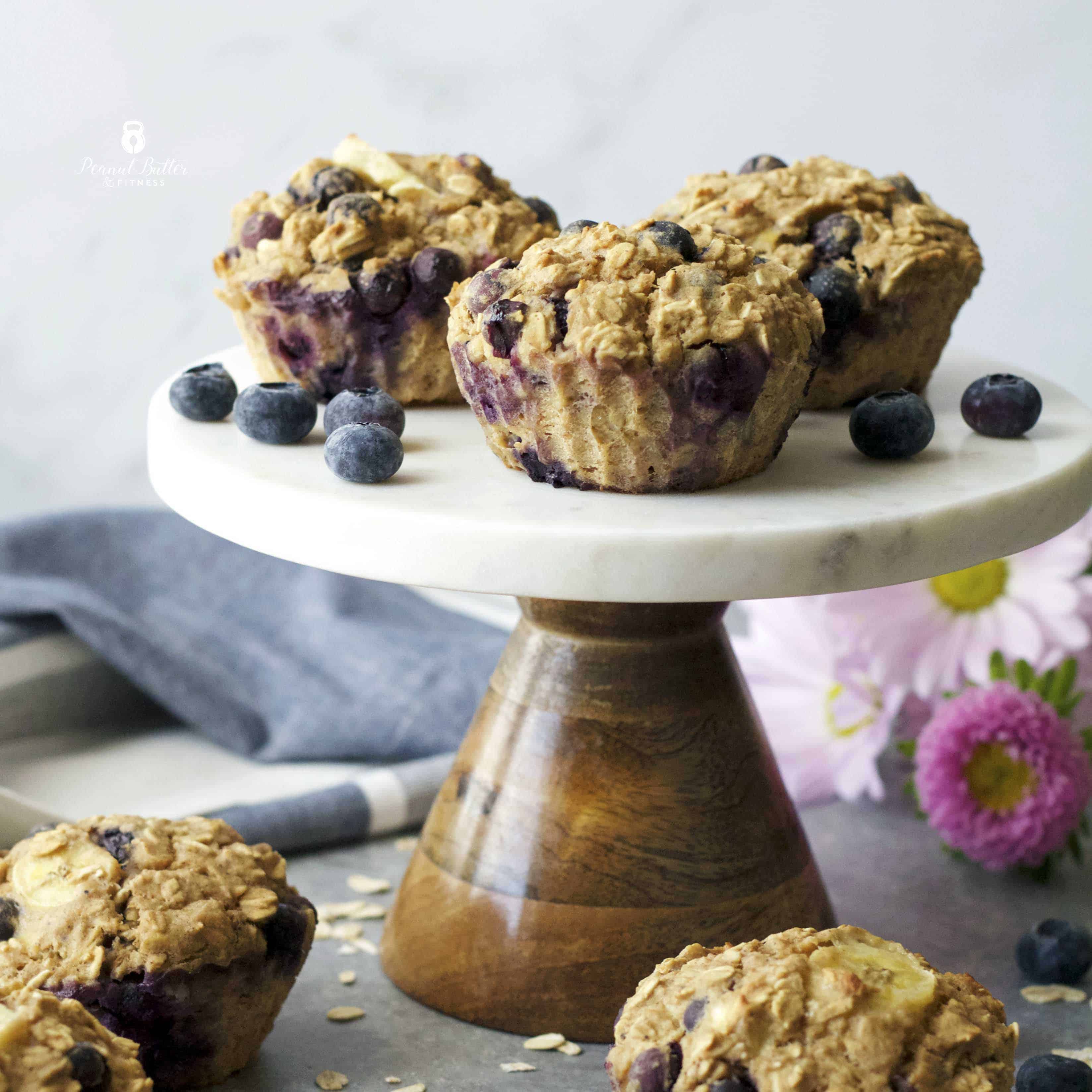 SaveSave
SaveSave
SaveSave