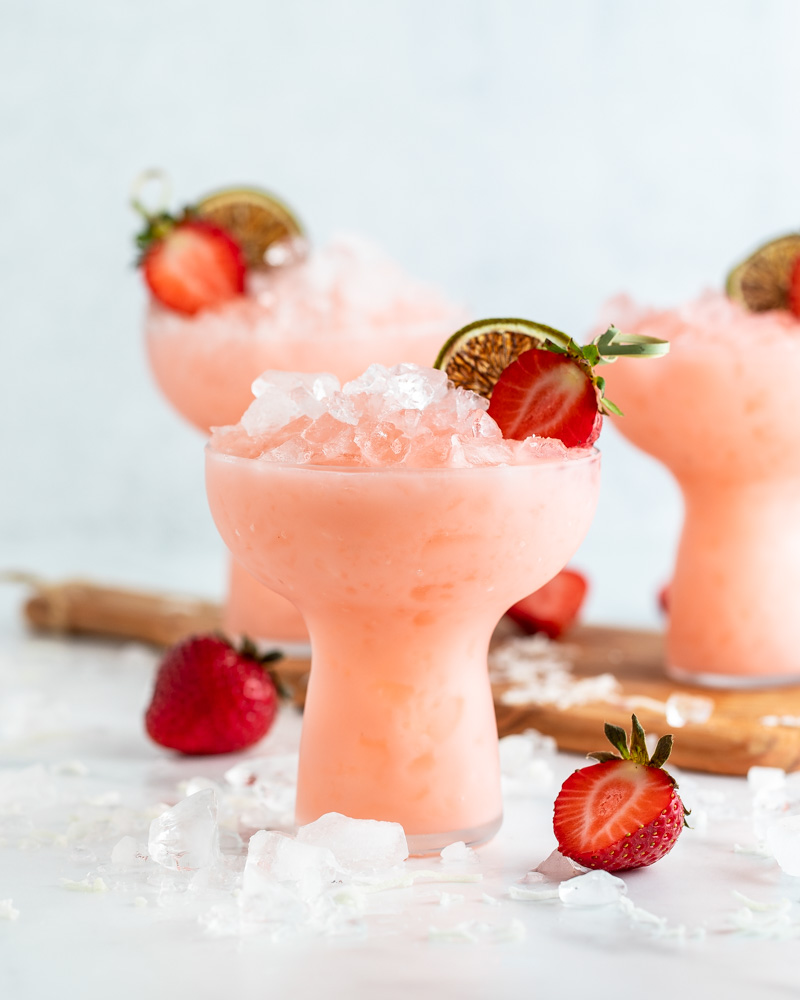 Happy Cocktail Friday, everyone! Put those gorgeous summer berries to use with this tropical Strawberry Coconut Rum Cooler. It tastes kind of like a strawberry daiquiri on the rocks! There's plenty of coconut flavor thanks to a combination of coconut rum, cream of coconut, and even a bit of coconut water. It leans toward the sweet side but remains balanced (I don't like overly sweet drinks), though you can easily adjust the sweetness level by adding more or using less cream of coconut.
This drink is super easy to make at home, as long as you have a quality muddler and shaker on hand. I like this muddler – it makes quick work of squeezing the juices out of those gorgeously ripe strawberry chunks. And for shakers, you can't beat this leak proof, no stick, higher capacity shaker by Viski for your home bar.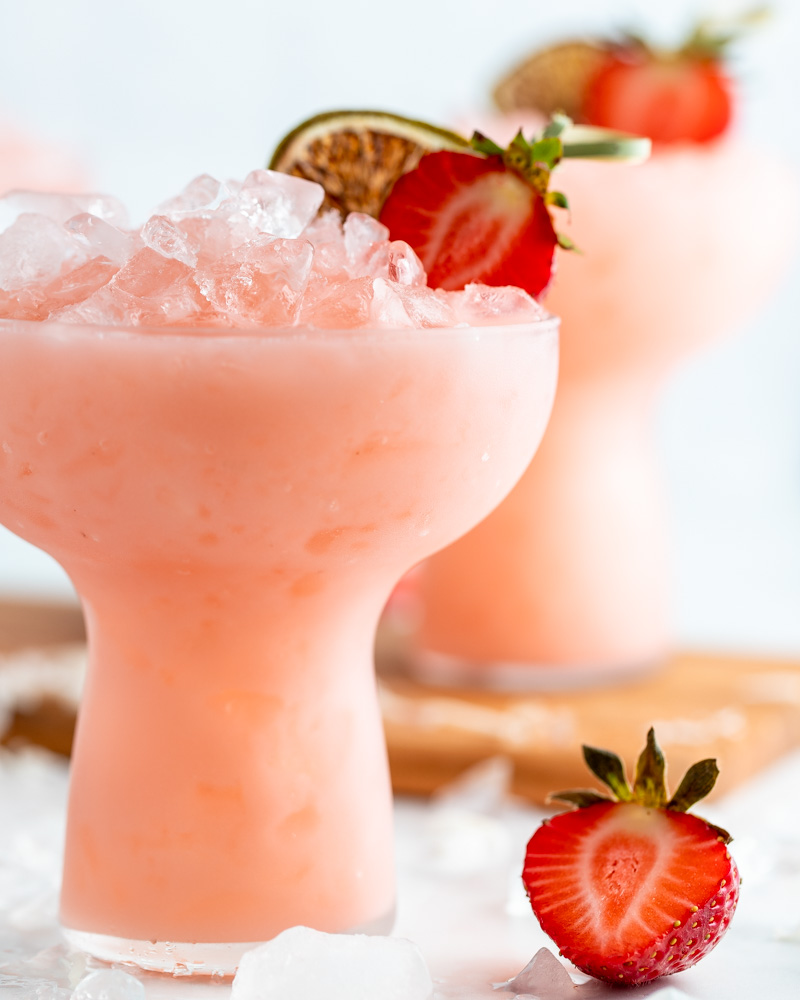 To make this cocktail, you'll need these ingredients:
Coconut rum and light rum – I like the combination of the two rums so that the coconut rum doesn't get overpowering. You could use dark rum along with the coconut rum, but I preferred the light rum when I was testing this recipe.
Coconut water – I recommend Harmless Harvest if you can find it. It has a slight pink tint to it and I think a better flavor than most coconut water.
Cream of coconut – Here's where you'll get some sweetness and a big punch of coconut flavor. I used the Coco Real brand, which is the squeeze bottle version. You could also use Coco Lopez or Goya brands which come in a can, though it's less convenient for cocktail making.
Lime – A touch of lime really helps balance out the whole drink and keeps it from tasting too sweet.
Strawberries – Muddle these up well so you get the maximum amount of juice (and flavor!) out of the strawberries. You'll get the most juice out of the berries when they're in season.
Crushed ice – You don't have to serve this over crushed ice, but I like how frosty it makes the cup. Plus you get a good bit of dilution so the drink stretches farther.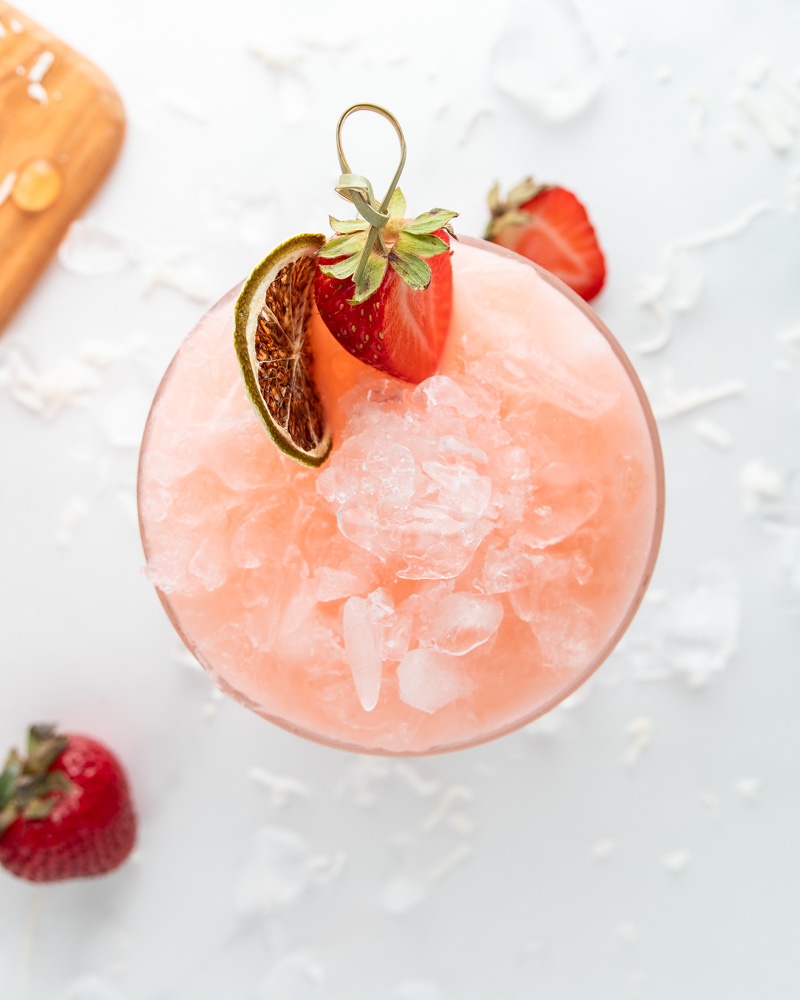 Here are some items I used to make this recipe a success. Like I mentioned above, if you want to shake up more than 2 servings at a time, I can't recommend this shaker enough! It's bigger than the average home bar shaker, but it's easy to handle, doesn't leak, and doesn't stick. I honestly love mine. Note: these are Amazon Affiliate links.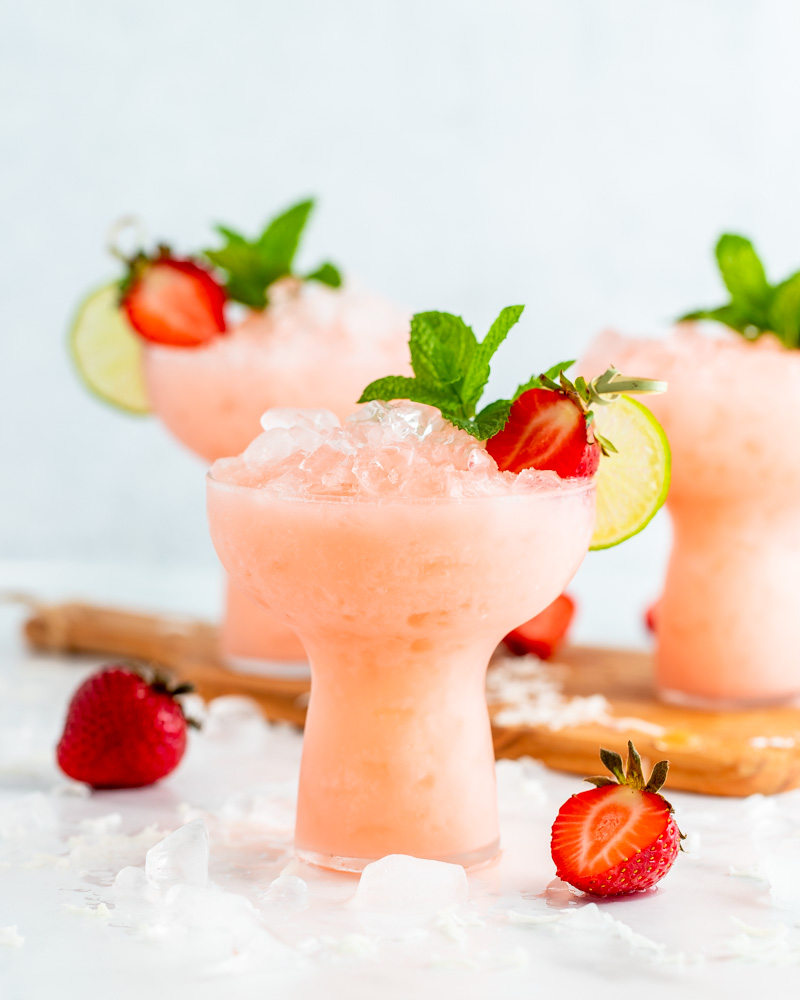 Recipe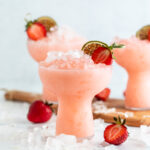 Strawberry Coconut Rum Cooler
Prep Time 8 minutes
Total Time 8 minutes
Servings 2 servings
Calories per serving 197 kcal
Ingredients
6 fl oz coconut water
2 fl oz coconut rum
1 1/2 fl oz light rum
1 fl oz cream of coconut
1 fl oz lime juice
7 strawberries, chopped
Instructions
Fill 2 serving glasses with crushed ice. I used stemless margarita glasses here but a double rocks glass or narrow highball would work as well.

Add strawberries to the bottom of a shaker cup and muddle to extract the juices. Add remaining ingredients to the shaker, top with about 6 ice cubes, and shake vigorously for about 5 seconds or until shaker is iced over and cold to the touch.

Double strain into a serving glass over crushed ice.
Nutrition Facts
Strawberry Coconut Rum Cooler
Amount Per Serving (6.5 fl oz)
Calories 197 Calories from Fat 18
% Daily Value*
Fat 2g3%
Sodium 18mg1%
Potassium 248mg7%
Carbohydrates 26g9%
Fiber 1g4%
Sugar 16g18%
* Percent Daily Values are based on a 2000 calorie diet.