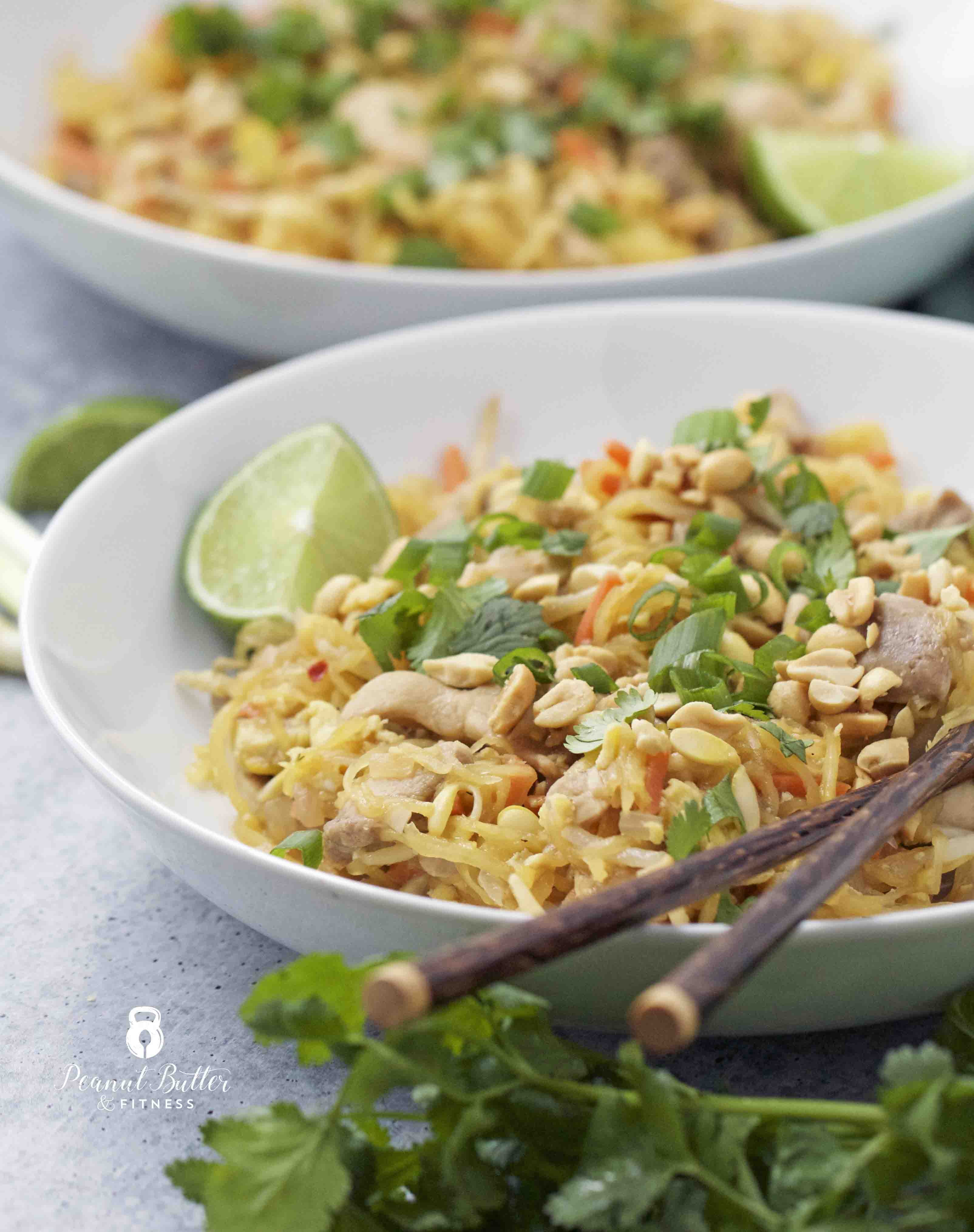 Jump to Recipe
It's hump day again! Get through the rest of your week with this Spaghetti Squash Pad Thai. If you're lucky enough to have any leftovers, they make for awesome meal prep lunches (or dinners for that matter)! Pad Thai is normally made with rice noodles, but I cut out those complex carbs in favor of the ever-versatile spaghetti squash noodles. Honestly, I think it was a great swap! The spaghetti squash is a great imposter here and works perfectly with the Pad Thai sauce.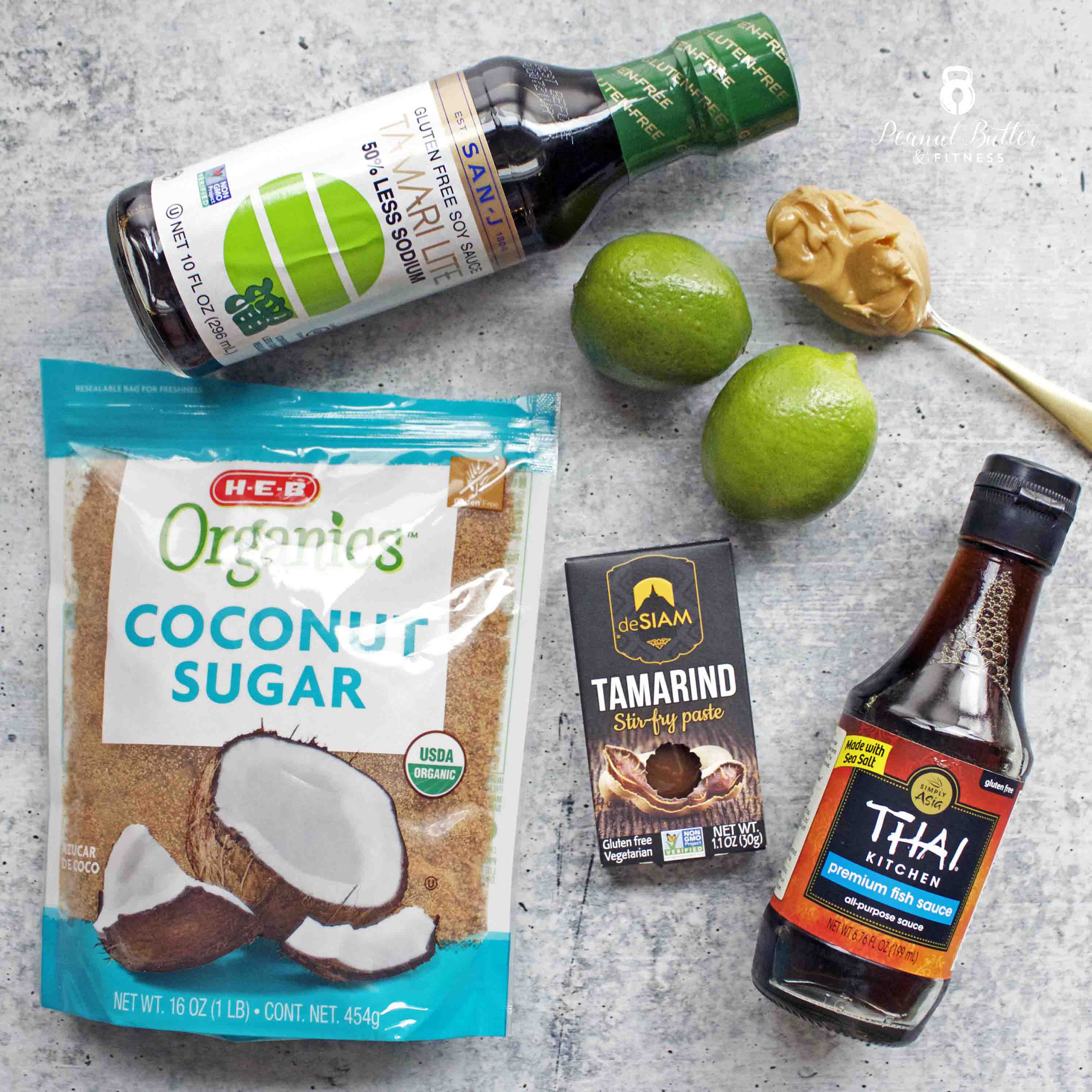 The key to recreating your favorite restaurant/take-out Pad Thai is incorporating the funk. What's "funk," you say? I'm talking about fish sauce and tamarind paste here, people! You're not going to get that distinctive Pad Thai flavor without them, and they're both pretty funky. Fish sauce? Smells terrible but tastes amazing. Tamarind paste? Tastes super tangy on its own but does some kind of witchy magic in the sauce here. In my mind, you simply can't skip these ingredients. You can find fish sauce in most grocery stores, but I had to go to the bougie grocery store (Central Market for my Texas peeps) to find the tamarind paste. Or you can just get it on Amazon.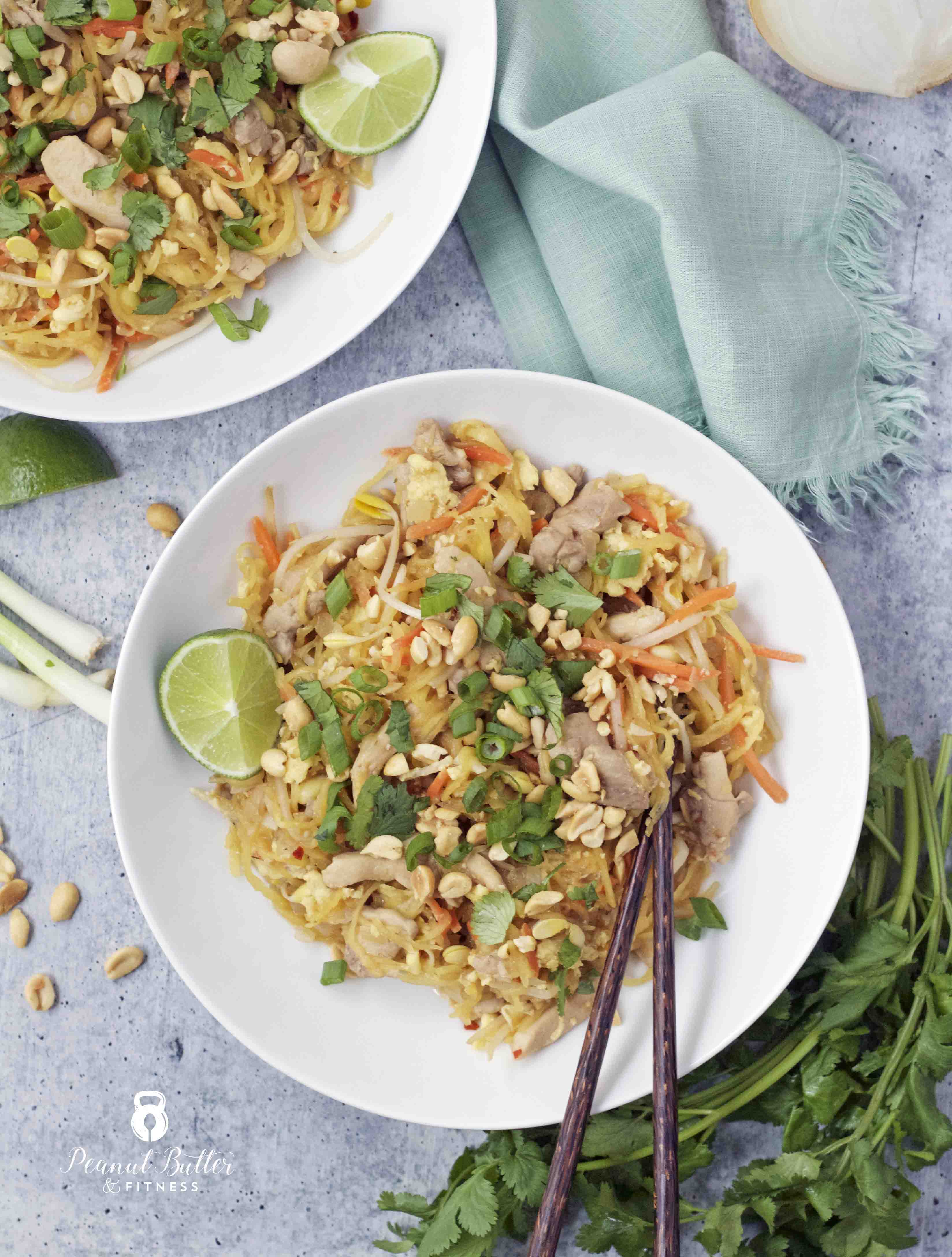 Some bean sprout connoisseurs probably noticed that I used soy bean sprouts in my Pad Thai, which is not at all traditional. Normally you'll see mung bean sprouts, but for whatever reason NO ONE had them in stock. Not my regular grocery store, not the bougie grocery store, and not the Asian grocery store. So I settled for the soy bean sprouts…not amazing, but they worked.
Enjoy the rest of your week!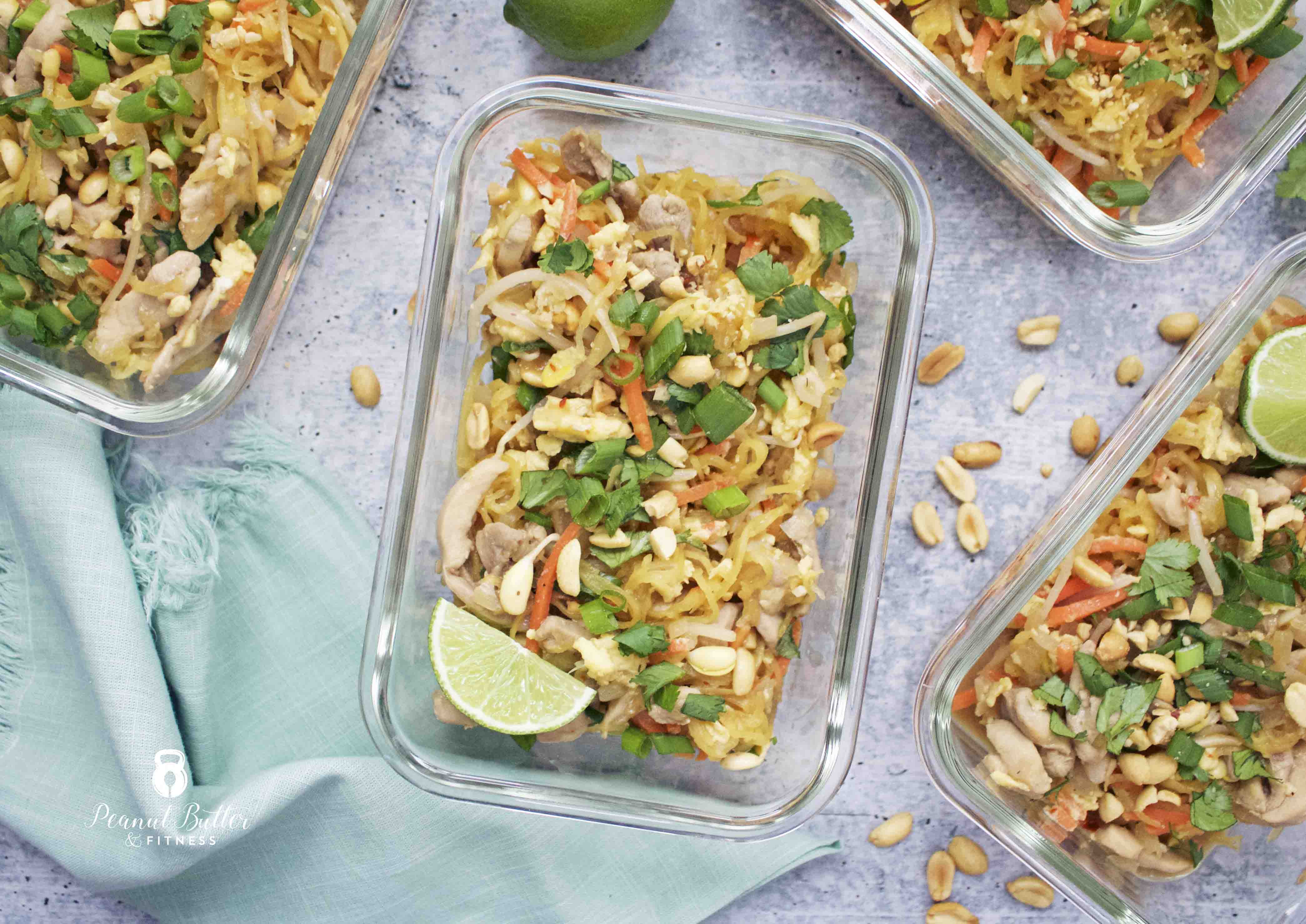 Spaghetti Squash Pad Thai
Prep Time 30 minutes
Cook Time 40 minutes
Total Time 1 hour 10 minutes
Servings 5 servings
Calories per serving 335 kcal
Ingredients
1.25 lb boneless skinless chicken thighs, excess fat trimmed and sliced very thinly
1 medium spaghetti squash (500 grams flesh)
1 tsp olive oil
1 1/2 cups bean sprouts (128 grams)
1 cup julienned carrots (85 grams)
3 eggs, whisked
1/2 medium onion (55 grams)
4 cloves garlic (16 grams)
1 tbsp avocado oil
Sauce
1/4 cup coconut sugar (48 grams)
3 tbsp de SIAM Tamarind Stir-Fry Paste (45 grams)
2 tbsp low sodium soy sauce (1 oz)
1 1/2 tbsp Skippy Natural Creamy Peanut Butter (24 grams)
1 tbsp fish sauce
1/2 tsp crushed red pepper flakes
1 lime, juiced
Recommended Toppings (not included in nutrition info)
chopped peanuts
chopped green onions
cilantro
Instructions
Pre-heat oven to 400 degrees. Cut spaghetti squash in half and scoop out seeds. Rub cut sides with 1 tsp olive oil and season with Flavor God seasoning. Bake for 35-40 minutes until flesh flakes away easily with a fork.

Heat half of the avocado oil in a large pan over medium high heat. Sauté garlic and onion until fragrant, then add chicken. Sauté until cooked through. Remove from pan and set aside.

Add remaining avocado oil to pan. Once hot, add carrots and saute for about 2 minutes. Push carrots to the side of the pan, then add eggs to the other side of the pan. Scramble/chop the eggs as they cook with a wooden spatula.

Once eggs are cooked through, add bean sprouts to the pan and mix with carrots and eggs. Return chicken to pan and add sauce. Stir to combine, then remove from heat and toss with spaghetti squash.

Top with green onions, chopped peanuts, and cilantro before serving, if desired.
Nutrition Facts
Spaghetti Squash Pad Thai
Amount Per Serving (340 g)
Calories 335 Calories from Fat 117
% Daily Value*
Fat 13g20%
Cholesterol 187mg62%
Sodium 860mg37%
Potassium 534mg15%
Carbohydrates 30g10%
Fiber 3g13%
Sugar 17g19%
Protein 27g54%
* Percent Daily Values are based on a 2000 calorie diet.