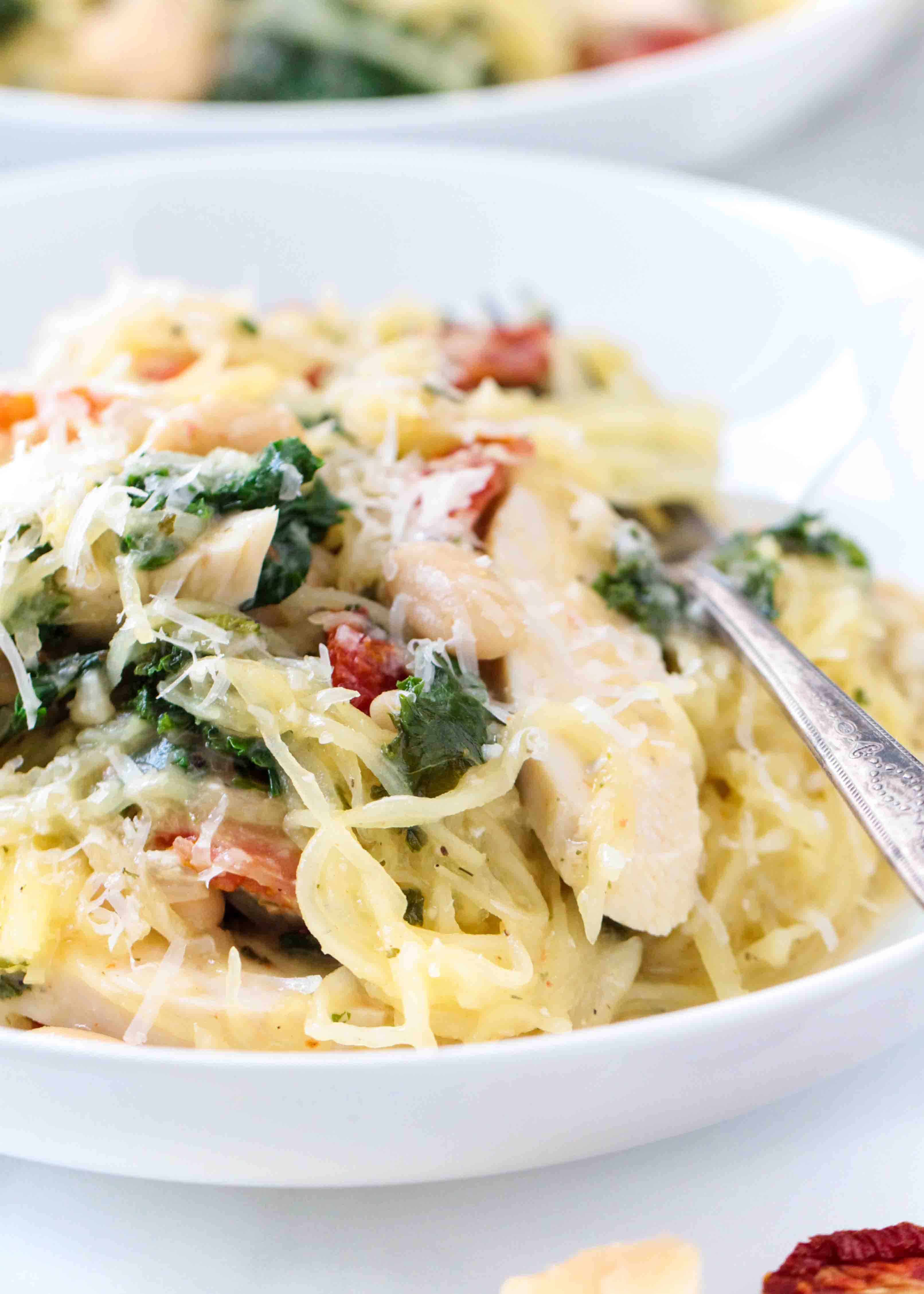 Jump to Recipe
Time for another Wednesday recipe, friends! This week it's this amazing Tuscan White Bean & Spaghetti Squash Skillet. As the temperatures drop (even just slightly), skillet meals are my go-to! There's something about smothering your meal in a yummy sauce that just feels cozy and perfect for fall. This dish is lower carb than a lot of skillet meals thanks to the spaghetti squash, but it still feels hearty thanks to all the goodies packed inside – especially the beans!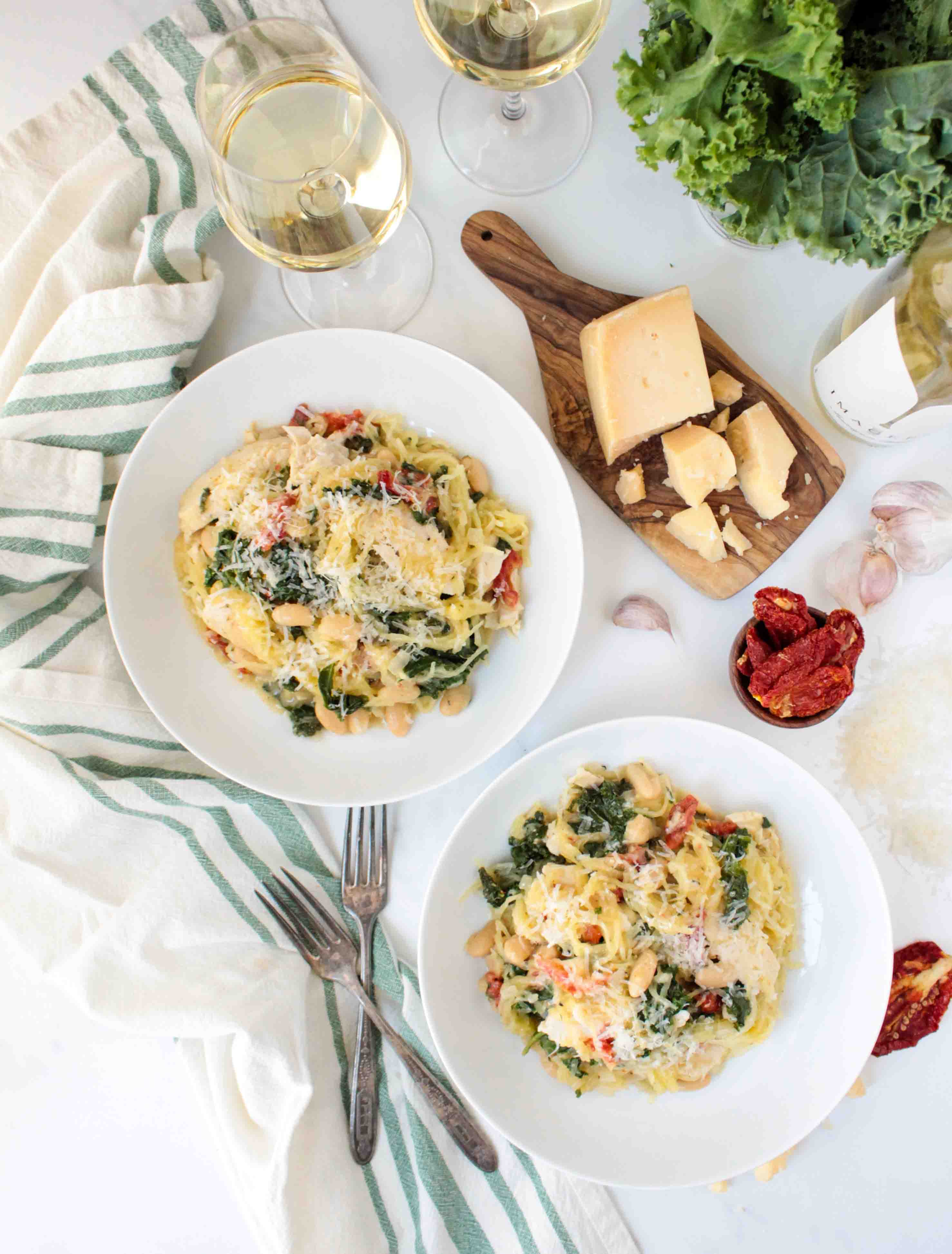 I love the cannelini beans in this recipe because they lend a sort of smoky flavor to the dish. Plus they're hearty enough to give it some "oomph" even though there are no real noodles here! Oh, and if you're a cheese lover, you'll probably want to melt some parmesan right into the sauce as you finish cooking the chicken 😉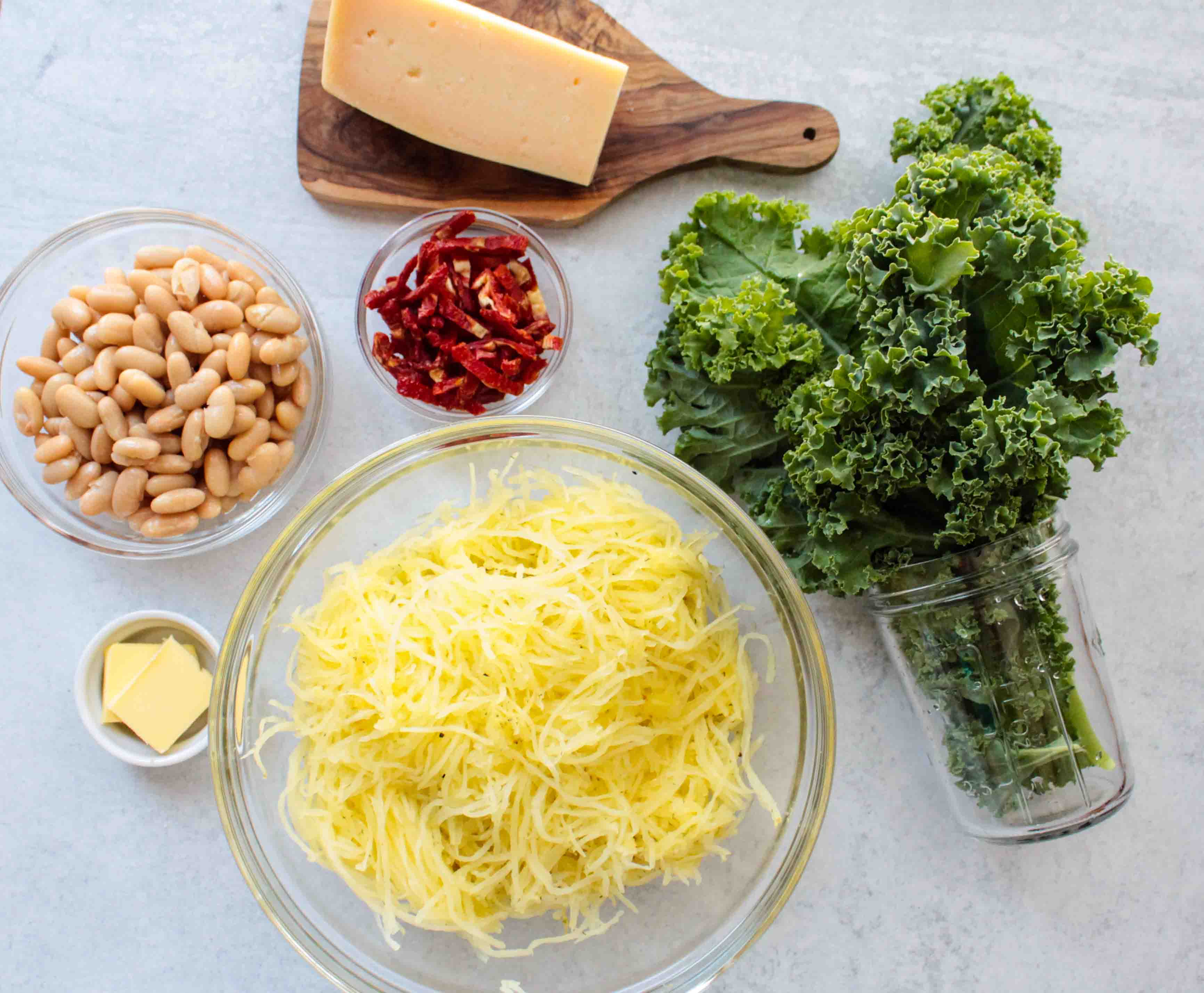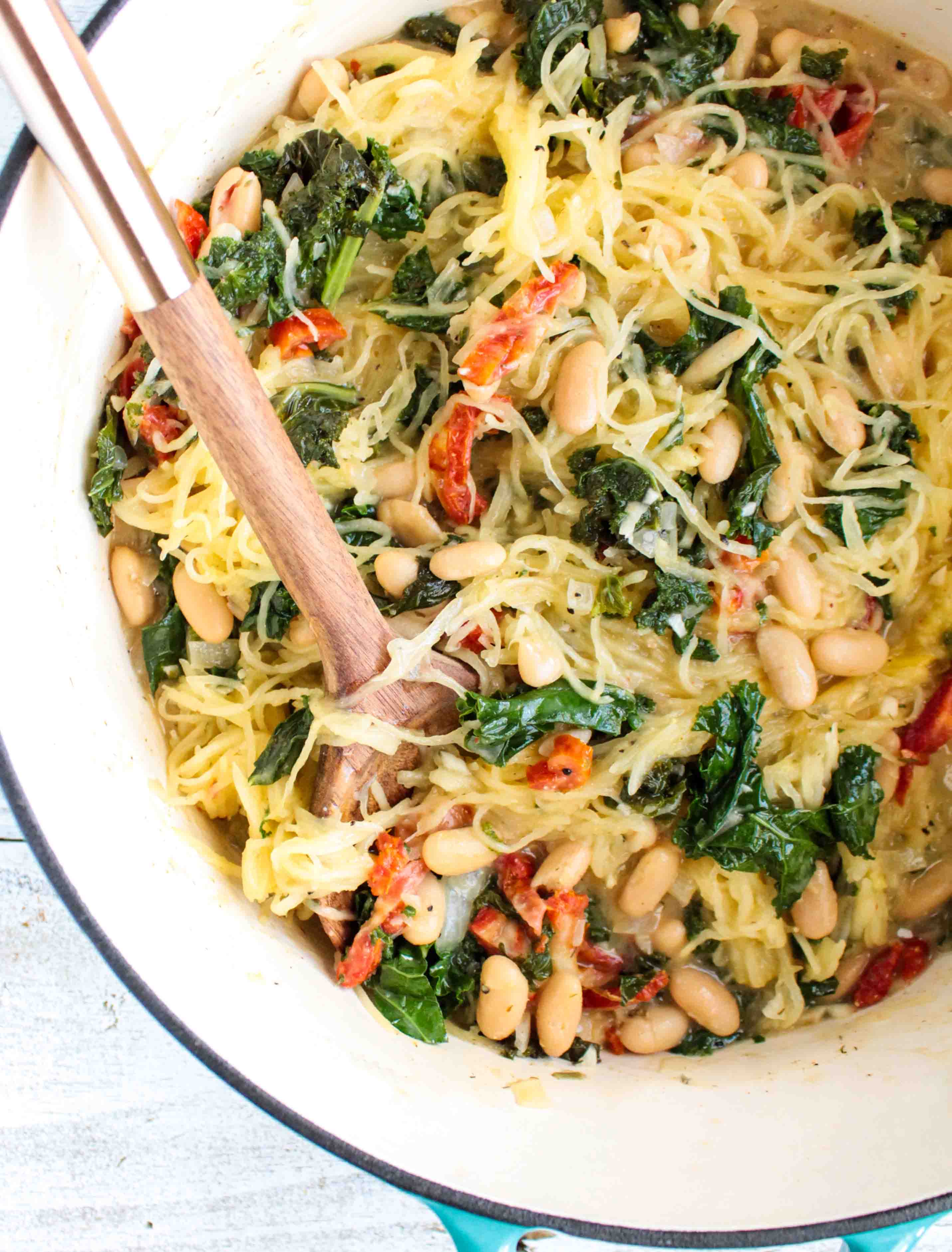 Enjoy!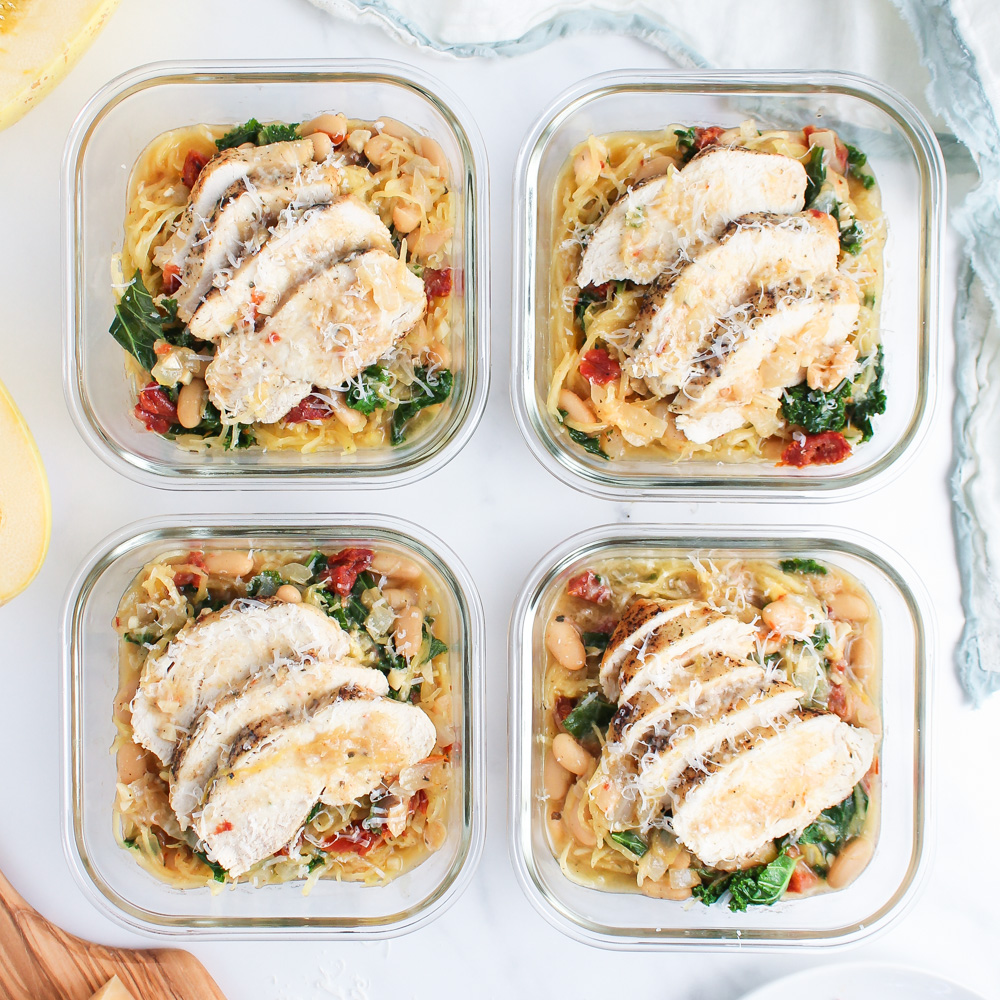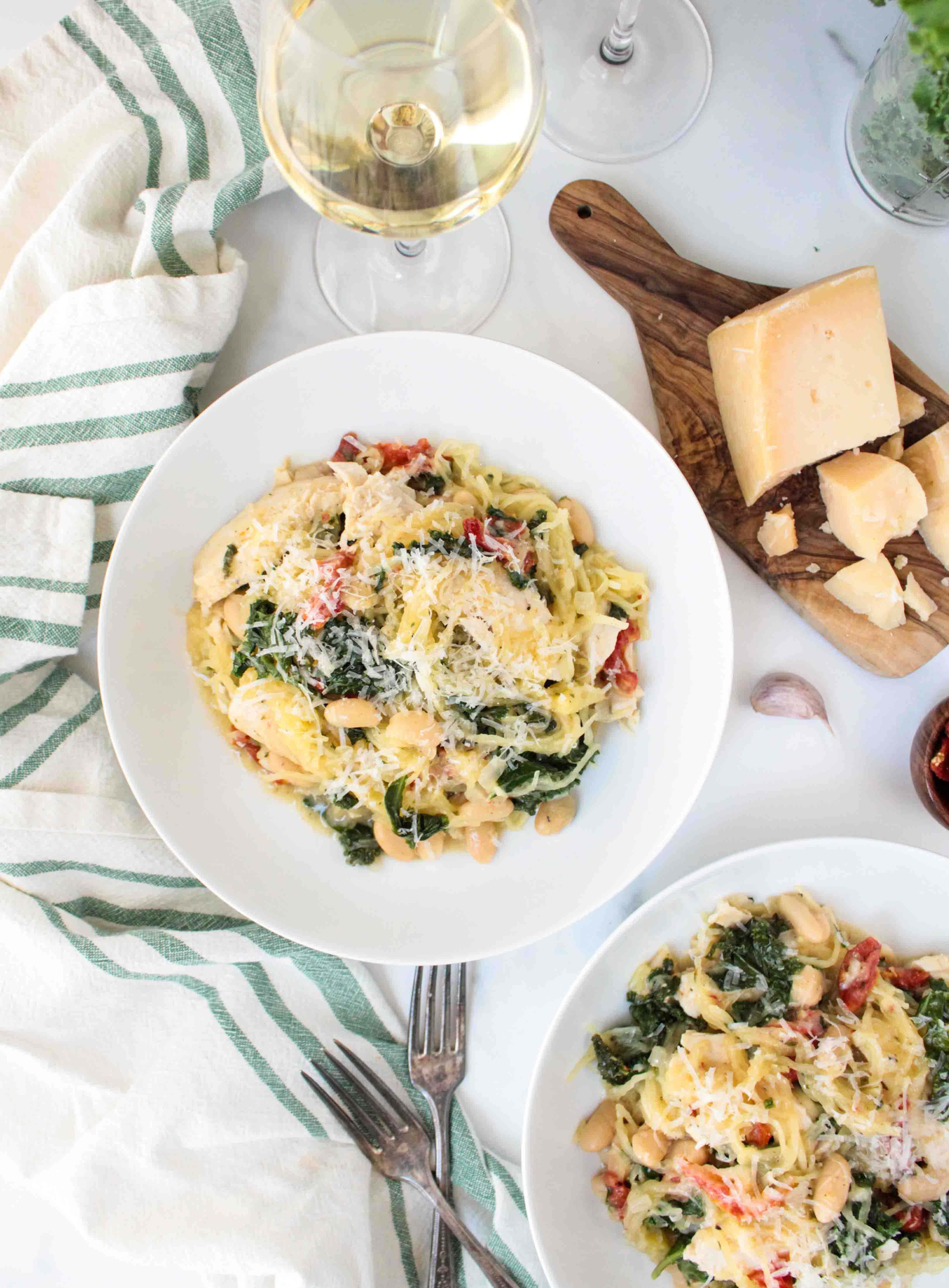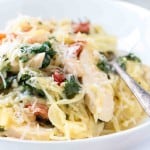 Tuscan White Bean & Spaghetti Squash Skillet
Prep Time 20 minutes
Cook Time 50 minutes
Total Time 1 hour 10 minutes
Servings 5 servings
Calories per serving 386 kcal
Ingredients
1 1/4 lb raw chicken breast, thinly sliced
1 medium spaghetti squash (500 grams flesh)
1 15.5 oz can cannelini beans, drained
4 cups kale, trimmed and roughly chopped (270 grams)
2 oz sun dried tomatoes, sliced
1 1/4 cup light coconut milk
1 cup low sodium chicken broth
1/2 cup dry white wine (I like Sauvignon Blanc)
1/2 medium onion, chopped (55 grams)
2 tbsp white whole wheat flour (6 grams)
3 tbsp unsalted butter (1 1/2 oz)
2 tsp olive oil (0.33 oz)
4 cloves garlic, minced (16 grams)
2 tsp Oh My Spice! Lemon Pepper Dill Seasoning
1/2 tsp ground mustard
1/4 tsp red pepper flakes
Instructions
Optional (but recommended): Brine chicken breasts for 5-12 hours. Get recipe/instructions here.

Pre-heat oven to 400 degrees.  Cut spaghetti squash in half and scoop out seeds.  Rub cut sides with 1 tsp olive oil and season with 1/2 tsp lemon pepper seasoning.  Bake for 35-40 minutes until flesh flakes away easily with a fork.

Heat remaining olive oil in a large skillet over medium-high heat.  Season chicken breast on both sides with salt, pepper, and 1/2 tsp lemon pepper seasoning, then add to skillet and brown on each side for 1-2 minutes, then set chicken aside.

Add butter to skillet until melted and hot, then add onion and garlic and sauté until tender.  Stir in flour until it is absorbed, then gradually whisk in wine, chicken broth, and coconut milk.

Add sun dried tomatoes and remaining spices to skillet.  Stir well, then add cannelini beans to the skillet and stir to combine. Return chicken to skillet and spoon sauce over chicken.  Lower heat to a simmer for 10-15 minutes until chicken is cooked through. Stir the kale in during the last 5-10 minutes of cooking, then remove from heat.

Remove chicken from skillet and allow to rest for a few minutes before slicing. While the chicken rests, add spaghetti squash to skillet and stir until well combined and heated through.

Divide into 5 servings and add sliced chicken on top. Top with parmesan cheese before serving, if desired.
Recipe Notes
Click here or scan the barcode below to log this meal into My Fitness Pal.
Nutrition Facts
Tuscan White Bean & Spaghetti Squash Skillet
Amount Per Serving
Calories 386 Calories from Fat 135
% Daily Value*
Fat 15g23%
Cholesterol 85mg28%
Sodium 323mg14%
Potassium 1189mg34%
Carbohydrates 27g9%
Fiber 8g33%
Sugar 5g6%
Protein 35g70%
* Percent Daily Values are based on a 2000 calorie diet.