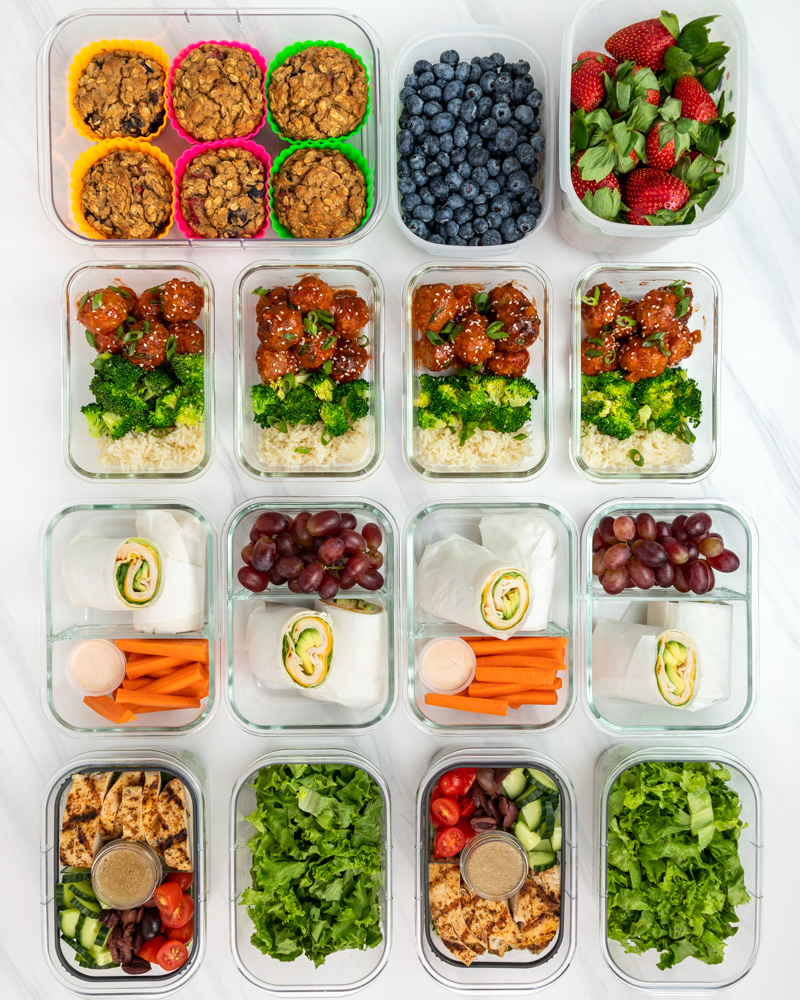 Happy Sunday, meal preppers! Here's a new spring weekly meal plan for this warmer weather – it includes a no-heat wrap recipe that can be customized to make it exactly what you like. Head over to the original recipe post for all my meal prepping tips for wraps! Otherwise, let's dive in to this week's plan…
If you've never been here before, welcome! My meal prep posts go a little something like this: 1) meal plan (use any or all of it!), 2) snack ideas, 3) links to the containers you see here, and 4) recipes and nutrition info. You can jump straight to the recipes by clicking the "Jump to Recipes" link above, or click the direct link to the individual recipe you want below. Otherwise, just keep scrolling down!
Here's a quick peek at this week's recipes. Just click the button below to jump straight to the one you want! Note: the links in the meal plan below will take you to individual recipe pages (separate from this post), but the big teal buttons will take you to the recipe embedded in this post.
The Meal Plan
Day 1
Day 2
Day 3
Day 4
Day 5
Day 6
The Snack Ideas
Trail mix
Cottage cheese with jam
Apples with peanut butter
Blueberries, blackberries, and strawberries
Protein shakes
Hard boiled eggs
The Containers
Here are the direct links to the containers you see pictured in this post. Note: these are Amazon Affiliate links.
The Recipes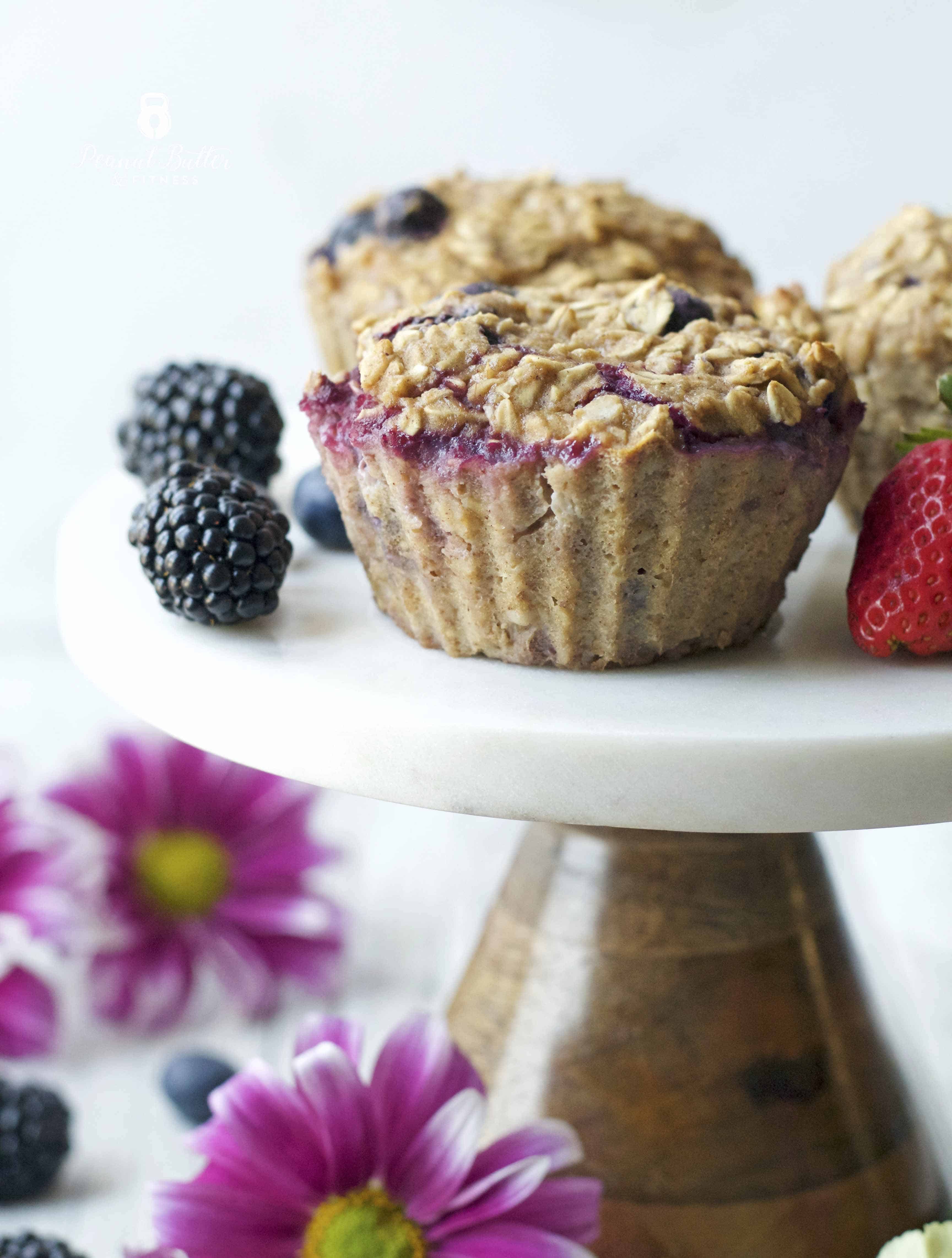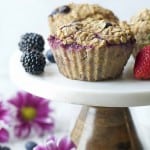 Mixed Berry Oatmeal Muffins
Prep Time 10 minutes
Cook Time 35 minutes
Total Time 45 minutes
Servings 7 jumbo muffins
Calories per serving 209 kcal
Ingredients
2 cups rolled oats (192 grams)
2 scoops ON Gold Standard Plant Based Protein Powder (72 grams)
1/2 tsp baking powder
1/2 tsp baking soda
1/2 tsp cinnamon
3/4 cup unsweetened applesauce (6 oz)
3/4 cup unsweetened vanilla almond milk (6 oz)
1/2 cup blueberries (75 grams)
1/2 cup strawberries, chopped (75 grams)
1/2 cup blackberries (75 grams)
1/4 cup maple syrup (2 oz)
2 egg whites
1 1/2 tbsp Skippy Natural Creamy Peanut Butter (24 grams)
1/2 tsp vanilla extract
Instructions
Pre-heat oven to 350 degrees. Arrange 7 jumbo silicone baking cups on a baking sheet.

Mix all dry ingredients, then add wet ingredients and mix until combined. Divide evenly into 7 baking cups.

Bake for 35 minutes or until tops of muffins begin to brown slightly. Allow to cool slightly before removing from silicone cups and serving.
Recipe Notes
Click here or scan the barcode below to log this food in My Fitness Pal.
I recommend these jumbo silicone baking cups!
You can replace the plant based protein with whey if you'd prefer – just sub it out with the same amount of powder but decrease the amount of almond milk to 1/2 cup.
Nutrition Facts
Mixed Berry Oatmeal Muffins
Amount Per Serving
Calories 209 Calories from Fat 36
% Daily Value*
Fat 4g6%
Sodium 116mg5%
Potassium 125mg4%
Carbohydrates 32g11%
Fiber 5g21%
Sugar 12g13%
Protein 12g24%
* Percent Daily Values are based on a 2000 calorie diet.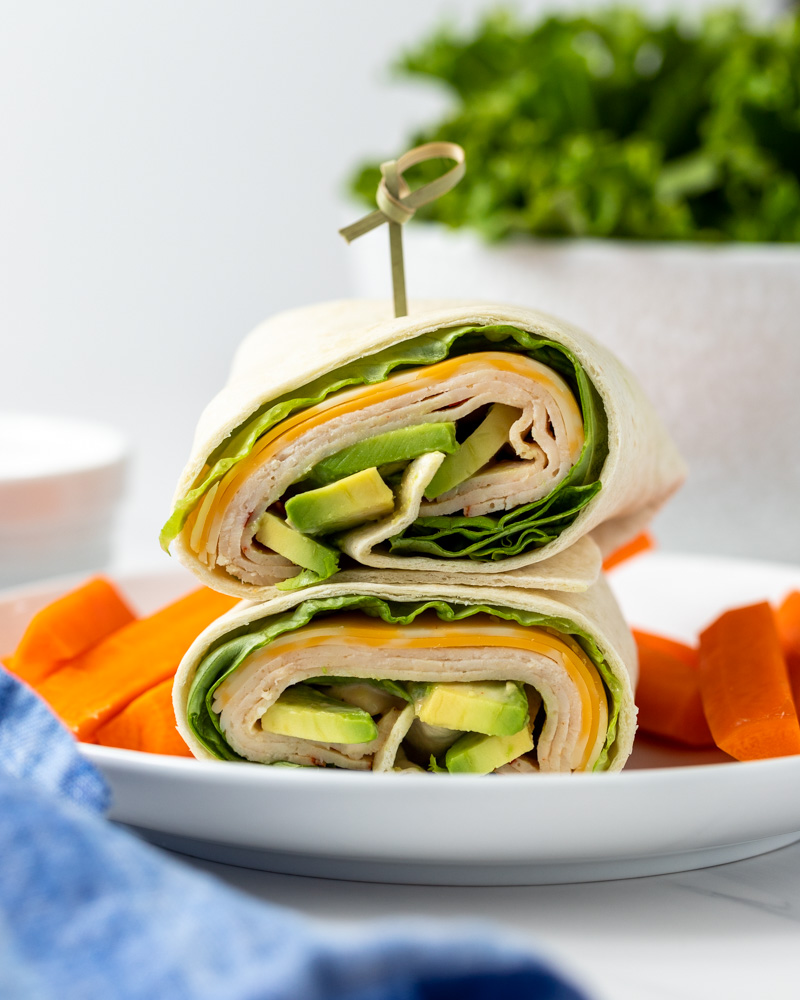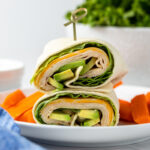 Chicken Club Wraps
Servings 4 servings
Calories per serving 580 kcal
Ingredients
4 Mission Super Soft Burrito Large Flour Tortillas (280 grams)
12 slices Wegmans Buffalo Style Deli Chicken Breast (12 oz)
12 slices Wegmans Extra Thin Sliced Colby Jack Cheese (128 grams)
2 medium avocados, sliced (300 grams)
4-8 leaves green leaf lettuce (140 grams)
6 tbsp Hidden Valley Light Ranch Dressing
1 tbsp Frank's Red Hot Buffalo Sauce
Instructions
Mix hot sauce into ranch dressing and set aside.

Layer the lettuce, cheese, chicken, and avocado slices on top of the tortillas. Drizzle with buffalo ranch dressing, then roll the wrap tightly and slice in half before serving.
Nutrition Facts
Chicken Club Wraps
Amount Per Serving
Calories 580 Calories from Fat 279
% Daily Value*
Fat 31g48%
Cholesterol 34mg11%
Sodium 1133mg49%
Potassium 528mg15%
Carbohydrates 47g16%
Fiber 6g25%
Sugar 4g4%
Protein 28g56%
* Percent Daily Values are based on a 2000 calorie diet.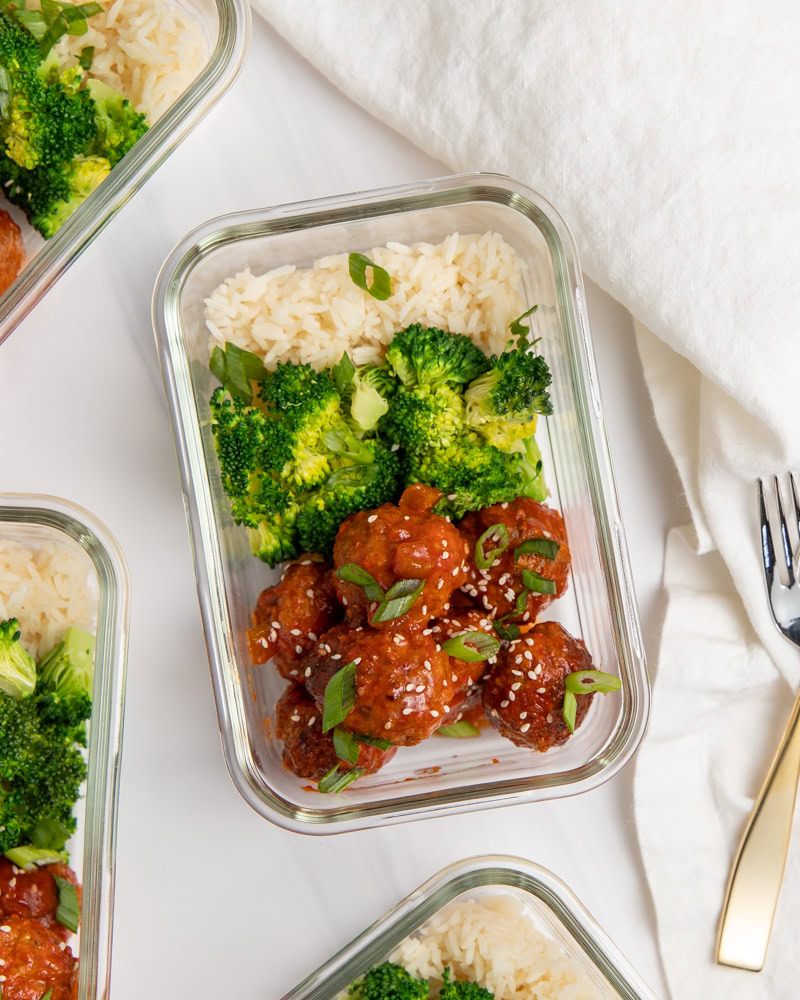 Sweet & Spicy Air Fryer Meatballs
Prep Time 15 minutes
Cook Time 20 minutes
Total Time 35 minutes
Servings 6 servings
Calories per serving 240 kcal
Ingredients
Meatballs
1 lb 90/10 lean ground pork
1 large egg
1/4 cup Italian seasoned breadcrumbs (28 grams)
1/4 cup Wegmans Italian cheese blend, grated (Pecorino Romano and Parmigiano Reggiano) (20 grams)
1 tbsp O'Food Gochujang Korean Chili Sauce (18 grams)
1 tsp Korean red pepper flakes or chili powder
1/2 tsp salt
1/2 tsp black pepper
Optional Toppings
green onions, chopped
sesame seeds
Instructions
Add all meatball ingredients to a large bowl and combine with your hands until the ingredients are well distributed in the ground pork. Use a cookie scoop to help form meatballs, rolling them in your hands to create smooth, round balls about 1 to 1.5" in diameter. Set the raw meatballs aside on a baking sheet.

Pre-heat air fryer to 400°F. After pre-heating, I like to add a parchment paper liner to my air fryer tray to make cleanup easy. Add meatballs to your air fryer tray in a single layer, being careful not to overcrowd. (Depending on the size of your air fryer, you may need to cook these in 2 batches.)

Air fry meatballs for 8-10 minutes or until cooked through. Once cooked, remove meatballs from air fryer tray with tongs, allowing excess juices to drip off for a moment before moving the meatballs to a bowl.

Whisk apricot preserves and gochujang until well blended, then pour over meatballs and toss until evenly coated. Top meatballs with sesame seeds and green onions before serving, if desired.
Nutrition Facts
Sweet & Spicy Air Fryer Meatballs
Amount Per Serving (3 meatballs)
Calories 240 Calories from Fat 81
% Daily Value*
Fat 9g14%
Cholesterol 84mg28%
Sodium 404mg18%
Potassium 48mg1%
Carbohydrates 20g7%
Sugar 15g17%
Protein 17g34%
* Percent Daily Values are based on a 2000 calorie diet.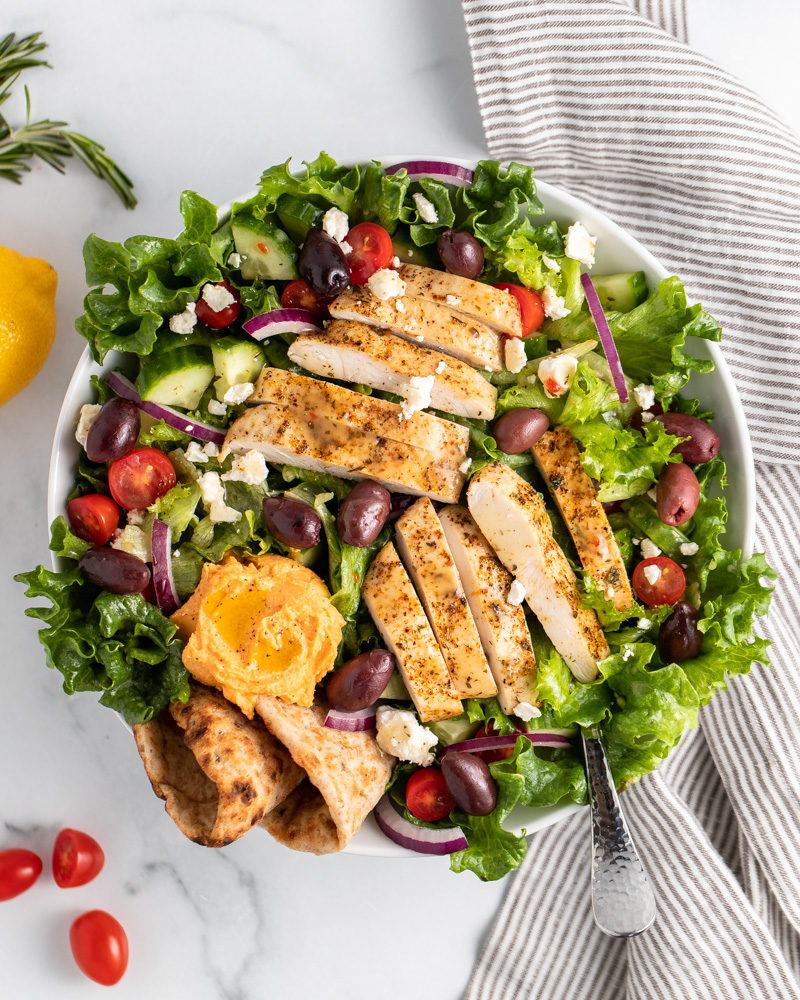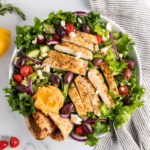 Easy Greek Chicken Salad
Prep Time 20 minutes
Cook Time 10 minutes
Total Time 30 minutes
Servings 4 servings
Calories per serving 342 kcal
Ingredients
Salad Ingredients
1 lb raw chicken breast
7 oz green leaf lettuce, chopped (about 8 cups chopped)
1 cup cherry tomatoes, halved (170 grams)
1 cup English cucumber, chopped (150 grams)
1/2 cup Farmer Boy Greek Dressing (4 fl oz)
1/2 cup fat free feta cheese (56 grams)
1/3 cup red onion, sliced
1/3 cup kalamata olives, halved (61 grams)
Juicy Air Fryer Chicken
1 lb raw chicken breast
3 tbsp homemade brine mix
1 tsp olive oil
1 tsp Oh My Spice! Lemon Pepper Dill Seasoning
salt and pepper to taste
Instructions
Juicy Air Fryer Chicken
Bring 2 cups water to a boil. Add brine mix and stir until dissolved. Pour over ice in a flat bottomed resealable container. Add chicken, then add additional water until chicken is submerged. Brine for at least 5 hours or up to 12 hours.

Remove chicken from brine and rinse with cold water. Pat dry on a paper towel, then pound down the thicker end of the chicken breast until they are even thickness across.

Rub the chicken with 1 tsp olive oil until evenly coated. Season with salt, pepper, chili powder, and Oh My Spice! seasoning.

Air fry the chicken at 380 degrees for 11 minutes, flipping halfway through (sometimes I up the temp to 390 degrees after flipping the chicken for crispier edges). Set aside to cool for about 5 mintes before slicing.
Assemble
Divide lettuce, cucumbers, tomatoes, chicken, olives, and feta cheese (if desired) into 4 serving dishes. Top with Greek Dressing before serving. Serve with pita bread and hummus if desired.
Nutrition Facts
Easy Greek Chicken Salad
Amount Per Serving
Calories 342 Calories from Fat 126
% Daily Value*
Fat 14g22%
Cholesterol 2mg1%
Sodium 595mg26%
Potassium 271mg8%
Carbohydrates 23g8%
Fiber 3g13%
Sugar 8g9%
Protein 31g62%
* Percent Daily Values are based on a 2000 calorie diet.