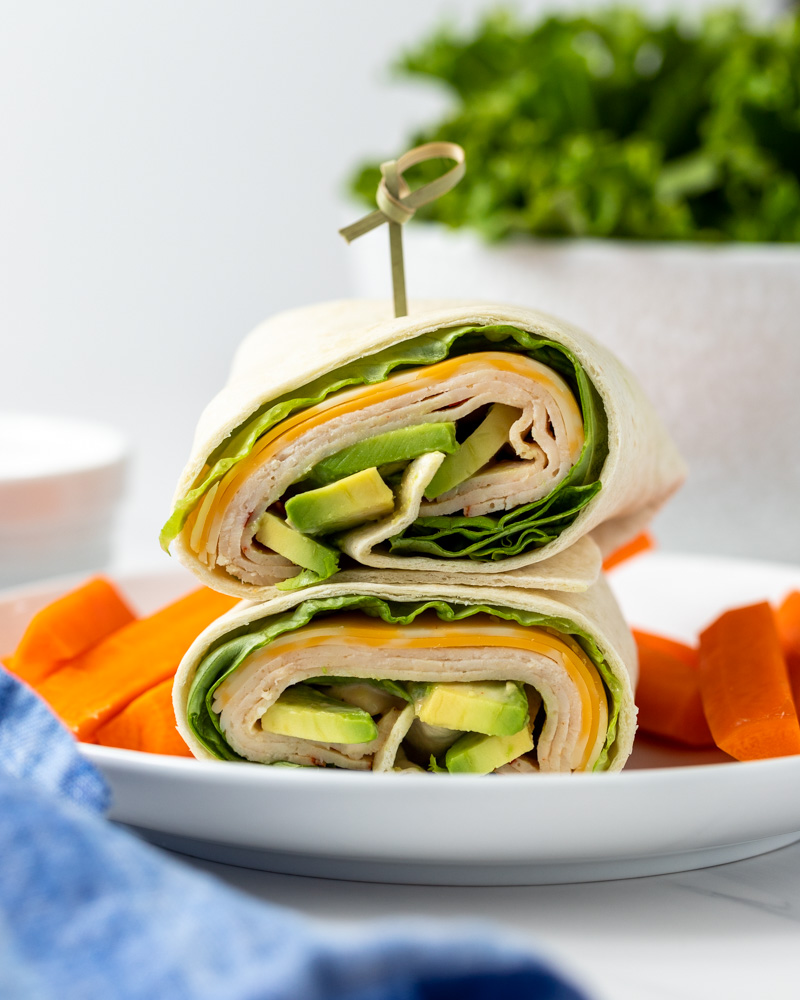 Time for a new recipe Wednesday and this time it's a super easy no-heat lunch idea: California Chicken Club Wraps! Now, I know most club sandwiches have bacon on them but…I forgot it in my fridge when it was game time for making and photographing this recipe. Don't you hate when that happens?! Obviously you can add bacon to the wrap if you'd like, but I thought it was tasty without and just rolled with things anyway! I also skipped the tomatoes and opted for avocado slices instead to make this more meal prep friendly…hence the California moniker!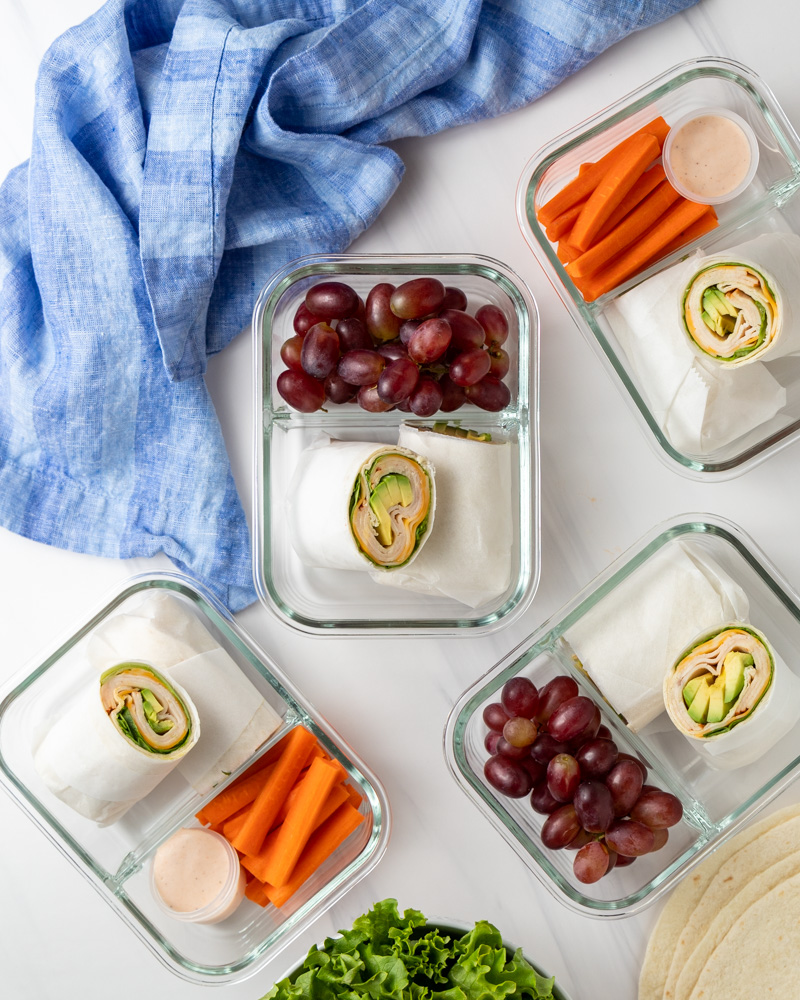 Meal Prep Tips
Most of my meals have to pass the meal prep-ability test, and this one is no different! Wraps can be a little tricky to meal prep, but if you follow a few easy tips, you'll have no problem avoiding a soggy tortilla.
1. Add lettuce. Place a large, dry lettuce leaf between the tortilla and your other ingredients. This will help keep the moisture from the meat and cheese from seeping directly into the tortilla and making it soggy. I really like to use green leaf lettuce because it's bright green, crisp, and perfect for meal prep without being too crunchy.
2. Use lime juice. Give your avocado slices a bath in a generous amount of lime juice to help keep it from browning as much as possible. It won't look perfectly green by day 3, but it also won't be a pile of brown mush.
3. Keep the dressing separate. Grab some little dressing containers like these to hold your buffalo ranch dressing until you're ready to eat. This will help avoid any extra moisture inside the wrap and prevent any soggy tortilla bits.
4. Use parchment paper. Wrapping the wrap up in a sheet of parchment paper helps hold the wrap together and helps keep any moisture from one half of the wrap from seeping into the other and vice versa. Skip it if you must, but I swear by it!
5. Eat within 3-4 days. Even with all these tips, wraps are still not the longest lasting meal you can prep. I recommend eating them within 3-4 days or else the cheese will start to "melt" together from the moisture in the meat. You can try to extend the fridge life a bit and avoid this as much as possible with an extra layer of lettuce between the cheese and meat, but it's certainly not a fail safe.
Ingredients and Substitutions
Tortillas – I'm partial to a big burrito sized flour tortilla because there's plenty of room to stuff the wrap full of lots of ingredients. Flour tortillas are also much more flexible than corn tortillas. When you're in the store, you'll usually find burrito tortillas (10″ or even bigger), soft taco tortillas (8″), and fajita tortillas (6″). If you want to go for something lower calorie/lower carb, I'd recommend trying something like these Carb Balance Burrito Tortillas or these Flat Out wraps.
Deli chicken – I used the buffalo seasoned sliced deli chicken from Wegmans, but truly whatever deli chicken or turkey that strikes your fancy will work perfectly here.
Thin sliced cheese – Some people might hate on the fact that I used the thin sliced cheese here instead of regular but hear me out…in a wrap you're basically layering ingredients on top of one another and if you use the thinner slices, you can more easily layer and fold the wrap (without overdoing the cheese). I think it's perfect! I went with a Colby Jack cheese, but again…you do you! A sharp cheddar would be really tasty here too.
Avocado – A classic club sandwich uses tomato instead of avocado, but tomatoes inside a meal prepped wrap would be a recipe for disaster (ie. soggy tortilla). If you're making this wrap fresh to eat right away, go crazy with the tomatoes and/or avocado slices. Otherwise, be sure to give your avocado slices a rub down with plenty of lime juice to keep it green as long as possible!
Buffalo ranch dressing – Add a touch of Frank's Red Hot buffalo sauce to your ranch dressing for a nice little spicy kick. If you'd prefer to skip the ranch dressing, I'd recommend mayo or even something like a garlic aioli instead!
Shop for this Recipe
Here are some items I used to make this recipe a success. Note: these are Amazon Affiliate links.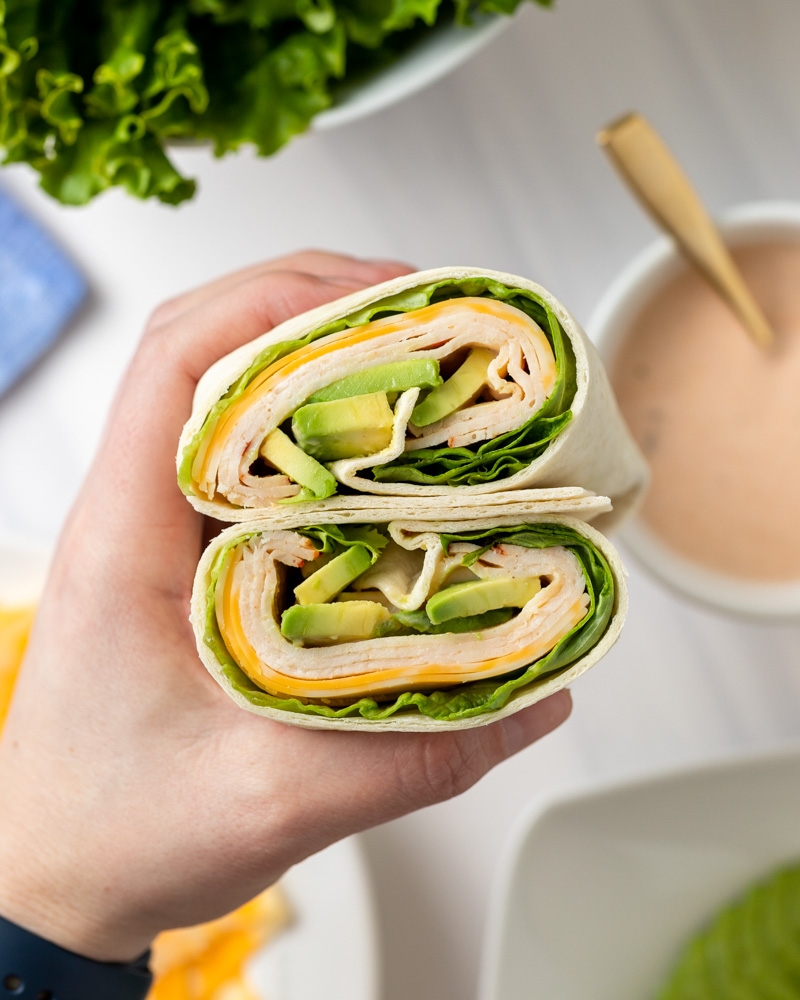 Recipe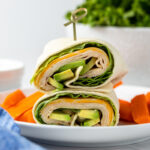 Chicken Club Wraps
Servings 4 servings
Calories per serving 580 kcal
Ingredients
4 Mission Super Soft Burrito Large Flour Tortillas (280 grams)
12 slices Wegmans Buffalo Style Deli Chicken Breast (12 oz)
12 slices Wegmans Extra Thin Sliced Colby Jack Cheese (128 grams)
2 medium avocados, sliced (300 grams)
4-8 leaves green leaf lettuce (140 grams)
6 tbsp Hidden Valley Light Ranch Dressing
1 tbsp Frank's Red Hot Buffalo Sauce
Instructions
Mix hot sauce into ranch dressing and set aside.

Layer the lettuce, cheese, chicken, and avocado slices on top of the tortillas. Drizzle with buffalo ranch dressing, then roll the wrap tightly and slice in half before serving.
Recipe Notes
Click here or scan the barcode below to log this food in My Fitness Pal.
Nutrition Facts
Chicken Club Wraps
Amount Per Serving
Calories 580 Calories from Fat 279
% Daily Value*
Fat 31g48%
Cholesterol 34mg11%
Sodium 1133mg49%
Potassium 528mg15%
Carbohydrates 47g16%
Fiber 6g25%
Sugar 4g4%
Protein 28g56%
* Percent Daily Values are based on a 2000 calorie diet.