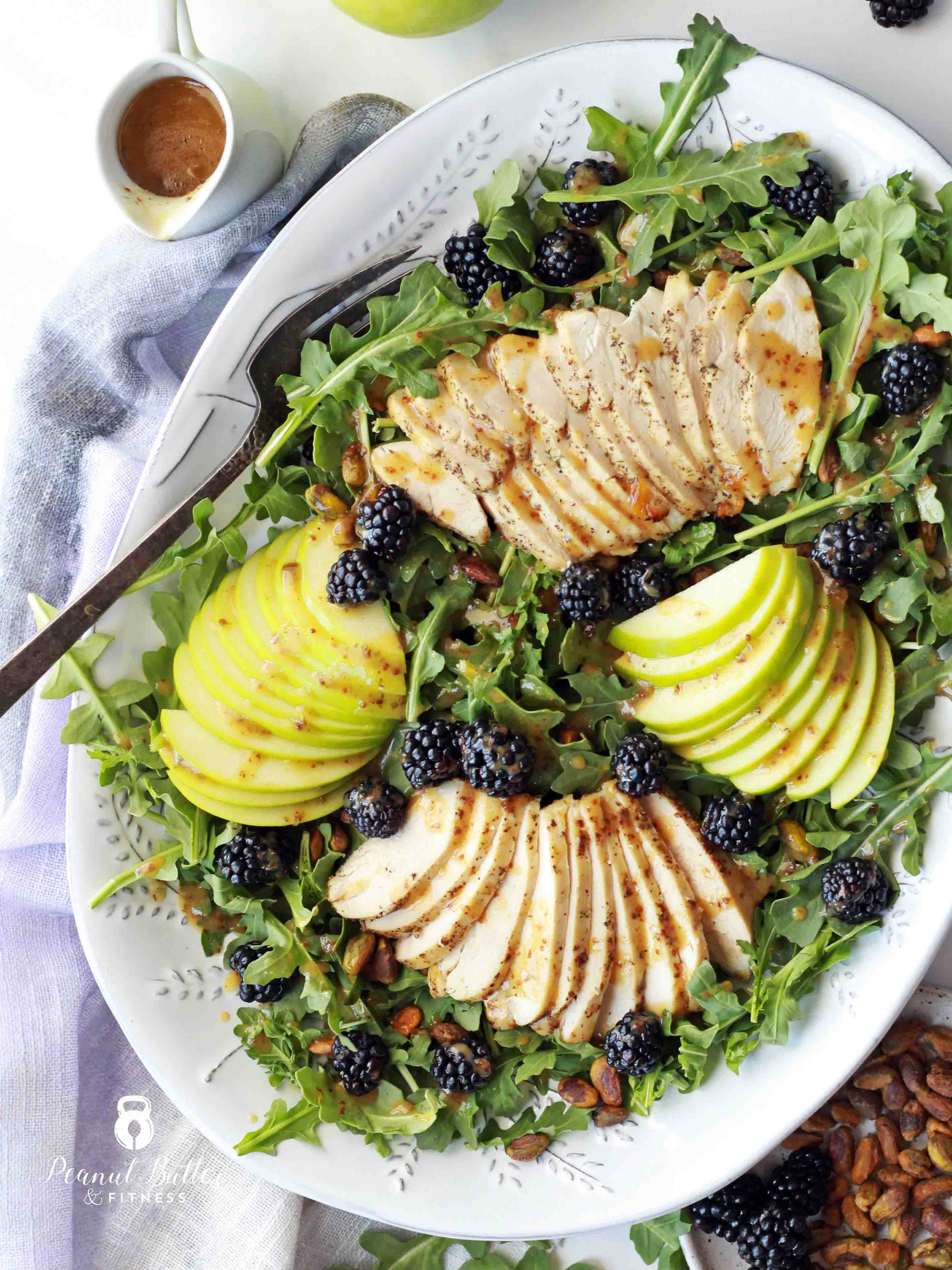 Jump to Recipe
Happy Sunday, friends! Today I'm bringing you a new recipe for this refreshing Blackberry Arugula Chicken Salad. Which makes today #SaladSunday. Right?!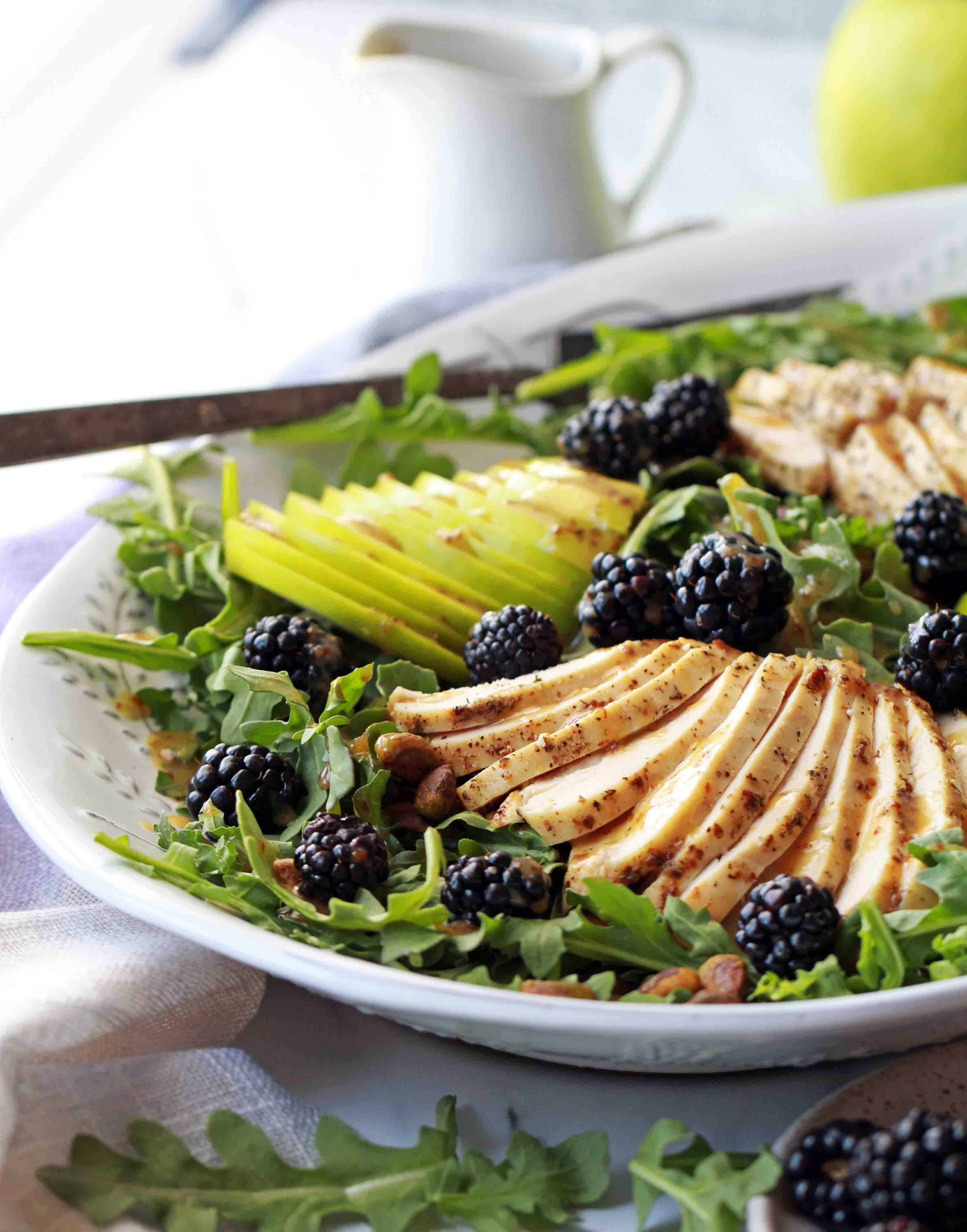 What I love about this salad is how well all the flavors and textures work together – the way the peppery arugula pairs with the tart but sweet blackberries and apples. The dressing is a honey dijon vinaigrette with an extra kick of flavor and sweetness thanks to a little bit of apricot jam. The crunch here comes from pistachios. And don't forget to top it all off with some perfectly juicy air fryer chicken! (Brining is the secret.)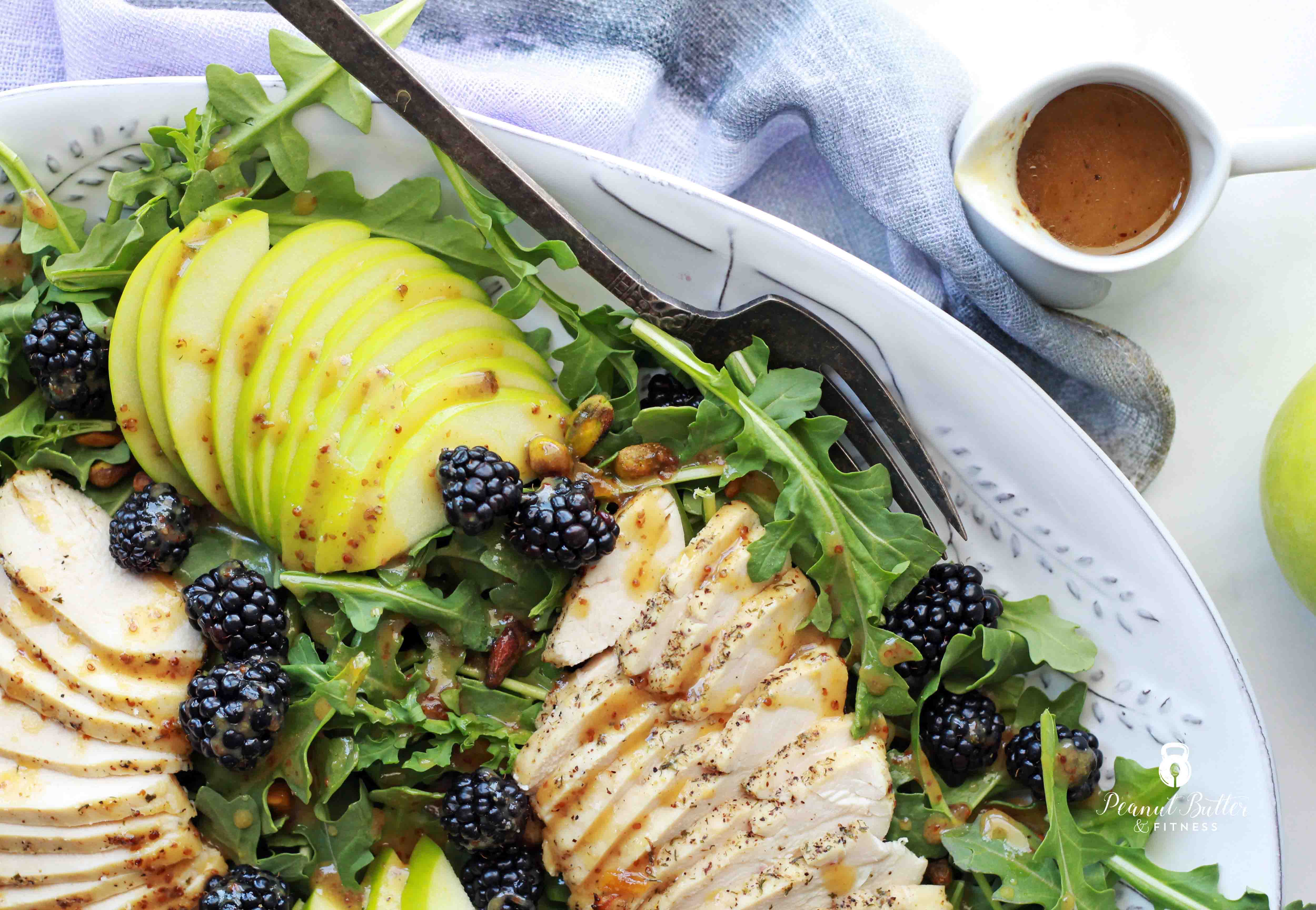 For my meal preppers out there, you can totally prep this salad ahead! I did it using one of these salad containers. In the bottom of the container, add a piece of folded up paper towel. Add the arugula on top. In the toppings part of the container, put the chicken in the big part and the blackberries and the apple slices in the other part. To keep the apples from browning, drench them in lemon juice first, making sure you get the juice on all the cut sides. Of course the dressing goes in the dressing container. I left the pistachios out of the fridge until I was ready to serve.
Enjoy!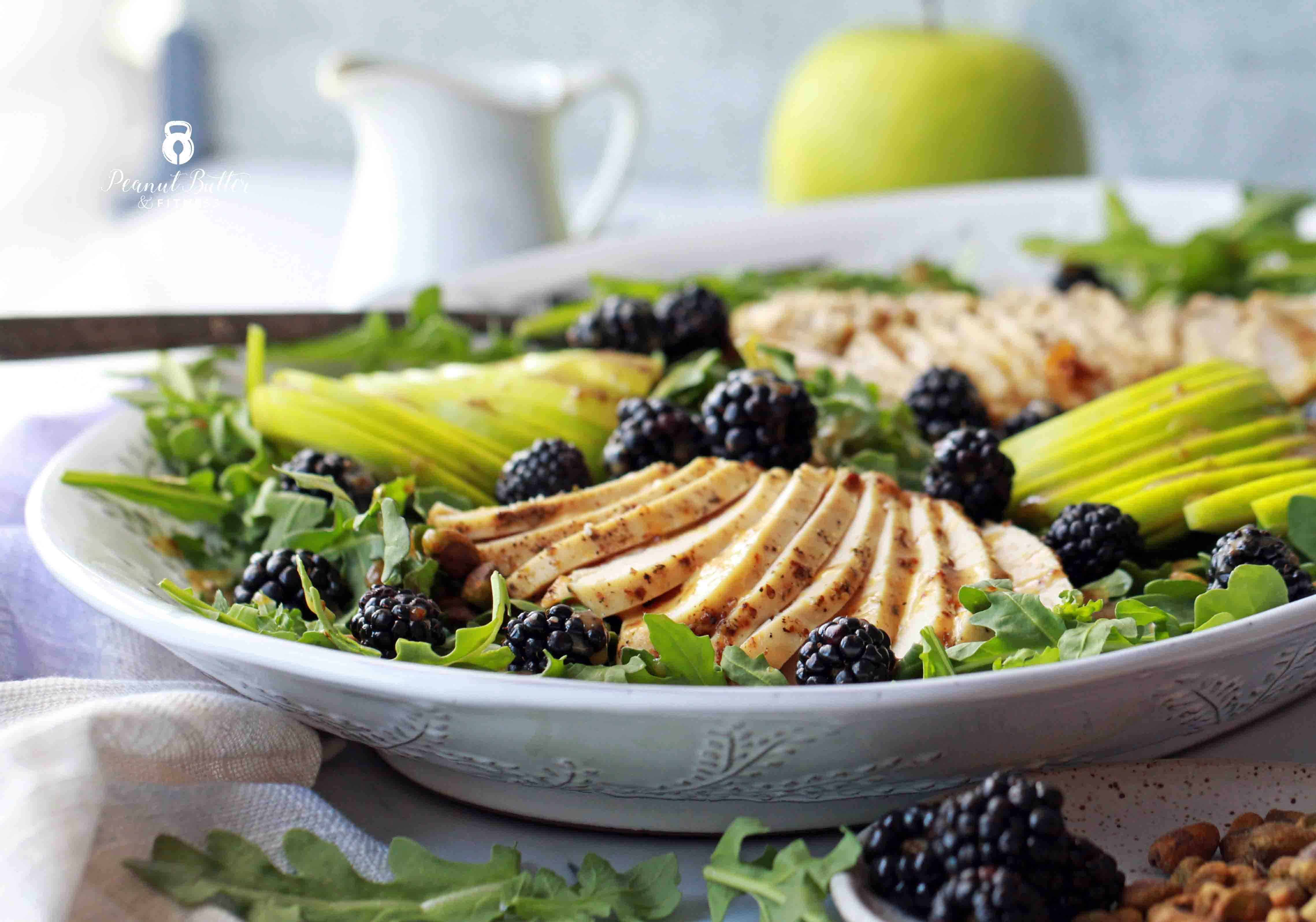 Recipe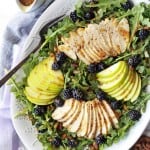 Blackberry Arugula Chicken Salad
Prep Time 15 minutes
Cook Time 11 minutes
Total Time 26 minutes
Servings 4 servings
Calories per serving 342 kcal
Ingredients
Juicy Air Fryer Chicken
1 lb chicken breast, raw
1/4 cup homemade brine mix
1 tsp olive oil (4.5 grams)
1/4 tsp chili powder
salt and pepper to taste
water
Salad
8 cups arugula (160 grams)
2 cups blackberries (290 grams)
1 large green apple, sliced (212 grams)
1/2 cup pistachios (56 grams)
Sweet Dijon Dressing
3 tbsp dijon mustard (I used 2 tbsp regular + 1 tbsp coarse ground) (1 1/2 fl oz)
2 tbsp olive oil (1 fl oz)
2 tbsp apple cider vinegar (1 fl oz)
2 tbsp honey (1 fl oz)
1 tbsp apricot preserves (20 grams)
1 tsp garlic powder
Instructions
Juicy Air Fryer Chicken
Bring 2 cups water to a boil. Add brine mix and stir until dissolved. Pour over ice in a flat bottomed resealable container. Add chicken, then add additional water until chicken is submerged. Brine for at least 5 hours or up to 12 hours.

Remove chicken from brine and rinse with cold water. Pat dry on a paper towel, then pound down the thicker end of the chicken breast until they are even thickness across.

Rub the chicken with 1 tsp olive oil until evenly coated. Season with salt, pepper, chili powder, and Oh My Spice! seasoning.

Air fry the chicken at 380 degrees for 11 minutes, flipping halfway through (sometimes I up the temp to 390 degrees after flipping the chicken for crispier edges). Set aside to cool for about 5 mintes before slicing thinly.
Salad
Whisk dressing ingredients and set aside.

Divide arugula between 4 serving dishes. Top with blackberries, pistachios, apple, sliced chicken, and dressing.
Recipe Notes
The sodium content displayed in the nutrition info here is estimated, since it will vary depending on how long you brine the chicken.
Nutrition Facts
Blackberry Arugula Chicken Salad
Amount Per Serving
Calories 342 Calories from Fat 90
% Daily Value*
Fat 10g15%
Sodium 648mg28%
Potassium 473mg14%
Carbohydrates 32g11%
Fiber 7g29%
Sugar 22g24%
Protein 32g64%
* Percent Daily Values are based on a 2000 calorie diet.