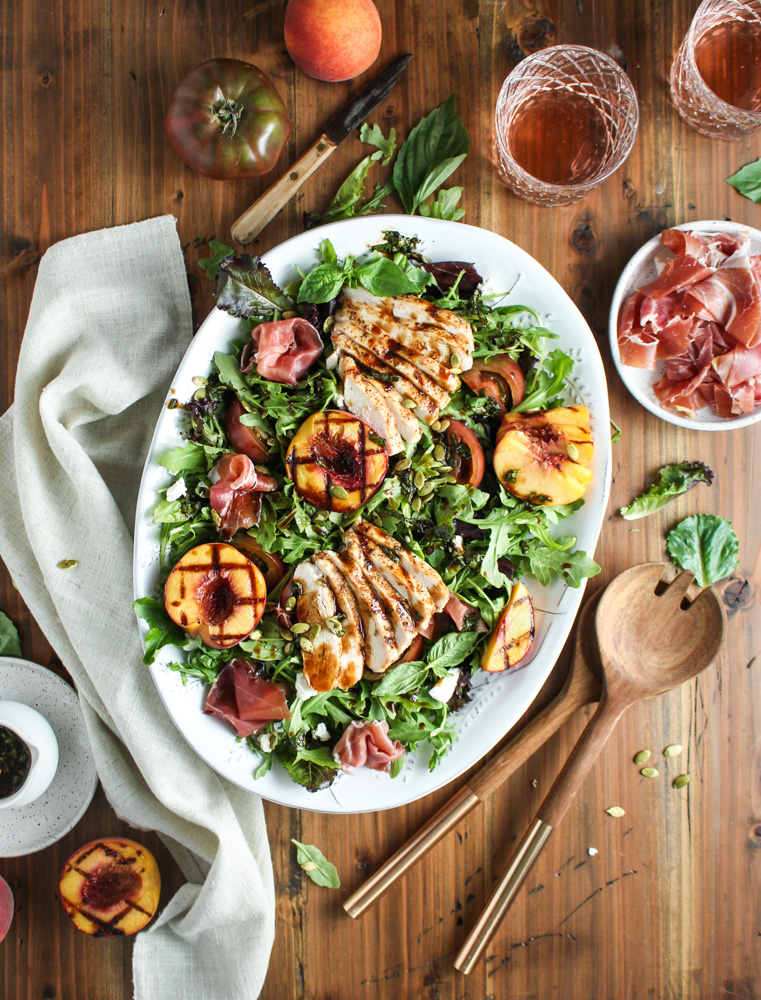 ***Recipe and photos updated August 10th, 2021***
Let's make the best of what remains of peach season, shall we? This is my second grilled peach recipe this season, because honestly, who can resist a caramelized, grilled-to-perfection peach? Not me. That other recipe was a yummy flatbread…get the recipe here.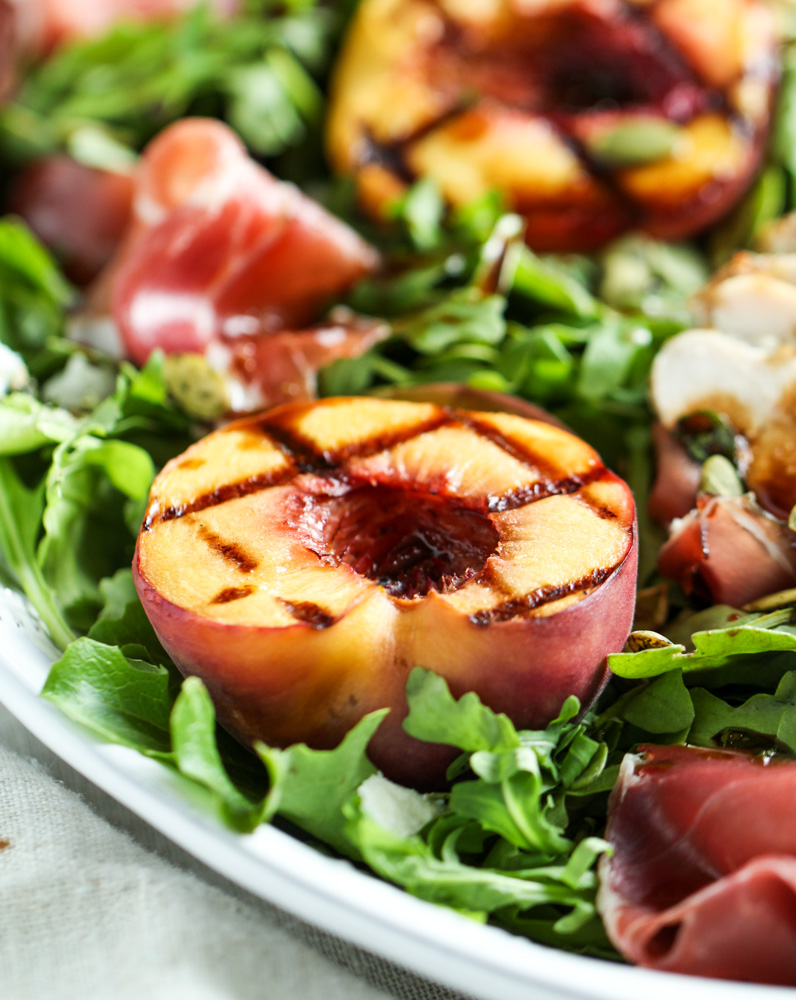 You guys know that I love a good salad with my weekly meal prep, so I had to throw together this Grilled Peach Prosciutto Chicken Salad with some beautiful baby heirloom tomatoes and an herby balsamic vinaigrette. Throw in some goat cheese if you're feeling the creaminess. I didn't include that in the nutrition info since I'm mostly dairy free now…but it's an easy add on My Fitness Pal if you're tracking macros. Anyway, I put it all on top of a bed of fresh arugula and baby chard. Give it a try!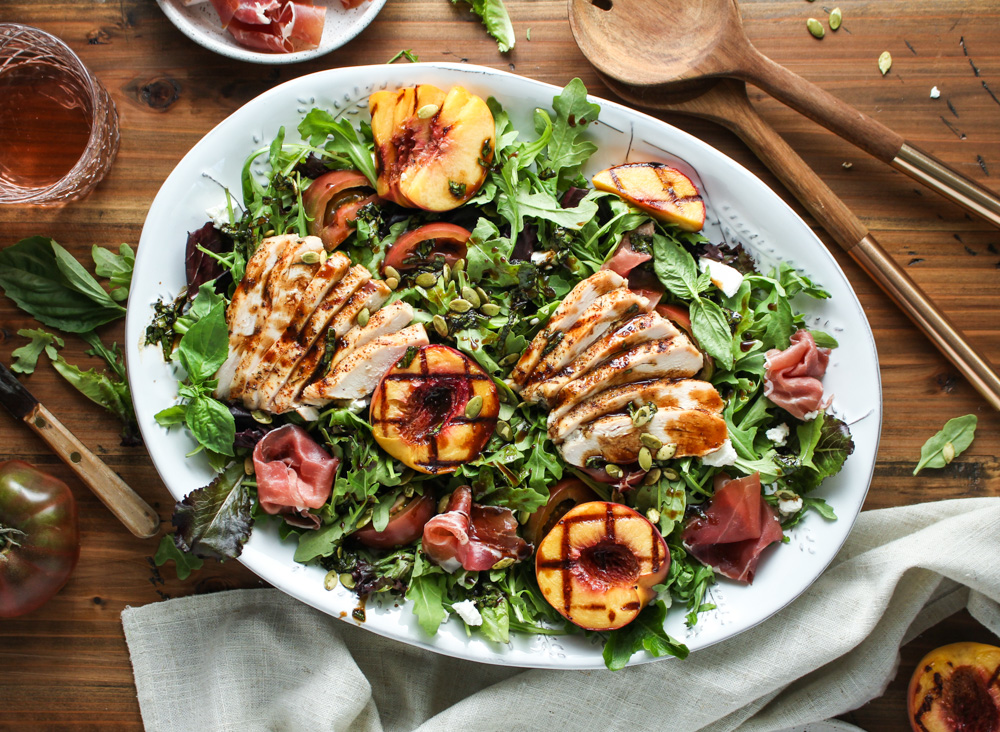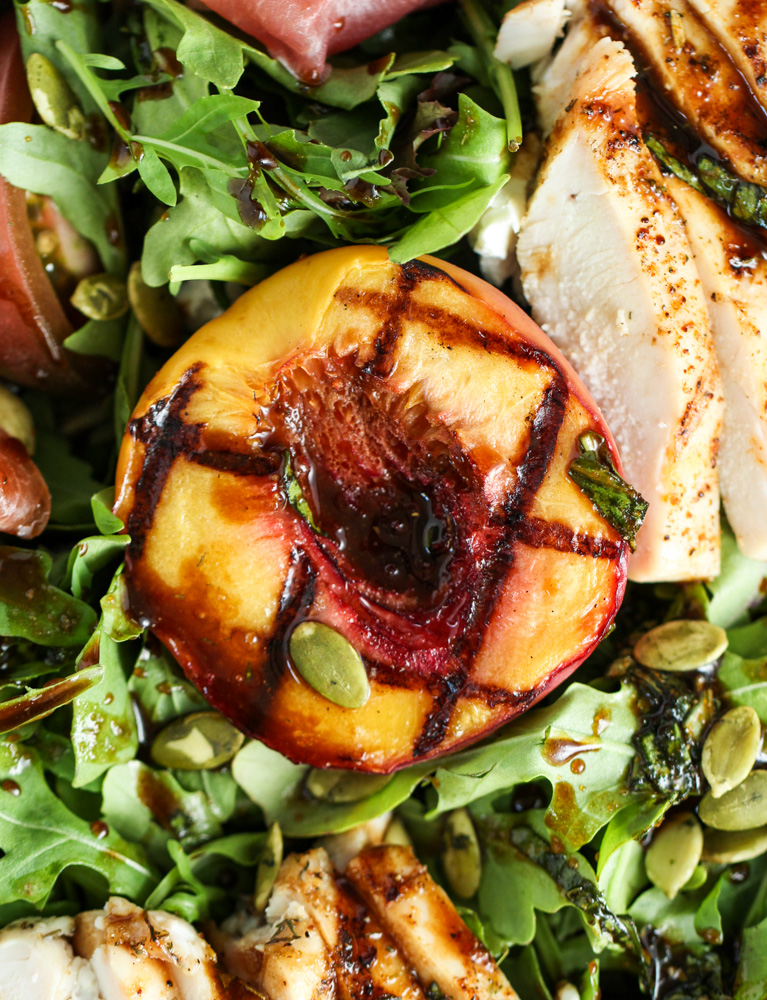 Recipe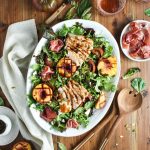 Grilled Peach and Prosciutto Chicken Salad
Prep Time 20 minutes
Cook Time 20 minutes
Total Time 40 minutes
Servings 4 servings
Calories per serving 346 kcal
Ingredients
Juicy Grilled Chicken
1 lb chicken breast, raw
3 tbsp homemade brine mix
1 tsp olive oil
1/2 tsp sea salt
1/4 tsp chili powder
1/4 tsp black pepper
Salad
10 cups arugula
2 medium peaches, halved and pits removed (300 grams)
1 cup heirloom tomatoes, wedged or chopped (150 grams)
1 1/2 oz prosciutto torn into pieces
1/4 cup roasted, lightly salted pumpkin seeds (28 grams)
Optional: 1/3 cup goat cheese crumbles
Balsamic Vinaigrette
1/4 cup balsamic vinegar (2 fl oz)
2 tbsp olive oil (1 fl oz)
2 tbsp basil chopped
1 tbsp honey (1/2 fl oz)
1 tbsp Dijon mustard (1/2 fl oz)
Instructions
Prepare the dressing. Whisk together balsamic vinaigrette ingredients.  Set aside.

Prepare the chicken. Bring 2 cups water to a boil. Add brine mix and stir until dissolved. Pour over ice in a flat bottomed resealable container. Add chicken, then add additional water as needed until chicken is submerged. Brine for at least 5 hours or up to 12 hours.

Remove chicken from brine and rinse with cold water. Pat dry on a paper towel, then pound down the thicker end of the chicken breasts until they are even thickness across. 

Rub the chicken with 1 tsp olive oil until evenly coated. Season with salt, pepper, chili powder, and Oh My Spice! seasoning.

Grill the chicken. Turn your grill on to medium high-heat (7 or 8 out of 10). Allow it to pre-heat until the temperature reads 400°F. Add chicken breast, grilling 6 minutes on one side before flipping. Grill another 5-6 minutes or until a thermometer in the thickest part of the breast reads 160°F (they will continue cooking to 165° after removing from grill). Set aside to rest at least 5 minutes. Note: Depending on your grill, you may need to turn the flames down to medium heat (5 or 6 out of 10) after flipping – you want to get back up to about 400° without overshooting by much.

Grill the peaches. Turn heat on the grill back up to medium high (7 or 8 out of 10). Brush any chicken debris off the grill grates. Spray peaches with coconut oil, then place on the grill cut side down.  Grill for about 3-4 minutes, rotating 90° halfway through to acheive the classic grill marks. Remove and set aside, slicing if desired before serving.

Build the salad. Arrange salad with arugula, tomatoes, sliced peaches, torn prosciutto, grilled chicken, and pumpkin seeds.  Top with goat cheese, if desired.  Pour vinaigrette over salad just before serving.
Recipe Notes
Click here or scan the barcode below to log this food in My Fitness Pal.
Nutrition Facts
Grilled Peach and Prosciutto Chicken Salad
Amount Per Serving
Calories 346 Calories from Fat 135
% Daily Value*
Fat 15g23%
Cholesterol 75mg25%
Sodium 672mg29%
Potassium 736mg21%
Carbohydrates 19g6%
Fiber 4g17%
Sugar 15g17%
Protein 33g66%
* Percent Daily Values are based on a 2000 calorie diet.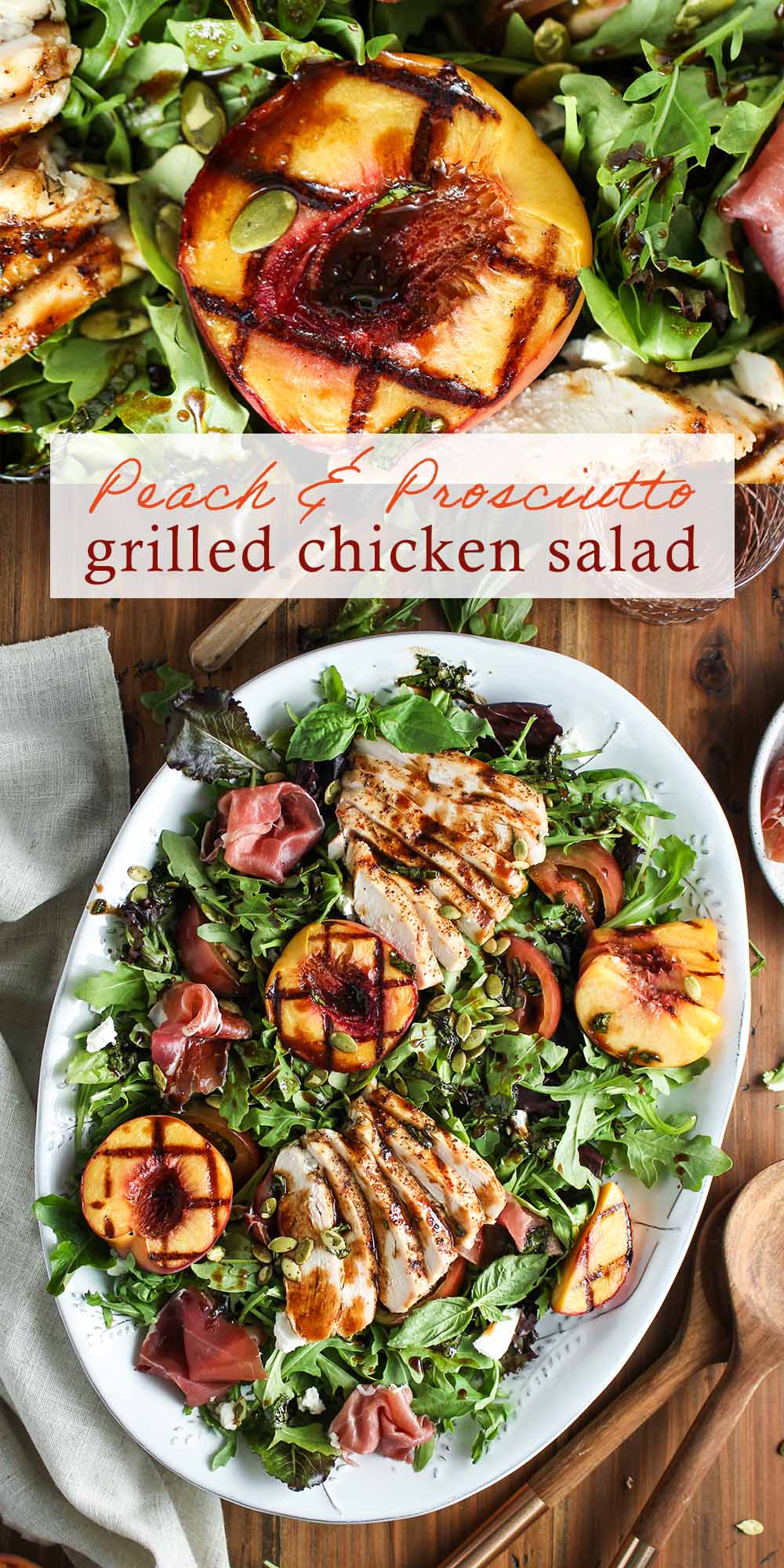 For those of you wondering what the old photos looked like, here it is!