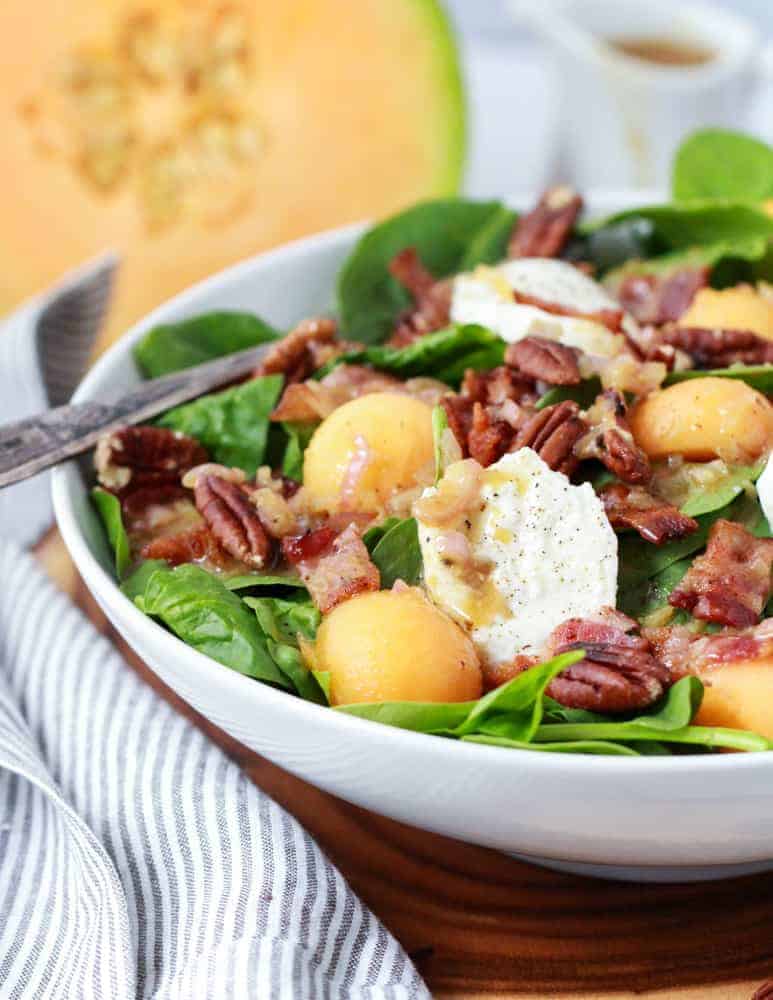 Happy new recipe Wednesday, friends! Let's stick with the summer fruit-in-salad thing for a little longer, shall we? Maybe I'll do fall fruit-in-salad too. You never know (but it'll surely happen). Here's the latest: Melon Bacon Burrata Salad. This is one of those salads that I took my first bite of and said "DAMN. That's f*#!ing good." You know what the key is? WARM BACON DRESSING. Honestly, I can't believe I haven't tried this sooner.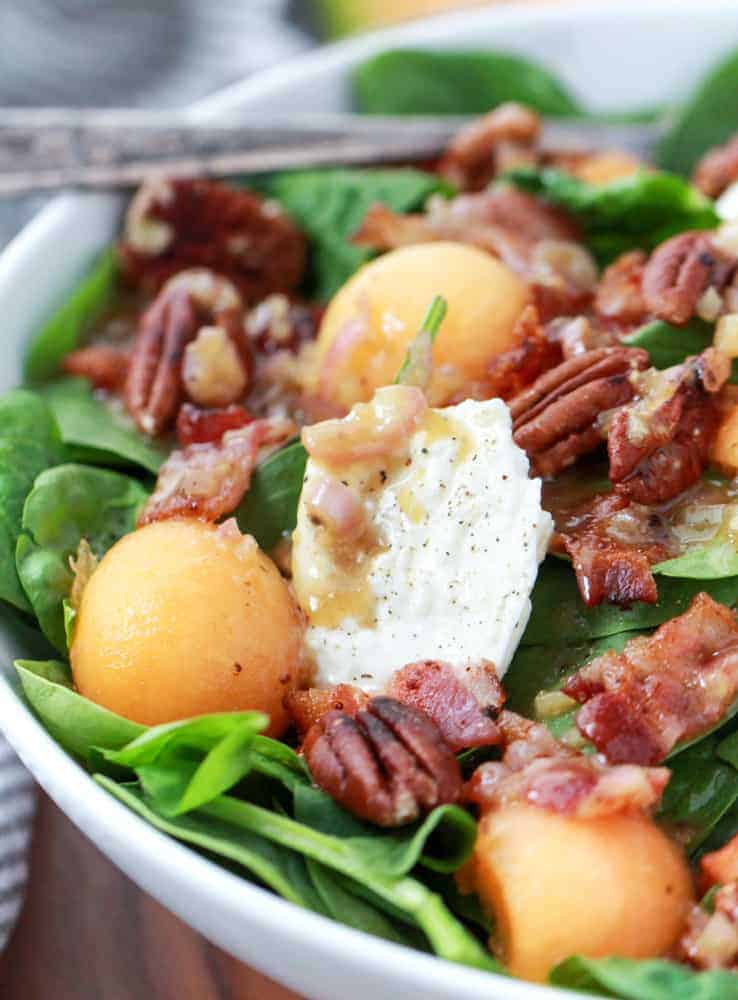 We all know and love bacon…what makes it so incredible in a dressing here is that you sauté a shallot right in the bacon fat when it's still hot. I don't know what the bacon does to the shallot but it is truly incredible. Then add some dijon mustard and apple cider vinegar for a little tang and some maple syrup for a little sweet…and you've got the first key to an incredible salad. Or is it the second key? Bacon might be the first. The jury is out.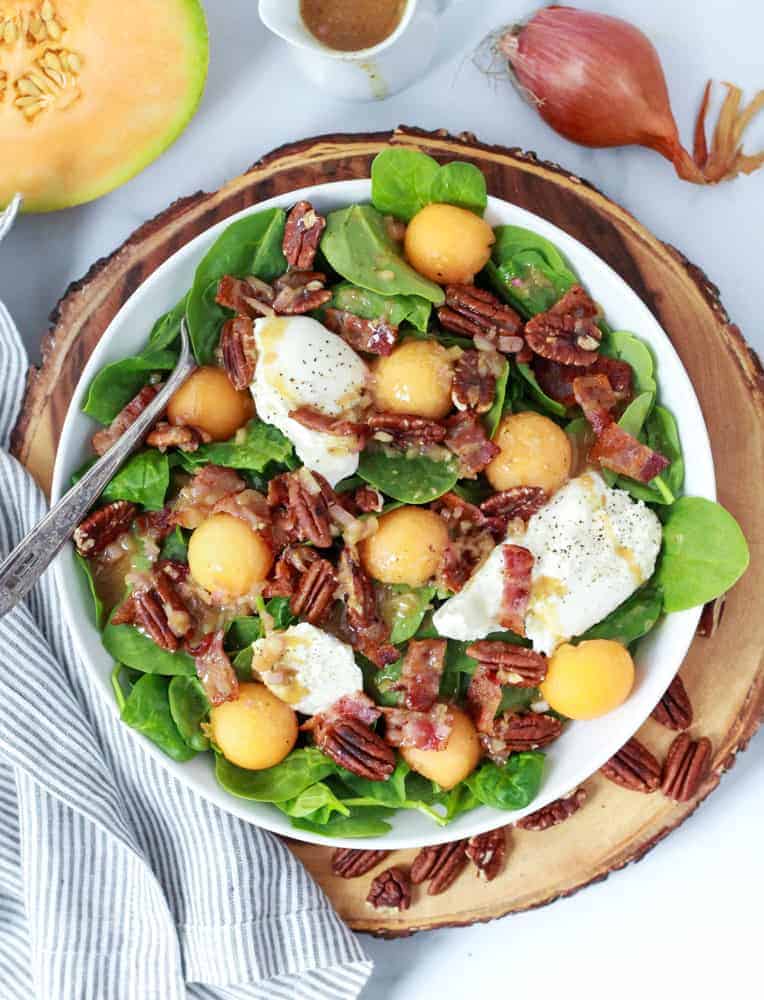 The great thing about using cantaloupe in this salad is that it's juicy and lightly sweet, and even though you get a bunch of flavor from it, the bacon dressing still shines. And burrata cheese? Well, I can't really eat much of it myself before my stomach protests, buttttt it's a really cool cheese with a mozzarella like shell and a gooey cheese center. Be sure to season it with some salt and pepper before you enjoy the creamy goodness.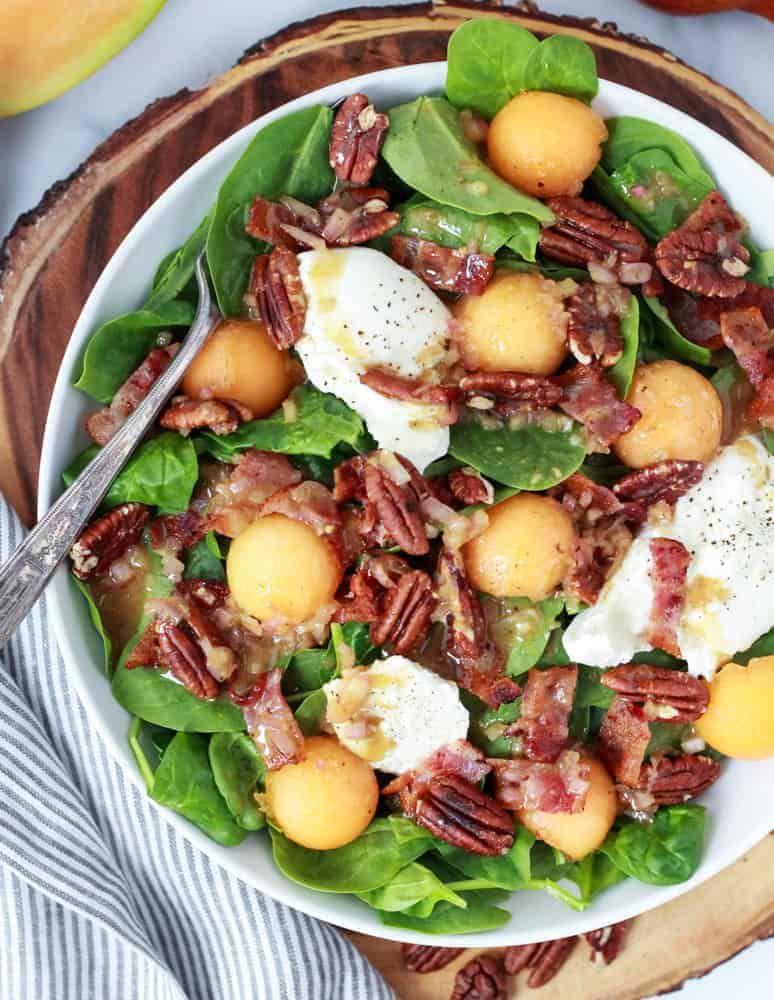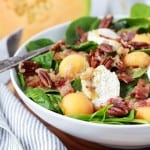 Melon Bacon Burrata Salad
Servings 4 servings
Calories per serving 368 kcal
Ingredients
1 lb chicken breast, raw
6 slices Oscar Meyer Center Cut Bacon, pan-fried and drippings retained, chopped (39 grams)
8 cups baby spinach (265 grams)
2 cups canteloupe, balled (350 grams)
4 oz burrata cheese
1/3 cup pecans (40 grams)
Warm Bacon Vinaigrette
1/4 cup shallot, finely diced (40 grams)
3 tbsp apple cider vinegar
2 tbsp maple syrup
2 tbsp dijon mustard
1 1/2 tbsp bacon drippings (22 grams)
Instructions
Pan fry bacon according to package directions. Once the bacon has cooked, remove the pan from heat and add shallots to sauté until softened and fragrant. Add remaining dressing ingredients and whisk until smooth. Set aside with dressing in pan to stay warm.

Cook chicken breast as desired. I prefer to brine mine and air fry. Get the directions here.

Assemble salad with baby spinach, canteloupe, chicken, bacon, burrata cheese, pecans, and warm bacon dressing.
Nutrition Facts
Melon Bacon Burrata Salad
Amount Per Serving
Calories 368 Calories from Fat 153
% Daily Value*
Fat 17g26%
Cholesterol 16mg5%
Sodium 470mg20%
Potassium 731mg21%
Carbohydrates 17g6%
Fiber 4g17%
Sugar 14g16%
Protein 36g72%
* Percent Daily Values are based on a 2000 calorie diet.